Are you tired of losing your pens and pencils all over your desk? Say goodbye to the clutter with these fantastic DIY pencil holder and pen pot ideas!
Unleash your creativity and make your pencil holders that are not only functional but also fun and stylish. DIY pencil organizers also make fun homemade gift ideas for teachers, fathers and mums.
From repurposing tin cans with a fresh coat of paint and cute decorations to using cardboard tubes for a unique and eco-friendly option or adding a touch of rustic charm with decoupaged mason jars– the possibilities are endless!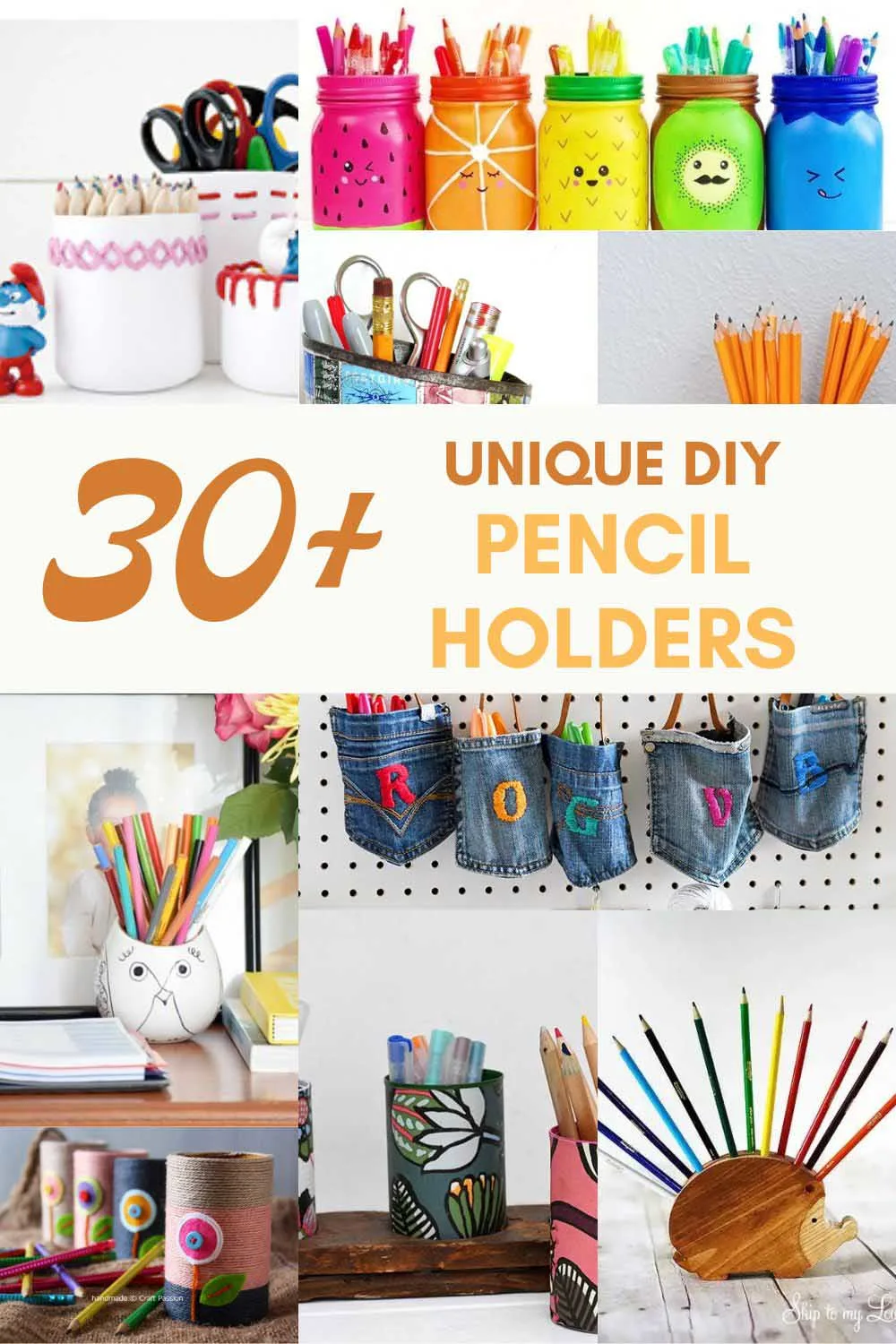 What Can You Use To Make A Pencil Holder
You can use many materials to make pencil and pen pots, depending on your preference and creativity. Here are some ideas:
Tin cans: Empty tin cans, such as soup or coffee cans.
Cardboard tubes: Tubes from paper towel rolls or toilet paper rolls can be cut to your desired height and covered with decorative materials.
Mason jars or glass jars.
Wood: If you're handy with woodworking, you can create your pencil holder from wood.
Clay or polymer clay: For a more artistic approach, you can sculpt a pen pot using clay or polymer clay.
Recycled materials: Get creative with recycled materials, such as plastic bottles, milk cartons, and old plant pots.
Fabric – such as denim and stiffened cotton- sew a portable pencil organizer.
You can turn these items into unique and functional pencil holders with a bit of imagination and some essential crafting supplies.
Remember, the key to a successful DIY pencil holder is to let your creativity shine and make it reflect your style. Don't be afraid to experiment with different materials and techniques to create a unique pencil holder!
DIY Pencil Holder & Pen Organizer Ideas
Grab your paintbrush, scissors, and some decorative materials. Let your imagination run wild as you transform ordinary objects into personalized pencil holders and pen pots that add flair to your workspace. Get inspired and create the perfect pencil holder that reflects your unique style and keeps your writing utensils organized!
Other DIY Storage Ideas
If you are always looking for clever and unique ways to store and organize your craft supplies and other belongings, check out some DIY storage solutions on the site.
Like these denim storage boxes, other upcycled denim storage solutions, handy upcycled hanging buckets, and this washi tape holder.
Ikea Moppes are little storage solutions for home offices and desks; check out all these ways to upcycle an Ikea Moppe.