It's quite embarrassing the number of cardboard boxes that keep on arriving at our home. I decided to put some of it into good use by upcycling it into giant cardboard Christmas ornaments.
I've already made some 3D cardboard decorations for the Christmas tree, but this didn't really make much of a dent into the cardboard mountain.
This time I went large, with these fun bright giant Christmas baubles for the wall.
There is no missing these cardboard ornaments on the wall. They make an impact and are a bit of a talking point.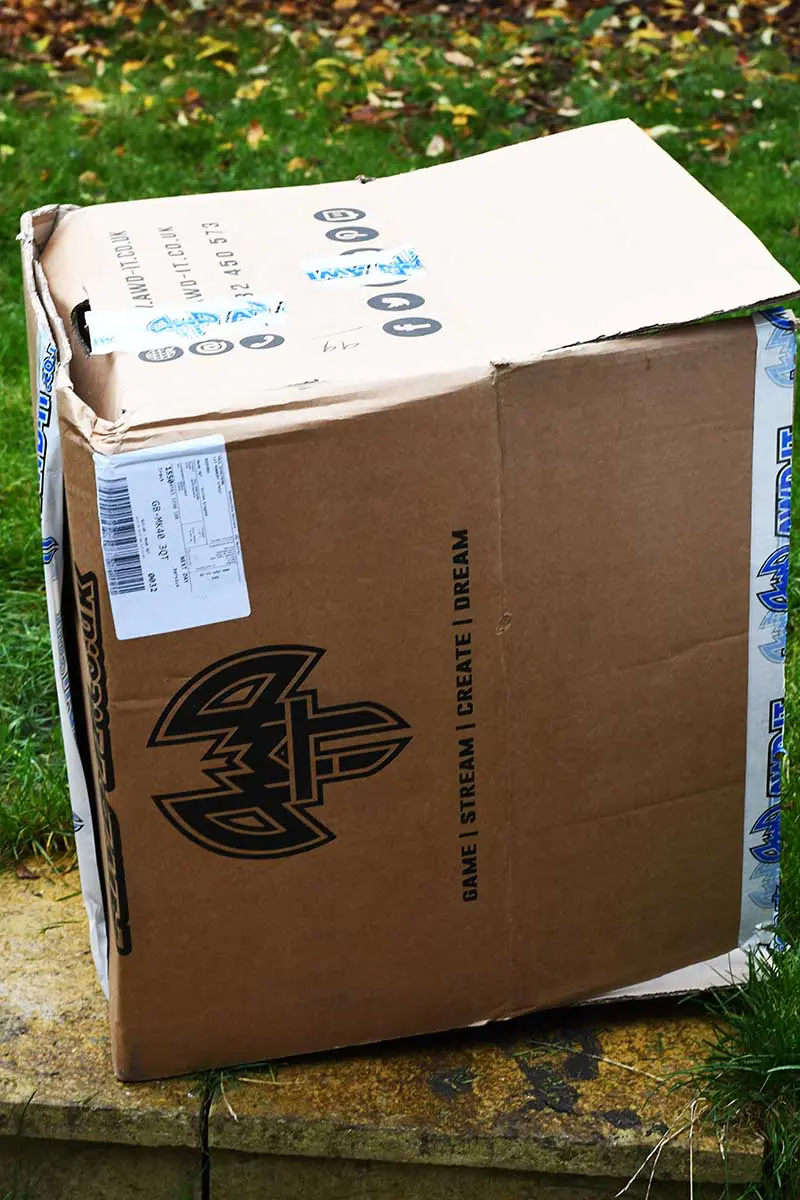 Making Giant Cardboard Christmas Baubles Out of Boxes
I have a bit of an obsession with vintage dimple baubles like those made by Shiny-Brite. I love the mid-century look and bright colours of these Christmas ornaments.
I'm still kicking myself for not buying a box when I spotted them at a vintage market. The hunt for some of these classic ornaments goes on.
In the meantime, I have used the style of these vintage Christmas baubles for the design inspiration of these giant cardboard Christmas decorations.
Besides their dramatic look, the best thing about these cardboard ornaments is that they have very little impact on the environment. Upcycling materials you already have to make your Christmas decorations is much kinder to the environment than buying something new.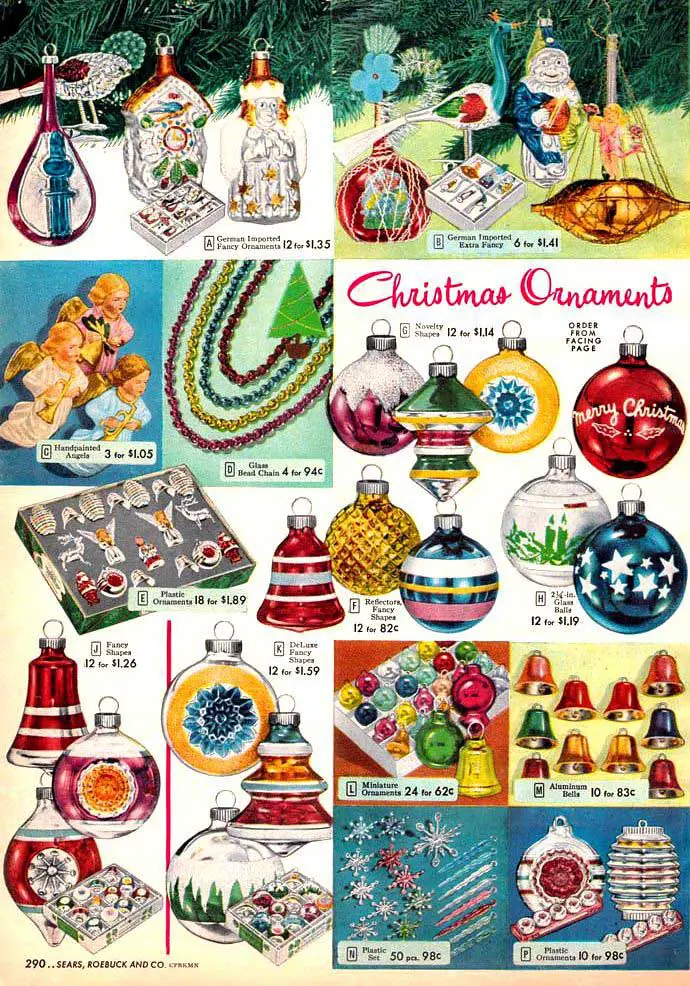 We're a participant in the Amazon Services LLC Associates Program, an affiliate advertising program designed to provide a means for us to earn fees by linking to Amazon.com and affiliated sites. As an Amazon Associate, I earn from qualifying purchases.
What You Need To Make Cardboard Christmas Ornaments
Large cardboard box- my son recently ordered a new gaming PC which came in a large cardboard box.
White paint – I used some leftover emulsion paint from decorating our home. Mat water-based white paint is best.
An assortment of paint brushes
Pencil and large plates to use as templates
How To Make Giant Baubles
1.. First, cut open the cardboard box so that it lays flat. Then lay a large round plate or tray onto one of the cardboard sizes and draw around it.
Try and use the largest round tray that you can find that will fit onto the cardboard piece.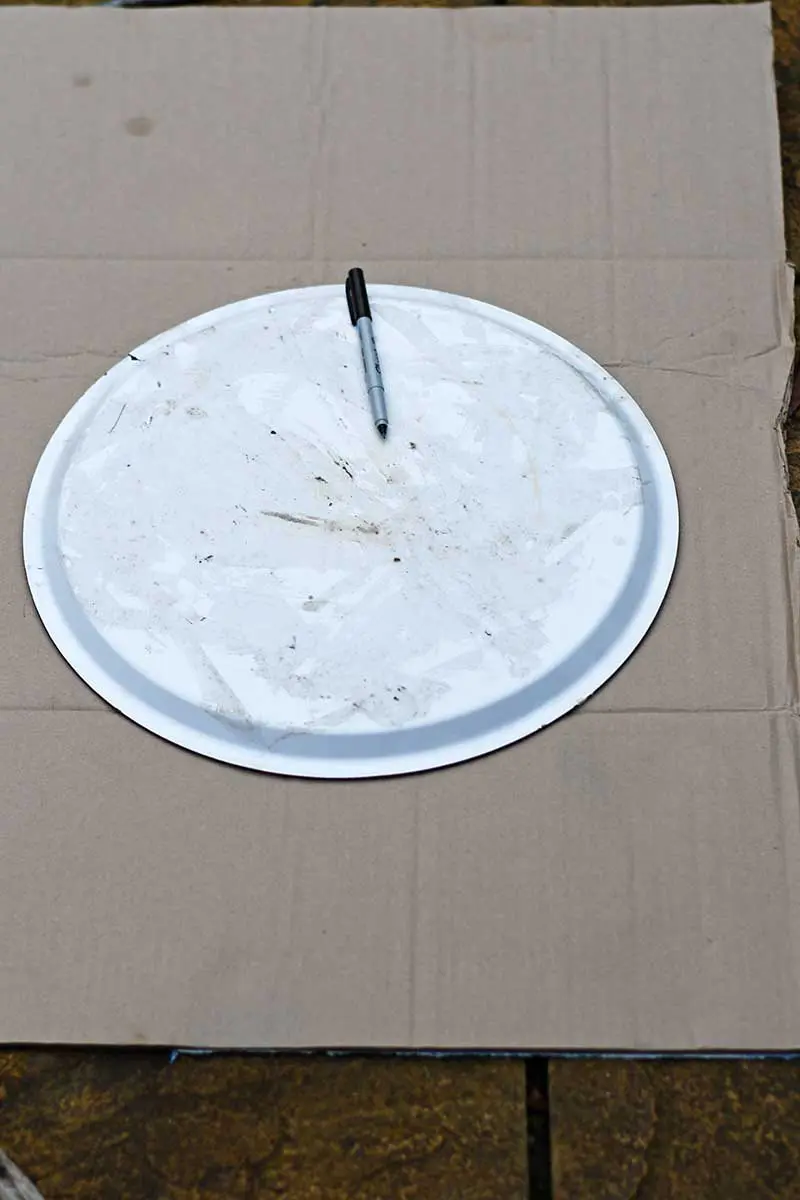 2. To make a teardrop-shaped Christmas decoration, extend the pencil circle to a point at the bottom of the circle. At the top of the teardrop draw a bauble cap.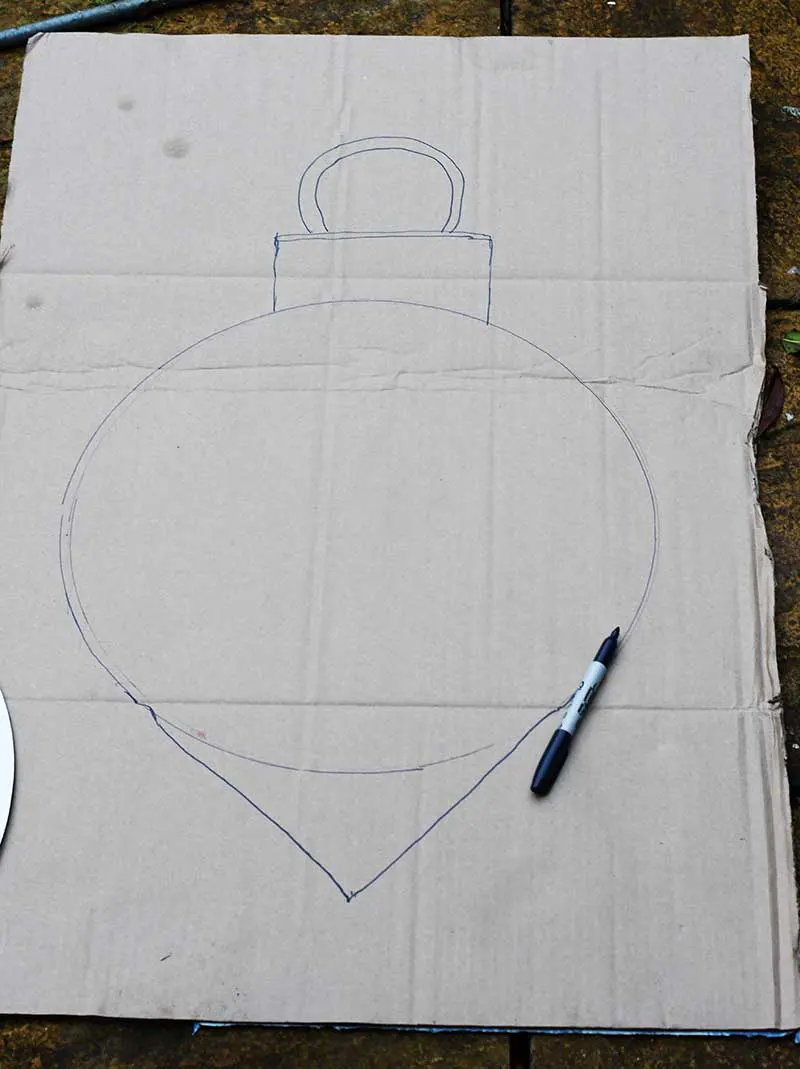 3. Next, with a cardboard cutting knife, cut out the bauble shape. Then paint it white or cream. Use a water-based mat paint that will allow you to paint easily on top of the white paint.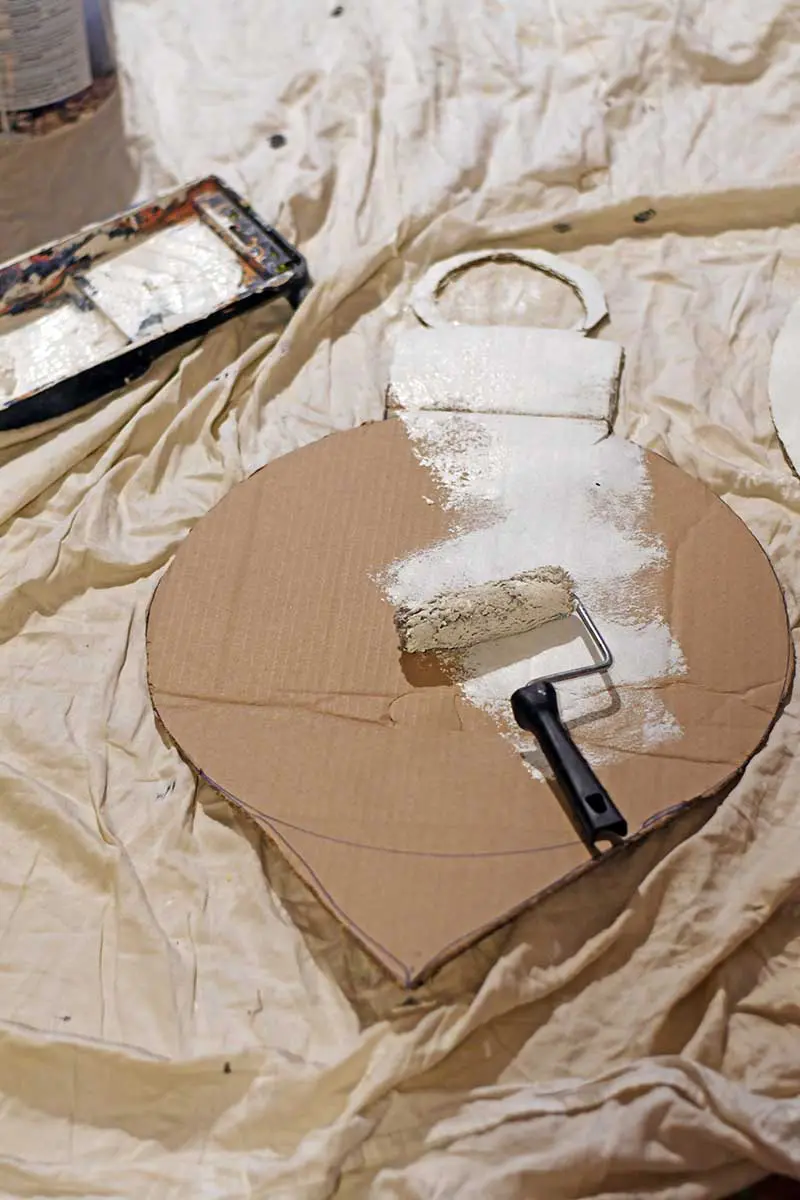 4. Next, when the white paint has dried on the Christmas cardboard decoration, draw a smaller circle in the center of the ornament. Use masking tape to add a stripe above and below the center circle.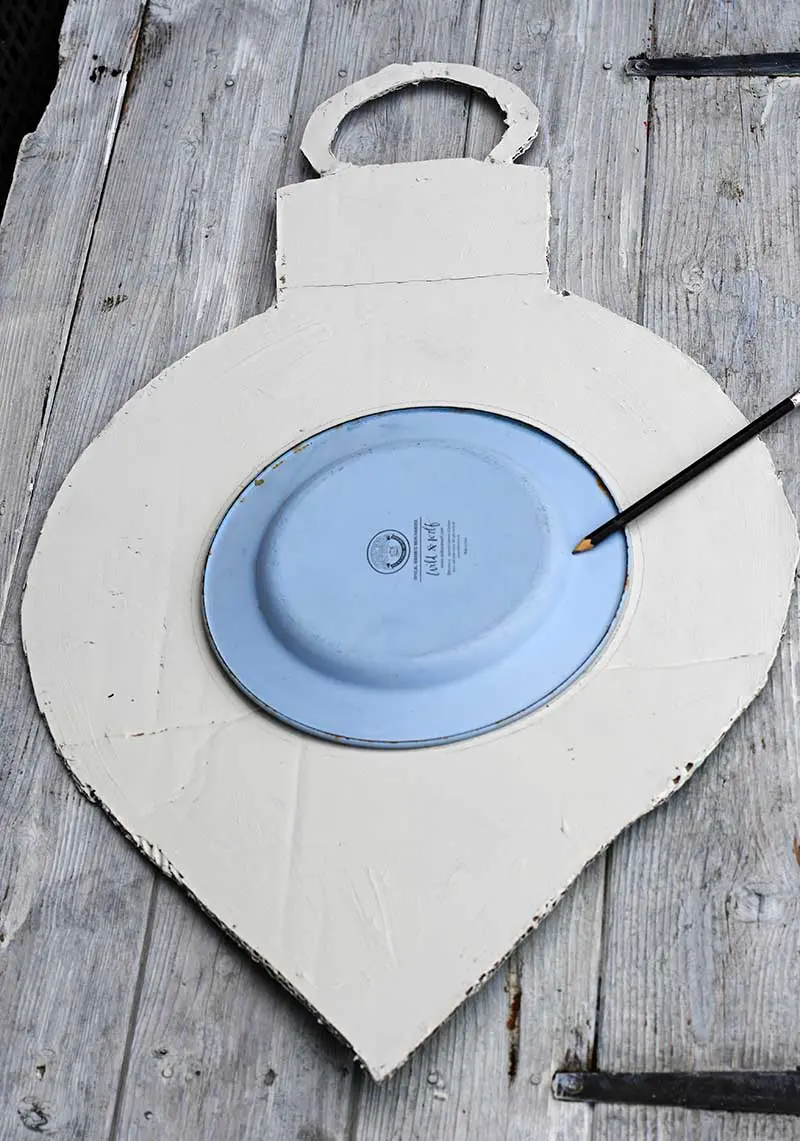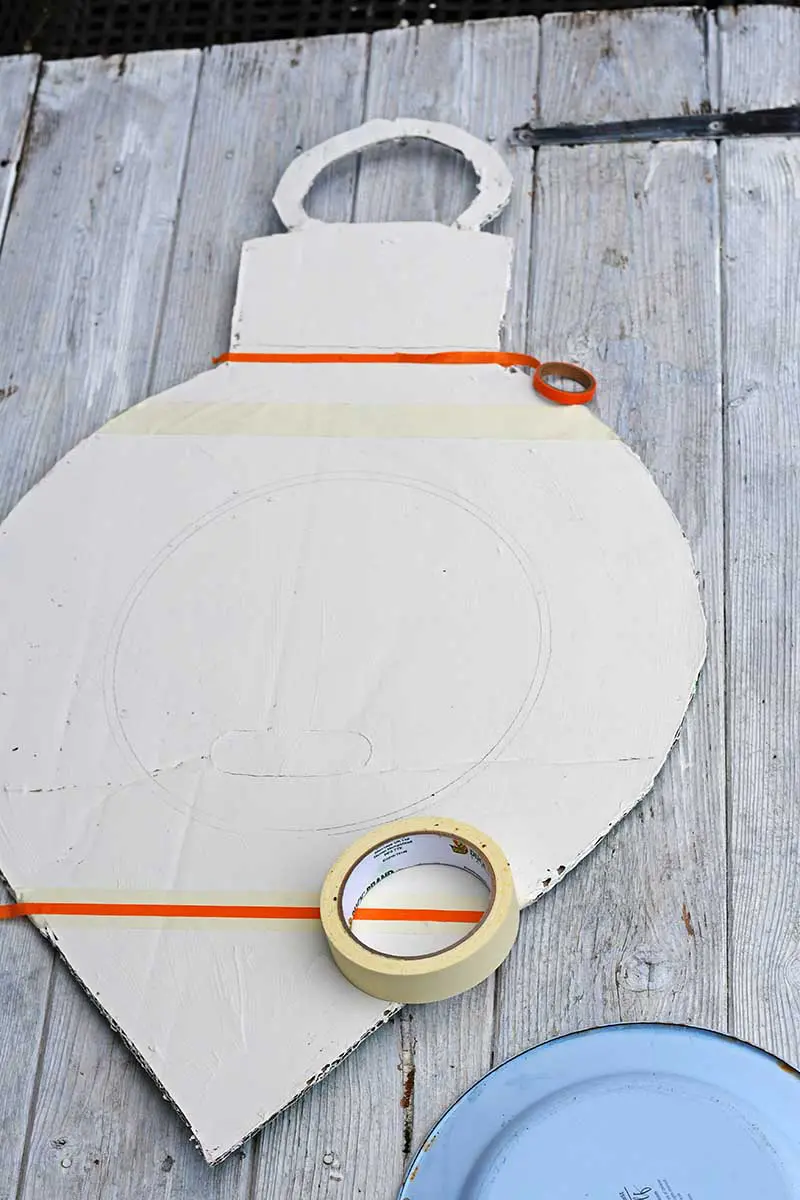 5. Then, in the center circle draw the dimple shape with a pencil. Divide up the circle into segments and pencil in the segments, so they look a bit like an orange cut in half. Don't worry about this being too neat.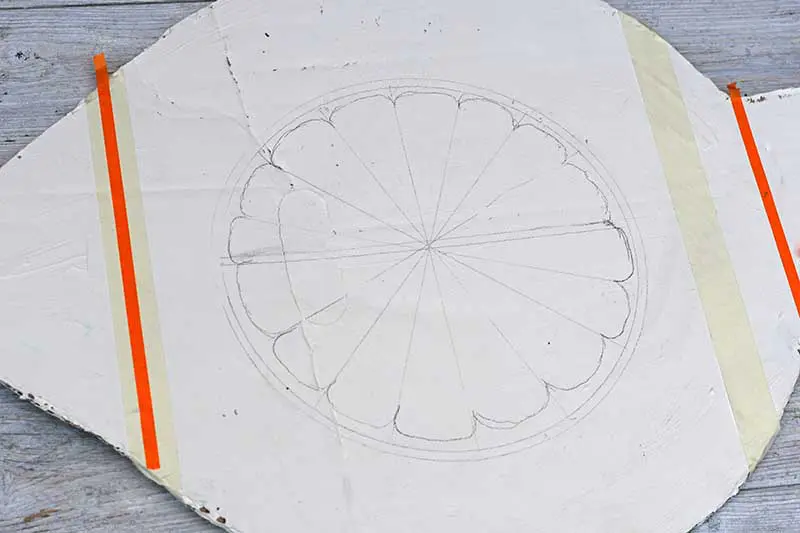 6. Now, the Christmas cardboard decoration is ready to paint. First, paint the bauble cap a greyish colour.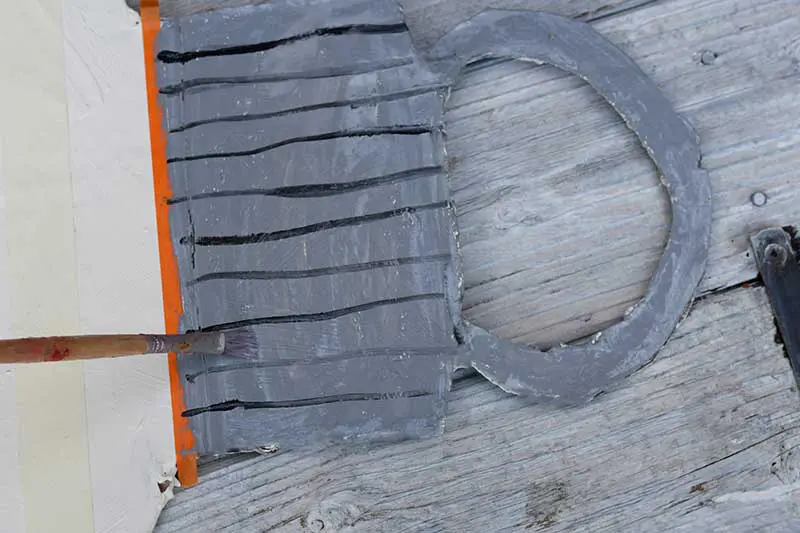 7. Next, paint the center dimple. I used a mixture of yellow paints in two similar shades. A lighter shade for the segments, which I then outlined with a darker shade of yellow. Again there is no need to be too neat with this painting as that is not the effect I was looking for.
Top tip: I watered down my paints so that I could achieve a more watery washed effect.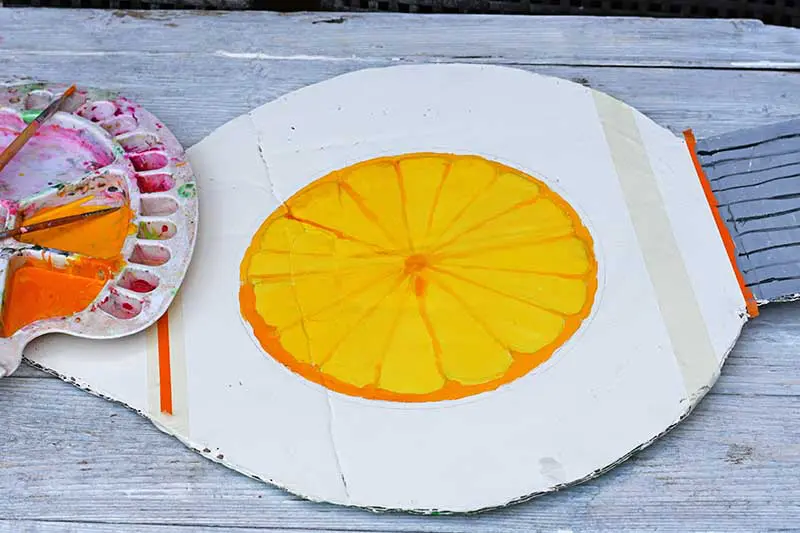 8. Next, paint the rest of the cardboard bauble red. Again water down the paint to achieve a slight washed effect.
When the paint is dry, remove the masking tape to reveal the white stripes.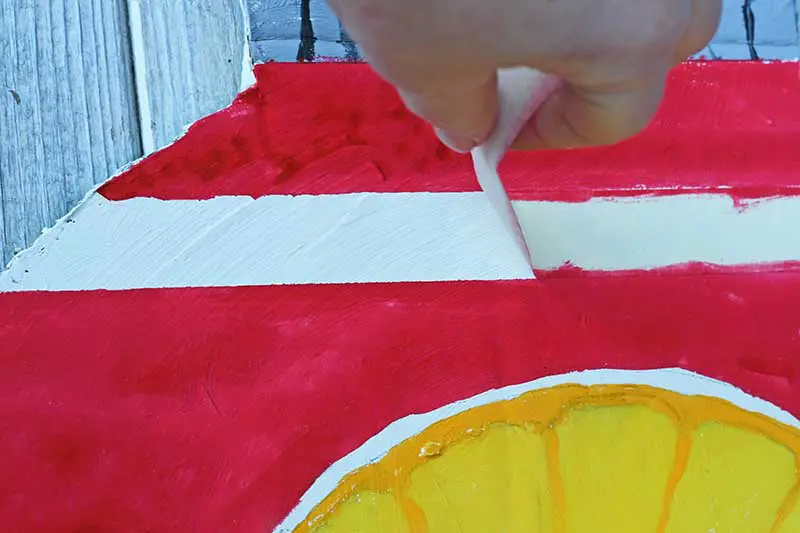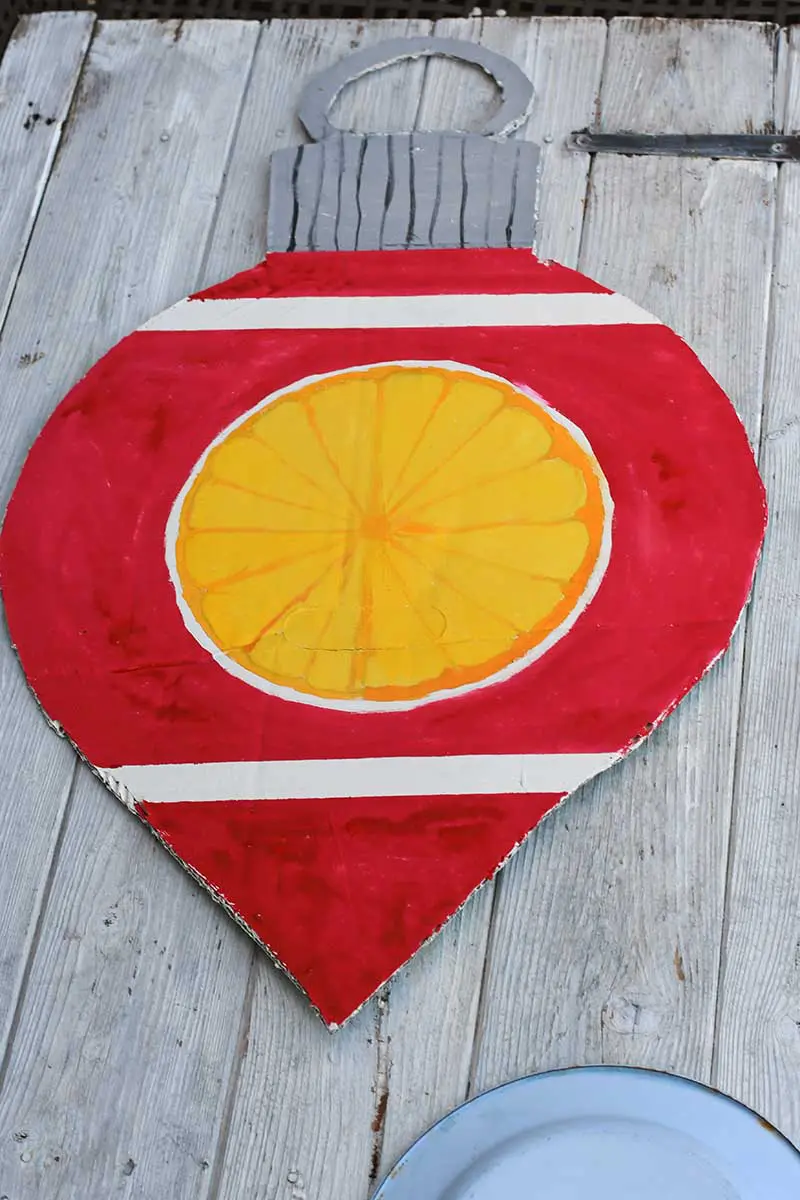 Finally, simply hang the cardboard Christmas ornaments on your wall. These baubles are very light. All you need is some ribbon and a pushpin to hang them.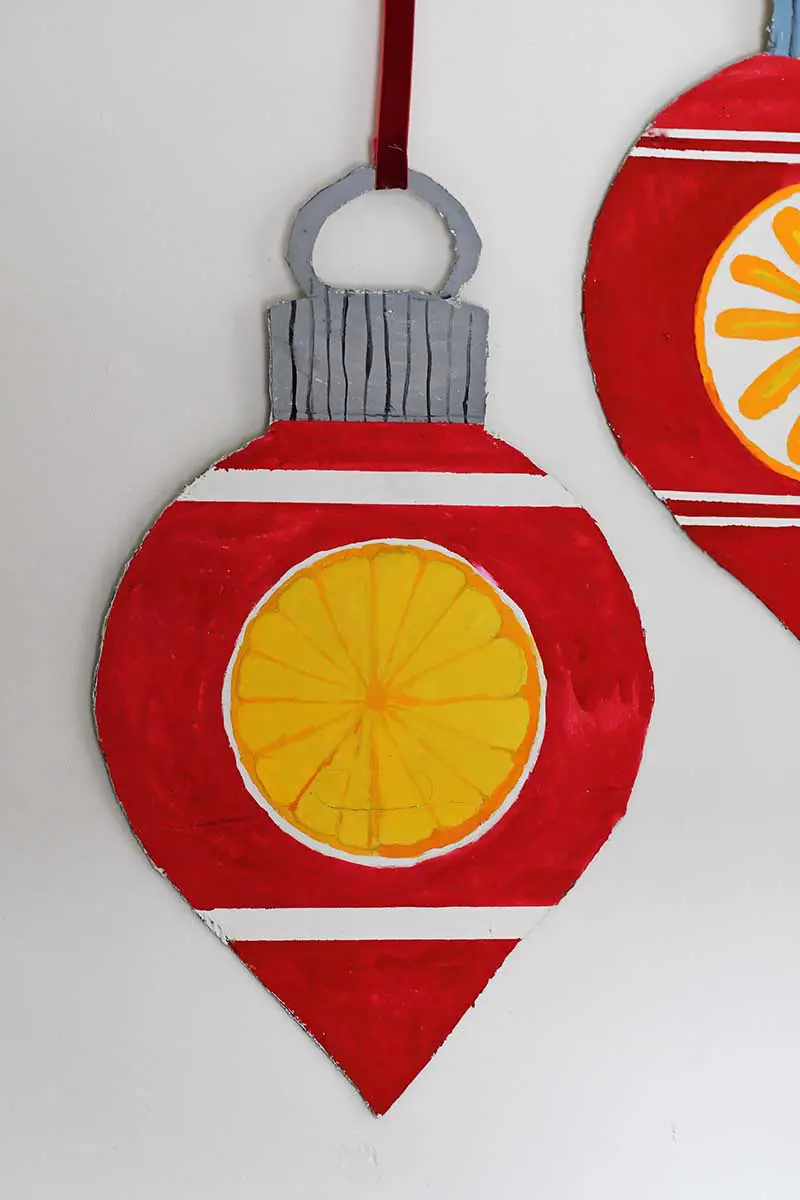 I managed to make 3 repurposed giant Christmas wall bauble from the same cardboard box.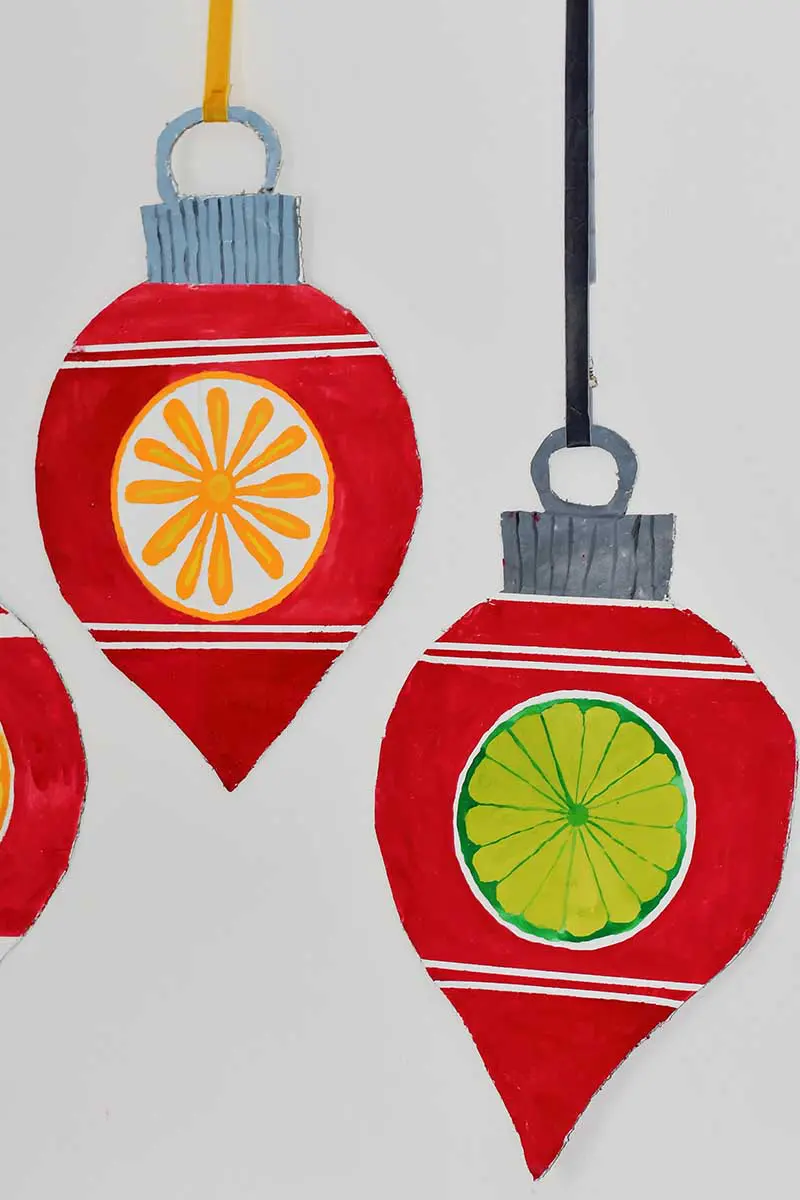 hanging all three giant Christmas ornaments together on the wall looks great. I will be making more in different colours. As I still have plenty of cardboard boxes.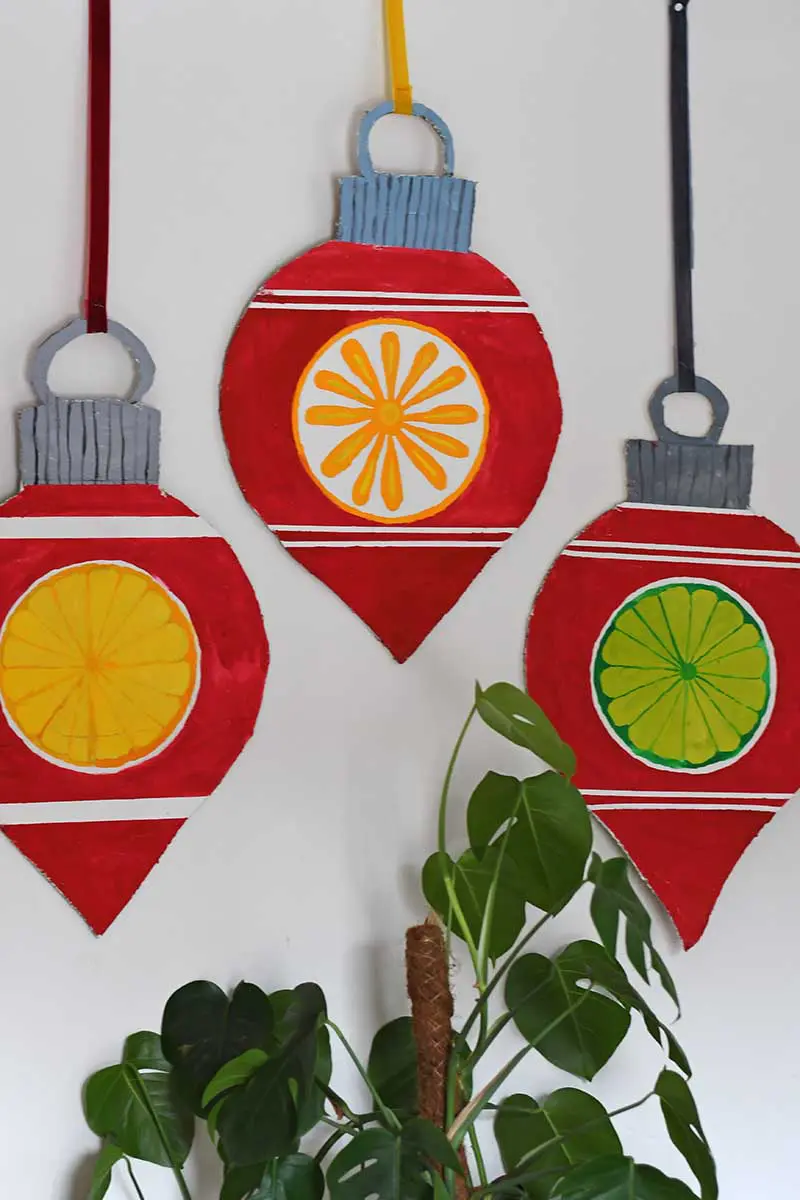 I'm a big fan of oversized Christmas wall decorations. In the past, I upcycled a tabletop with Marimekko paper napkins for a giant Christmas wall decoration, which I loved so much it stays on the wall all year round.
If you like to upcycle cardboard packaging, then you should also check out my gingerbread house garland and this cute cardboard suitcase storage.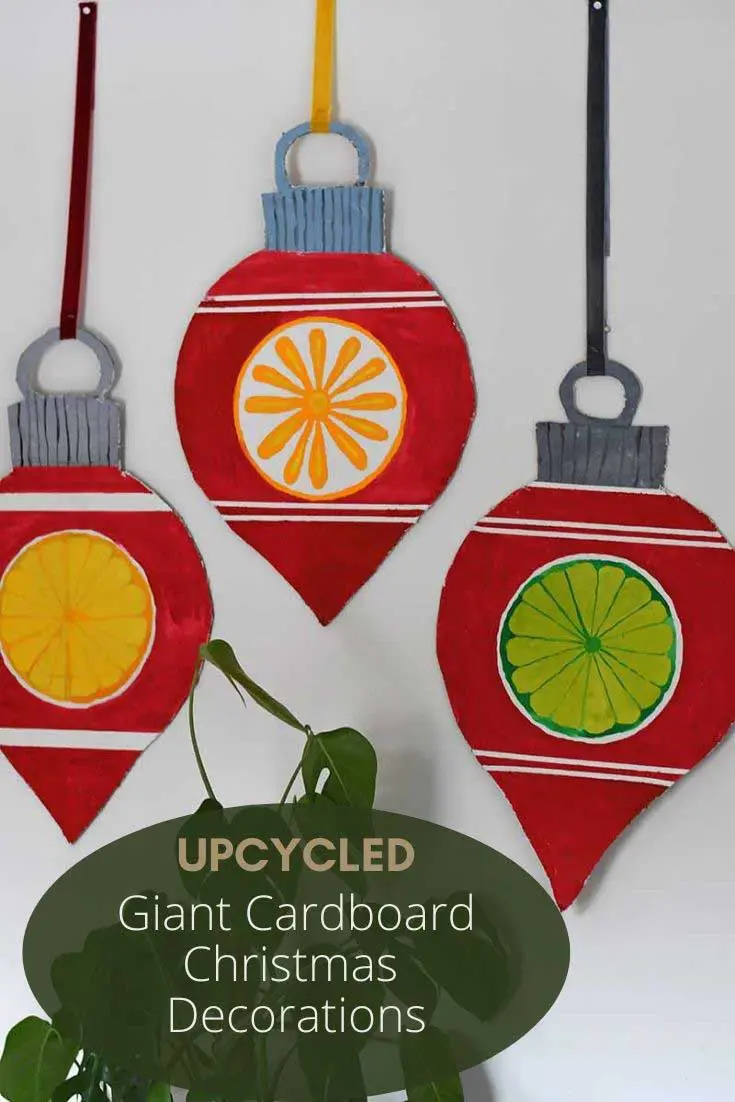 You'll find more thrifty craft ideas here.