It's shameful the number of cardboard boxes that arrive at our house in the build-up to Christmas! I try to ease my guilt over this mountain of cardboard by repurposing some of it into cardboard Christmas decorations like this gingerbread garland.
Last year I made some rather fun DIY Christmas decorations of penguins and snowmen from the cardboard packaging. I've even made 3D postage stamp ornaments with the packaging and giant cardboard ornaments.
This year I decided to up the ante this year with the repurposed Christmas gingerbread garland by adding lights.
One of my favourite parts of Christmas decorations is all the lights! They make the home seem so warm and cozy on those dark cold winter nights.
I love to use the copper string lights as they give a warm glow and are so versatile. I've used them in the past to make a giant led deer Christmas decoration and create some Christmas bottle lights.
Repurpose Your Christmas Packaging Into A Gingerbread Garland
This is a really simple green Christmas craft. The only real cost is for the lights. The gingerbread garland has a lovely rustic Scandinavian Christmas feel.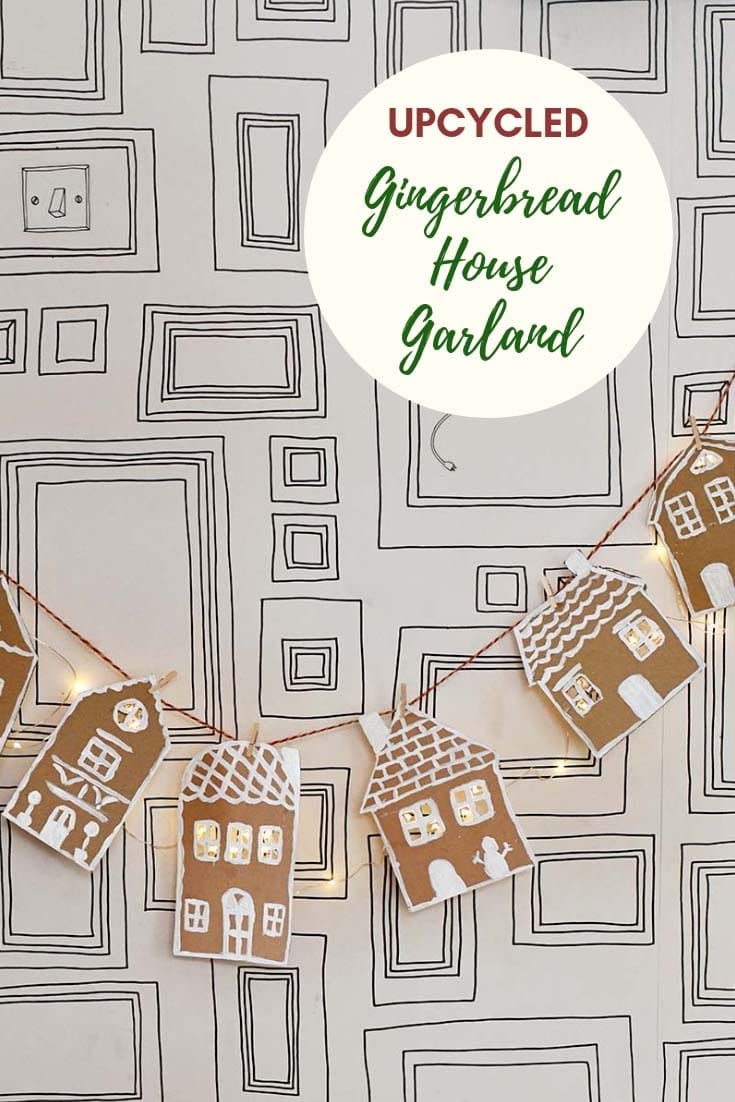 We are a participant in the Amazon Services LLC Associates Program, an affiliate advertising program designed to provide a means for us to earn fees by linking to Amazon.com and affiliated sites. As an Amazon Associate, I earn from qualifying purchases.
What you need to make an upcycled gingerbread garland
Scrap kraft cardboard – I used the packaging from some Amazon deliveries.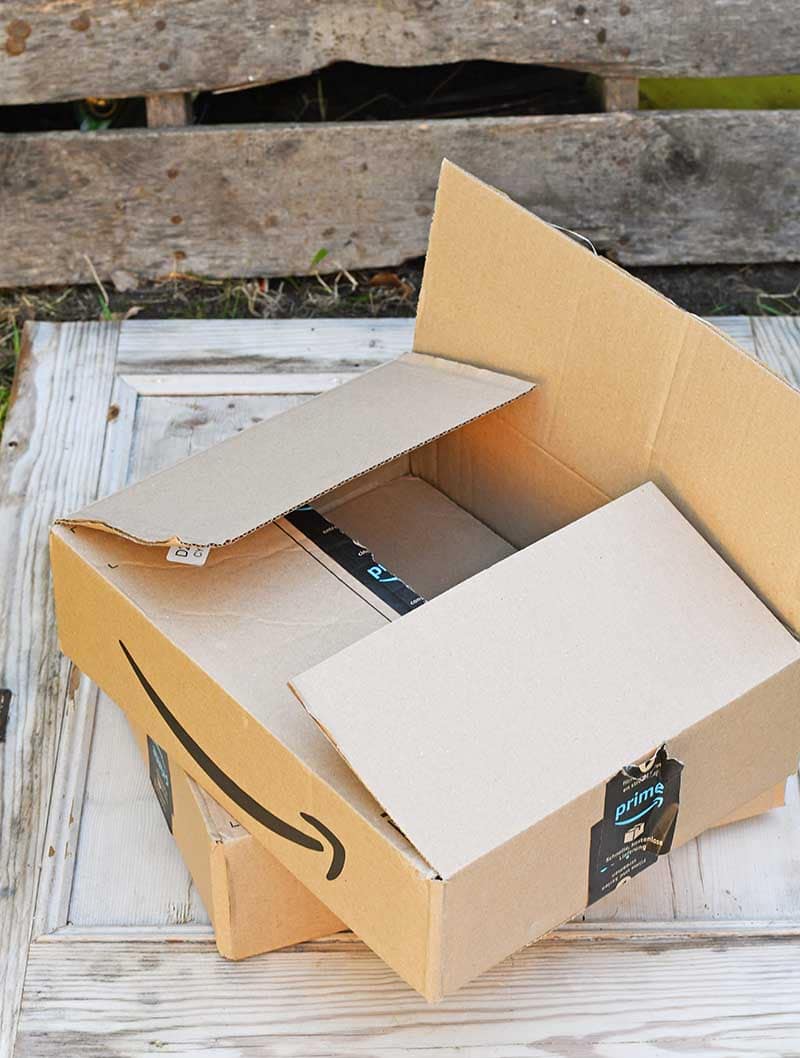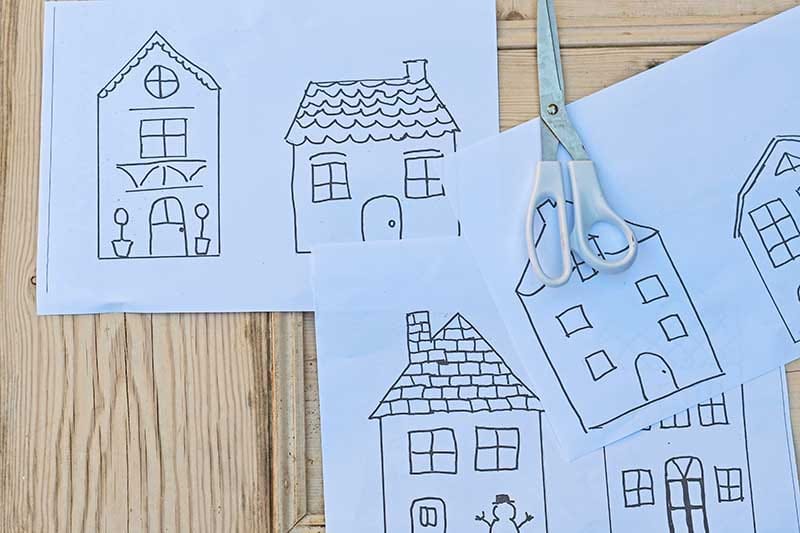 Black pen, white paint and brush
How to make an upcycled gingerbread garland
1.. The first thing to do is to either draw freehand or print out the gingerbread house template. Then cut out each gingerbread house design. With a craft knife, cut out any windows that you would like the lights to shine through.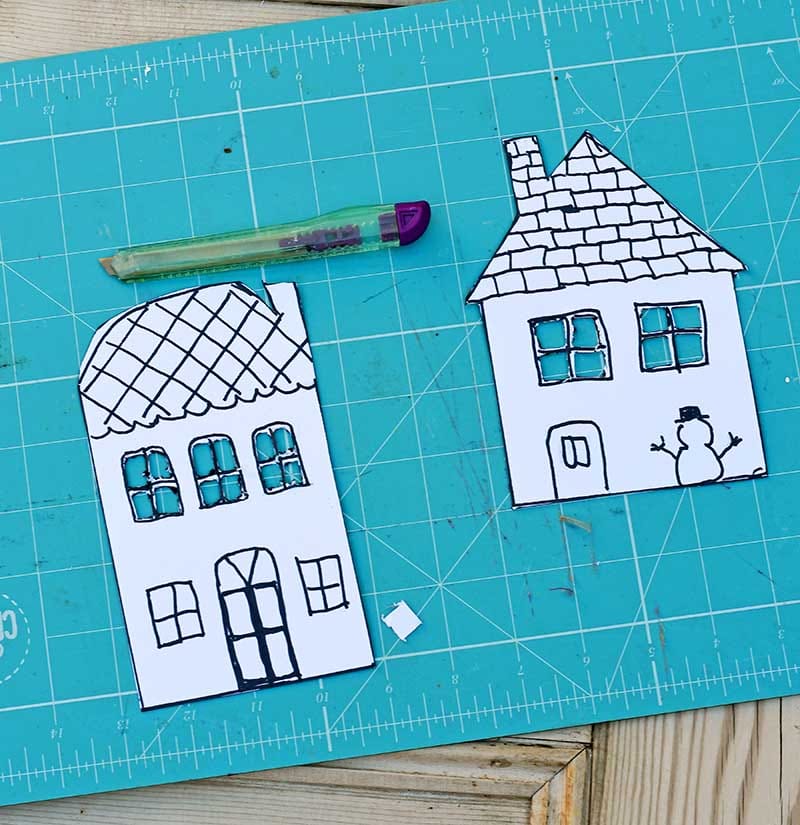 2. Next, place the gingerbread house template onto the cardboard packaging you are going to upcycle. Draw around the template with a black sharpie, remembering to mark the windows to be cut. Then cut out the gingerbread garland shapes.
I used a craft knife and cutting board for this. You can cut the cardboard with scissors but it gets tricky with the windows.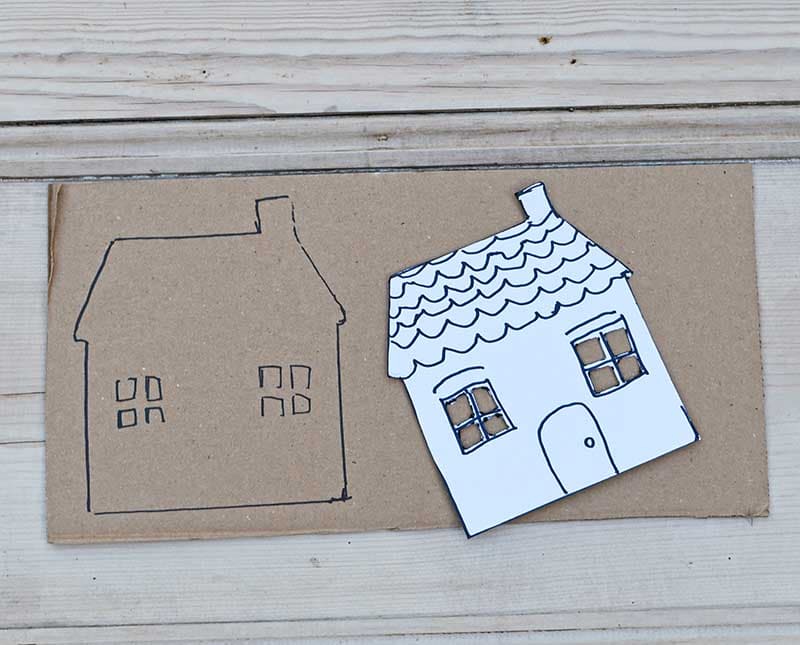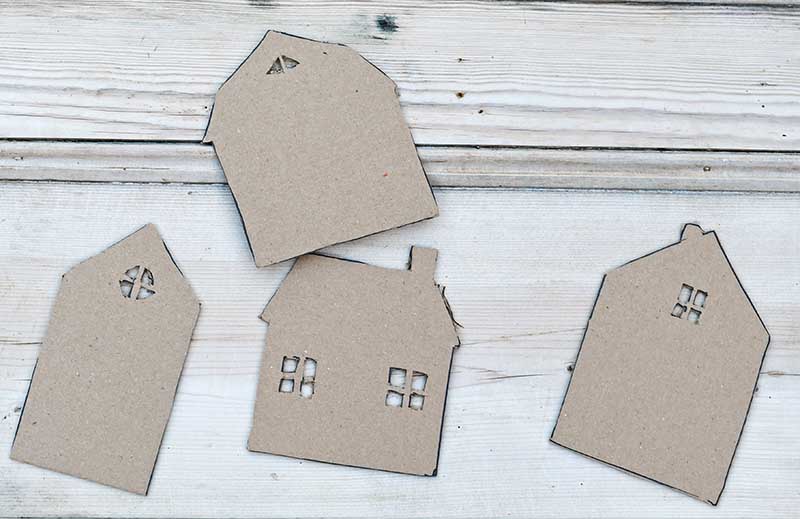 3. Next, paint the trimmings on the houses in white paint. Use the original template as a guide. If you want neater lines, then try painting with acrylic paint pens onto the cardboard.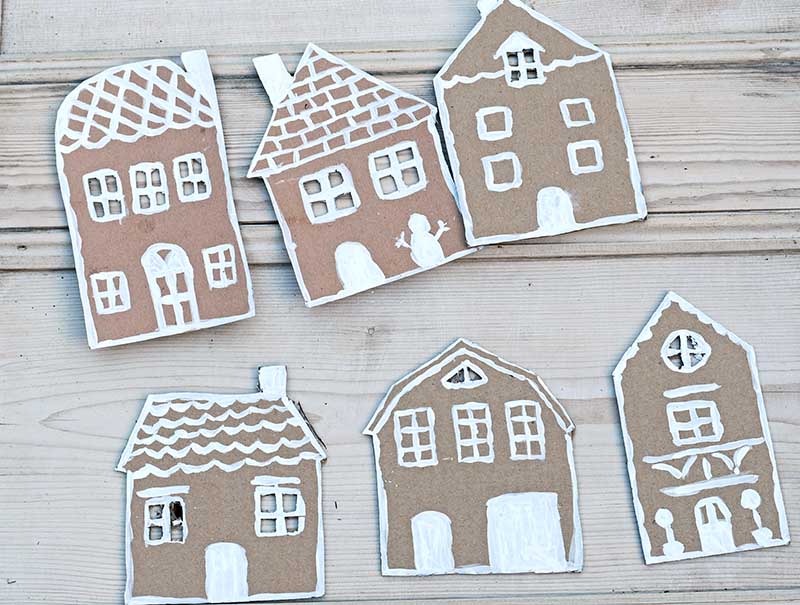 Adding the lights to the gingerbread garland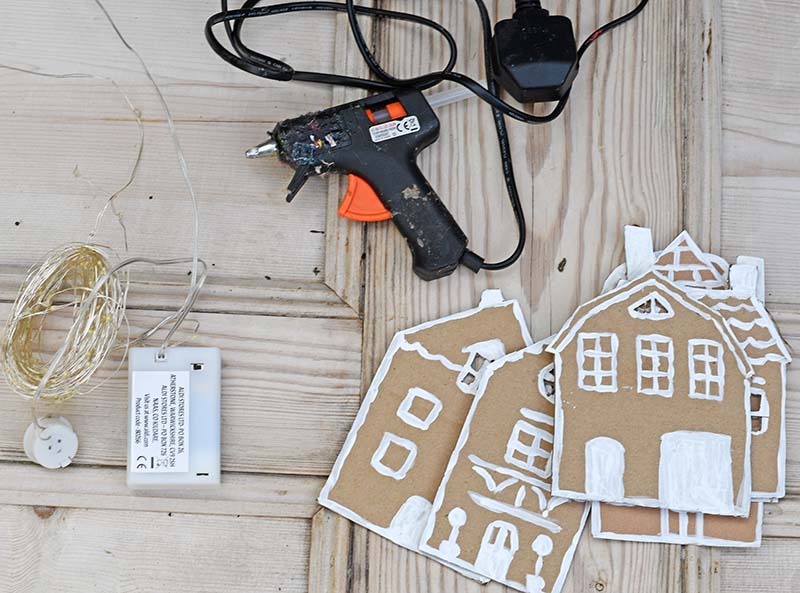 4. Then, using a hot glue gun, glue the copper string lights to the back of each cardboard gingerbread house. Make sure that you glue the lights in a position so that they shine through the cut windows.
Leave a gap on the copper string lights of about 10cm between each gingerbread house.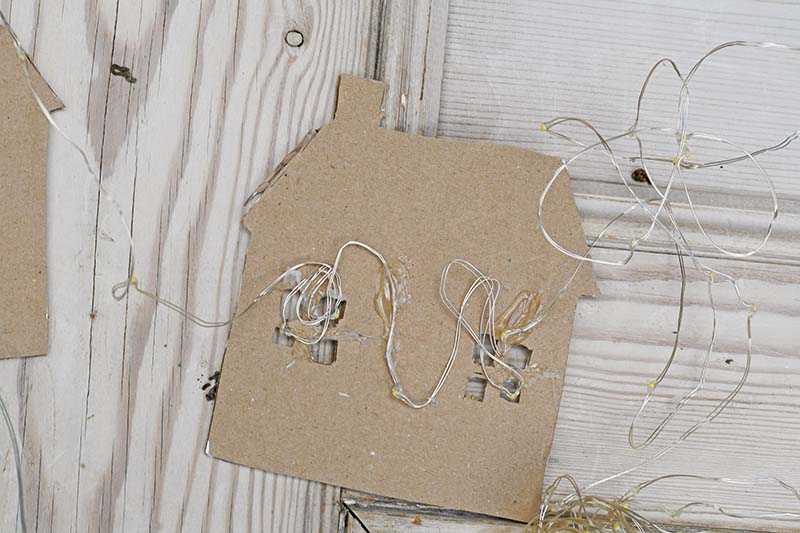 5. Finally, hang your gingerbread garland by pegging each house to a line of Christmas twine.
I love the simplicity of this garland. I think it looks great in my dining room against the framed wallpaper. If you want a more sophisticated look you could make these gingerbread houses with upcycled leather scraps.
Looking at it though does make me feel a little peckish. I do love a bit of gingerbread with my coffee this time of year, especially if it is the spiced Scandinavian Christmas gingerbread. I might actually make a gingerbread garland out of real gingerbread, just so I can eat it.
A gingerbread advent calendar would be fun, with a numbered gingerbread house to eat each day!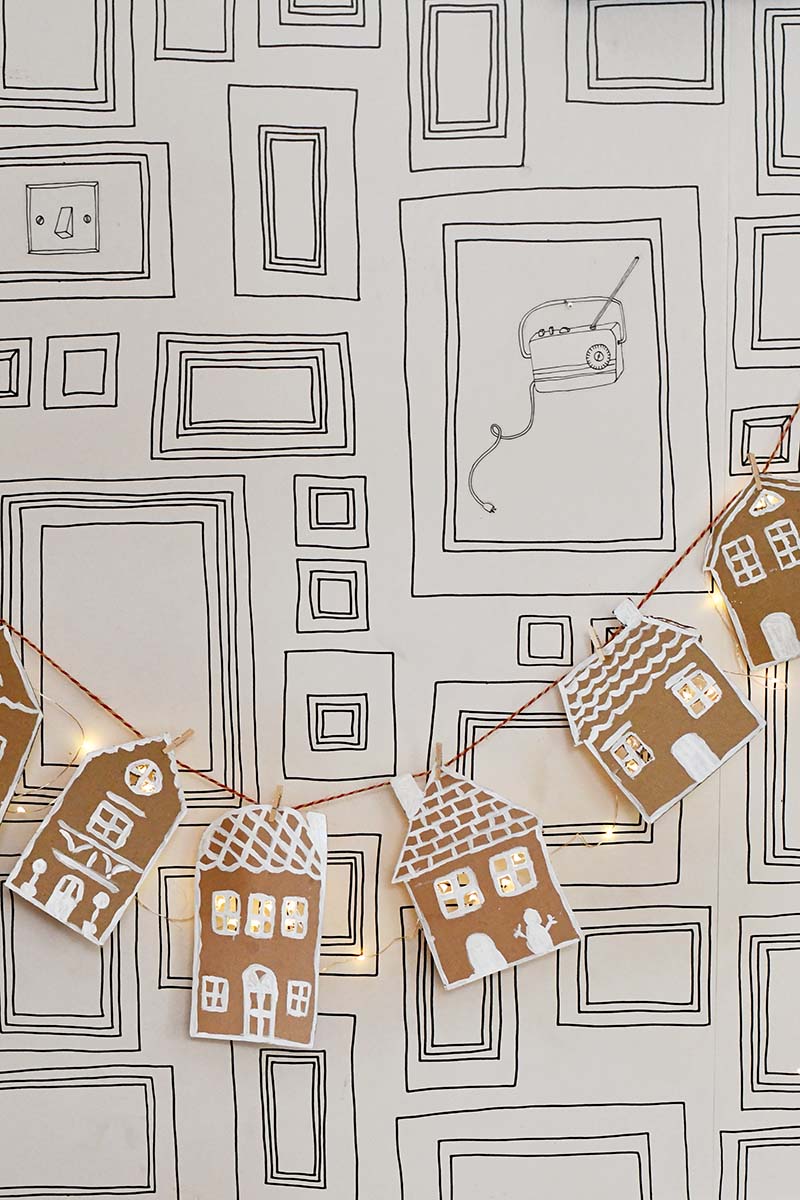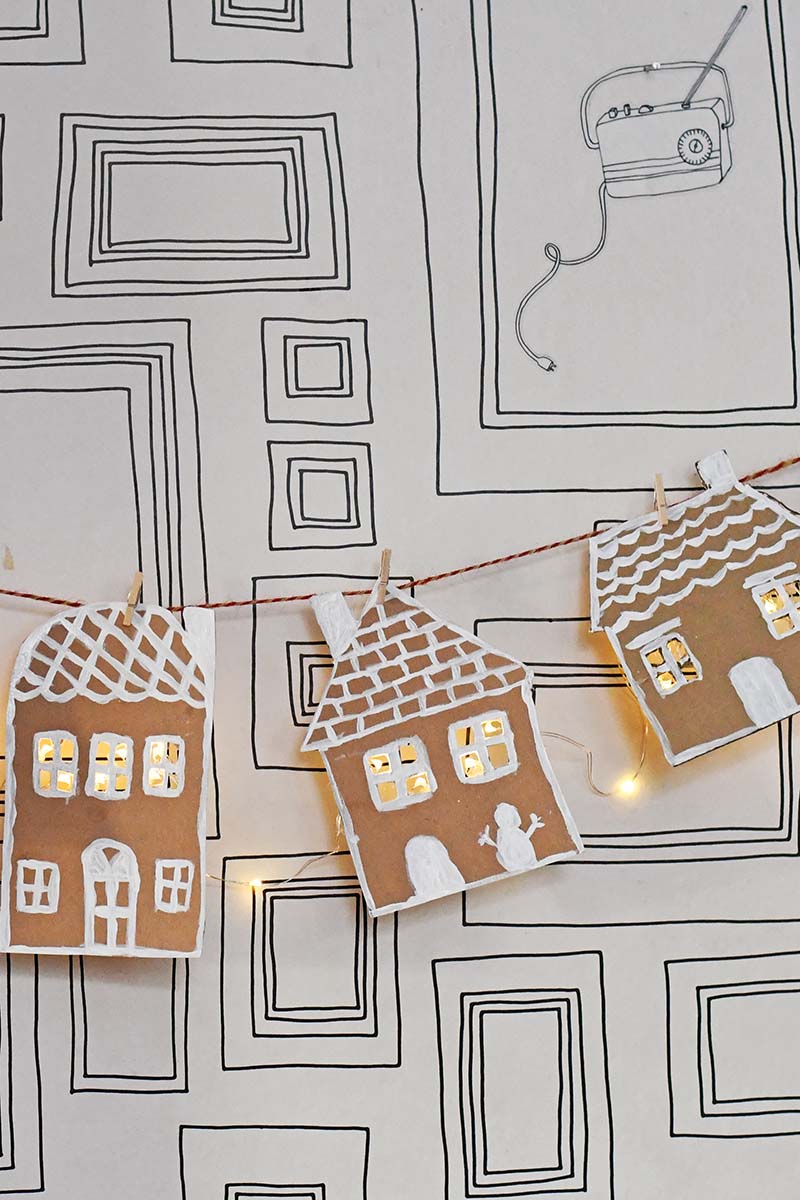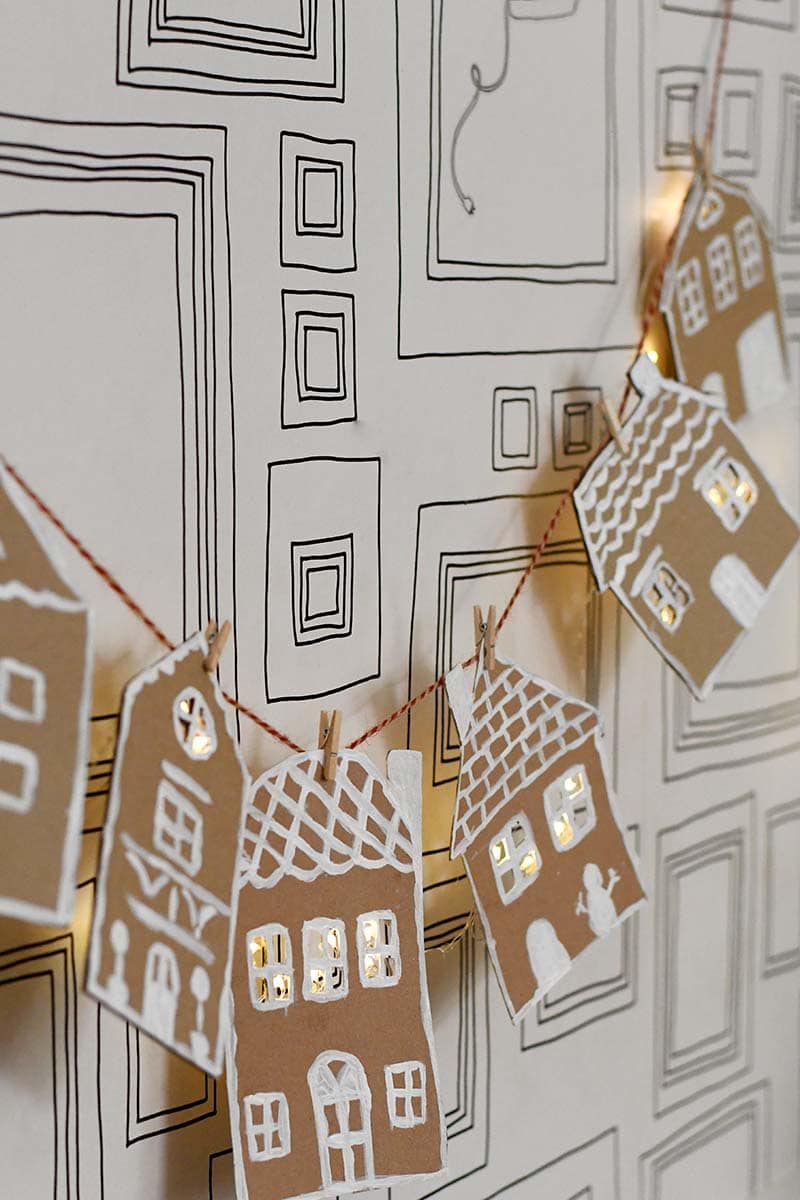 If you like this post you may want to check out these other upcycled Kraft Christmas posts.
Fun DIY Christmas Decorations Penguins
Homemade Advent Calendar From Kraft Paper
How To Make Repurposed Map Decorations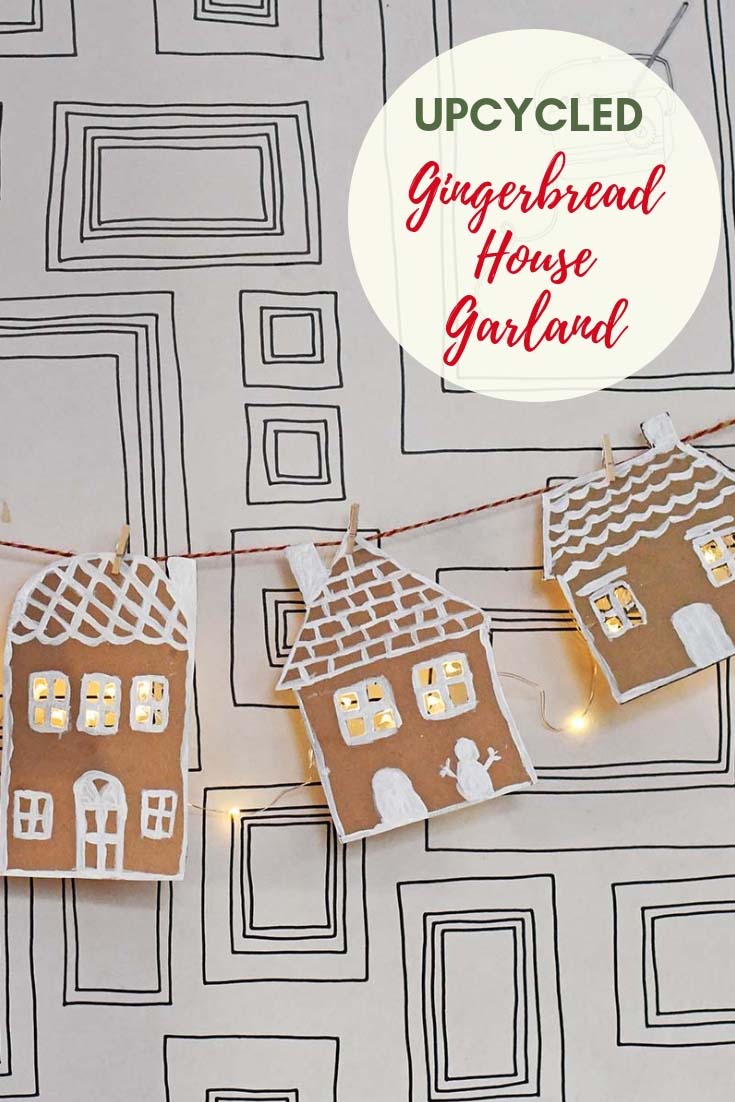 If you are looking for more thrifty craft ideas check out cheapthriftyliving.com