I never seem to have enough craft storage. Especially, boxes in which to hide the little things. Instead of buying something I decided to reuse what I already had at home with this shoebox craft.
One of the best things about this shoebox craft is that I could sit and do all the doodling whilst catching up with the winter Olympics.
This craft cost me virtually nothing, as I had everything already. It was a very quick and simple upcycle and featured under B for boxes in the list of A to Z of upcycling ideas.
Create Vintage Suitcases With Shoebox Craft
The boxes look really cute on my shelves and I think I will be making some more. I might even add some labels to the boxes disguised as luggage tags.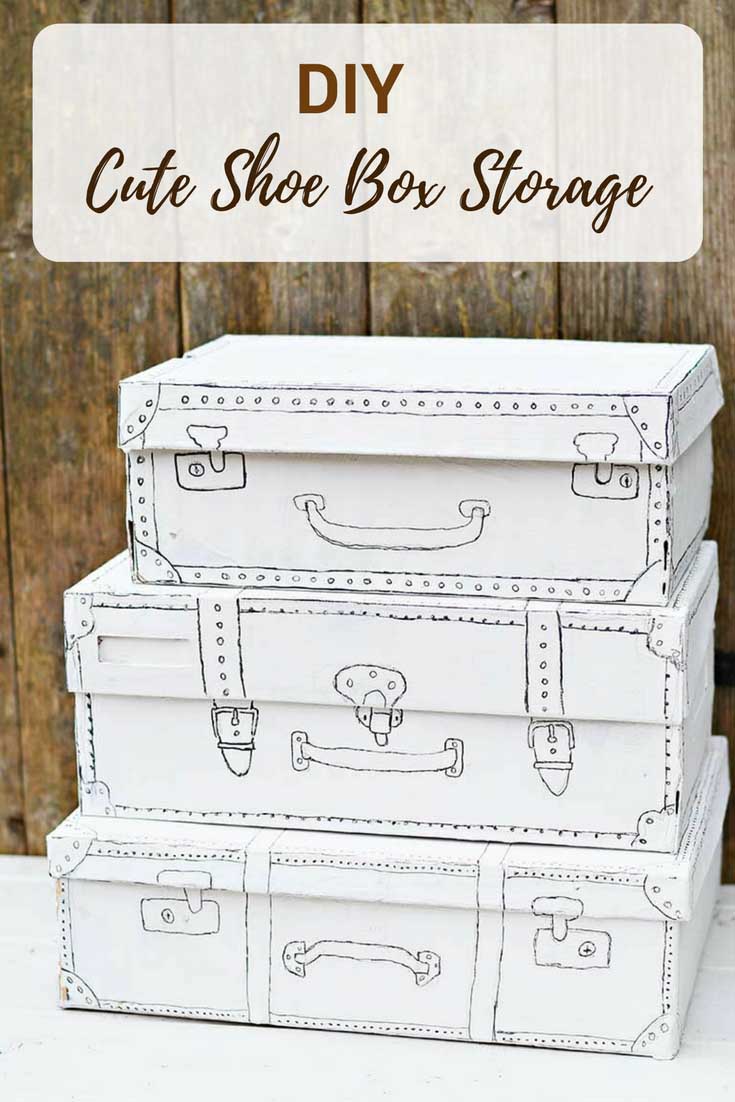 We are a participant in the Amazon Services LLC Associates Program, an affiliate advertising program designed to provide a means for us to earn fees by linking to Amazon.com and affiliated sites. As an Amazon Associate, I earn from qualifying purchases.
What you need
Cardboard shoeboxes – I used boxes in various sizes.
Pencil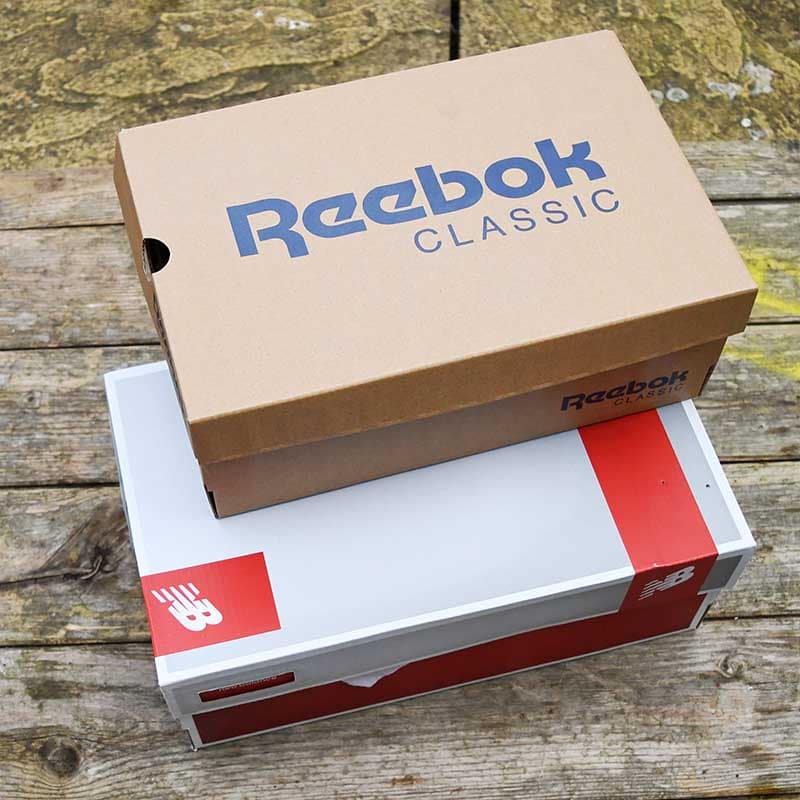 How to make Shoeboxes look like vintage Suitcases
First, paint the shoe boxes white with chalk paint. You can use other white paint, but I personally prefer the matt finish you get with chalk paint. I just used a wall paintbrush for this.
If the shoeboxes are brightly coloured, more than one coat of paint may be needed.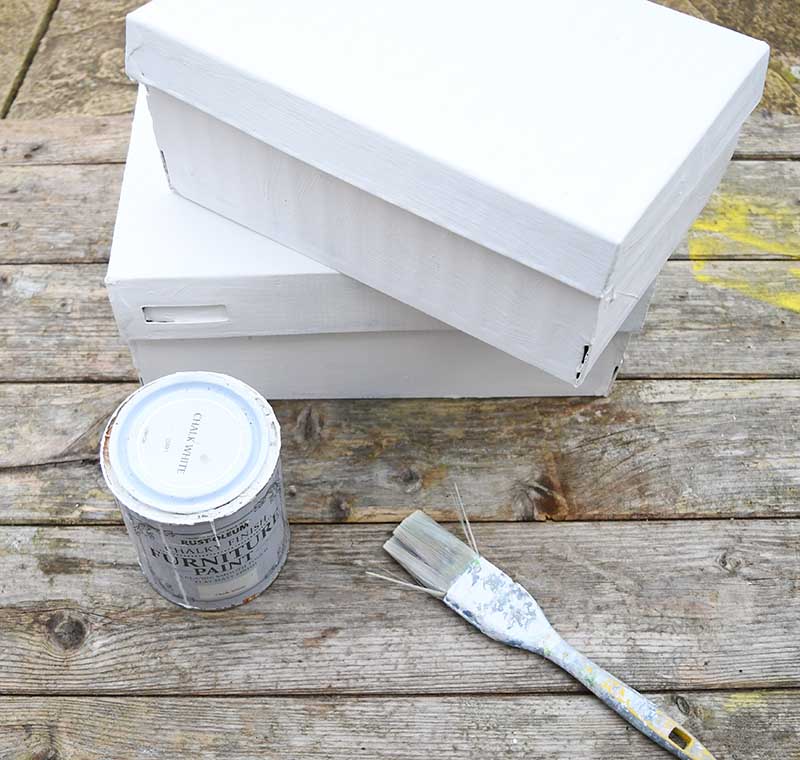 2. Next, once the paint has dried on the shoeboxes then you can draw on the suitcase furniture. Before doodling onto the shoe boxes, sketch out some designs of handles, hinges and locks, and corners. This will give you a reference guide to refer to when doodling.
You can copy the doodles I used below.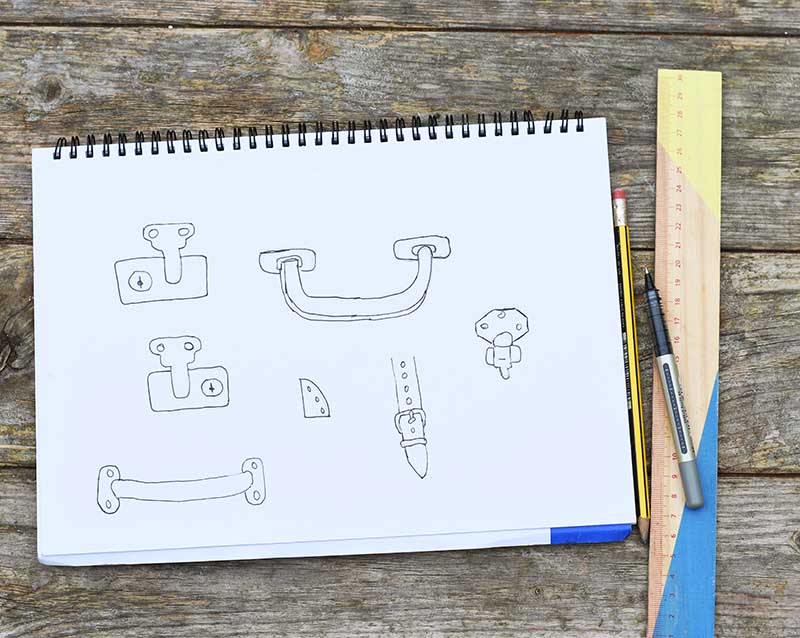 3. Next, draw the vintage suitcase doodles onto the white shoe boxes first in pencil. Make sure you add a handle, locks, corners and trims to each shoebox.
Then when you are happy with the design go over the pencil marks with a black sharpie.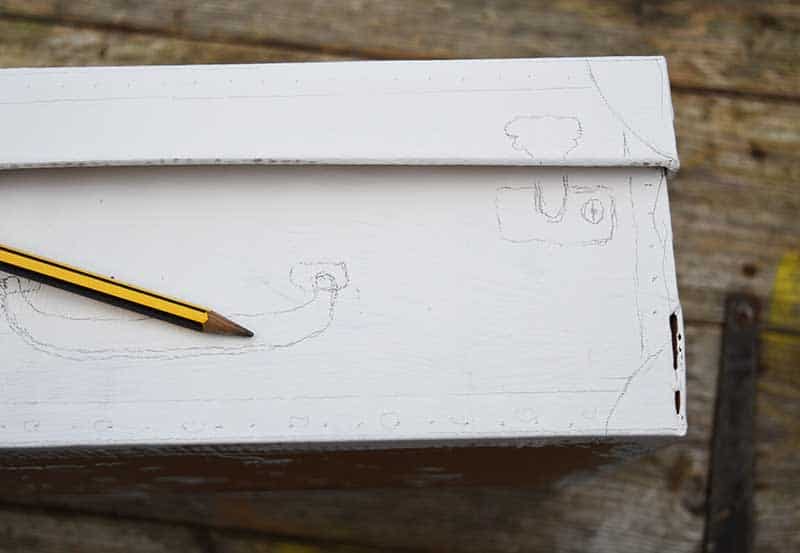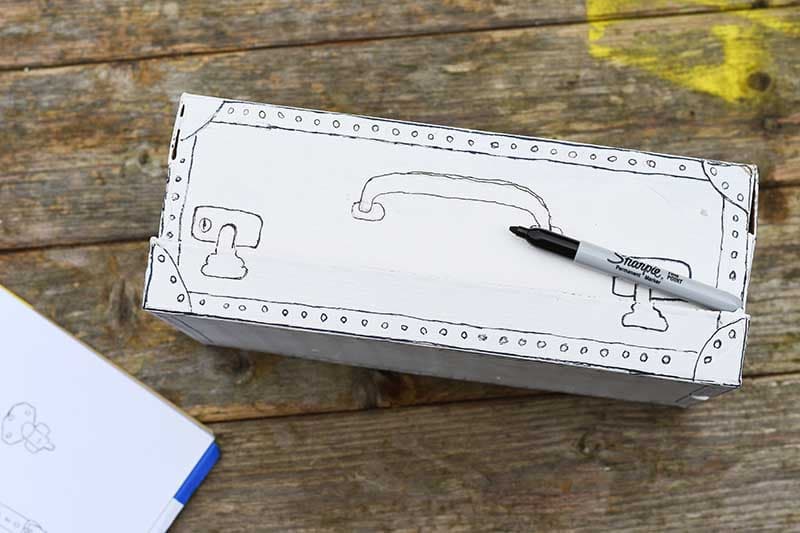 4. With this shoebox craft, I doodled on the front, back, sides and top.
Top tip: Don't worry if you make a mistake with the sharpie. You can always paint over it with more white chalk paint and start again.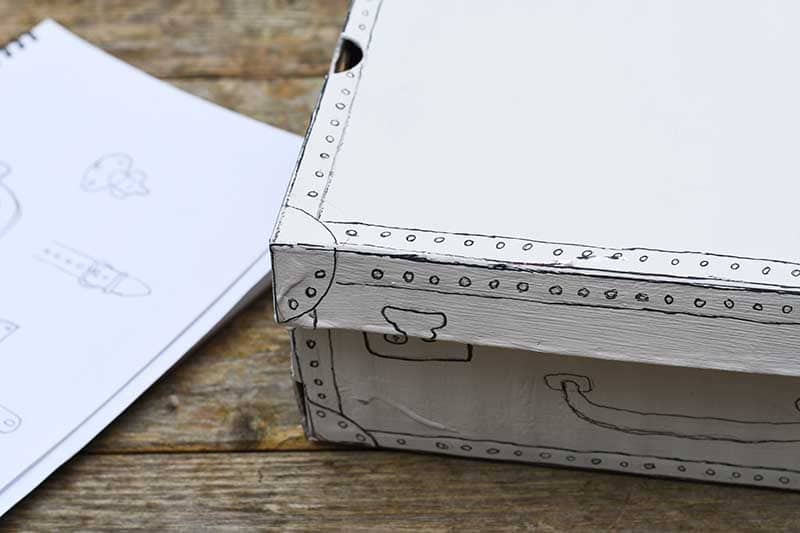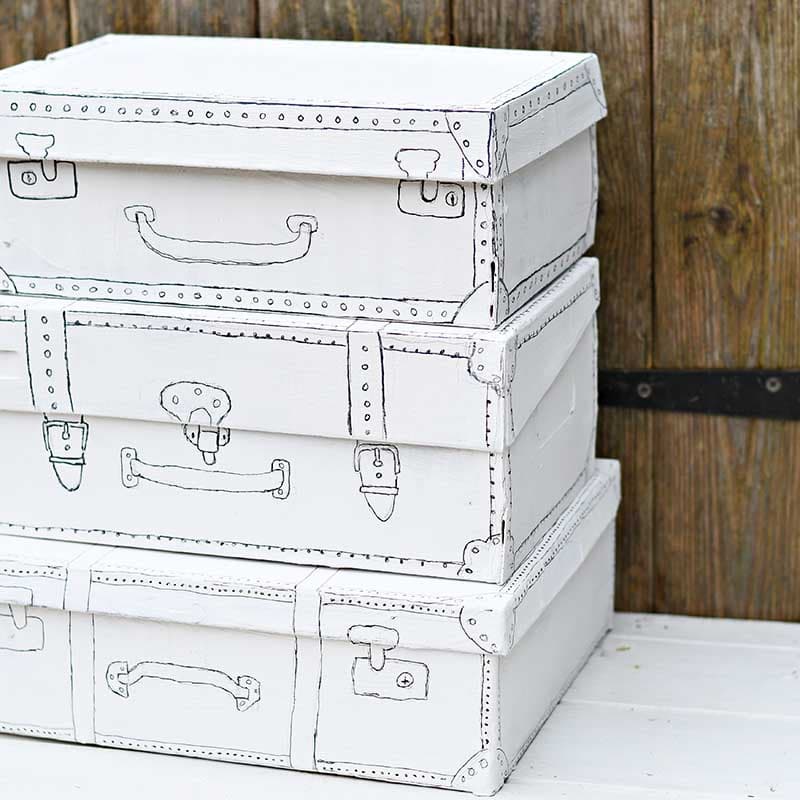 Other shoebox craft ideas
I'm really pleased with how these shoeboxes turned out and can't wait to make some more.
With five of us in the family that do a lot of sport, we get through a lot of shoes. I need to find some more shoebox crafts! I think I will cover some of them in maps as I did with my empty cookie tins. Instead of drawing on the handles, I could actually make real ones out of leather scraps.
The simple monochrome look of these suitcases inspired me with some fun Christmas decorations. I made some simple white felted baubles with black stitching, and a black and white Scandi felt forest.
There are many wonderful cardboard Christmas crafts here.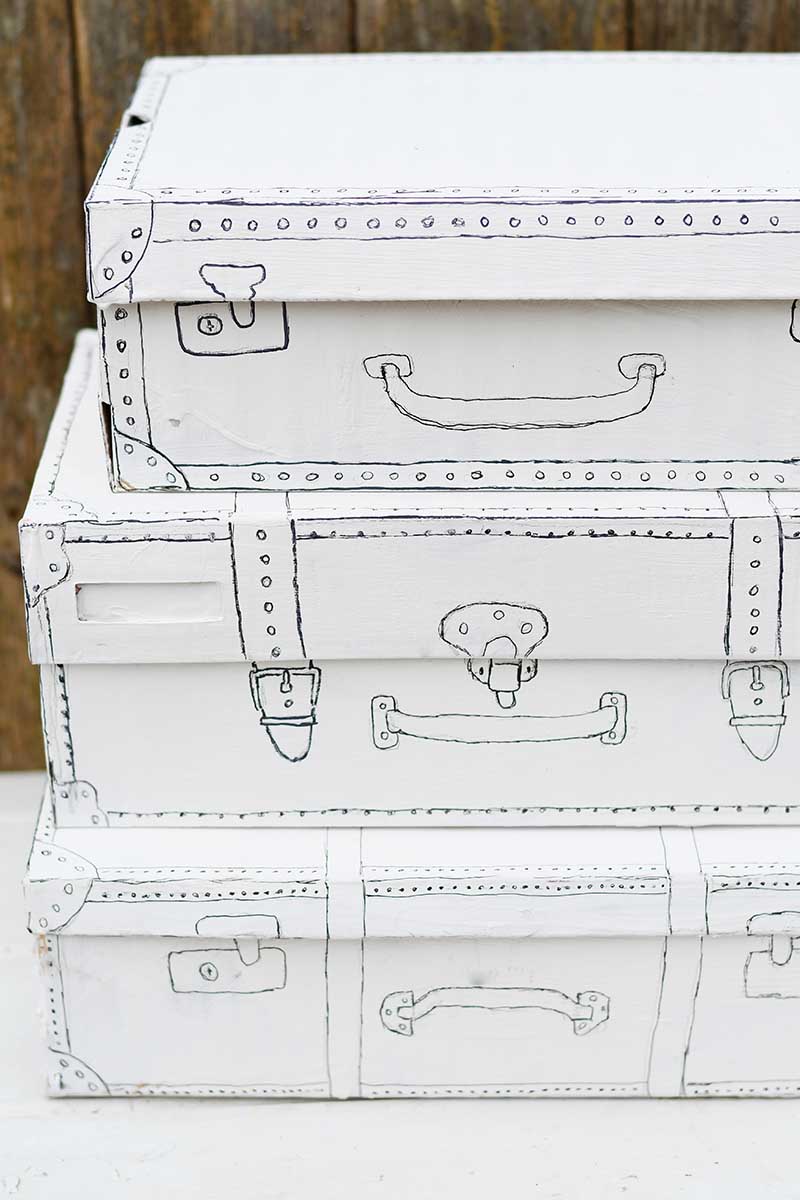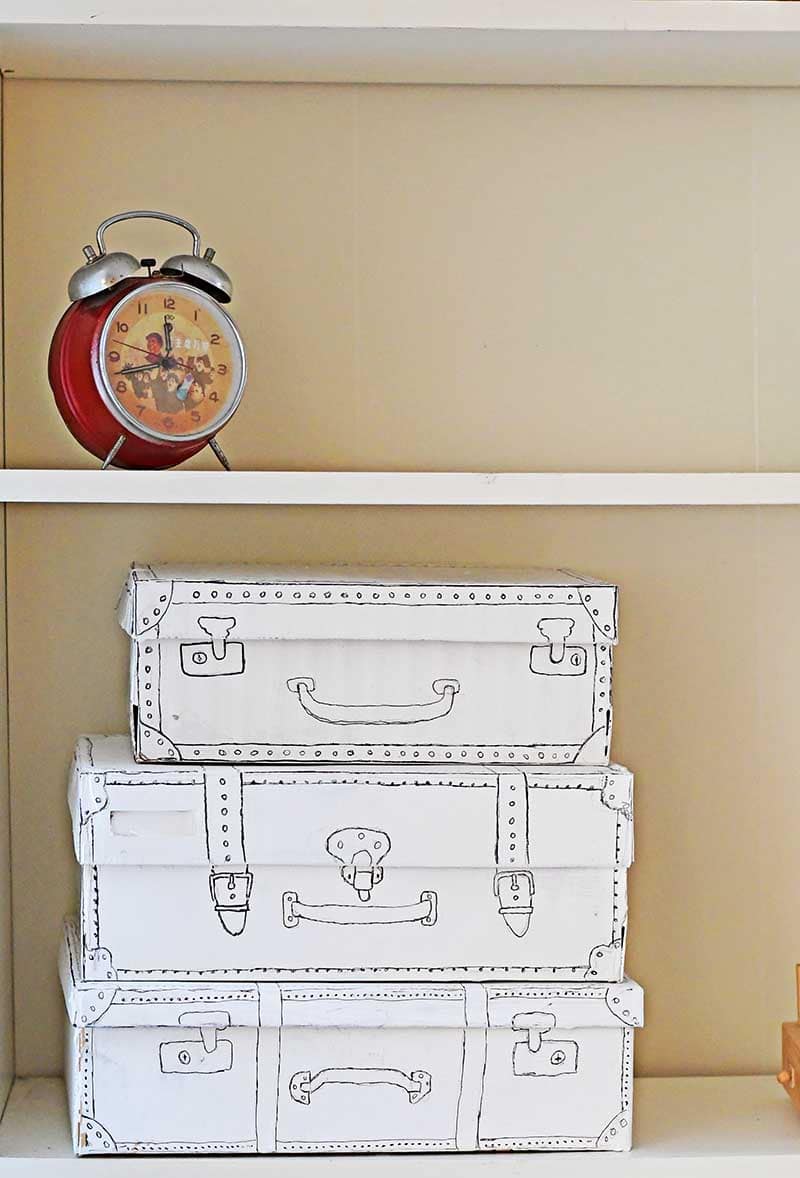 The vintage suitcase shoe boxes also blend in well with the wallpaper in my dining room. It's a bit like camouflage.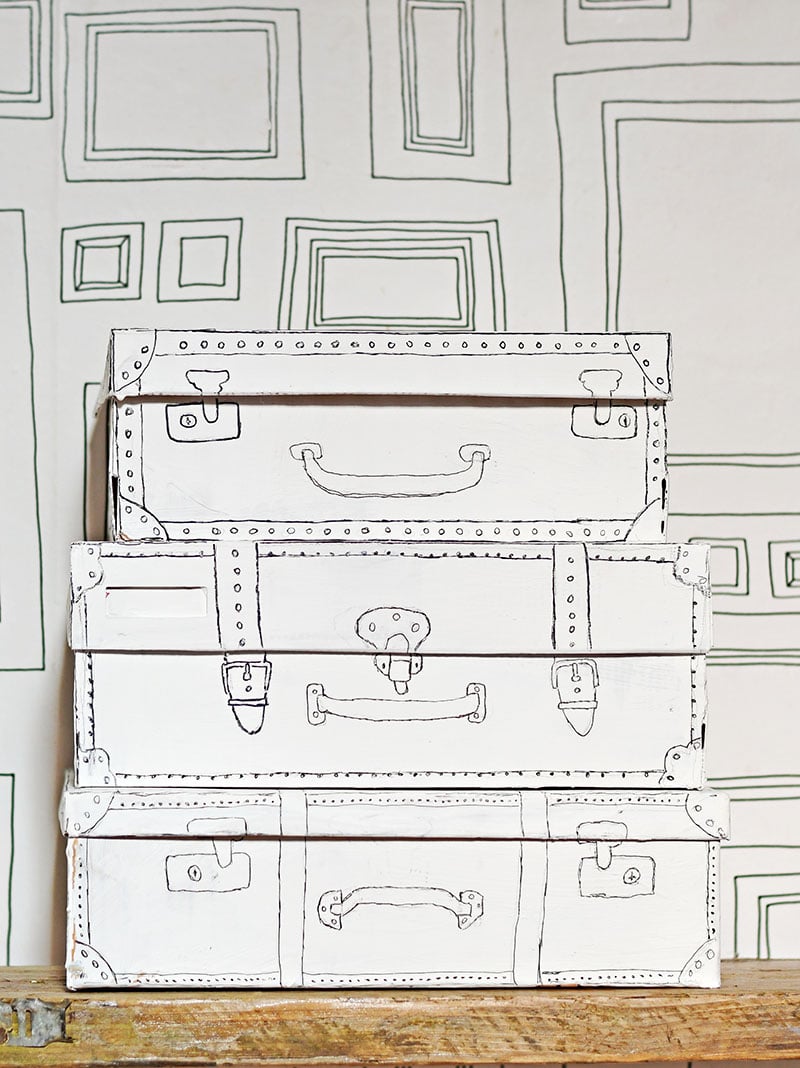 With the addition of wallpaper, you can make a pretty cool upcycled picture frame from a shoebox lid.
If you are looking for more craft storage ideas you might want to check out these DIY storage boxes with denim and stylish copper and denim craft caddy. Also, my festive painted wicker hamper.
For other uses of cardboard boxes, check out these giant cardboard Christmas decorations.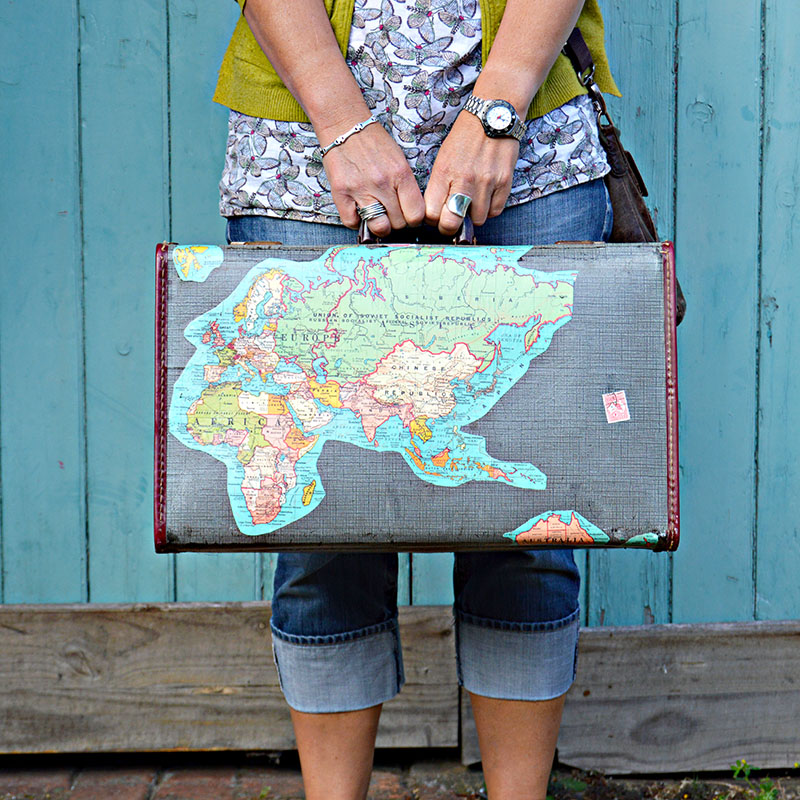 Or even my popular vintage map suitcase.
For other DIY craft storage ideas check out favcrafts.com