Every year I make a load of upcycled and repurposed Christmas ornaments. At least one of those involve using some of my denim scraps. I'm very fond of Scandinavian Christmas decorations. This year I've made a denim Dala horse ornament.
If you're not familiar with Scandinavian decorations, you might not know what a Dala horse is.
A Dala horse is a traditional carved and painted wooden statue of a horse. They originated from the Swedish province of Dalarna. Originally they were made as toys. These days the horses are more of a Swedish cultural symbol.
I liked the idea of making a mini denim Dala horse wall hanging for part of my Christmas decorations. All you need are the smallest of denim scraps to make these horses.
So that each of the horses was a different shade of indigo, I repurposed the denim from 3 different pairs of jeans.
This denim Dala horse featured under the letter D in the A to Z of denim crafts.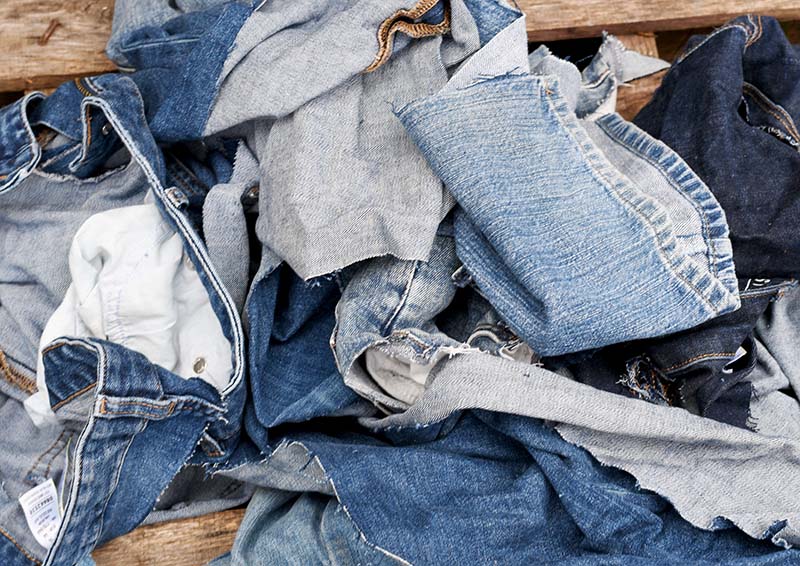 Making A Dala Horse Ornament Stencil
Whilst sorting out my craft room, I found a Dala horse stamp I had hand-carved many years ago. I'd used the stamp to make Christmas cards and tags. That's when I got the idea for using it to make some Dala horse Christmas ornaments.
Unfortunately, the stamp wasn't going to work with this upcycle. What I really needed was a Dala horse stencil. I don't have any fancy craft cutting machines. I make made my stencil the old-fashioned way by hand, as I did with my painted Christmas basket.
We're a participant in the Amazon Services LLC Associates Program, an affiliate advertising program designed to provide a means for us to earn fees by linking to Amazon.com and affiliated sites. As an Amazon Associate, I earn from qualifying purchases.
What You Need
Small scraps of denim – You will need 2 identical pieces of denim about 15cm (5″-6″) square for each Dala horse ornament. Softer worn denim pieces are best for this craft. If the denim is too stiff turning out the horses can be very difficult.
Heavy paper to use as a stencil
Needle and thread
Fiberfill – I use old pillows
Ribbon or scrap fabric for hanging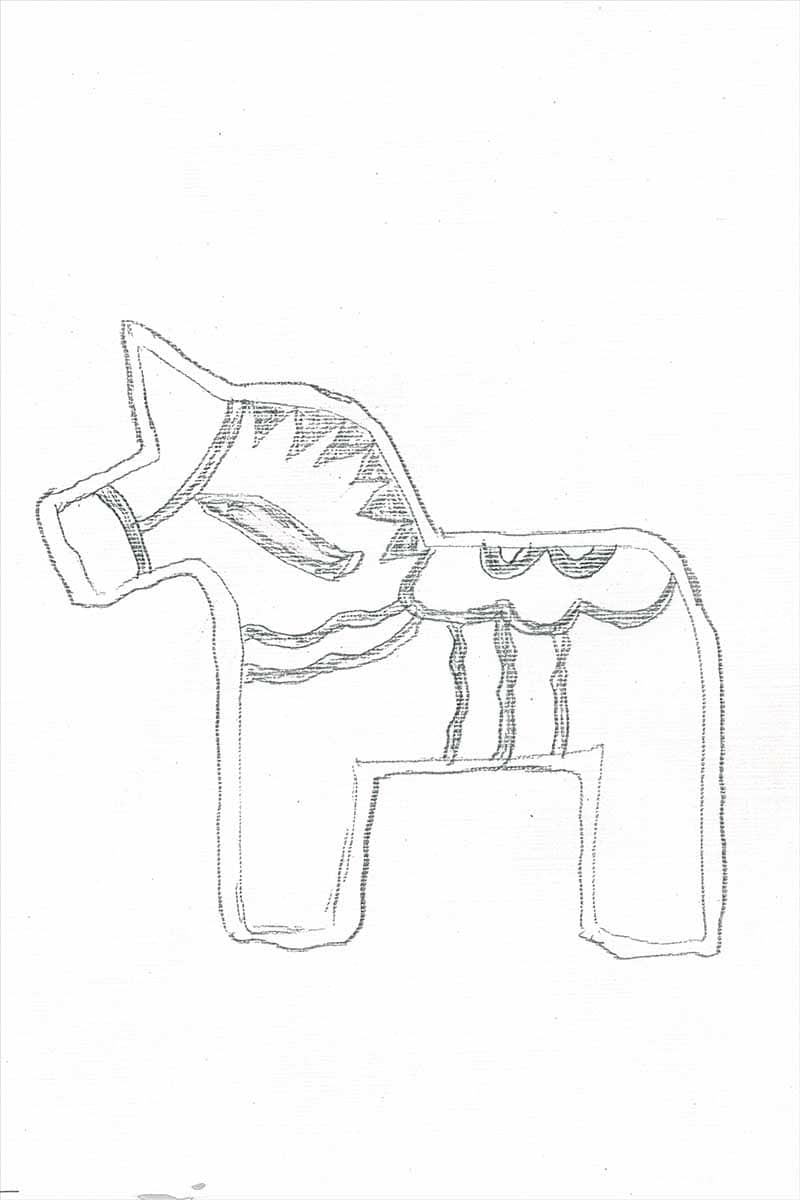 How To Make A Swedish Dala Horse Ornament
Making the Stencil
1.. The first thing to do is to make the stencil. Print out the Swedish Dala horse above onto heavy paper (about 260gms). Cut out the Dala horse shape from the paper.
Then cut out the areas on the horse, shaded with pencil. Use a paper cutting knife. You will notice that the shaded area doesn't go to the edge of the stencil.
This is for two reasons. First, if the markings were cut to the edge, this would make the stencil not very stable. The second is that the border is to allow for a seam allowance when stitching the Dala horse ornament.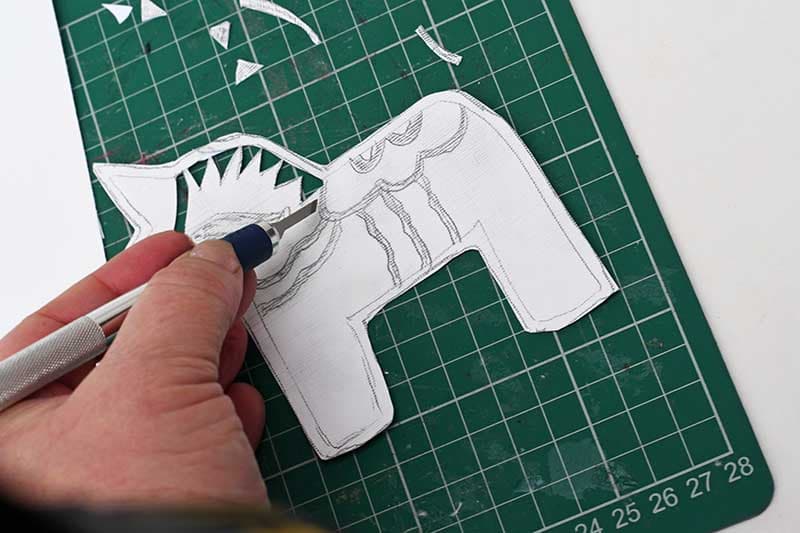 2. Next, I sprayed the Dala horse stencil with an acrylic varnish. This was to make it more robust and slightly waterproof. As I was planning to use the stencil more than once, I wanted it to last.
I sprayed both sides of the stencil so that it could be used with the horse facing either way.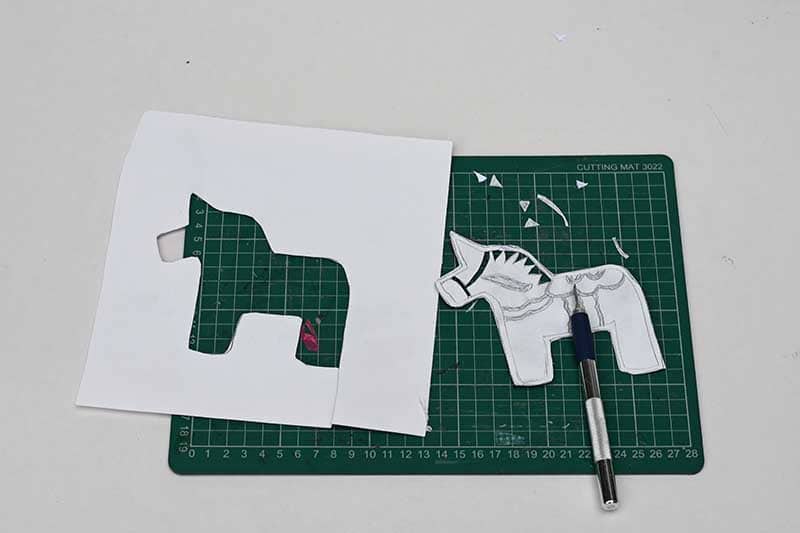 Making the Denim Dala Horse
3. Next, place the stencil onto a scrap piece of denim. Using the acrylic paint pen, draw around the outside of the stencil. Then with the same pen, paint in all the stencil gaps.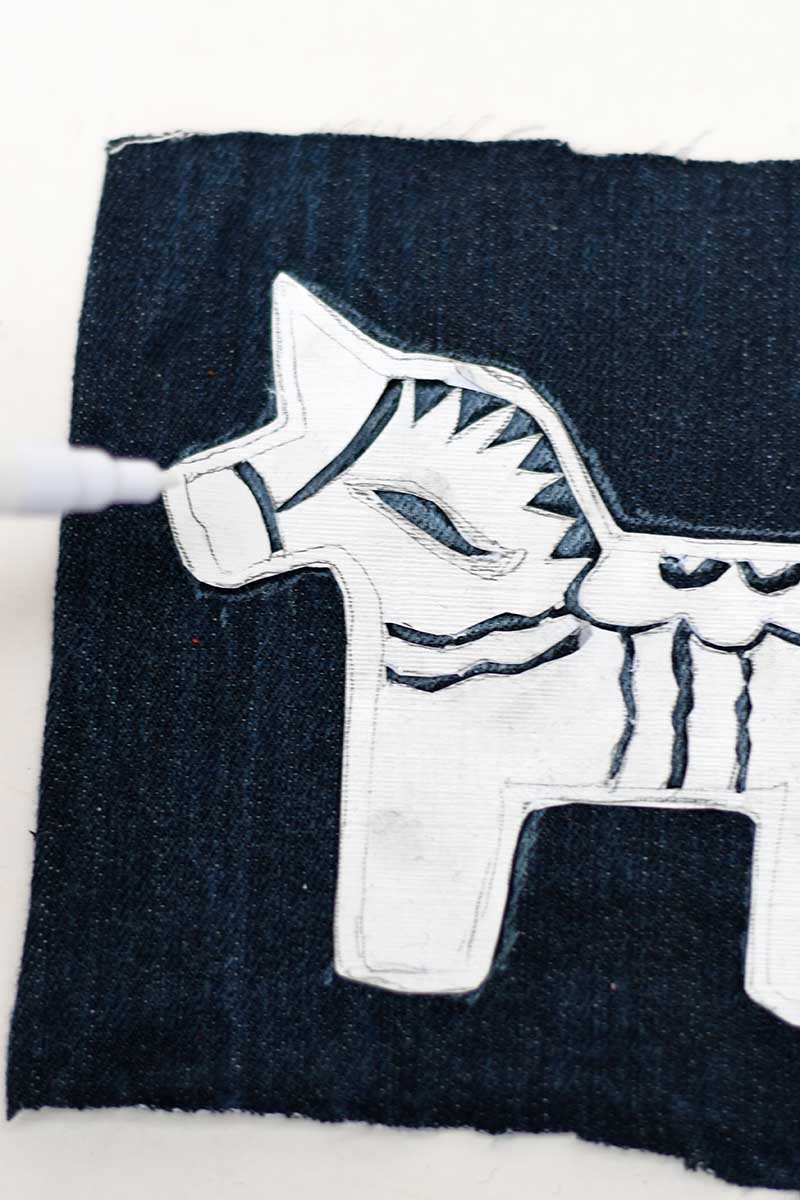 4. Flip the stencil, and draw around the Dala horse facing the other way. Depending on how good your acyclic paint pens are, you may want to go over the so of the markings again or use white paint and a thin brush.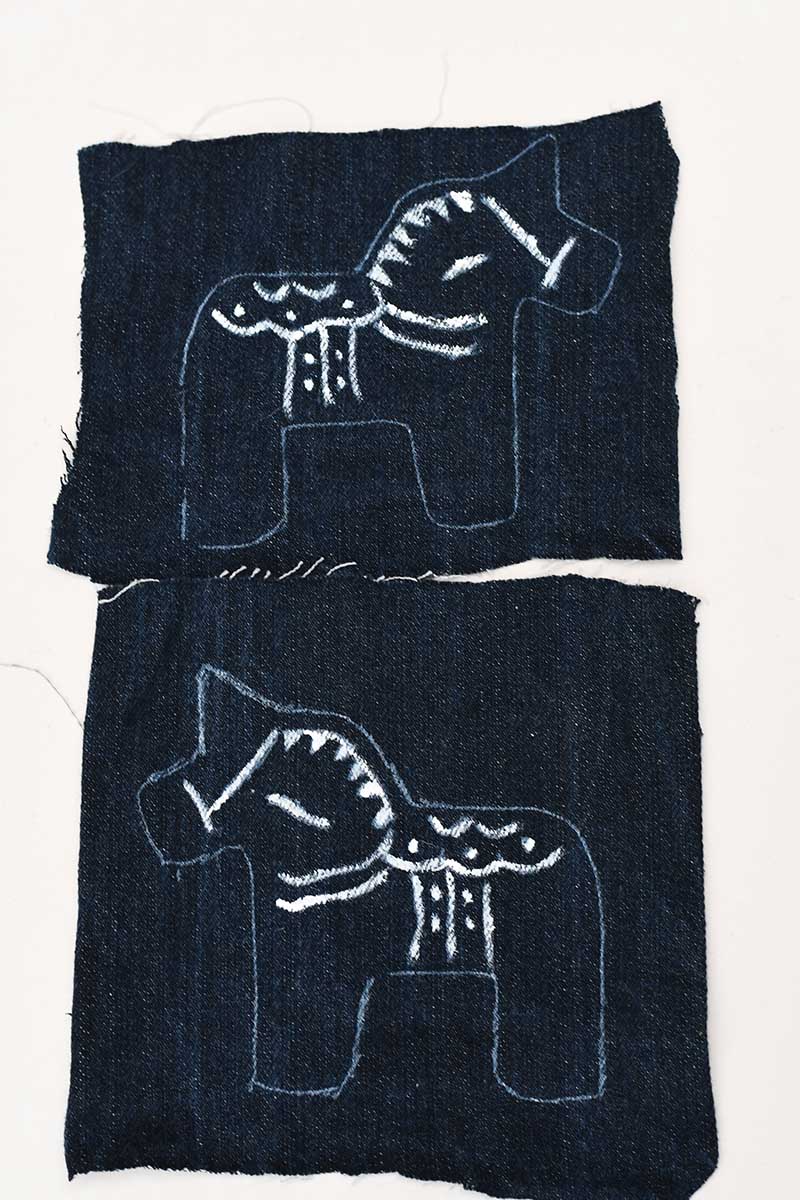 5. Cut out the denim Dala horse shape and pin them right sides together. Then stitch the two pieces together with a 5mm seam allowance. Leave a hole at the belly for stuffing.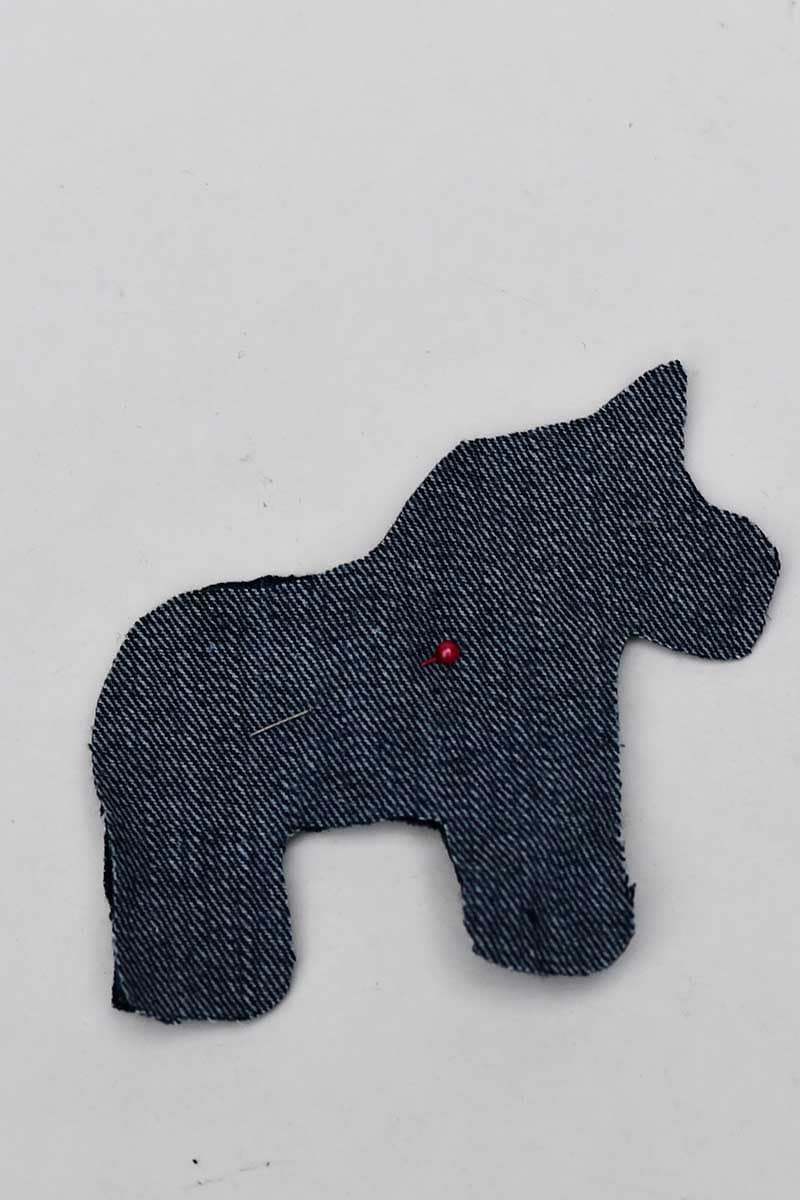 6. Next, through the hole turn the denim horse right sides out. Use a thin stick such as a chopstick to help poke out the ears and legs.
This process can be a little fiddly. Using soft worn jeans scraps will make it easier.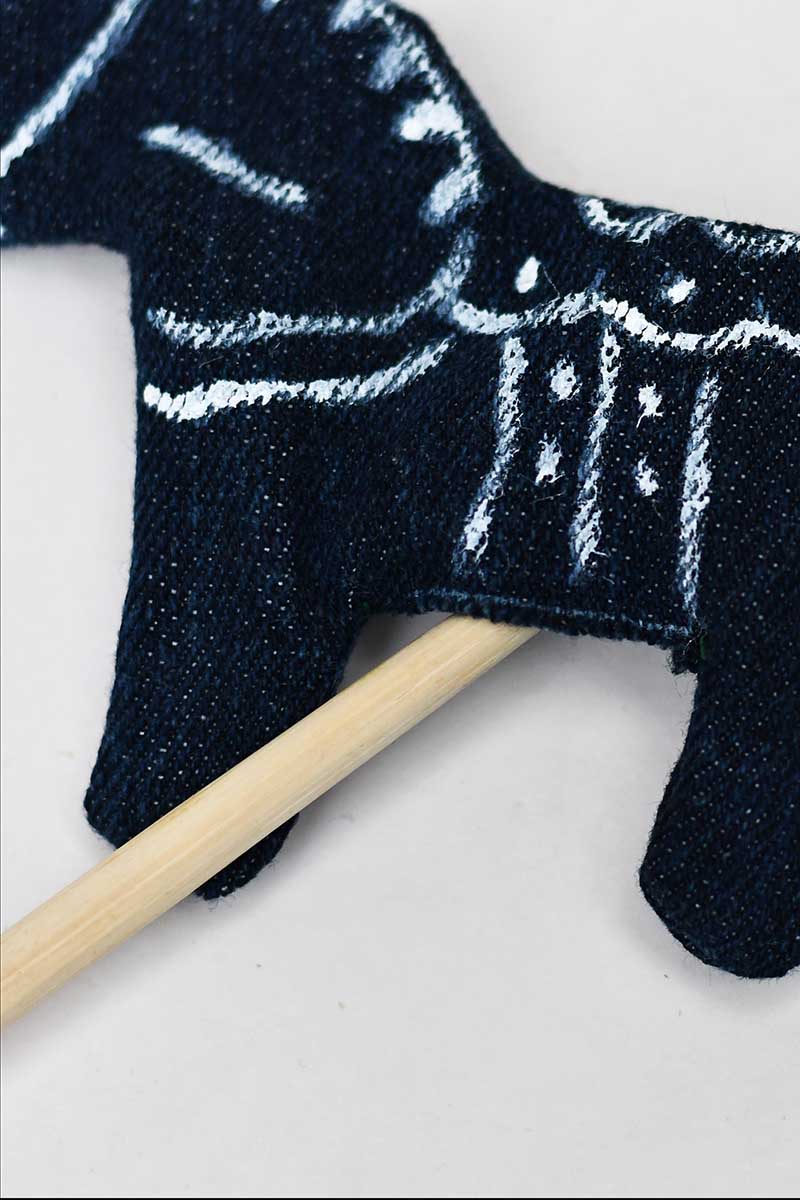 7. Next, stuff the horse with fiberfill. Again use the chopstick to help move the filling into the ears and legs. Then stitch up the hole.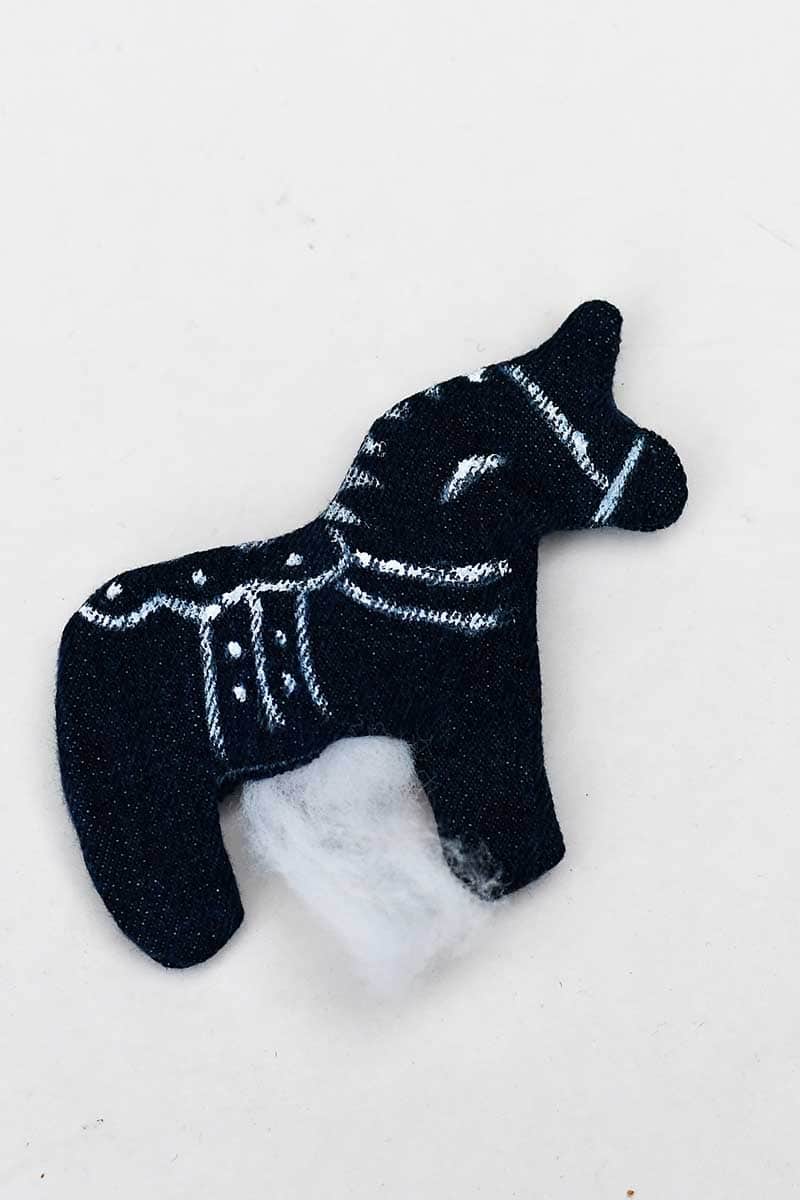 8. To finish off the denim Dala horse Christmas ornament sew in a hanging loop. I like to use strips of fabric in festive colours for my ornament hanging loop, but ribbon would work just as well.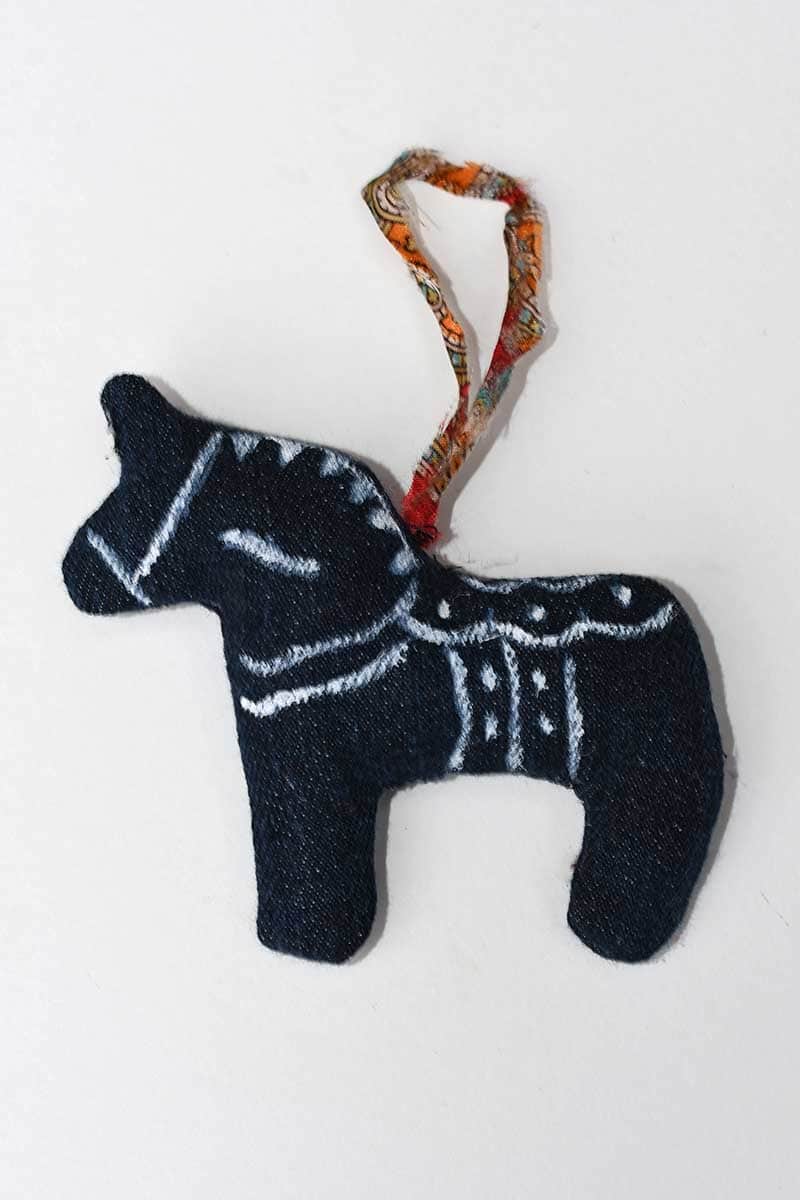 Making A Denim Dala Horse Christmas Wall Hanging
The Dala horse ornament looks fabulous as it is to hang on the Christmas tree. However, I wanted to make a wall hanging for my Scandinavian horses as I did with my denim feather wall hanging.
I made two more of these Dala horse ornaments, this time using denim in different shades of indigo. All three of the ornaments were simply hung on a small branch.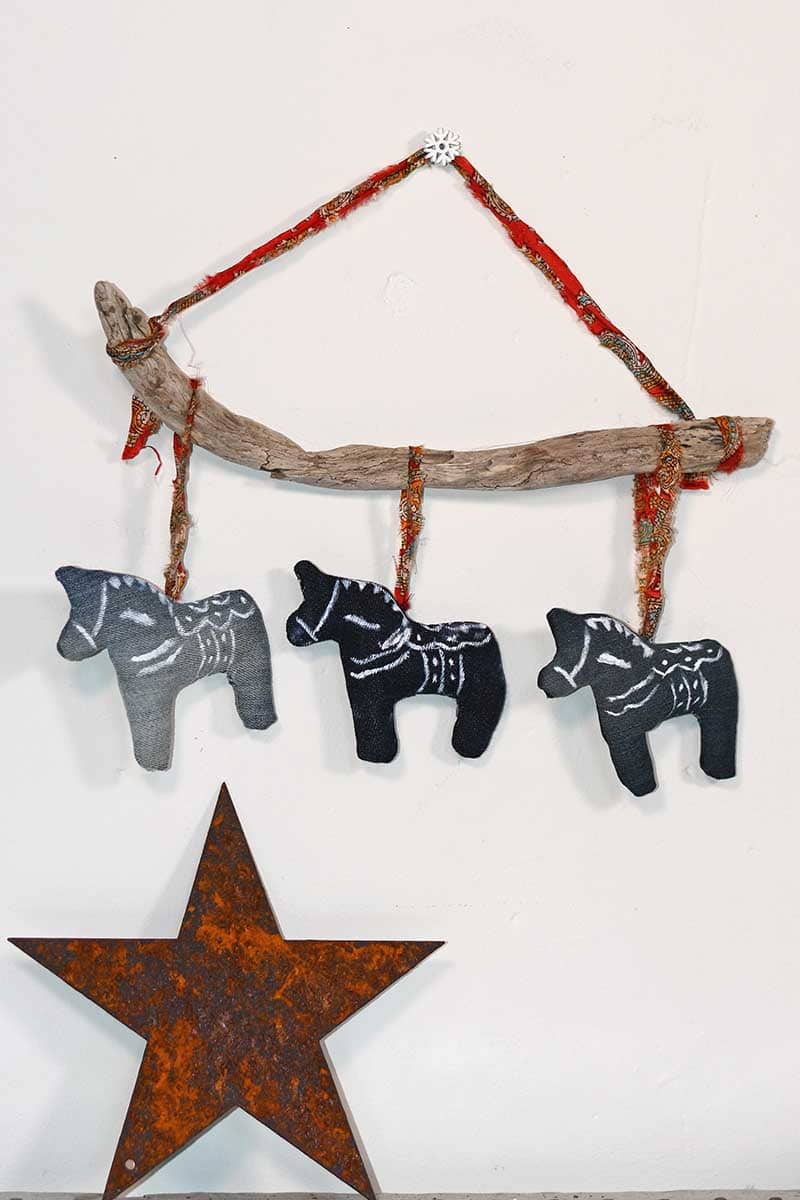 I know I made this wall hanging for Christmas, but as the horses are made from denim, I think I will get away with leaving it up all year round.
If you liked these denim Dala horses, then you might want to check out other denim Christmas decorations. Such as these tabletop denim Christmas trees or denim patchwork stars.
For other stenciled denim, check out this stenciled denim table runner.
For more Scandinavian themed Christmas wall hangings and decorations, check out this Marimekko Nordic Christmas wall hanging. Or these cute Scandinavian handmade felt ornaments.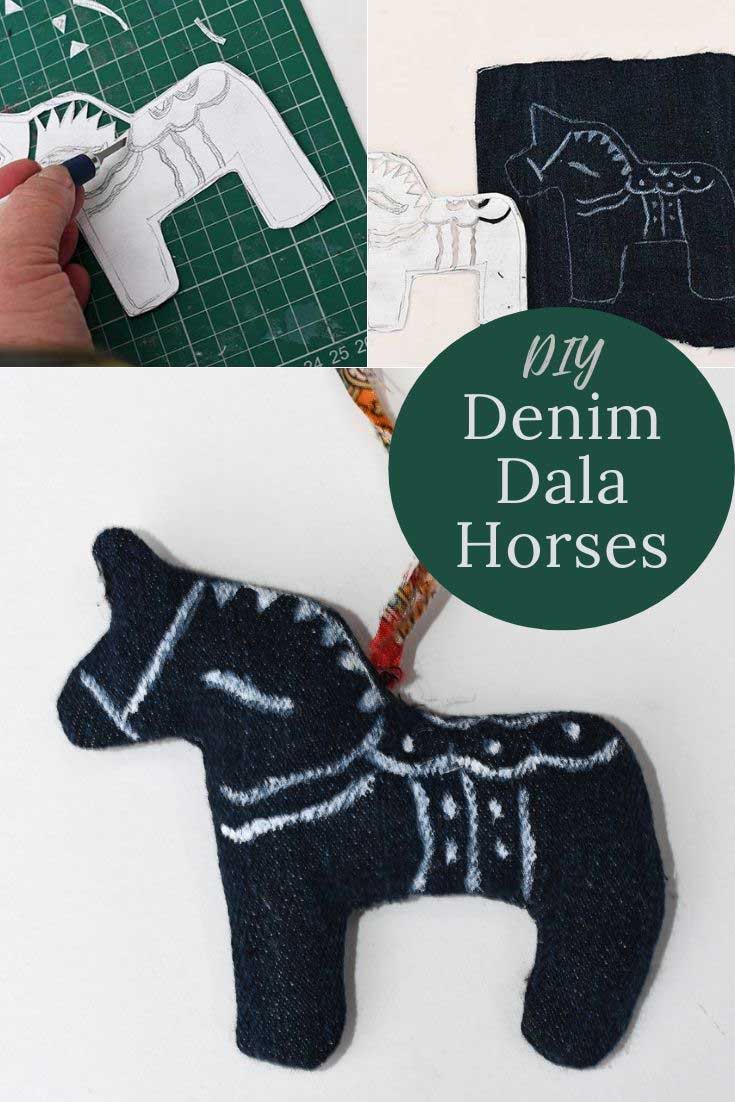 Find more sewing projects here.