Happy Hour Upcycled Window
It was lovely and sunny at the weekend we had our first BBQ of the season. My outdoor space is a small town garden, in which I love to sit out and chill in the summer. I'm always looking for ways to jazz it up a bit with a few upcycled accessories. A few weeks ago I upcycled an old window into a gorgeous herb planter for my garden. I loved it so much that I decided to make another upcycled window.
As one of my favourite summer activities is to sip cocktails in the garden with friends, I gave the window a cocktail themed makeover. I painted a HAPPY HOUR sign on the window, added a hook for a bottle opener and a shelf to hold a cocktail caddy. You can download for free my sign template and I will show you how I made the little cocktail caddy.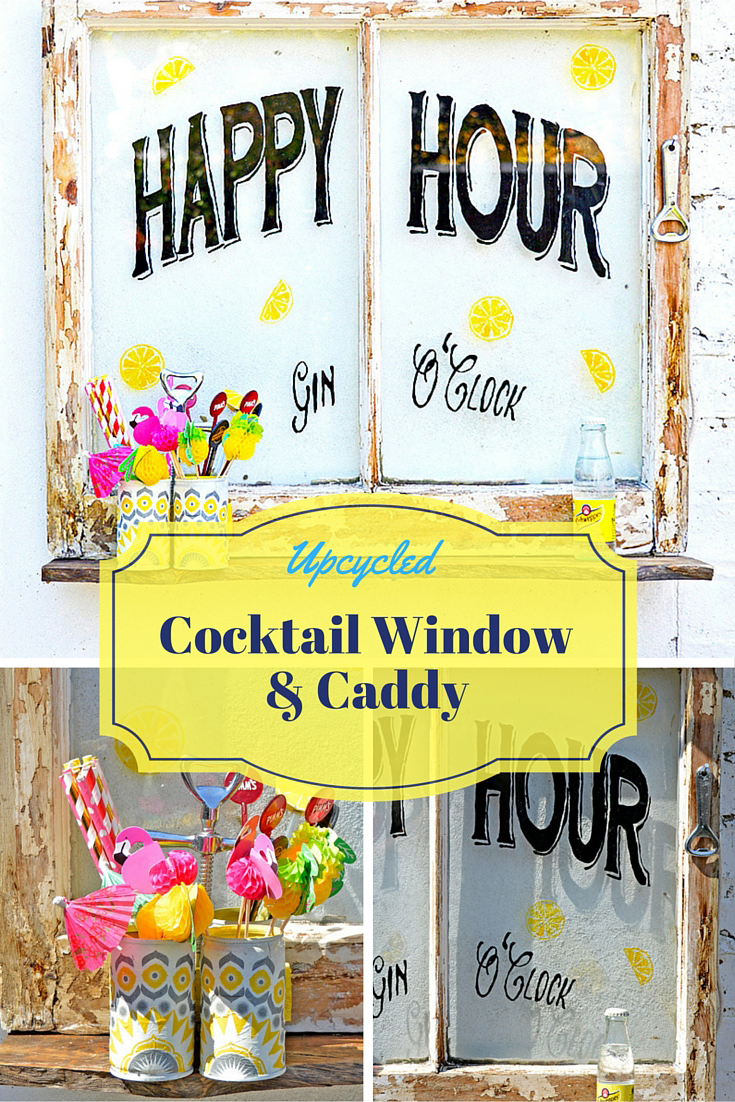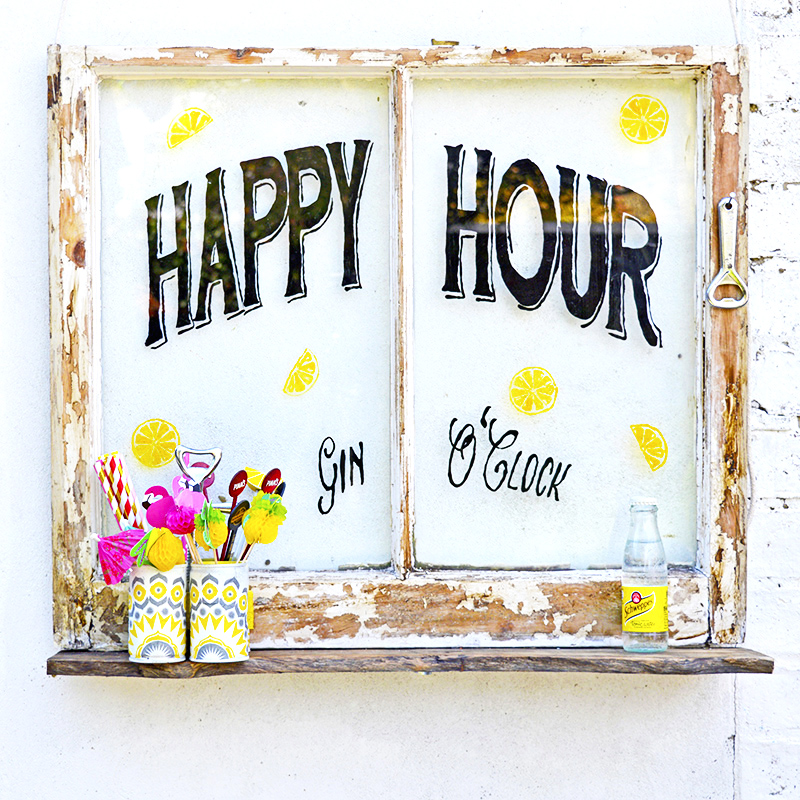 This post contains amazon affiliate links for your convenience. Click here to see my disclosure policy.
How to Paint Your Upcycled Window
The way I painted the window was basically the same as with my herb planter window but with at different template of course !
Stick your template face down on the front of your window as you will be painting on the back of the window (hence the mirror image).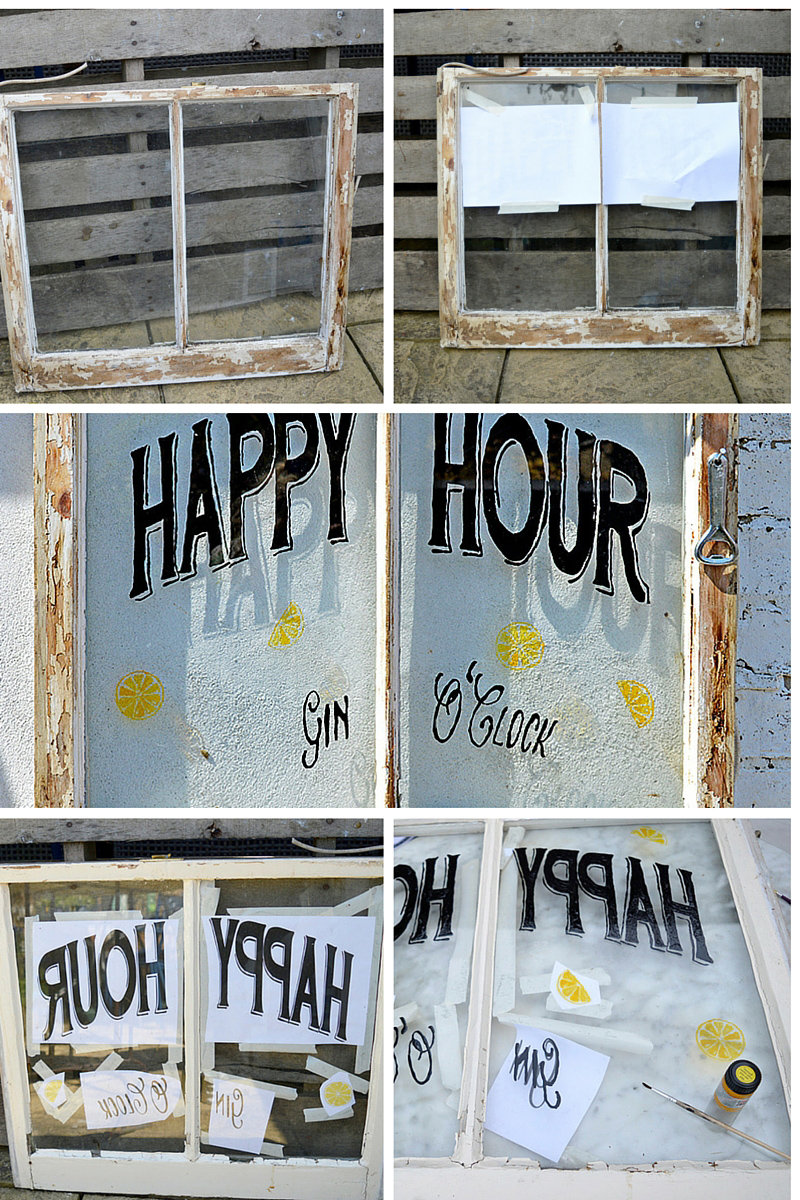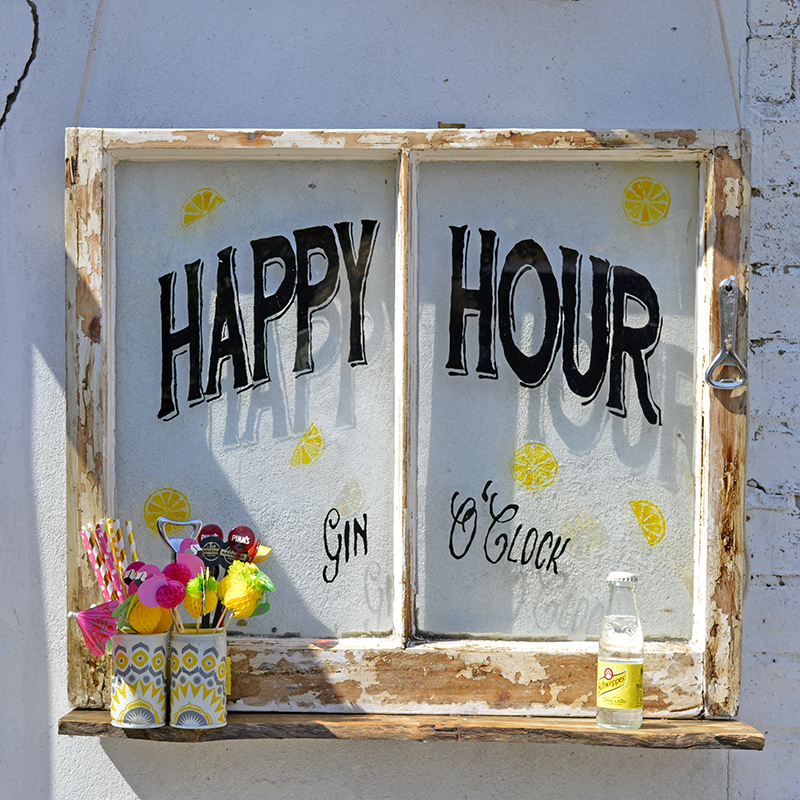 To add a bit more character to the upcycled window, I added a shelf and a nail from which to hang a bottle opener from. I spotted a piece of pallet wood with a nice curve in it. I removed this from the pallet and cut it to the width of the window. The wood was then sanded and waxed with a dark wax before screwing to the bottom of the window.

If you want to see a good tutorial for dismantling pallets click her to see Donna's from Funky Junk Interiors.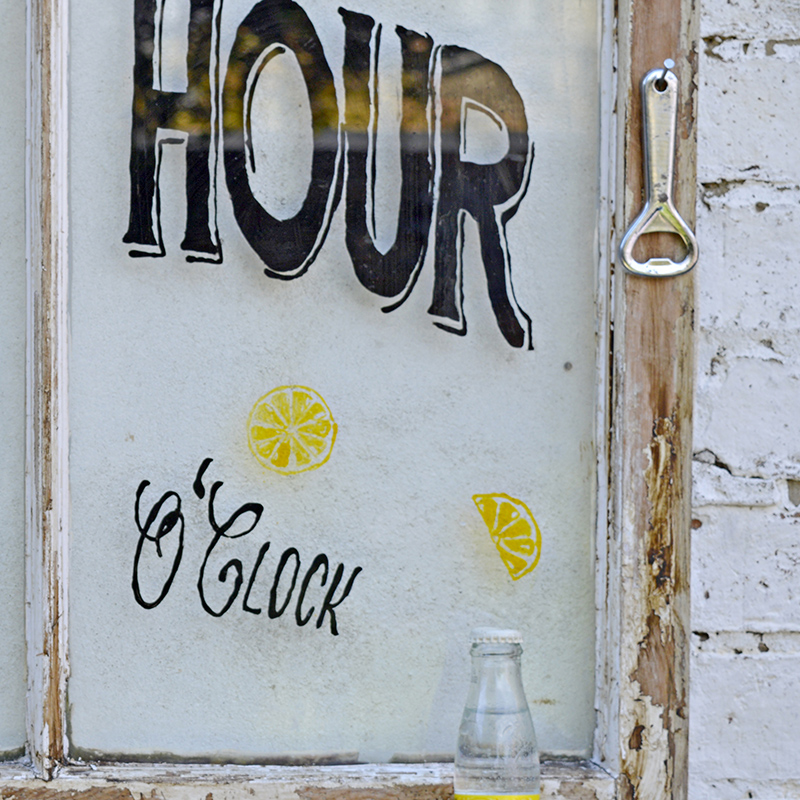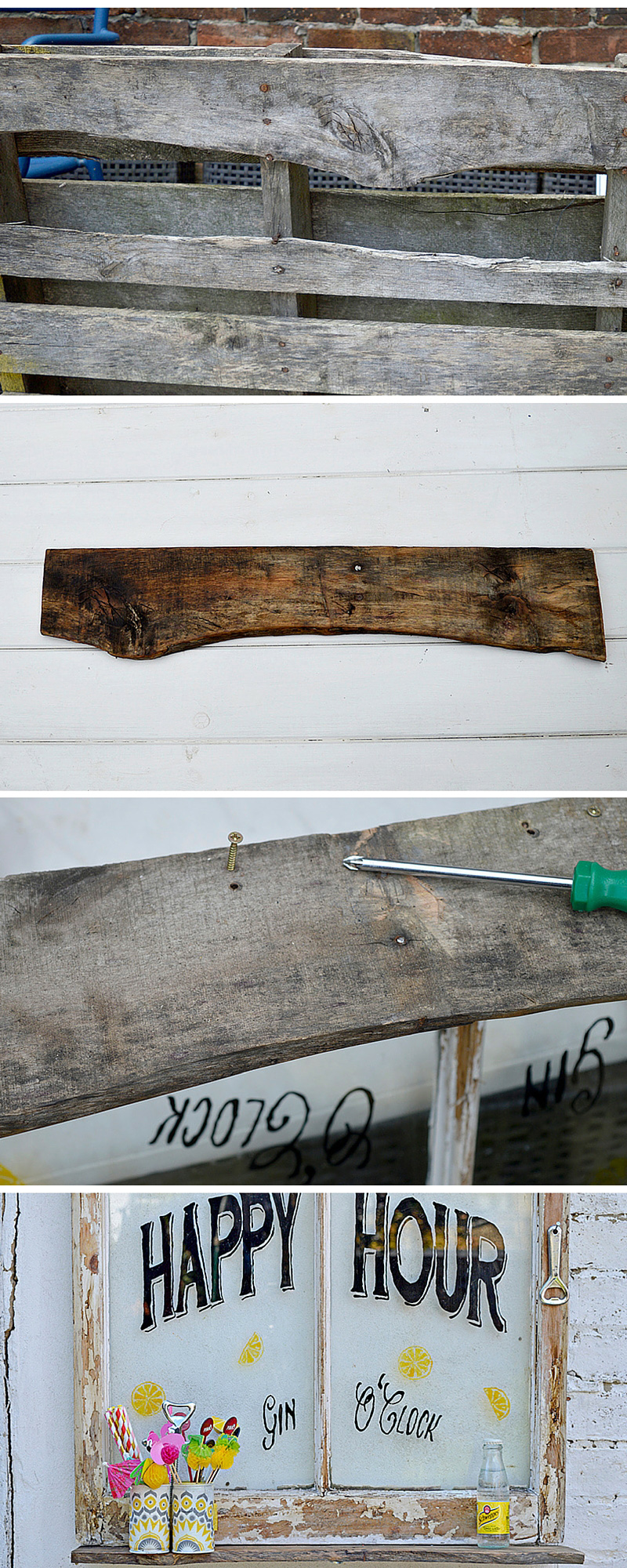 How to make an upcycled cocktail caddy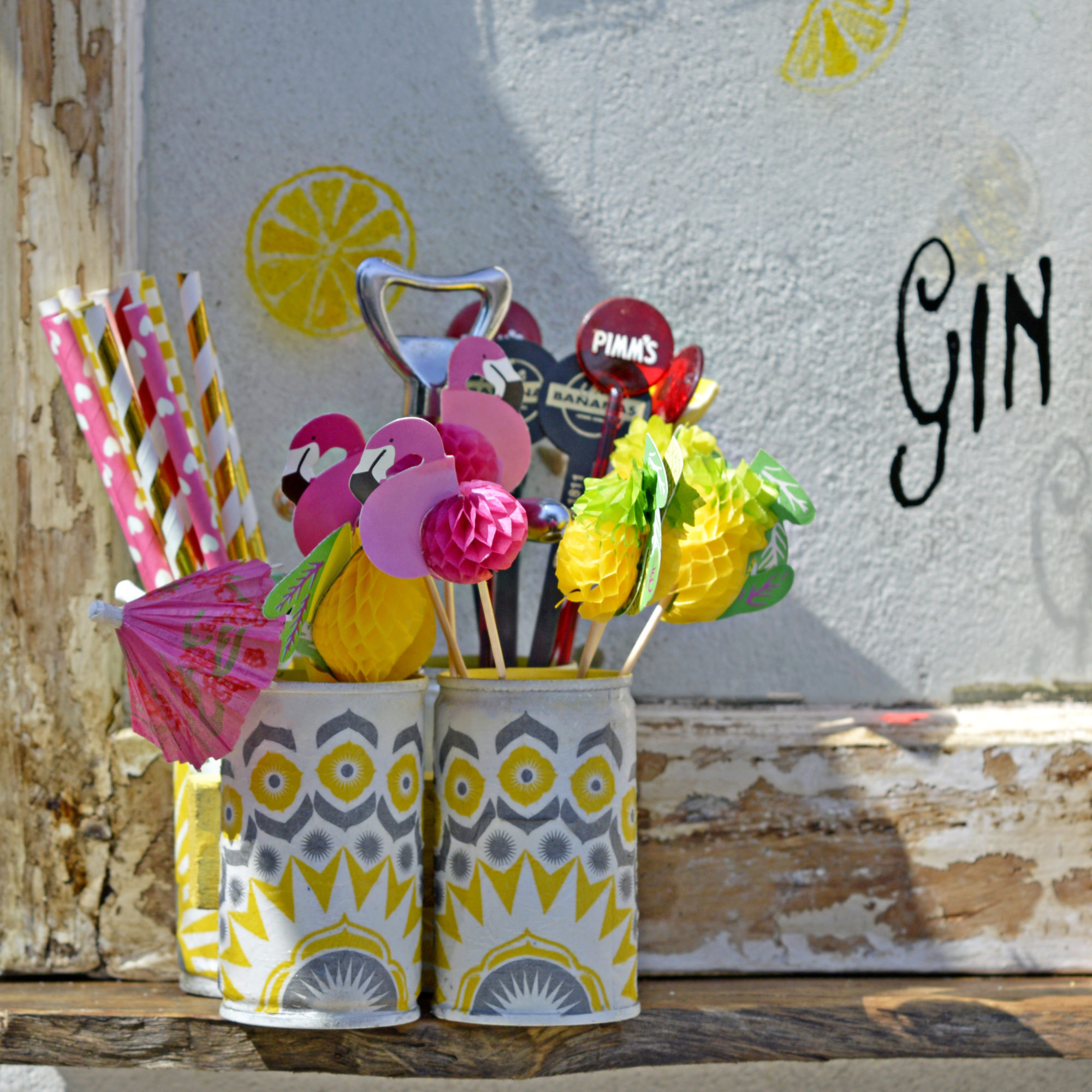 Being in the upcycling zone I decided to accessorize my window further with a cute little cocktail caddy. I'd made a Copper Craft Caddy before, this was quite similar but this time I used little tins and decoupaged them.
What you need
You need 4 little tins, like the ones you get coconut milk or tomato puree in.
Something for a handle. In keeping with the theme I used a broken bottle opener.
A small scrap piece of wood.
Decoupage and Epoxy glue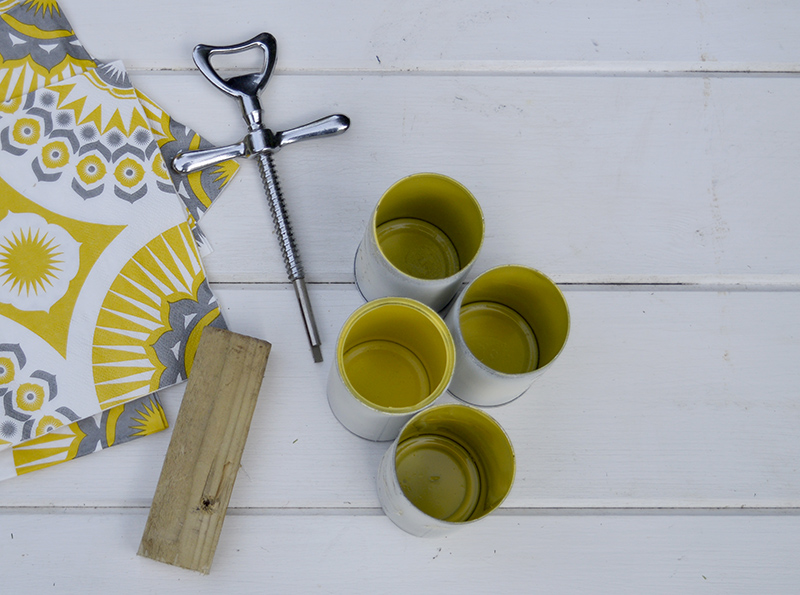 How to make your cocktail caddy for your upcycled window
First decorate your tin cans, to keep with the cocktail lemon theme. I spray painted them on the inside yellow and creamy white on the outside.
Once dry I then decoupaged the outside with napkins. You just use the top ply layer of the paper napkin when decoupaging. If you want to see more detailed instructions on decoupaging with napkins click here. When finished coat with varnish to protect.
To make the handle, I drilled a hole into my piece of wood and stuck the end of my broken bottle opener. You can use resin glue in the hole to secure if needed.
Final I stuck the cans, 2 on each side to the wood strip and handle using Epoxy glue.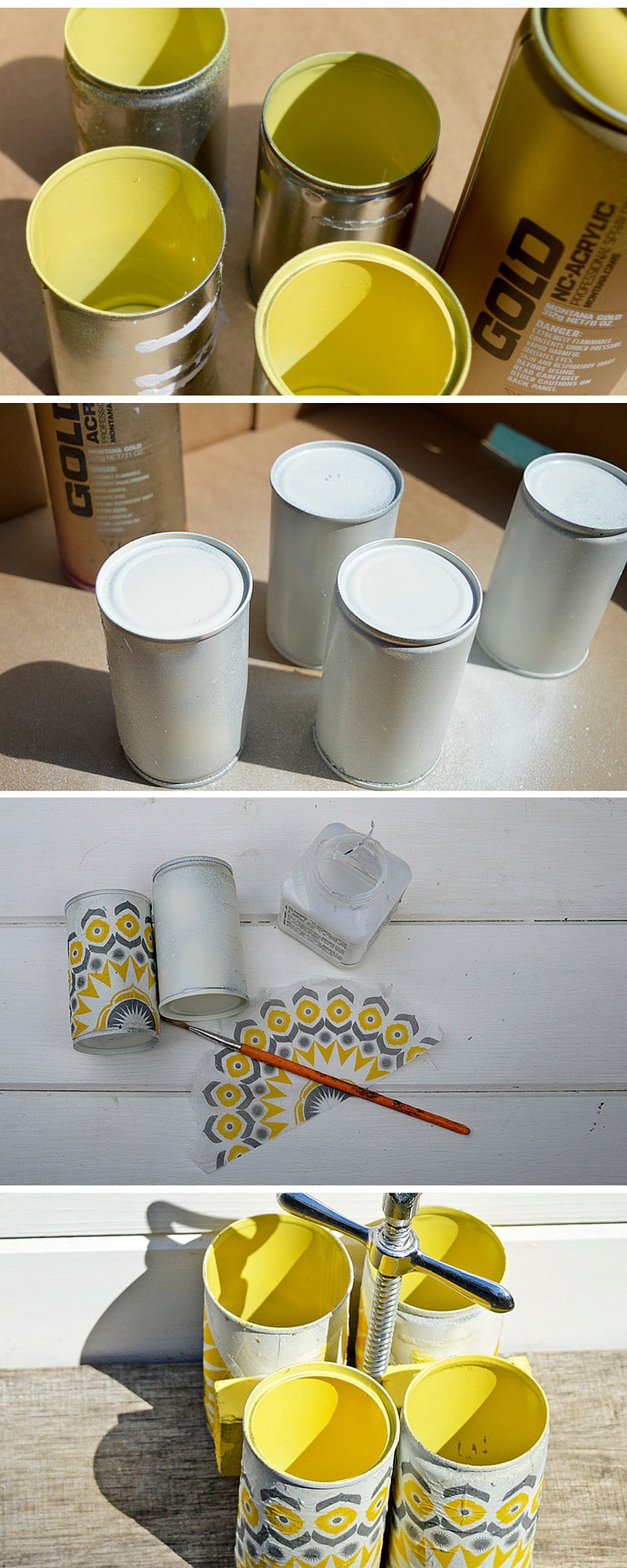 Now your caddy is ready to fill with all your cocktail paraphernalia, such as straws, cocktail sticks and those cute tiny umbrellas.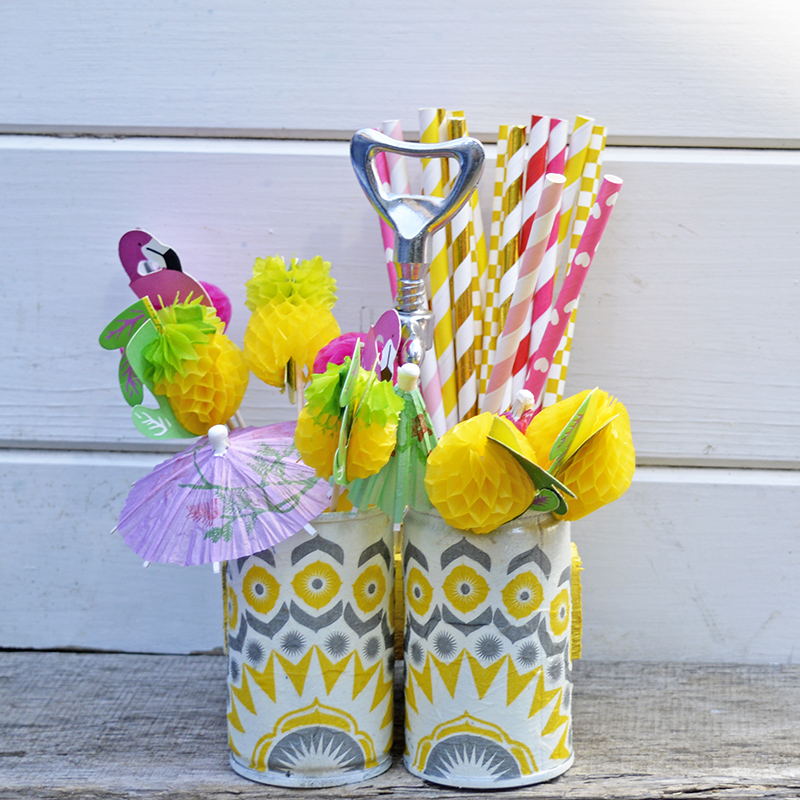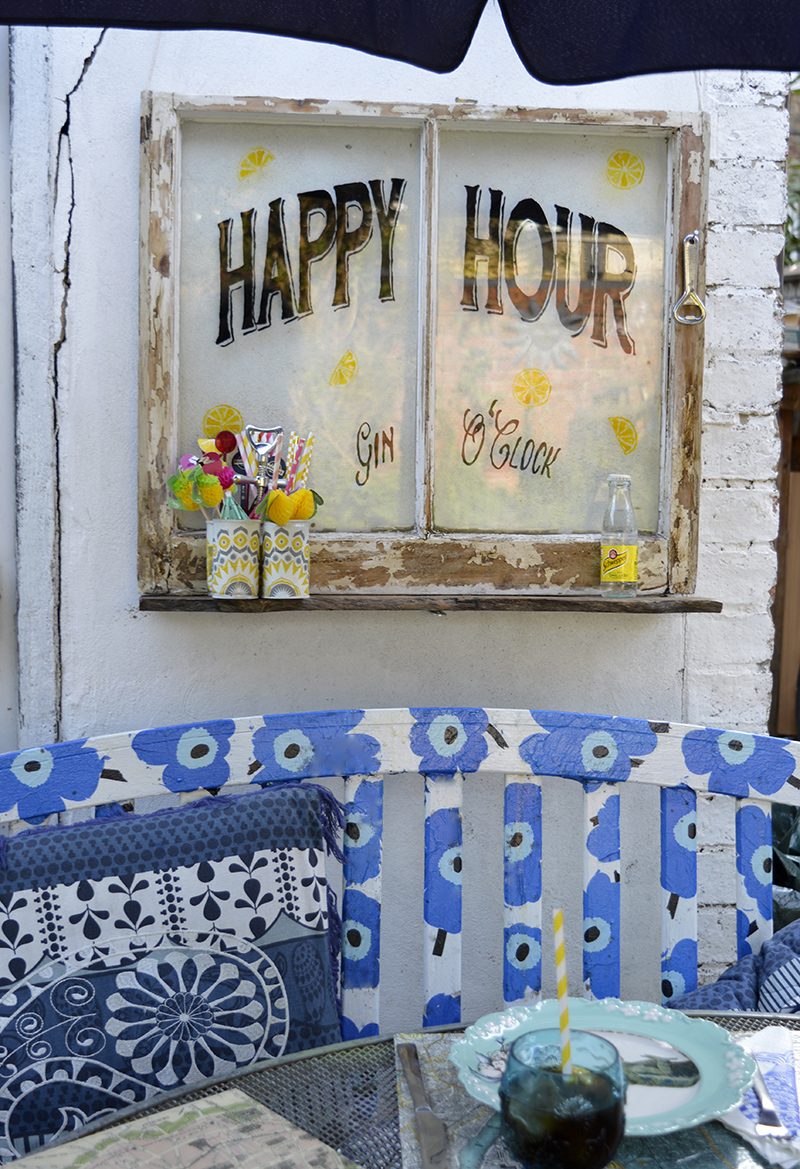 I've already been making good use of my cocktail window, I hope this gorgeous weather we are having at the moment continues. I'm looking forward to the elderflowers coming out so that I can make my elderflower champagne which I love to use as a base in my summer cocktails. As you can probably gather from the window my favourite spirit is Gin so alot my cocktails are gin-based such as my Gin & Rhubarb Fizz. What's your favourite cocktail ?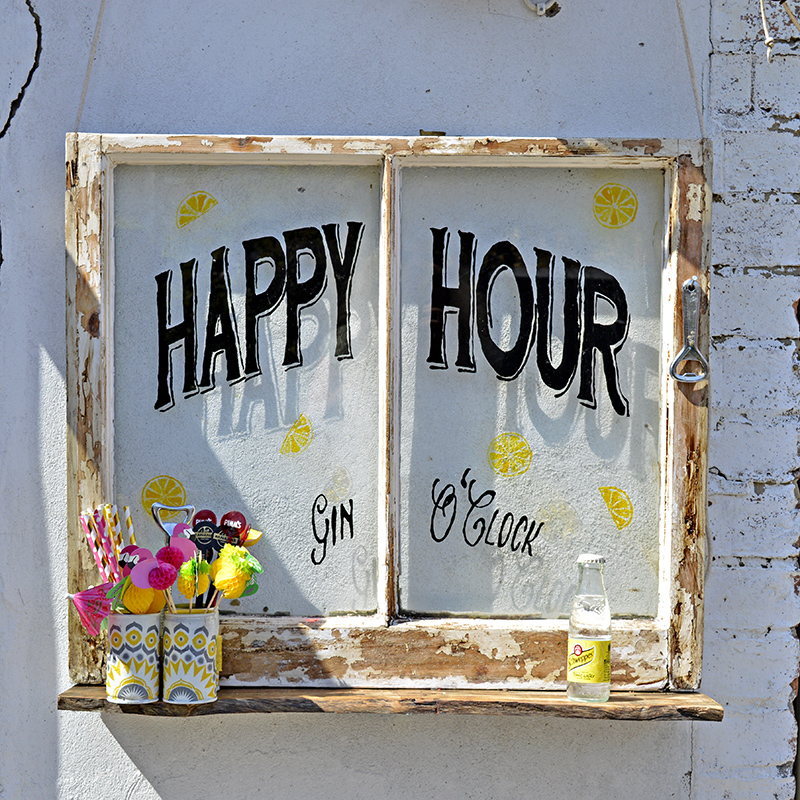 There are many more upcycled and repurposed fun ideas for the garden here.