Upcycled City Map Table Mats (Place Mats !)
Map Table Mats : Whenever I go on a city break I always come home with a handbag full of free maps. I can't resist them even on a day trip to Brighton, which I know really well I still put one of the free maps at the station in my handbag. I don't even need the maps to find my way round a city as there's an app on my phone for that. But I love the paper maps, I love looking at them working out wherever thing is in relation to each other. Maps are my favourite free souvenir.

These maps I've collected over the years tend to just sit around in a draw, well I actually keep them in the Map Suitcase I made last year. I have used some of them in crafts before like with my map chairs. This time I decided that I would use them to upcycle some rather grubby old table maps.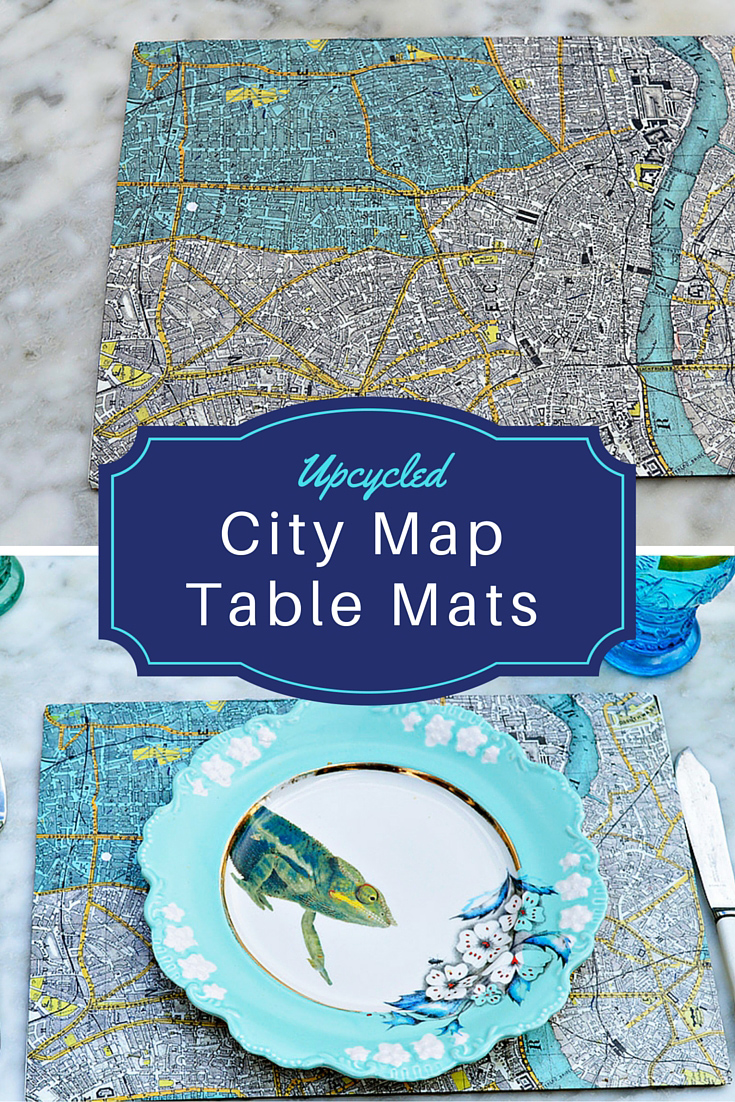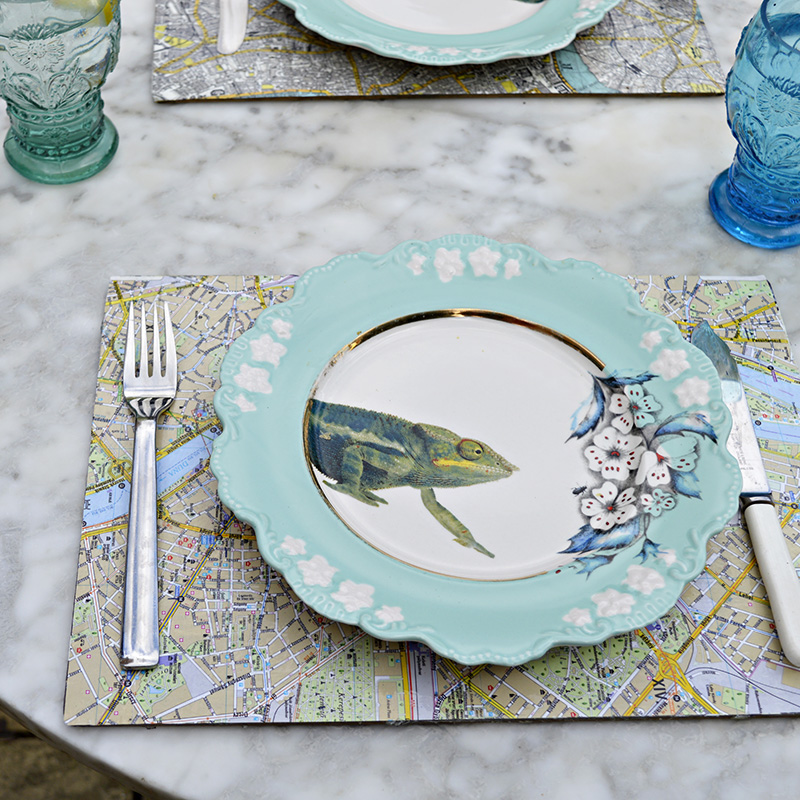 I picked city maps from some of my favourite European cities to upcycle my table mats with. The results were a fantastic improvement on the old table mats and made for a great discussion point at the table. As not only do these map table maps look great they spark conversation as we reminisce our favourite city trips.

(The gorgeous plates by the way are from Anthropologie Nature table range)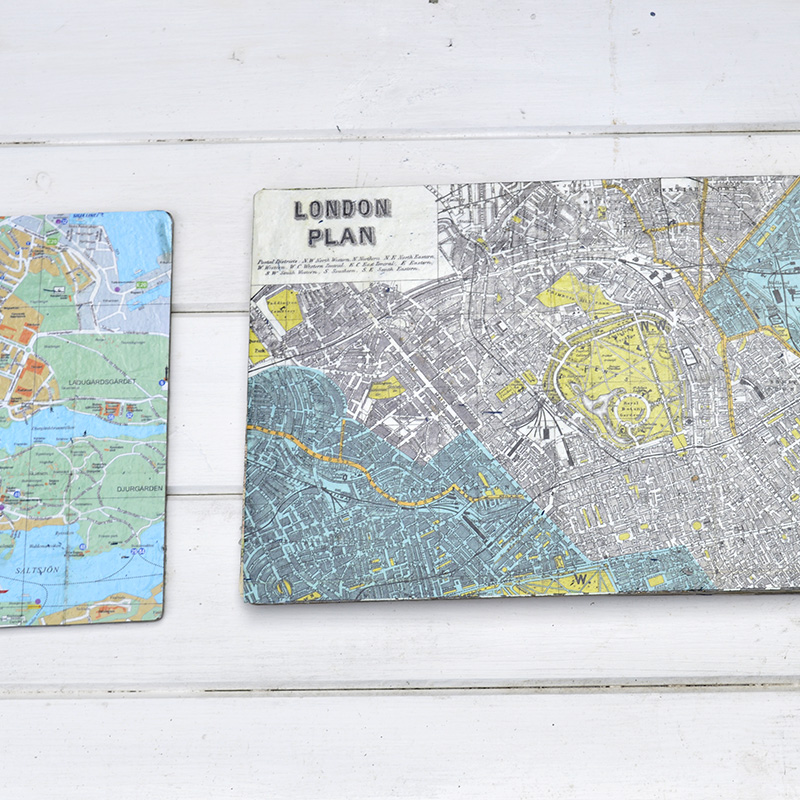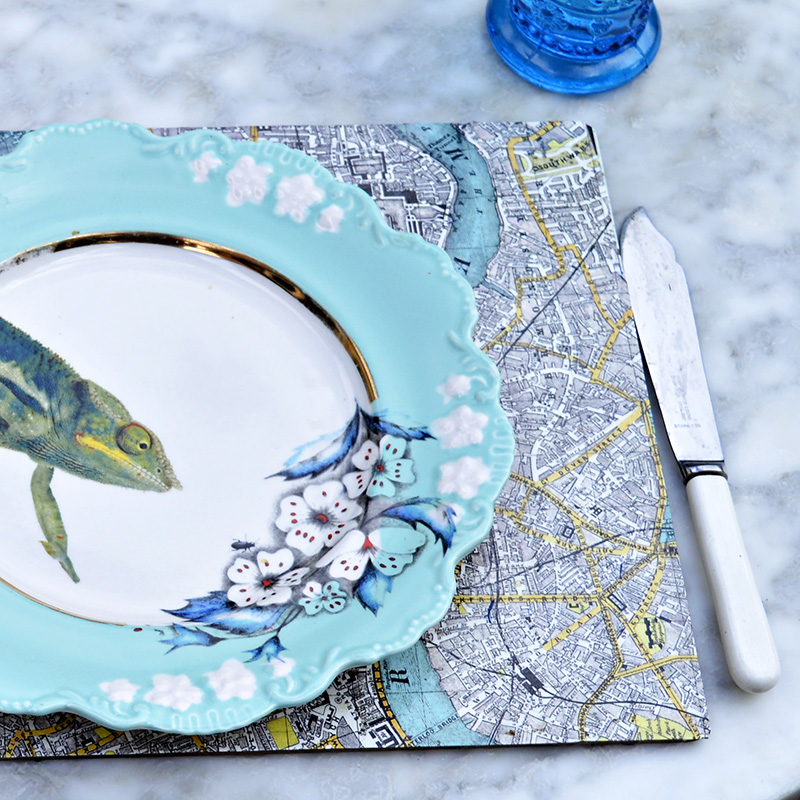 This post contains amazon affiliate links for your convenience. Click here to see my disclosure policy.

What you need to make map table mats
Old table Mats – you may have some already that need revamping, or you could pick some up really cheap from a thrift store. You could even make your own from cork tiles.
Maps – If you don't have a map habit like mine, no fear there are lots of other ways you can get maps of your favourite cities. You can download royalty free maps from sites like Tourvideos, remodelholic or buy map wrapping paper online.
Decoupage glue or mod podge or pva glue
Heat resistant and waterproof lacquer or varnish.
Rotary cutter, cutting mat or scissors, rolling pin or wall paper roller, & ruler.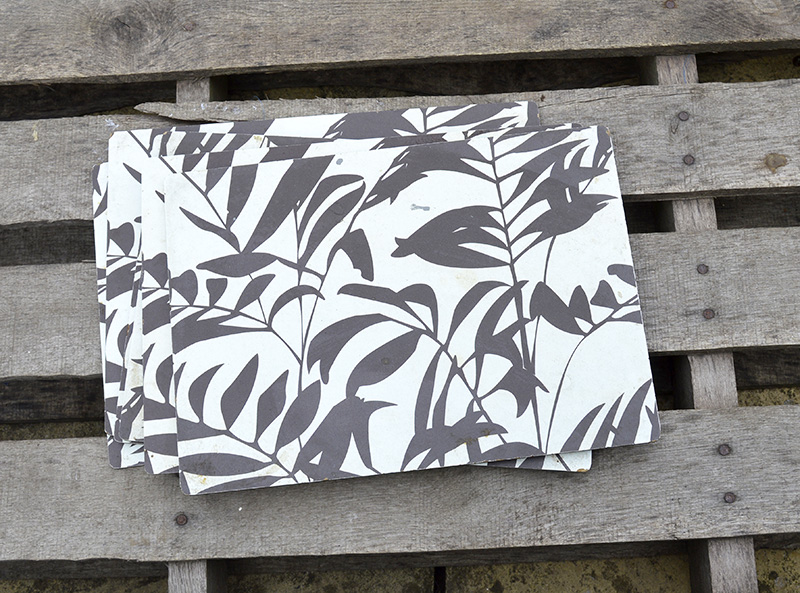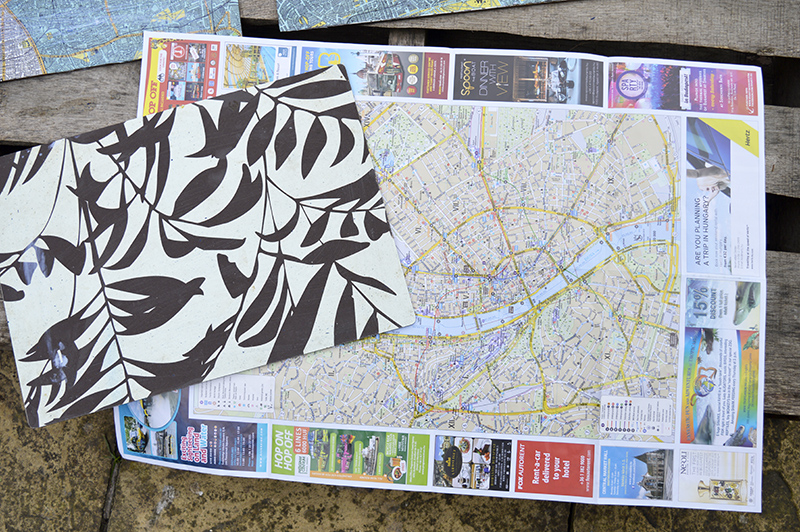 How to Make Map Table Mats
Clean your table mats and prime them by coating them in a diluted 50/50 glue to water mixture. This will help the maps adhere better.
While waiting for the priming mixture to dry cut out your maps to size. I did this by simply placing my table mat on top of the map and cutting round with a rotary cutter.
When the prime is dry apply a coat of glue to the table mat and one to the wrong side of the map. Carefully place your map on top of the mat. To eliminate air bubbles I roll over the top of the map whilst sticking it down with a rolling pin or wall paper roller. You could also use a ruler to squeeze out any air bubbles.
Whilst I'm waiting for the maps to adhere to the table mats I usually place them under a weighted object such as a heavy book.
When fully adhere all you need to do is to varnish your mats. I applied 3 coats of varnish, letting each one dry thoroughly in between.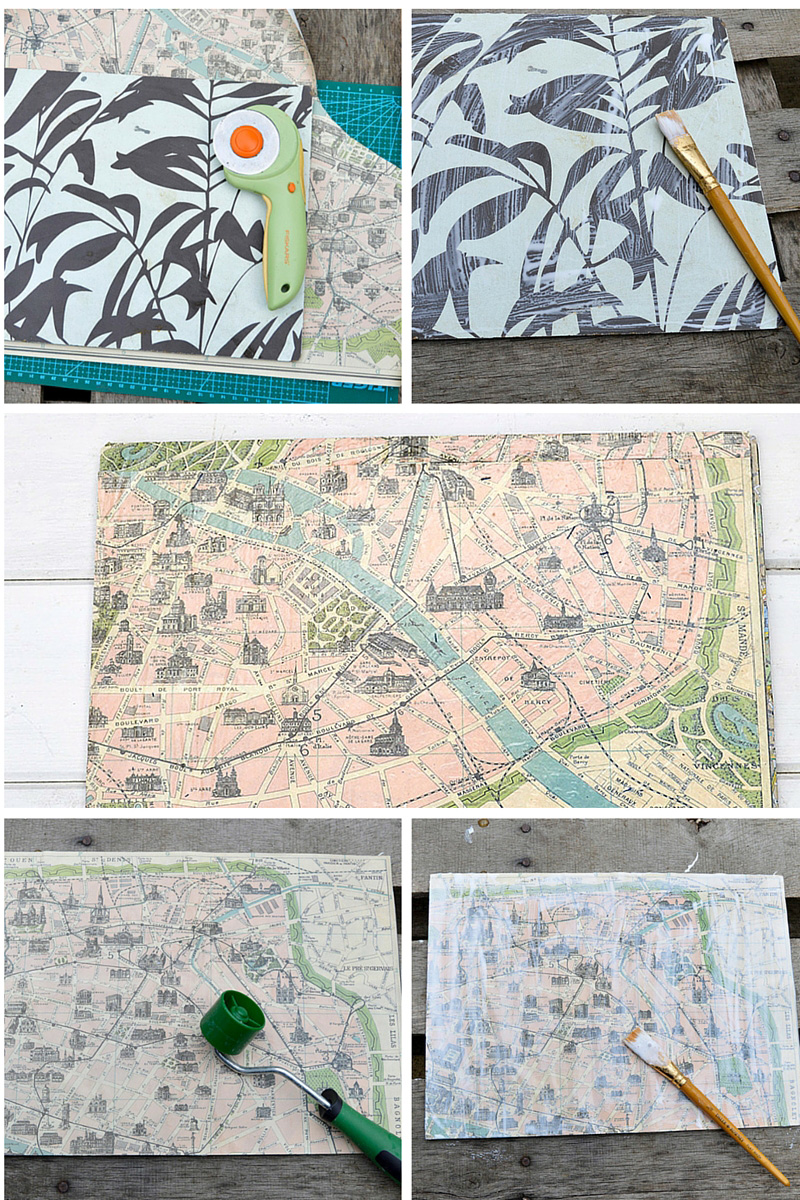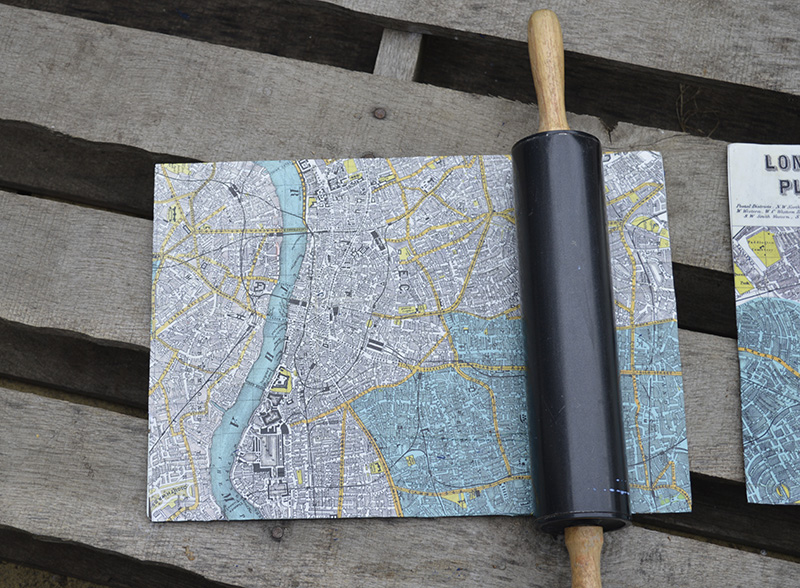 That's it, I told you it was really easy !

The City Maps I used for my Map Table Mats
The maps I used were from some of my favourite European cities, but I have loads more favourites I just need more maps.
LONDON : I used to live and work in London and still visit regularly there is so much to see and do in the city I never tire of it.
PARIS: Is beautiful, I first visited relatives there as a child and more recently went with friends.
STOCKHOLM: It's a fabulous city surrounded by water and has a lovely chilled out scandi vibe.
BARCELONA: A city and beach all in one with great tapas and all that inspiring Gaudi architecture !
BUDAPEST: I visited for the first time last year, and not only was it a beautiful city full of history but it also had a unique party atmosphere and is very cheap.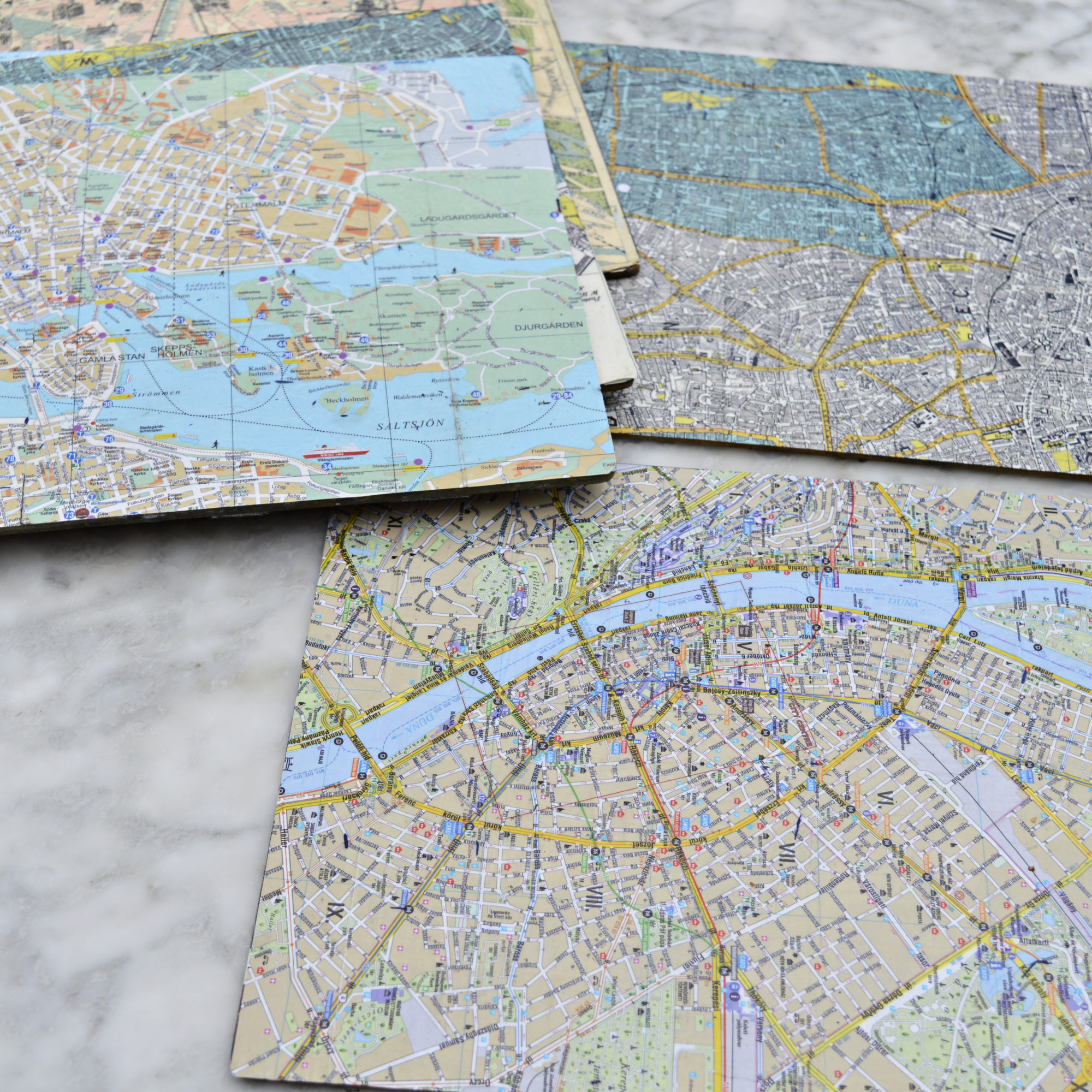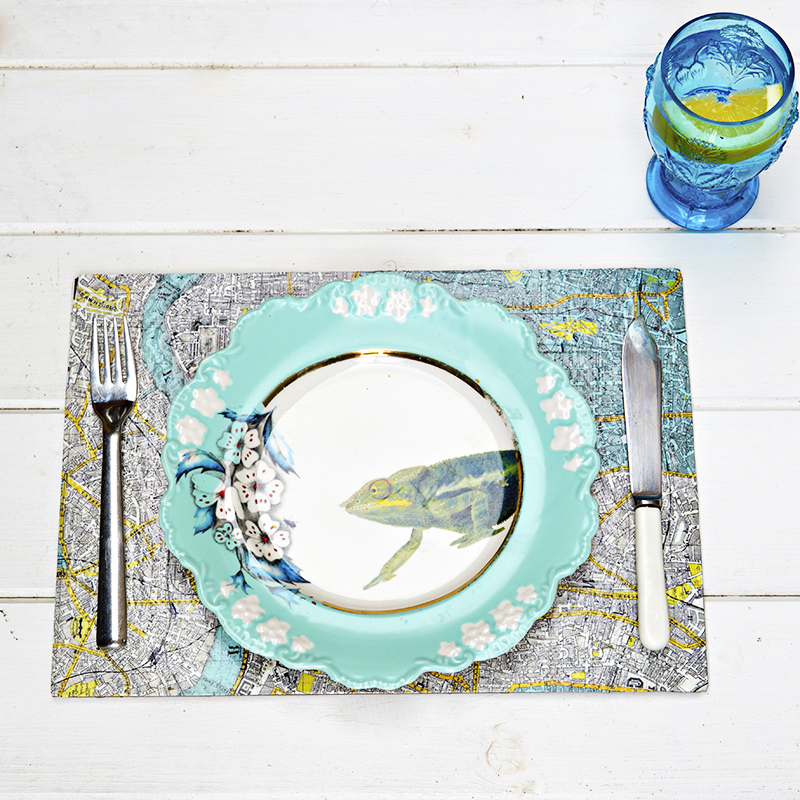 Easy Map Table Mats


Which are your favourite cities ?

Here are some of my other map posts you might like:
3D Map Star Decorations
Brilliant Vintage Map Suitcase
Magnetic Map Board
Personalised Treat Map Heart Bags




This post contains amazon affiliate links for your convenience. Click here to see my disclosure policy.