Paper napkin decoupage is a very effective and easy upcycling technique. It is one of my favourite crafting techniques to use and I have used paper napkin decoupage on a wide range of projects.
The magic of paper napkins decoupage is amazing! I've totally transformed plain sneakers into designer shoes with napkins. I've created wonderful decorative planters for my garden simply using Marimekko napkins and empty tin cans.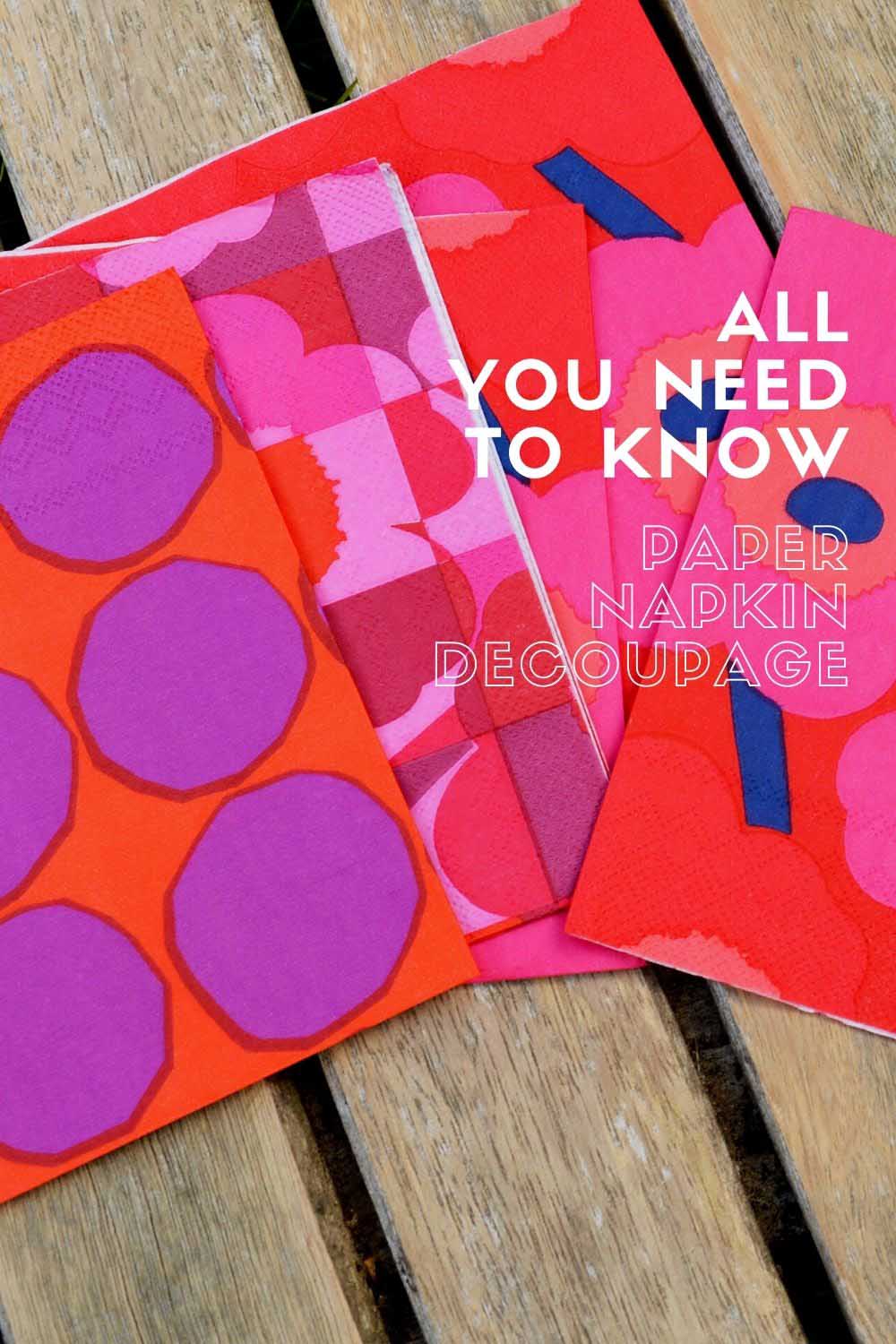 Why Paper Napkin Decoupage?
Many types of paper can be used for decoupage from old road maps, printed papers, and even wallpaper on furniture. Paper napkin decoupage has unique qualities that make it a better-suited decoupage material with certain crafts and upcycles.
1.. Firstly, paper napkins are very affordable. They can even be purchased in online shops such as eBay and Amazon individually. Often there isn't a need to buy the whole packet.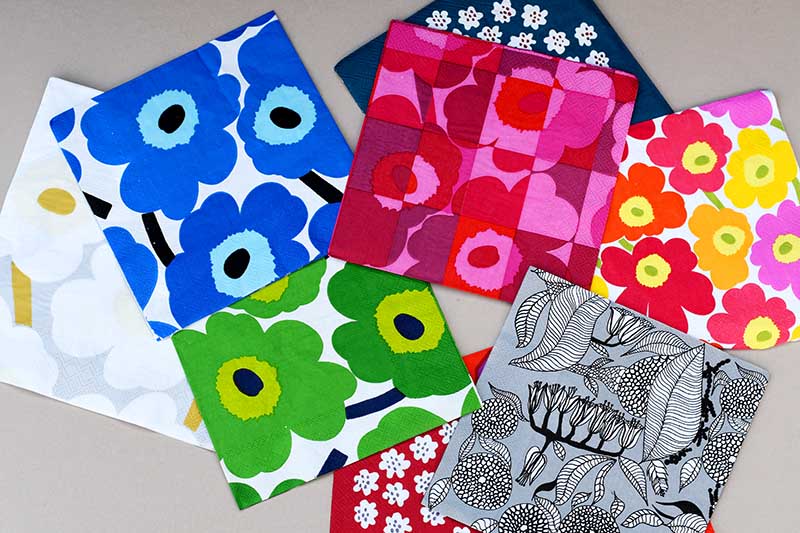 2. Not only are they cheap but one paper napkin will go surprisingly a long way when decoupaging. I once upcycled a whole bench with less than half a packet of Marimekko paper napkins.
3. Paper napkins come in a huge variety of colours and designs. It is a very affordable way to get that designer look.
I'm very fond of the Finnish design company Marimekko, lucky for me they produce most of their unique Nordic designs in a paper napkin. (Many other designer companies often produce a range of their designs in paper napkin form.)
I have a large collection of their napkins. I have used them to get that Marimekko designer look in my home by upcycling everyday objects. From decoupaging wooden bowls and yoghurt buckets with Marimekko paper napkins.
Paper napkin decoupage is not only practical but can be a work of art. I have a Marimekko decoupage tabletop hanging above my mantle, which I consider to be a piece of artwork.
4. Paper napkin decoupage is so fine that the decoupage can look almost seamless. It can appear that the image has been actually printed onto the object.
It is easy to wet and tear the edges of paper napkins to create a feather edge which again makes the decoupage look seamless.
5. Because paper napkins are so thin they are much better for decoupaging odd-shaped objects than thicker paper. They are especially good for decoupaging curved surfaces such as bottles and jars.
6. They are great for finishing off and adding decoration to paper mache crafts, such as these paper mache vintage teacups and Marimekko cacti.
7. Paper napkin decoupage can be used instead of paint to update tired and dated objects such as planters and picture frames.
How To Print Onto Paper Napkins
Don't worry if for some reason you can't find the paper napkin design you need. It is possible to print your own on a home printer. This is great if you want a particular image or even print a photo onto a napkin.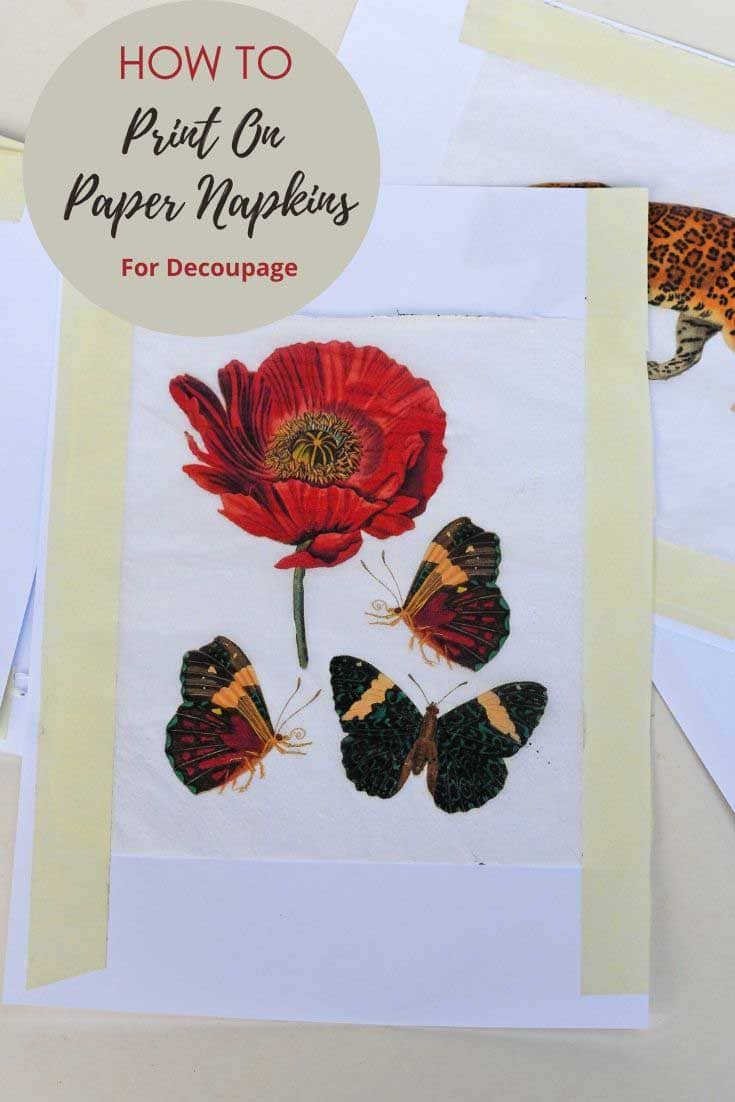 I print on paper napkins for decoupage in the same way as I print on tissue paper.
Use a plain white paper napkin.
Separate out the 3 plys of the napkin and only use one.
Cut the napkin to size and tape it to an A4 sheet of paper using masking tape.
Make sure that the napkin ply lies taught on the A4 paper.
Download the image you want to print onto the napkins. Sites such as Pictureboxblue are full of wonderful vintage images.
Resize and arrange the images using a program such as Photoshop. Make sure that the images will fit on the printed napkin. Don't forget to allow for the masking tape margin.
Place the paper with the taped napkin into your computer's paper feeder. Make sure it is the right way up before printing.
Go into the printer's advanced menus settings and select the best quality print. Then print your image.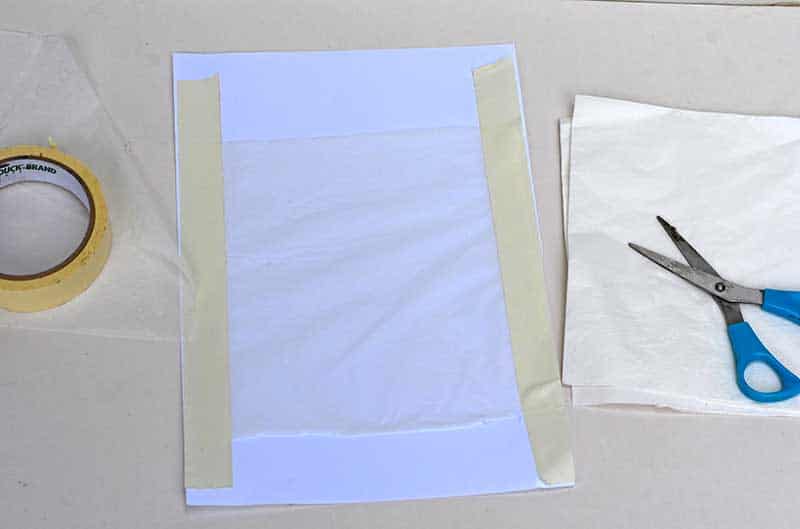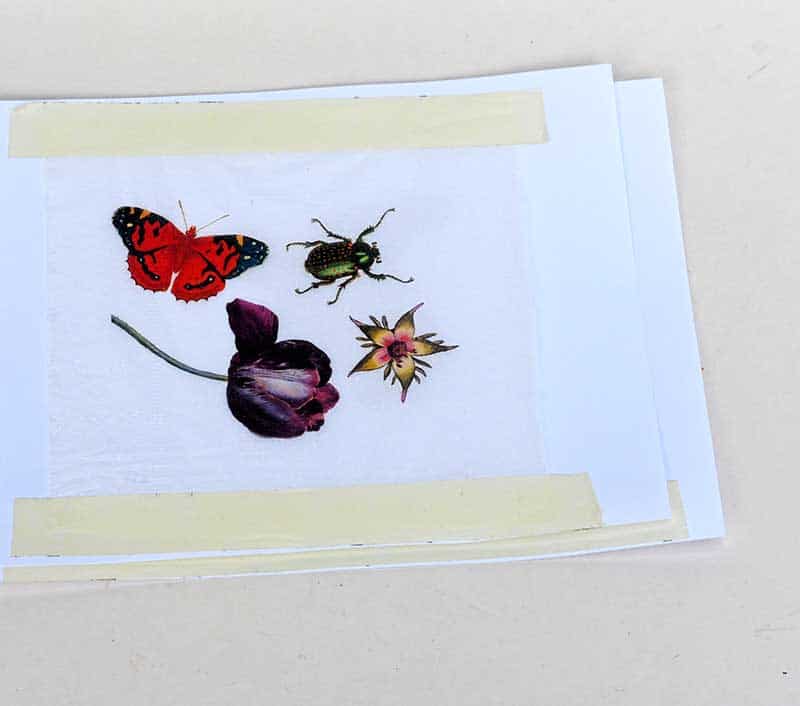 What You Need For Napkin Decoupage
Printed paper napkins, either shop-bought or own printed napkins.
Paper napkin decoupage glue such as Mod Podge
Foam brushes and cling film (plastic wrap)
Object to decoupage, which can be wood, plastic, glass, metal and even stiff fabric such as canvas shoes.
How To Decoupage With Paper Napkins
There are quite a few different ways of decoupaging with napkins depending on what you are decoupaging.
1.. First, prepare the object you are going to decoupage. Paper napkins are very thin which is part of their appeal but also can be a bit of a pain. The colour of what you are going to decoupage is likely to show through. I recommend painting the object white.
2. Next, the most important part is to start off by separating out the paper napkin layers. Most paper napkins are 3ply thick. That is they are made up of 3 different layers of paper. Only the top layer of the paper napkin is printed. The top layer is the one to use for decoupage.
Separate the layers by rubbing the napkin between your thumb and forefinger in one corner. The layers should separate and then you can then just gently pull the printed ply away from the rest of the napkin.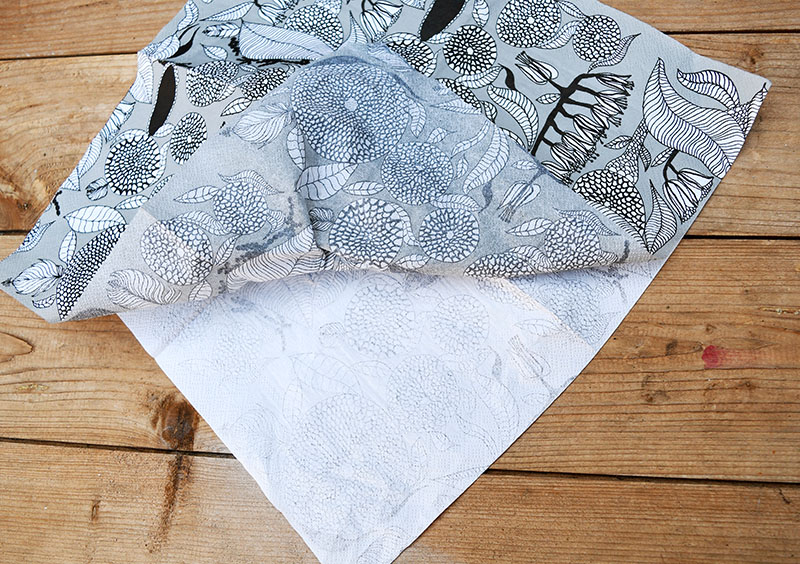 3. The paper napkin can either be feathered or cut depending on the effect you want.
When decoupaging a mason jar for my map mason jar bank. I cut the paper napkin into strips and decoupaged them one by one to the glass. These strips helped the napkins cope with the curves without puckering up. I was able to match up the map pattern on the napkin so that it seemed like one continuous decoupage.
If cutting the napkins into a straight edge a rotary cutter works better than scissors.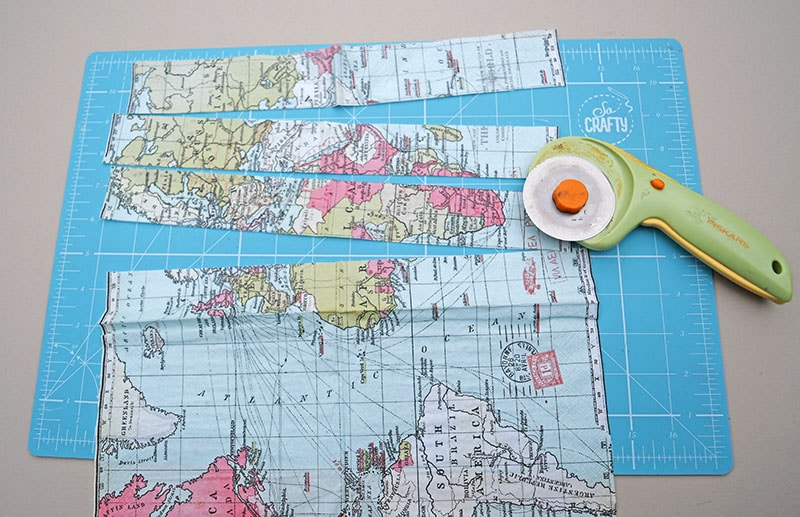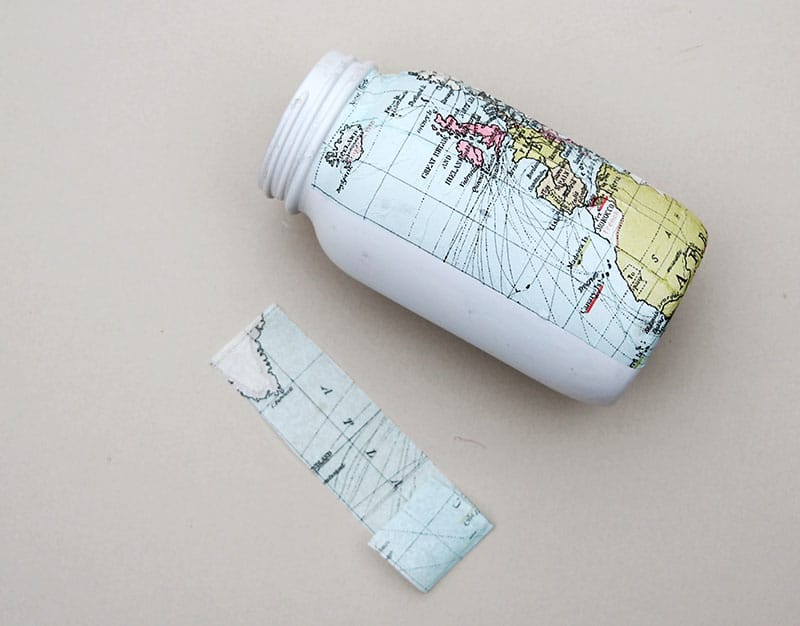 For a feathered edge, use a brush to wet where you want to tear the napkin. Then carefully, tear around the picture you want.
4. Next, as the paper napkin is so fragile, don't apply the decoupage glue directly to the napkin. Apply it directly to the object to be decoupaged.
Cover the item with decoupage glue using a foam brush and then lay the cut napkin on top of the glue. Use a clean foam brush to press the napkin firmly down. To smooth out any wrinkles use plastic wrap (cling film) either layer it on top of the napkin and smooth it out with your hands.
A bunched-up plastic wrap ball can also be used as a sponge to smooth out bubbles.
Craftmunki has some very good tips for avoiding wrinkles when decoupaging with paper napkins.
5. Another way of decoupaging with paper napkins on a flat wooden surface is to lay the napkin onto a painted dry piece of wood. Then liberally apply the decoupage glue on top of the napkin. The glue will seep through the paper napkin and adhere to the wood. There is a good video demonstrating this method here.
6. Finish off the decoupage by sanding away excess paper napkins from the edges, especially on wood. Then seel the decoupaged images by applying a final coat of decoupage glue on top of the paper napkin.
If the decoupaged object is for outdoor use, then a waterproof sealer should be used for the final coat. You can even get a dishwasher-proof Mod Podge.
Looking for ideas of what to decoupage with paper napkins then check out this A to Z of upcycling ideas.
As well as printing lovely images onto paper napkins at home to craft with, there is also a great tutorial on how to print onto fabric at home.
Best Paper Napkin Decoupage Ideas
Paper napkins can be used to decoupage, wood, glass, ceramics, metal, plastic and even stiff fabrics. Here is a collection of a wide variety of paper napkin decoupage crafts and upcycles.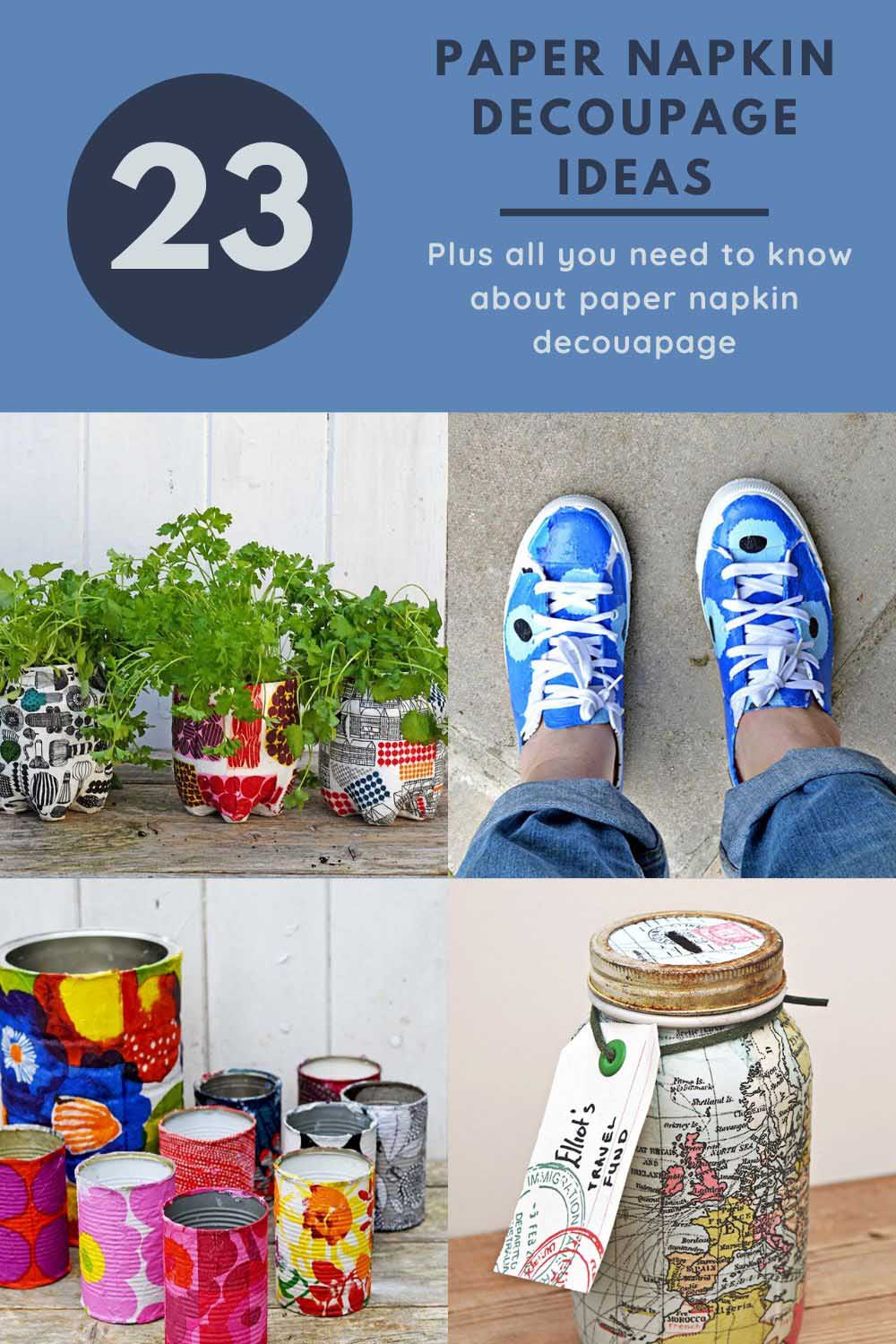 For other craft types, and technique tutorials check out the tips for sewing on paper both by hand or with a sewing machine. Also, it's a good idea to make sure you have these craft essentials.