Repurposing an old window into a Christmas Mirror Decoration
Earlier on in the year, a friend had a load of new windows put in her house and I managed to rescue the old Victorian sashes she replaced before they went to the dump. One of them I turned into this fabulous old window Christmas decoration.
This is not just any old window Christmas decoration it also doubles up as a mirror for my mantle during the festive season.
There are many lovely words that you just associate with Christmas. I love to use these words in my Christmas crafting projects. Last year I make some giant felt Fa La La letters. For this year's upcycled Christmas decoration Jingle was my Christmas word of choice. Every time, I hear the word "Jingle" I think of Christmas in a lovely nostalgic way!
Come the first of December I swap my normal mantle mirror for this old window Christmas Decoration. It's a Christmas sign, mirror, and place to hang ornaments all wrapped into one.
As well as the windows you can upcycle the curtain fixings into Christmas decorations too, like with these Boho wooden ornaments.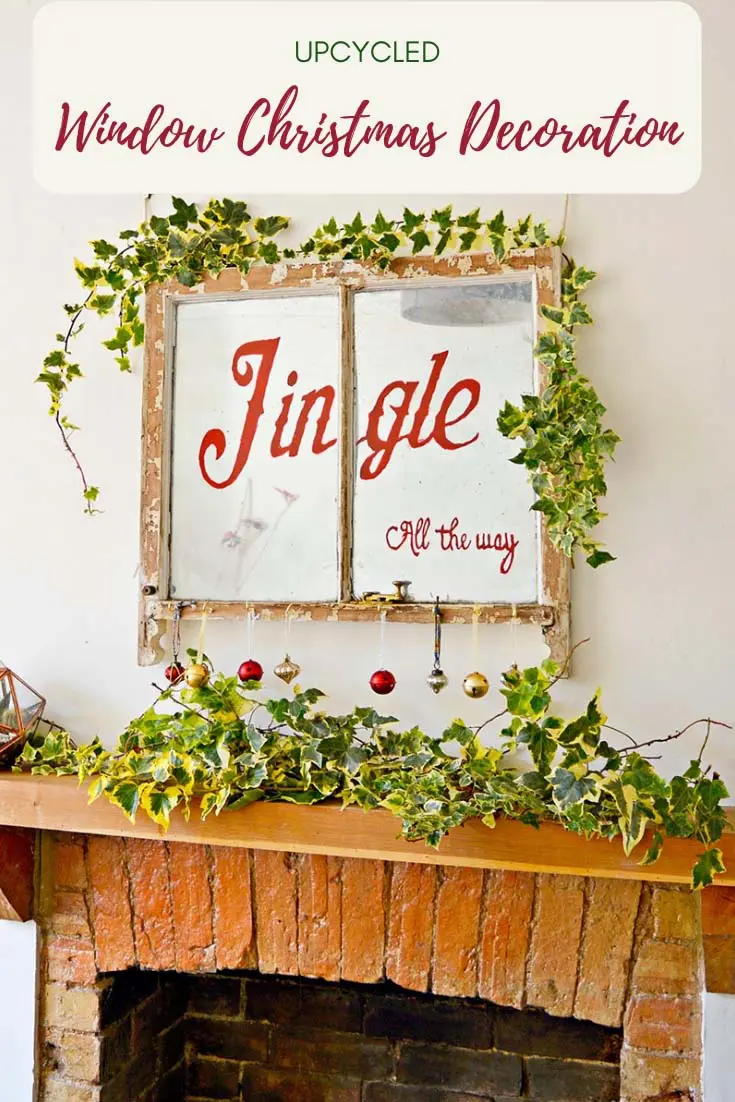 This post contains Amazon affiliate links for your convenience. Click here to see my disclosure policy.
What I Used for my Old Window Christmas Decoration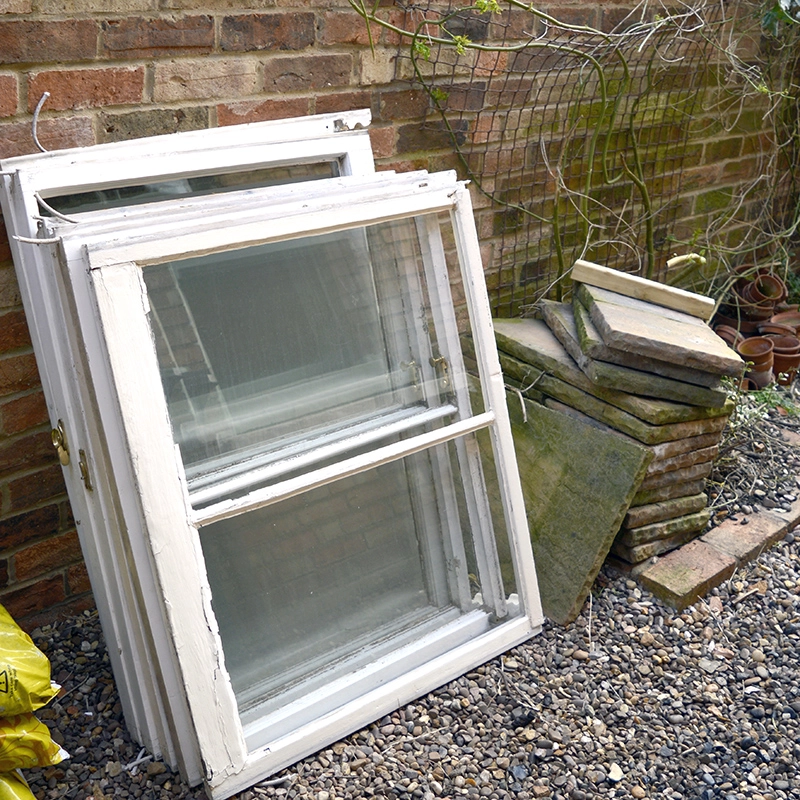 Old Window or old glass picture frame – Keep a lookout for these you can often pick them up for free from a skip.
How to Make an Old Window Christmas Decoration
Painting on the words
If your frame is looking a bit too new you can easily age it. Sanding and chipping off some of the paint and then rubbing the frame with a dark furniture wax helps to achieve that shabby look.
To start with download and print out the "Jingle" template here. Depending on the size of your window resize the wording to fit.The font I used was far too big to fit on one piece of A4 paper. Therefore, I printed the template one bit at a time, onto several pages. Print your Christmas word out as a mirror image. If you go into advanced options on the print setup page, you should be able to tick a mirror image option.

I painted onto the back of the window (hence the mirror image). Therefore, stick the printed template onto the front of the window so that you can read the letters on the other side.
Using your template as a guide paint the Christmas words onto the back of your window. I painted 3 coats, letting each coat dry in between.

Creating the mirror effect
When you have finished painting remove your paper template. Cover the back frame of the painted window in masking tape. Lay the window down flat onto newspapers. Either outside or in a very well ventilated room.Then following the instructions on the can, spray the back of the window with the some mirror spray paint. I shook my can of paint well, sprayed from a height of 20-30cm and did about 4 coats of paint. Waiting a couple of minutes between each coat.




The mirror spray paint creates a lovely antique mirror effect which looks great with the old window as it adds to that lovely vintage look. To finish off I added some brass cup hooks to the bottom of the window. This enabled me to hang Christmas vintage baubles and bells on the mirror window.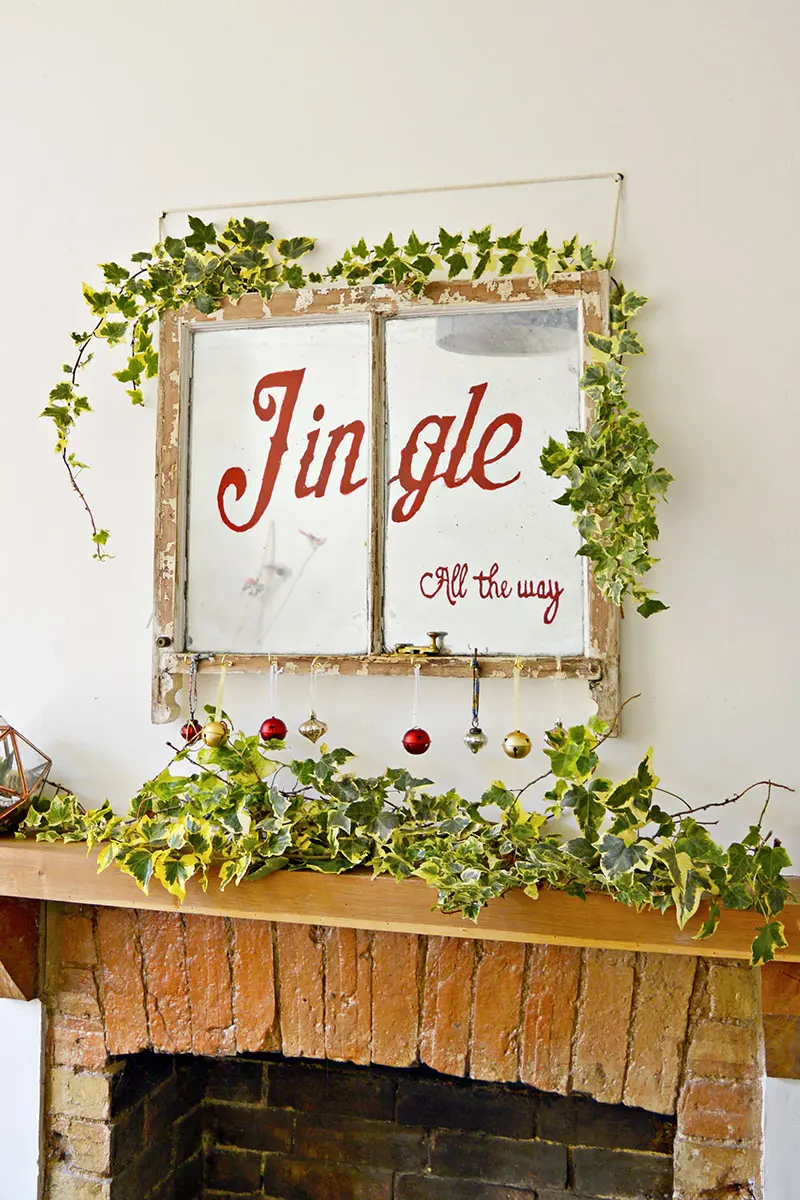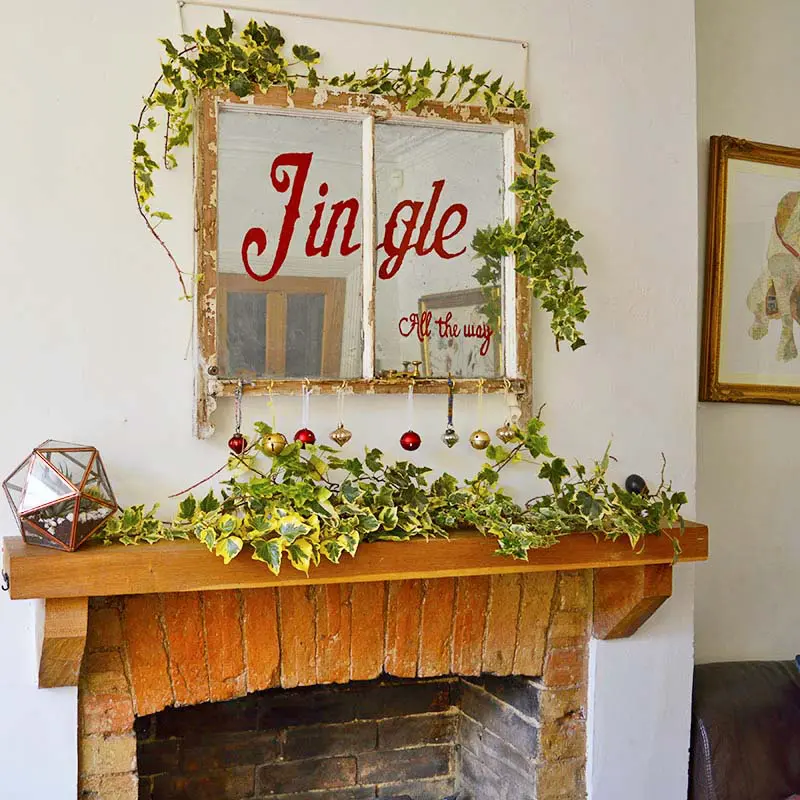 What are your favourite Christmas words? Mine are "Fa La La", "Jingle" and "Ho Ho Ho".
China plates can also be upcycled with paint like these doily painted plates.
If you like this window transformation you may want to check out my others:
Upcycled window herb garden
Happy Hour Upcycled Window
I also have some more upcycled Christmas decoration ideas.
Sweater Upcycled Christmas Ornaments
Upcycled Christmas Shuttlecock (Birdie) Angel Wings
Fabulous upcycled felt garland