Polka Dot Chalk Paint Dresser Upcycle
Whilst flicking through last months "Style at Home" magazine at my local coffee shop, I spotted a piece highlighting the trend for polka dots in interiors. Which gave me the idea for my latest upcycle and to work out how to paint polka dots on old furniture.
Apparently, polka dots are always on trend. I think you call that "classic". I'm a big fan of bold patterns especially spotted ones where there is a big contrast between the dots and the background. The classic polka dot pattern is blue or black on white. With this dresser upcycle I went a little more Boho with a Scandinavian Pink and burgundy combo.
I'd been meaning to do something with this old dresser I had for years. It's not a particularly great looking bit of furniture but it's so handy. I've had since I was a student when my Aunt gave it to me for my digs. I don't know how long she had it before then. It's safe to say it's ancient but no antique!
The reason it's lasted this long is that it's so handy. The piece has been a nightstand, a chest of drawers and even a coffee table of sorts. For the last few years it's sat in the empty fireplace in the study and it's where we keep all the board games.
Now that the furniture has had it's spotted makeover and fancy new Anthropologie handles, I'm not quite sure where to put it yet. I think it needs an upgrade from the fireplace.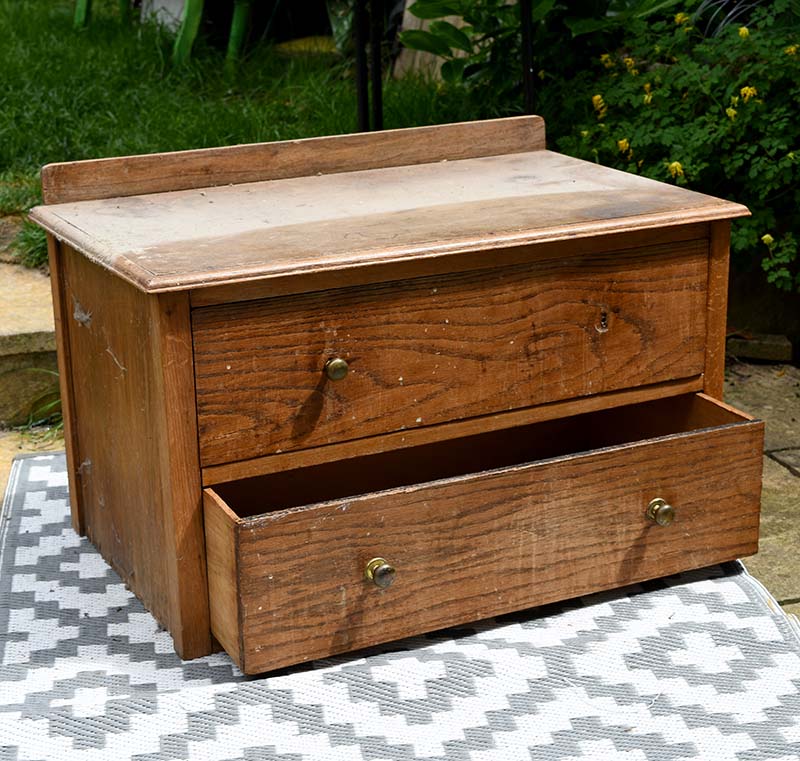 We're a participant in the Amazon Services LLC Associates Program, an affiliate advertising program designed to provide a means for us to earn fees by linking to Amazon.com and affiliated sites. As an Amazon Associate, I earn from qualifying purchases.
What I used for the furniture upcycle
Tester pots of chalk paint in Pink and Burgundy. As I was only painting the two drawers of the dresser and some lining paper the tester pots were plenty big enough.
Small paint roller and extra foam rollers. I actually picked my roller up in Aldi, but any will do. However, it is best to have dense foam roller pads that are flat at the end.
Lining paper for the drawers
New big knobs. I got mine in an Anthropologie sale a while ago and had been waiting for the right project to use them on.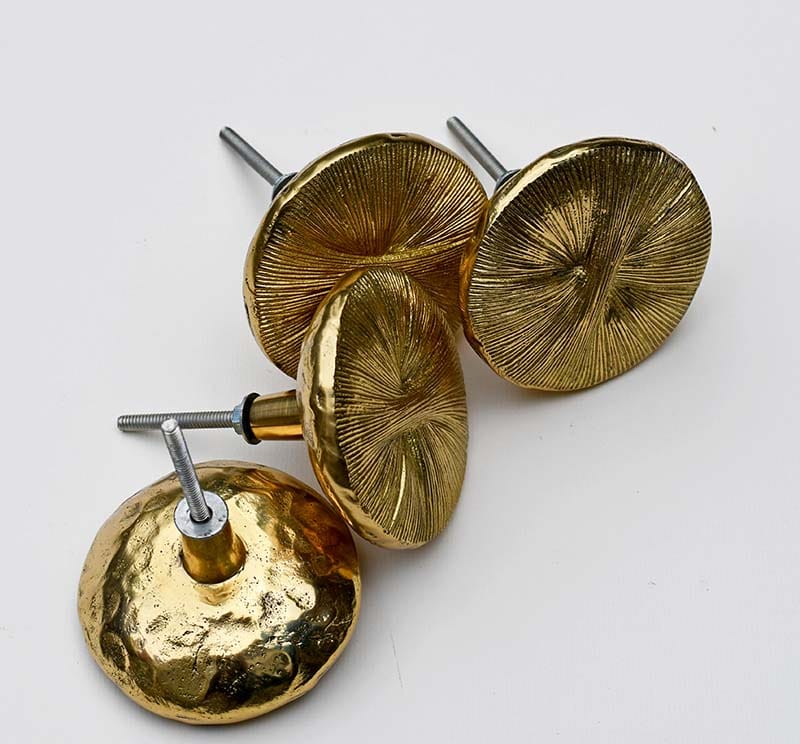 Dresser Upcycle and How To Paint Polka Dots
1. Firstly, even though I was using chalk paints for this upcycle, I still sanded the dresser as it had a good few marks on it's top.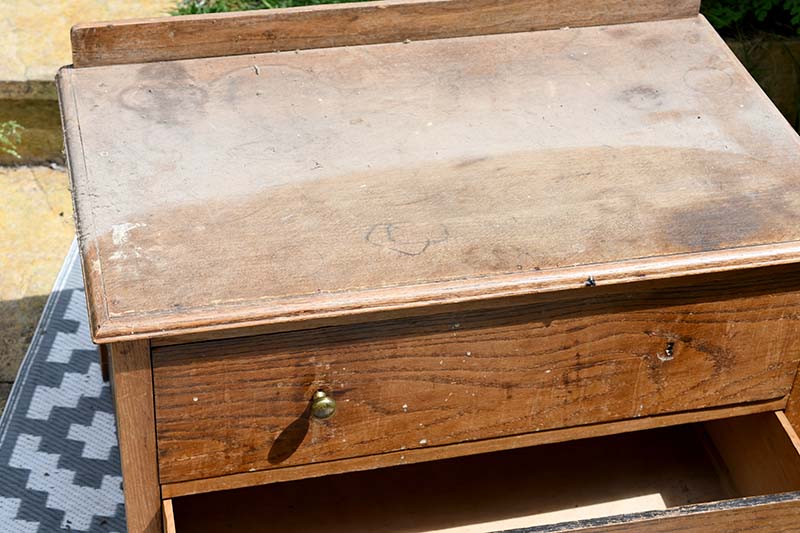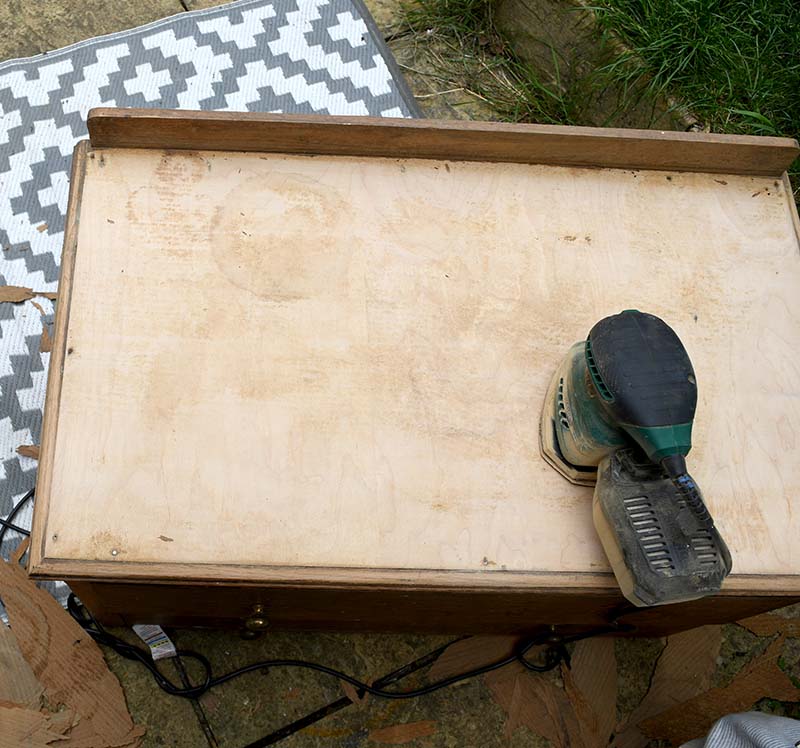 2. For this furniture upcycle I only showed how to paint polka dots on the drawers. Therefore with the rest of the wood (top and sides), I simply applied a wood stain.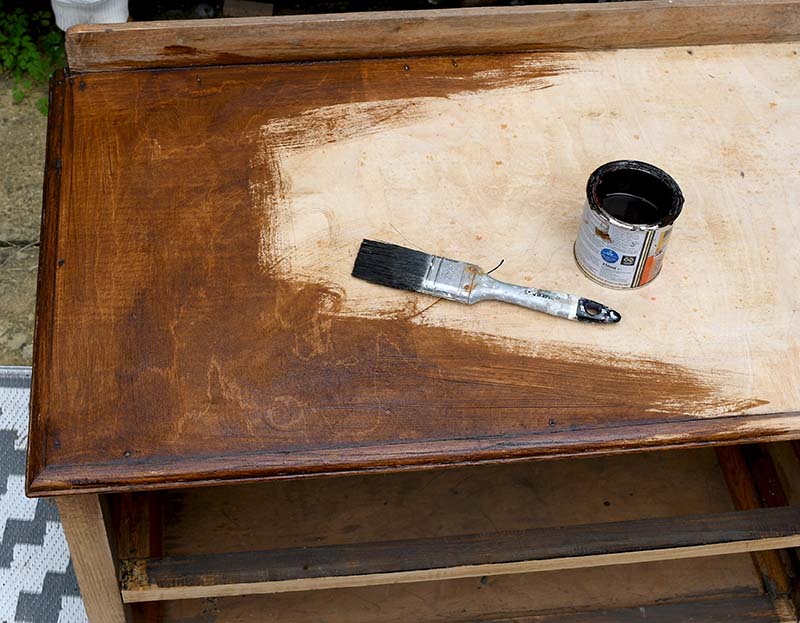 3. Next, I removed the old knobs from the drawers and painted them in the pink chalk paint, using a small foam roller. I like to use a foam roller to avoid brush marks.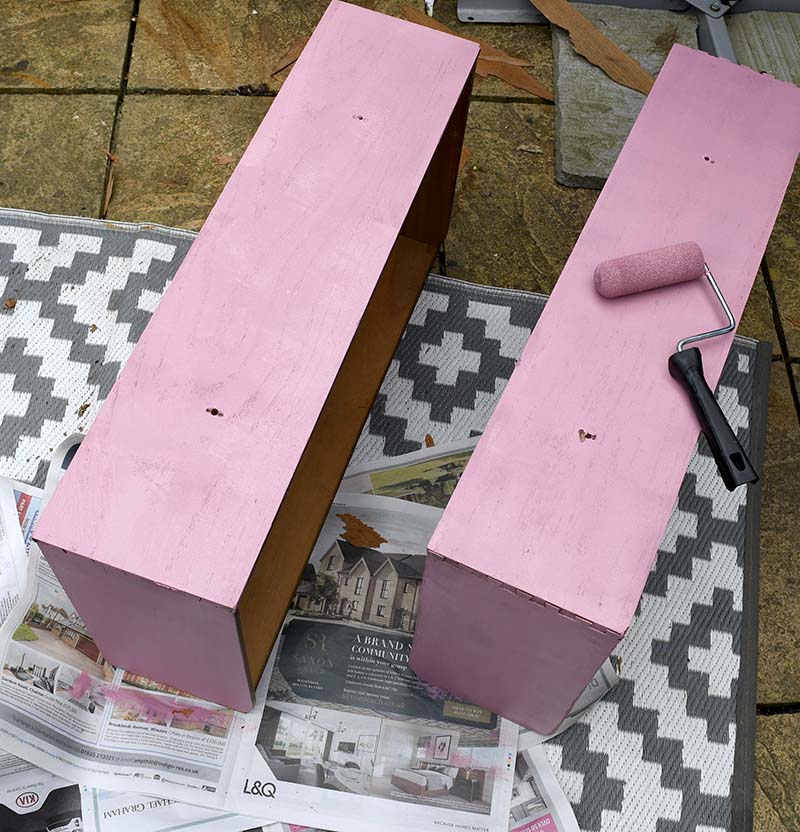 How to Paint Polka Dots
4. Once the base pink chalk paint is dry then it's time to paint the polka dots. Luckily chalk paint drys very quickly.
First put a small amount of the burgundy paint in the paint tray. Then dab the flat end of the small foam roll into the paint. Make sure the whole end is covered. Wipe off an excess drippy paint bits around the sides.
Next, firmly press down the painted end of the roller where you want the polka dot. You should be able to stamp 2-3 dots before having to get more paint on the end of the roller.
*Top tip, if for some reason when you stamp your polka dot a bit of the spot is missing just use a small paintbrush to fill in that bit.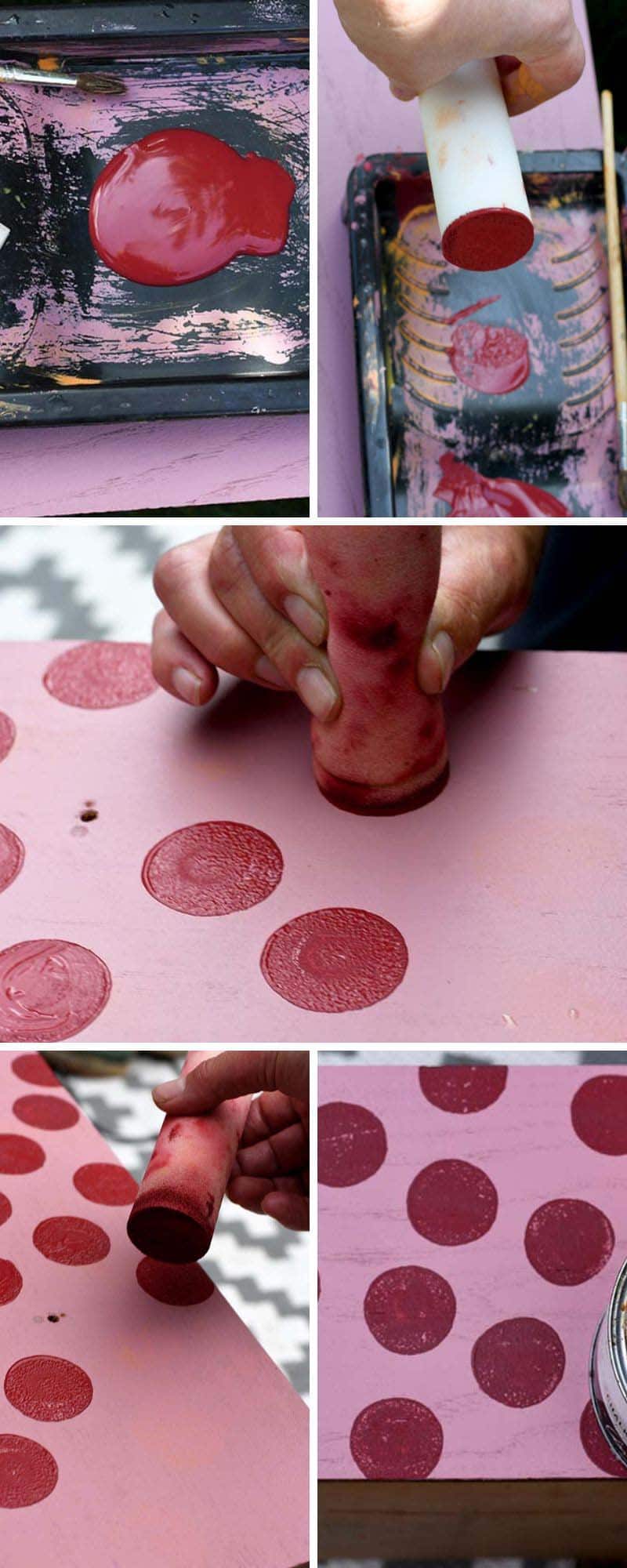 5. Make polka dot liners for the drawers. Paint lining paper in the burgundy chalk paint and then using the same method as above paint polka dots in the pink. Once dired cut the lining paper to fit inside the drawers.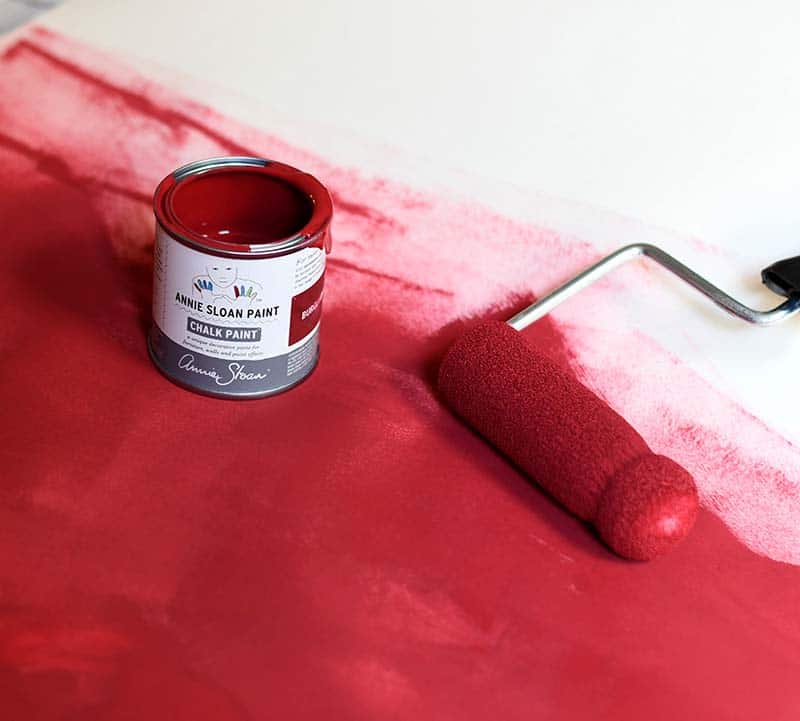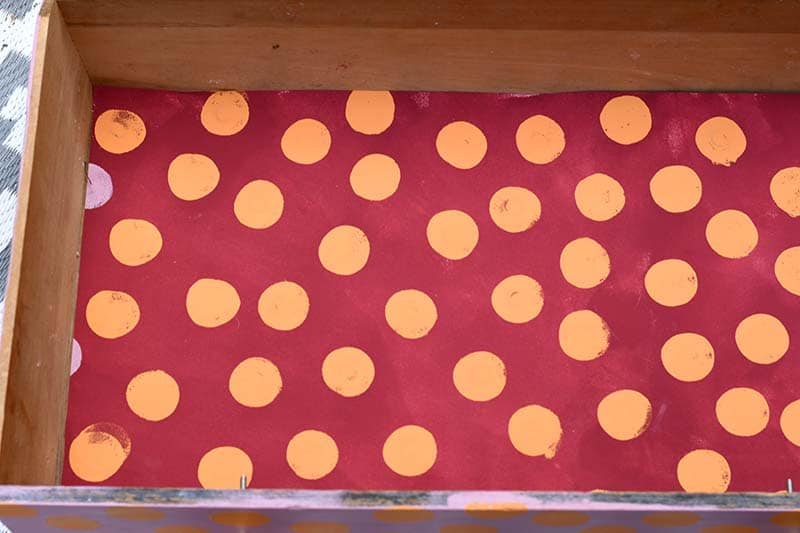 6. To finish, apply chalk paint wax to the upcycled furniture. Then put on the new oversized brass knobs.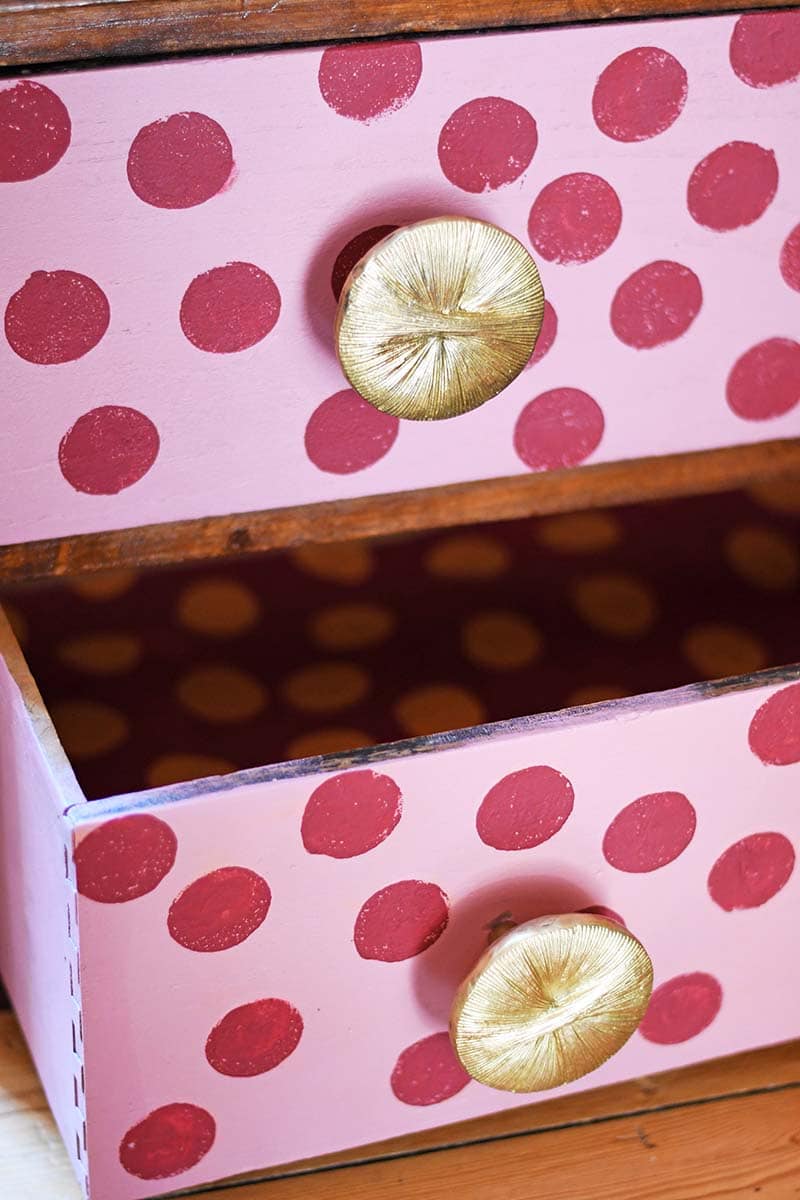 I have a confession to make. Initially, I painted one of the drawers pink with orange dots. But I didn't like it, every time I looked at the drawer all I could think of was Mr. Blobby. (Sorry, that is a reference you will only understand if you happened to watch TV in the UK in the '90s). As I was never a fan of Mr. Blobby (I didn't get it!) the orange had to go and in came the burgundy instead.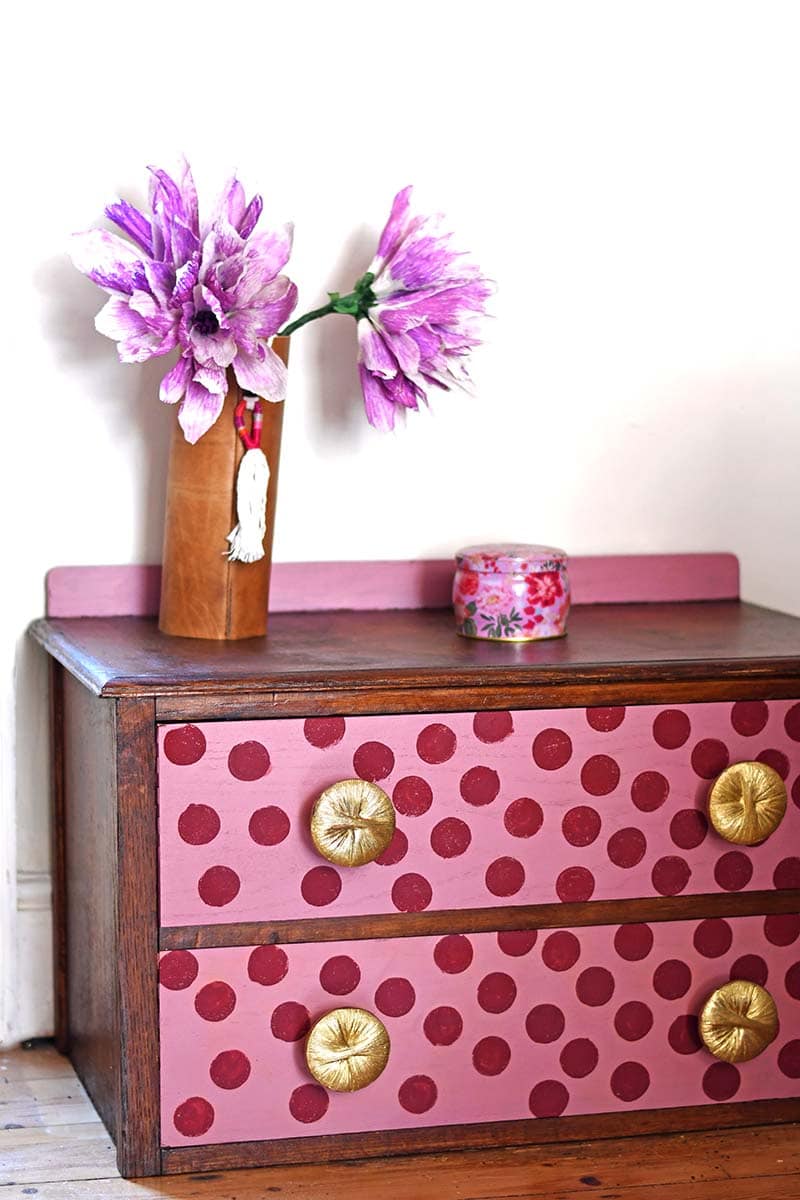 You should check out my other fabulous chalk paint furniture upcycles.
For more furniture flips visit diyideacenter.com