Upcycle Sweaters Into A Gorgeous DIY Felt Rug
I do love a quick DIY and craft but equally, sometimes I like to take it slow. That's what I did with this DIY felt rug.

It can be really satisfying to take your time in making something and seeing it gradually blossom into a gorgeous finished product. That way you also get to enjoy the actual therapeutic art of crafting as well as the results.

What I'm trying to say that this rug took me ages to make but it was fun and I really enjoyed making it!

It all started when my Mum turned up at Christmas not only laden with presents but a bag full of old wool sweaters in gorgeous colours for my upcycling stash. To me, this pile of jumpers in pinks, reds, and purples was actually the best present.

As I had quite a few sweaters (5) I decided to recycle them into a DIY felt rug. Especially as all the colours blended well together.

I didn't actually measure how long the rug took to make as I did it in dribs and drabs over a couple of weeks. But I would say I probably spent approx 10 hours on it.

It was easy to make the rug in small chunks at a time. Also, the method I used was pretty straightforward. So I was able to multi-task by catching up on some box set tv shows at the same time. Mind you it had to be gentle tv, something like "Call The Midwife" nothing that required too much concentration or anything with subtitles.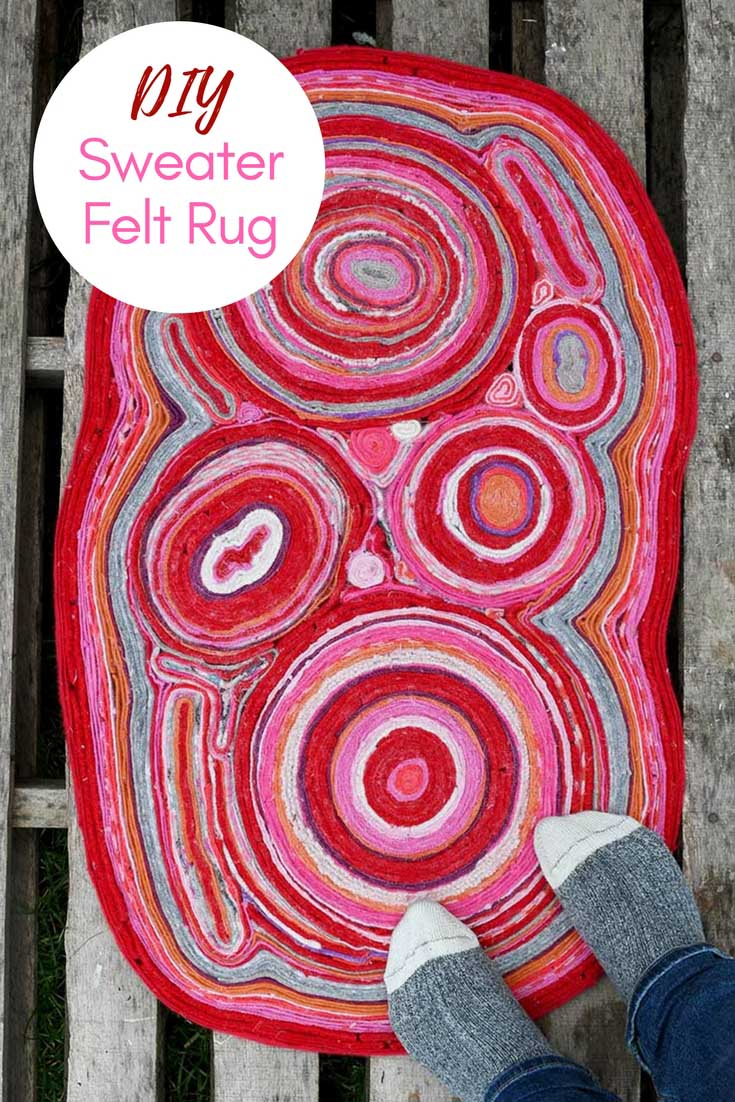 This post contains Amazon affiliate links for your convenience. Click here to see my disclosure policy.


What you need to make a felt rug
Wool Sweaters – I used the equivalent of 4-5 sweaters for this felt rug. They should be at least 70-80% wool. Mine were mainly cashmere and some lambswool. You can also use scrap pieces of felt or sweater felt for this DIY too!






Fabric glue – I used about 2 pots of fabric Mod Podge
Hot glue gun and glue sticks – I used about 30 glue sticks.
How to make a sweater felt rug
The first thing I did was felt the sweaters by putting them in a hot wash in the washing machine. Like I did with my sweater mountain cushion.

Next, I cut the felt up into strips about 7mm wide. I used a cutting mat a metal ruler and rotary cutter to ensure that all the strips of felt were even. This was probably the most time-consuming part of the craft. As well as the sweaters I had felted I added strips of felt from my bag of scraps to this pile.




Note you can make the strips thinner or wider, but whatever size you choose that will be the thickness of your rug. If you are a bit short on felt then if you go for 5mm strips you will, of course, get more strips from the sweater. So you will be able to make a bigger rug. Whatever thickness you choose, be consistent so all the felt strips will be the same size.

To make things easier, the felt strips were sorted into different coloured piles.




The next bit is the fun part. To start with paste one side of a felt strip with fabric glue and roll it up into a spiral. Then get another strip of felt in a different colour cover it in fabric glue and wrap it around the felt spiral. You can use pins to keep the ends in place as the glue drys.






Carry on adding strips of felt to the spiral and it will slowly get bigger and bigger. There is no set pattern or order of colour to add the felt. I think it looks good to create different sized rings of different coloured felt in a random way. That is a personal preference I'm not into symmetry. But if you like symmetry then perhaps you may want to be more specific in the colours and lengths of felt strips you add.




These felt spiral mats form the bases of the felt rug. The more you make the larger the final rug will be. If you want you can just make one giant felt spiral and have a large round rug.

However, that wasn't the look I was going for so I made several of these felt spiral mats in different sizes and some were perfect circles others were more oblong.

For the next part, you will want to join these rug mats together to make one large rug. I found that it was better to use a hot glue gun for this stage.




Lay the felt mats out in the arrangement that you would like. There will be some big gaps in between where the circular mats join. I just made some smaller spiral felt shapes to fill these gaps.

Once you are sure of the layout. Stick the mats together with hot glue. As this glue dries very quickly it is easy to hold the shapes together the way you want them as the glue dries.



When all the mats were stuck together. Wrap strips of felt around the outside of the whole shape. Again using a hot glue gun to stick the felt down. Carry on until you either run out of felt strips or a rug the size you want.



To finish off, tidy up the rug, by picking off any glue threads from the top.


TOP TIPS
The glue can make the rug a bit stiff, for a softer feel leave the top 2-3mm of each felt strip glue free as you stick them this will give the rug a softer feel underfoot.

One of the good things about this rug is that the way it is designed it is possible to add to it at a later date if you want to make it bigger or if you get some more felt sweaters.

I used the equivalent of about 5 sweaters for this rug. However, that didn't include the arms as I was saving them for a future recycled sweater project (watch this space).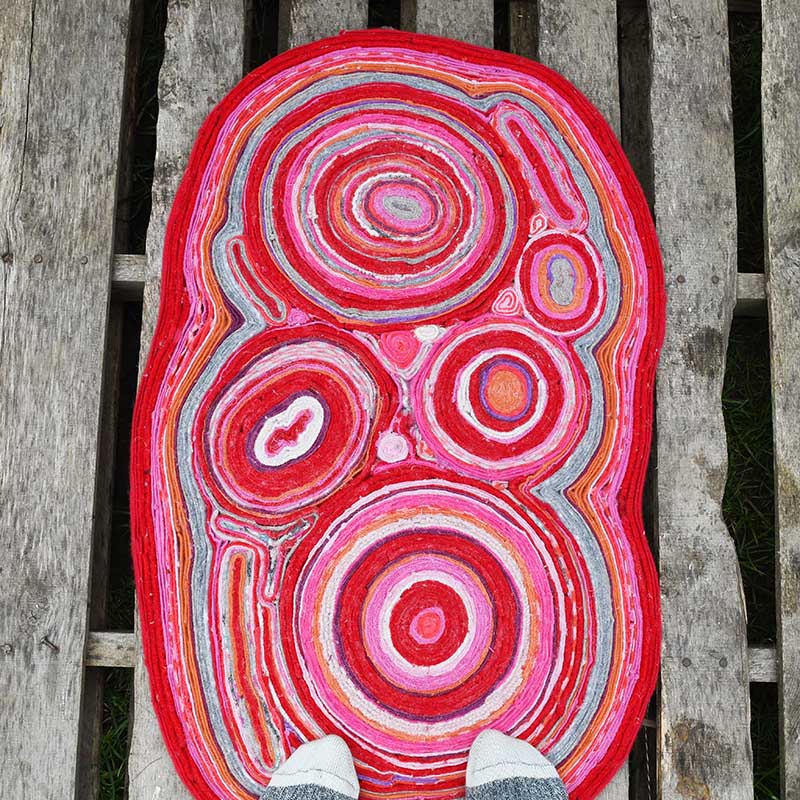 I'm so pleased with my new rug, the colours just look gorgeous together and really go well with my decor. I'm sure I will be adding to it at a later date when my mum hands me her next pile of old sweaters.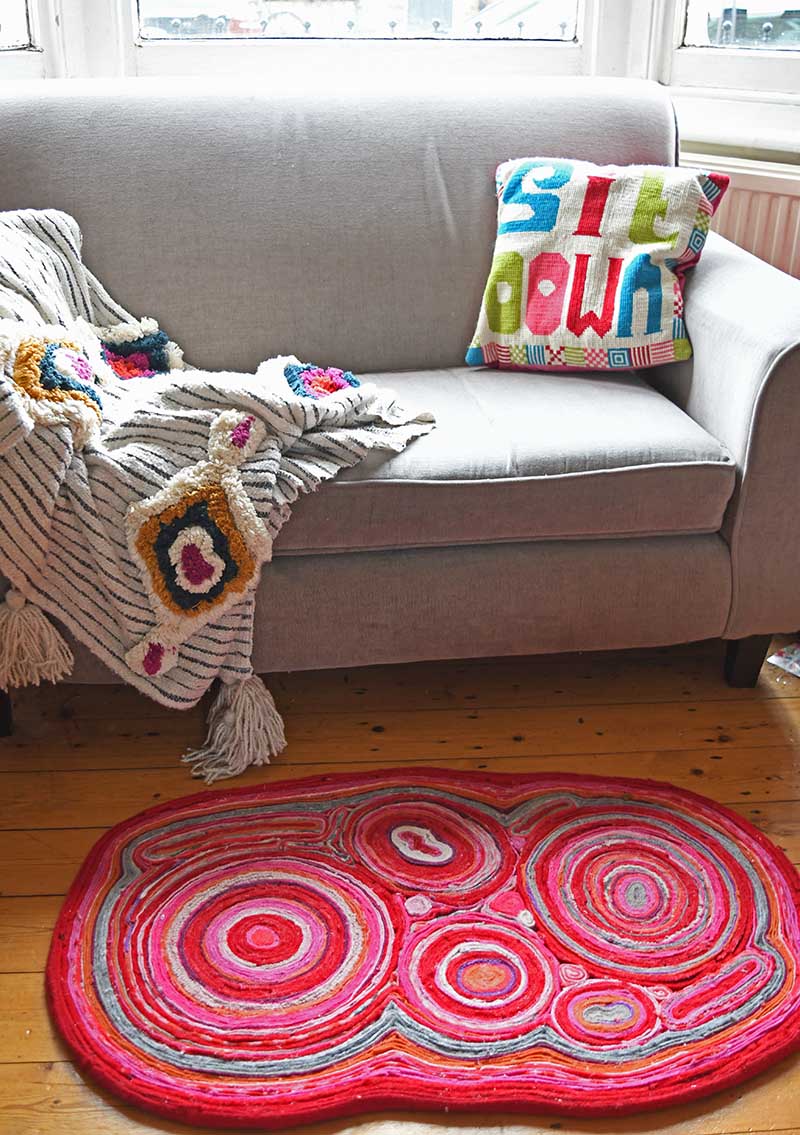 This isn't the first rug I have made you should check out the denim rug I made last month. This again was a no-sew DIY rug.


Also if you have any tiny pieces of felt left over, don't chuck them out use them to make a gorgeous felt garland.