This is a roundup of Frida Kahlo themed crafts, from Frida dolls and planters, to pillows.
The iconic Mexican artist Frida Kahlo is one of my heroines. A few years ago, I was very fortunate to visit the stunning V&A Frida exhibition called "Making her self up".
The exhibition was not just about Frida's amazing artwork. It was full of her personal clothing, jewellery, papers and other items of hers. They had been locked away in a bathroom of her lifelong home, La Casa Azul (The Blue House) in Mexico City, for 50 years after her death. It was the first time these personal items had been seen outside of Mexico.
Her home is now the most popular museum in Mexico City. She's an important part of Mexican cultural heritage, her paintings are now prohibited to be sold outside of the country. So it is quite rare to see exhibitions of her work outside of Mexico.
She is considered to be one of the most important artists of the 20th Century, (by the Tate Modern). It's not just her vivid artwork that made her famous, but her extraordinary life and personal style. As a result, she has been immortalised as a cult figured and is one the most instantly recognizable artists.
After the visit, I was inspired to make a few Frida Kahlo crafts to decorate my home with. Because of her instantly recognizable features and distinctive look, it is very easy to make Frida themed crafts. Many ideas center around her Boho style, her famous hairstyle with a crown of flowers and her monobrow.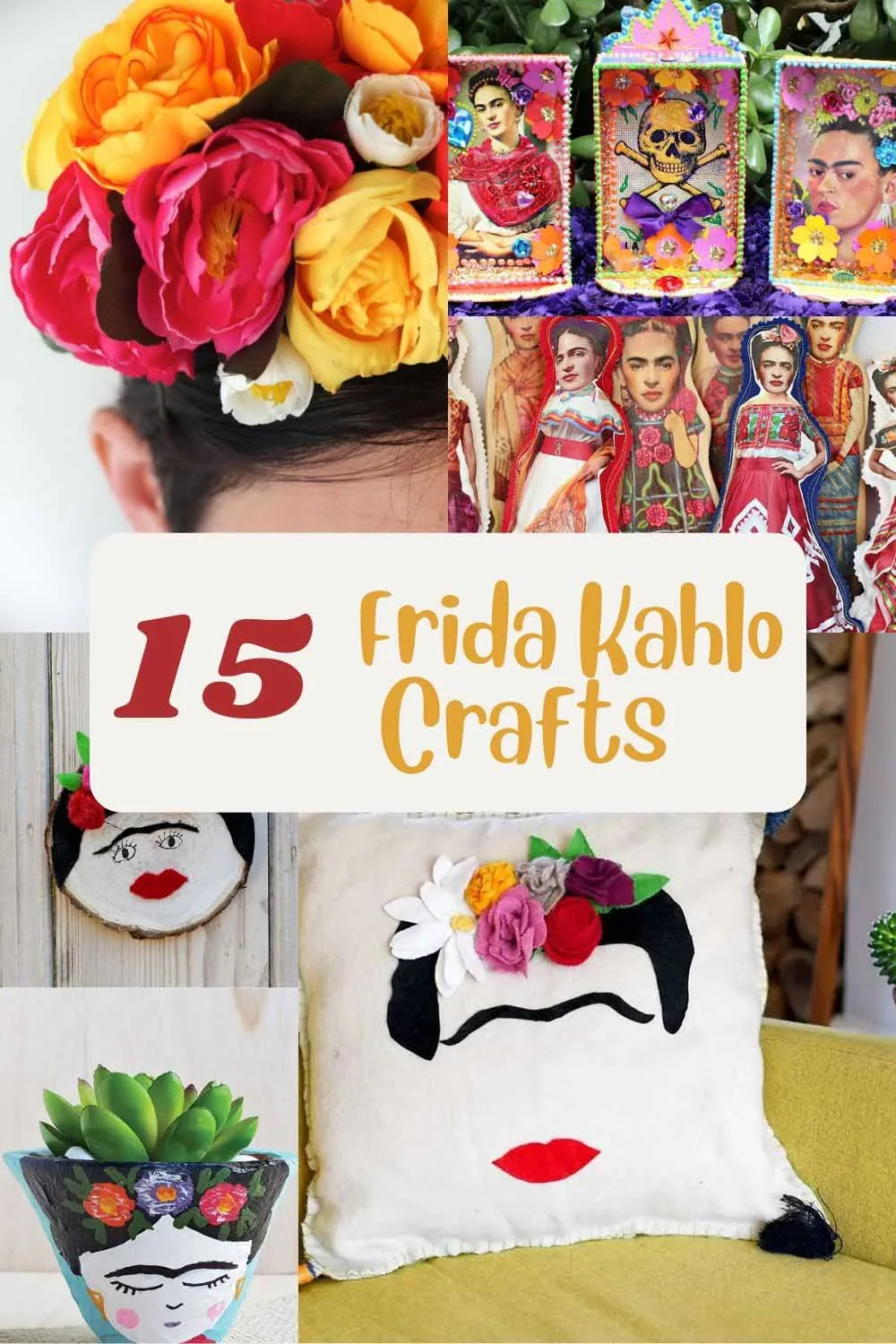 Frida Kahlo Crafts
Fun and colorful Frida Kahlo crafts and DIYs, all inspired by the famous Mexican artist.
More Mexican Floral Craft Ideas
There are tutorials for lots of different paper flowers and succulents with this giant paper flower wall decoration, which could be used for Frida crafts.
If you enjoyed these Frida Kahlo themed ideas then you might enjoy these DIY Mexican tile planters, a fun felt succulent garden or this list of cool Cactus crafts.