My Thrift Store Challenge a Pineapple Stenciled Table – Thrift Store Upcycle
The Rules:
Upcycle an item(s) from a thrift store, resale store, or garage sale into a new piece of decor.
There's no monthly theme.
There's no budget to stick to.
Meet the Hosts
Amanda | The Kolb Corner Maureen | Red Cottage Chronicles Kim | Made in a Day
Dru | Polka Dot Poplars Erlene | My Pinterventures Colleen | Life on Kaydeross Creek Pili | Sweet Things
Shirley | Intelligent Domestications Ann | Duct Tape and Denim Debra | Shoppe No. 5 Marie | DIY Adulation
Chelsea | The Johnsons Plus Dog Jes | My DIY Envy Lindsay | Crazy Organized
Molly | Just a Little Creativity Ashley | 3 Little Greenwoods Kimm | Reinvented Michelle | Our Crafty Mom
Ali | Home Crafts by Ali Sue | A Purdy Little House Sara | Twelve on Main
Claire | Pillar Box Blue Chelc | Inside the Fox Den Kim | Farmhouse Made Victoria | Dazzle While Frazzled
Sherry | Savvy Apron Jennifer and Vicki | 2 Bees in a Pod Lora | Craftivity Designs Megan | C'mon Get Crafty
Denise | My Thrifty House Toni | Small Home Soul Deborah | Salvage Sister and Mister
Make sure you follow our board on Pinterest for more upcycled decor inspiration!
---
Pineapple Stenciled Table
Why pineapples? Why not? Well actually I have a thing about Pineapples. Which is probably why my sister gave me some pineapple knobs for Christmas. Anyway, I was dying to use the pineapple handles for a furniture upcycle.

To me, the pineapple is the king of fruit. I hate to admit it, but I'm easily seduced by great looking packaging. As far as fruit go, the pineapple wins hands down in the looks department. Also having been brought up in the tropics I do like tropical themed crafts. Last year I made a tropical themed birdhouse decoration.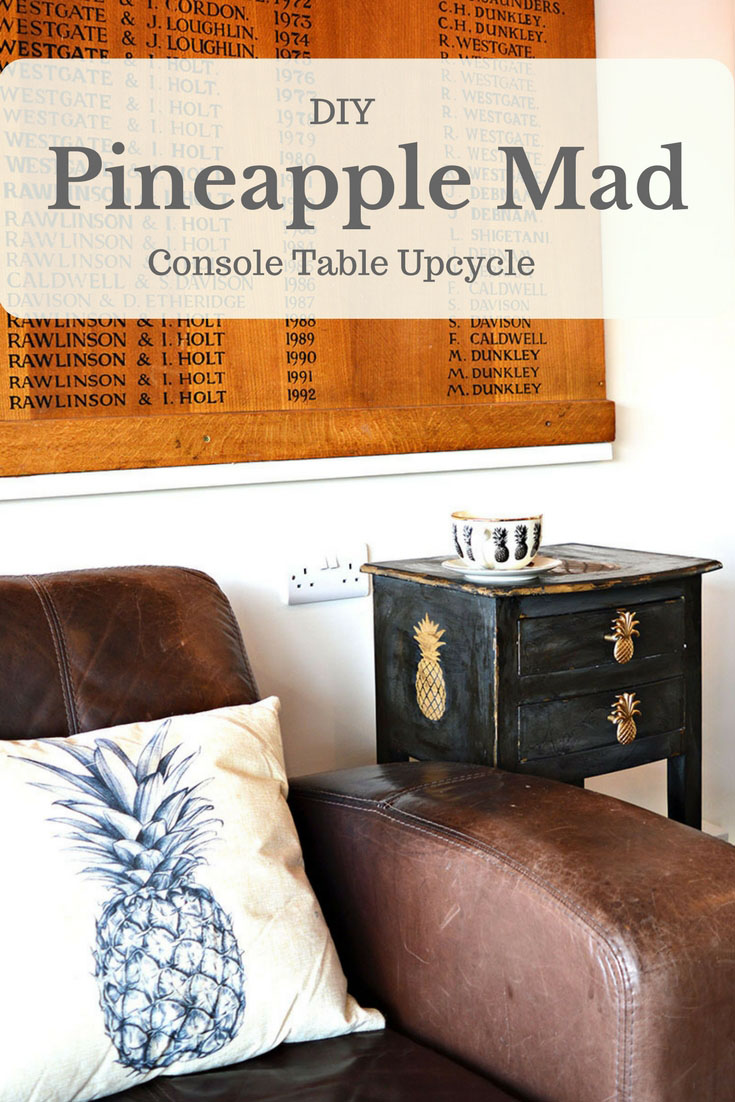 My before console table

There was not much wrong with the console table I picked up from the junk store. It was the perfect size for my lounge with 2 handy draws for the remote and takeaway menus. It was just a bit boring and tired looking. All it need was a bit of pimping with paint and new handles to turn it into something delightful and a bit more interesting.

As well as a tropical theme, I wanted to give the console table a shabby chalk paint makeover gold and black paint job. New pineapple knobs just added to the whole effect.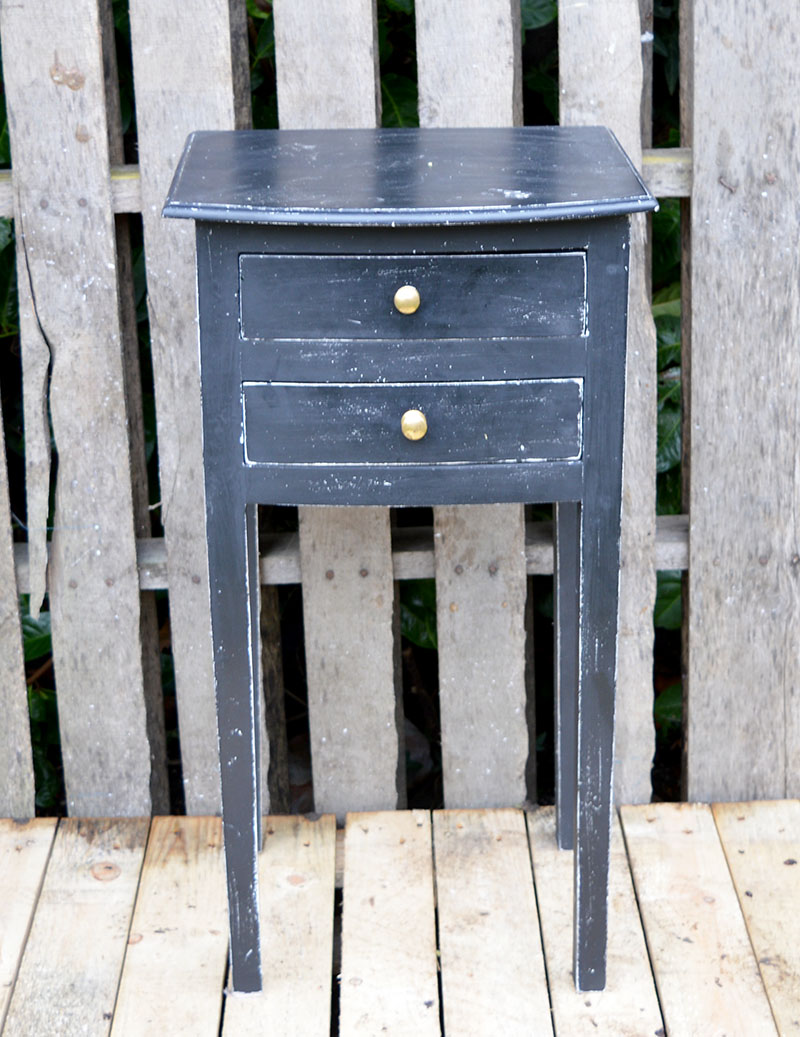 This post contains amazon affiliate links for your convenience. Click here to see my disclosure policy.


What I used for the pineapple stenciled table Makeover
Pineapple cabinet knobs – Mine were a present but you should be able to find some on ebay.
Pineapple Stencils – I was going to make my own pineapple stencil but when I saw how cheap they were on eBay I didn't think it was worth the effort, so I bought some.
Pineapple wrapping paper to line the draws.
Painting my table
I wanted to go for a black and gold shabby, chippy paint effect. To achieve this firstly I spray painted the edges of the console with the gold chrome spray paint. It's best to do this outside as spray paint can be a bit smelly.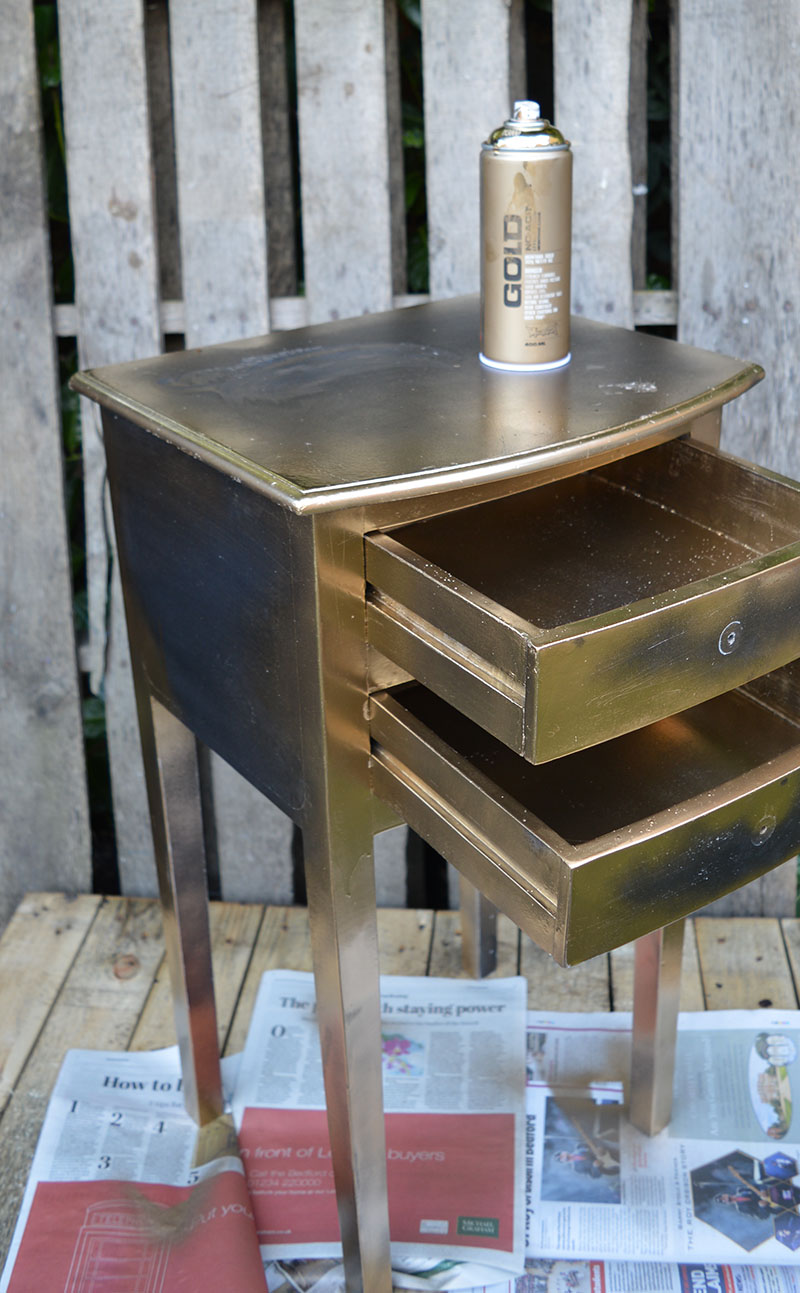 Once the gold paint is dry and before covering the console table with the black chalk paint, I brushed vaseline on the edges and corners where I wanted the gold paint to show through.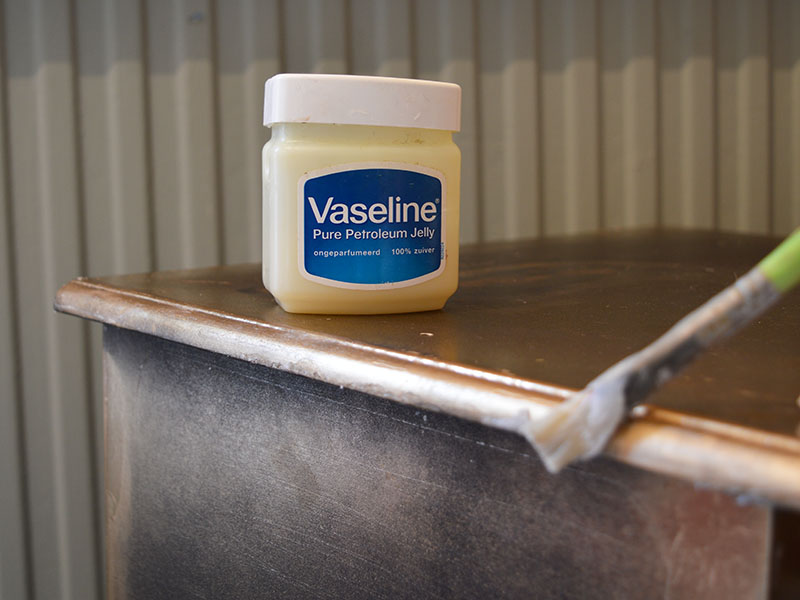 Paint the table with the black chalkpaint and leave to dry. Once dry use a cloth to rub away the black paint from the edges where you put the vaseline. The paint should come away easily reveiling the gold underneath.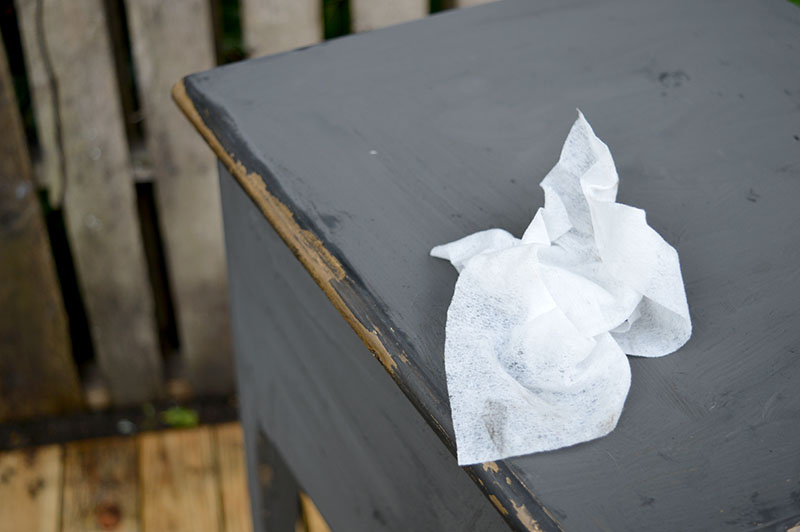 How to stencil the pineapples..

I intitially thought of making my own pineapple stencils, but when I saw how cheap and good they were on eBay I decided life was too short.

However, it is easy to make your own stencils with or with out a craft cutting machine. My friend Maria at Pastels and Macarons has post about how to make stencils without a fancy machine.

I used 2 pineapple stencils for my stenciled furniture. They were actually the same design but different sizes.

All I did was tape the large pineapple stencil to the top of the cupboard and sprayed with the gold chrome paint.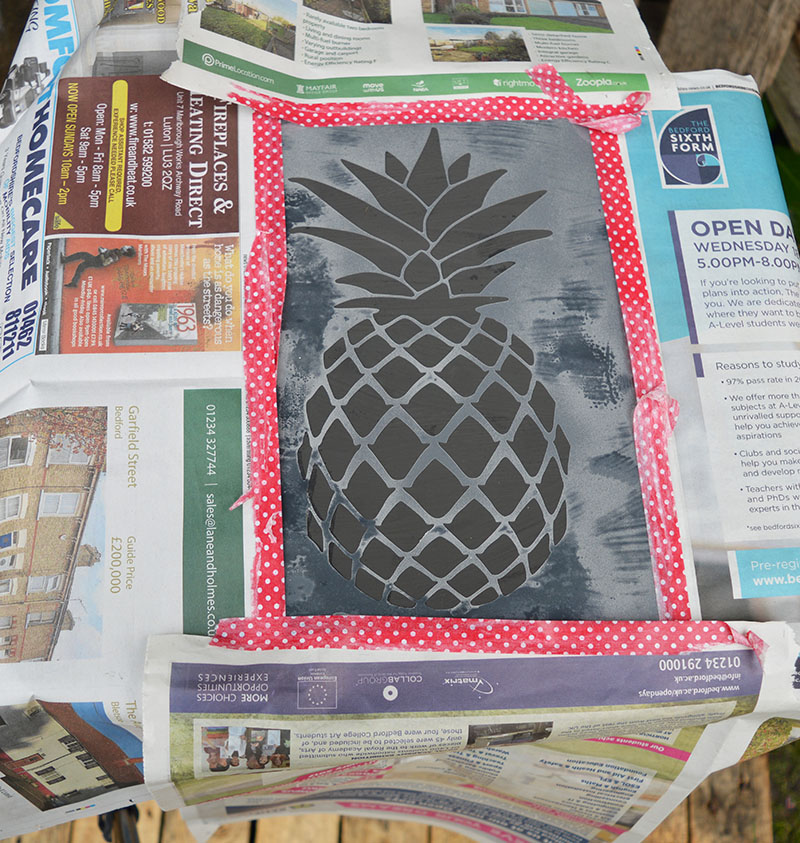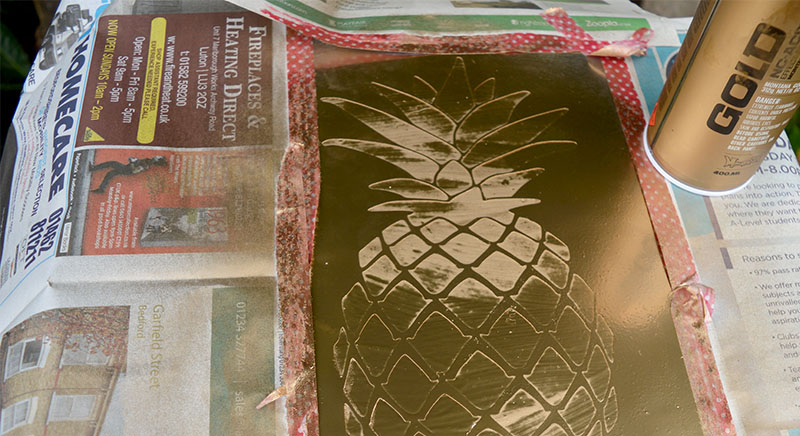 The small pinepple stencils were used for the sides of the console table.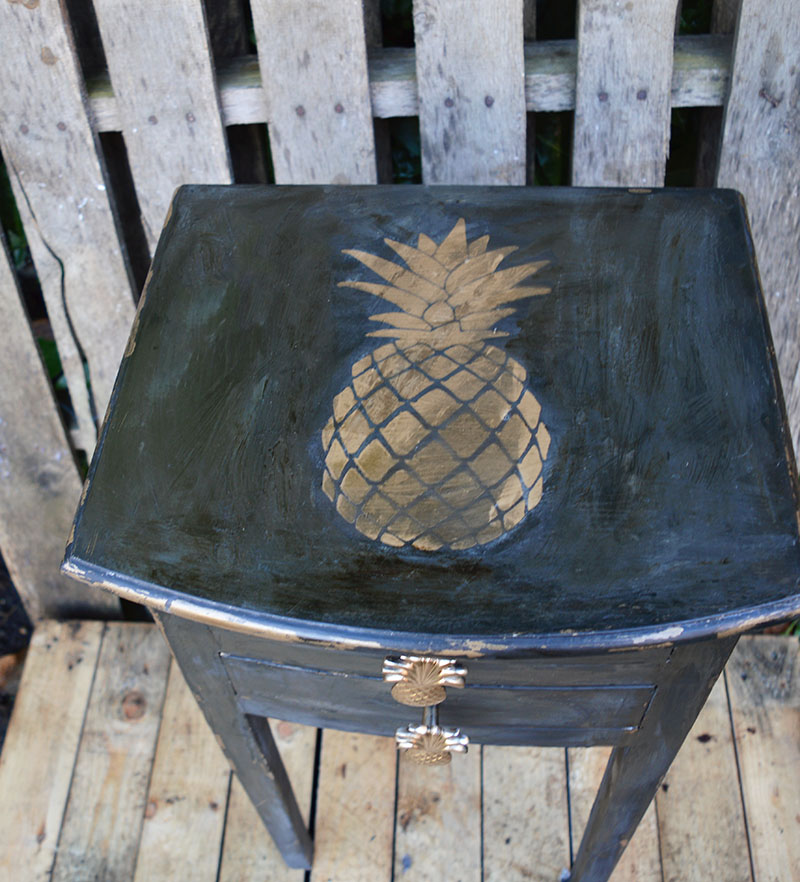 The finishing touches for the pineapple stenciled table

My sister fed my pineapple habit at Christmas by giving me several pineapple themed gifts, such as a pillow, mug and necklace. Amongst this pineapple hord was a pair of pineapple cabinet knobs. These knobs actually gave me the idea for my pineapple themed stenciled furniture makeover.

There was one slight hick up with the knobs in the fact they were silver, so out came the gold chrome spray paint again.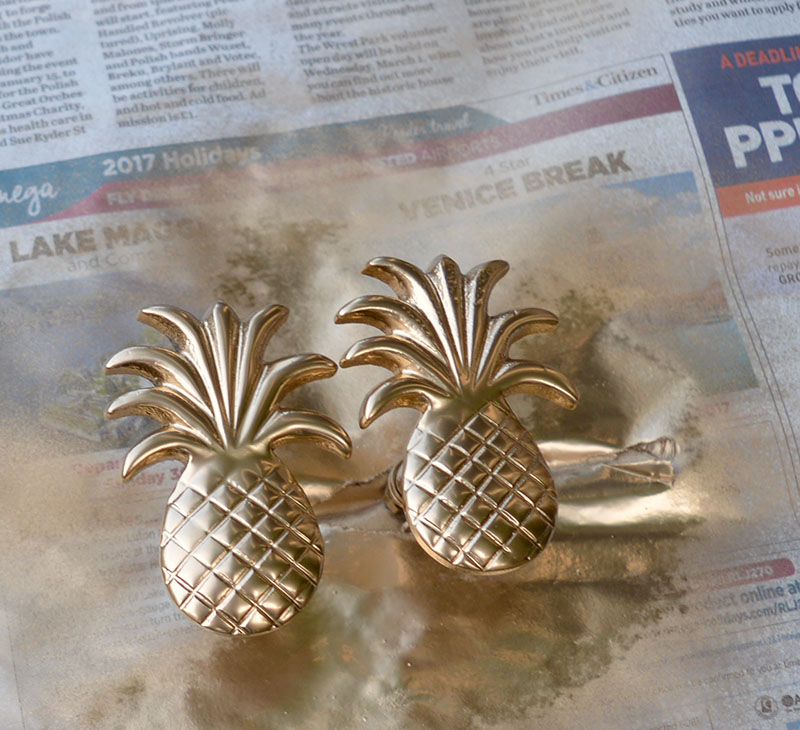 You would not beleive the amount of wrapping paper I have in my craft stash. I just can't resist buying wrapping paper in funky designs for crafts. When I went through the stash I found some sweet pineapple paper which I cut to size and used to line the draws.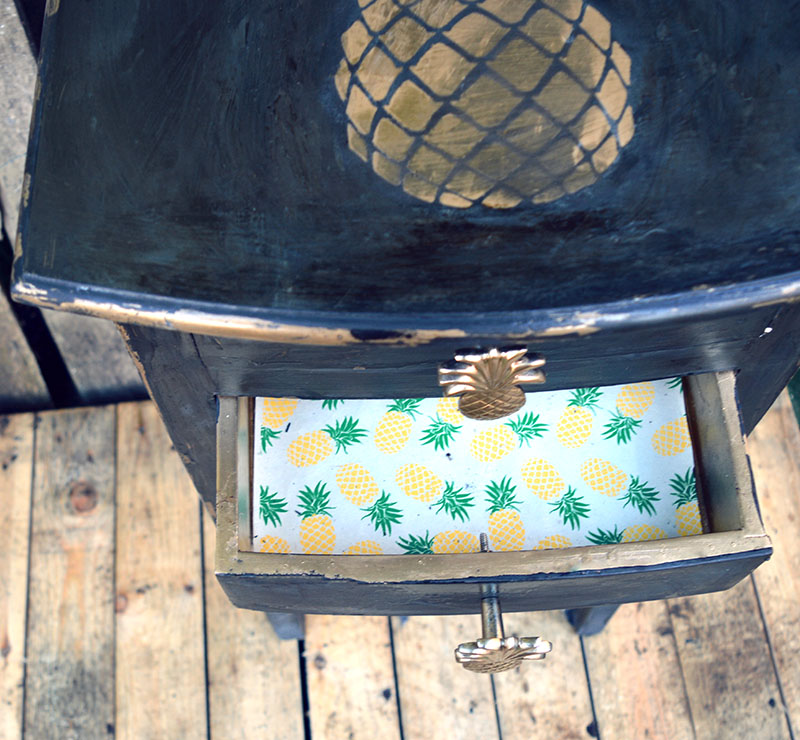 Finally to seal the chalk paint I applied clear furniture wax with a soft cloth to the pineapple stenciled table.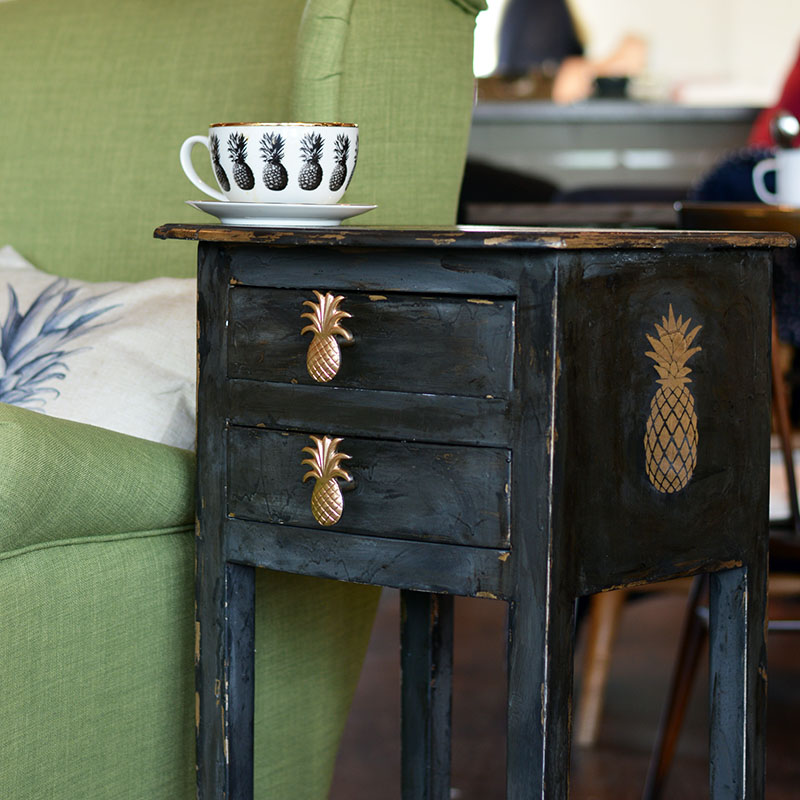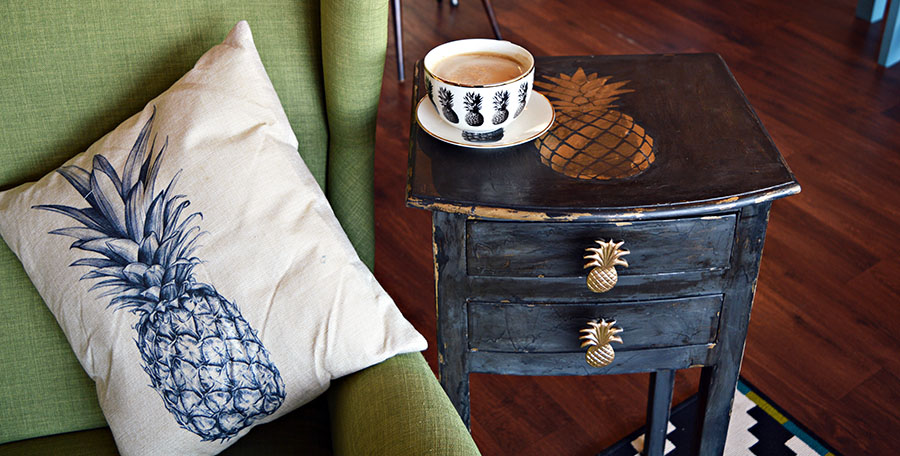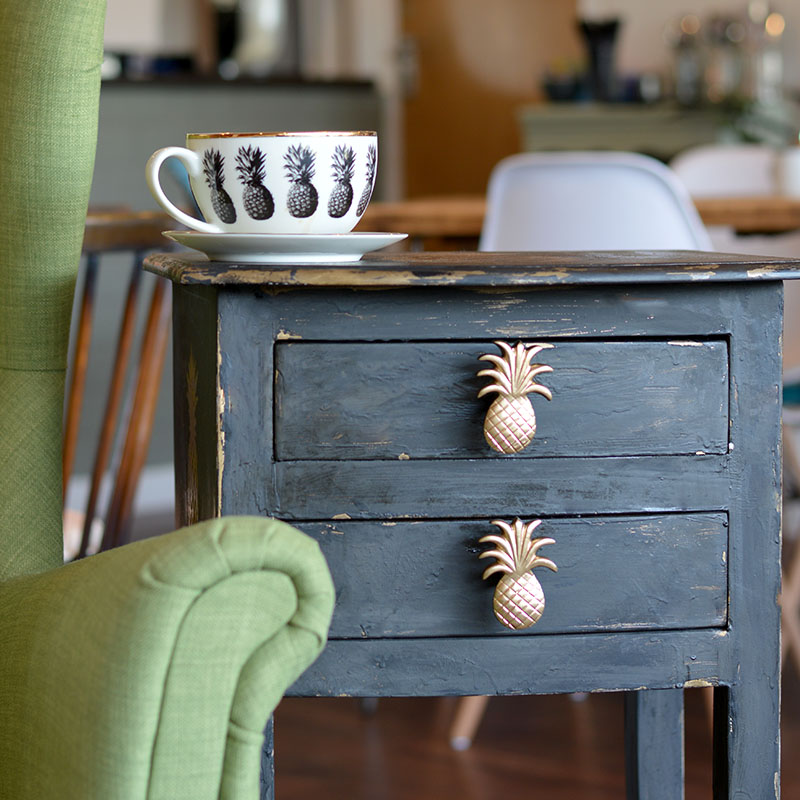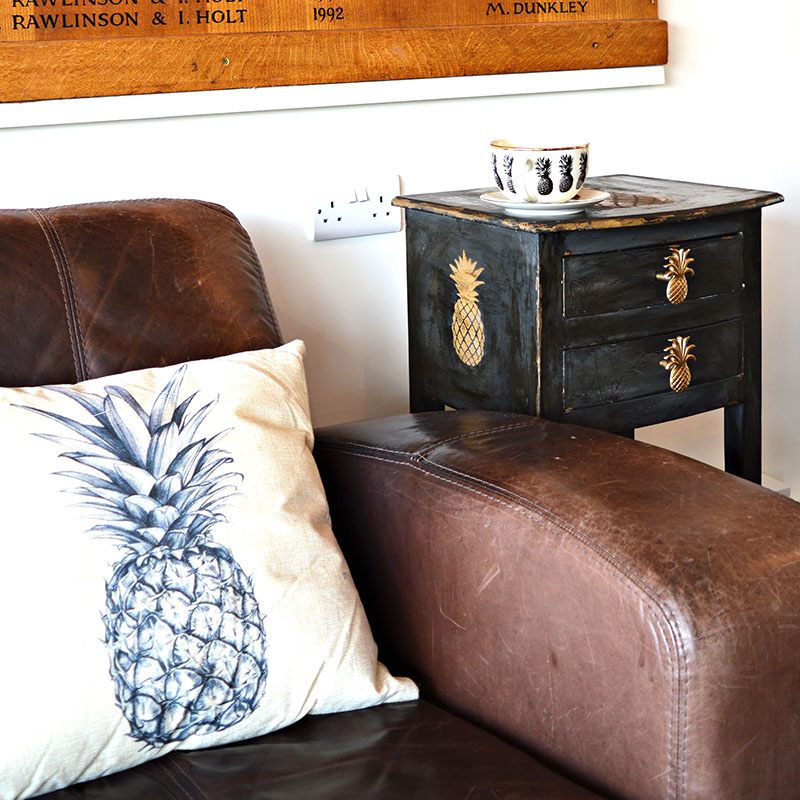 For more furniture makeover ideas visit the DIYideacenter.