This is my latest map craft, how to make gorgeous DIY paper plant pot covers out of old road maps. This is a very quick and affordable 10-minute papercraft.
I've made map paper luminary bags before, but I want something more substantial for these paper bags as I wanted to use them to cover plant pots.
I added contact paper to the old road maps to make them stronger after seeing Medina's Kraft planter bags. Not only did the contact paper make the road maps stronger, but it also made them more flexible and waterproof, perfect for making DIY plant pot covers.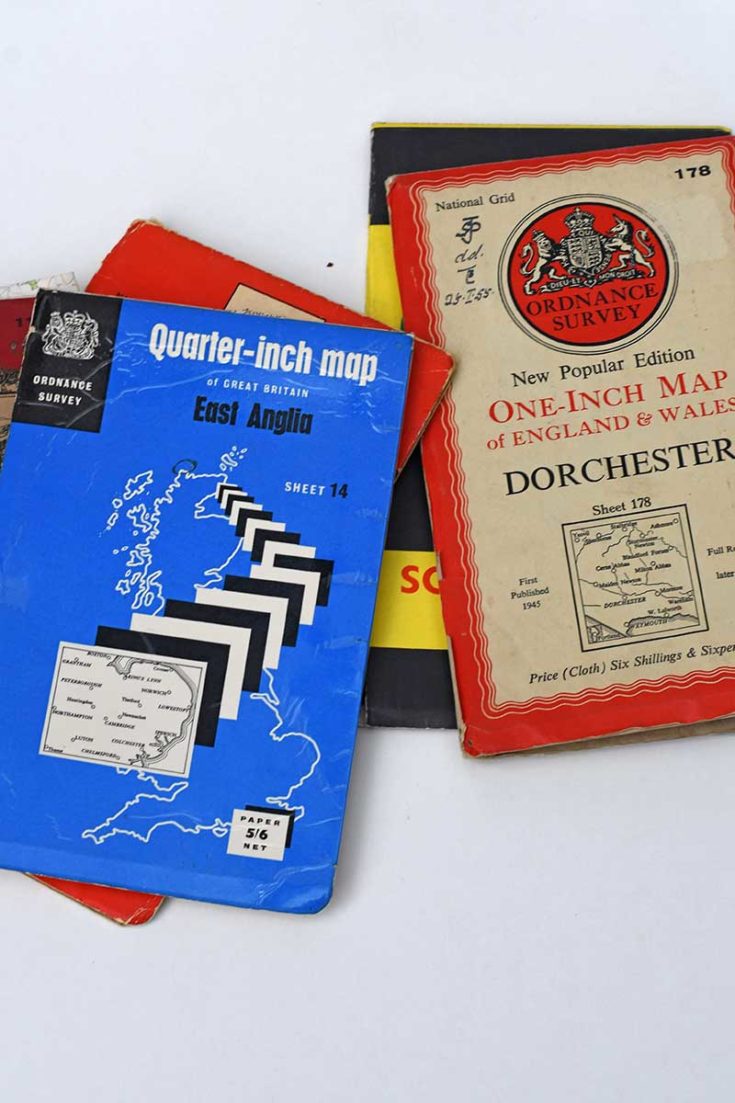 Crafting with Old Road Maps
After denim, old road maps are my favourite thing to craft with. I love the colours, patterns and feel of old maps. They can add personality to a craft and make it special if you use maps of your favourite places.
On a practical side, old road maps are readily available as everyone seems to use either a sat nav or their phones these days. Also, maps eventually go out of date, so there are plenty of redundant ones around.
Just ask family and friends if they have any old maps. Now that mine know how much I love map crafts they automatically pass me old road maps. Thrift and charity stores are also a great source of cheap road maps.
Another wonderful thing about road maps is that they tend to be printed on extra-large pieces of paper. This is great for crafts like these paper planters, which use large pieces of paper.
Making Map Paper Plant Pot Covers
A couple of weeks ago, after we were finally allowed some freedom, I went on a visit to the Cambridge University Botanical Gardens. On the way out I couldn't resist popping into the shop, it seemed a long time since I'd been into a nonfood shop.
I treated myself to a gorgeous plant called peperomia burbella. But it just came in the usual terracotta plastic pot. It was when I got it home, that I decided to make the map paper plant pot cover for it.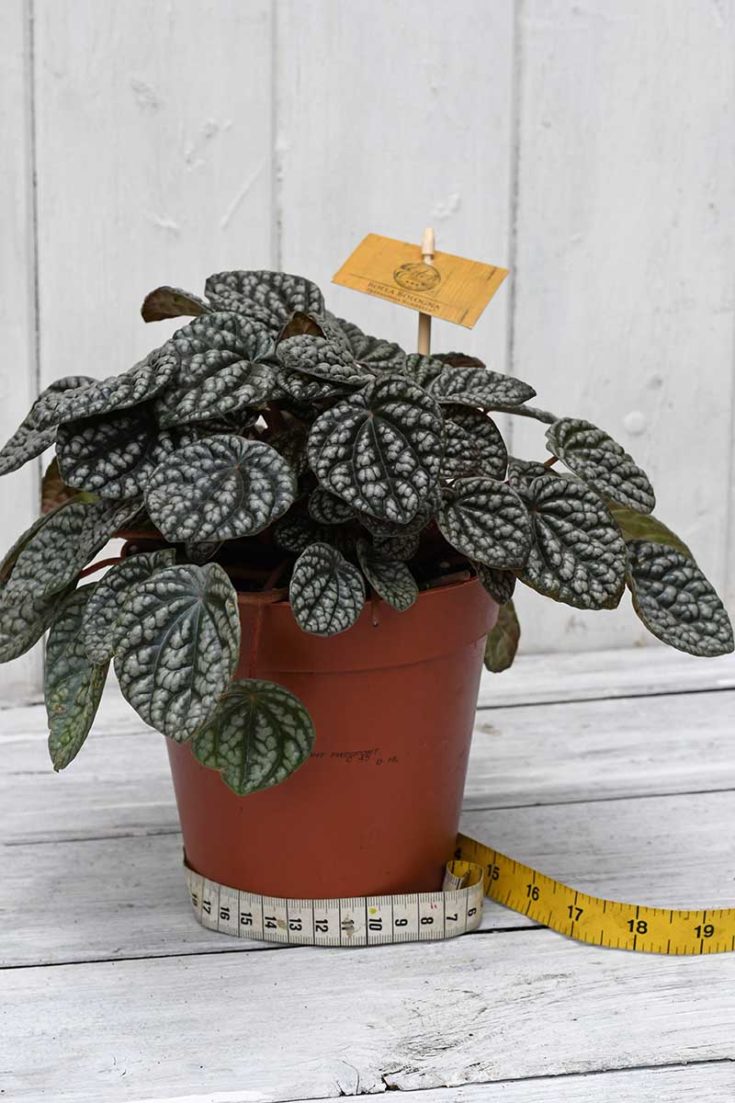 This only took about 10mins, so I made a couple more custom-sized map planter pot covers. They were for some of my other houseplants that were still in their ugly plastic pots.
That's the beauty of this map craft tutorial, it shows you how to make custom-sized map paper plant pot covers. Also, the map bags were so sturdy that they could actually be used as fun storage bins.
We're a participant in the Amazon Services LLC Associates Program, an affiliate advertising program designed to provide a means for us to earn fees by linking to Amazon.com and affiliated sites. As an Amazon Associate, I earn from qualifying purchases.
What You Need
Old road maps
Contact paper / sticky back plastic – This is available in various colours. Buy it in rolls by the meter, that way you can ensure that you have a piece large enough for your paper bag planter. You will only be able to make small bags with the stuff that comes in sheets.
Scissors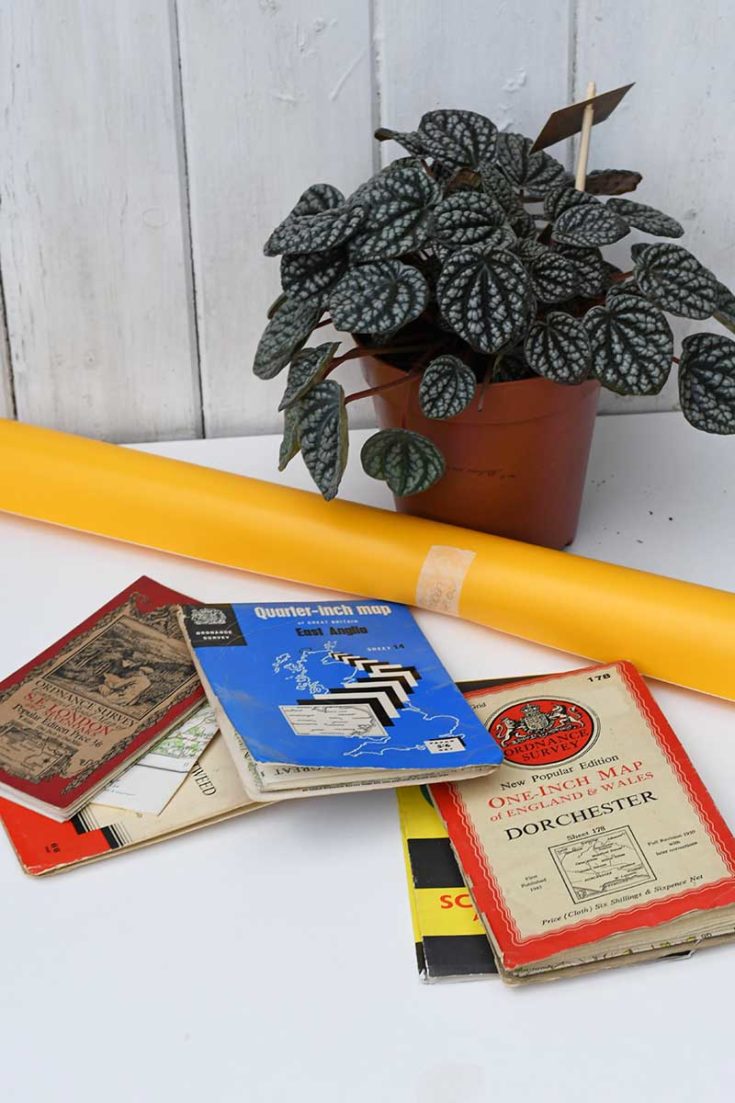 How To Make The DIY Plant Pot Covers
1.. The first thing to do is to work out how big you need the map plant pot cover to be to hide your plastic pot. In theory, you could plant straight into the bags as they are waterproof. But you could have problems with drainage, so I recommend using an inner plastic pot.
Using a tape, measure the circumference of the pot at the widest point. Also measure the height of the pot.
My pot was 45 cm in circumference and 15cm in height. I added another couple of centimeters (47cm) to the circumference to allow the bag to slip over the pot easily. To allow enough paper to make the bottom of the bag and to allow for a turnover, I doubled the height measurement to 30cm.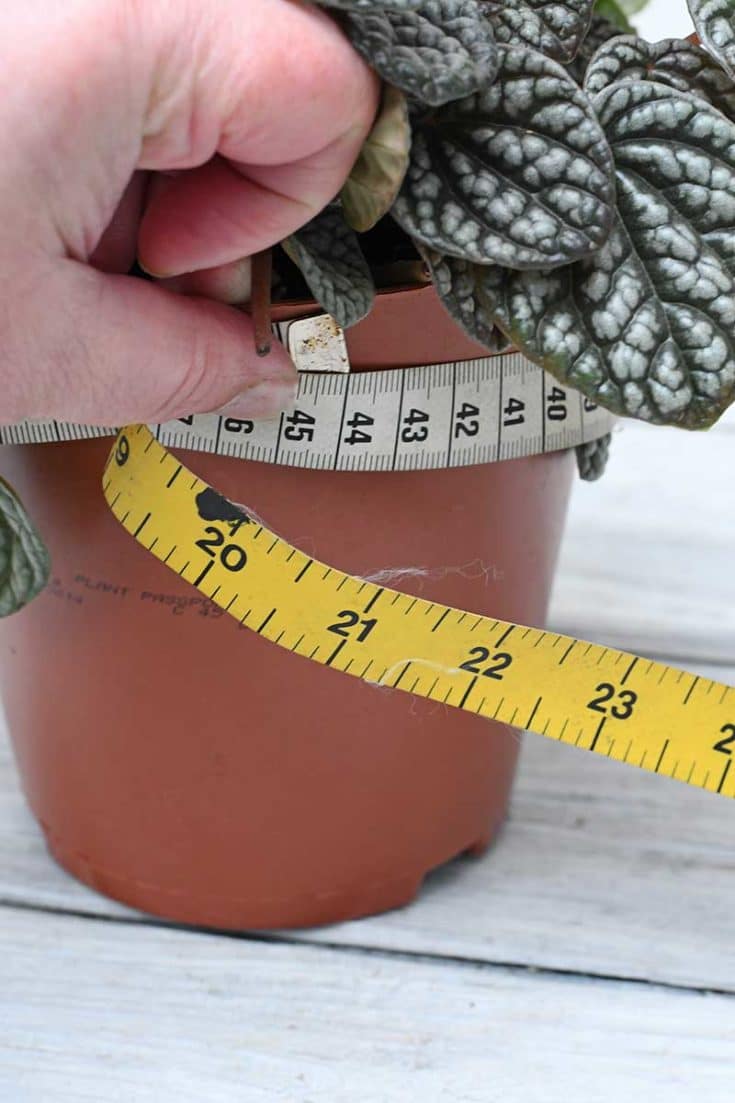 2. Next, I cut both my map paper and contact paper into sheets using these measurements of 47cm by 30cm.
Top Tip: If making these as a personalized gift by using a map of a special place, think carefully about how the map will look when finished. You might want to make sure a certain town or village is in the center of the cut map.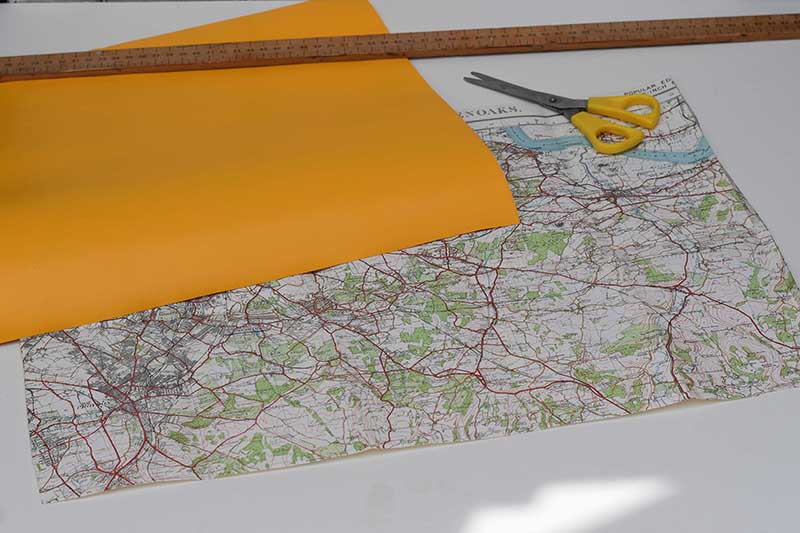 3. Next, remove the backing from the contact paper (sticky back plastic) and stick it to the back of the map slightly off-center. As the sticky back of the contact paper is used to join both ends of the map.
Along the joining edge, overlap the contact paper by about 2cm. And along the top of the map, let the contact paper overlap by about 5mm.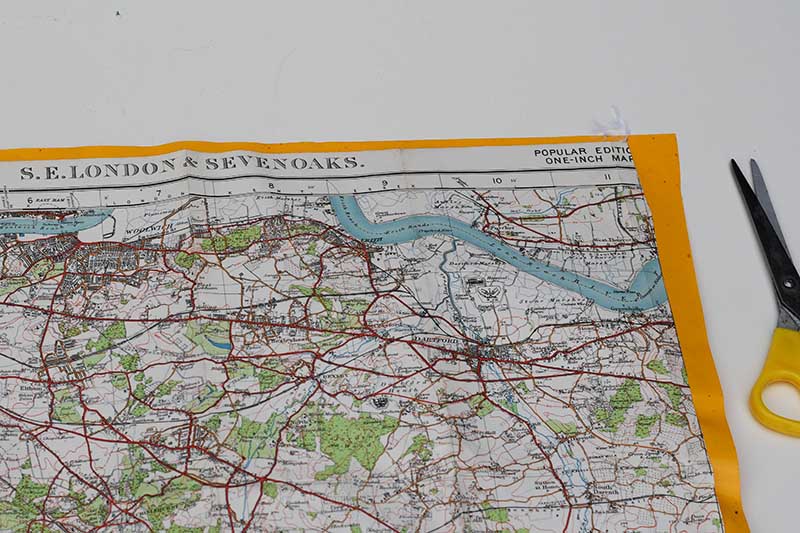 4. Next, fold over the overlapping contact paper on the top of the map to form a yellow edge.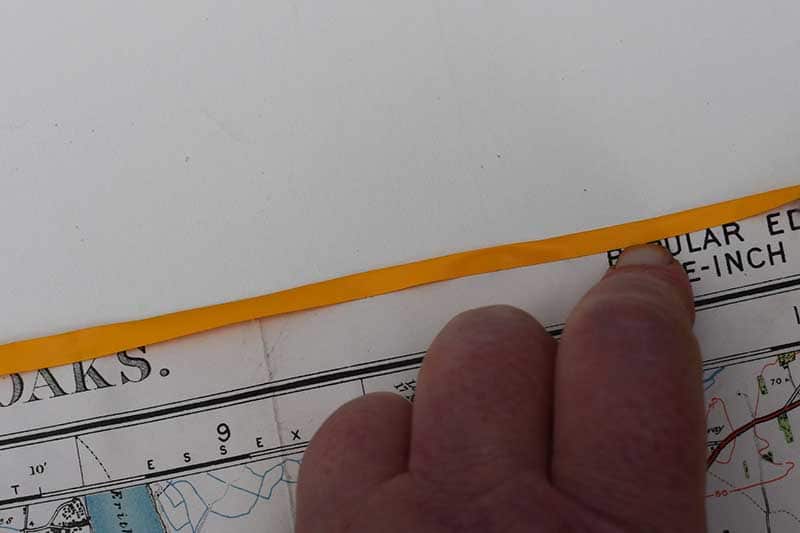 5. Then roll the paper into a cylinder and join both ends of the map with the overlapping sticky contact paper.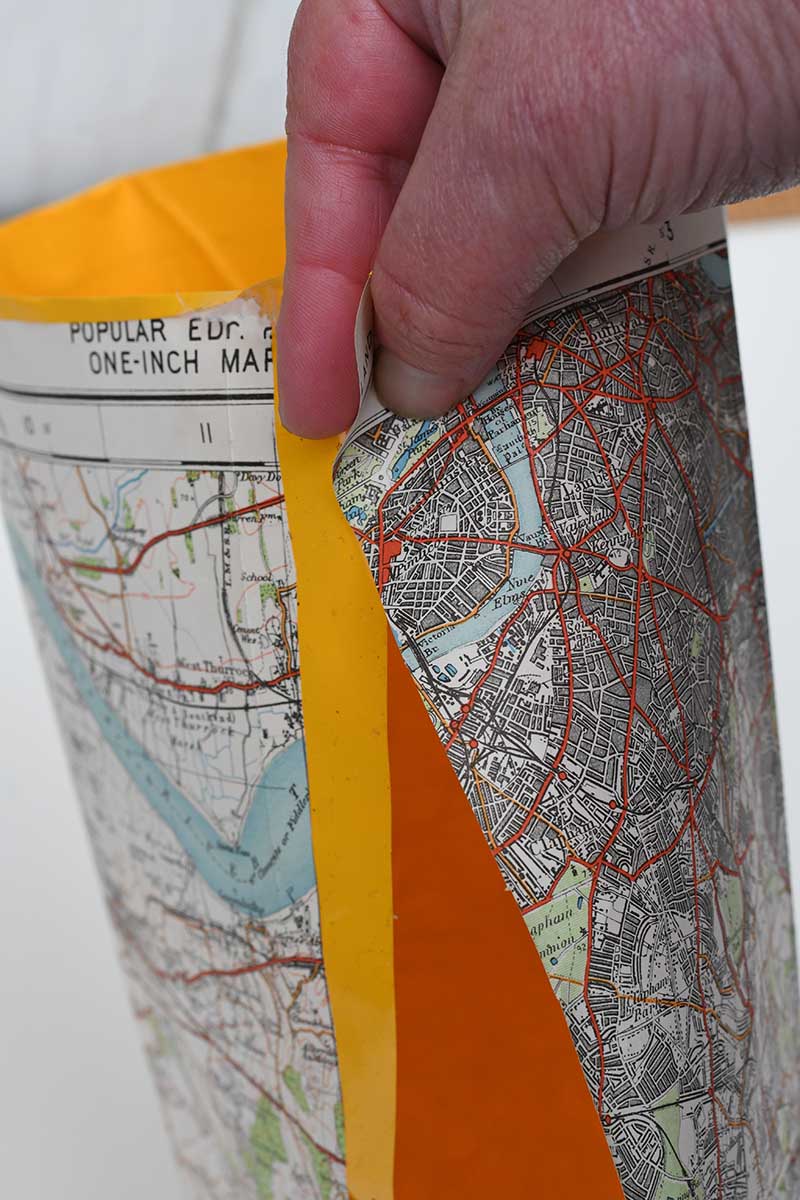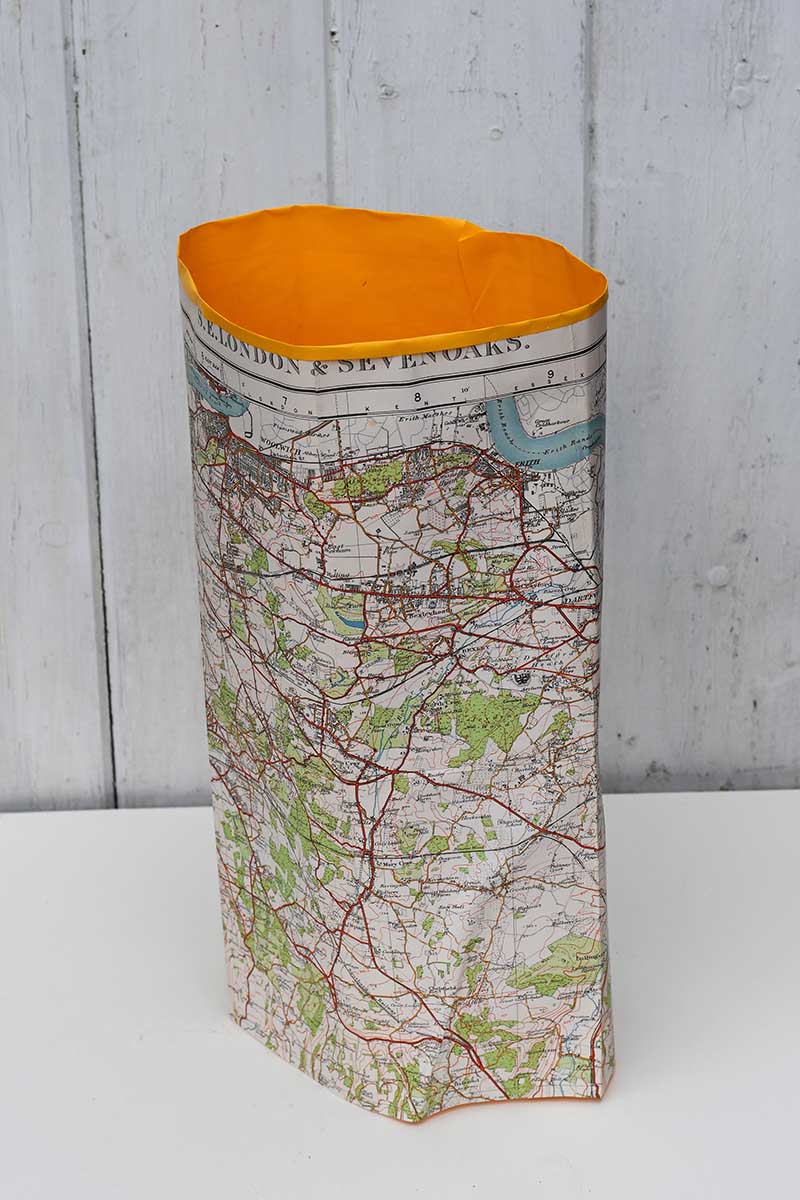 6. Next, fold over the top of the map by about 2 cms. This creates a nice coloured border on the top of the paper plant pot covers.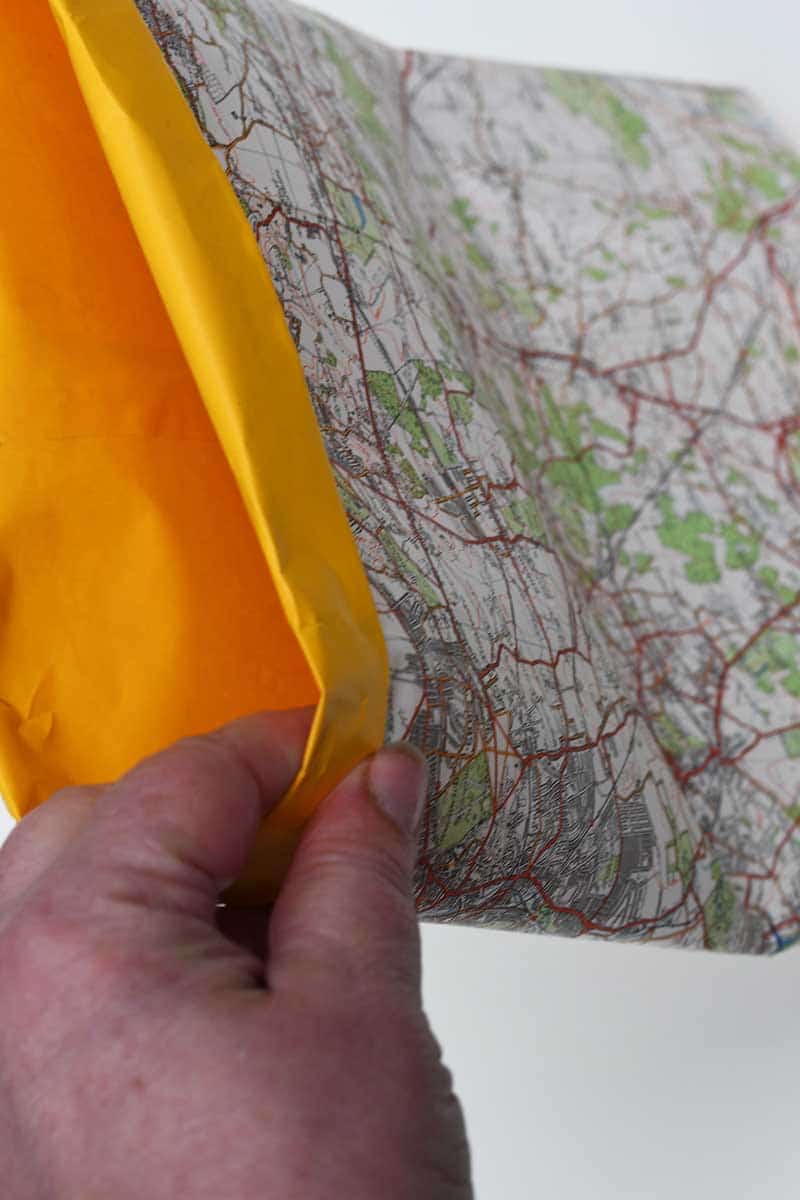 7. Next, lay the paper tube down flat. Then fold up the bottom of bag by about 12cm and create a crease along this fold.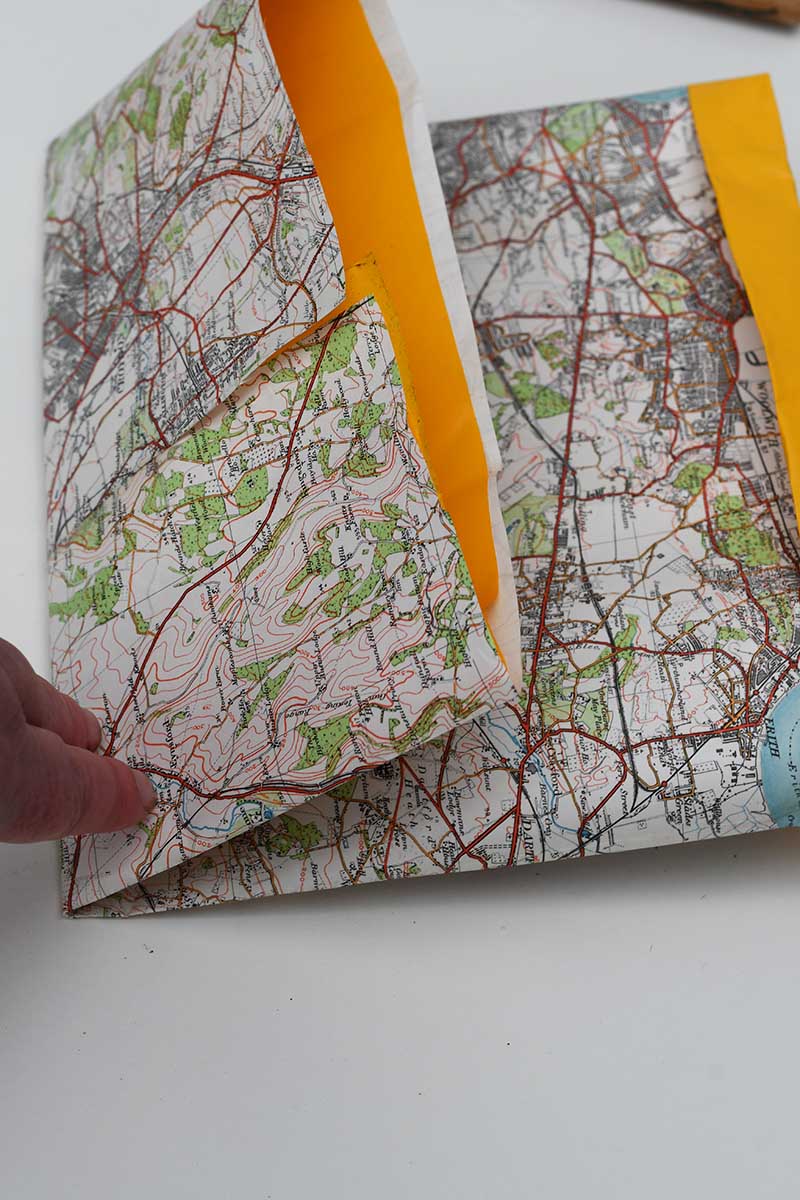 8. This next stage is the only slightly tricky bit of this papercraft. I could have folded the bottom of this map paper bag like my map luminary bags but this would have made them boxy. I wanted these DIY plant pot covers to look more round.
To do this, I first opened up the map tube and then folded in the paper at the base along the crease fold I made. I pinched the paper at the crease and then made small triangles of the paper and folded it as I went around.
You will end up with about 3 triangle flaps on the base which are then just stuck down with duck tape.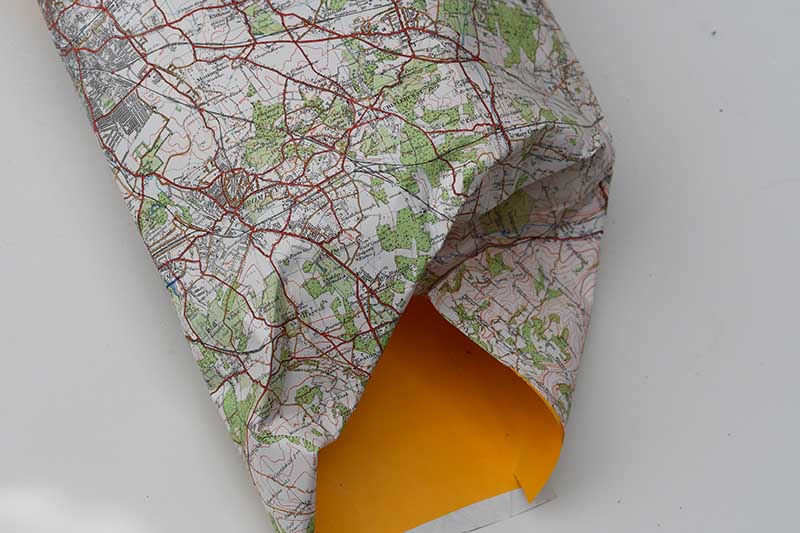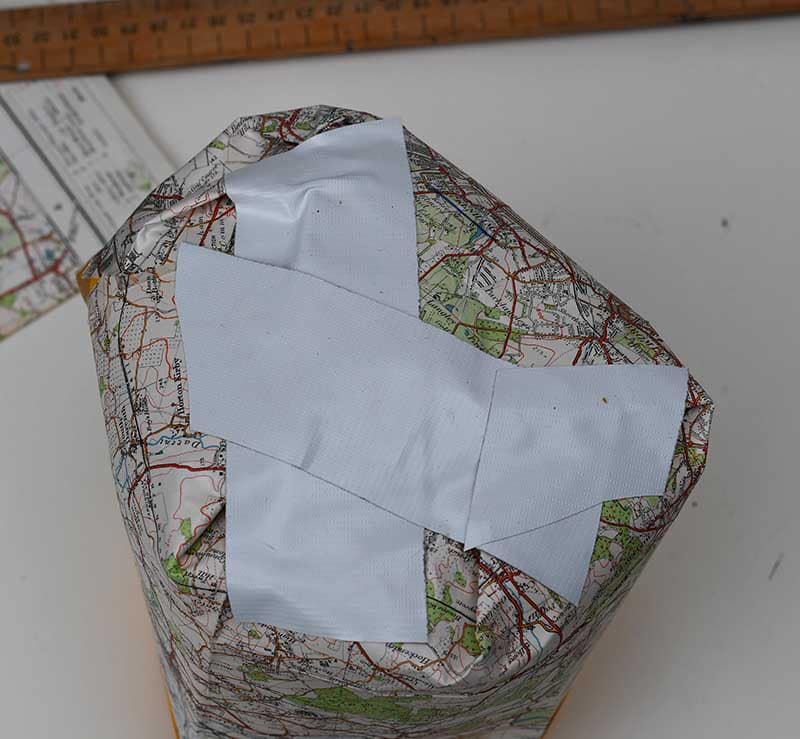 9. To finish off, shape the map paper bag into a round shape and crumple it slightly. This will make it look more like a paper bag.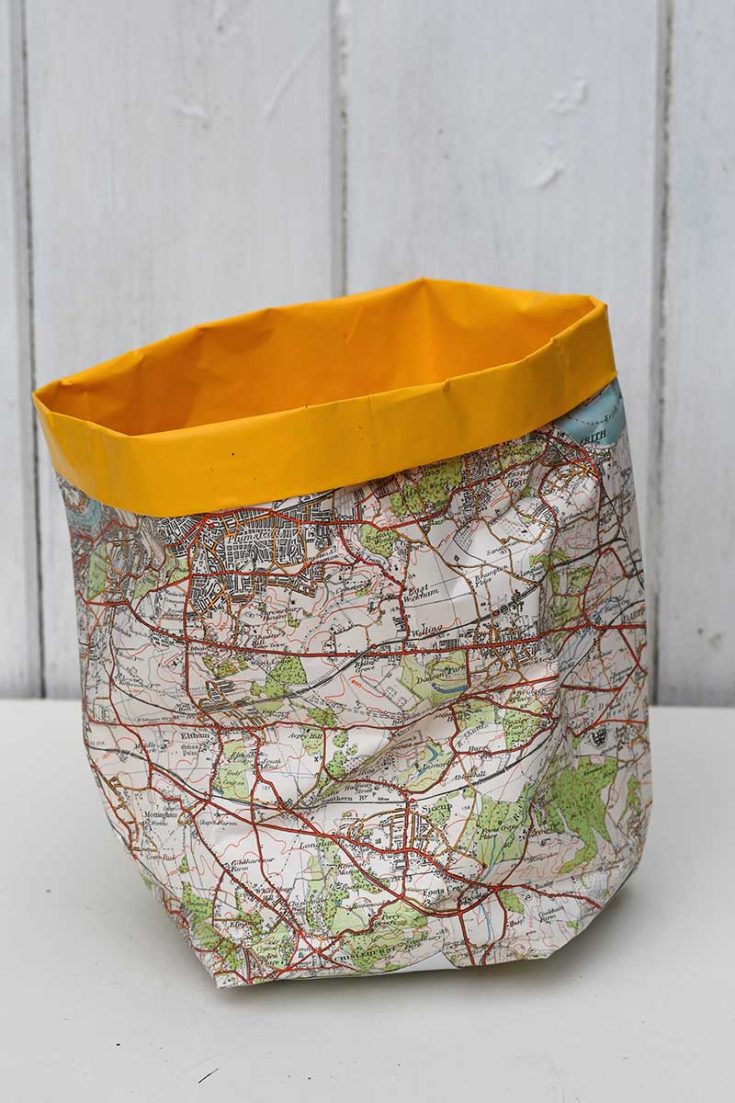 These map plant pot covers are waterproof due to the contact paper lining, but I would still use a saucer at the bottom of your pot to make sure.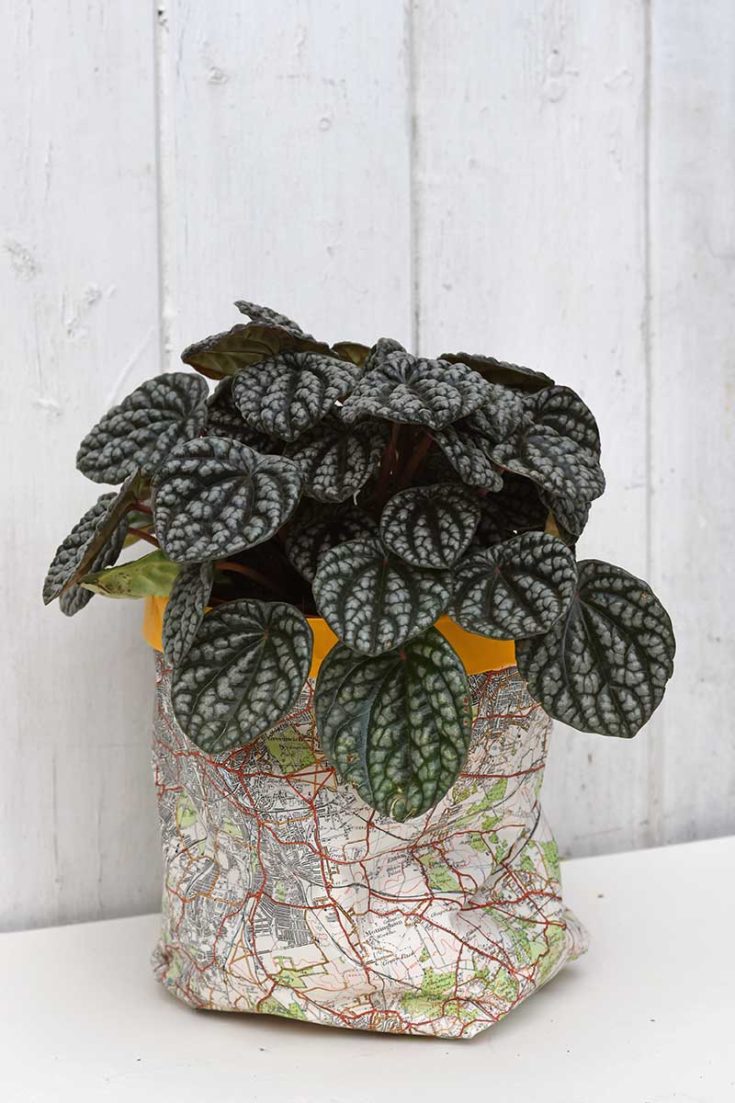 As these map plant pot bags only took 10 minutes to make and I have a lot of old maps, I made some more in different sizes and colours. These upcycled road map bags are surprisingly sturdy and would make fun storage buckets, as well as plant pot covers.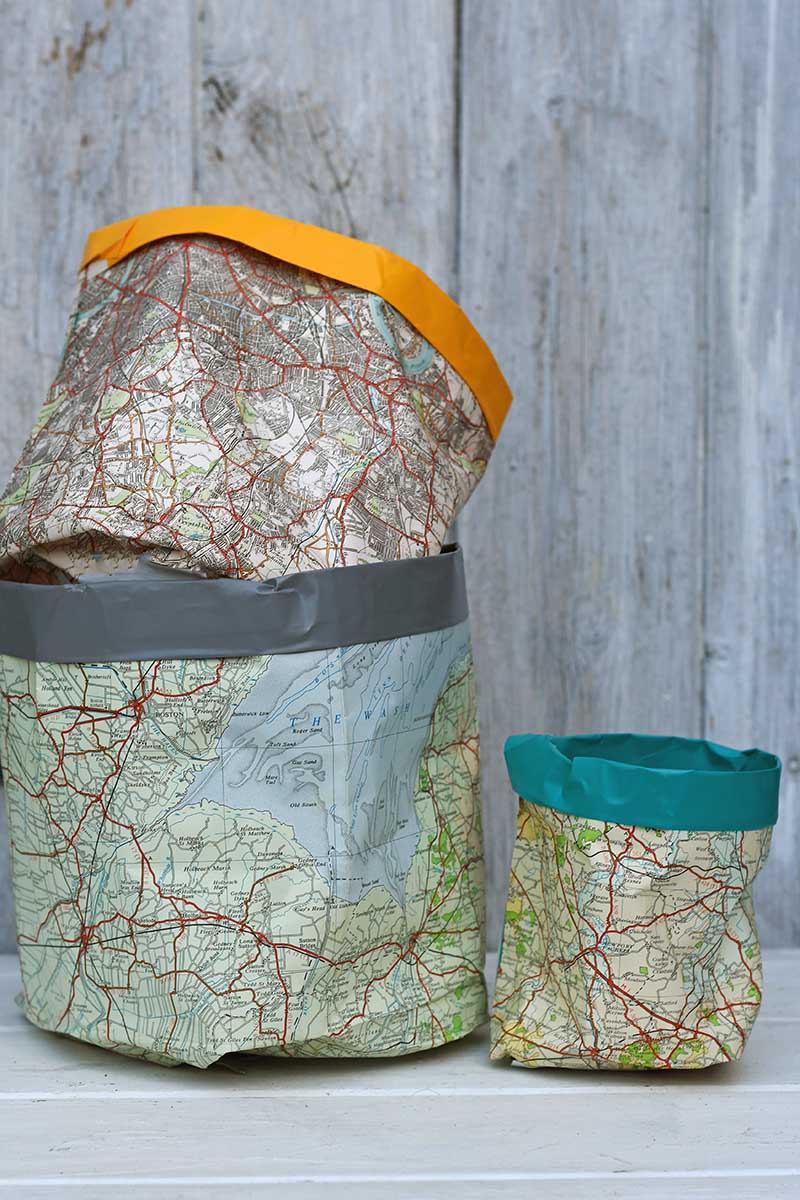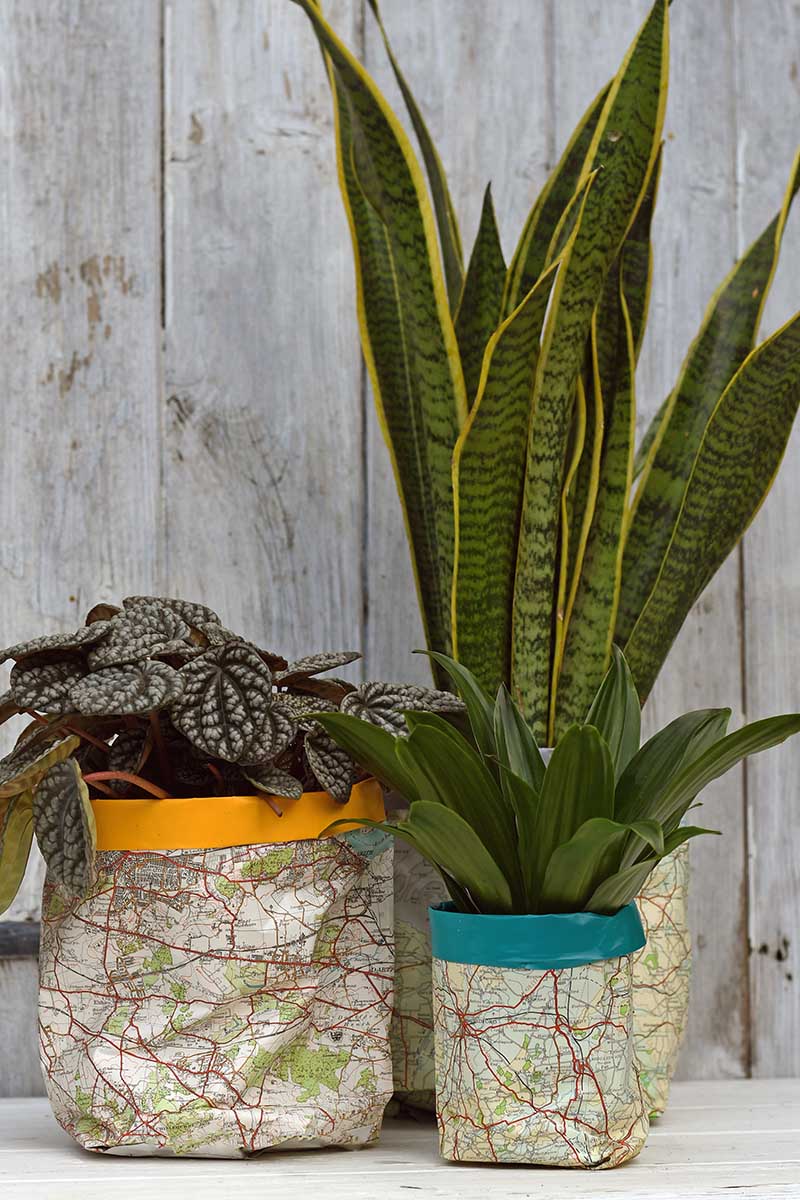 If you liked these upcycled road map plant pot covers, then you should check out my paper vases which also only take 10 mins to make too.
Tin cans are another household item I love to upcycle into planters, you can see all my tin can planters here. Including my very popular and colourful Marimekko tin can planters.
I have also repurposed old tiles into Moroccan planters that only take 5 minutes to make. If you have a bit more time, then you should check out my upcycled plastic bottle planters.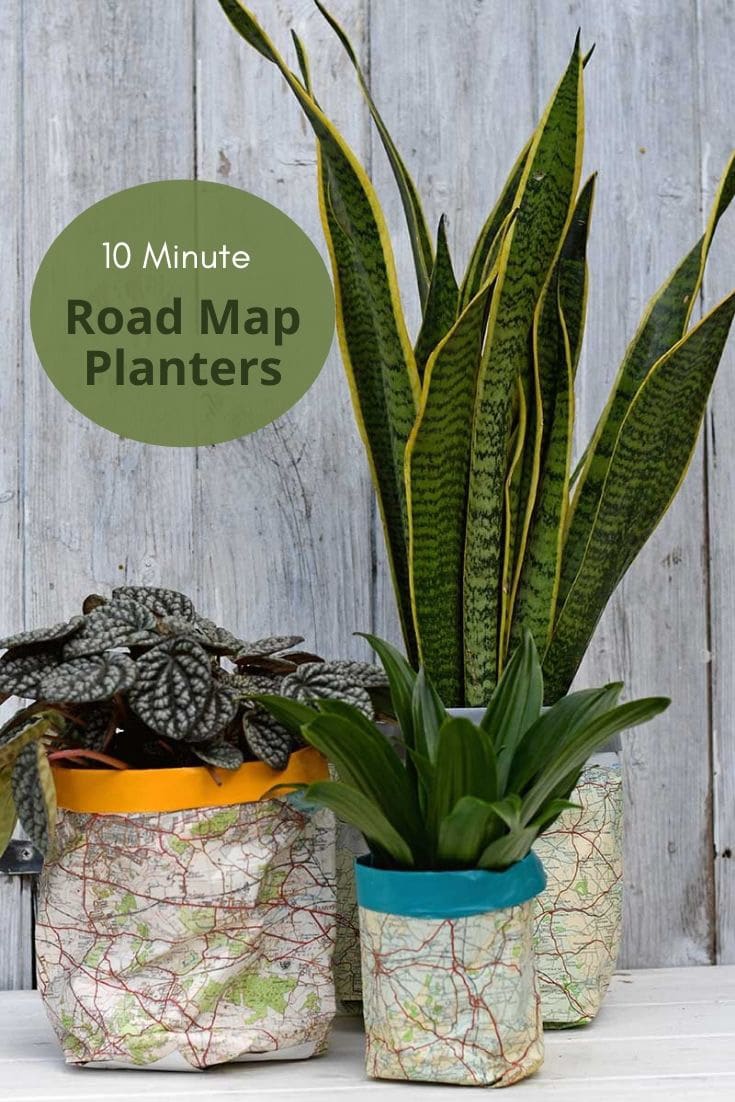 You can also find my crafts on the DIY idea center.