Not only do these upcycled plastic bottle planters look cool with their Marimekko patterns, but they are self-draining planters.
I use these planters in the kitchen as herb gardens. Because of their clever drainage system, the herbs last longer than in other planters as there is less risk of over or underwatering them.
Marimekko Planters
The upcycled plastic bottle planters have been decoupaged with Marimekko napkins to give them a cool contemporary look.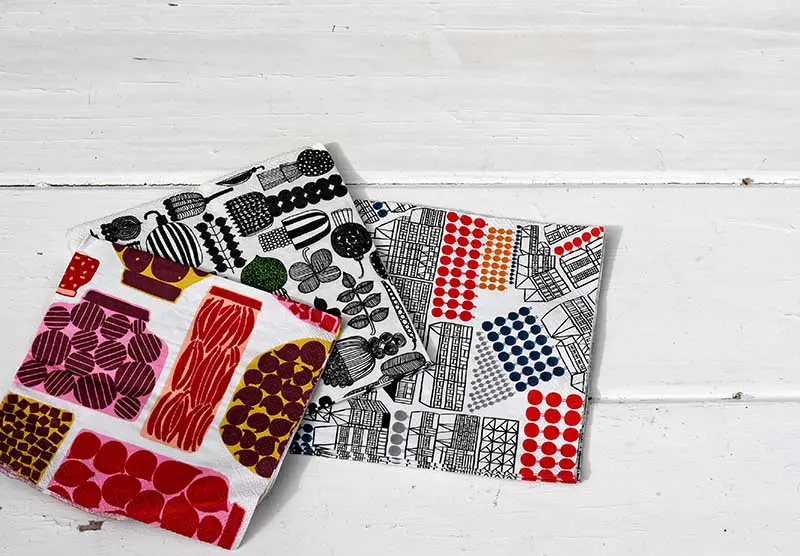 I'm a huge fan of Marimekko designs and have used their napkins in many of my upcycles. Including the very colourful Marimekko decorative tin can planters in my garden and even my upcycled garden bench.
I've used these repurposed plastic bottle planters as a herb garden for my kitchen window. They could be used as repurposed succulent planters or even for flowering plants.
This is a fun, affordable upcycle craft with stuff you will likely have at home, such as plastic bottles and newspapers.
I've used Marimekko paper napkins because I love their designs and have a huge stash of their napkins at home. Every time I visit an interior or kitchen store, and they have a collection of Marimekko paper napkins, I can't stop myself from buying a packet.
Any other paper napkins can be used, or if you don't have any, then paint the plastic bottle planters.
We're a participant in the Amazon Services LLC Associates Program, an affiliate advertising program designed to provide a means for us to earn fees by linking to Amazon.com and affiliated sites. As an Amazon Associate, I earn from qualifying purchases.
What You Need For Plastic Bottle Planters
Empty soda bottles – large 1.5 – 2-litre plastic bottles
Newspaper for the paper mache
Flour or glue for paper mache
White paint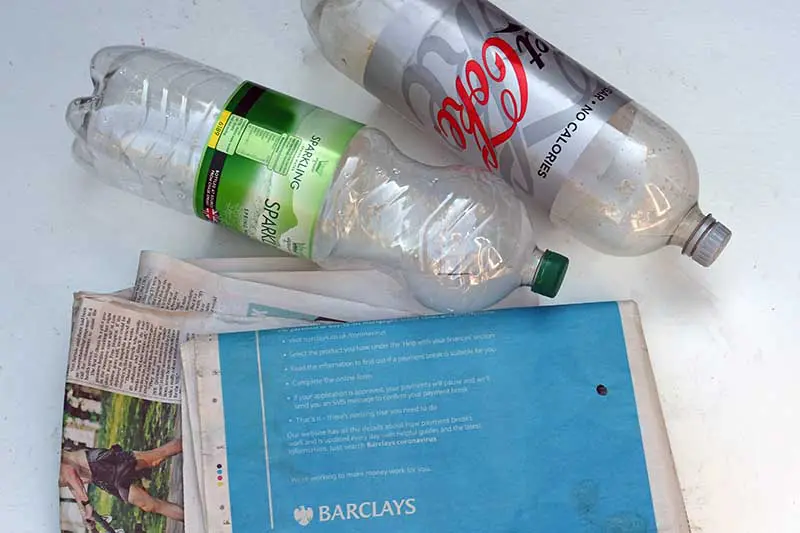 How To Make The Upcycled Plastic Bottle Planters
Step 1: The first thing to do is to cut the plastic soda bottles into three roughly equal parts. This is easily done with either a pair of scissors or a knife.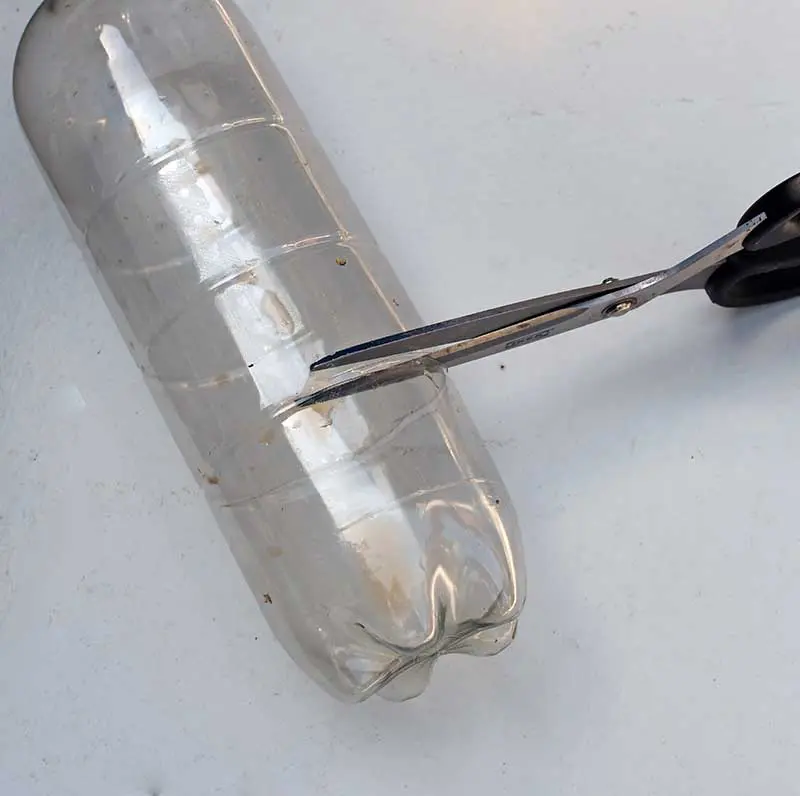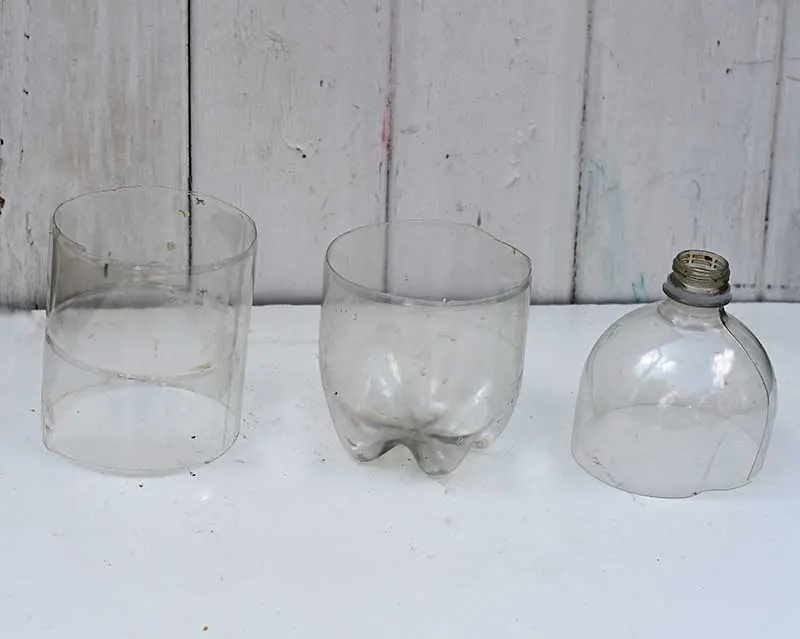 Step 2: Next, is the clever bit of these planters and which makes them draining planters. First, discard the middle bit of the cut plastic bottle. (If you used a green bottle, you could use the middle bit to make plastic faux succulents).
Then, remove the lid from the top of the bottle and then place it upside down inside the bottom part of the bottle.
This feature will allow any excess water to drain away whilst providing a reservoir for when the plants need it.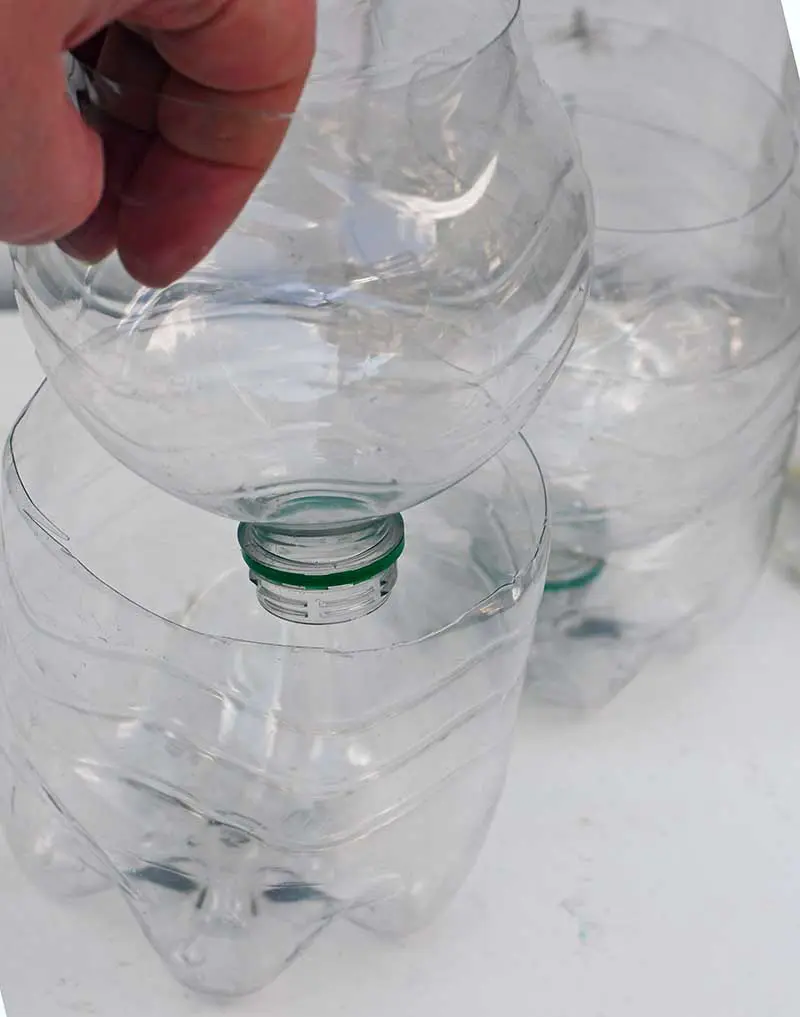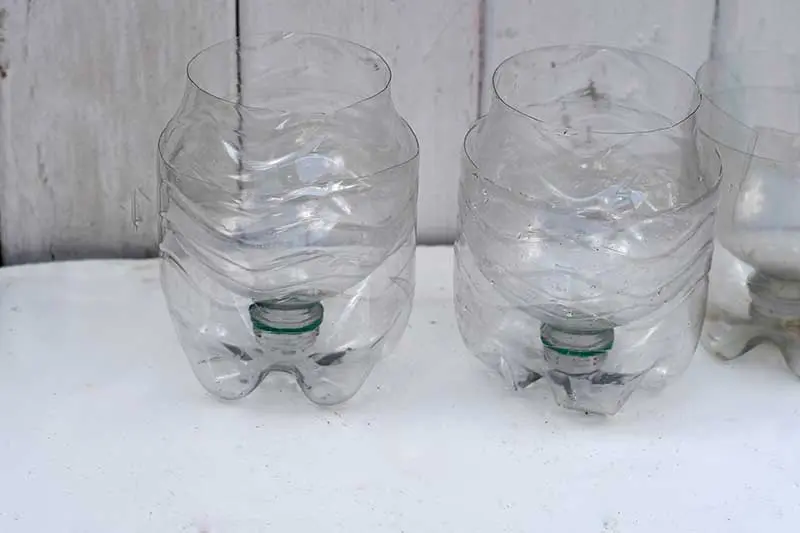 Step 3: Next, paper mache the plastic bottle planters. Cut up strips of newspaper and glue them to the bottles by using a flour and water mixture as glue. The flour and water mixture should be the consistency of cream.
The bottle planters were covered in two layers of paper mache.
Top tip: You can use glue with the paper mache as I did with my giant paper mache cactus. But I find with the flour mixture, my fingers get less sticky, and as a result, the craft is less messy.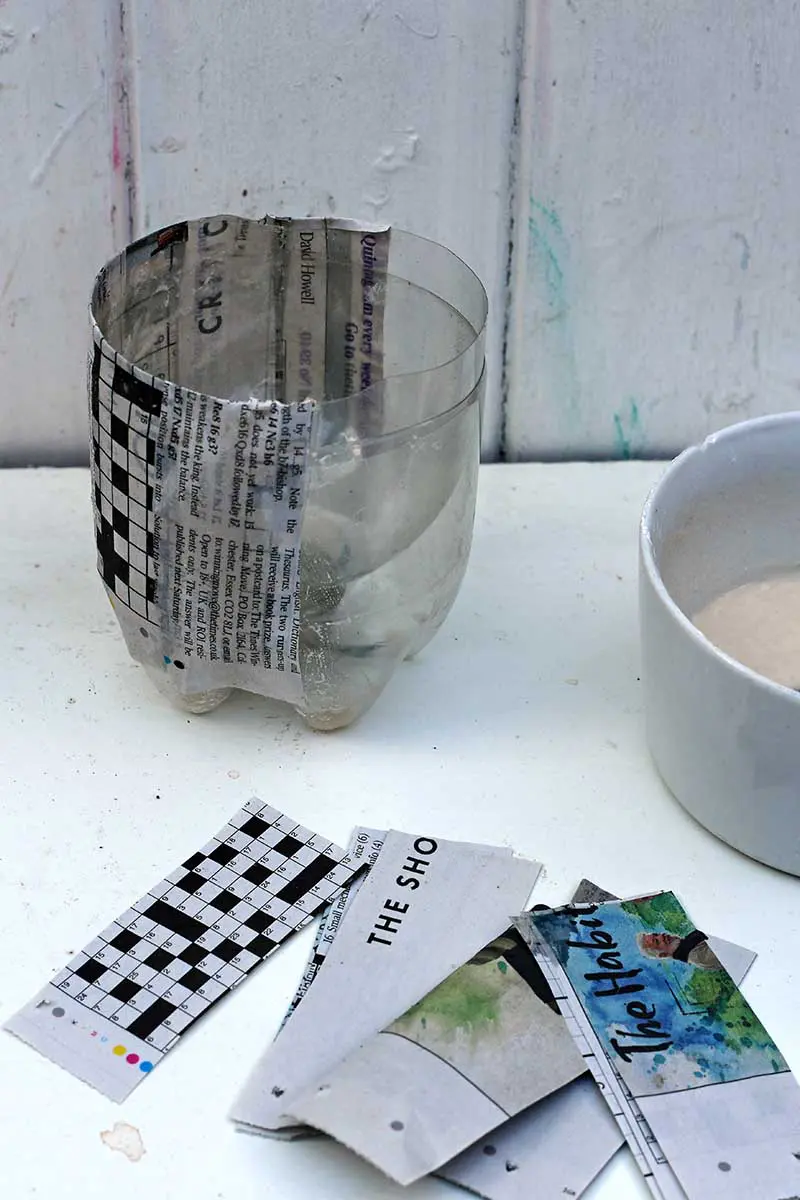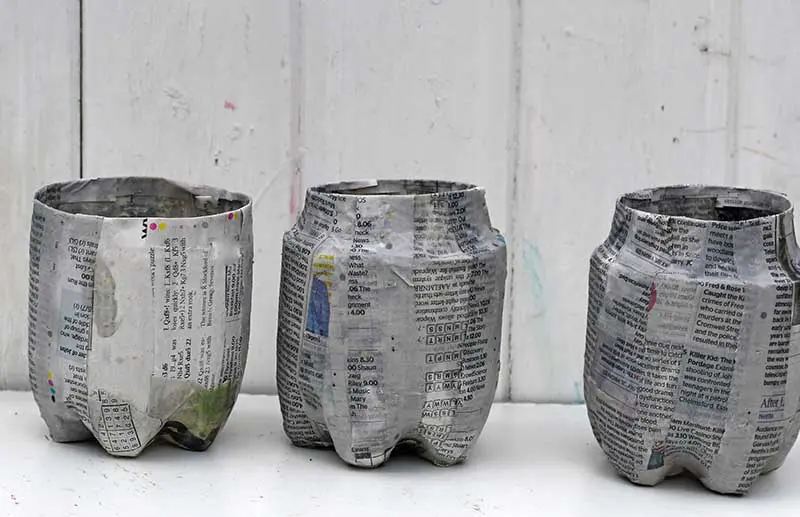 Step 4: Once the paper mache has dried, paint the planters white. This will make sure the newspaper print doesn't show through the decoupage.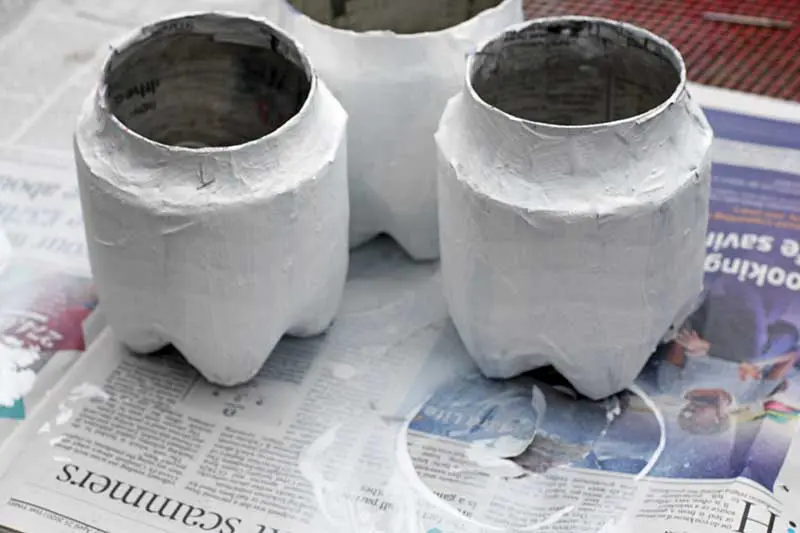 The Marimekko Decoupage
Step 5: Next, decoupage the plastic bottle planters with the Marimekko paper napkins. As the planters are round, it is best to cut the napkins into strips about 1″ strips (just like with my map mason jar banks).
The napkins are three ply; you only need to use the top ply. So carefully separate the top printed ply from the others.
Top Tip: Separating the layers of the napkin can be tricky. Folding the napkin in a corner and gently rubbing it between your thumb and forefinger should help loosen the ply layers.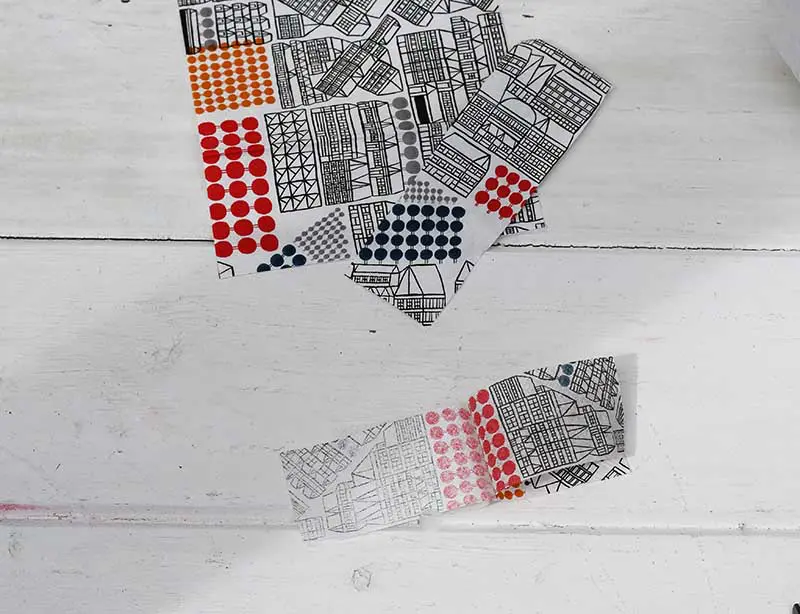 Step 6: Cover the planter in Mod Podge before adding the strips of printed napkins. The single-ply napkin is delicate, so gently dab it in place on the bottle with a foam brush.
Keep on adding the paper napkin strips until the whole planter is covered.
Step 7: Once the whole planter is covered in paper napkins and the glue has dried. Apply a layer of Mod Podge over the top of the napkins; this will act as a protective varnish.
Applying the Mod Podge will look milky, but don't worry; the glue dries clear.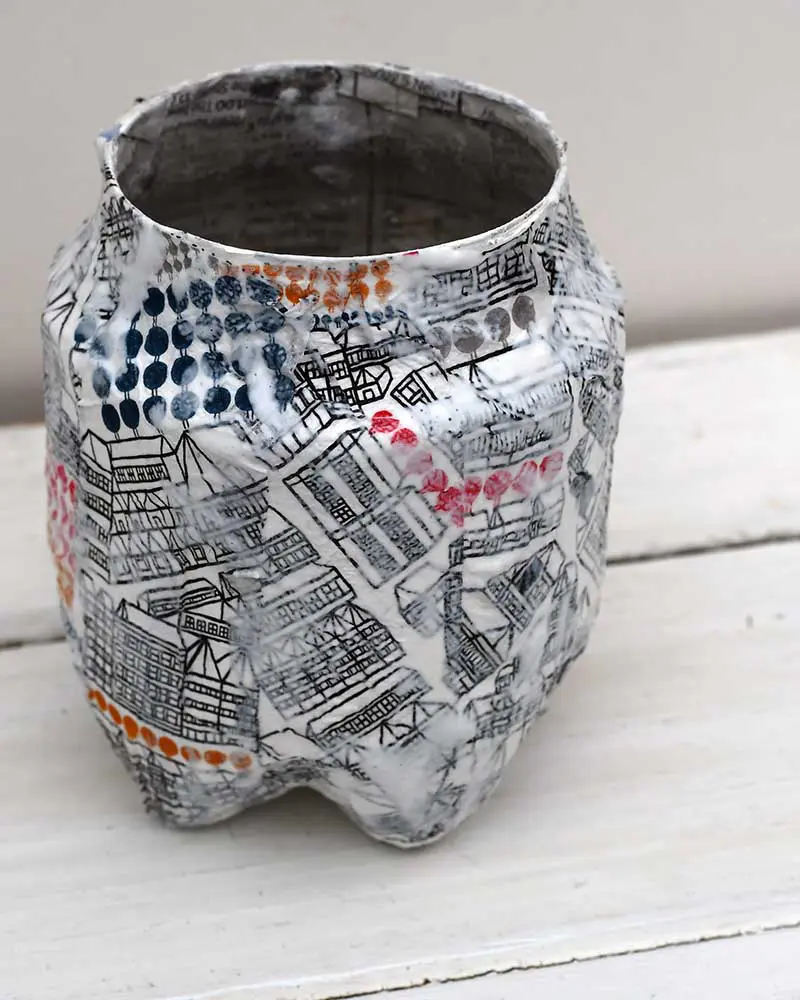 Step 8: Now, all that's left to do is add plants. I planted herbs in my upcycled Marimekko bottle garden. They sit on the window sill in my kitchen, ready for use.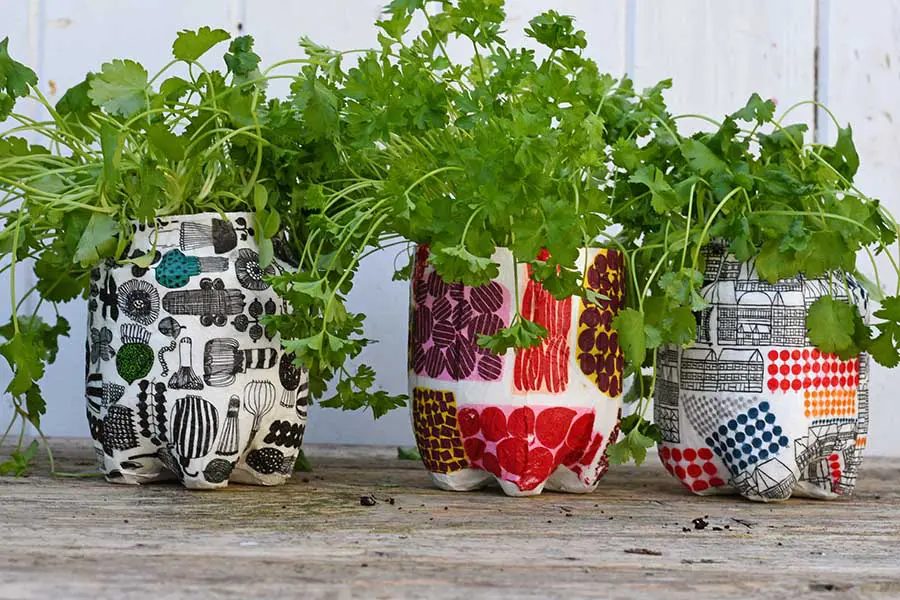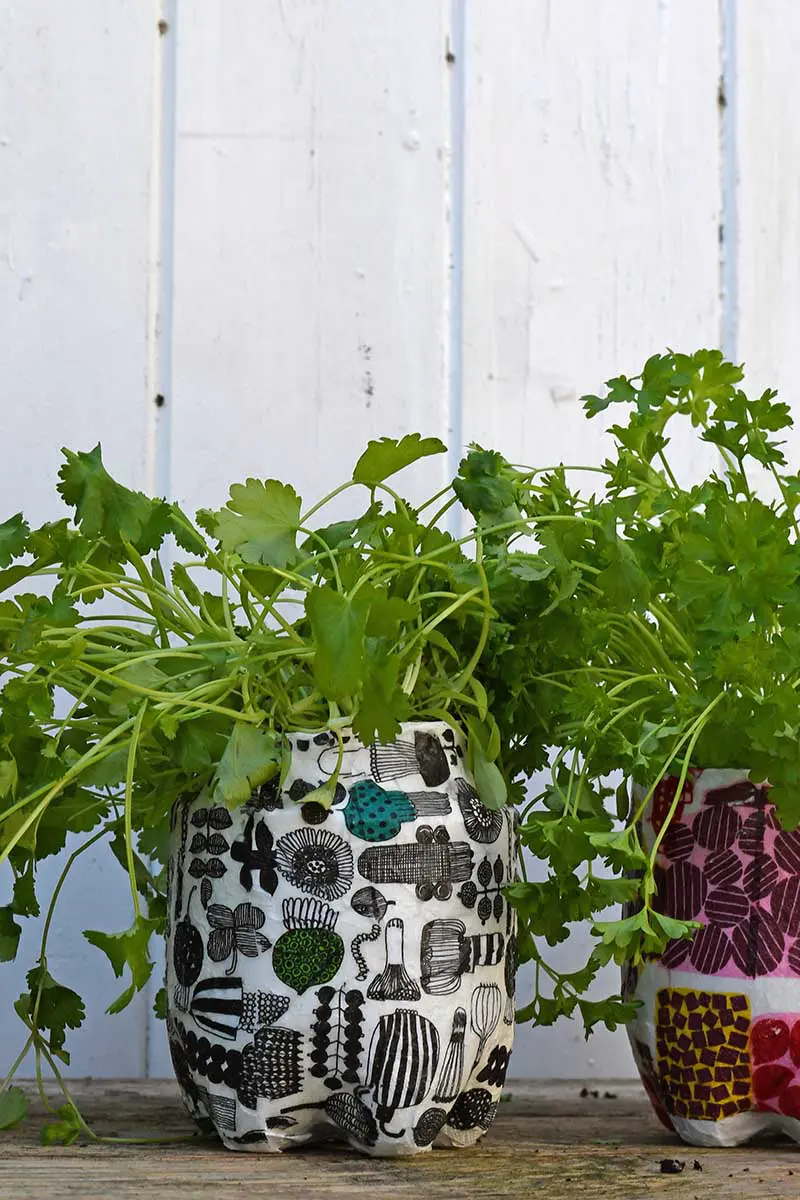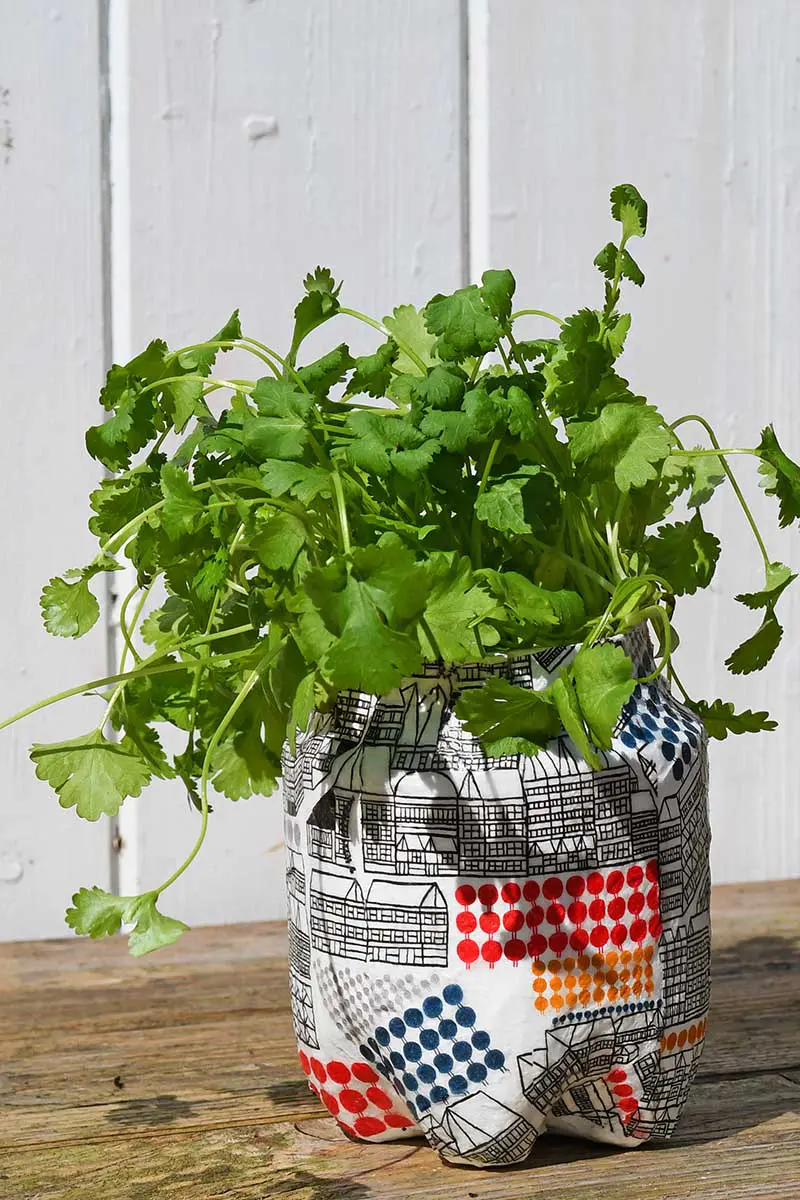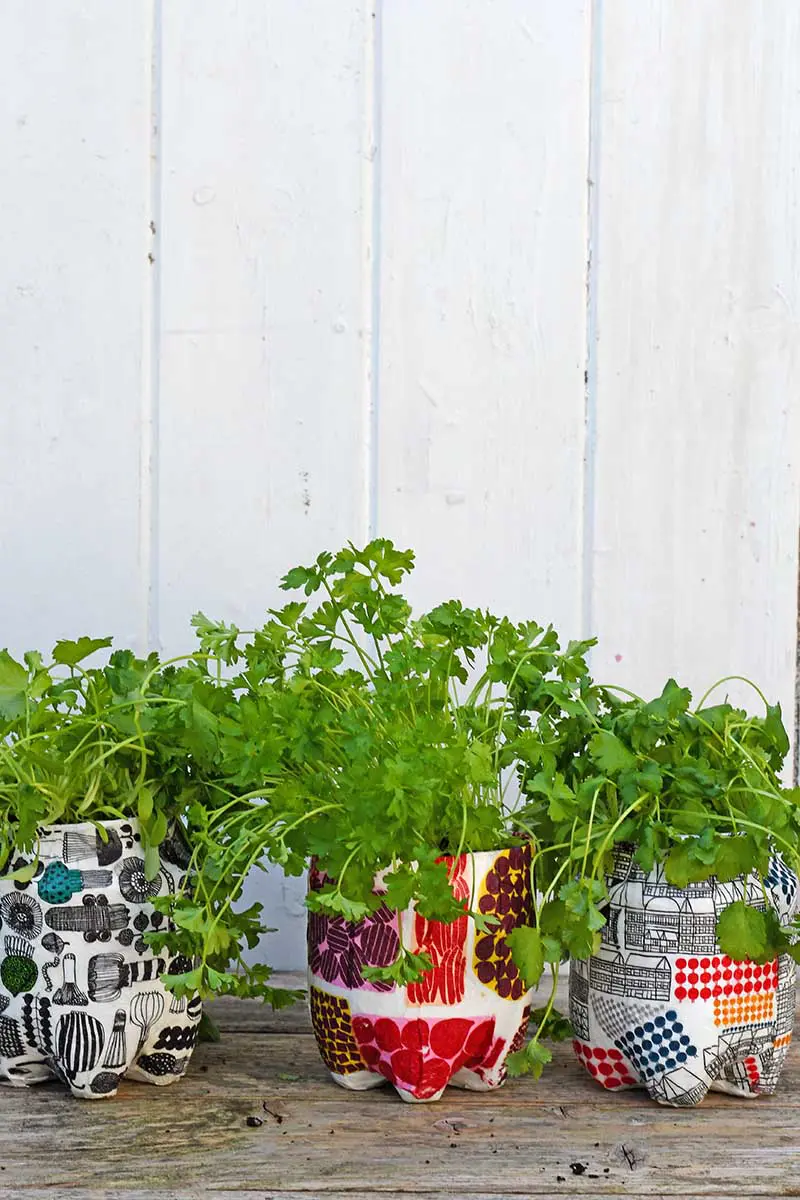 It is very easy to turn these repurposed bottle planters into hanging planters. Make a recycled plant hanger for them, or punch three holes in the sides and use twine to hang them.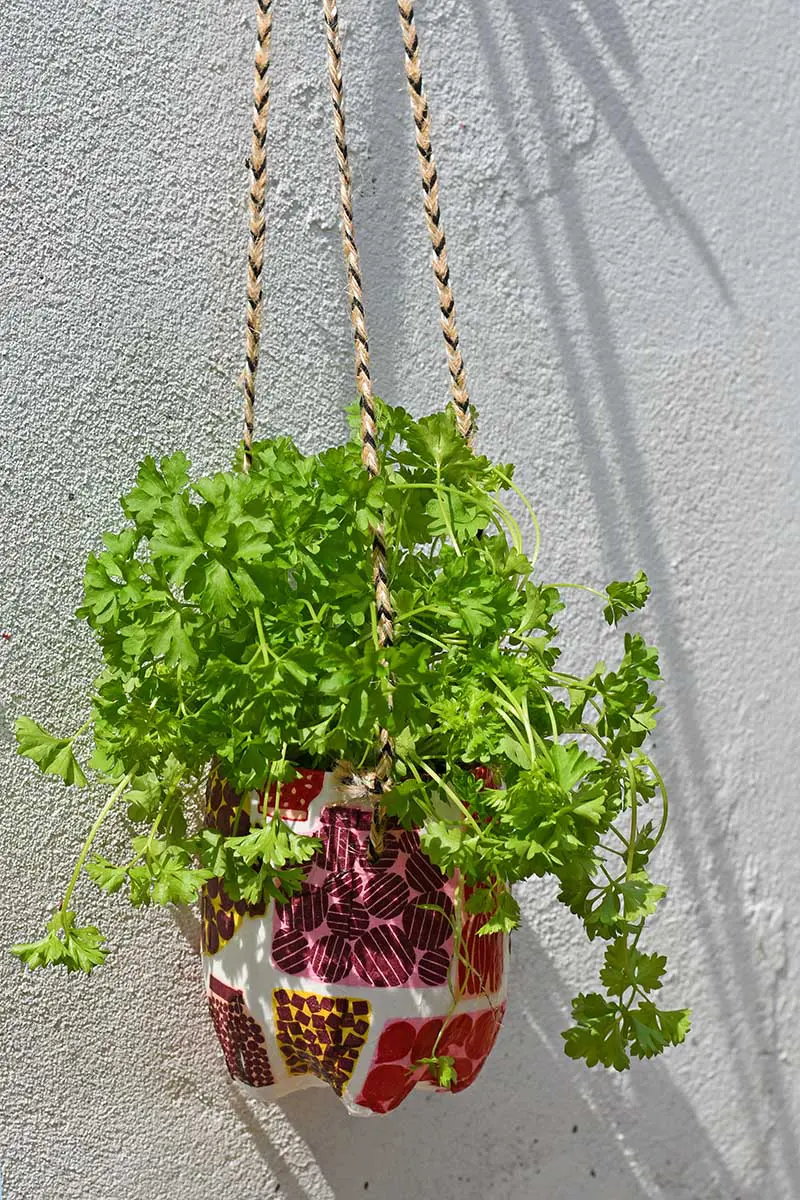 I have a load of tin can planter ideas if you are looking for more upcycled planter ideas. For DIY herb gardens, check out these hanging denim indoor herb garden or my outdoor upcycled window herb planter.
Any leftover napkins can make other crafts, even fun stuff like cool Marimekko decoupage shoes or these other fabulous decoupage craft ideas. The napkins would also be great for decorating these paper mache teacups.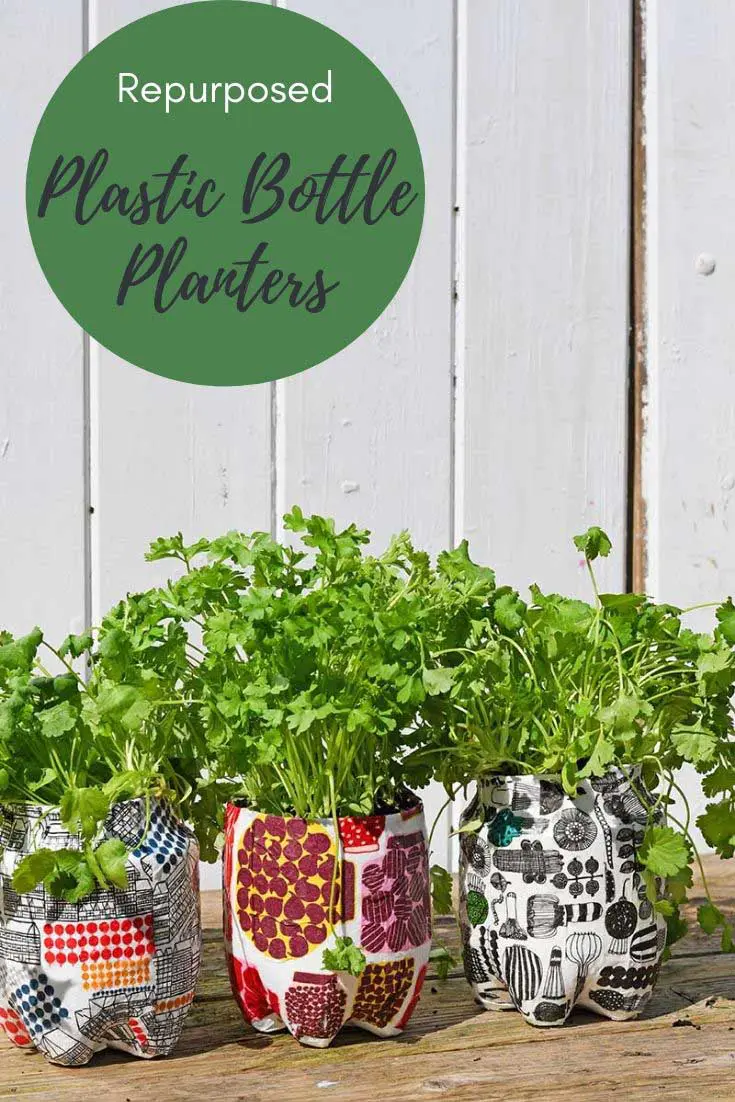 Yield: Marimekko herb planter
Marimekko Plastic Bottle Planters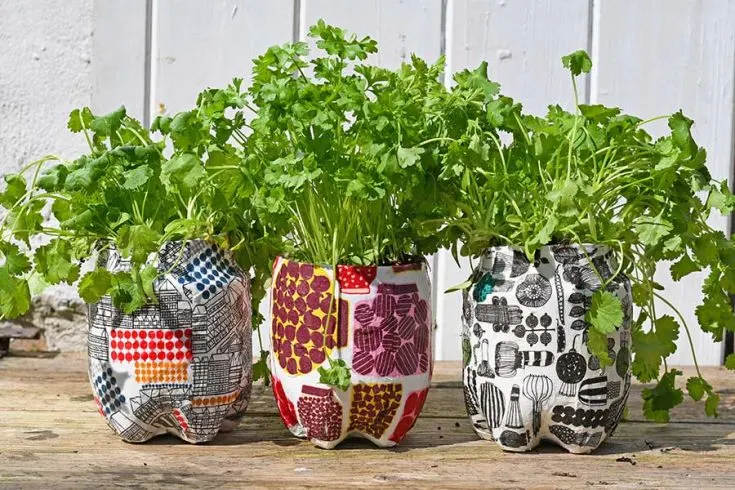 Brighten up your kitchen with these Marimekko designer herb planters made from repurposed plastic bottles. These aren't ordinary planters they have a clever self-draining water system to help keep your herbs healthy.
Total Time
1 hour
10 minutes
Materials
Large soda bottle
Newspaper
Marimekko paper napkins
Mod Podge
Flour
Instructions
Cut the soda bottles into three equal parts and discard the middle plastic.
Next, remove the lid from the top of the bottle and place it inside the bottom of the plastic bottle.
Paper mache the outside of the plastic bottle planter with 2 layers of newspaper. Use a mixture of flour and water to stick the paper to the bottle.
Paint the paper mache bottles white.
Cut the Marimekko napkin into 1" strips and remove the printed top ply of the napkins.
Decoupage the strips of napkin onto the painted bottle. Use Mod Podge to stick them down one at a time until the whole planter is covered.
Apply a layer of Mod Podge to the outside of the planters to act as a protective varnish.
Fill the planters with soil and herbs or other plants such as succulents.
I'm always looking for things to upcycle into planters and recently I have even managed to make some cool plant pot covers out of old maps.