Inside: 45 of the best paper crafts for decorating your home.
If you want to infuse your living space with creativity and charm, I have just the thing for you in this exciting roundup diving into the captivating world of paper crafts for home decor.
Get ready to explore many inspiring ideas that will transform your humble abode into a personalized haven of artistic wonder. From intricate wall art to delightful paper flowers, let's embark on a journey where paper becomes the brush and your home the canvas.
Why Decorate Your Home With Paper Crafts
Decorating your home with paper crafts can bring numerous benefits and add a unique touch to your living space. Here are some reasons why it is good to decorate your home with paper crafts:
Affordability: Paper crafts are often cheap compared to other home decor options. You can create stunning pieces with simple materials like paper, scissors, glue, and basic crafting supplies.
Creativity: Paper crafts allow you to unleash creativity and customize your home decor according to your preferences. You can choose from various colours, patterns, and textures to match your style and create a one-of-a-kind look.
DIY Spirit: Making paper crafts for home decor promotes a do-it-yourself (DIY) spirit, enabling you to engage in a fun and fulfilling activity. It can be a great hobby and a way to relax while adding a personal touch to your living space.
Versatility: Paper crafts offer versatility in terms of design possibilities. You can create wall art, garlands, mobiles, lampshades, centrepieces, flower arrangements, and more. The flexibility of paper allows you to experiment with different shapes, sizes, and techniques.
Eco-Friendly: Using paper as a primary material can contribute to more sustainable and eco-friendly home decor. Paper can be recycled and is biodegradable, reducing the environmental impact of other materials. You can repurpose paper such as old maps, paper bags and gift wrap.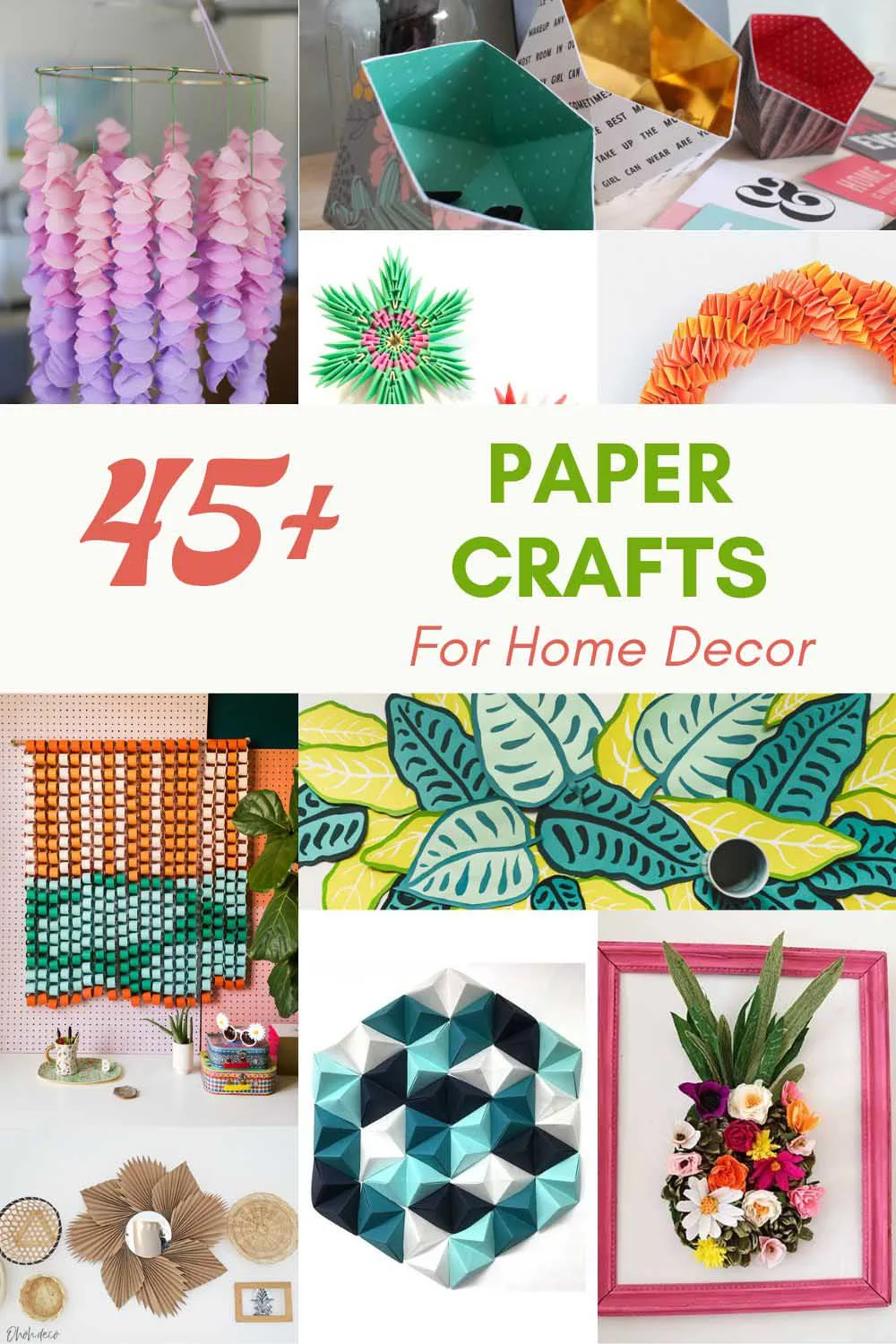 What Sort of Things Can You Make
Here are a few examples of paper crafts for home decor:
Paper Wall Art: Frame or attach them directly to the wall for an eye-catching display.
Paper Flowers: Make beautiful flowers using various types of paper, such as tissue paper or crepe paper. Arrange them in vases, create flower backdrops, or make floral wreaths to add a touch of nature to your home.
Paper Lanterns and Lampshades: Design and assemble paper lanterns to enhance your lighting decor.
Paper Garlands: Craft colourful paper garlands to hang across windows, mantels, or walls for a festive and playful atmosphere.
Paper Mobiles: Create whimsical mobiles by suspending delicate paper shapes or objects from a string or wire.
Paper Wall Hangings: Use different coloured papers or experiment with textures to add depth and visual interest.
45 Adult Paper Crafts For Home Decor
Discover a world of artistic wonders with our roundup of mesmerizing adult paper crafts for home decor. Explore budget-friendly DIY ideas to personalize your living space, from enchanting wall art to whimsical paper flowers. Transform your home into a unique haven of creativity and charm with these inspiring projects. Let the magic of paper crafts elevate your space.
Other Craft Related Craft Posts