I love to keep old tin cans and re-purpose them and upcycle them into the best tin can planters!
My kitchen window sill is adorned with planters. Ideally, they would be full of fresh herbs to cook with. However, I'm a herb killer! As I'm rubbish at remembering to water them even when they are next to the sink.
Therefore, to avoid that ugly wilted herb look I have more resilient cacti and succulents in my kitchen window. And who doesn't love a succulent or cacti? These gorgeous plants sit in lovely tin can planters, which I think are very apt for a kitchen.
I've even made an upcycled faux succulent garden for one of my tin can planters. So there is no chance of killing that one!
I have to admit that I'm swayed by great packaging, I often buy things just because I like the box it comes in (shameful!). The simple tin can must be one of the best packaging designs. Not only are they fit for purpose, but with all that steel and ridges they just ooze industrial chic.
Naked tin cans look awesome as planters especially if you like that rustic farmhouse look. However, it doesn't take much to jazz them up a bit if you are going for an alternative interior look.
Upcycling Tin Cans As Planters
Food cans are the best to upcycle into planters as they have a coating inside to stop them rusting. However, if not painted or varnished on the inside and left out in the rain then they might rust on the outside.
If the planters are for the garden where you cant' control the amount of watering, I recommend drilling drain holes in the bottom of the cans.
Inside planters where you control the amount of watering, drill holes aren't necessary. As long as you make sure you don't over water the plants.
I recommend adding a layer of pebbles in the can planters to aid with the water drainage. There is plenty of room to add this drainage layer, as can planters are often quite deep.
Many of the planter ideas below have tips on planting in the tin cans, especially the rainbow tin can planters and the window herb planters.
Most of these planters sit on window sills or shelves, but if you want to hang your planters, there is a great tutorial for tin can plant hangers here.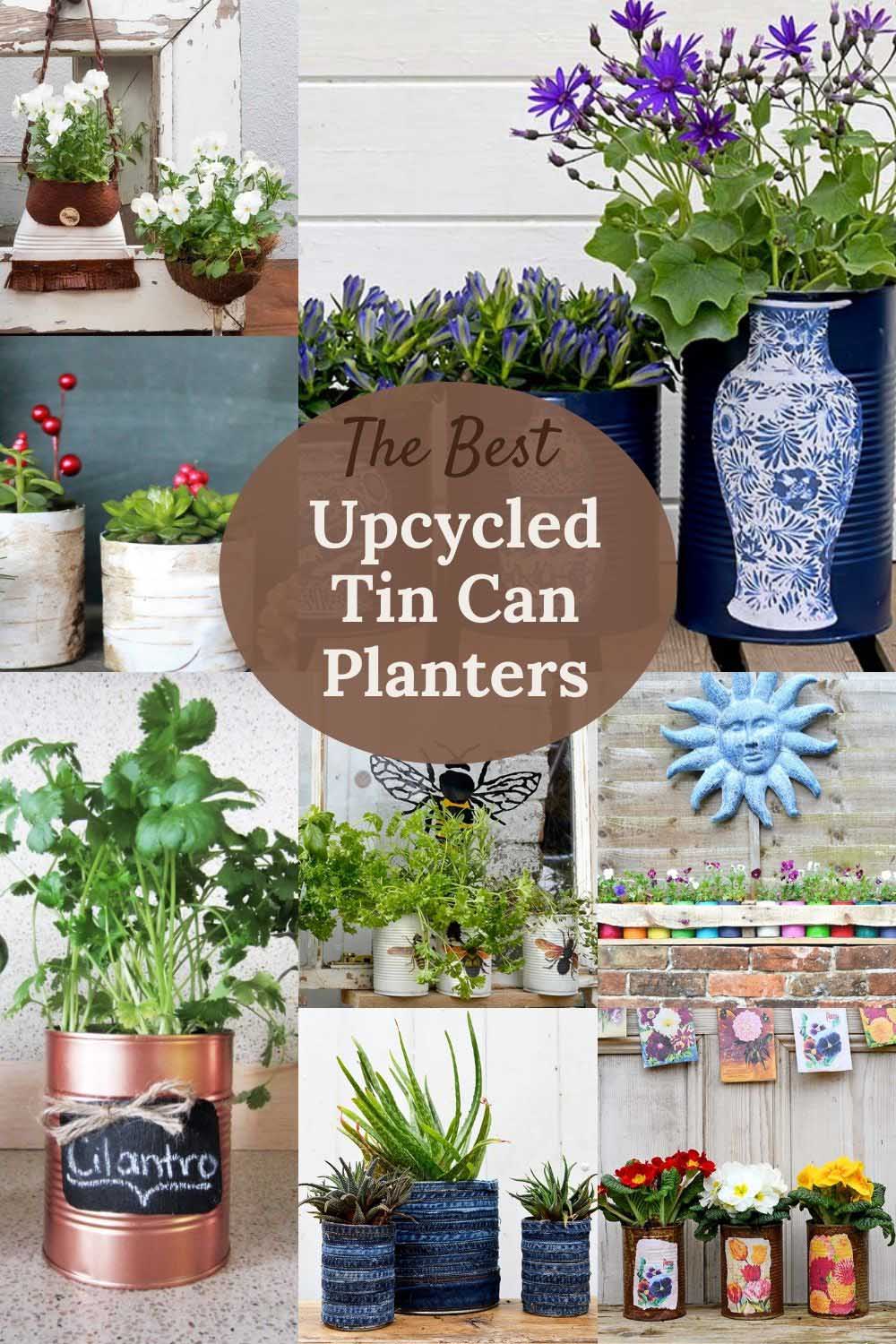 Best Tin Can Planter Ideas
There is more than one way to upcycle and repurpose your old tin cans to create affordable planters. Here are the best ideas for transforming a tin can into a planter.
It's hard to pick a favourite tin can planter. However, if pushed I think that the Marimekko ones are my favourite, then again I have a thing about Marimekko.
Tin cans can be upcycled into other things besides planters, such as caddies and I even made an upcycled advent calendar using tin cans, and a stylish copper and denim craft caddy.
Smaller tin cans are good for upcycling into tin can Christmas ornaments.
There are other things you can upcycle into planters even old road maps can be made into waterproof plant pot covers.
You might like to check out these other posts and my comprehensive list of clever upcycling ideas and resources. In particular, these brilliant gardening upcycle ideas.
41 Of The Best Ways To Repurpose Old Crates