It is no secret that the patterns and designs of the Finnish design house, Marimekko are my favourite. Here I've curated a collection of the coolest Marimekko crafts for adults.
The first thing you see when you open my front door is a flight of Marimekko wallpapered stairs with matching pendant lampshades. It doesn't end there either. If you carry on and walk through the house to the back garden, you will spot my pretty Marimekko painted shed.
And if you were particularly observant, you would have spotted many smaller Marimekko crafts in my home. I have included all my Marimekko inspired crafts and DIYs in this roundup, along with those of other bloggers.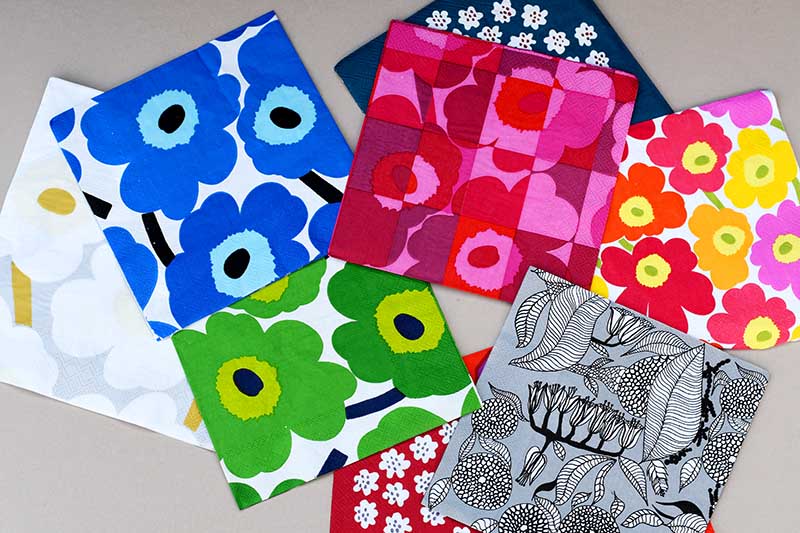 The Iconic Marimekko Patterns And Designs
Marimekko is a Finnish textile and design company, founded in 1951, in Helsinki.
I think what appeals to me with Marimekko is their bright and simplistic clean Nordic designs. My favourite print of theirs is the most famous, the iconic Unikko poppy print.
This design is over 50 years old (first printed in 1964), but is still on trend today. That's probably because Marimekko is continuously updating the pattern and bringing out new colourways every year.
As well as producing textiles, clothes and homewares, Marimekko print many of their designs onto paper napkins. This is great news for crafters, as these paper napkins can be used for decoupage. And are an affordable way to get Marimekko style in your home.
Every time I go into kitchenware or Scandinavian interior shops and I spot Marimekko paper napkins, I can't help buying a pack. I have several packs of the Unikko poppy design in several different colourways just waiting to be crafted with.
Adult Inspired Marimekko Crafts and DIYs for that Nordic Look
A collection of beautiful fun adult crafts and DIYs inspired by the iconic Finnish design studio Marimekko.
Many of the crafts below use one of their stunning and colourful pattern designs. Whether it's with paper napkin decoupage, upcycling with their wallpaper, or even just painting Marimekko inspired designs.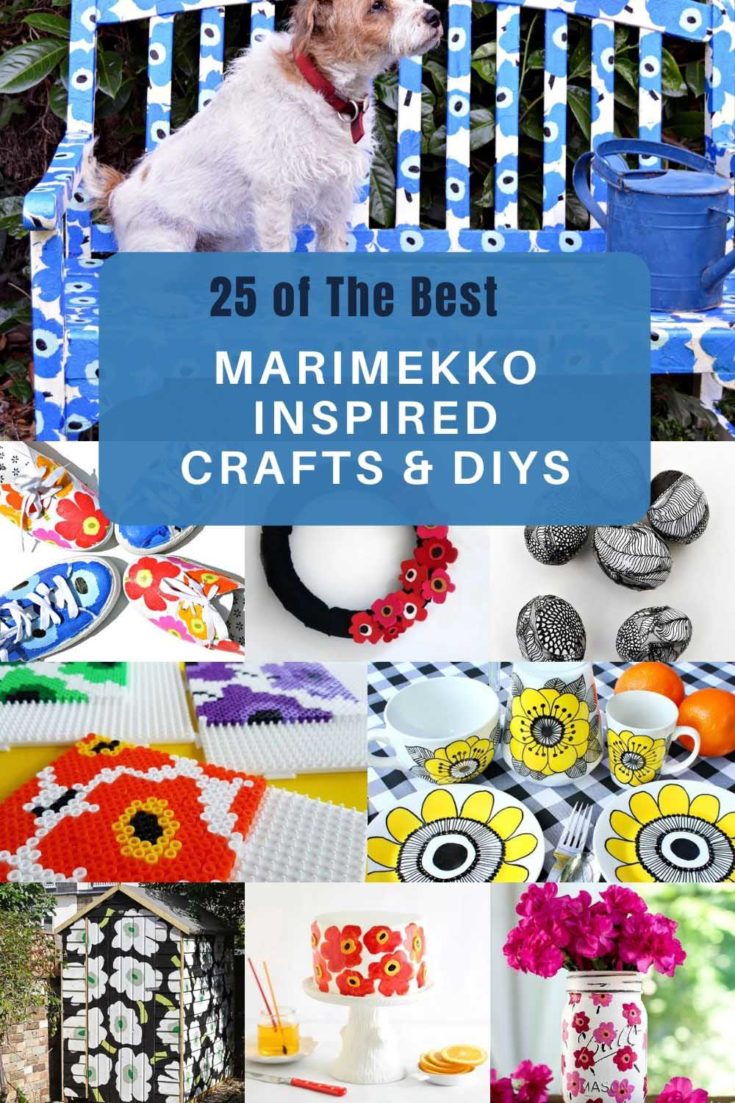 If you enjoyed these Marimekko craft ideas then you will probably also like these Mid-Century Orla Kiely crafts and DIYs. There is also a large range of cool adult craft ideas on the blog. Make sure your craft room is stocked with these crafting essentials.