I made these paper vase mason jar sleeves when I realised I didn't have enough small flower vases.
When I get a big bunch of flowers instead of putting them all in one vase I like to separate the flowers out into lots of smaller vases. With these paper vase sleeves, I can turn any mason jar into a pretty flower vase.
Not just mason jars, I can even turn plastic bottles and tin cans into pretty vases with these handy wallpaper sleeves.
This is an almost cost-free craft that only takes five minutes to make. It is a great way to upcycle old jars, food cans, and soda bottles. It also involves one of my favorite crafts, sewing paper!
Making Wallpaper Vase Sleeves
These paper vases were made with leftover wallpaper scraps and samples. Wallpaper is great for crafting. The paper is very robust, strong, and flexible at the same time. It comes in many fabulous colours and designs. You can easily get free wallpaper samples from your local home store.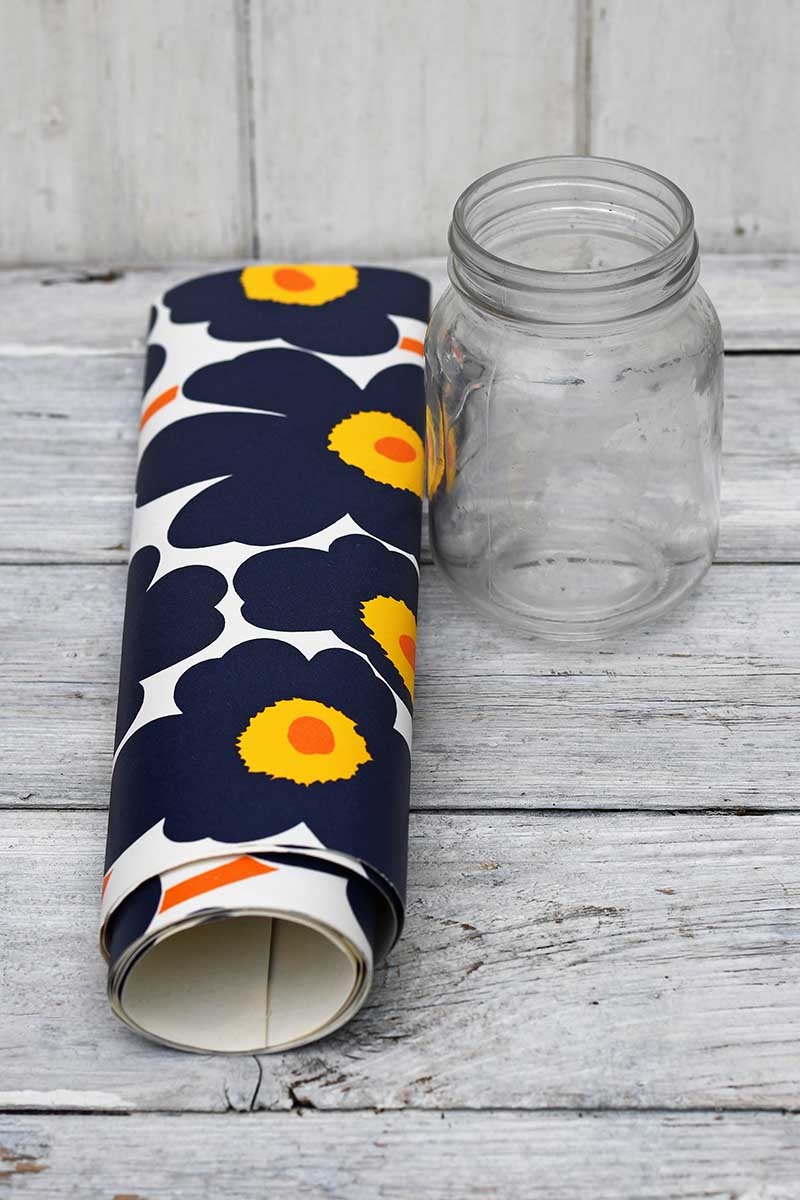 I love to craft and upcycle with wallpaper and have used it to decoupage tables, wallpaper mirrors, and even upcycle a garbage bin with wallpaper. The leftover wallpaper scraps from these projects are used for other smaller crafts.
I made one of these paper vase mason jar sleeves from wallpaper leftover from when I wallpapered my stairs. The print was the iconic Marimekko Unikko poppy, one of my favorite ever designs.
For the other vases, I use wallpaper samples. I was lucky enough to be given an old wallpaper sample book from my local interior shop for upcycling. However, you can easily get free wallpaper samples for individual designs. So you can pick wallpaper designs that will match your decor.
I think these paper vases would make a lovely additional gift when giving flowers.
How To Make A Paper Vase Mason Jar Sleeve
All you need to make these paper vases besides the wallpaper sample is a sewing machine.
1.. First, draw out a template of the flower vase shape. Make sure that the circumference of the vase sleeve will be wide enough to go over your mason jar. You can download and use the vase shape here.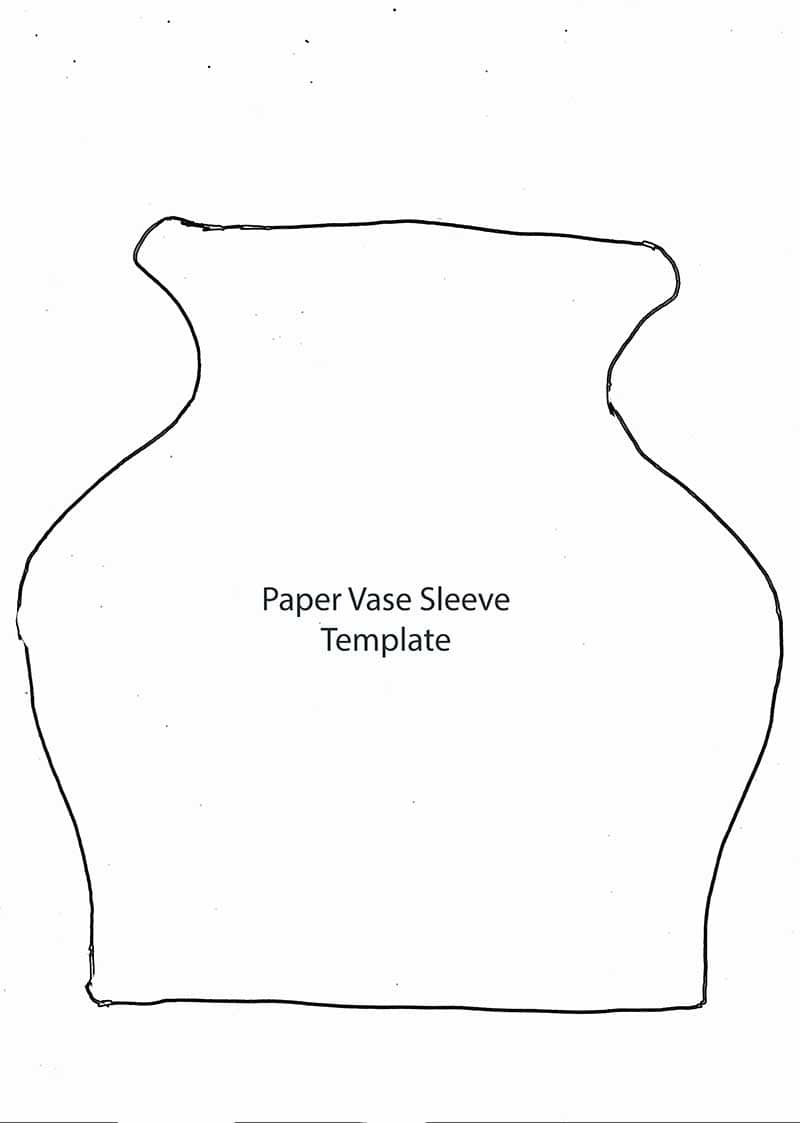 2. Next, place the paper template on top of the wallpaper sample and draw around it. Then cut out the vase shape. You will need 2 identical vase shapes for each mason jar sleeve cover.
You can either use the same wallpaper for both sides or two different wallpaper designs. If you use two different wallpaper designs, one on each side, you can simply turn around your paper vase for a different look.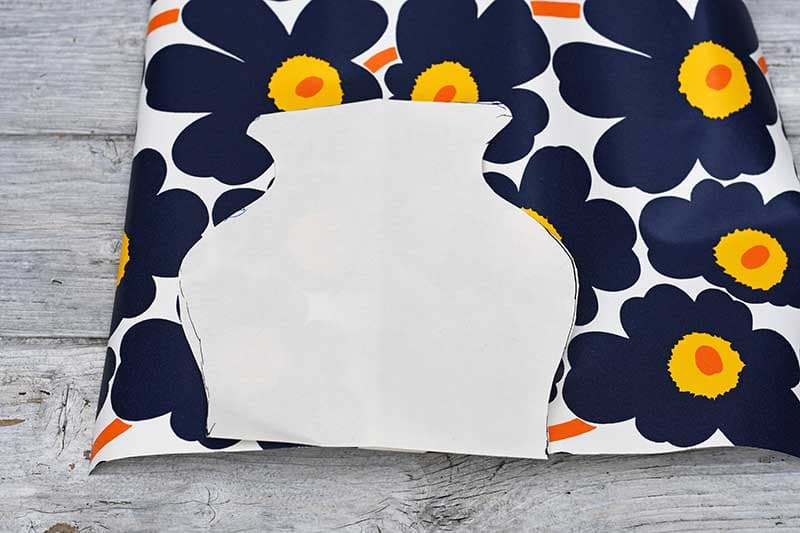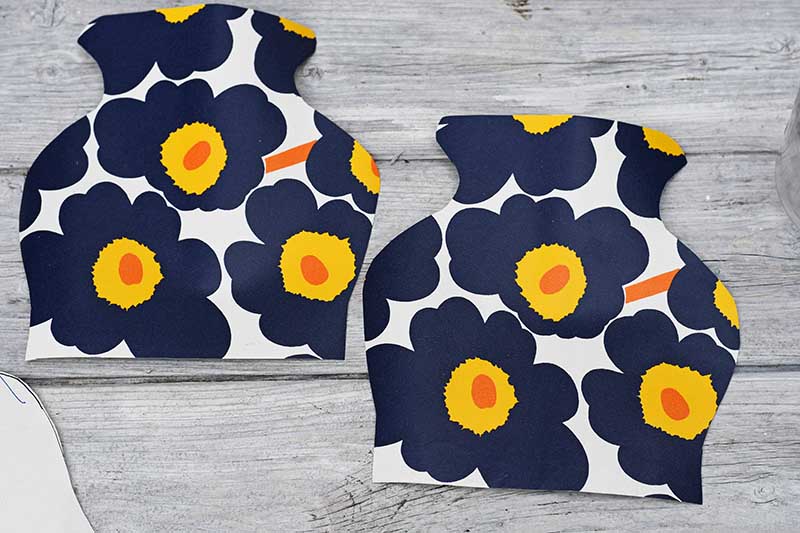 3. The next stage is the fun bit, stitching wallpaper. I used a sewing machine for this. If you have never stitched paper on a sewing machine before, I recommend giving it a go. It is very easy and great fun. I actually prefer stitching paper over fabric. Have little practice first to get the hang of it before sewing the paper vase.
Place the two paper vase shapes wrong sides together. Holding them in place, stitch up both sides of the vase, leave the bottom and top open. I used cotton thread in a colour that would be visible on the paper vases.
When you have finished sewing, trim the thread ends, and instead of tying a knot add a tiny dab of glue to stop them from unraveling.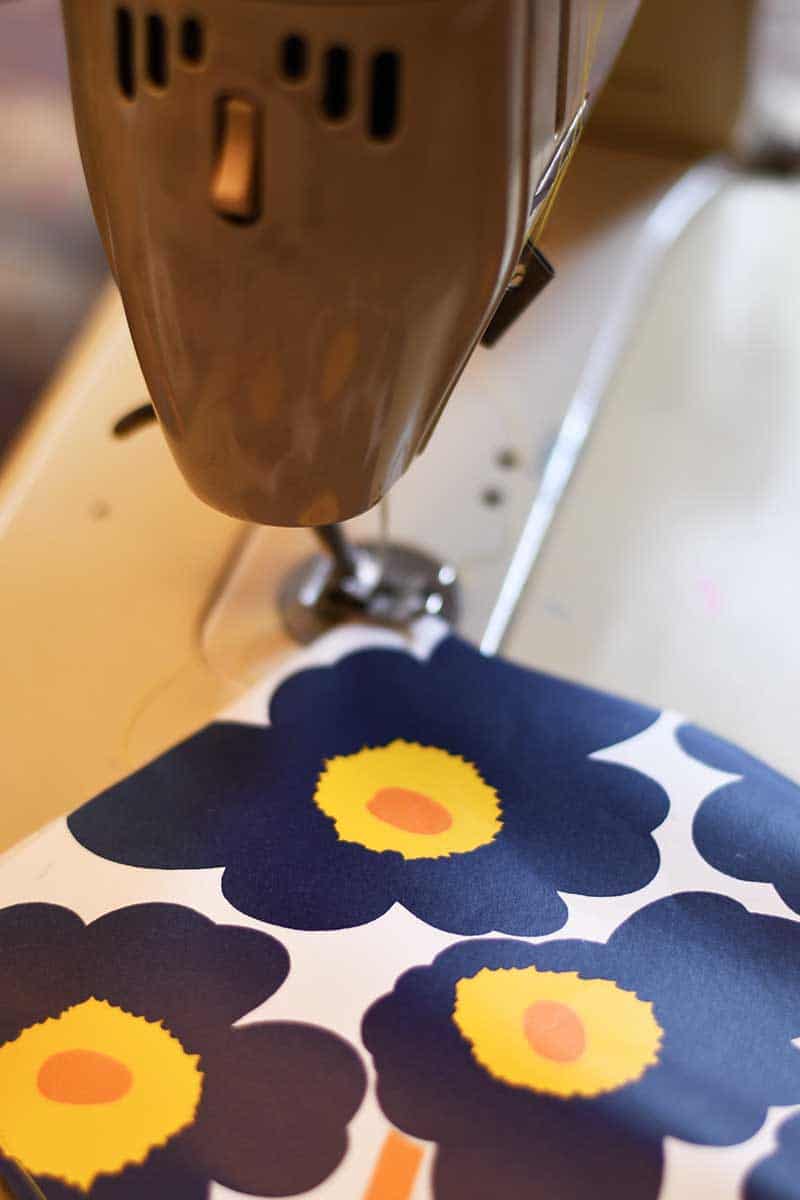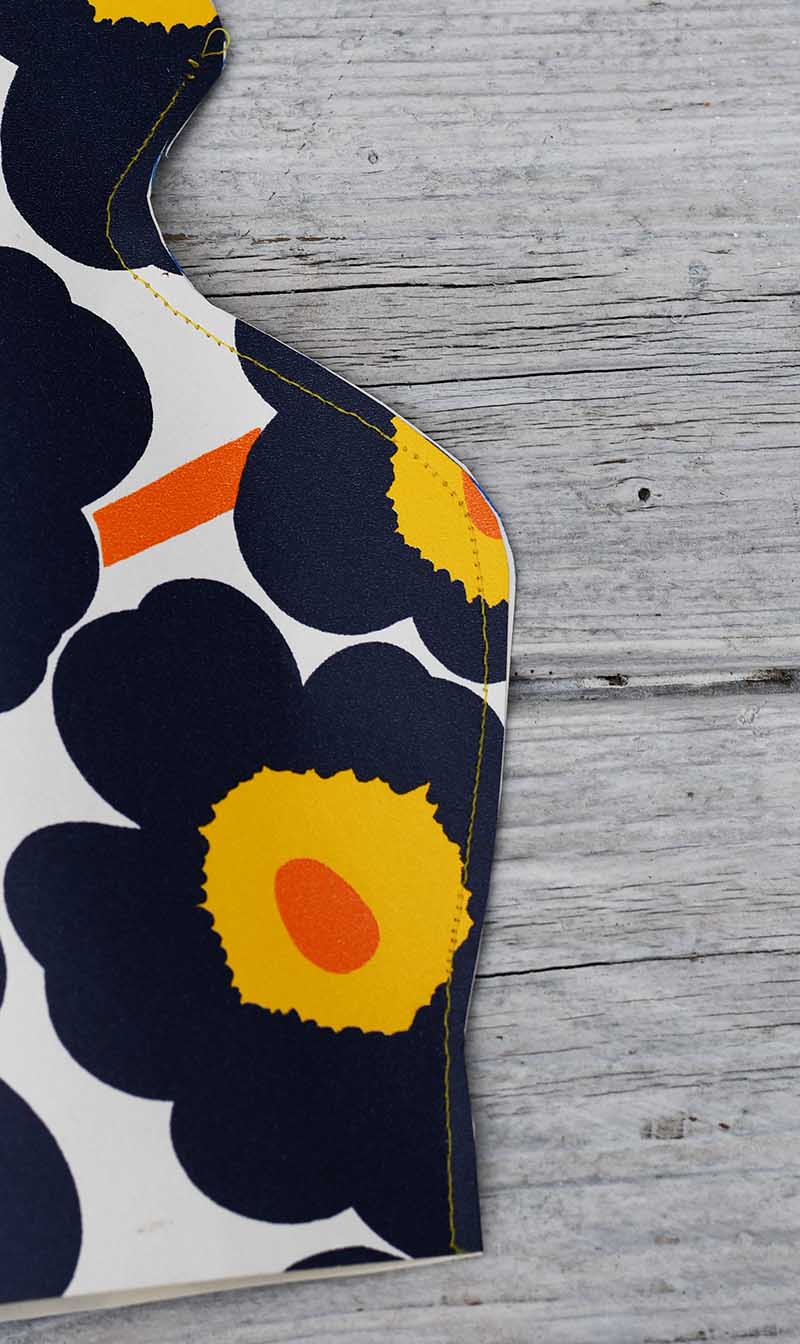 4. To finish off, all that is left to do is to open the paper vase sleeve at the bottom and slip it over the top of the mason jar. Don't forget to add flowers!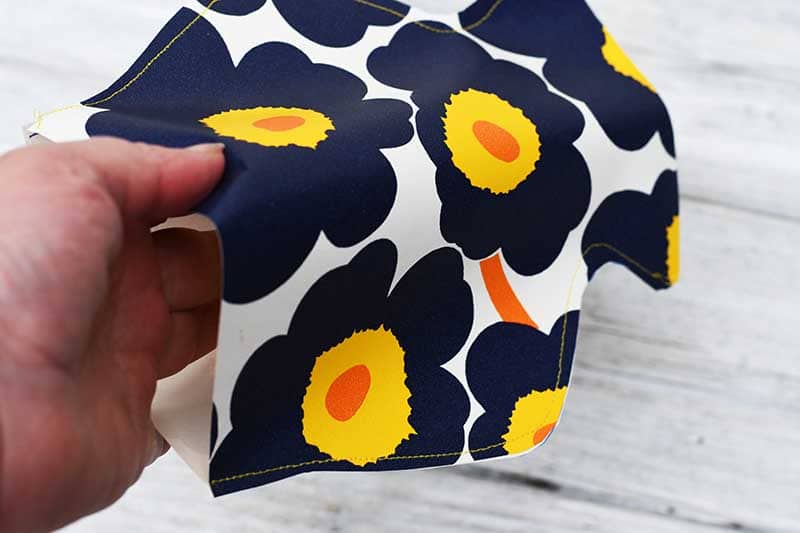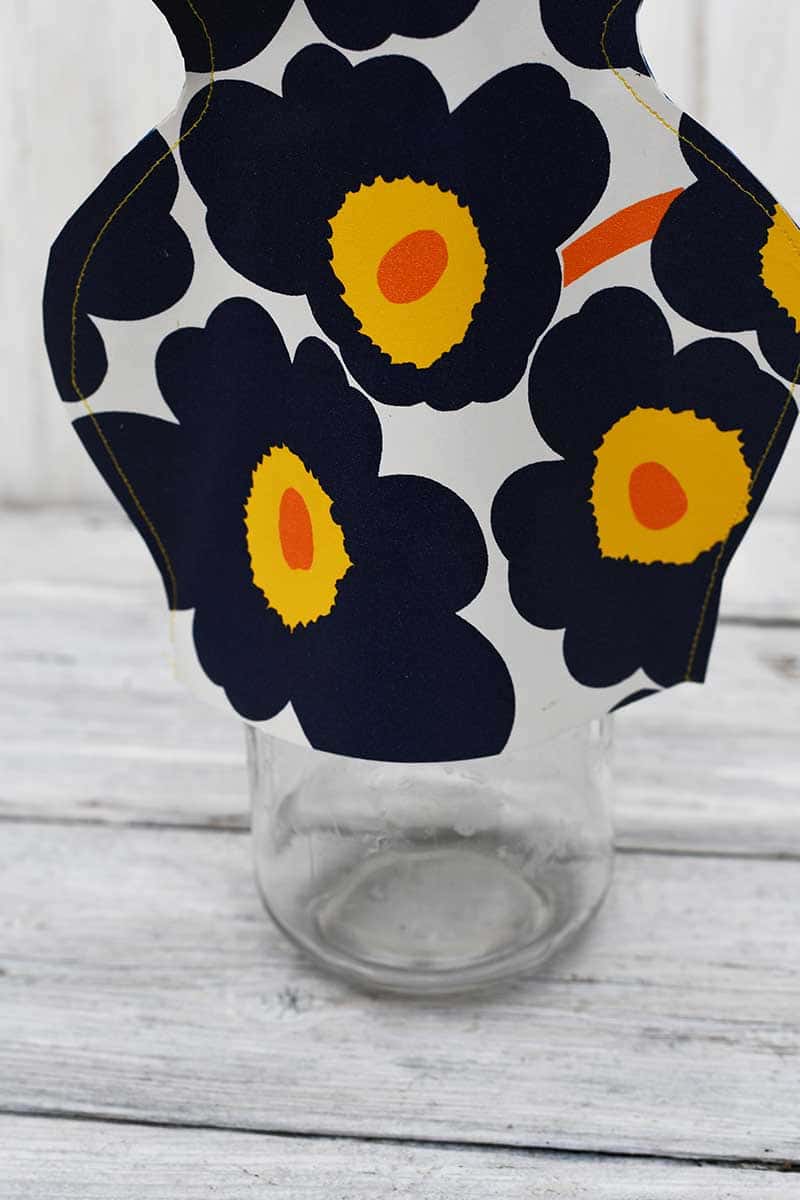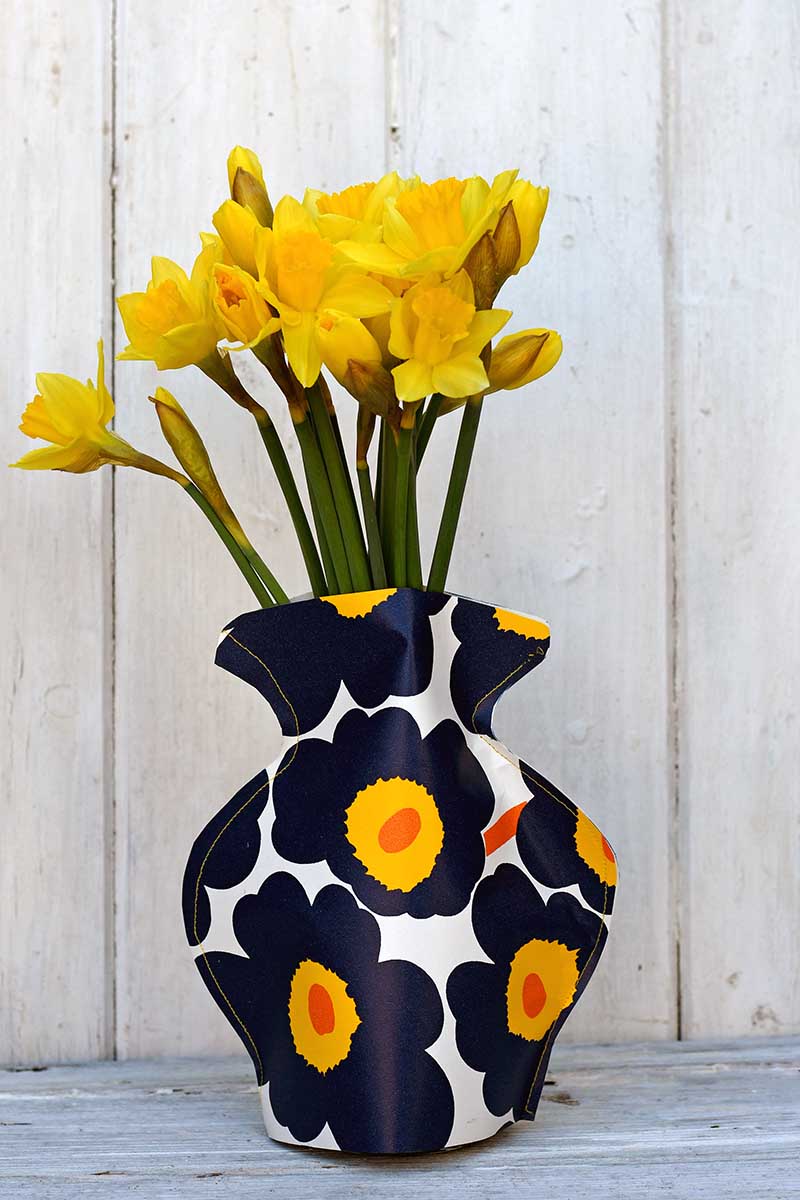 10 Things To Consider When Sewing Paper
Use a sharp needle such as a jean needle in your machine
Any sewing machine will be suitable for sewing paper
Don't use pins. If you have to hold two pieces of paper together use folded over Sellotape to keep them together, or sewing clips.
Use a medium to large stitch length. If the stitch is too short, the holes in the paper will be too close to one another and tear easily.
Go slowly, I can control the speed of my sewing machine with my foot pedal. The harder I press on the pedal the faster the sewing, so just press lightly.
Practice on a scrap piece of paper to make sure it is suitable. Wallpaper and stronger papers work well.
If the paper tears easily when sewing, try using a fusible web backing with the paper to strengthen it.
Stitch on the front of your paper. The holes the needle makes, sometimes don't look so good from the backside.
When maneuvering around corners on the paper, stop with the needle in the down position. Then lift the presser foot and turn the paper.
Use a piece of tape or a dab of glue on the back to secure the end threads in place.
I enjoyed making the vases so much that I dug out a wallpaper sample book I had acquired from my local interior shop and made a load more paper vases. I made so many paper vases, I ran out of mason jars, so I used the sleeves on tin cans and cut plastic bottles.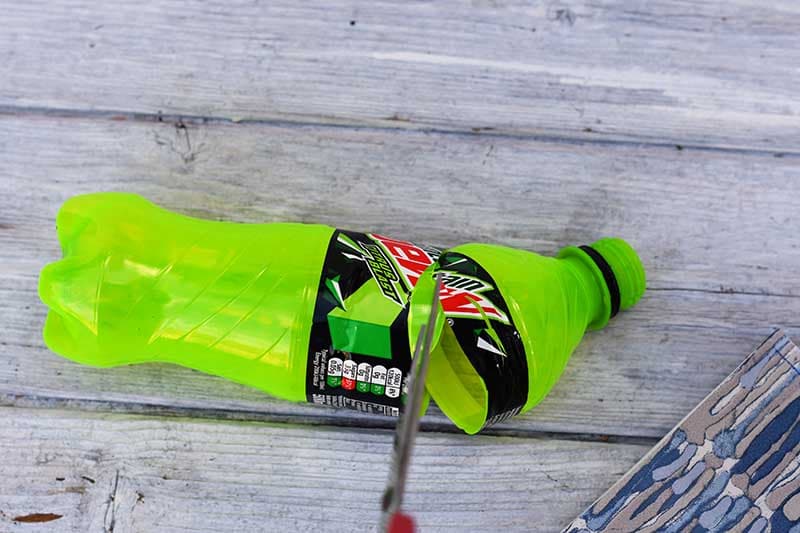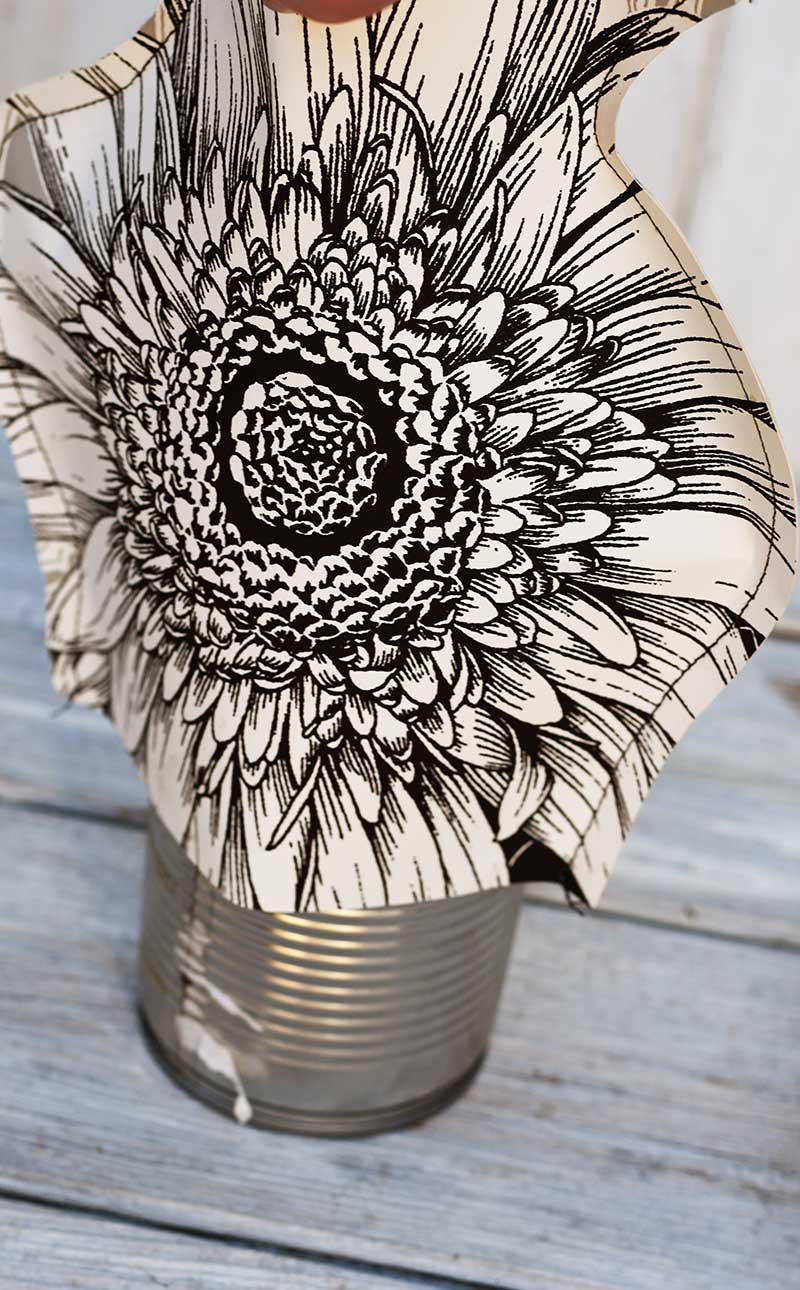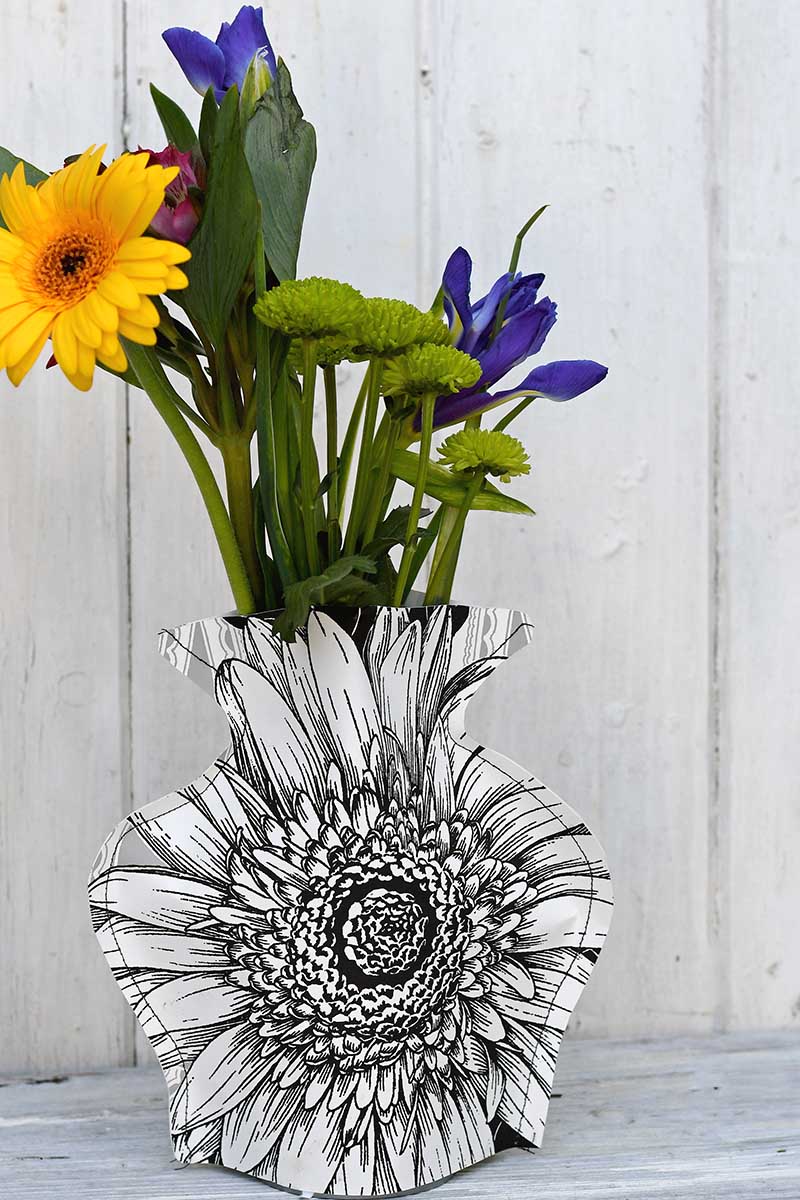 A few of these vases made with different wallpaper patterns look great together on a mantlepiece. Each one only takes about 5 minutes to make.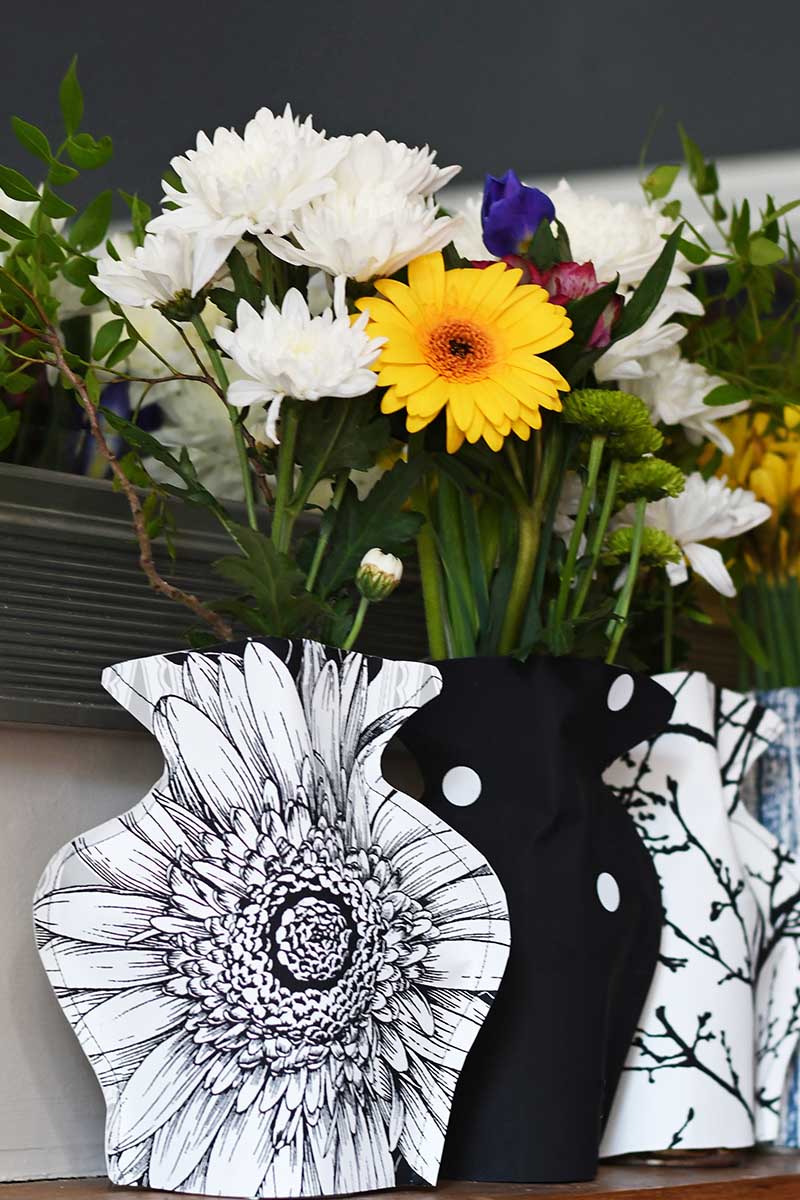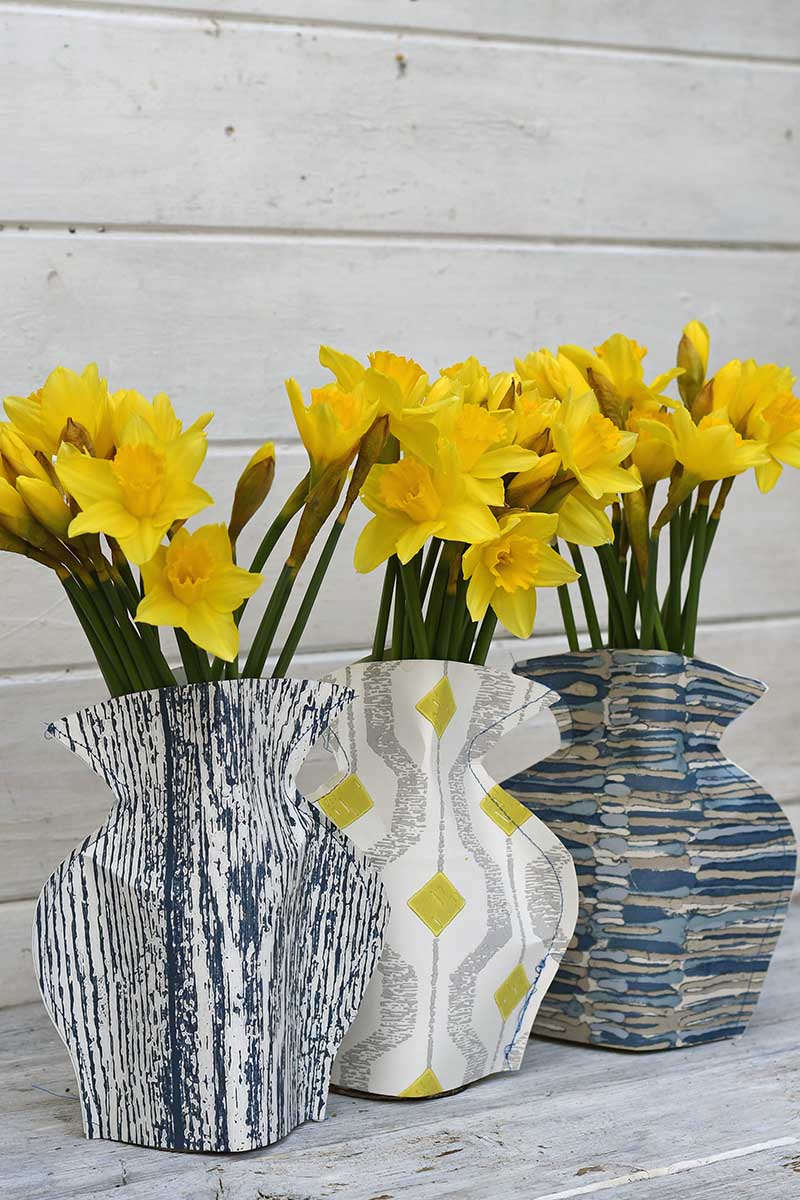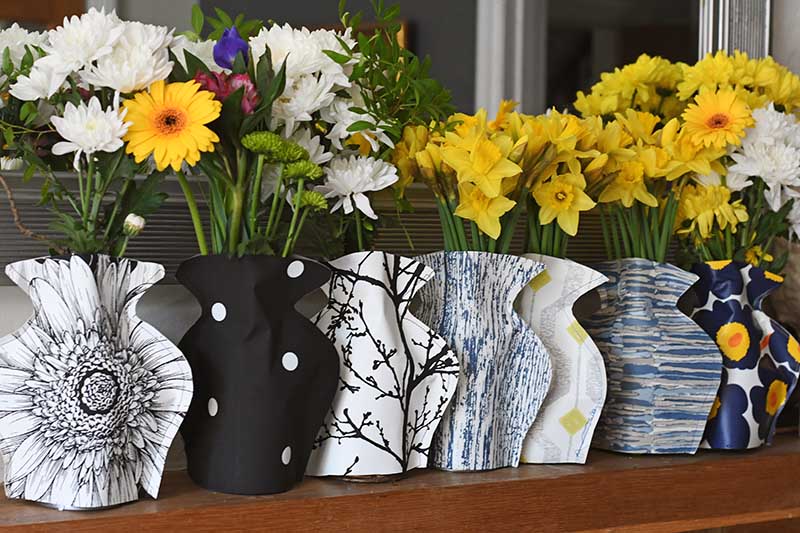 If you want to try out some other sewing paper projects check out my map paper hearts or the cute Easter bunny treat bags or the collection of crafting with wallpaper ideas on the site. These map paper moths are a fun free-form machine-stitched papercraft.
It is also possible to stitch on paper by hand, like with my cool embroidered dictionary art.
For more upcycled vase ideas, then how about these hand-painted glass bud vases or a leather Boho vase. If you love mason jars then check out this denim hanging mason jar vase.
I combined Marimekko and tin cans to make some wonderful colourful flower planters for the garden. I also made old tin cans look like faux Ming vases.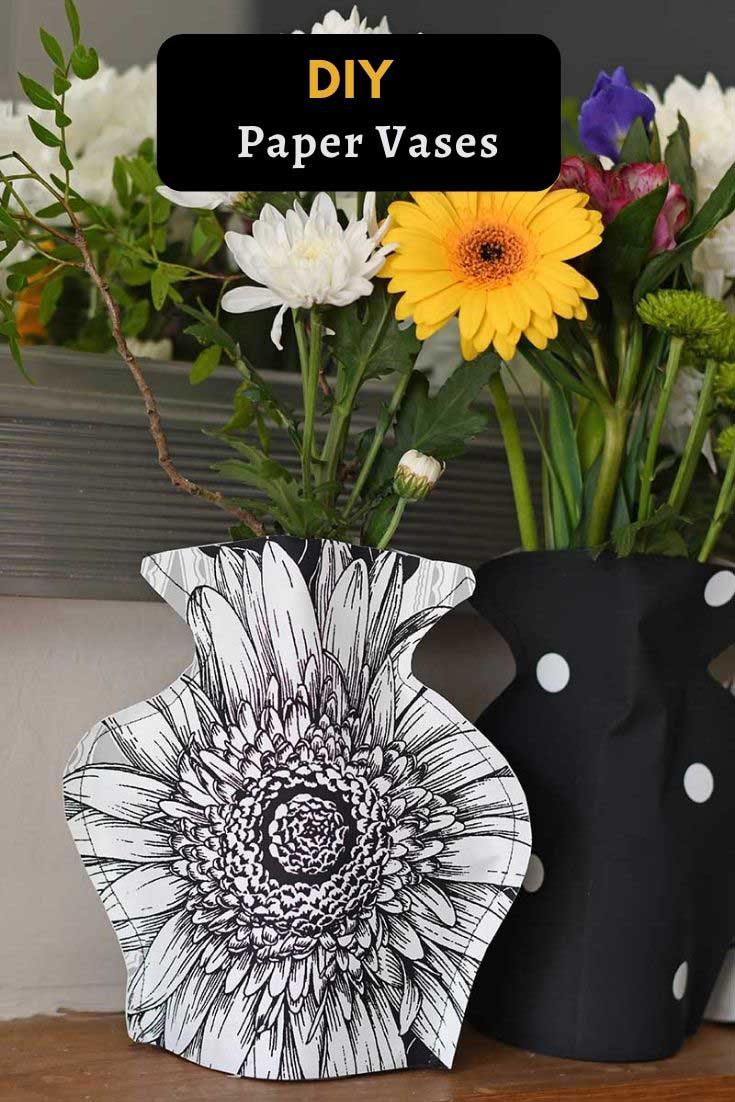 You can also find many more affordable craft ideas for the home here.