Living in the Northern hemisphere, our winter evenings are long and dark. I love to brighten up my home with lots of indoor light decorations like these pretty map luminary bags.
Normally, I use those lovely copper string lights you can get like with my brilliant LED deer decoration and my heart string lights. However, when I came across remote controlled led tea lights, I just knew I had to have some.
You can't get more convenient than remote-controlled tea lights. With one push of the button, you can switch on a whole load of tea lights in one go.
No need to reach into the luminary bag and pick up each tea light one by one to switch it on. I just walk into the lounge pick up the remote click the switch and "voila" instant pretty illuminations.
I've used the same tea lights with the rainbow postage stamp decoupage jars I made.
Brighten Up Your Home With Map Luminary Bags
I decided to use old maps for my DIY luminary bags. Old maps conjure up memories of past travels or places where I have lived before. I think the light looks great shining through them and they are very thrifty.
Even if you don't have a vast collection of old maps like me, you can pick them up very cheaply from charity/thrift stores. I often find purchasing old maps works out cheaper than using craft paper or gift wrap! There are some wonderful vintage maps for crafting that you can print too.
A star punch was used on the bag to create a pretty light effect. You can experiment with different shaped paper punches on your bags to see what effect you like or even just use a simple round hole punch.
Even though I have made these map luminary bags as a winter decoration to brighten up my home. I think they would be great for a summer outdoor party and could be used to illuminate a garden path.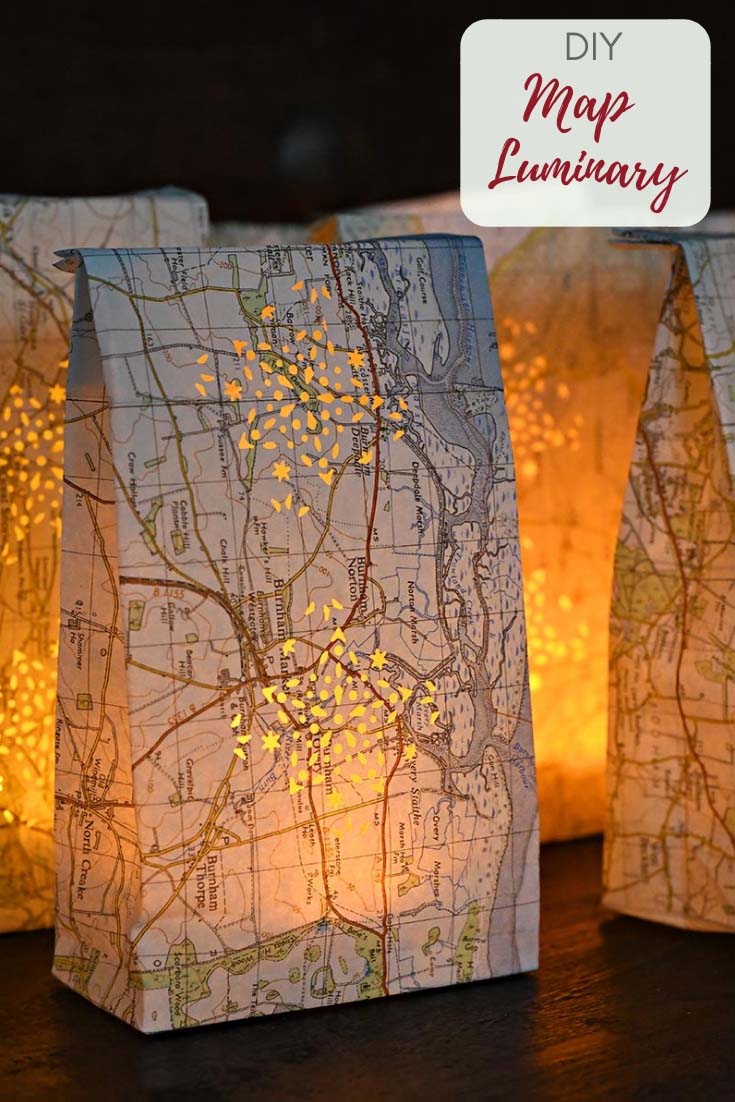 This post contains Amazon affiliate links for your convenience. Click here to see my disclosure policy.
What you need to make Map Luminary bags
Old maps – You can pick these up from charity/thrift stores. The bags I made were A4 size so you can also print off maps onto A4 paper to use. This might be handy if you are looking for maps of a particular country or state. Pictureboxblue has lots of free maps to choose from and print.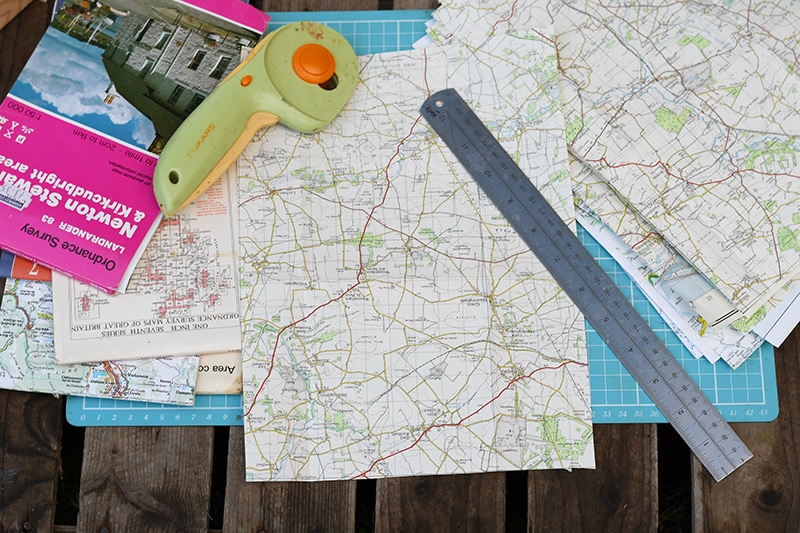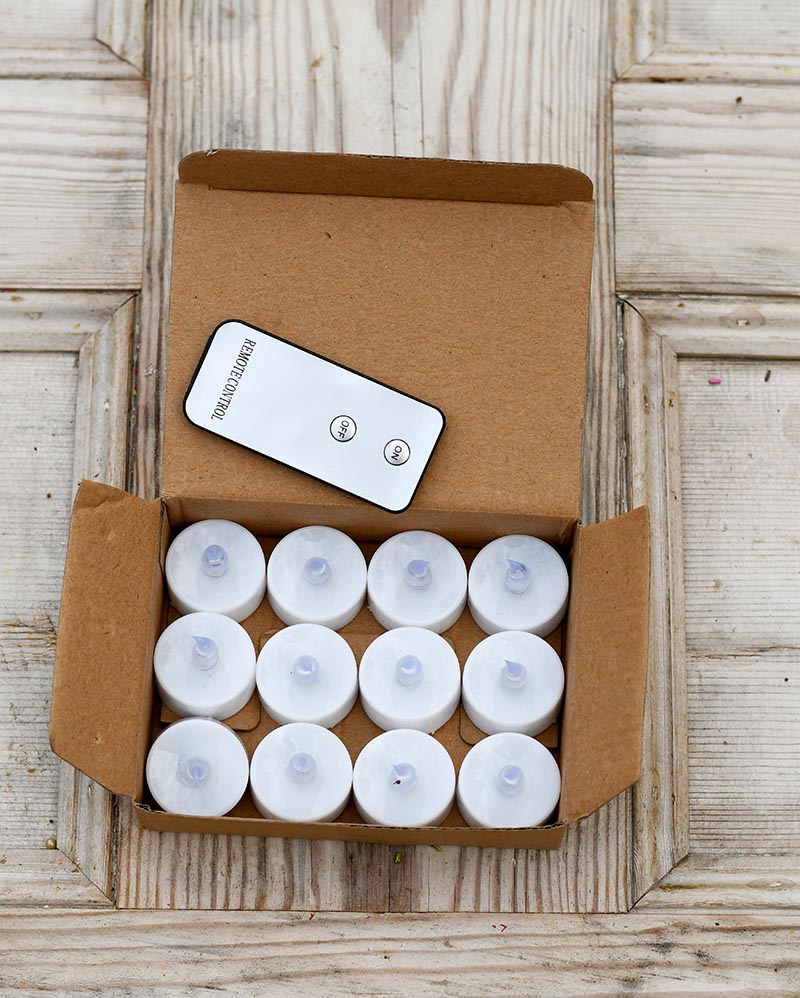 Rotary cutter and mat if using old maps.
How to make Map Luminary bags
First, if using printed maps, cut the maps up into A4 sized sheets. I can normally get 6-8 A4 sheets from one standard roadmap.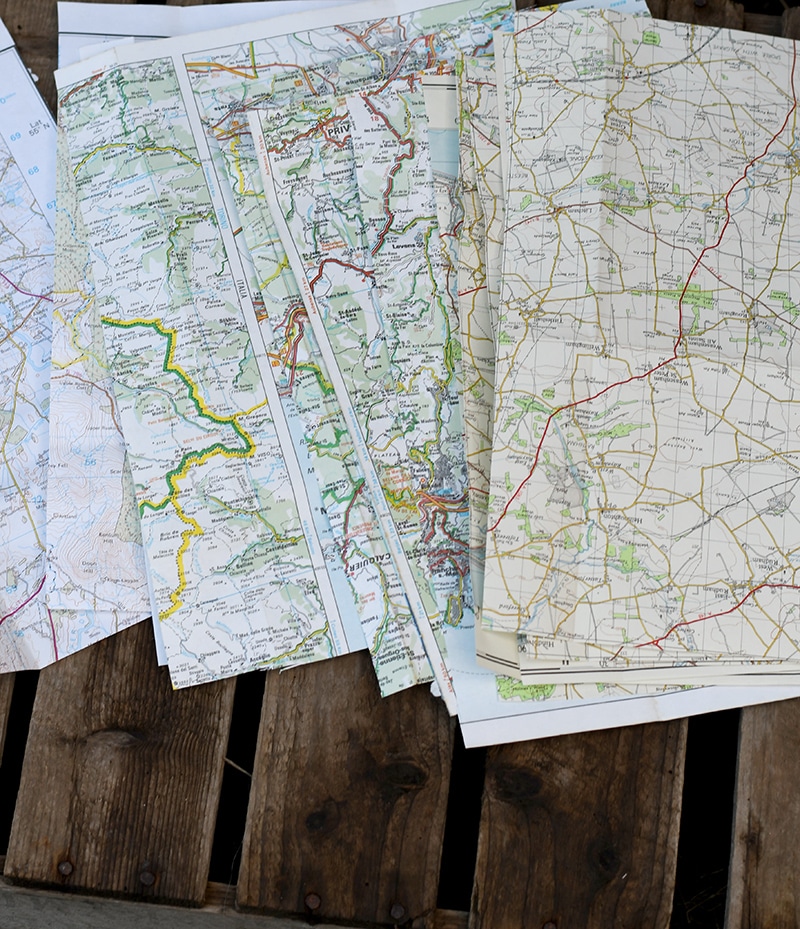 I will attempt to explain with photos how I made my luminary bags. However, there are lots of great youtube videos that also show the process and if you get lost I suggest you take a look at them.
1.. First take one sheet of map paper and fold it lengthways so that there is an overlap of between 5-10mm on one edge.
Make sure the map print is on the outside of the fold. Fold this flap over and glue it to the map to create a tube.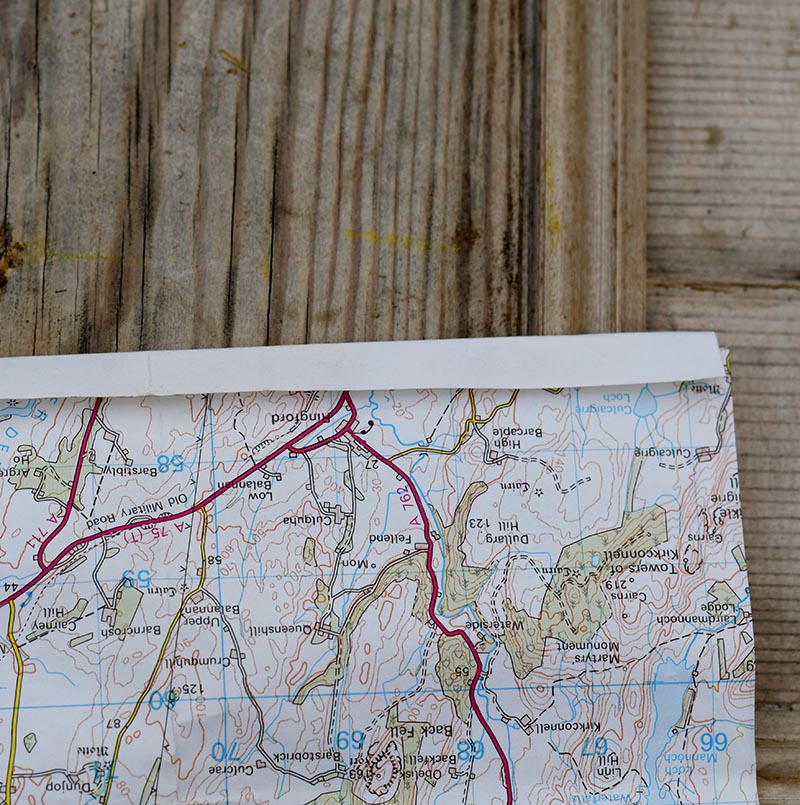 2. Before moving on to the next stage, I like to punch patterns into the map paper. I do it at this point as I have more of an idea where the punched patterns will appear in relation to the finished luminary bag.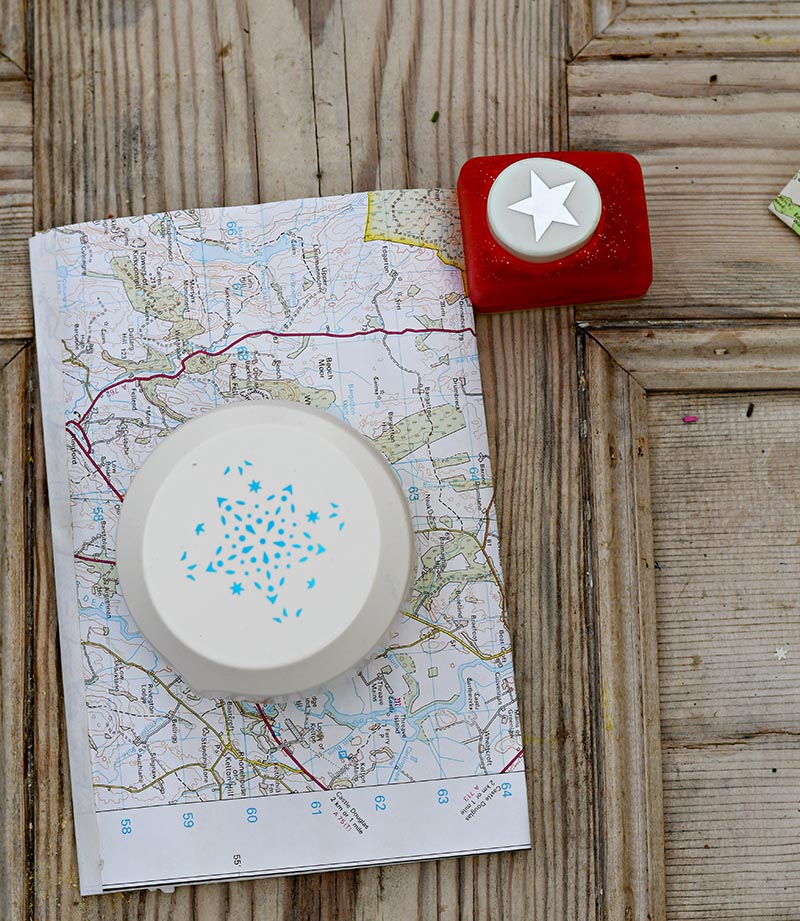 3. Next, place the map paper lengthways and fold up from the bottom about 5-6cm. Use a ruler to make a nice sharp crease as you fold.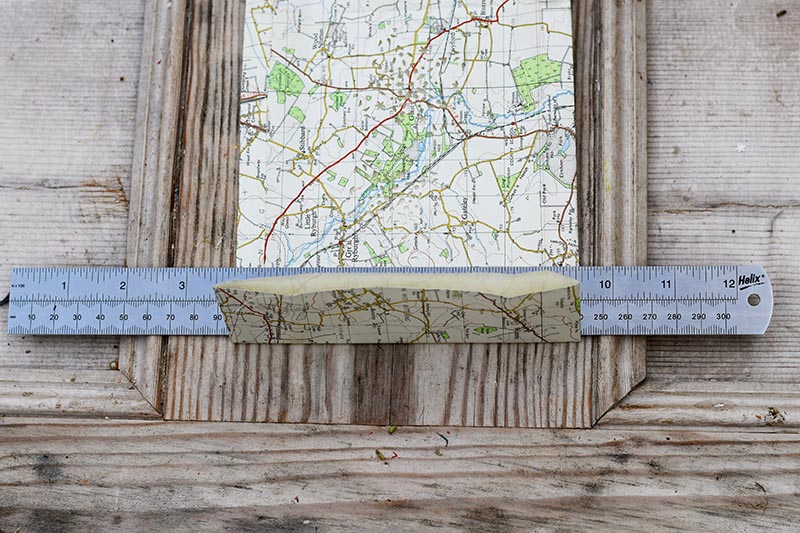 4. Next, push in the sides of the map where you have folded so that the base of the bag opens out and lies flat. Like the picture below.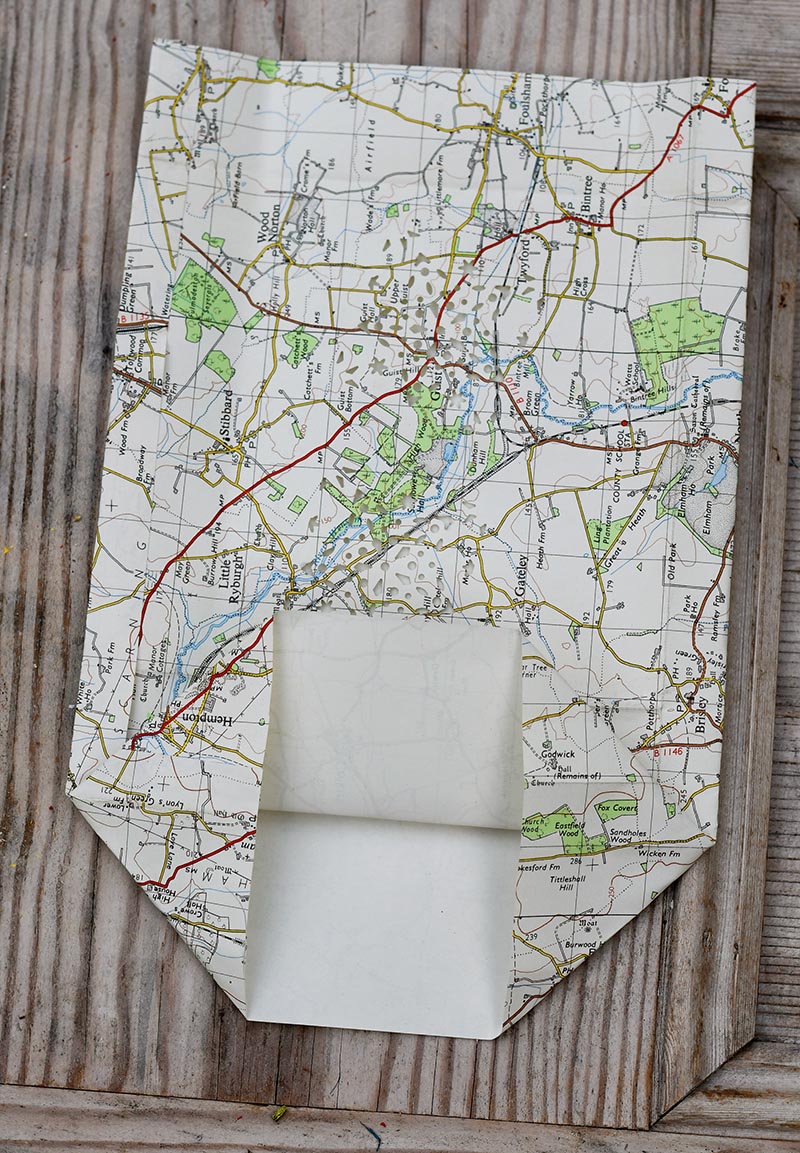 5. Next, to secure the base of the map luminary bags, fold down the top half of the base flap to just over halfway and glue it down.
Next, repeat with the bottom half of the base flat.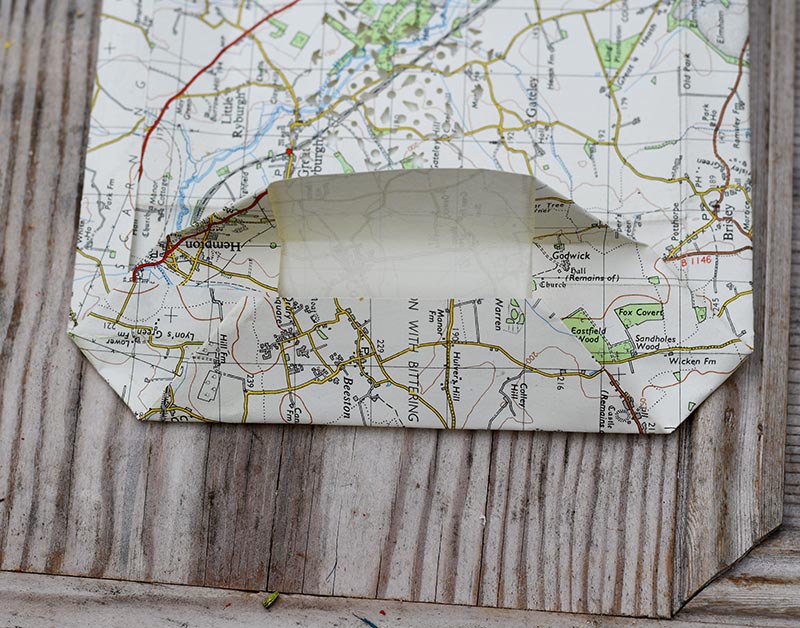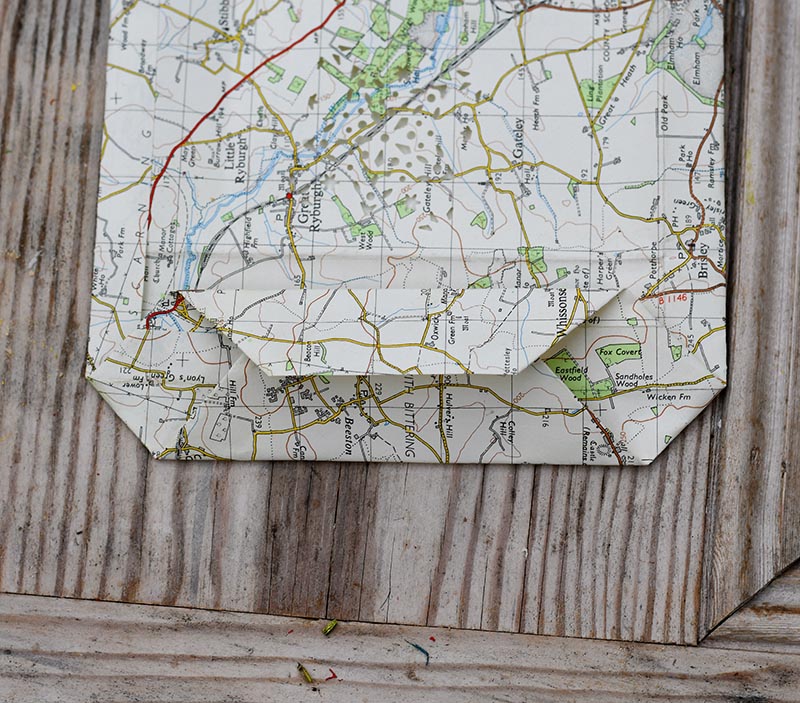 6. Then, fold in 3cm from the edge on both sides of the bag.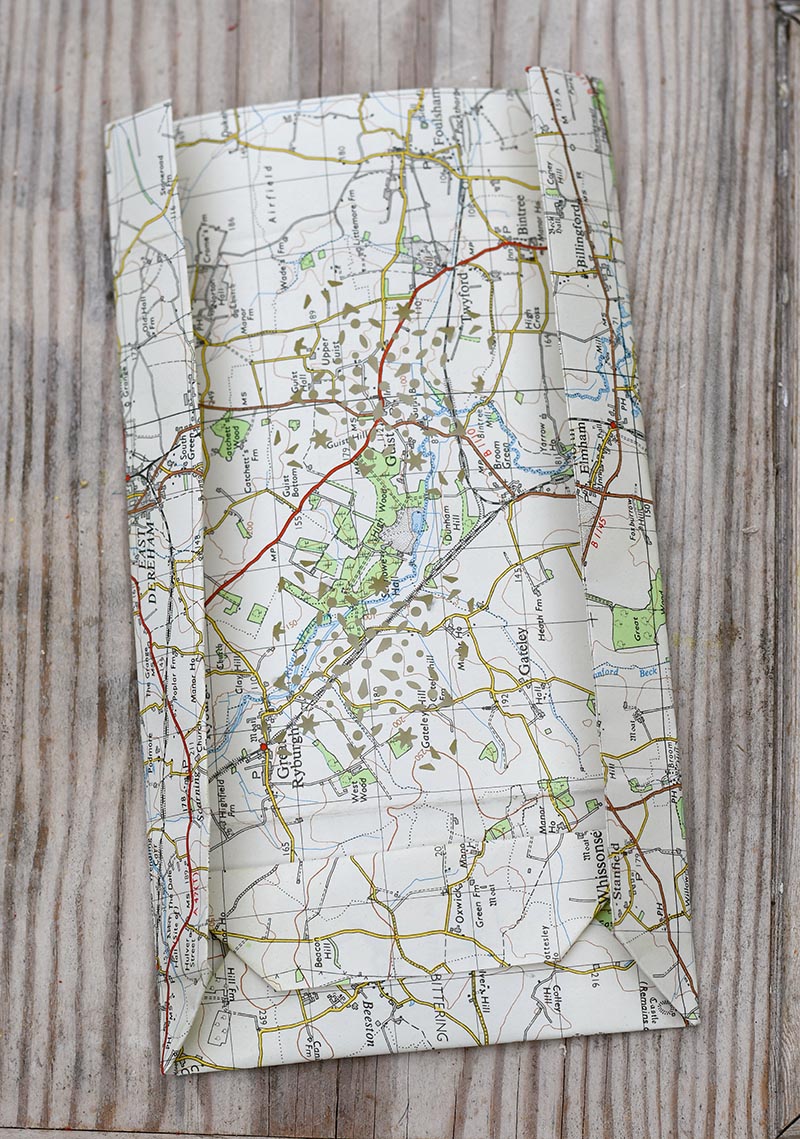 7. The final bit is the slightly fiddly bit. You need to open up the bag by putting your hand inside and then fold in the creases on the side to make the paper bag shape.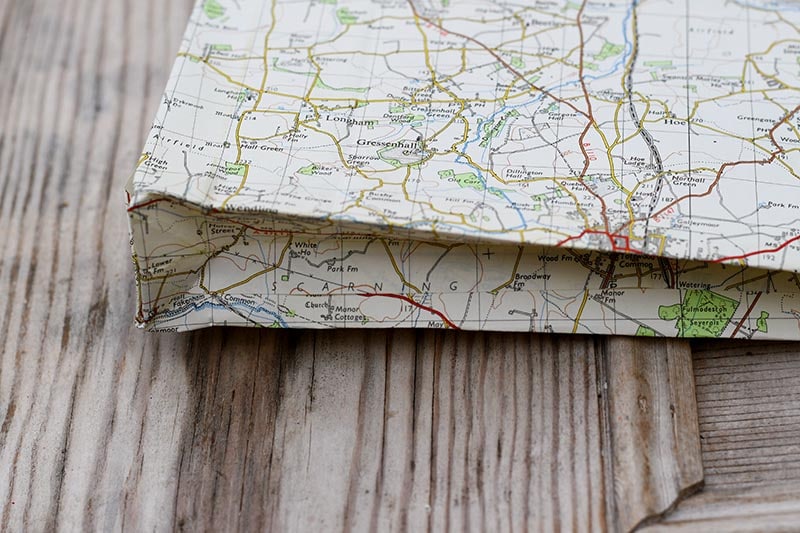 9. Finally, finish off by popping a remote-controlled light into the bag and folding over the top.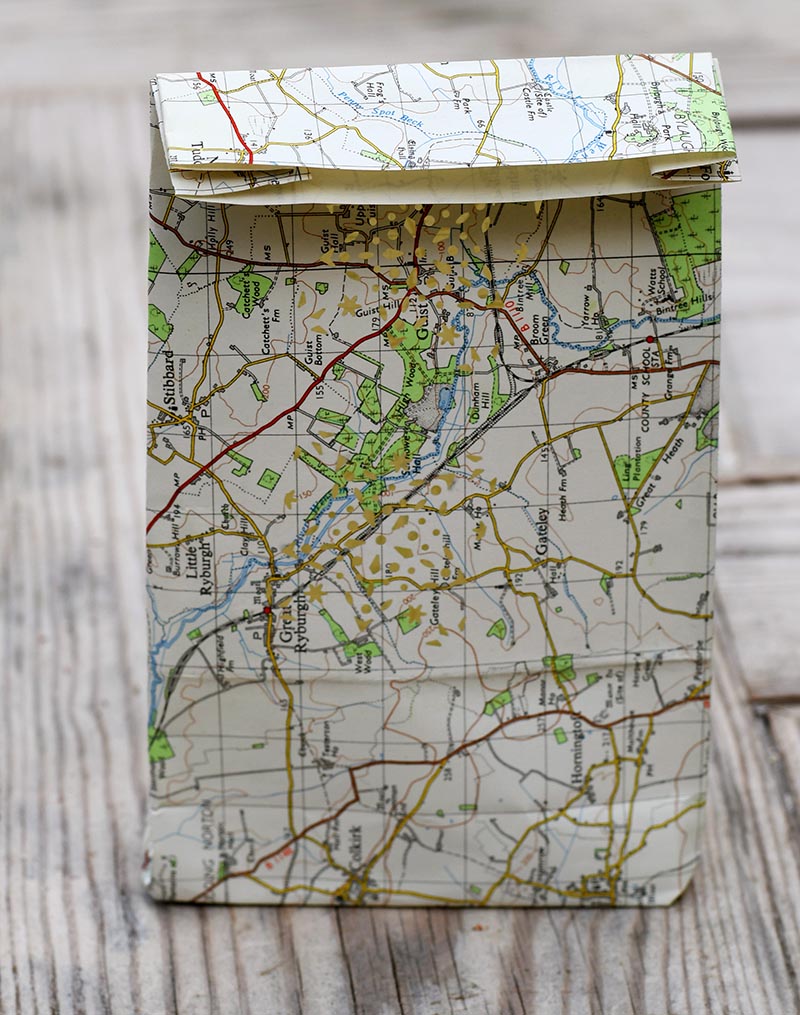 As the remote-controlled tea lights came in a box of 12, I made 12 of these map luminary bags.
I also used these LED tea lights with my Chinese paper lantern tea light jars.
I think that they look much more effective together in a big group. You could always use maps of your favourite places to make these bags to give them that personal touch. I've made waterproof versions of these map paper bags to use as cool plant pot covers.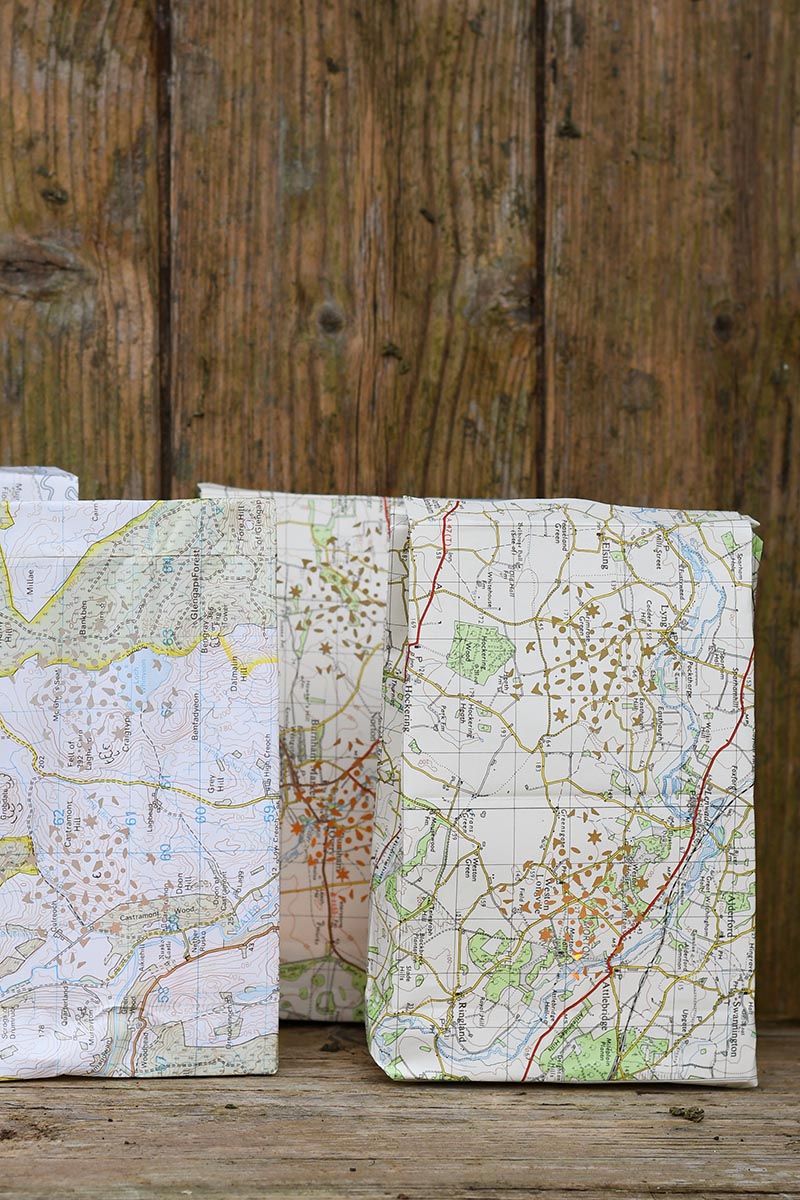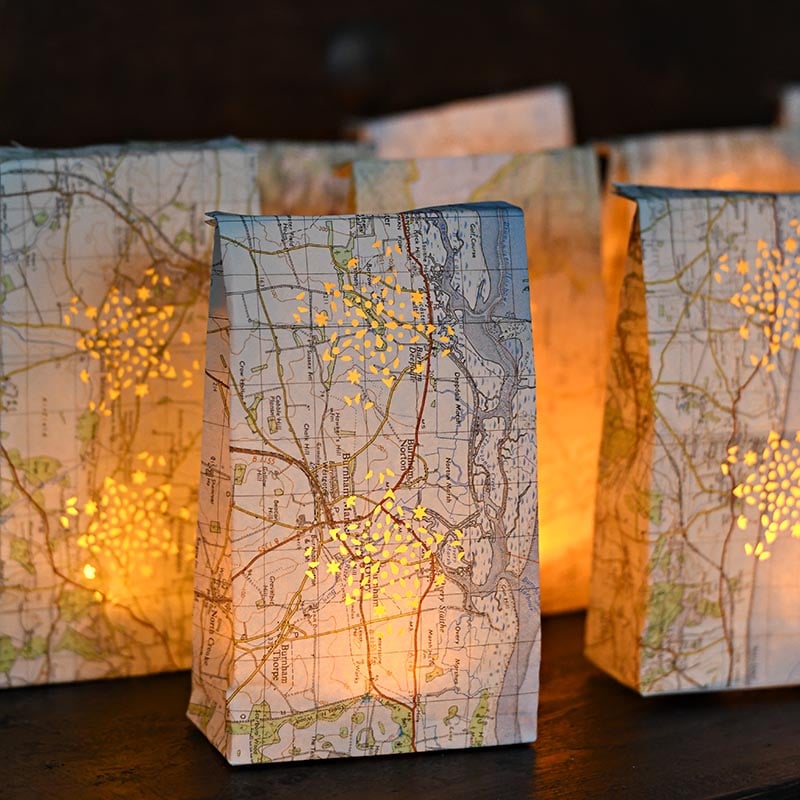 Printable maps can also be used to make these really cute DIY tea light lanterns.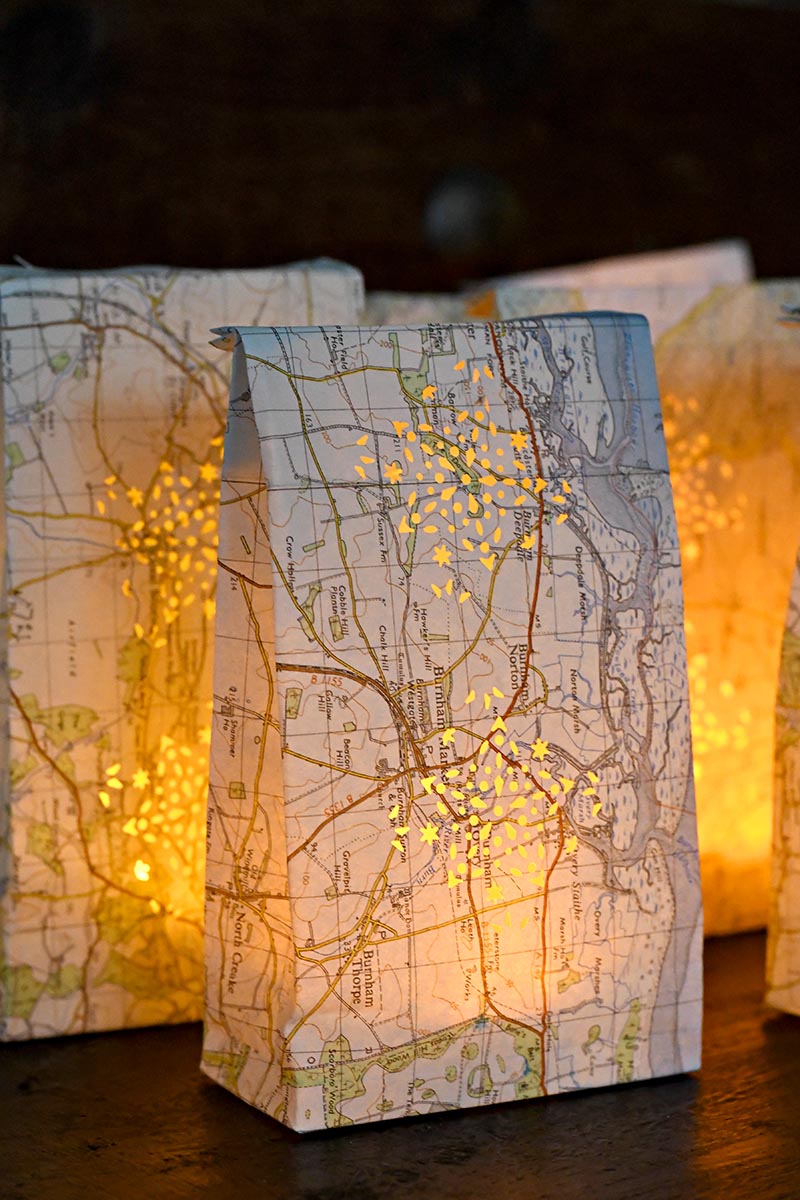 If you have any maps leftover you may want to check out some of my other map themed gift ideas and decoration posts.
Vintage Map Heart Garland
DIY paper Christmas Trees with Maps
Map Paper Rosettes Decorations
Printable 3d Map Star Decorations
For more papercraft ideas visit allfreepapercraft.com