Mason jars must be one of the most fun things to decorate and upcycle. I decided to rise the mason jar crafting challenge by making my own unique fall Mason jar.
Every day I walk our lovely old dog, Toby around the park at the bottom of my street. Whilst stopping for my morning coffee and dog treat at the kiosk in the park, I got the pinecone idea.
The Kiosk is surrounded by lots of pine trees with the cutest small pinecones, I can't help picking a few up and taking them home with me.
Unique Fall Mason Jar Decoration with Pine Cone Crafts
I now have quite a pile of cute pine cones, that I need to do something with. These fall Mason jars are one of my pine cone crafts.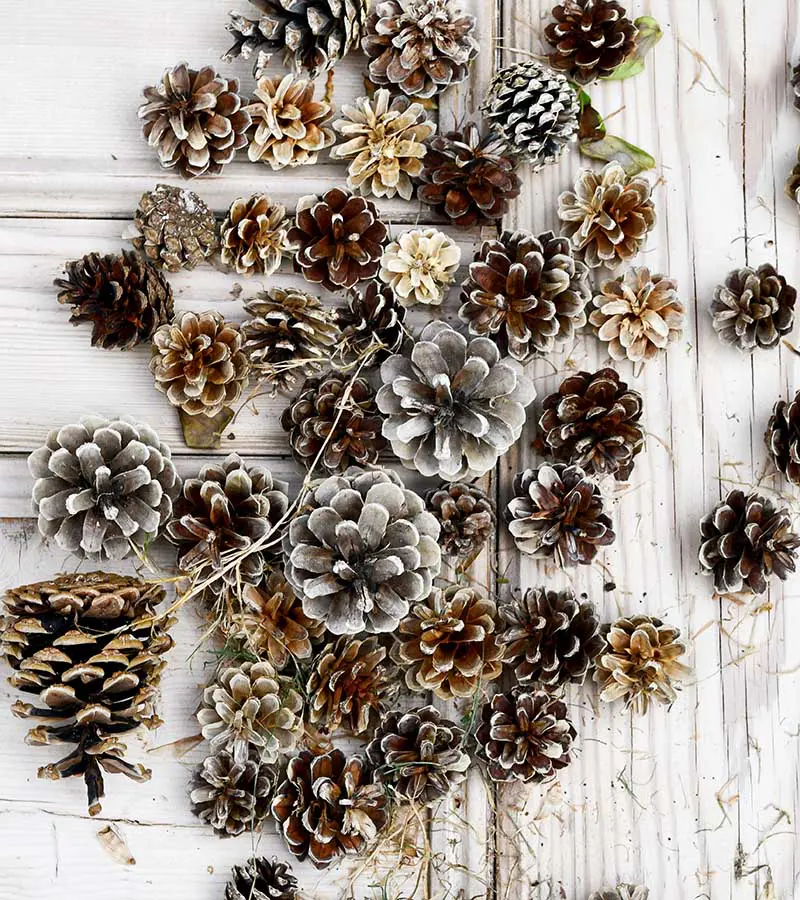 Did you know we call Mason jars, Kilner jars in the UK? As they are made by the Kilner company and not Ball. The Mason jar is named after John Landis Mason, who patented it in 1858, they are molded glass jars used in home canning to preserve food.
You can decorate any glass jar you like, Mason, Kilner, or just an old pickle jar. I think it looks lovely if you make a few of these decorated jars of different sizes.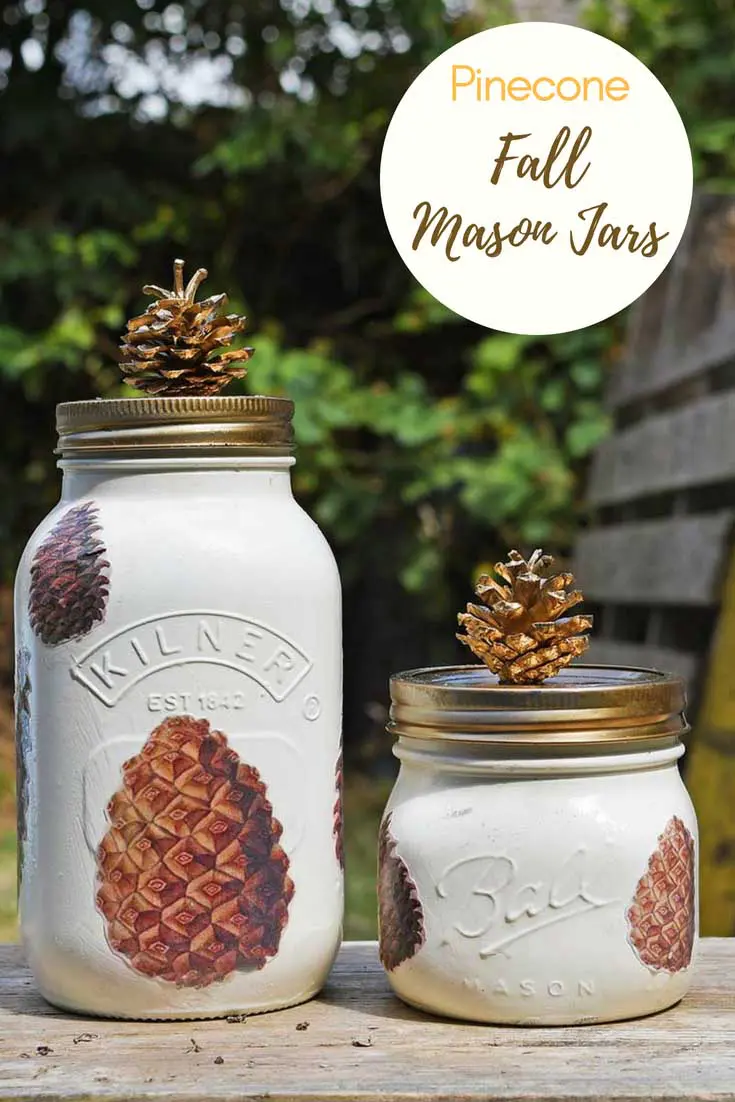 We're a participant in the Amazon Services LLC Associates Program, an affiliate advertising program designed to provide a means for us to earn fees by linking to Amazon.com and affiliated sites. As an Amazon Associate, I earn from qualifying purchases.
What you need to make a fall Mason Jar decoration
Mason Jars – Or Kilner jars or any old glass jars.
Small pinecones – one for each jar.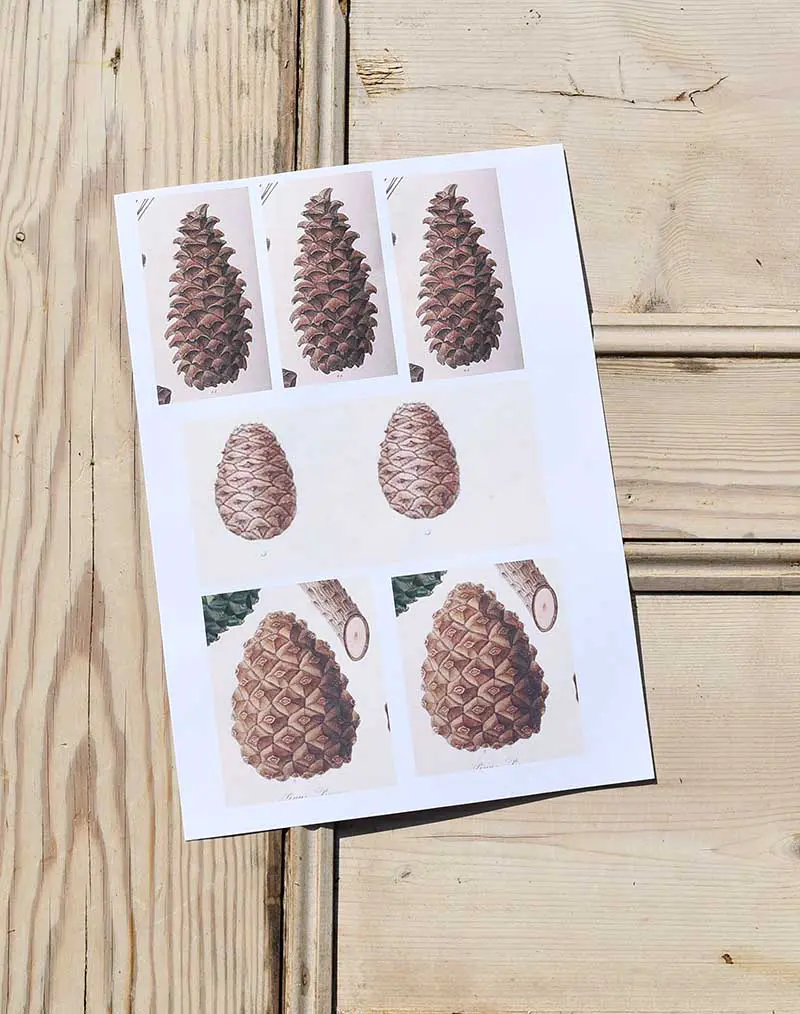 How to create a unique fall Mason jar with pinecones
1.. The first thing to do is to spray paint the glass jars with the cream spray paint. It's best to do this outside if you can.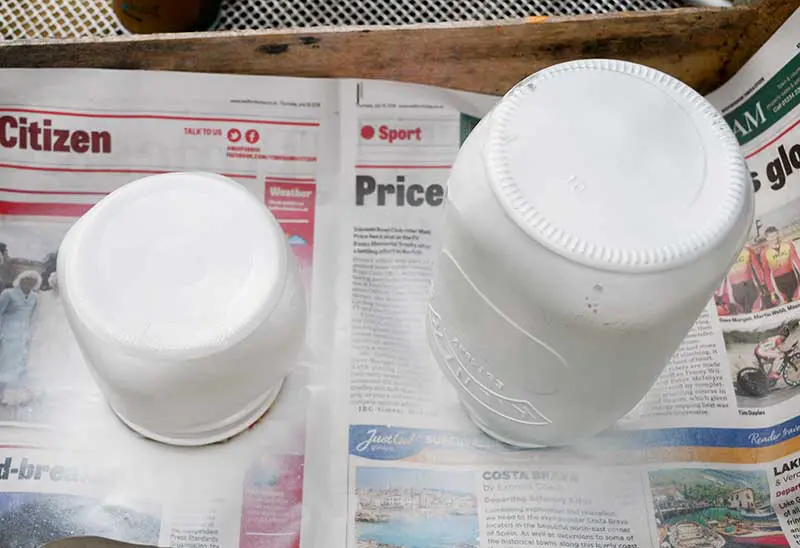 2. The next thing to paint is the jar lid and pine cones. For this I used a gold chrome spray paint. Once the gold paint has dried, glue the gold pine cone to the center of the jar lid.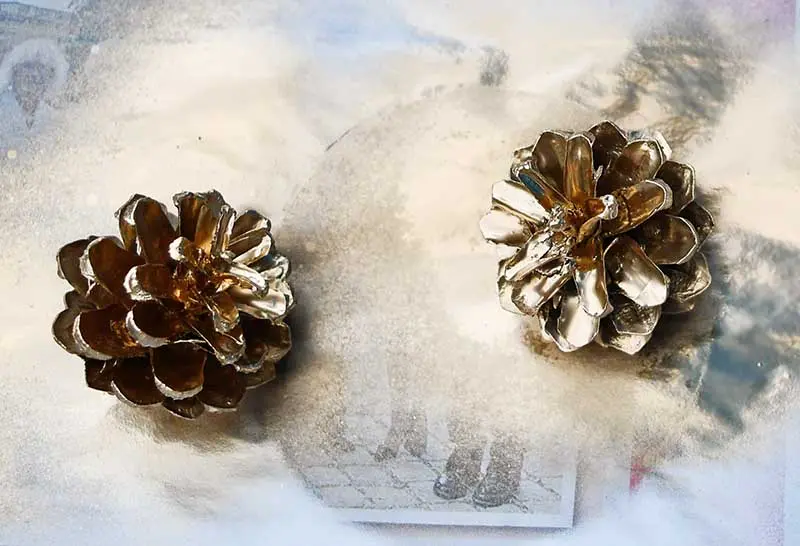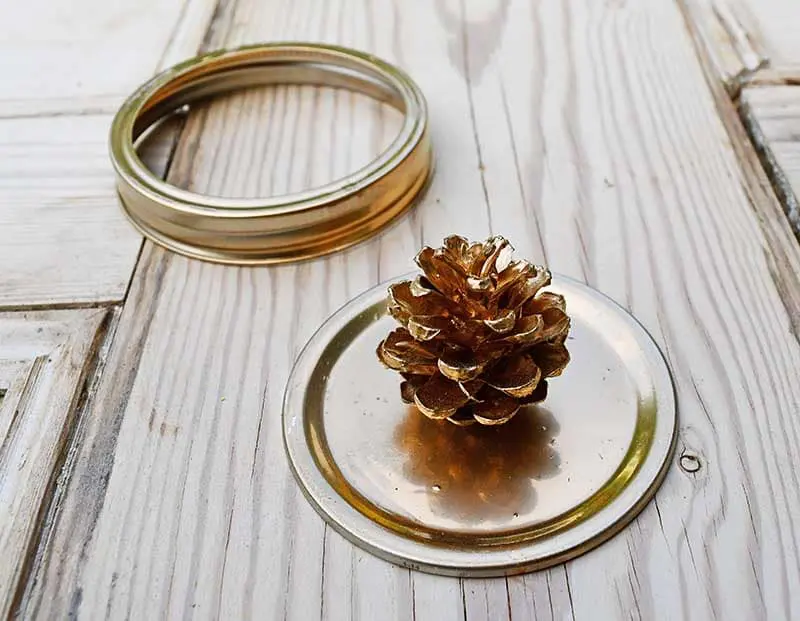 3. Then, gather the vintage pine cone images and print them out. Preferably with a laser printer. If you only have an inkjet printer then you will have to spray the images with a sealant before decoupage otherwise the ink may smudge. Cut out the individual pinecone images.
There are more botanical pinecone drawings and illustrations available to print for free on Pictureboxblue.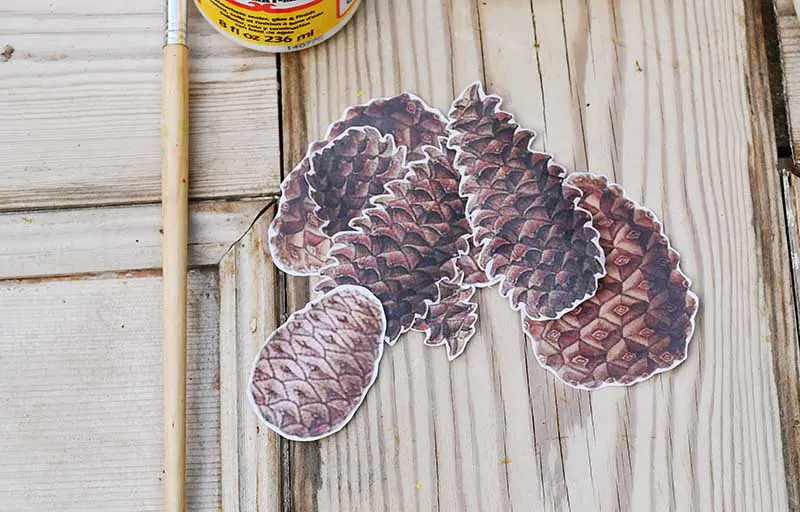 4. Next, using Mod Podge or another suitable decoupage glue, stick the cutout pine cones to the jars. I stuck about 4 small pine cone images to each jar in a sort of random fashion. Finally, apply a coat of decoupage glue on top of the images to seal them.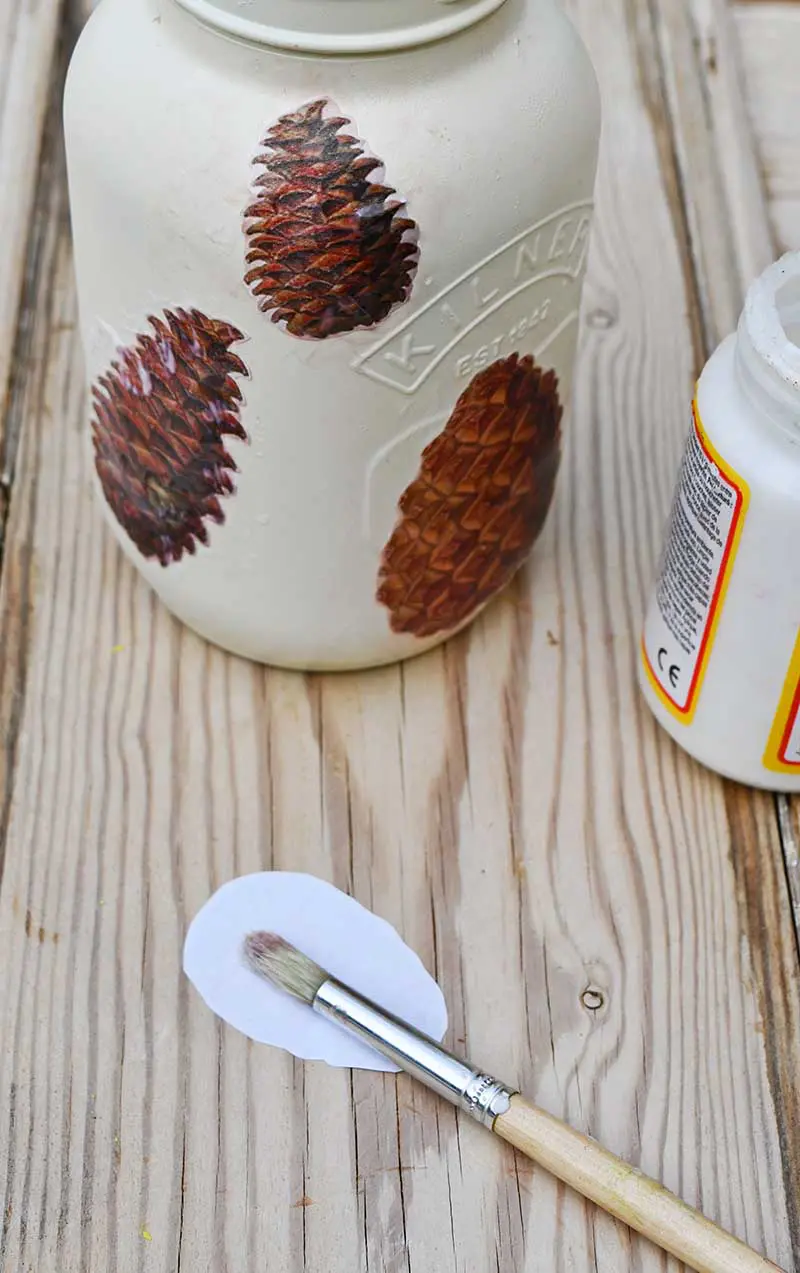 5. All that is left to do now is to put the pine cone lids on. I think that these pinecone Mason jars make for a fun fall/autumn decoration.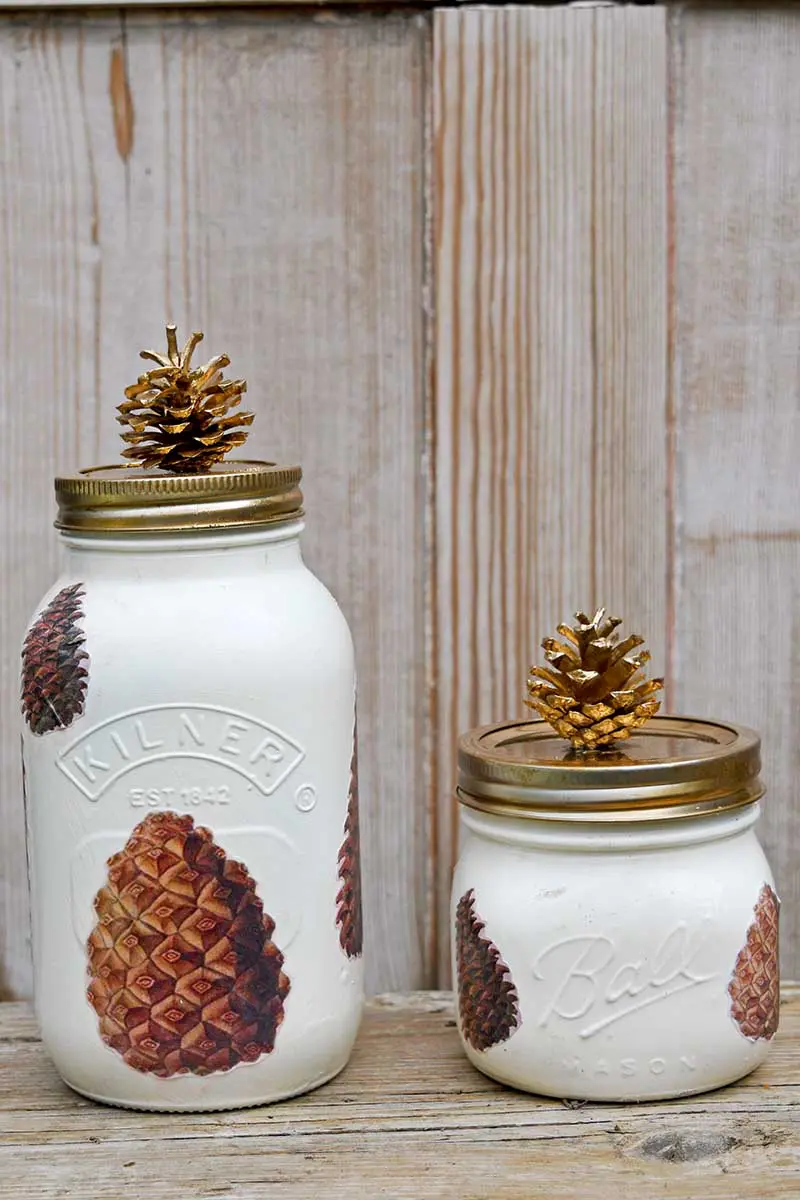 Even though we often associate pinecones with fall, they are available all year round. I've crafted with pinecones in other seasons. For Valentine's, I made a beautiful pinecone flower heart decoration.
For Christmas, I have made some cute pine cone tile decorations and the sweetest mini pine cone Christmas tree.
Don't forget to check out my other Mason jar crafts, map mason jar bank, and cool unique table lamp.
Or if you like acorns then you may want to check out these acorn wreaths and garlands.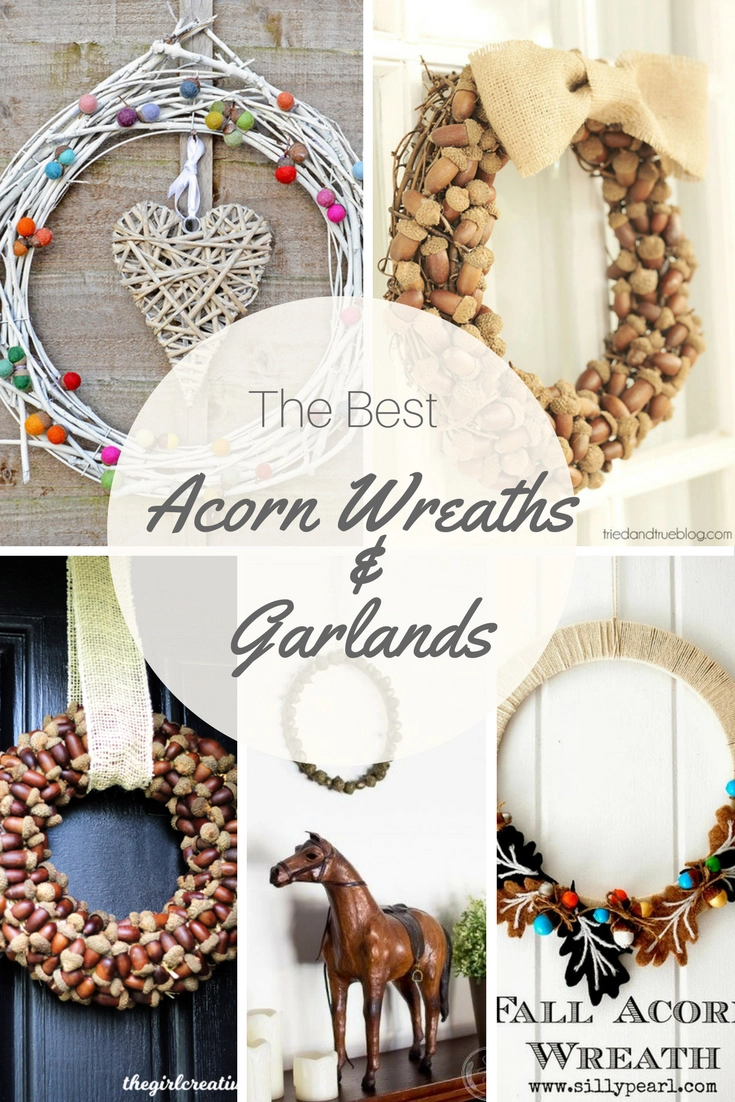 If you are looking for more fall crafts, check out allfreeholidaycrafts.com