A few months ago, whilst making some pine cone fall mason jars, I noticed that if you cut the top off pine cones, they look like flowers. That is where I got the idea for this gorgeous Valentine's pine cone flower decoration.
Even though pine cones can be cut to look like flowers, the colour isn't great. I'm not a fan of brown flowers! To pimp the pinecones for Valentine's decoration, I first bleached them and then painted the pine cones a riot of reds, purples and pinks. The colours you usually associate with love!
To show off these beautiful pine cones, they were arranged in a heart shape and glued onto the card so they could be displayed in a frame.
This gorgeous pine cone flower heart doesn't have to be for Valentine's. Why not be like the Scandis, and decorate with hearts all year round?
This pine cone flower heart will go well with the painted wood slice rustic heart I also made for Valentine's day.
We're a participant in the Amazon Services LLC Associates Program, an affiliate advertising program designed to provide a means for us to earn fees by linking to Amazon.com and affiliated sites. As an Amazon Associate, I earn from qualifying purchases.
What You Need To Make Pine Cone Flowers
Pine cones, smaller ones, are better. If you can only get hold of big ones, don't worry. You'll end up with a bigger heart. You'll need 15-18 pine cones, depending on their size.
Bleach to lighten the pinecones, making them easier to paint. Regular household bleach works well.
Acrylic paints in an assortment of pinks and reds—also a little yellow paint for the centre stamens of the pinecone flower.
IKEA RIBBA 23cm shadow box frame
Gorilla Glue Clear . This was the best glue for sticking the pinecones to the cardboard backing. It's crystal clear, and as the adhesive doesn't set straight away, you have time to fiddle with the flower heart arrangement before it sets.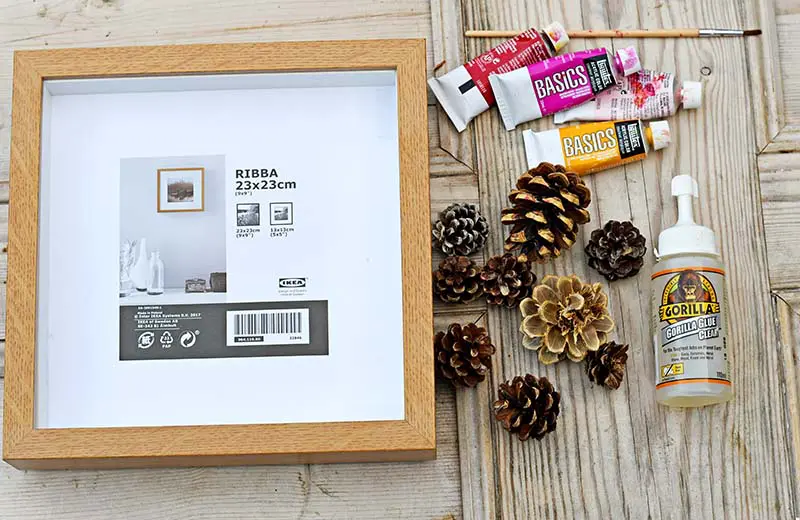 How To Make A Pine Cone Flower
Step 1: The first thing to do is bleach the pine cones. Place them in a large jar with a 50/50 bleach water solution for a few hours. The pine cones will close, but don't worry. They will open up again once taken out and dried. Bleaching the cones will not make them white it will just lighten them a few shades.
Step 2: Take them out of the bleach and leave them overnight to dry. Once dry, using the secateurs, cut down the pine cones by removing the top two rows of pine cone petals.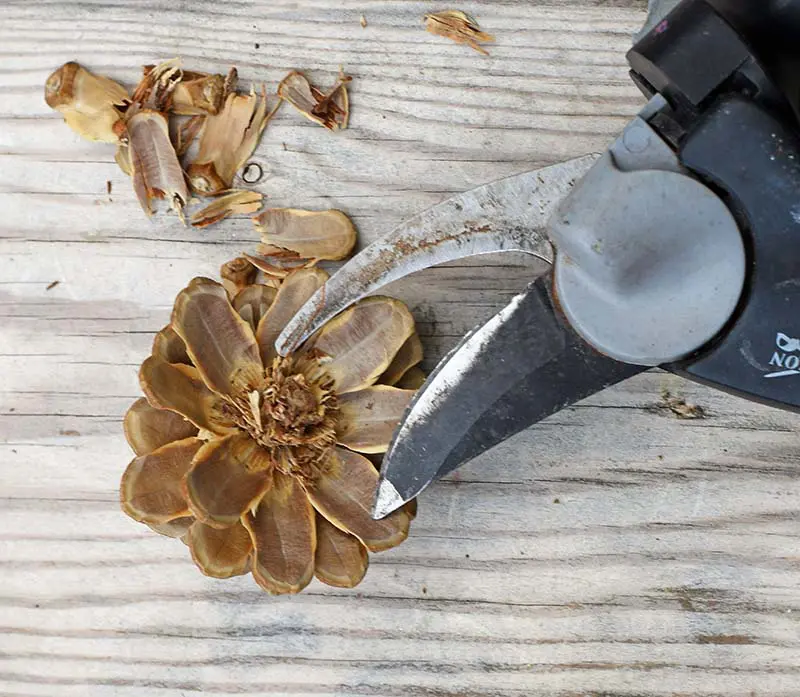 Step 3: They are now ready to paint. Paint the petals with a variety of pinks, purples, and reds. On the edge of the pine cone, petals paint a lighter shade of pink to achieve a variegated effect. Paint the centre of the pine cones yellow or pink, so they look like stamen.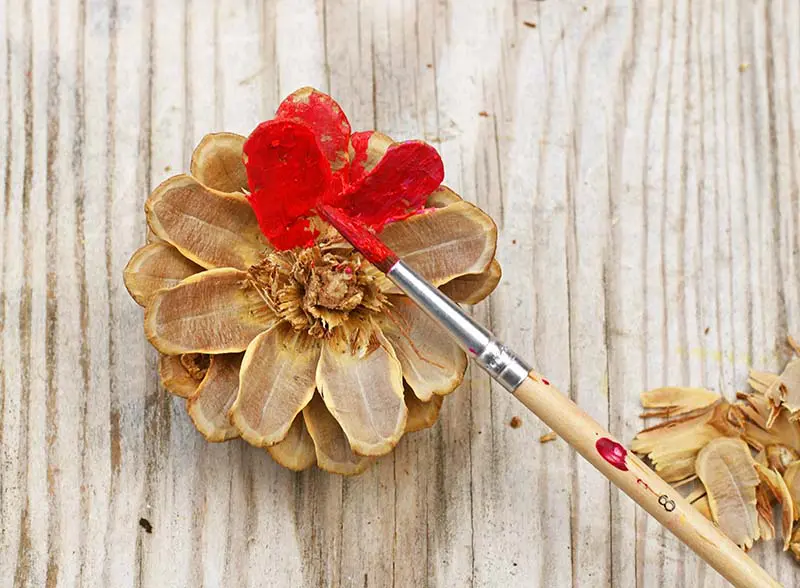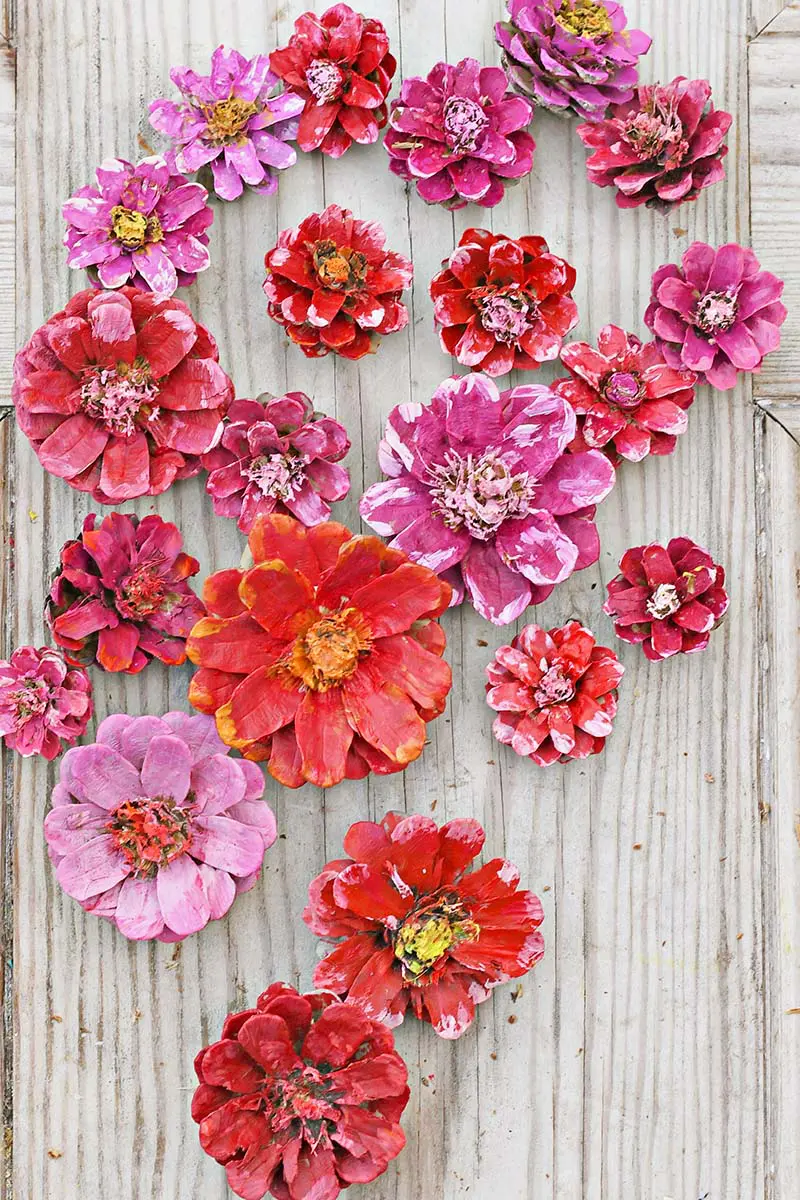 Making The Flower Heart
Step 4: First, spray paint the shadow box frame with pink chalk paint.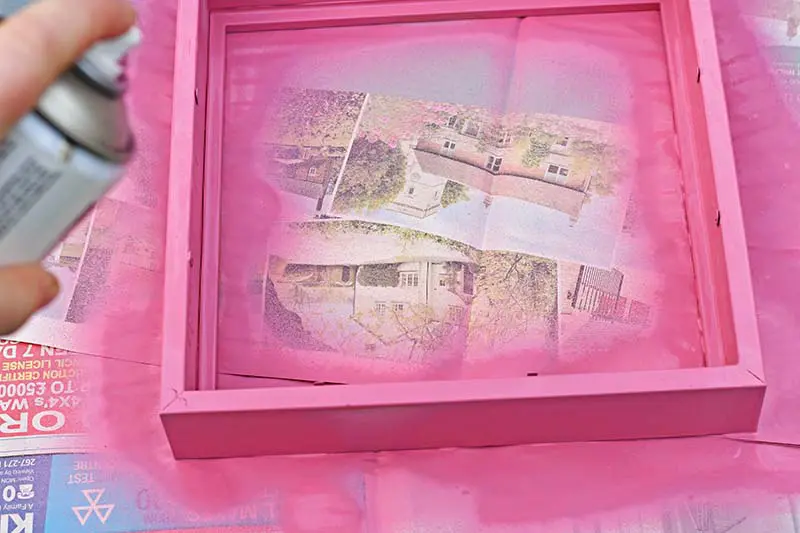 Step 5: Paint a pink heart on the cardboard mount. Use the same paints that you used for the pinecone flowers. The heart should be the size of the pine cone flower decoration.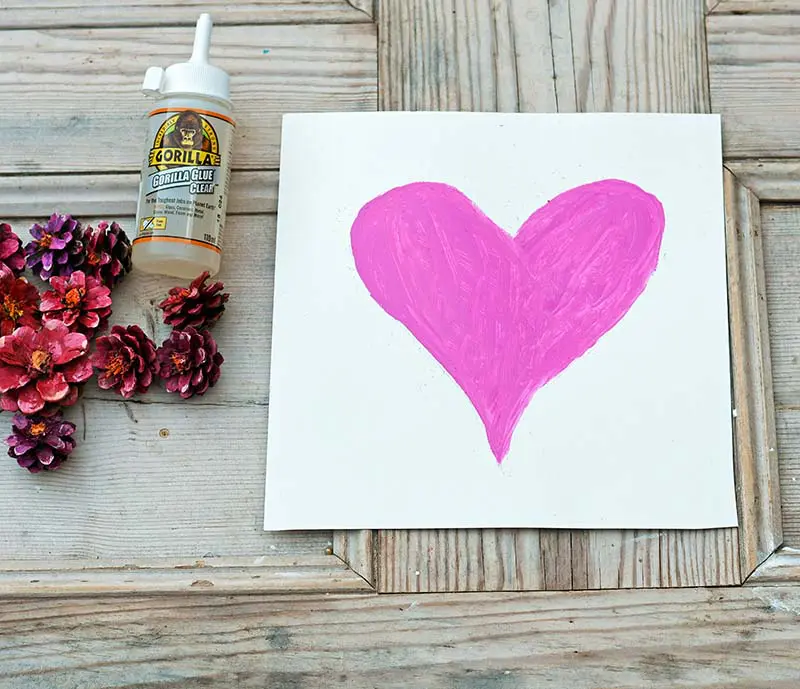 Step 6: Once the paint on the pine cones has dried, arrange them in a heart shape.
Step 7: Next, glue the pine cones to the painted heart background one by one using the Gorilla Glue Clear. As both the cardboard and pine cone bottoms are porous, there is no need to wet them before glueing. Just squeeze a small amount of the glue onto the base of the pine cones before sticking them on the pink heart.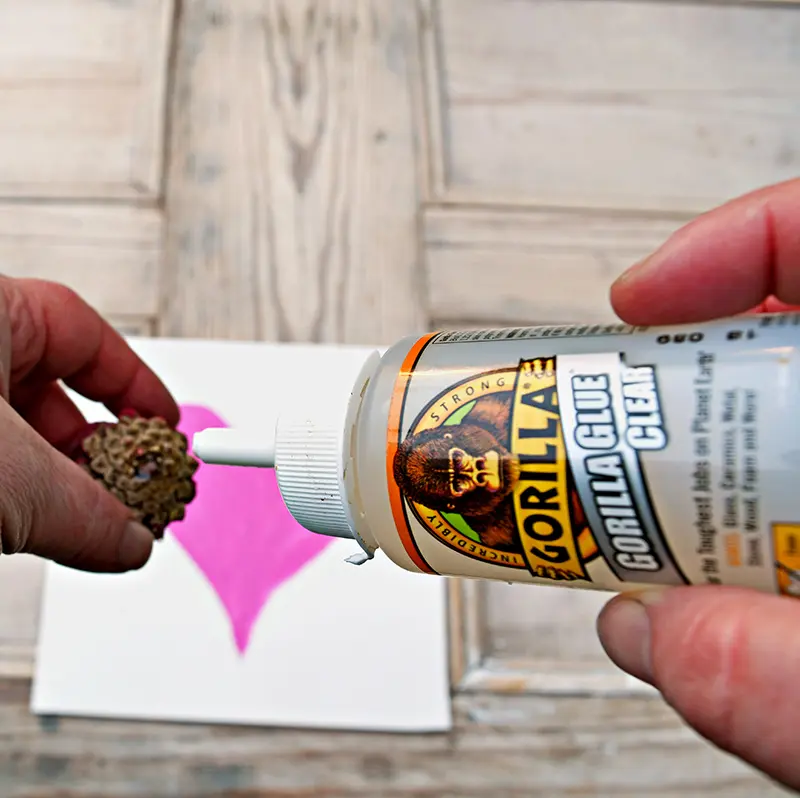 Step 8: Carry adding glue to the pine cones' base until the whole pink heart is covered.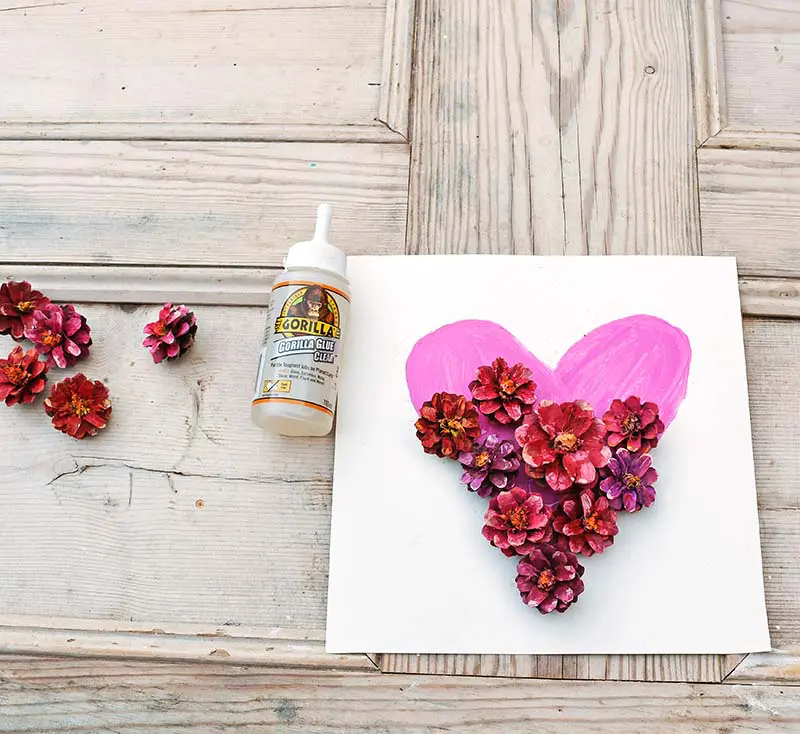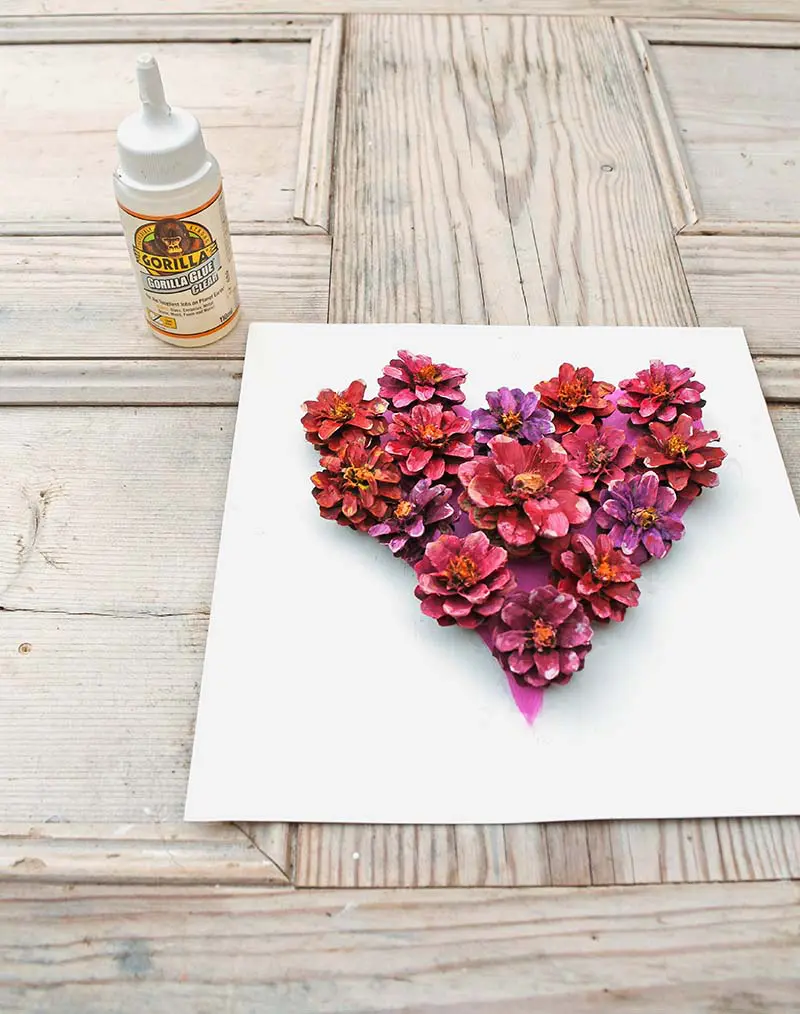 Step 9: Once you are happy with the arrangement of pine cone flowers, place a heavy object, such as a book, on top of them. This will weigh them down as the glue sets. Leave the arrangement for at least 2 hours before removing the book.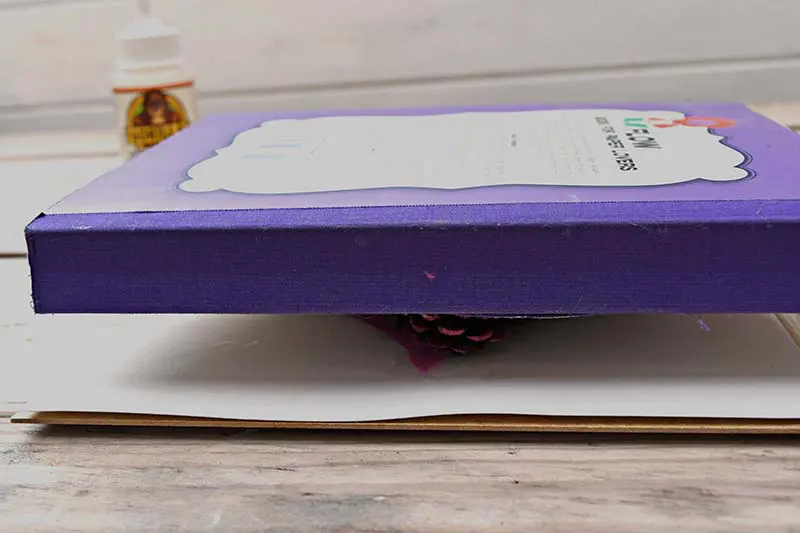 Step 10: Place the mounted pine cone flower heart in the shadow box frame.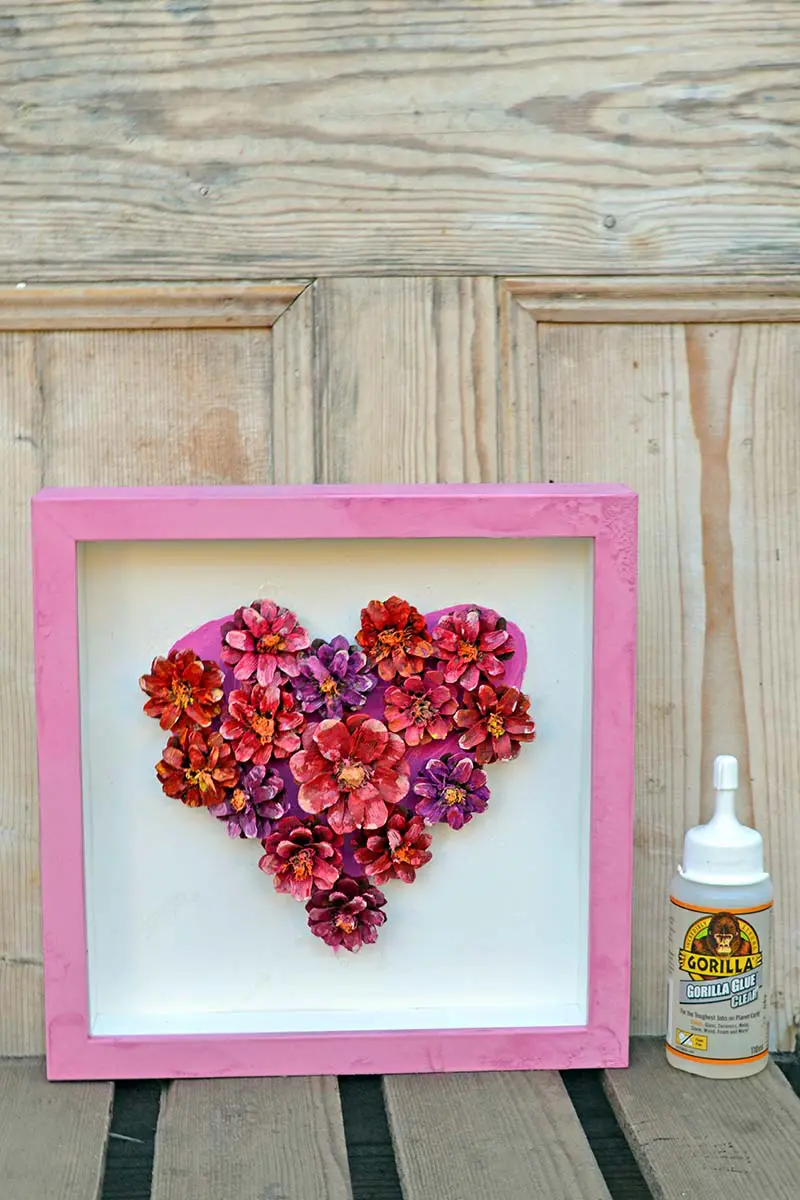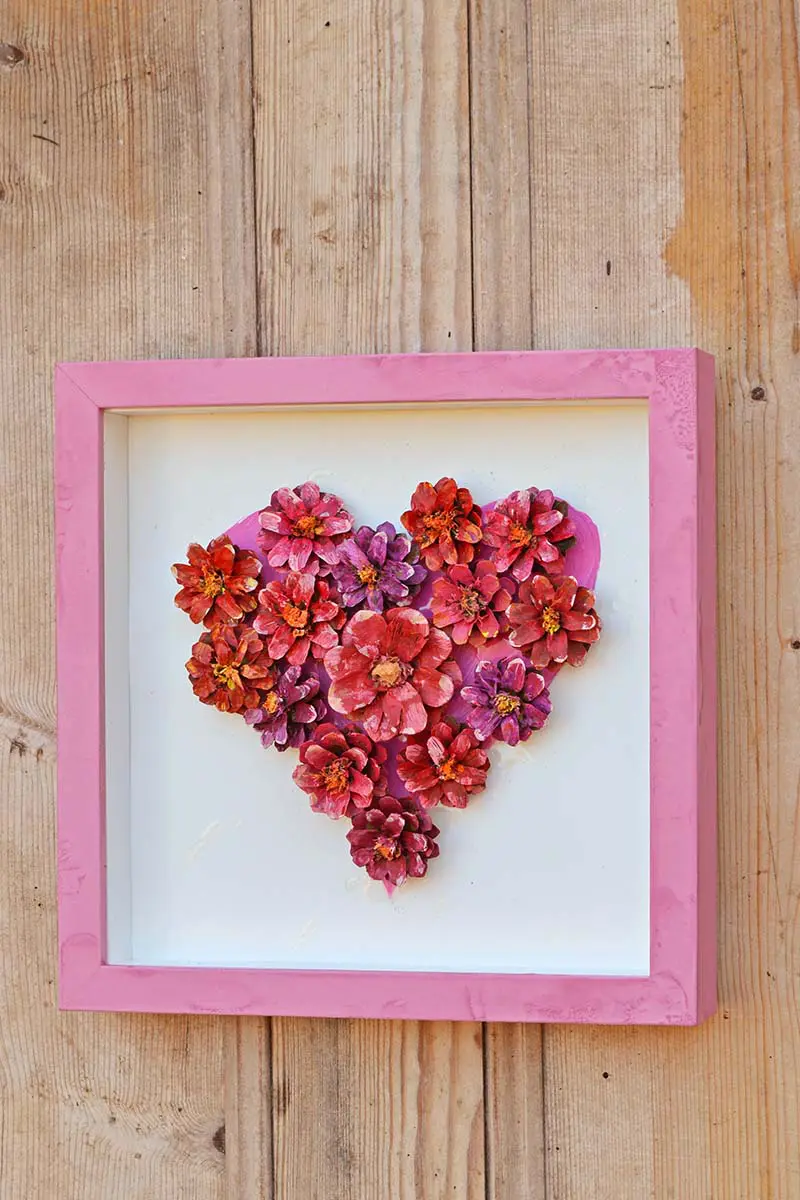 The pine cone flower heart can either be hung on the wall. Or, as the box frame stands up on its own, you can place it on a shelf or mantle.
I've made another Valentine's craft for my mantle, which also uses natural elements, with these embroidered hearts. Or if you fancy a wall hanging, check out these watercolour paper Mache hearts.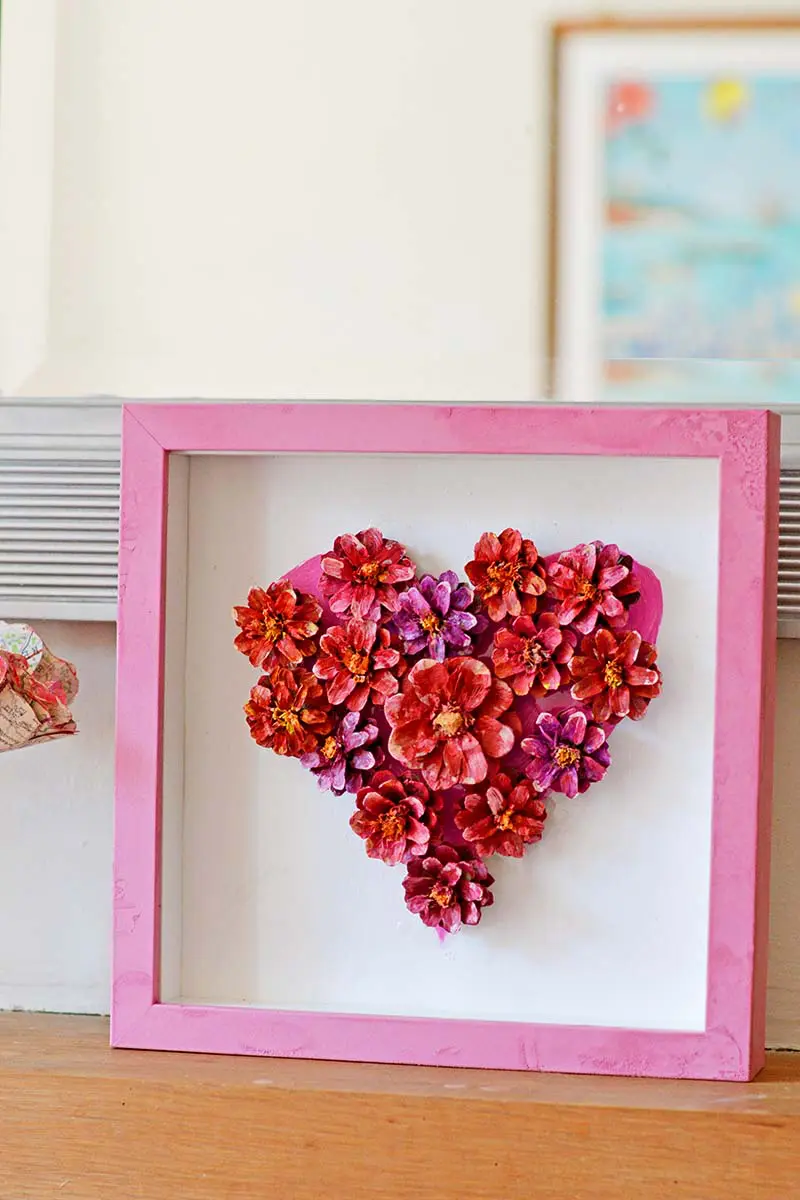 If you liked this post, you might want to check out other ways to paint pine cones and these pine cone craft ideas.
Please pin this pine cone flower craft.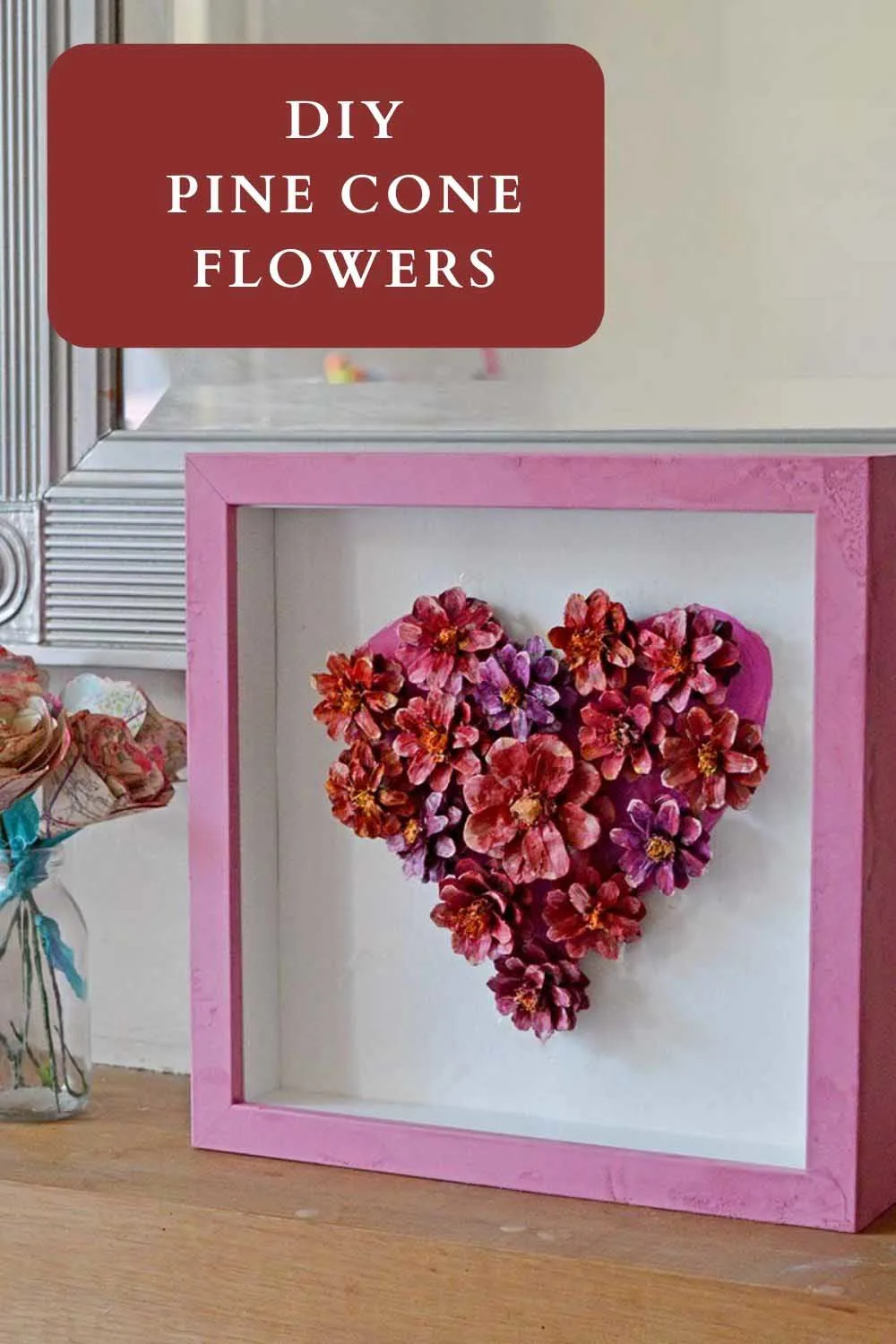 For more Valentine's crafts, visit favecrafts.com