Why Pineapple crafts? To me, the pineapple is the king of fruit. Mangoes and passion fruit may be slightly tastier but they just don't look as good.
I hate to admit it, but I'm easily seduced by great-looking packaging. As far as fruit go, the pineapple wins hands down in the looks department.
Did you know that in some cultures the Pineapple is a welcome symbol? I don't know why but every time I see a pineapple, it makes me smile.
This combined with their funky looks makes pineapples a simple way to bring a bit of fun into your home decor. They also taste great.
If you are looking for some wonderful vintage pineapple drawings you will find a collection of free ones here.
Fun and Unique Pineapple Crafts Ideas You'll Love
These are some of the best fun and cool pineapple crafts on the internet.


We are a participant in the Amazon Services LLC Associates Program, an affiliate advertising program designed to provide a means for us to earn fees by linking to Amazon.com and affiliated sites. As an Amazon Associate, I earn from qualifying purchases.
The Pineapple Crafts
These are so simple but would look great at any party or would even make a great way to wrap a small gift.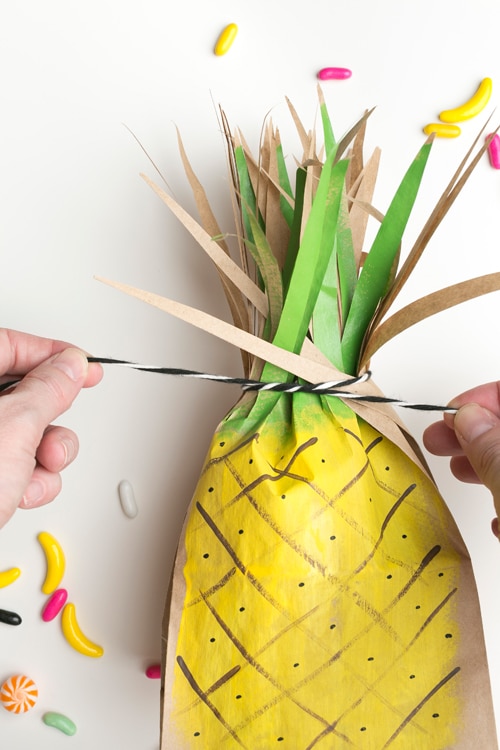 I want one of these to wear with my summer dress on the beach.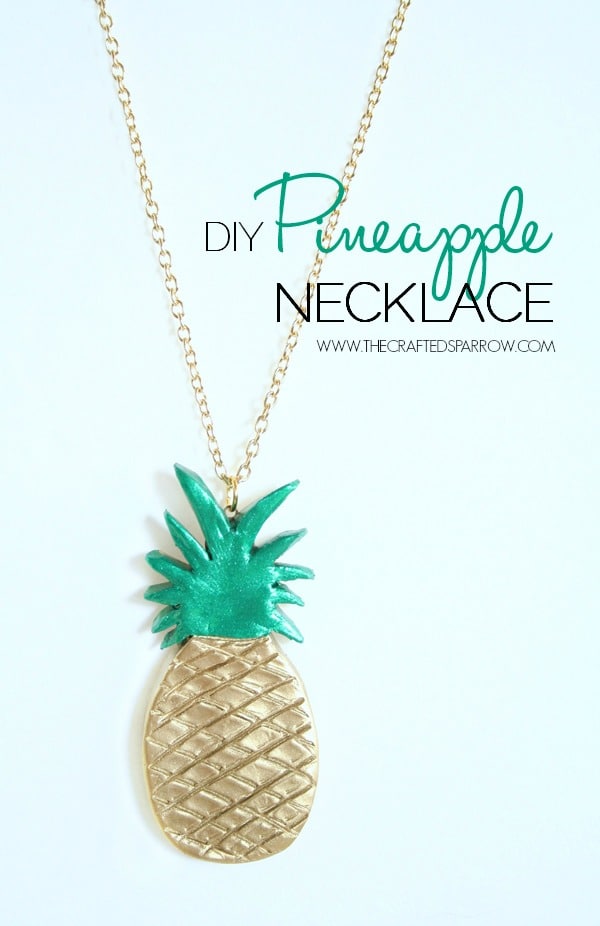 3. Pineapple Crochet Bunting – byhandlondon
Now that's what I call cool bunting, so summery! Free crochet pattern.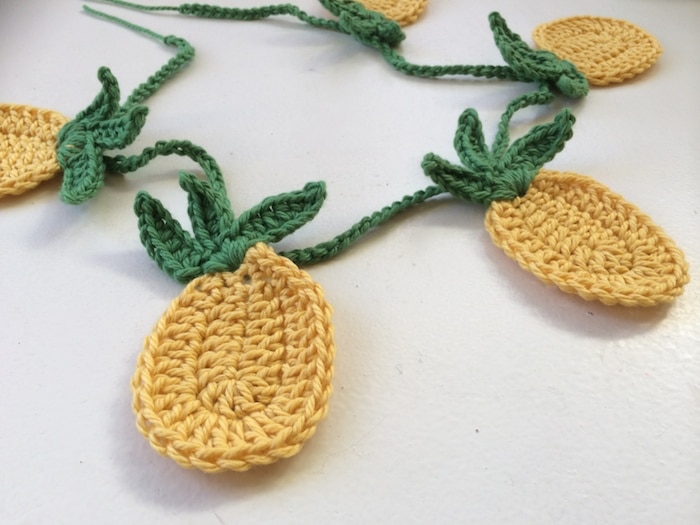 4. Pineapple Stenciled Console Table – Pillarboxblue
I had such fun giving my console table a shabby glam look with some gold pineapple stencils. The crushed can DIY planters on the top also look a bit like little pineapples too!
Stencils aren't just for furniture, you can stencil a t-shirt and wear your pineapple craft.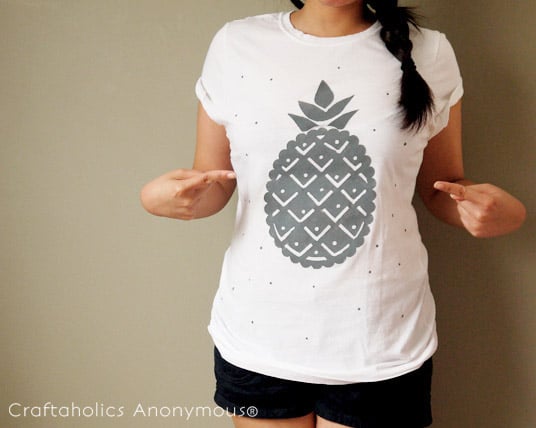 This is so awesomely clever, it's made from plastic spoons.

7. DIY Pineapple Planter – Linesacross
Plant a succulent in this cleverly painted planter and it looks like a pineapple.

I love a good mason jar craft and this one is fun!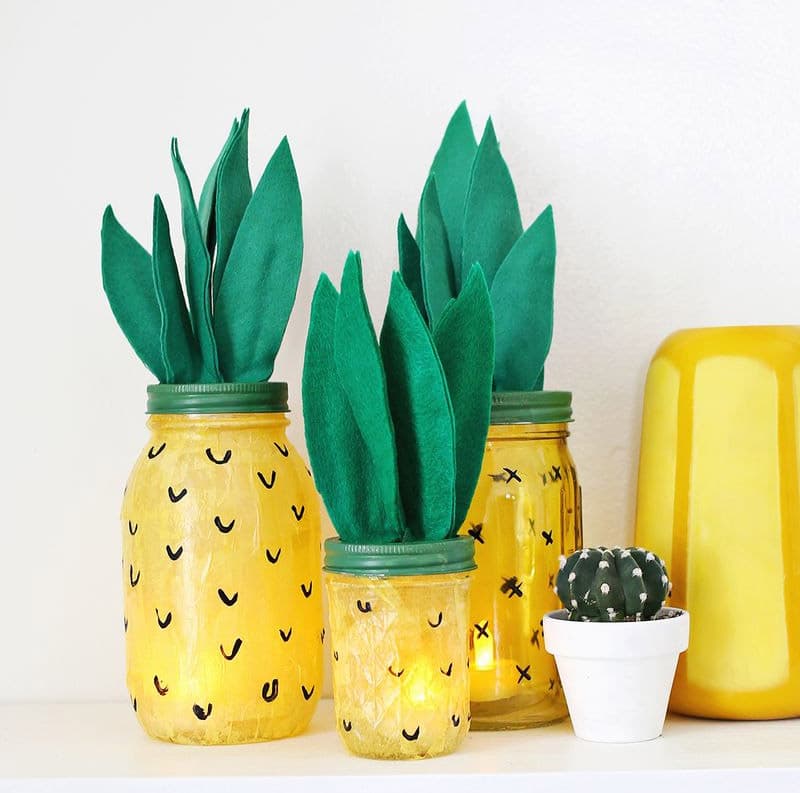 9. Pineapple Pinata – studiodiy
Great fun for a party!

10. Pineapple Key Ring – mypoppet
A fun beaded craft for the kids, they would also make a sweet little present.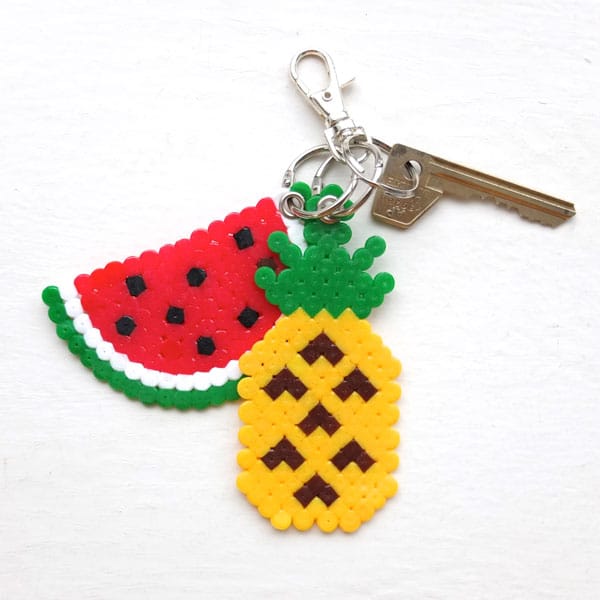 11. Geometric Painted Pineapple Wall art – MadeinaDay
This is such a clever upcycle the colours are gorgeous.


12. Paracord Pineapple Key Chain – Swiss-Paracord
This is such a cute key chain. Again a great homemade gift idea, I can see my scouts making one of these. Full instructions provided.

Another fun mason jar craft, that would make a great gift.


A fun home decoration idea.

15. Cute Pineapple Gift Boxes – Persialou
Free template to print off and make some fun Pineapple gift boxes.


16. DIY Air Plant Holders – Smallfriendly
These tiny air plant holders are super cute.

These are a free printable. Great for any gift.

18. Free Pineapple Printable – Livelaughrowe
Another free printable, this one for your home. I'm definitely going to be printing this gorgeous pineapple illustration out.
19. Pineapple Door Mat – lydioutloud
I said pineapples are a welcome symbol, therefore perfect for a doormat.

20. Driftwood Pineapple Art – Madeinaday
This driftwood pineapple is gorgeous.

21. Pineapple Cushions – Youmademyday
I'd love some of these on my sofa!

22. Drippy Gold Pineapple Clock – Twopurplecouches
This is a very clever upcycle. Who doesn't want a pineapple clock in their kitchen?


These tissue paper pom-pom pineapples would make an adorable party decoration.

24. Cute Pineapple Zipper Pouch – Flamingotoes
This is a lovely little pouch from one of my favourite blogs. The smiley face gives the pineapple character.

This has to be one of the most creative uses of a pinecone. Such a simple idea, pinecones really do look like pineapples. Especially when they are painted yellow.

This paper pineapple wall decoration is such a fun summer decoration and would be great for a party.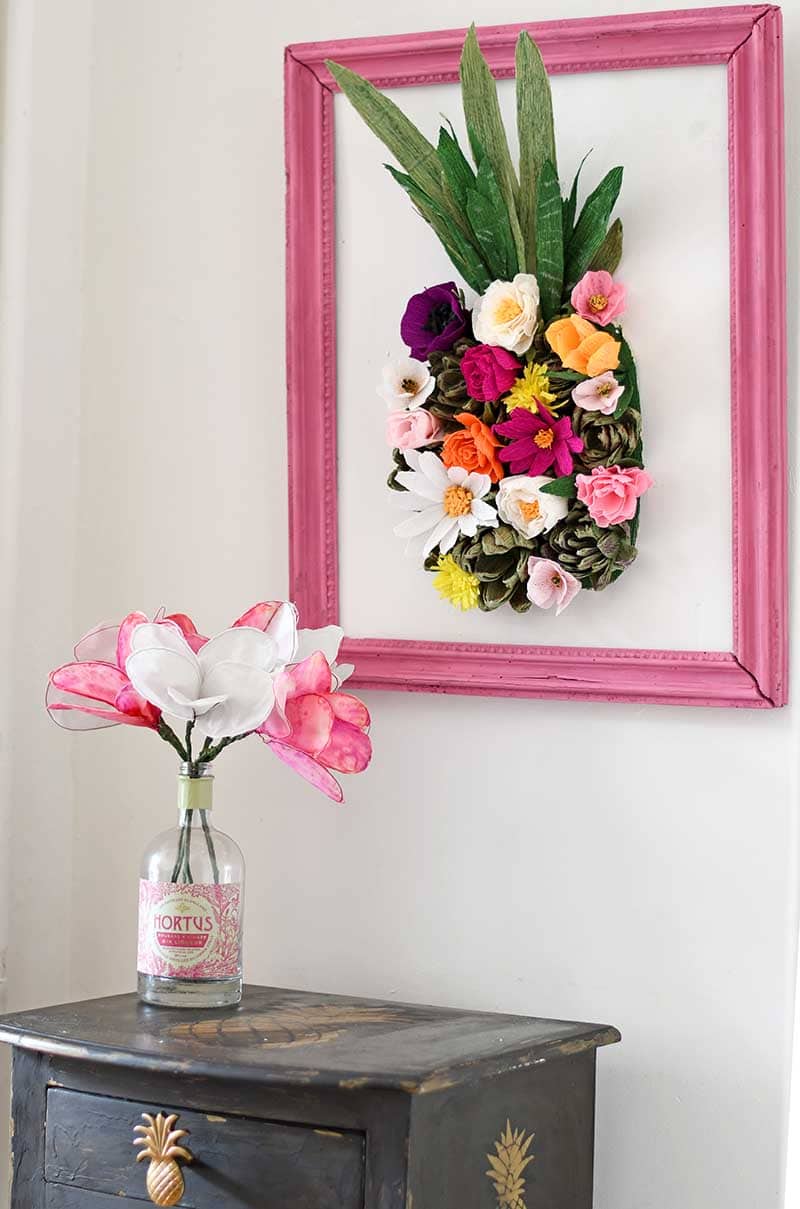 These crochet mason jar covers are so cute! What a wonderful combination of Mason jars and pineapples.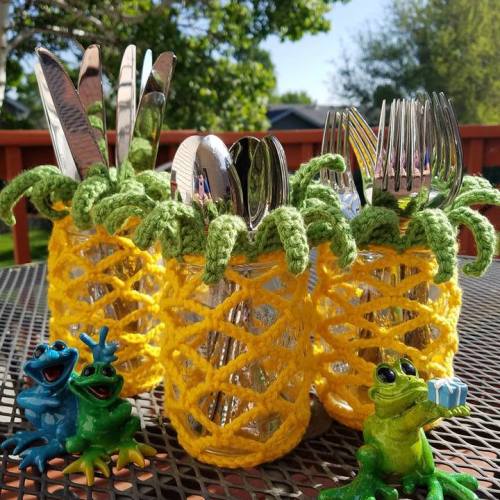 28. DIY Pineapple IKEA Cake Stand – Pillarboxblue
Combine a cheap IKEA glass plate and candlestick holders with some pineapple themed paper napkins, to make the cutest cake stand.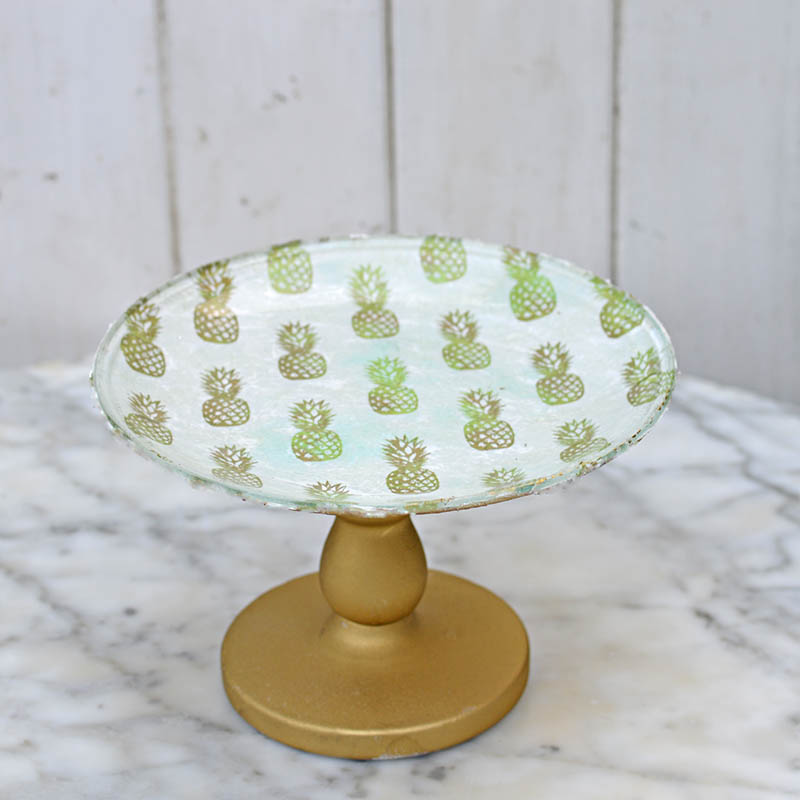 If you liked these pineapple themed crafts, then you might also want to check out these fantastic coffee crafts and DIYs.