Inside: 54 of the best pineapple crafts you will want to try. Everyone has something here, from small paper crafts to large stencilled tables.
Why Pineapple crafts? To me, the pineapple is the king of fruit. Mangoes and passion fruit may be slightly tastier, but they don't look as good.
I'm easily seduced by great-looking packaging, and as far as fruit go, the pineapple wins hands down in the looks department.
Did you know that in some cultures, Pineapples are a welcome symbol? Every time I see a pineapple, it makes me smile.
This, combined with their funky looks, makes pineapples a simple way to bring a bit of fun into your home decor. They also taste great.
Fun Pineapple Facts
Did you know that pineapples can regenerate? You can grow a new pineapple plant by just planting the leaves. If you slice off the top of a pineapple and plant it in the soil, it will grow.
However, only one pineapple can be grown by one plant in a season.
The life span of a Pineapple plant is about 50 years. So one pineapple plant will only grow about 50 pineapples in its lifetime.
As well as being a welcome sign, a pineapple means "You are perfect" when presented to someone.
Pineapples have beautiful flowers. The plant's flowers vary from lavender to bright red, producing berries that fuse around the fruit's core. Pineapples are giant berries.
They were called pineapples by Europeans due to their resemblance to pinecones.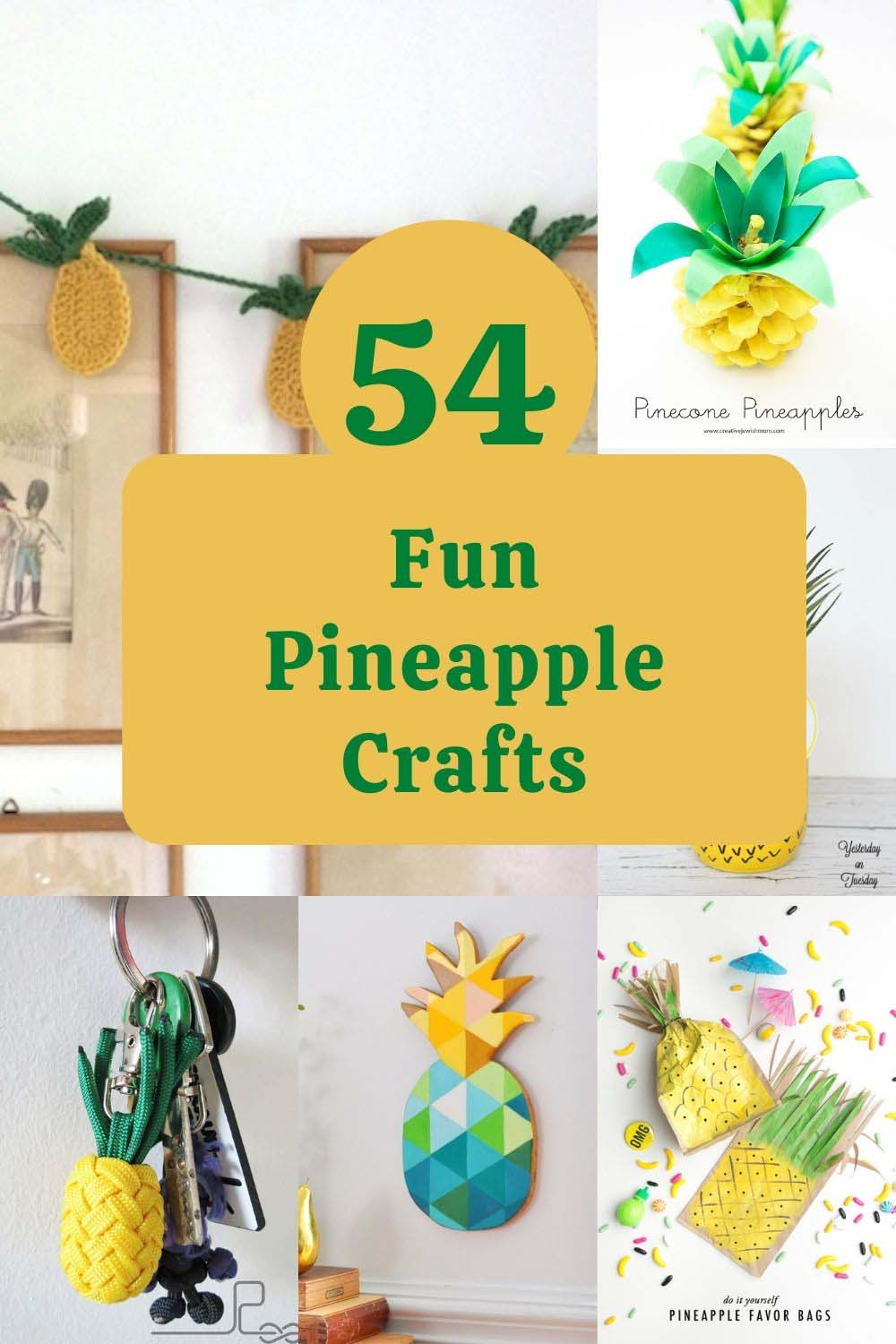 54 Pineapple Craft Ideas You'll Love
These are some of the best fun and cool pineapple crafts on the internet. Covering many different types of crafts to try all with a pineapple theme.
I have a fun little pineapple corner in my home. The crushed planters sit on the pineapple console table, and the pineapple flower decoration hangs on the wall above it. It is a happy, bright corner that does make my guests smile.

If you liked these easy pineapple crafts for adults, you might also want to check out these fantastic coffee crafts and DIYs. Or even these cool cacti and craft ideas, adult butterfly crafts and these faux succulents DIYs.