How to Make Delightful Denim Hearts from Old Jeans
Denim Hearts: I'm not sure when it all started but you might have noticed I am a bit obsessed with upcycling old jeans. I can't resist making things in denim, it is definitely my favourite fabric to repurpose.
I made upcycled denim eggs last Easter and did a very popular round-up of denim Christmas decorations. So I thought why not do something in denim for Valentine's, and you can't get more Valentine's than a heart. These rustic denim decorations don't just have to be for Valentine's, I think they will look great all year round.
I couldn't decide which way to go so I have made not one but 2 different kinds of denim hearts. One's a denim heart wreath to hang on your door and the other is a cute little padded denim heart keyring for your door keys. The little denim hearts also look great hanging together as a sweet decorative garland.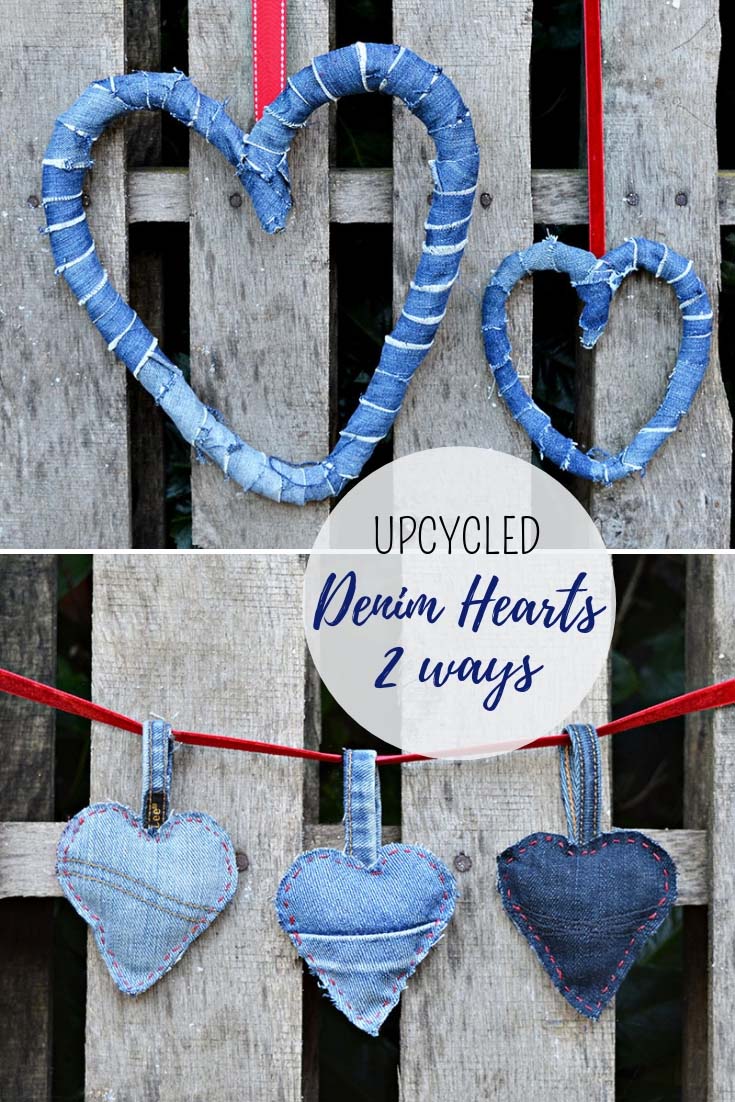 This post contains Amazon affiliate links for your convenience. Click here to see my disclosure policy.
Denim Hearts 1: The upcycled denim Wreath
All you need to make these denim heart wreaths are:
An old wire coat hanger, or just some old wire.
Strips of denim cut from your old jeans.
Fabric Mod Podge or other white glue such as PVA.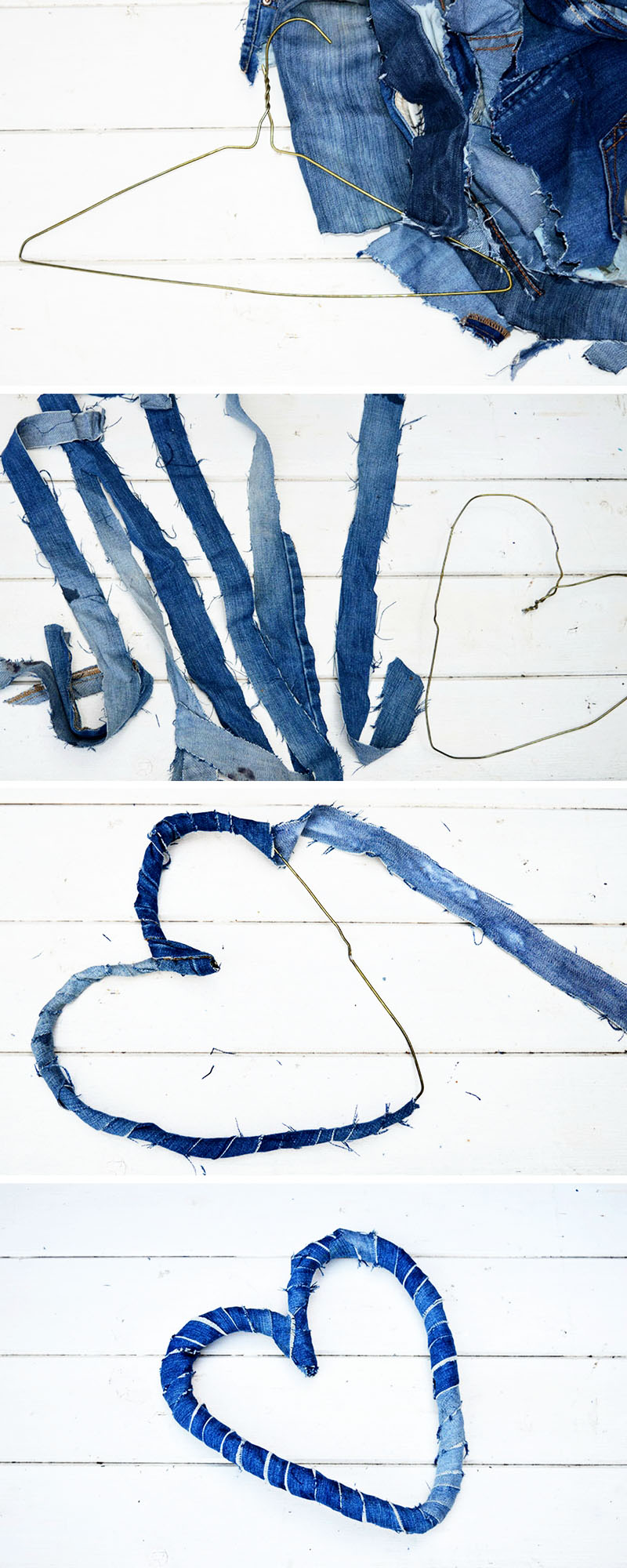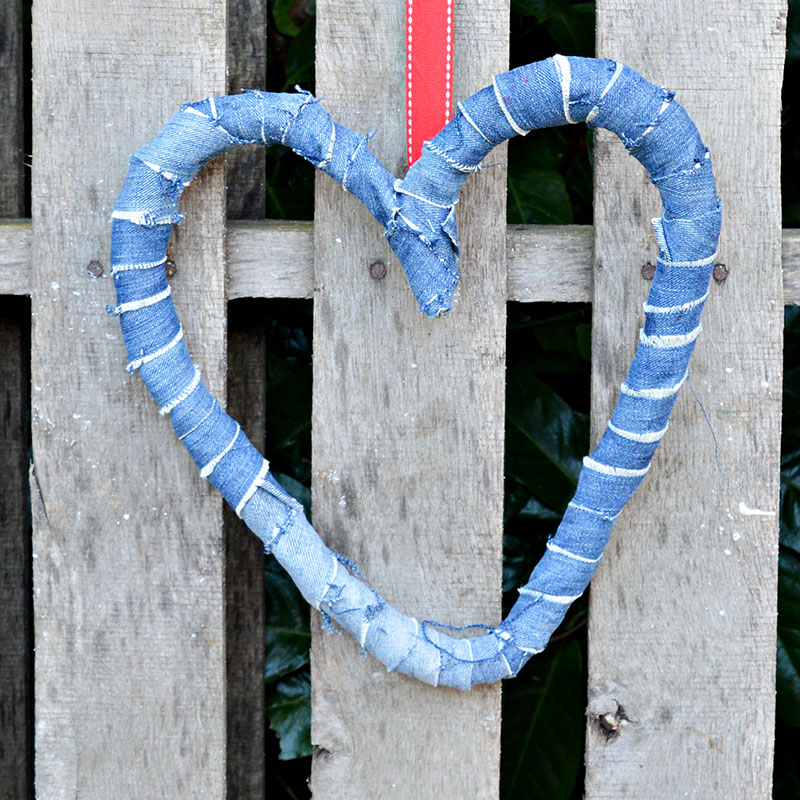 Using some pliers bend your wire coat hanger into a heart shape.
Cut your denim into strips about 1 -2 inches wide.
Fray the edges of your denim strips slightly by pulling out the loose threads.
Paste the wrong sides of the denim strips with glue and wrap them around the wire overlapping as you go.
Carry on wrapping the denim until the whole heart is covered. Then go around at least twice more.
Hang from a red ribbon for a more Valentine's look.
I actually made 2 of these denim hearts a big one and a little one and hung them together.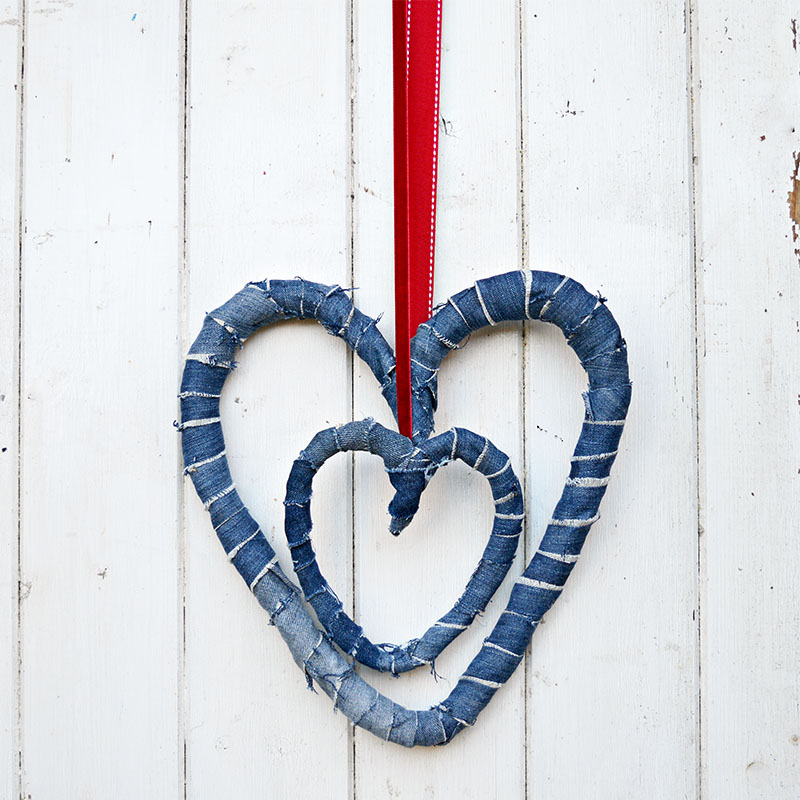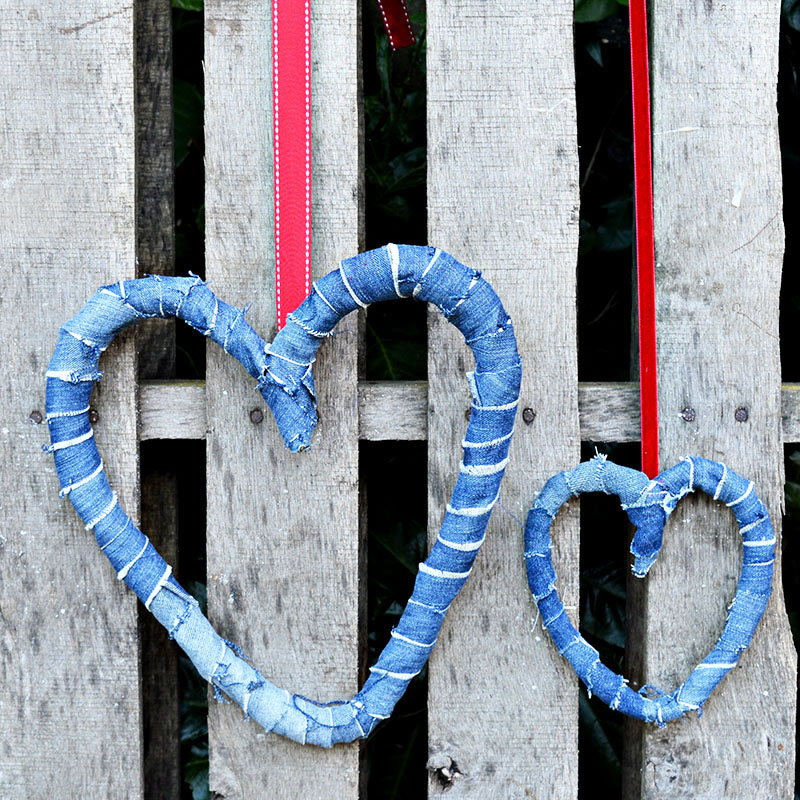 The Small Padded Denim hearts (keyrings)
These little hearts are great as they use up all those odd scrap pieces of old denim. They are so simple to make are handsewn and can be used as a decoration or given as a keyring.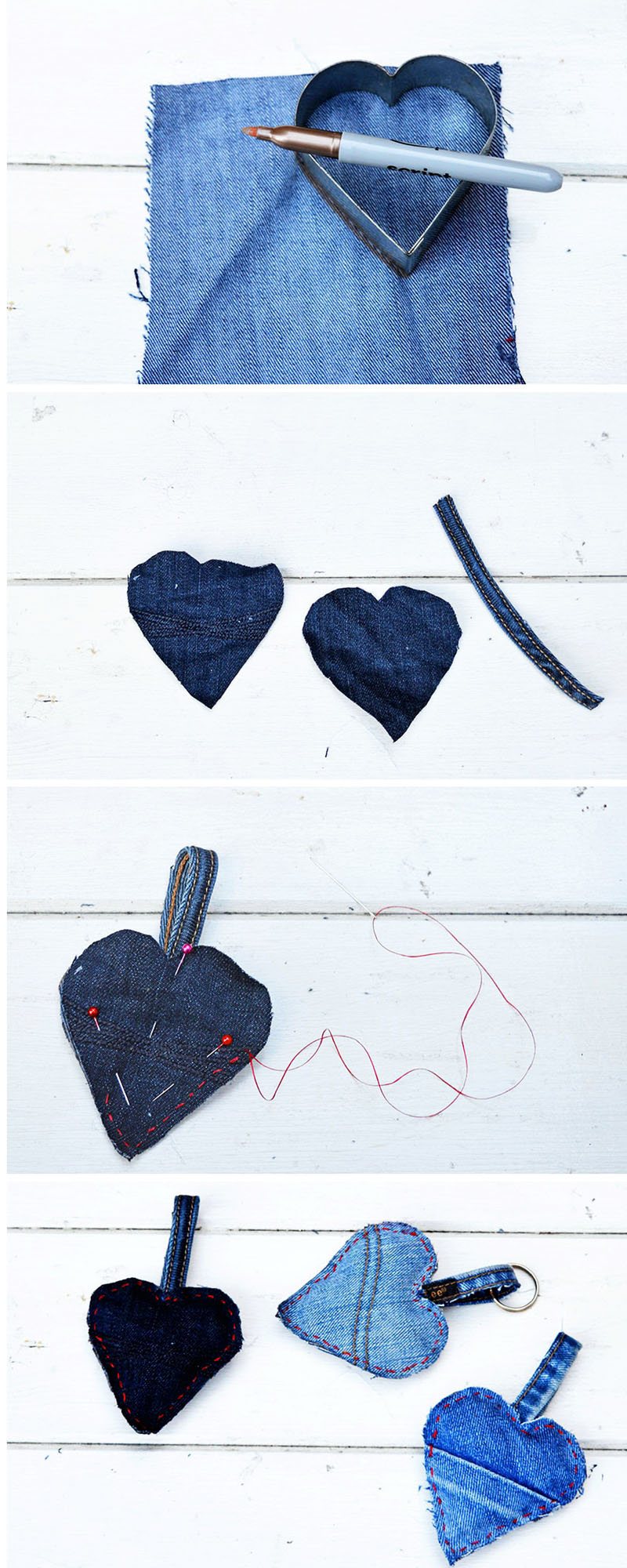 I used a heart-shaped cookie cutter as a template to draw around.
I cut out 2 heart shapes from the denim scraps.
Cut out a length of seam or hem from you jeans approximately 3-4 inches long to make a loop.
Pin your denim heart shapes wrong sides together with the denim loop.
Stitch them together using a simple running stitch, leaving a small gap. I used a red thread to make them more Valentine's like.
Fill your hearts with a small amount of fiber and then stitch to close. Brush the edges of the heart with some fabric mod podge to prevent them fraying.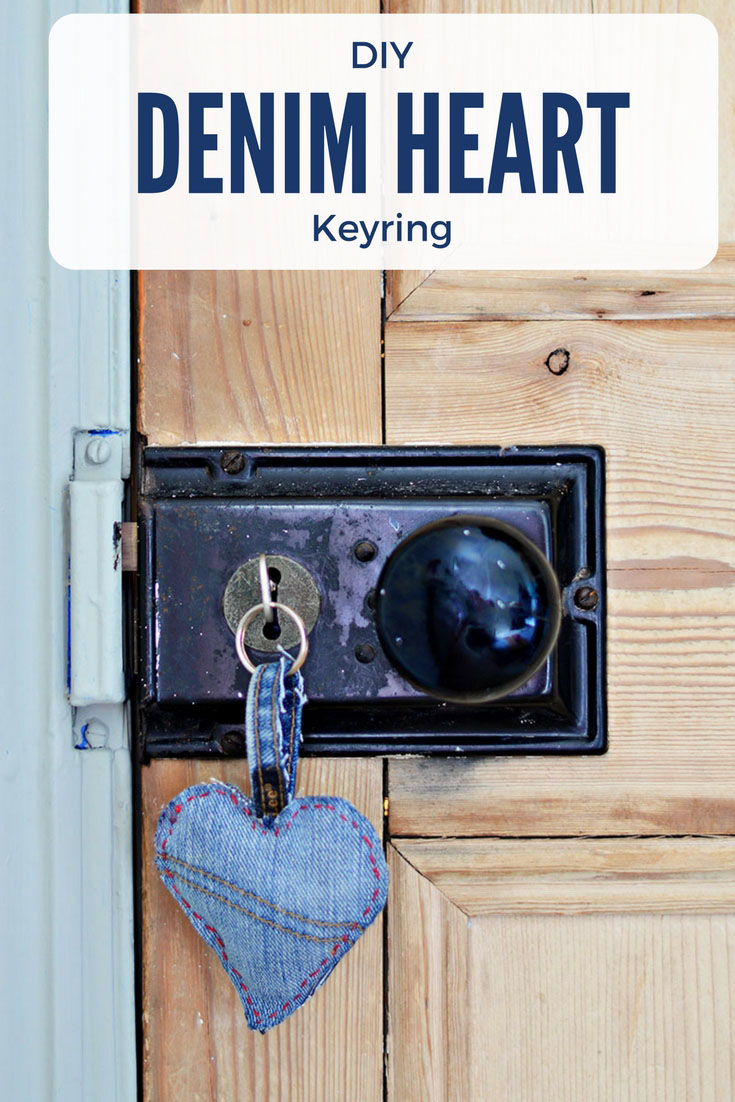 As these padded denim hearts were handsewn, I made a few of them whilst watching telly in the evening with the family. (I don't know why but I find it hard to watch telly unless I'm doing something with my hands.) Which meant that I made enough of them hang them up in a garland as well as use them as a keyring.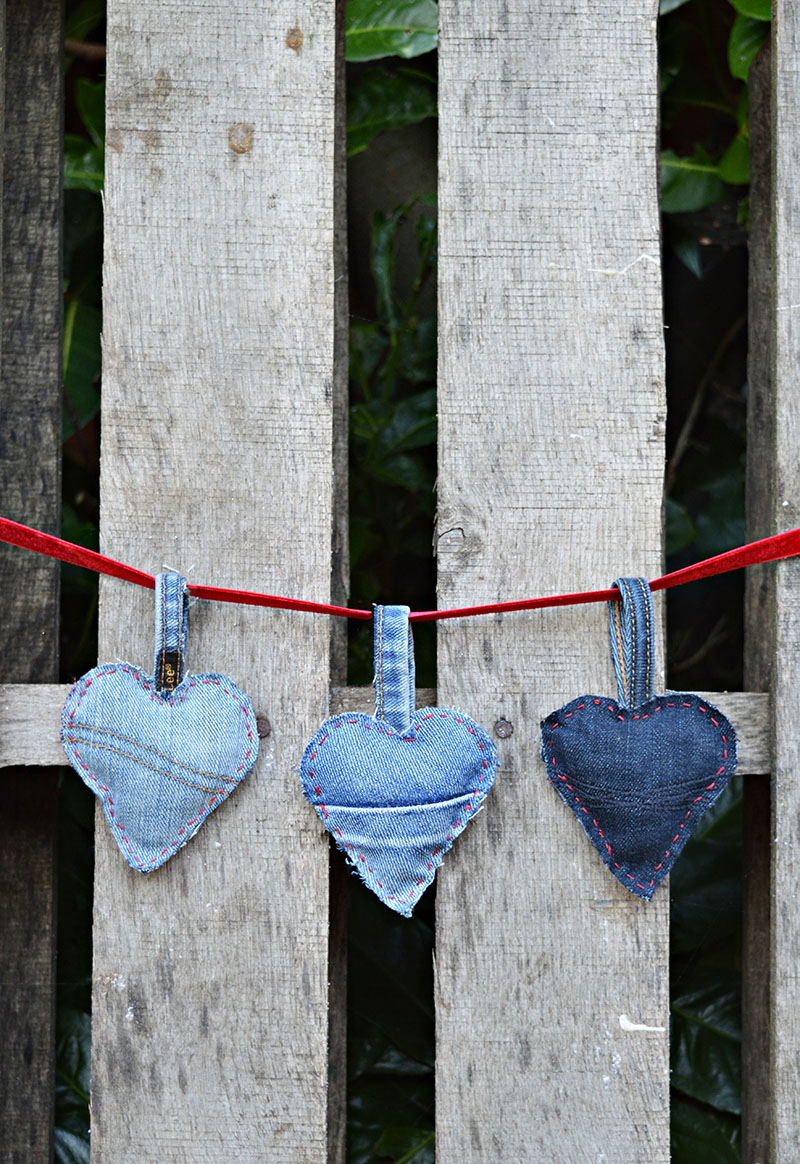 You could always attach one of these denim heart keyrings to a Valentine card for that special someone and write something corny about the key to your heart or perhaps not!