Upcycle Scrap Wood Into a Unique Wall Key Holder
I seem to spend half my life looking for my keys especially my car keys. What I need to do is put them in the same place every time so I know where they are!

That's why I decided to make a fun wall key holder for them. And you know what it works, when I come in I hang my keys up and I don't have to hunt for them anymore!

When I say that this wall key holder is made from junk I'm not exaggerating, it's literally some scraps of wood and rusty nails. My husband thought I'd lost it when I went on the hunt for some rusty nails in the garden for my project.

The houses are supposed to represent the homes on my street, which they kind of look like except we don't have flowery roofs, unfortunately. That's why I stamped our street name on the key rack. I even used a bit of old skirting board (baseboard) from the house.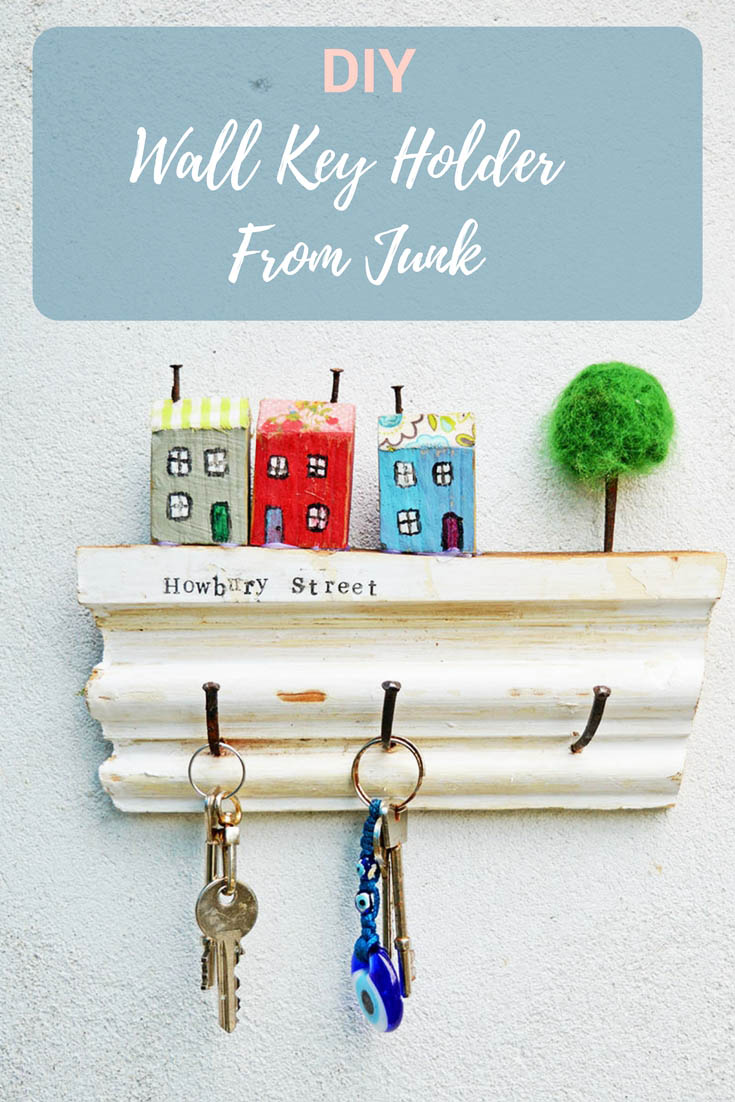 These key holders would make a lovely gift, especially if you stamped the recipients street name on the rack. For my next one, I want to get a bit more ambitious and do one for my old home in Hong Kong with some icon buildings made out of scrap wood.


This post contains Amazon affiliate links for your convenience. Click here to see my disclosure policy.



What you need to make a wooden wall key holder
Scraps of wood, some long thin bits (ie 2″x 1″) and a bit of skirting board (baseboard). Or some other piece of molded wood like architrave.






Rusty nails, small ones for the houses and large ones to use as hooks.
Hacksaw
Acrylic paint in various colours.
Fabric scraps or decorative washi tape
Letter stamp set and a black stamp pad.
How to Make a Wooden Wall Key Holder
Making the cute houses…
First using a hack saw cut scraps of wood into 3 small pieces approximately 2″ high 1″ wide. Using the saw create a pointed roof. Don't worry too much about getting a perfect shape the wonkiness of the houses gives them their charm.






Smooth any jagged edges on the houses with a hand chisel.






Paint each house a different base colour. Stick fabric scraps or decorative washi tape on the pointed roofs.






When the base colour has dried paint white dots for the windows and a coloured door.






After the window and door paint has dried paint black window frames around them.






To finish off the houses hammer a rusty into the roof for a chimney.





Making the felt tree..

There are lots of trees on my street so I wanted a tree on my key holder. To make a tree, firstly I needle felted some green roving wall into a round tree shape.

If you are not familiar with needle felting there are loads of tutorials on the YouTube like this one from Hawthorn Handmade.






Once you have your tree shaped green felted ball simply stick it on top of one of the big rusty nails.




Stamping and making the key holder rack..

I used a piece of skirting board (baseboard) for my key holder but any molded bit of wood would work well. Just saw and shape into a piece about 7″ long and 5″ wide.




To personalise your wooden key rack and make it extra special using a letter stamp kit stamp your street name onto the skirting board base.






Assembling the wall key holder..

Get four large rusty nails hammer on into the top of your stamped key rack this is for the tree. The other 3 nails hammer into the front of the rack equal distance apart. Bend the nails with the hammer so that they form a hook.






Finally the last thing to do is to glue the wooden houses onto the rack using a hot glue gun.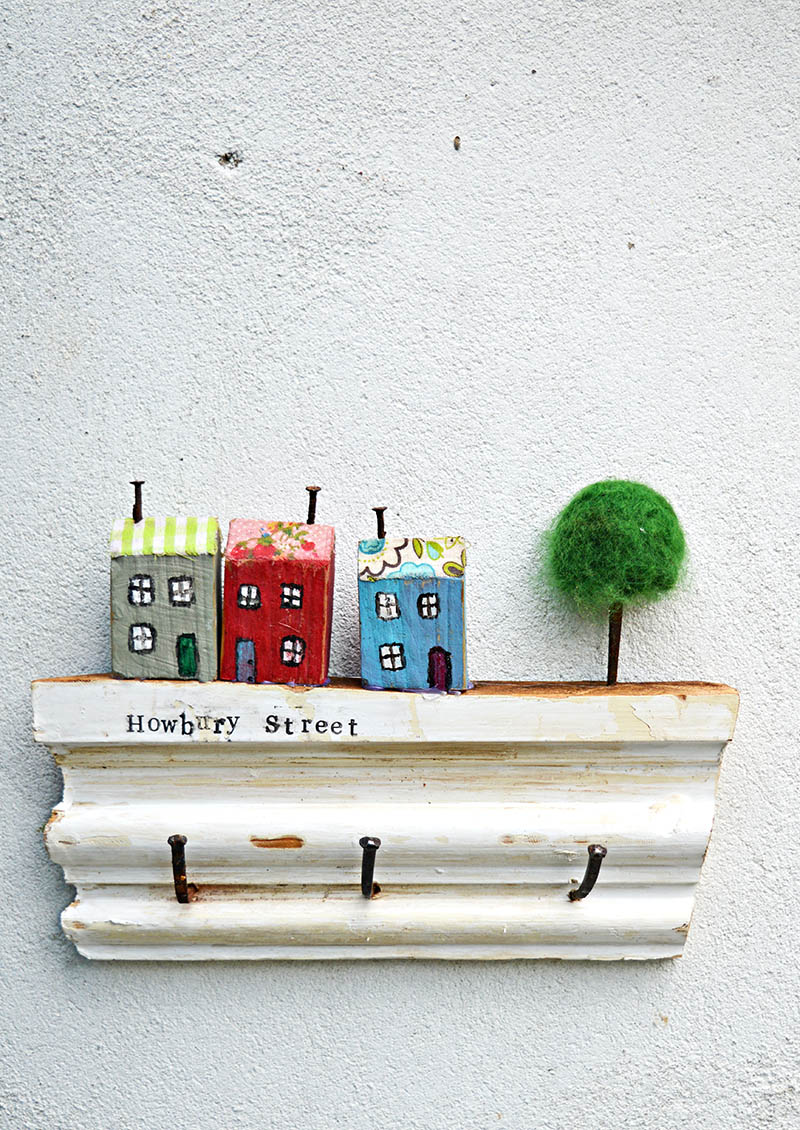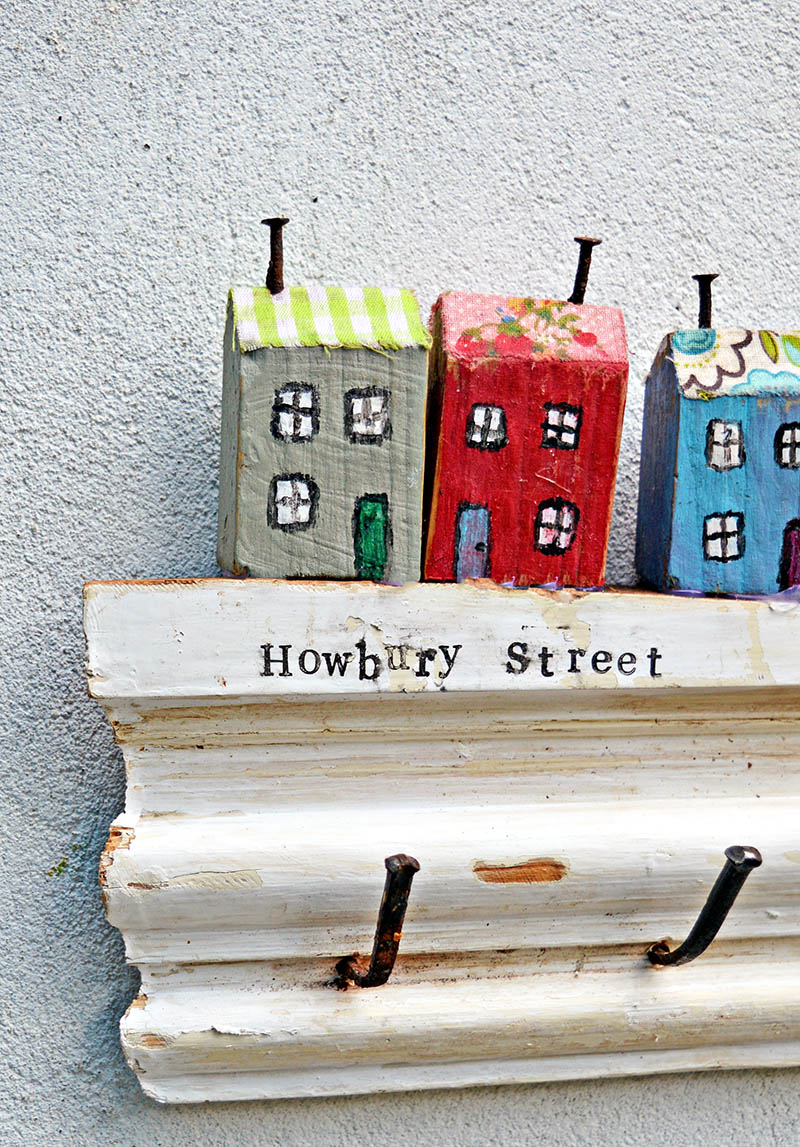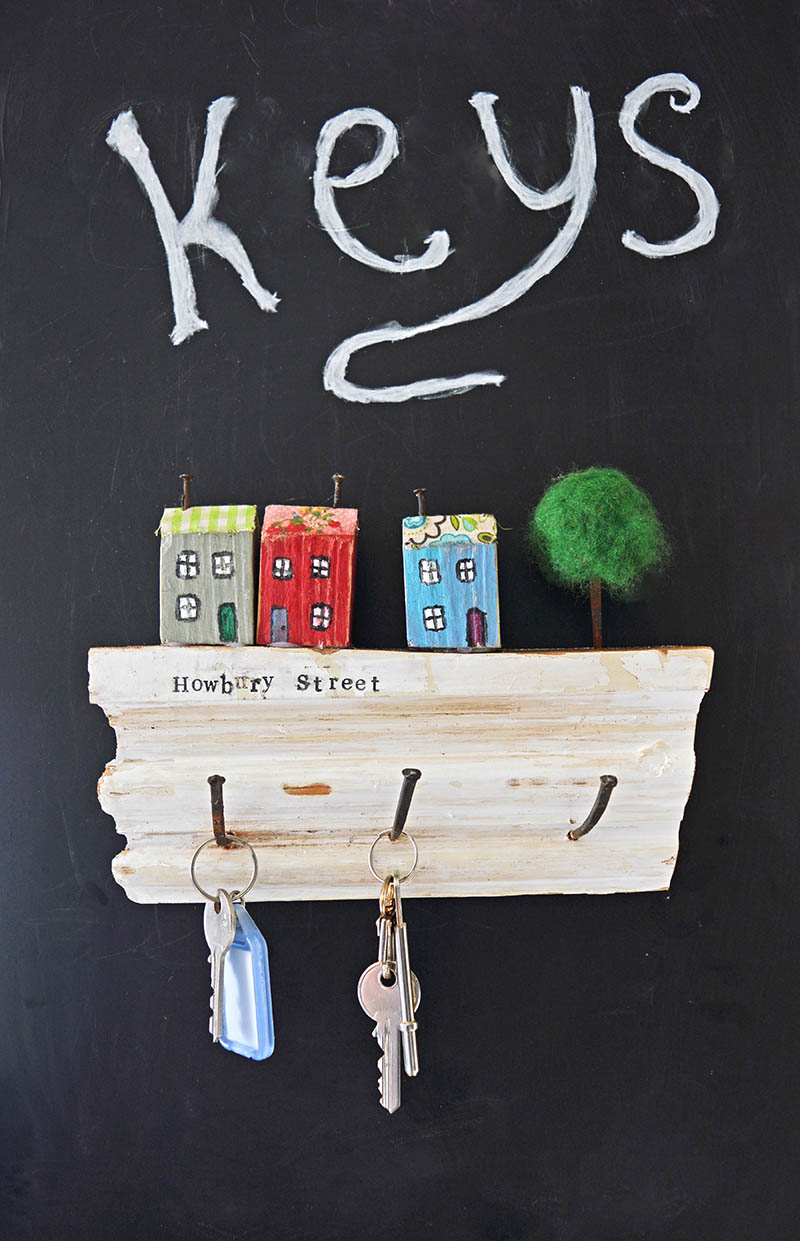 You can find many more great crafts like this one on favecrafts.com