I love it when I have one of my little EUREKA moments. I had one the other day with these upcycled drawers.
I'd been looking for some extra storage in my bathroom and hadn't liked anything I'd seen in the shops. Also, I didn't want to spend much money. There are things I'd rather spend my money on and bathroom storage isn't on the list!
The EUREKA moment came when I realized I could make my shelving unit by upcycling an old drawer. And I had just the drawer for the job. I'd rescued it from a skip (dumpster) because I loved its pretty blue drawer pull.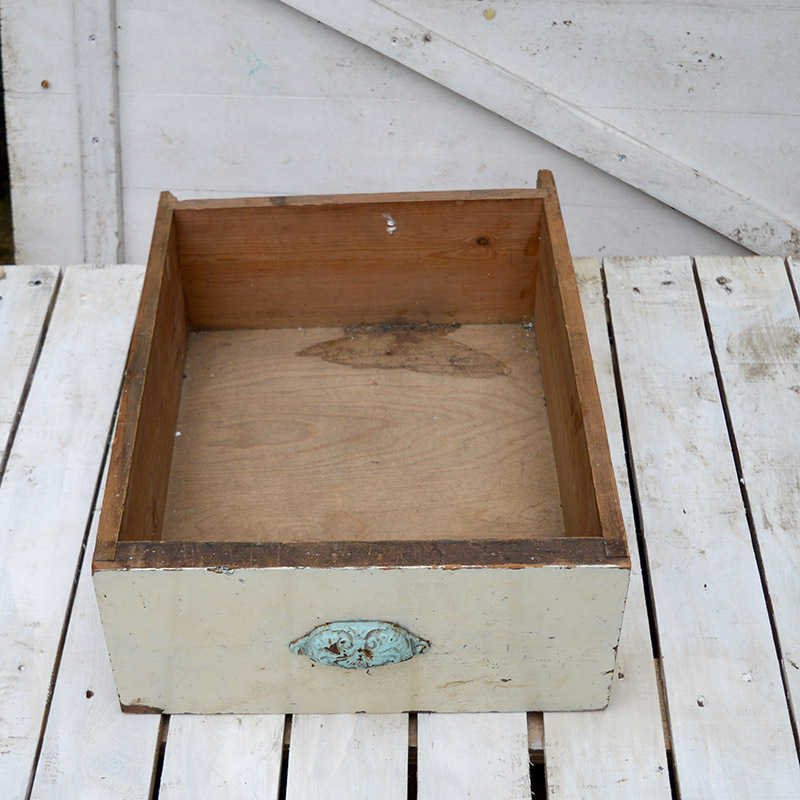 Using Upcycled Drawers to Make Sweet Bathroom Storage
The drawer had been sitting in the bike shed for the past six months getting in my husband's way. Therefore, he was a happy bunny when I finally got around to recycling the old drawer.
I'm super chuffed with how my upcycled drawer storage turned out. I think it looks really sweet in the upstairs bathroom. I also got to keep that lovely blue drawer pull that made me rescue it from the skip (dumpster) in the first place.
We're a participant in the Amazon Services LLC Associates Program, an affiliate advertising program designed to provide a means for us to earn fees by linking to Amazon.com and affiliated sites. As an Amazon Associate, I earn from qualifying purchases.
What you need to make an upcycled drawers wall unit
An old drawer – I think this project would work just as well with an old crate.
A scrap piece of wood, for a shelf.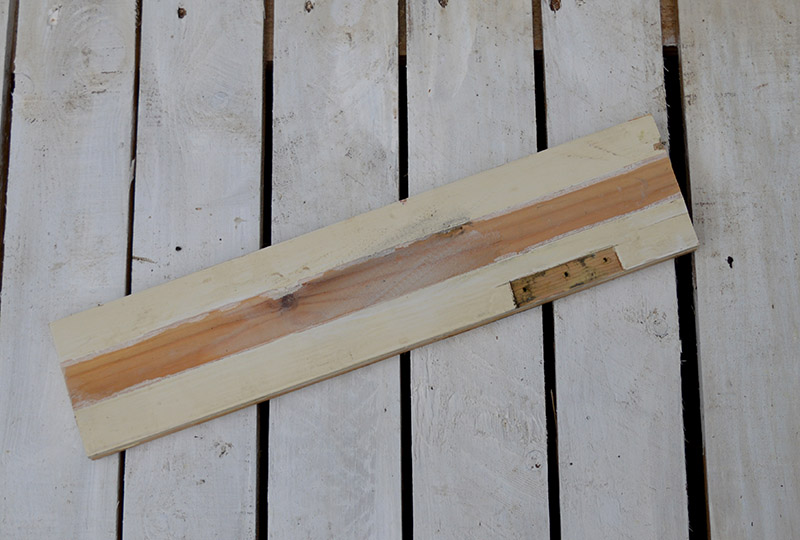 Tools used
Electrical sander – You can sand by hand if you have the patience.
Hand saw
Screwdriver
Paint and glue brushes
Drill for mounting it to the wall.
How to turn a drawer into a wall shelf
Preparing the wood
Step 1. I loved the look of the drawer and wanted to keep the chippy painted front and the lovely blue handle as it was. With hot soapy water, I gave the drawer a good clean inside and out.
2. When the drawer is dry, sand the unpainted wood sides, inside and out. No need to sand the base of the drawer, as this will be decoupaged.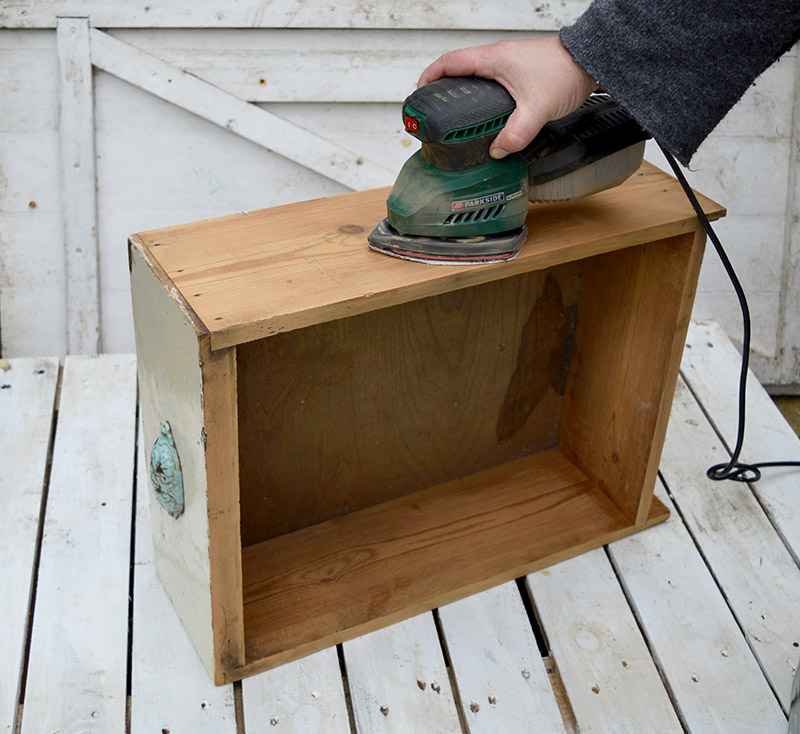 3. Next, to give the newly sanded wood of the draw a more antique look, use dark wood wax. Cover the wood with the wax using a lint-free cloth or wax brush. Then wipe off any excess wax and buff the wood with a cloth.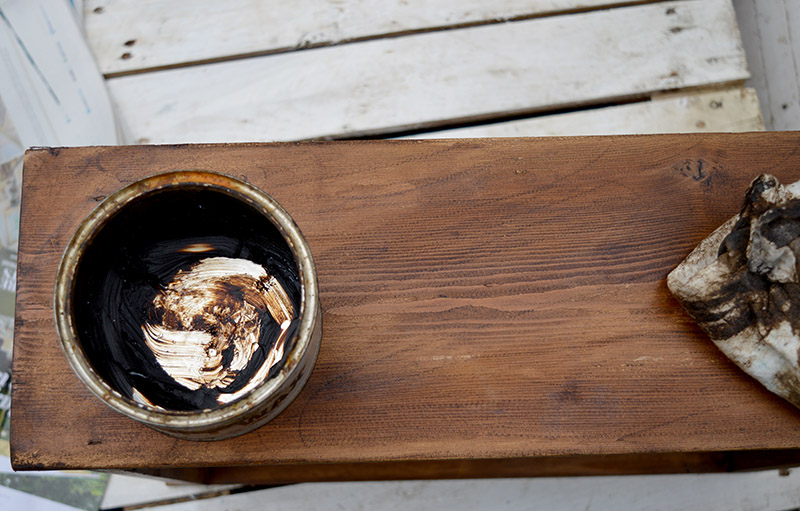 4. Next, use a clear furniture wax this time. Wax and buff the painted front of the drawer and handle.
Decoupaging the Drawer Back
5. The cupboard was specifically for my bathroom, I wanted to give it a nautical/water feel. That is why I decided to decoupage the back of the drawer with some gorgeous vintage Whale gift wrap.
Also, the blue of the whale paper went well with the blue drawer pull.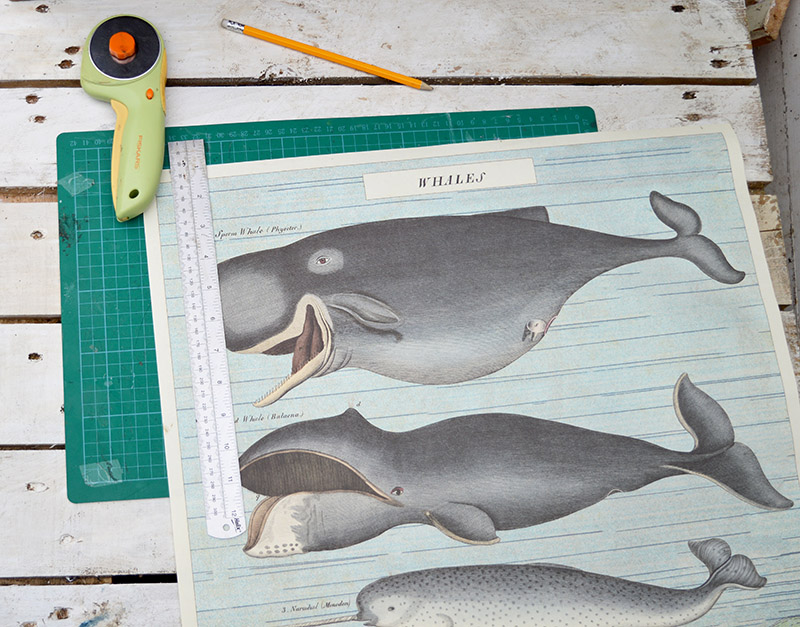 6. The chances, the gift wrap sheet will fit the drawer back exactly are remote. Look at the pattern on your paper and decide how you will cut it to fit the back.
Make sure, that the piece you end up with is the same dimensions as the drawer base.
7. Next, cover the drawer base and the back of your paper in a thin layer of Mod Podge. I use a big brush for this. Leave the glue for a minute to dry slightly but make sure it's still tacky. Then stick the paper to the base.
Use a cloth, wallpaper roller or a credit card, to gently squeeze out any air bubbles. Gently coax the air bubbles out to the edges so they can escape.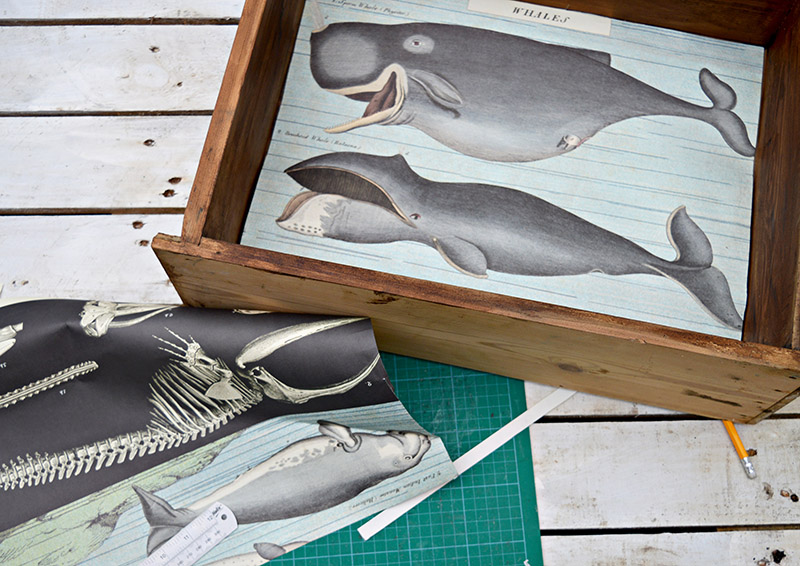 8. Then, once the mod podge is dry, use a big brush to cover the front of your paper with a layer of mod podge. This will appear white, but don't worry as it will dry clear.
The layer of mod podge acts like a varnish and will protect the decoupage.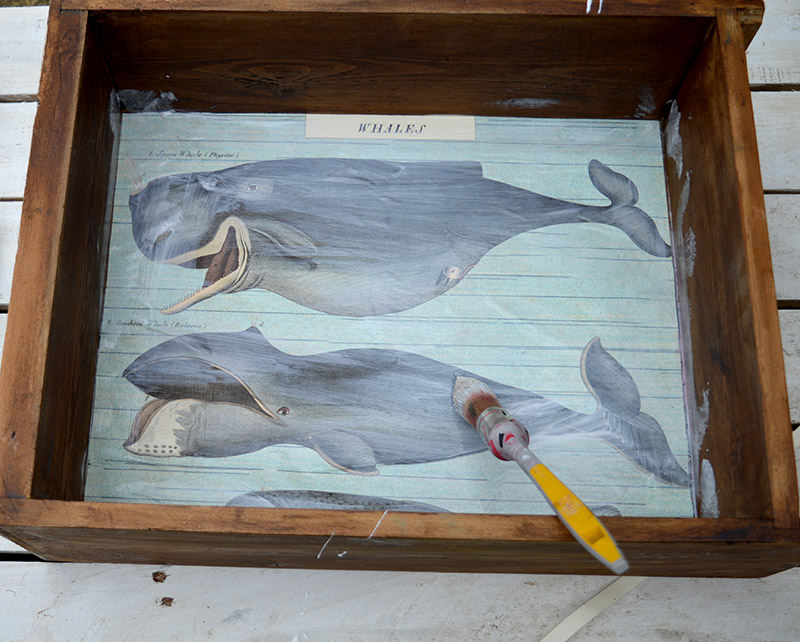 Making A Shelf For The Upcycled Drawers
9. To finish off the upcycled drawers, I made a little shelf. Simply, cut a piece of scrap wood to fit snuggly inside the drawer.
10. Sand and paint the wooden shelf with chalk paint. Don't forget to seal the paint with clear furniture wax once it has dried.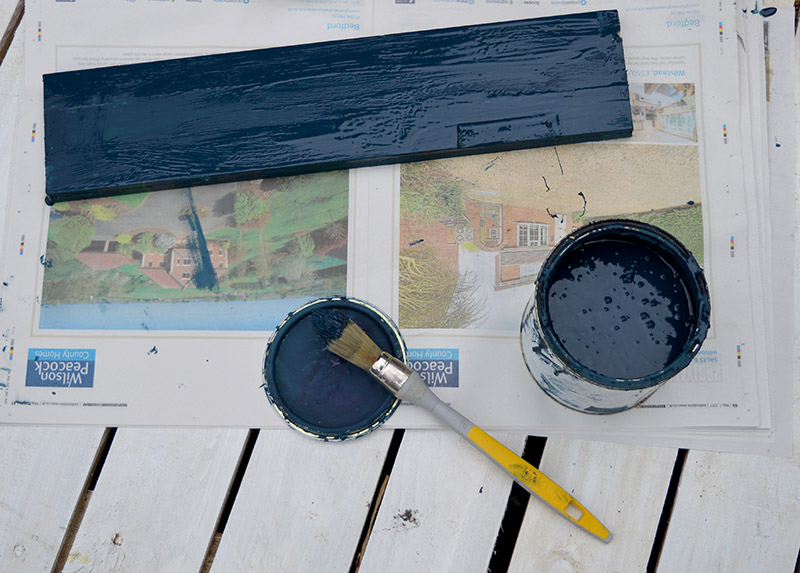 10. Then, to fit the shelf use the little picture eyelets to hold it in place. The eyelets will screw very easily into the wood sides. You will need 2 on each side of the shelf, to hold it up.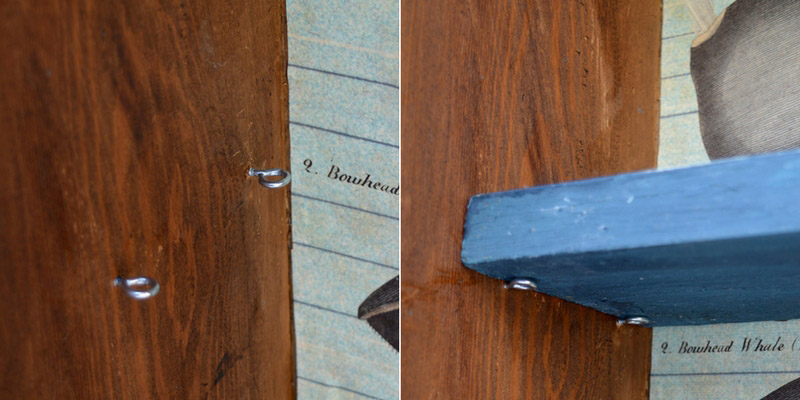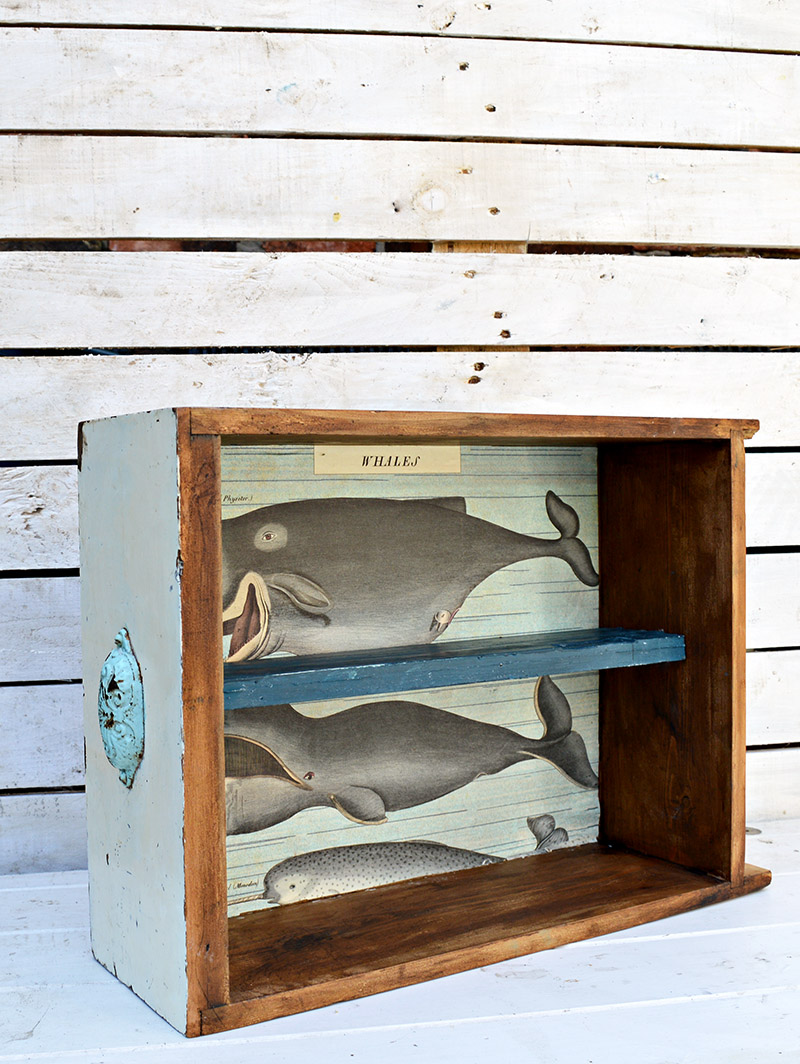 All that is left to do is to hang the bathroom upcycled shelf unit on the wall. I simply used metal brackets that were screwed into the back of the upcycled drawers and then screwed into the walls.
Or you could simply drill two large screws through the back of the drawer shelf unit straight into the wall.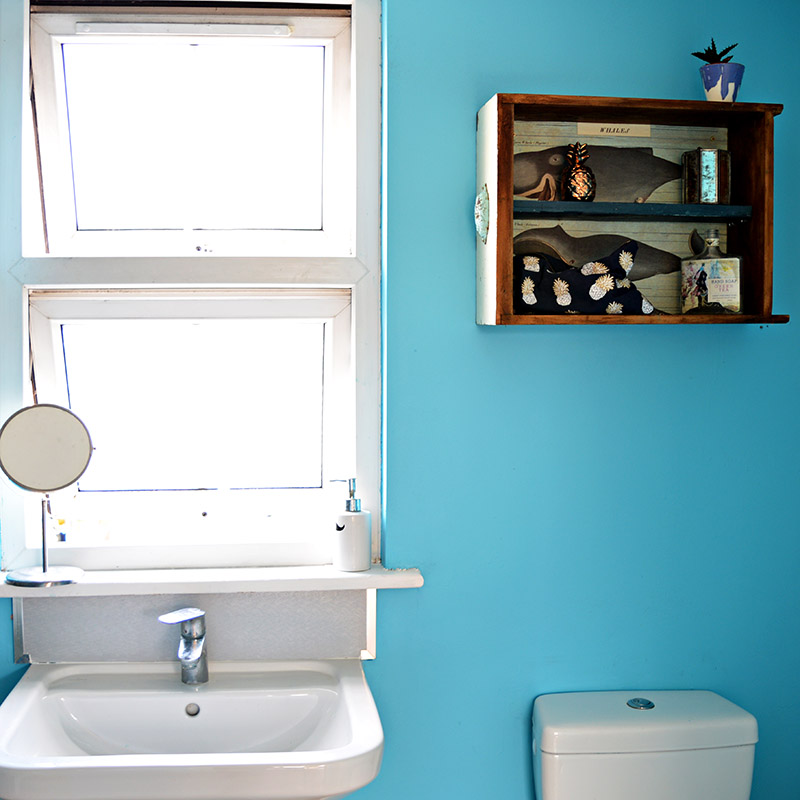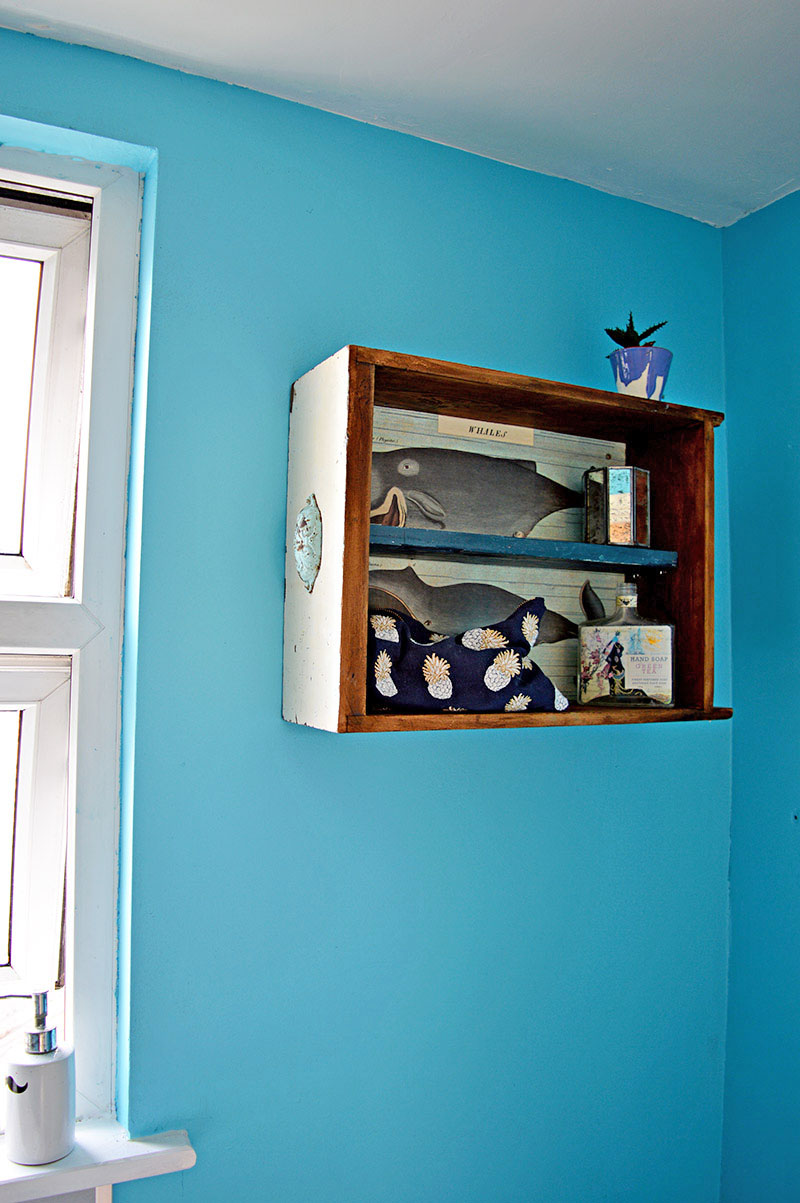 I am so pleased with how this upcycled drawer has turned out. It looks fabulous in our upstairs bathroom and gives what was a rather boring bathroom a bit of character.
I will be on the lookout for more drawers in skips (dumpsters) to make more of these handy little shelf units for other places in my home. Cavallini makes so many gorgeous decorative papers. I used some of their insect paper with my chalk paint unique cupboard upcycle.
Since making this upcycled drawer shelf unit for my loft bathroom, I've made a DIY bathroom cabinet for the family bathroom too. For this bathroom storage, I upcycled an old wine box and decoupaged a vintage anatomical poster on the inside.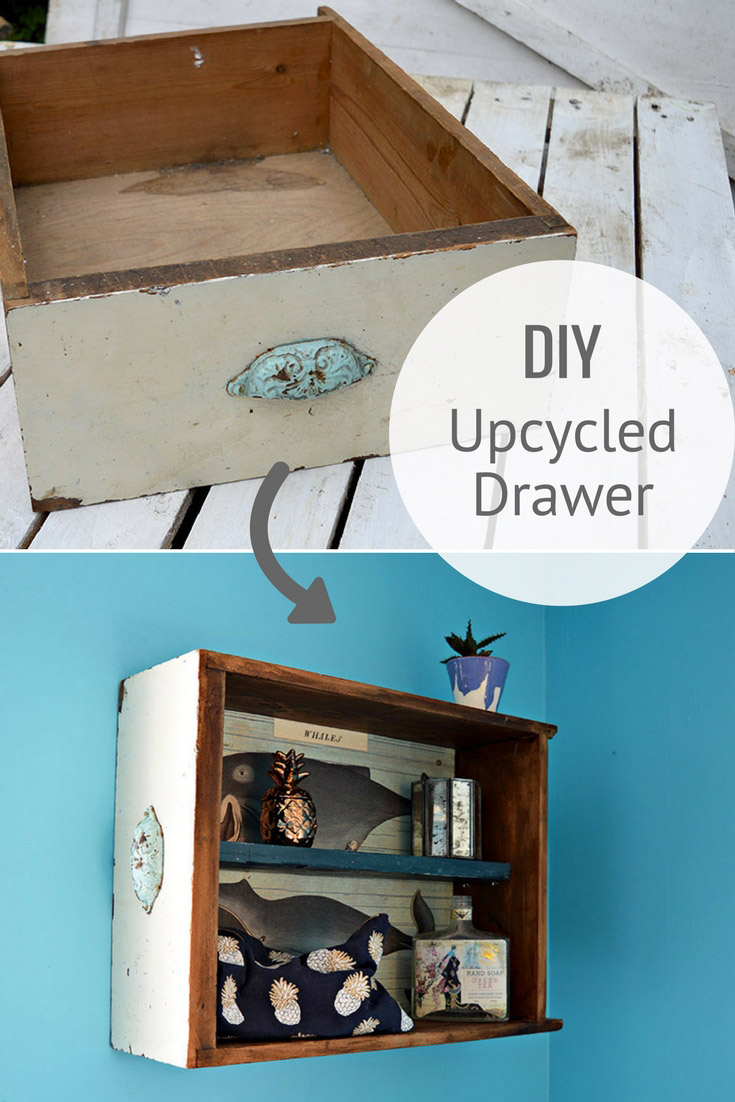 Decoupage is a great way to make a piece of furniture upcycle unique. As well as using vintage images for decoupage, I also love to use vintage maps for crafts.
I have transformed IKEA tables with decoupaged maps and made a cool world map desk for my office.
Old drawers aren't the only things you can upcycle to make unique extra storage for your home. I have used wine crates to make a handy nightstand and DIY ottoman storage. You can even upcycle bed slats into wall shelves.
I've even made a handy wooden key holder out of just a piece of scrap skirting board (baseboard).
I've even made extra kitchen storage from a repurposed chair back and a vintage suitcase side table.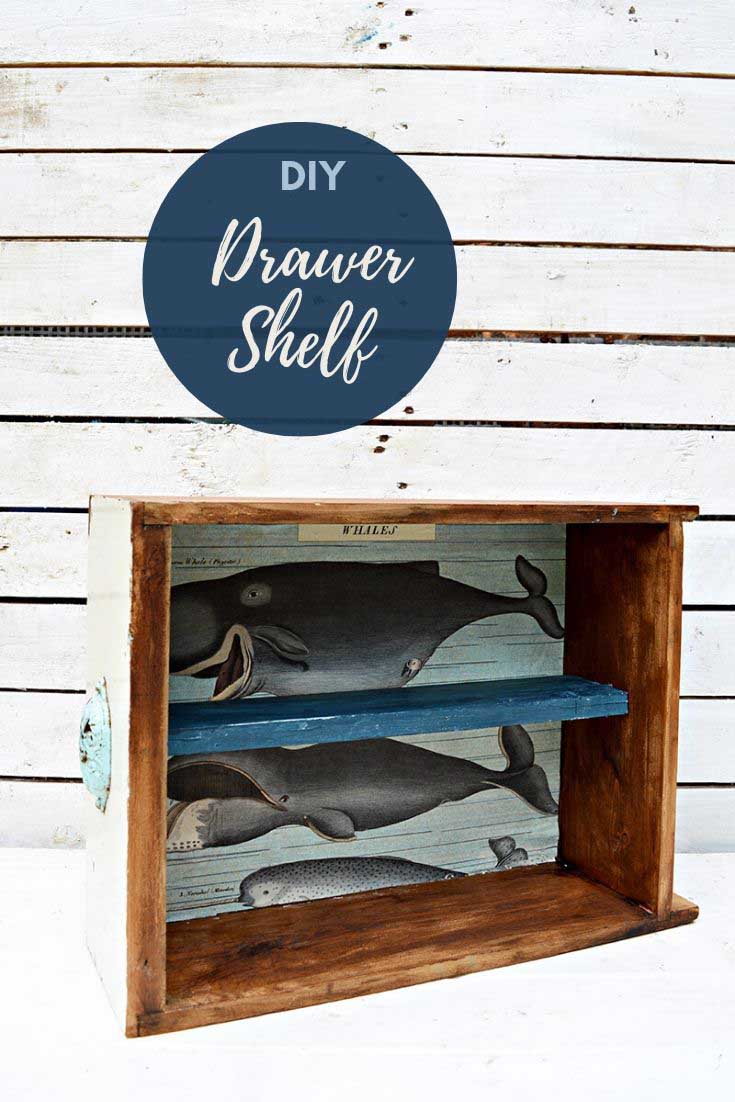 These repurposed drawers featured under D in the alphabet of upcycles.