Christmas Elf on the Shelf Pattern For a Cute DIY Plush
I love this time of year, for me, it's just a massive excuse for a big fat craft fest. Making decorations and gifts is my favourite part of Christmas, so I like to start early and drag it out as long as I can. I especially love to make my Christmas decorations with the stuff I have around me. Like with this cute plush Christmas Elf.


Not only does this adorable Christmas elf look really cute on the mantle he would make a great gift.

In this post, I've included a full tutorial and free pdf Christmas Elf pattern. To make the Christmas elf even more special and personal you can use a favourite old stripey t-shirt to make him.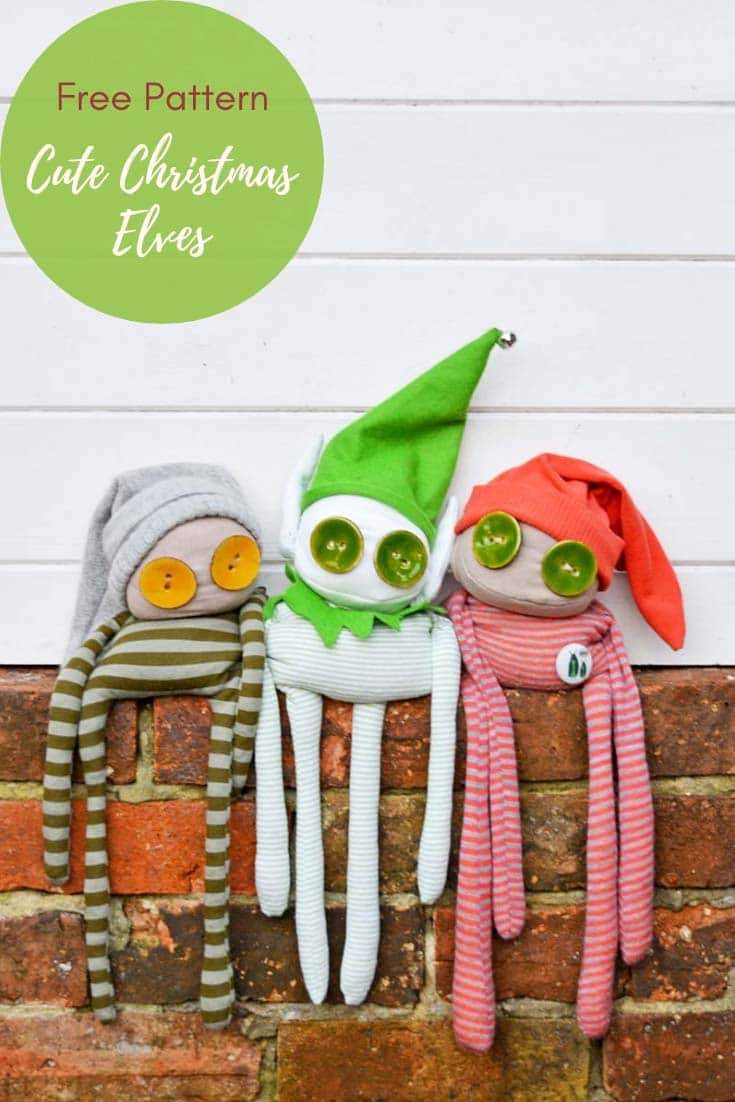 This Elf is actually a Christmas pimp of some cute softies I've been making for friends for years from old t-shirts. All it took to make the transformation them into elves, was the choice of fabric colour, some Elf like ears, a green felt hat and collar. The body of these cuddly toys is stuffed with lentils which makes them weighted so they sit well and can also be used as a festive doorstop.



This post contains Amazon affiliate links for your convenience. Click here to see my disclosure policy.



What you need to make a Christmas Elf on the Shelf
Green stripy jersey fabric approximately 1 fat quarter. If you happen to have an old green stripy t-shirt this would do.

Template downloadable here : Elf Pattern

Cream or a neutral coloured jersey fabric, no more than 1 fat quarter. Again an old t-shirt would do.

Green felt aprox. 1 fat quarter.

2 extra large coconut shell buttons. These are easily bought online and come in various colours.

Small amount of fibre to stuff the head and ears. Lentils, green or red or split peas to stuff the body.

Needle and thread

Small silver craft bell
How to make your Christmas Elf
Part 1: The Elf head
With the Elf Pattern cut out 6 head pieces and 4 earpieces with the cream fabric.
Using a very small seam allowance of about 5mm sew the head pieces together, like the segments of an orange. Leave a gap at the top for stuffing. You should end up with something that looks like a deflated ball. Stuff firmly with the fiber stuffing and close.
Next sew the ear pieces together so that you have 2 ears. Stuff these lightly and then sew a stitch a swirl in the middle of the ear to give it definition.
Sew the ears to the stuffed head
Make a hat out of the green felt; cut a triangle wide enough to go round the head, fold in half, stitch and turn inside out. If you have one you can stitch a silver bell to the top of the hat.
Finally stitch your oversized buttons to the face to make eyes.
Part 2: The DIY Christmas Elf Body
Using the Elf Pattern cut out 2 body pieces and 4 arm pieces in your green stripy fabric.

Again using a small seam allowance, sew the arm pieces right sides together, leaving a gap at the top. Turn the arms right sides out.

Stitch the body pieces right sides together, leaving a gap at the shoulders for the arms and a gap at the top for stuffing. Don't turn out just yet.

Stuff the arms with lentils. Place the stuffed arms inside body and stitch round the shoulders to attach them.

Using the hole in the top of the body turn your elf right sides out.

Next, stuff the body with lentils, make sure you fill the legs, and then stitch to close

Finally, stitch your head to the body.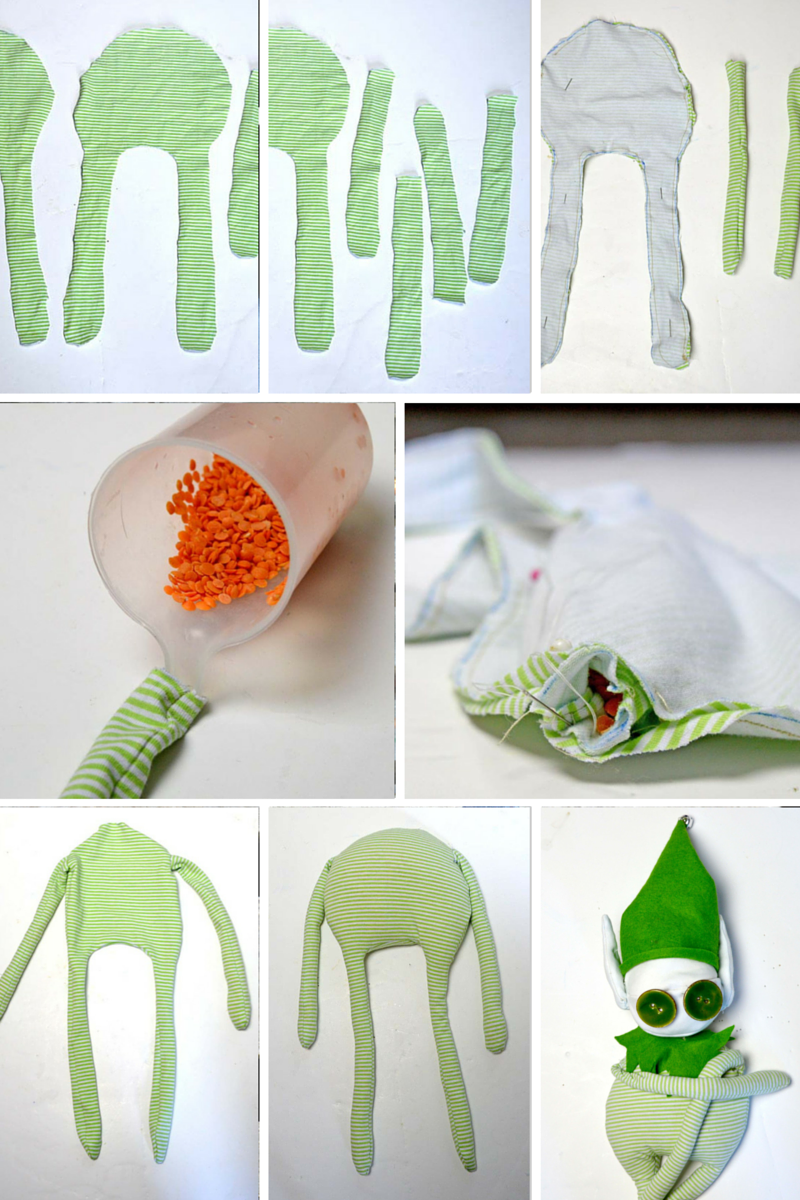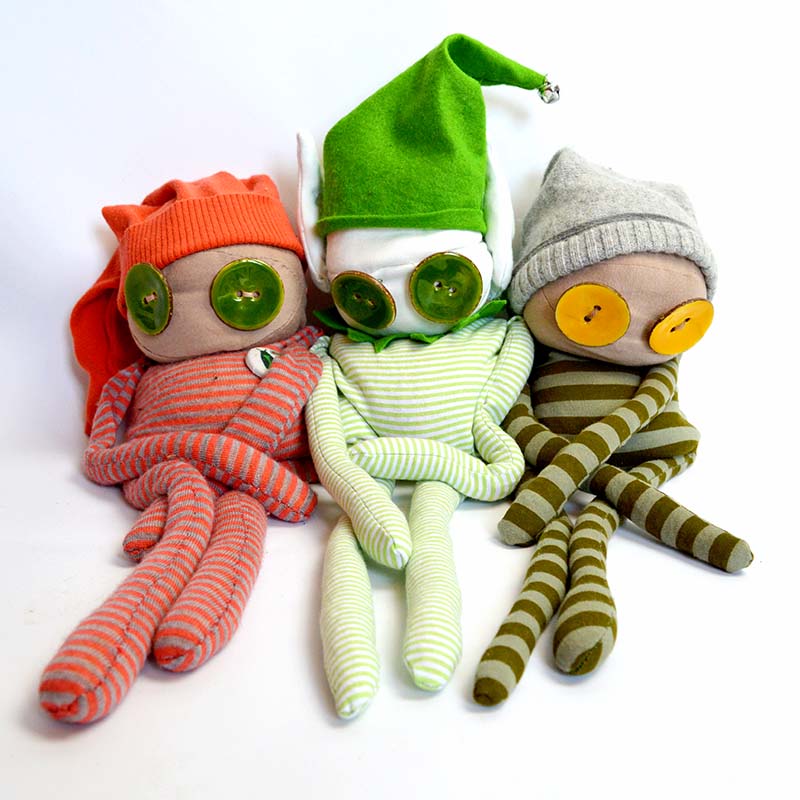 As you can see to make my softie more Elf like I added a felt collar. This was made simply by drawing round a bowl on some green felt. Cutting out this felt circle and cutting a zigzag pattern into. Then cut a slit into the felt collar so that it can be slipped round the neck of your Elf.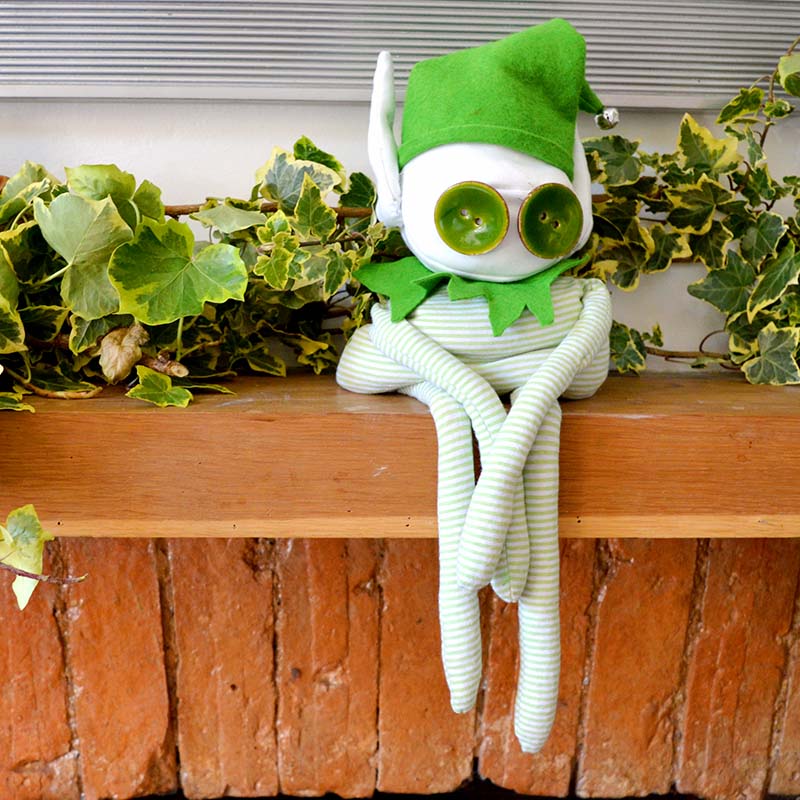 You must admit this Christmas Elf on the shelf looks really sweet on the mantle.

Instead of using lentils in the past I have used wheat to stuff these Elves. Wheat can be heated in the microwave so the Elves can be used as hot buddies for warming.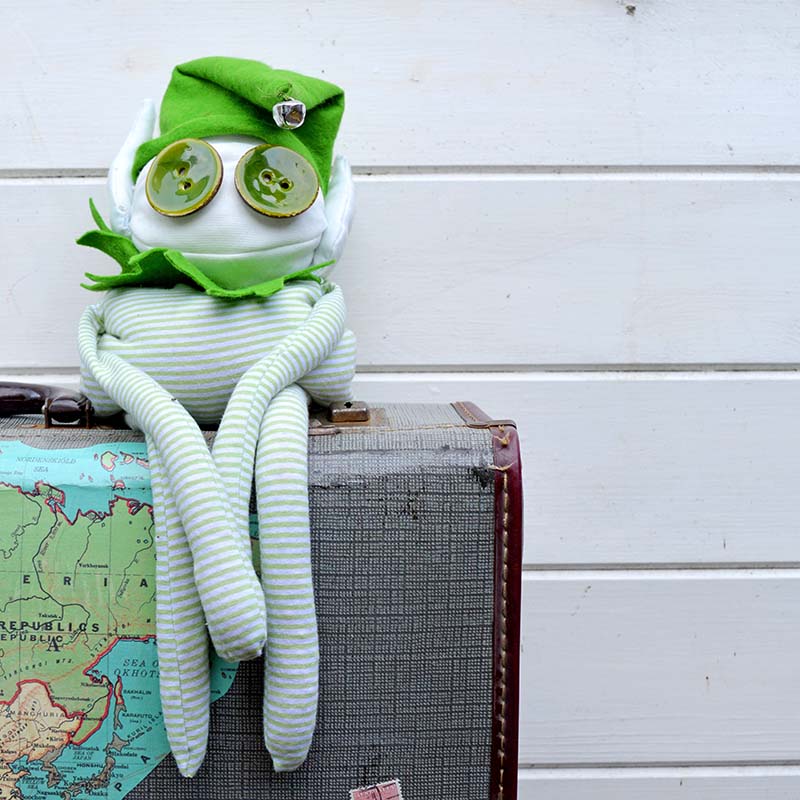 Finally do you have any good elf jokes? I would love to hear them.


You might want to checkout my other Christmas decorations.
Upcycled Funky felt garland
Giant Christmas Felt Letters
Upcycled Shuttlecock Angels