This tutorial is on making giant / large felt letters for a fun and unique Christmas garland.
Some words are just for Christmas; my favourite ones are "Ho Ho Ho", "Fa La La", and "Jingle". Especially Fa La La, which comes from the Christmas carol 'Deck the Halls'. As soon as I hear and see these words, I imagine a dreamy, nostalgic and whimsical Christmas. The sort of Disney Christmas we'd all love to have.
This year I thought that it would be great to add a "FA LA LA" to my "HO HO HO" felt letters that I made a couple of years ago. These are ridiculously easy to make, as the felt letters are hand-sewn. They are one of those lovely crafts you can do in the evening in front of the telly. The stitching is straightforward; it doesn't require much concentration.
My friends and I had a fun afternoon of Christmas crafting. We used the templates to make a "HO HO HO" in large felt letters for our Christmas mantle. We all made them in different coloured felt.
These DIY large felt letters don't have to be confined to Christmas. You could make other giant felt letters for different holidays, such as Halloween and Valentine's Day. Then you could use the felt plushies to spell words such as BOO! or LOVE.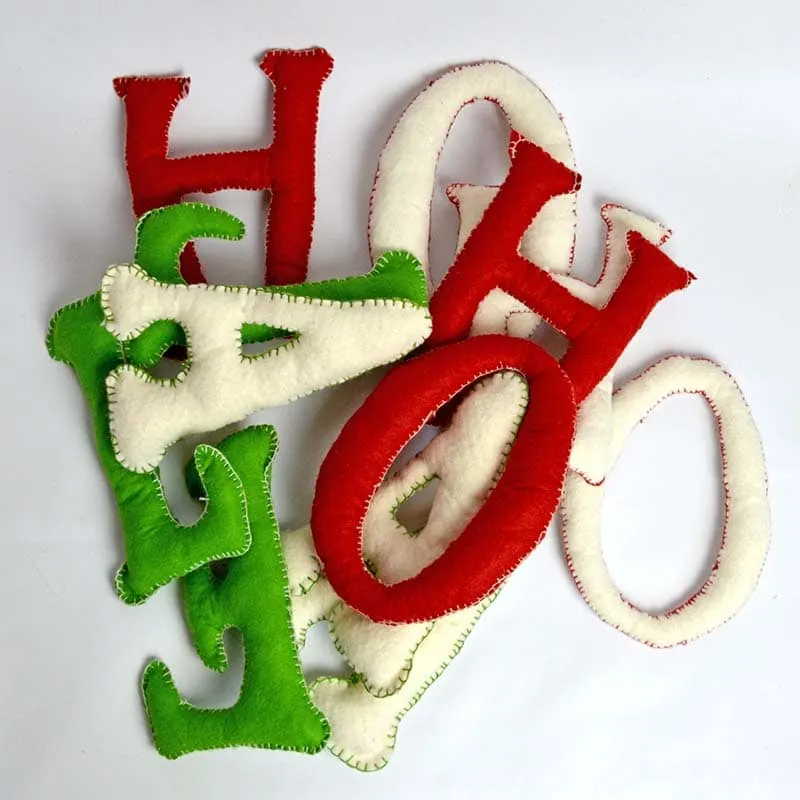 We're a participant in the Amazon Services LLC Associates Program, an affiliate advertising program designed to provide a means for us to earn fees by linking to Amazon.com and affiliated sites. As an Amazon Associate, I earn from qualifying purchases.
How To Make Large Felt Letters Garland
What you need to make Christmas Felt Letters
Letter template: You can download my template for the letters H, O, F & A here: Felt letters, or you can draw your own.
Felt in your chosen colours; I used green & cream for my FA LA LA and red and cream for my HO HO HO. You should get at least two letters, if not more, out of a fat quarter (it depends on the letters).
Embroidery thread or crewel wool in contrasting colours.
I use old pillows for fibre stuffing as I did with my Mountain Cushions.
Large embroidery needle, pins & scissors.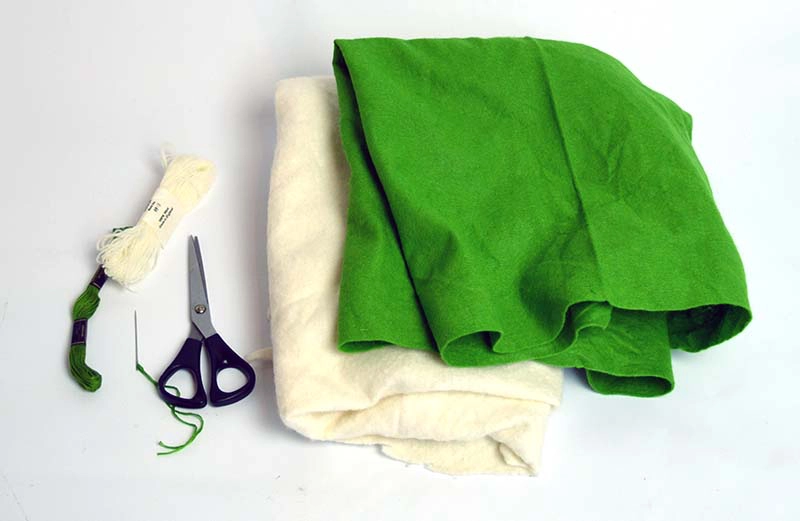 How to Make Large Felt Letters
Step 1: Print out my large letter template or make your own. To make your own, in a software program such as Word or Canva, print a large letter on a single page of A4. Fill the whole page with one single note. It is best to use a thick bold font for your letter template.
Step 2: Cut out the letters you will need using the felt letter template. You will need two templates for each large felt letter, one for the back and one for the front. For the FA LA LA, I had 12 cut pieces of felt; 6 A's, 4 L's and 2 F's.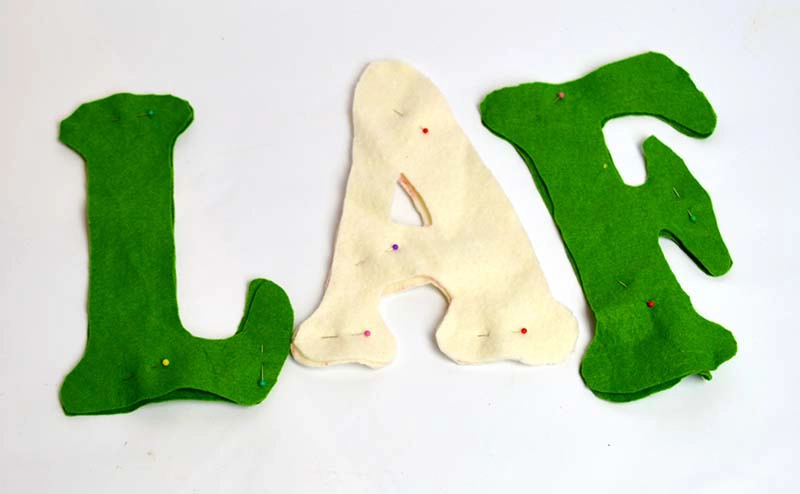 Step 3. Next, pin the two large felt letter templates together for each letter. Then, using a blanket stitch, stitch around each letter leaving a small gap for stuffing.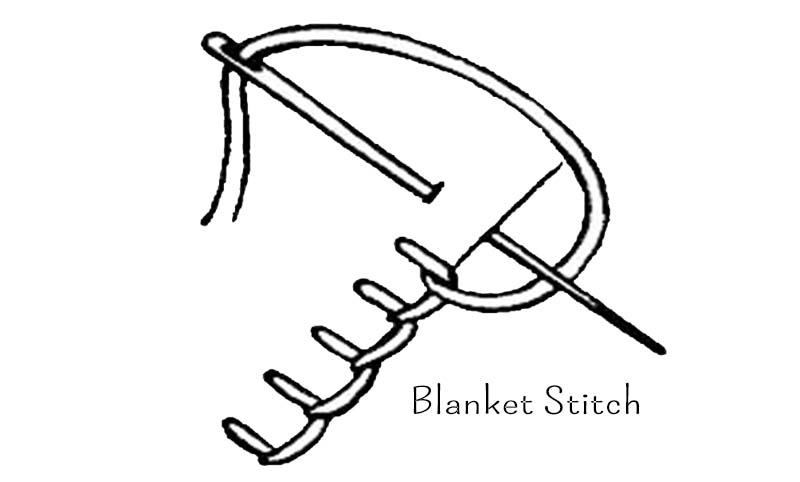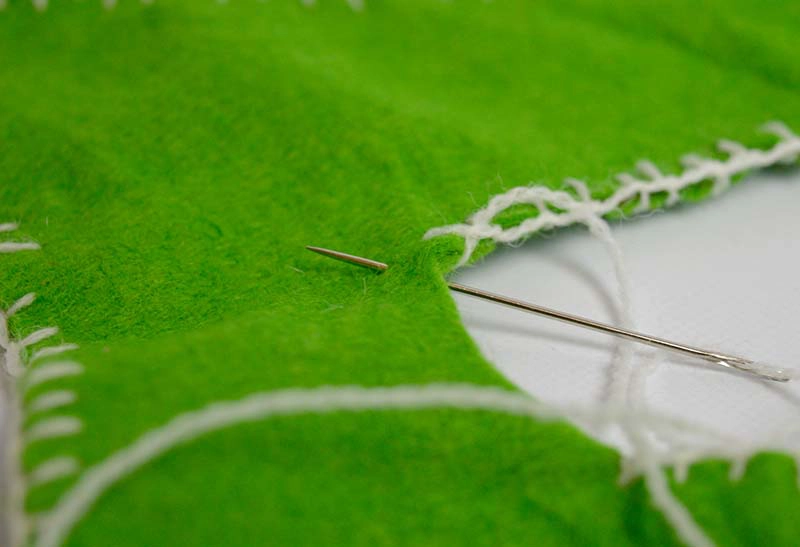 Step 4: Next, stuff the felt letters firmly with fibre stuffing. I often use the fillings from old pillows for my fiberfill. When the plush letters are nice and plump, finish by sewing up the hole with a blanket stitch.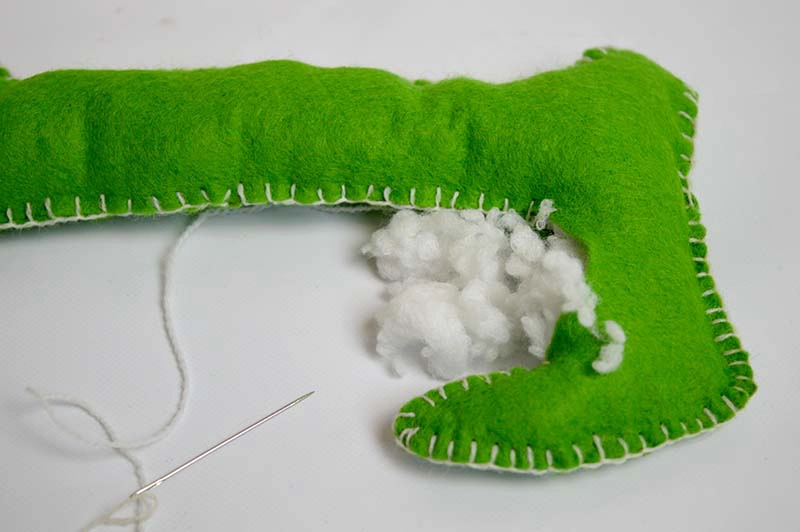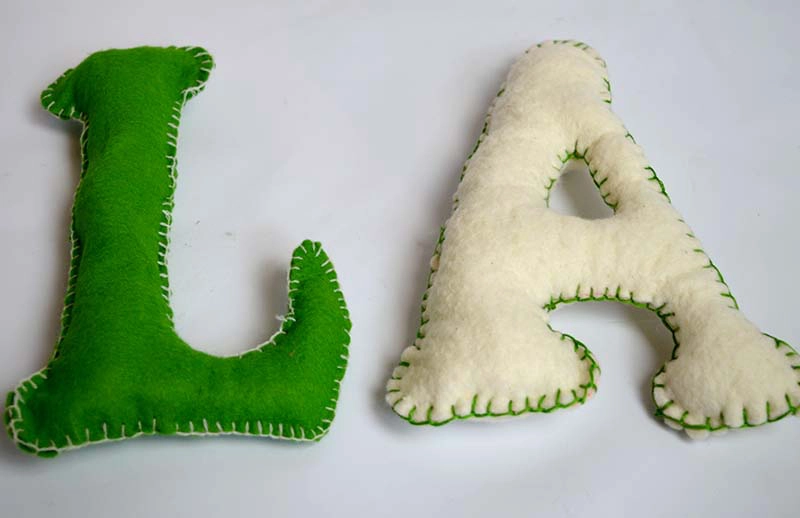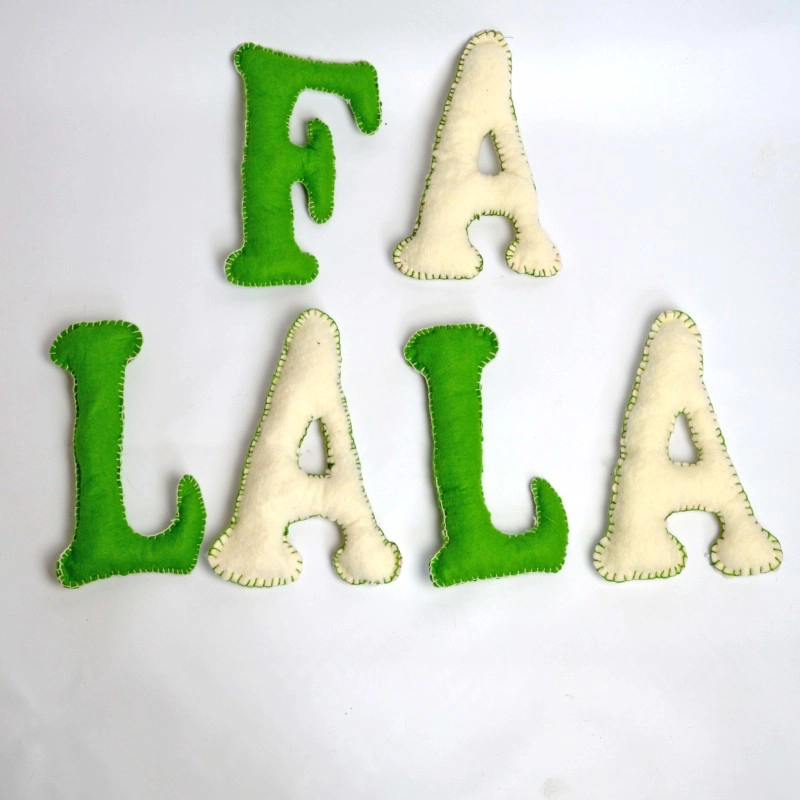 Then to turn the giant felt letters into a decorative garland, attach them to some colourful twine. It looks best if the string is the same colour as the felt. You can stitch the letters to the twine, but I prefer pegs. It is easy to change the letters when I fancy something different.
My son's initials are FA, so he has requested these large plush letters to decorate his room after the holidays. The green also goes well with the decor in his room, so that is handy.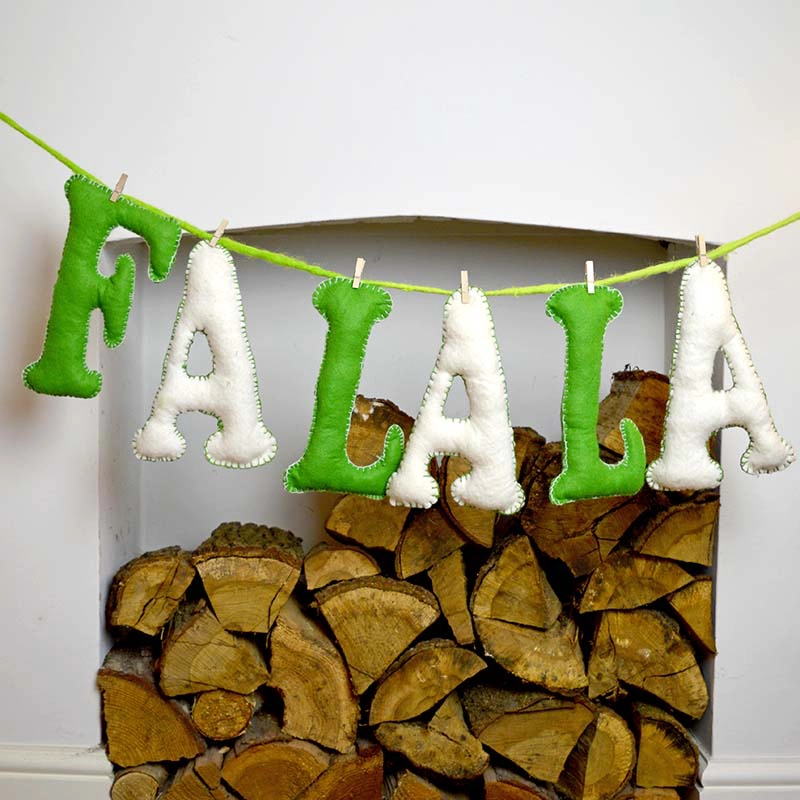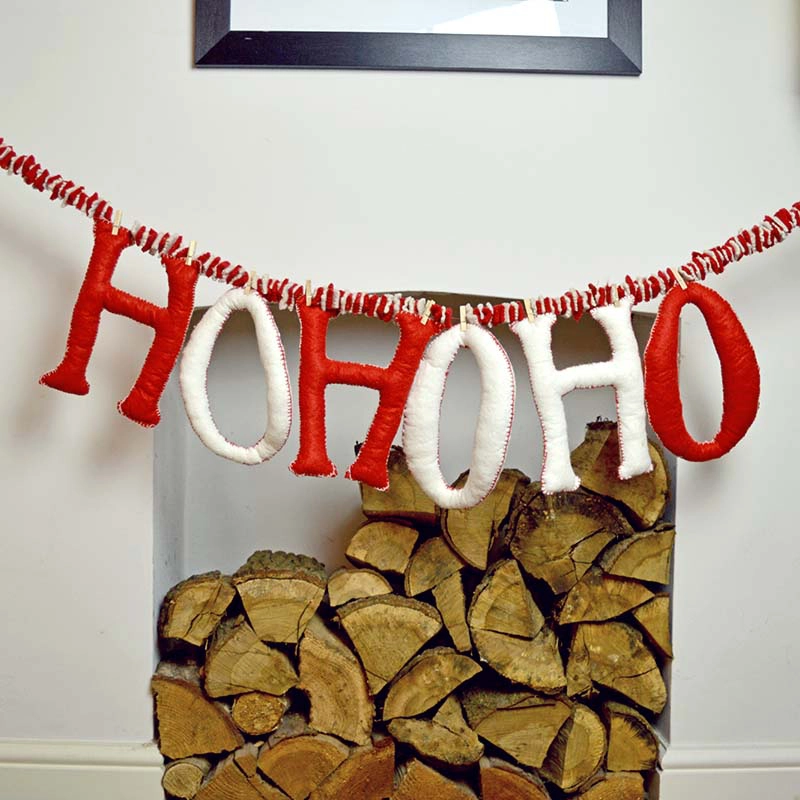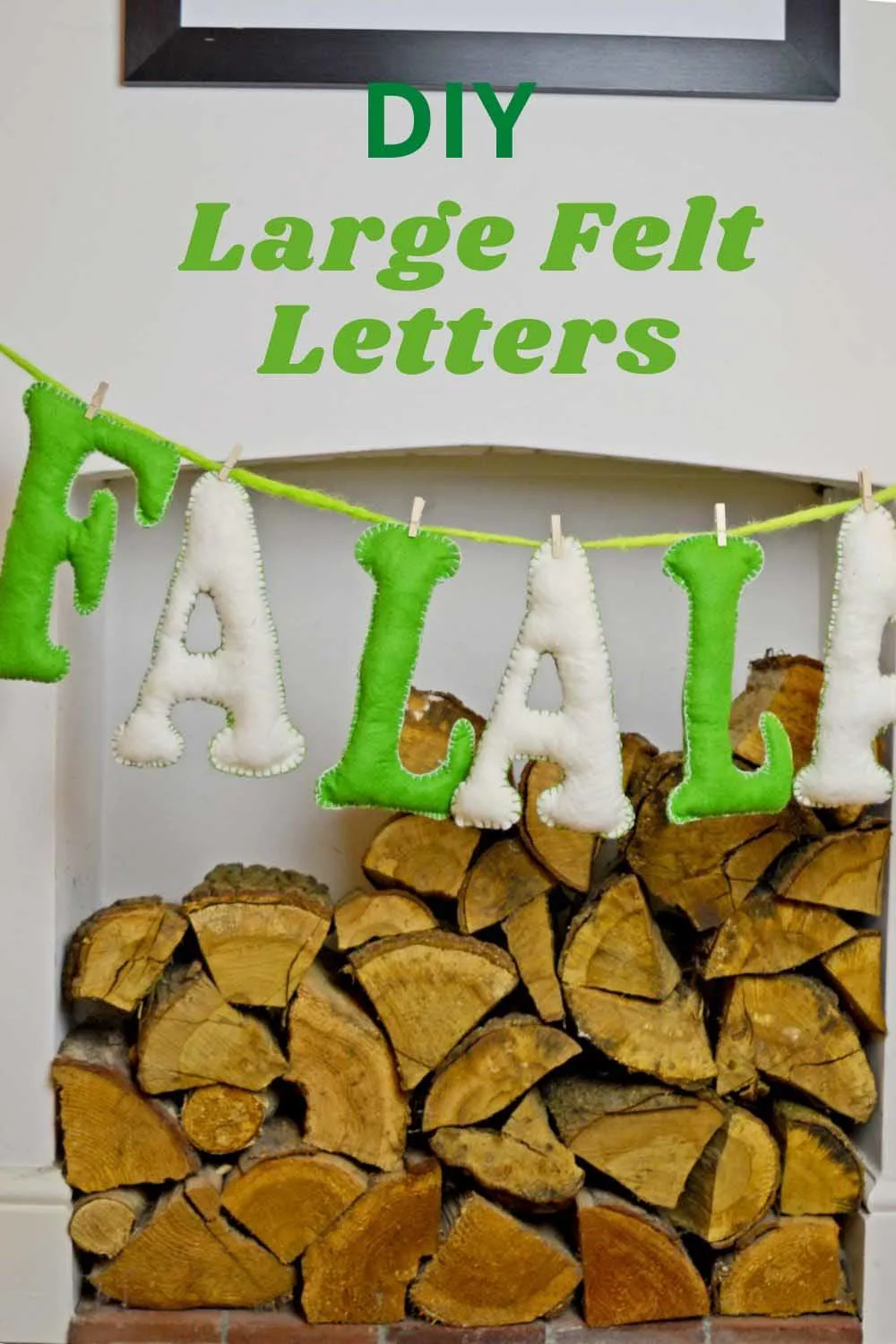 When finished, your letters are ready to sit on the mantle or hang in a garland-like bunting. As well as making a great Christmas decoration, I have made large felt letters in a person's initial and given them as a monogrammed gift.

You might like these other Christmas sewing ideas and cool Christmas crafts for adults and some of my other Christmas posts:
Paper Envelope Advent Calendar
Christmas Elf on the Shelf
Upcycled festive felt garland
Please don't throw away the felt scrap; you can use them to make a cute Frida Kahlo Christmas ornament. Or some cute handmade felt Christmas ornaments and some Scandinavian Halloween felt decorations.