How To Upcycle A Vintage Suitcase With Old Jeans.
When I saw a beaten up suitcase that was destined for the bin I decided to rescue it with one of my denim upcycles. It was so easy and fun to make this patchwork denim suitcase, without a needle and thread in sight.


I love working with old jeans and have made loads of stuff for the home out of denim, such as a wistband denim rug, denim pillows and denim pocket organizer to name a few. If you search on Pinterest by far the most popular jeans upcycles are bags, I have even made a few myself in the past.


Instead of making another denim bag I decided that a denim suitcase would be a bit different and fun. I love upcycling old suitcases and using them for storage. I don't have my own studio yet, but I'm working on it. Upcycled suitcases are great for hiding away my crafty stuff.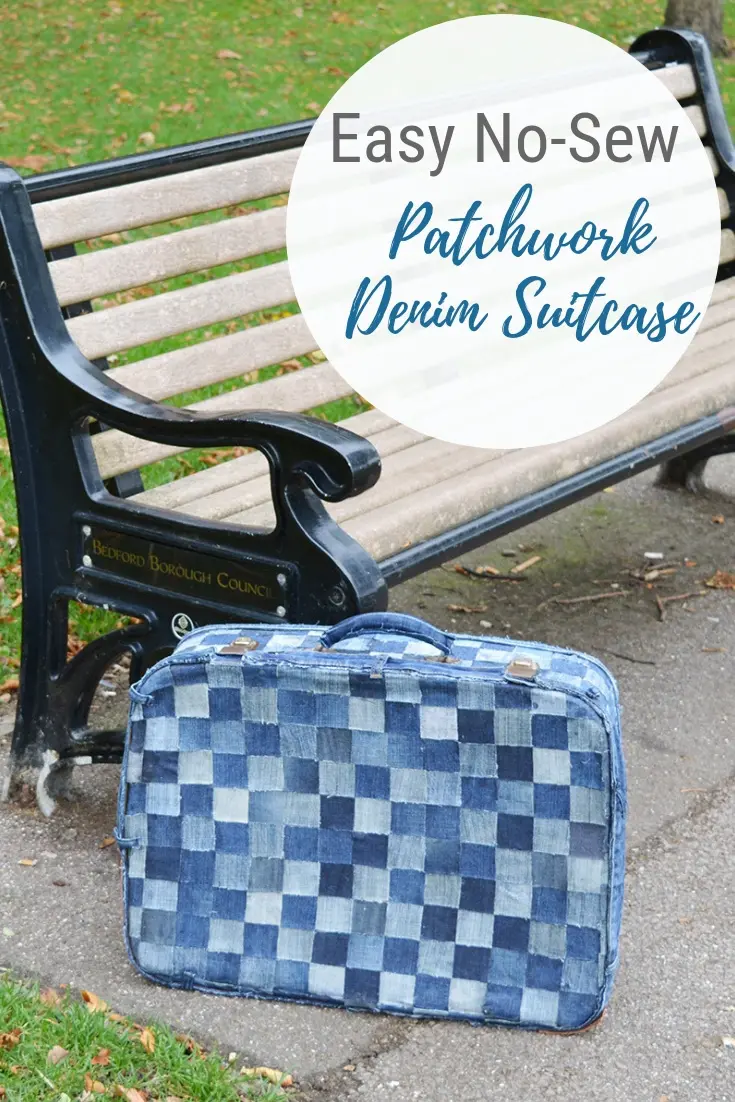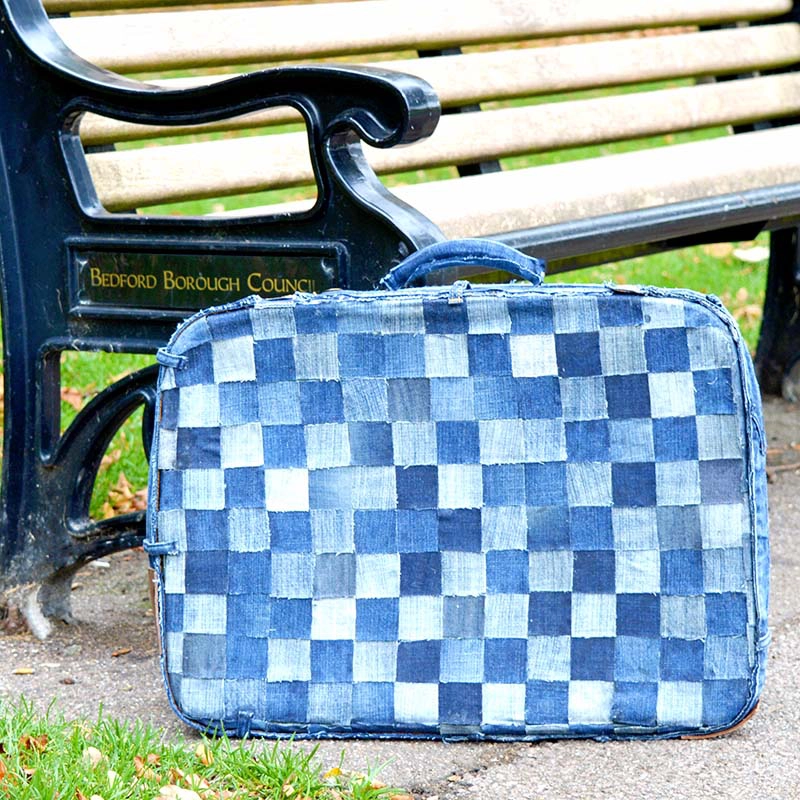 This post contains amazon affiliate links for your convenience. Click here to see my disclosure policy.



What you need to make a denim suitcase
Old suitcase: The suitcase I used for this project was one that had definitely seen better days, so I got for practically nothing from my local junk shop. As you are going to be covering and lining your suitcase you can afford to get a knackered one. The most important thing is to make sure that that the hinges work and you can open and close it easily.
Old Jeans – I cut the denim into squares 4cm by 4cm, therefore if you have lots of scraps of denim from previous projects these would be perfect for this. I also used the waistband from 2 pairs of jeans and the seams from one. To achieve a good patchwork effect you need a variety of denim in different shades.





Fabric or paper for lining your case; I chose a fabric, and used almost a meter for a medium sized case.

White glue (PVA) or fabric Mod podge and glue brush

Scissors, pins and bulldog clips
How to upcycle your denim suitcase

As with my vintage map suitcase, I upcycled the outside of the suitcase before lining it.


Firstly I cut my old jeans and denim scraps into squares 4cm by 4cm. I did this as I went along, making more squares as when I needed them.

I stuck the squares one by one in a random checkerboard effect on the top of the suitcase. Glue was applied to both the suitcase and the denim squares as I went along. I also made sure that each square was touching.

The sides of the suitcase lid were exactly the width of a jeans waistband. So instead of squares, I glued the waistband on the sides. One waistband wasn't enough to go round the suitcase so I used 2 pieces of a waistband. To hold the waistband in place whilst the glue was drying, I used a combination of bulldog clips and pins.

This process was repeated with the bottom, sides, and underneath the suitcase; using bulldog clips and pins where necessary.

To add extra interest, as with the waistband on the lid, I stuck a denim seam around the bottom edge of the suitcase.

Finally as my suitcase came with an ugly plastic handle, I covered it with strips of denim. If it had been a pretty leather handle, I would have just left it.
How to line your denim suitcase
Measure the inner sides of your suitcase and accounting for a 1cm seam allowance, cut your fabric. The diameter of your suitcase will be bigger than the width of your fabric so you will have to cut 2 pieces.

Fold the top edge of about 1cm over on each piece of fabric and glue this down.

Cover the sides of the suitcase with glue and stick down your pieces of fabric. The fabric will overlap to the shorter sides and the floor of the case; this is fine just make sure you also glue these bits down. You may find that it helps to pin the fabric while the glue dries.

You'll need to make a top and bottom panel for the case. Measure and cut 2 pieces of cardboard that will slot into the base and top of the suitcase.

Using your cardboard pieces as a template cut a fabric piece for each, again allowing for a 1cm seam. Wrap the fabric around the cardboard and glue down the seam edges to the underside. You may find it easier if you miter the corners.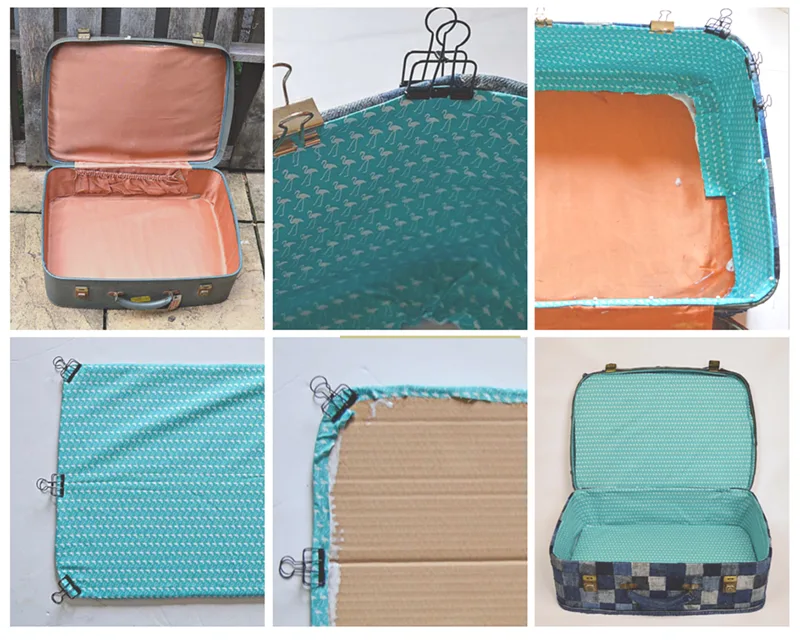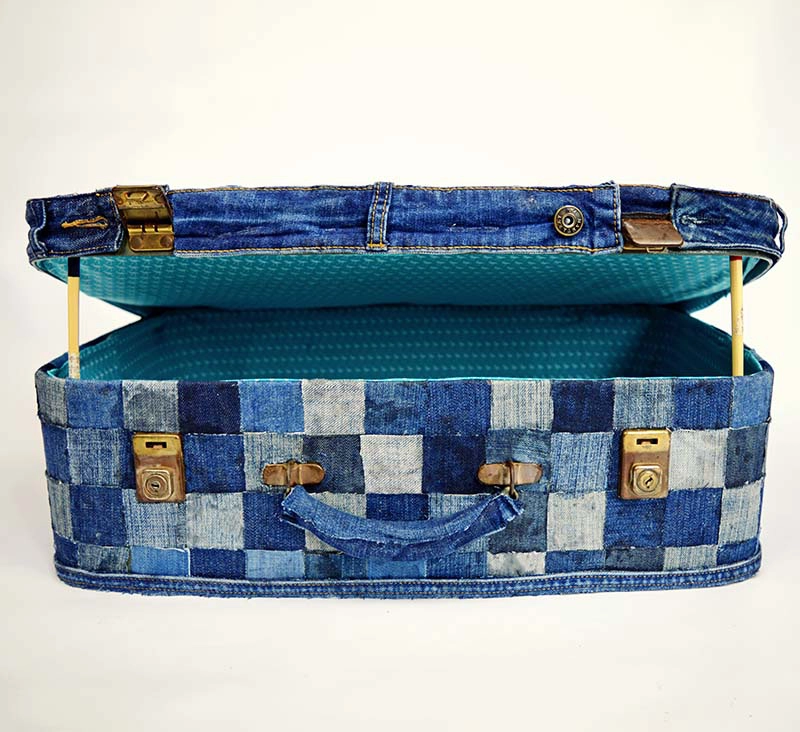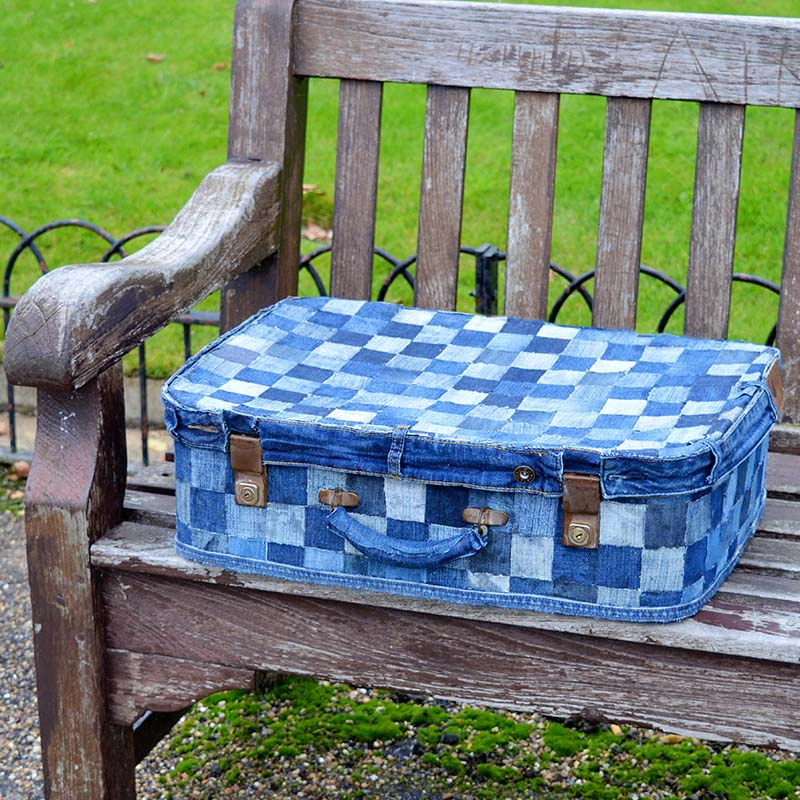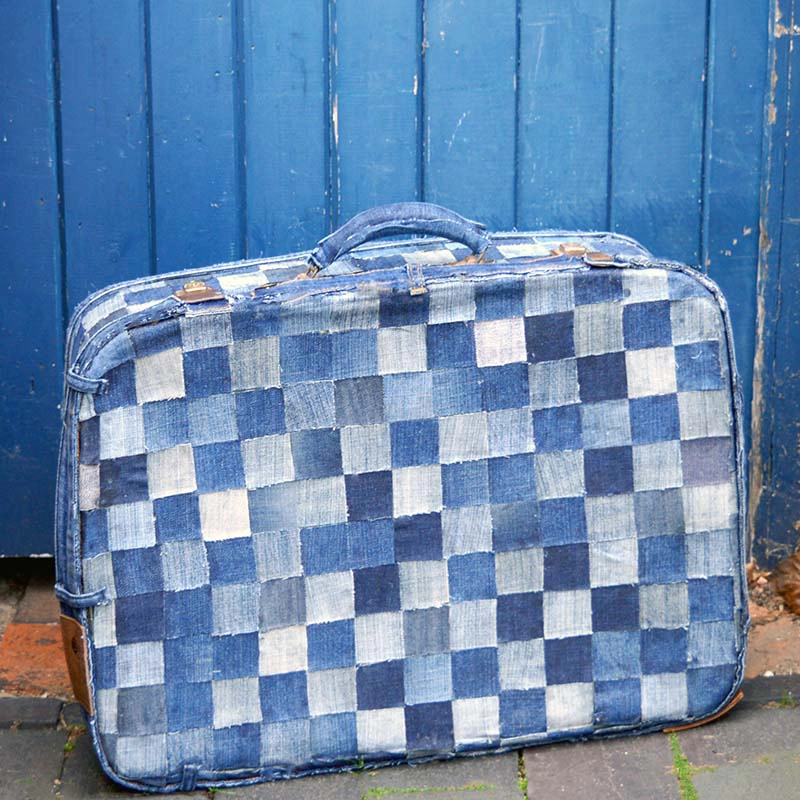 This denim suitcase is now used to store some of my fabric stashes and sits alongside my other suitcases hiding my craft supplies. You could, of course, uses it as a weekend bag. I'm always on the lookout for vintage suitcases to revamp & I fancy making a cocktail cabinet out of the next suitable one I find. What would you do with a vintage suitcase?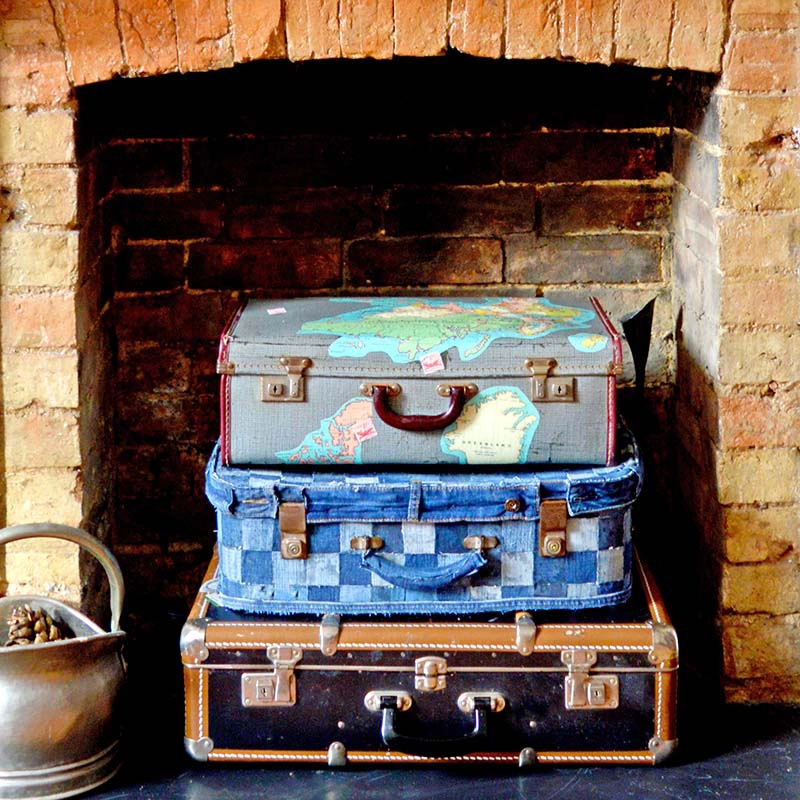 If you like to upcycle old jeans then check out all my other denim projects.