Fabulous & Funky Upcycled Felt Garland
Making an upcycled felt garland is such an addictive festive craft. Last week when making Christmas felt letters I suggested that you might want to keep the scraps to make a felt decoration (felt tinsel). These felt garlands are fantastically colourful and can be used in loads of ways. You can wrap the felt garlands around your tree, use it to hang things from, treat it like ribbon or just drape it over your pictures for that fun festive feel.
Even though what happens in craft club should stay in craft club, I can tell you that last night we got into the festive mood by turning mini felt garlands into adorable felt christmas baubles, whilst sipping sloe gin.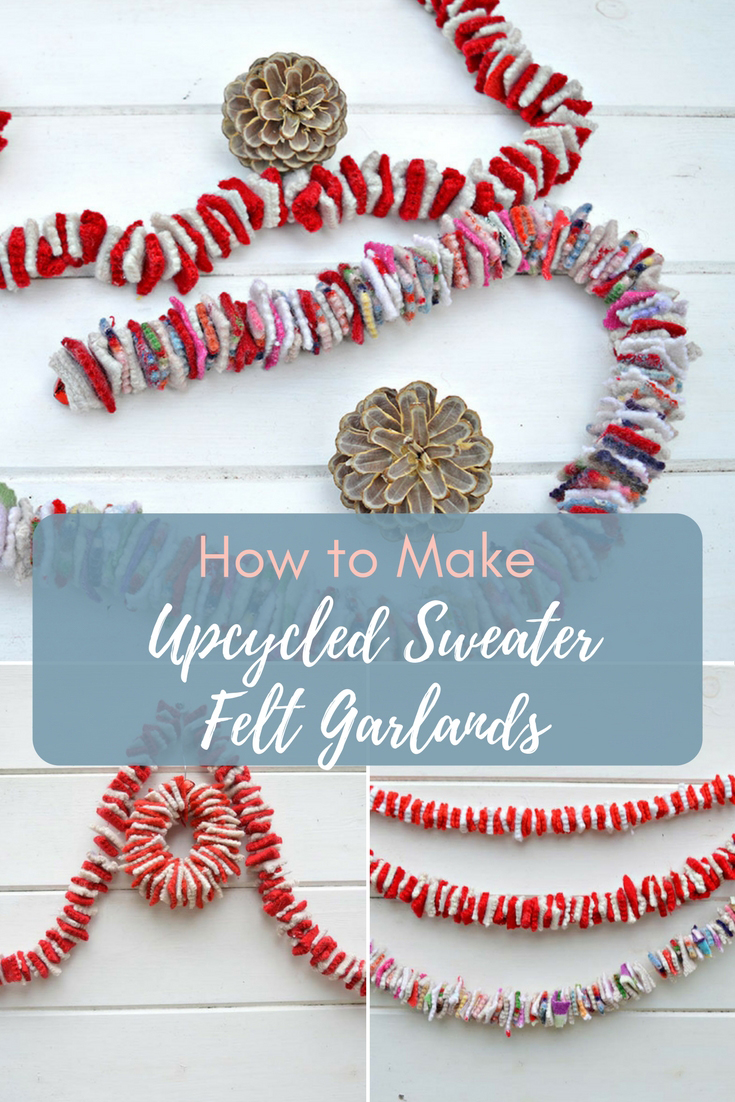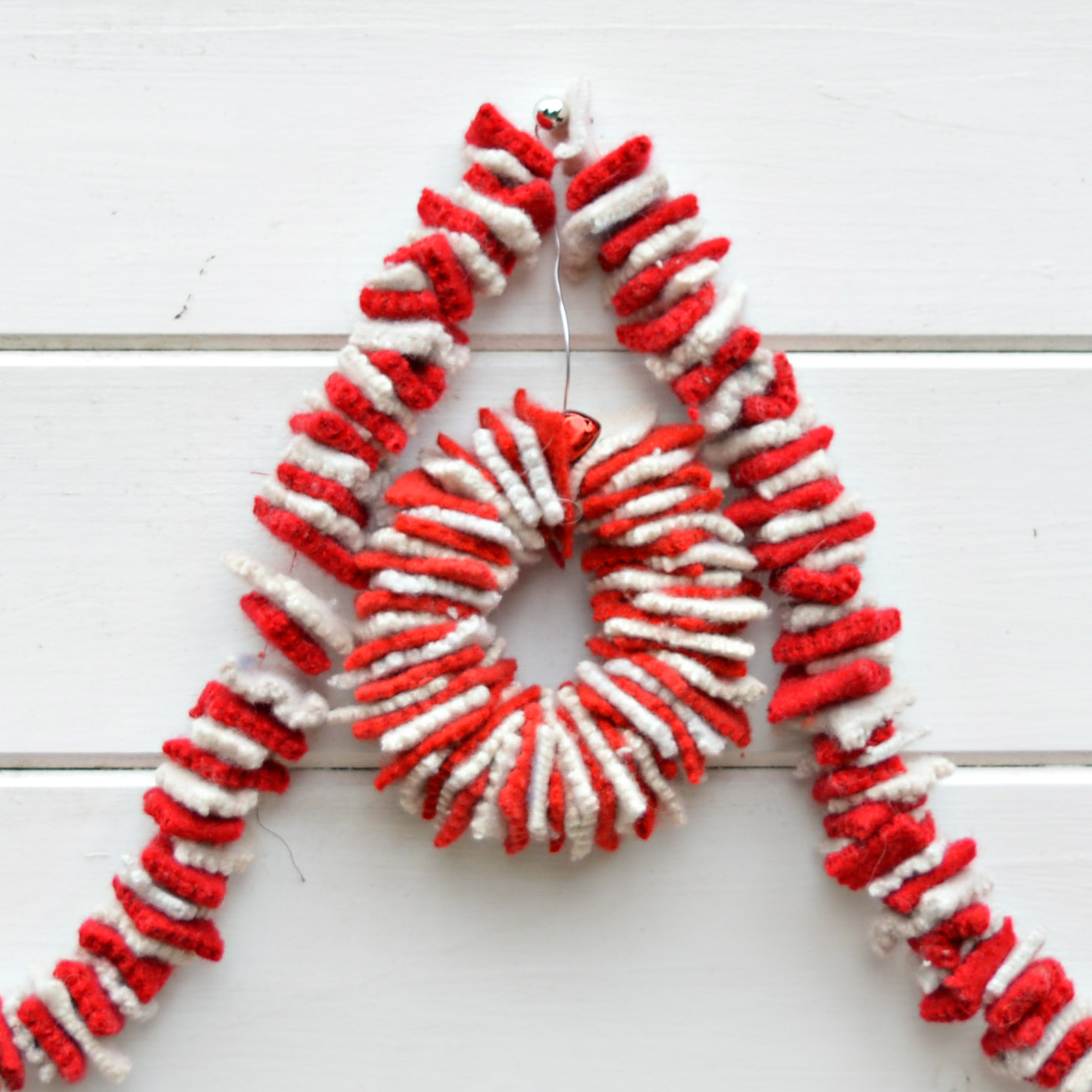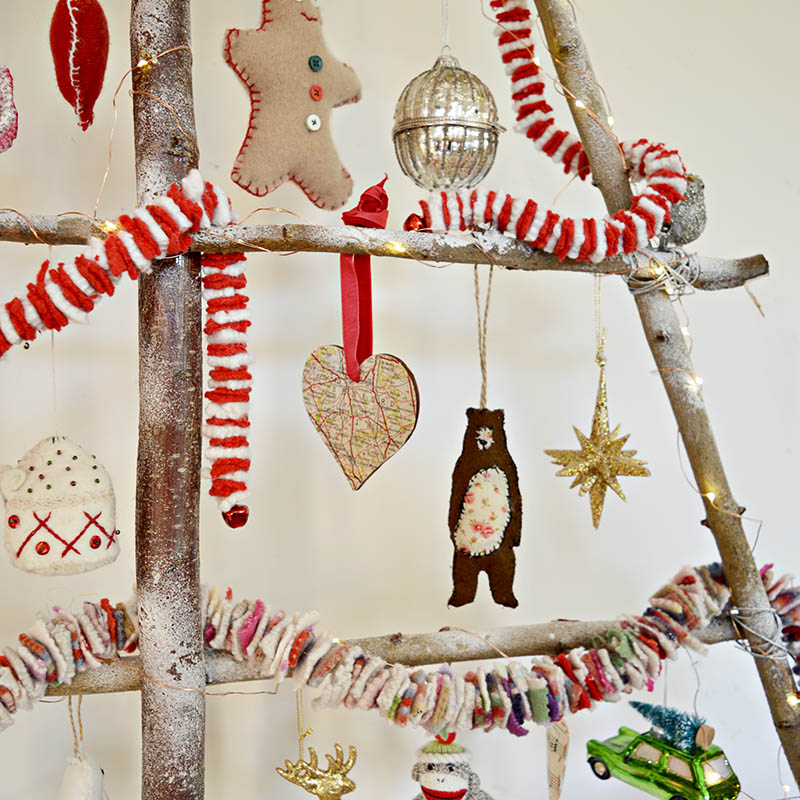 What You Need to make Christmas Felt Garlands
Felted Sweaters or felt scraps – I keep mine from projects throughout the year. Felted sweaters are the best as they are nice and thick. I posted how to felt old sweater on my Mountain Cushion tutorial.
Tapestry needle (large needle), elastic thread or waxed jewelery thread. Any thread would do as long as it is thick and strong with a bit of give.
Buttons or small craft bell.
If making a felt decoration bauble you will need craft wire.
How to Make Upcycled Felt Garlands
Using the pinking shears cut your felted sweaters/scraps into small squares. Pinking shears are only for decorative purposes as it gives a better effect than with straight scissors. I tend to cut my felt into 2cm squares, and don't worry about them being to even. How many squares you cut depend on how long you want you felt decoration garland to be.
Thread a button or a craft bell onto the end of your thread, this will stop your felt falling off the end.
Using the tapestry needle thread your felt squares in the colour order of your choice.
When your felt garland is the length you want, finish as you started with either a button or craft bell.



This is a very addictive craft once you start, you'll find that one felt garland won't be enough ! I sometimes call these felt garlands, felt tinsel. The simplicity of this craft makes it a great one for kids. Believe you me they will love it. I've found that kids love crafts that grow as you go; especially boys. It's like when I get my Beavers to make paper chains they never want to stop.







How to make Felt Decoration Baubles

Felt Baubles are made the same way as the felt garlands but this time you use craft wire instead of thread as it holds it shape. Loop the wire at one end before you start to stop the felt falling off. When you have finished adding felt squares thread the end of your wire through the loop to create a circle and tie off. Again you can make these as big or as small as you want.









Happy felting, and remember once you start it's hard to stop. If you're like me you will be on the look out for old colourful woollen sweaters to turn into this fabulously festive felt tinsel. It's a great way to add colour to your Christmas decorations and costs next to nothing to make.

For other fabulous upcycled Christmas crafts visit favcrafts.com