Most of my favorite crafts and DIY's involve upcycling fabrics for the home.
Just because your old clothes are no longer fashionable or fit, there is no need to send them to landfill. If they are not good enough for the local charity/thrift shop consider upcycling your clothes.
Other fabrics in the home such as sheets, blankets, t-towels and curtains can also be repurposed and upcycled.
In my article about upcycling, I talk about the benefits of upcycling clothing and fabrics to both the environment and mental health.
With this article, I want to give some practical ideas and examples of how to upcycle fabrics and all the wonderful things you can make from them for your home.
From making fabulous DIY pillow covers to handmade rugs and even covering chairs to making decorations for the home.
Many of these fabric upcycles were featured under the letter F in the A to Z of cool upcycling ideas.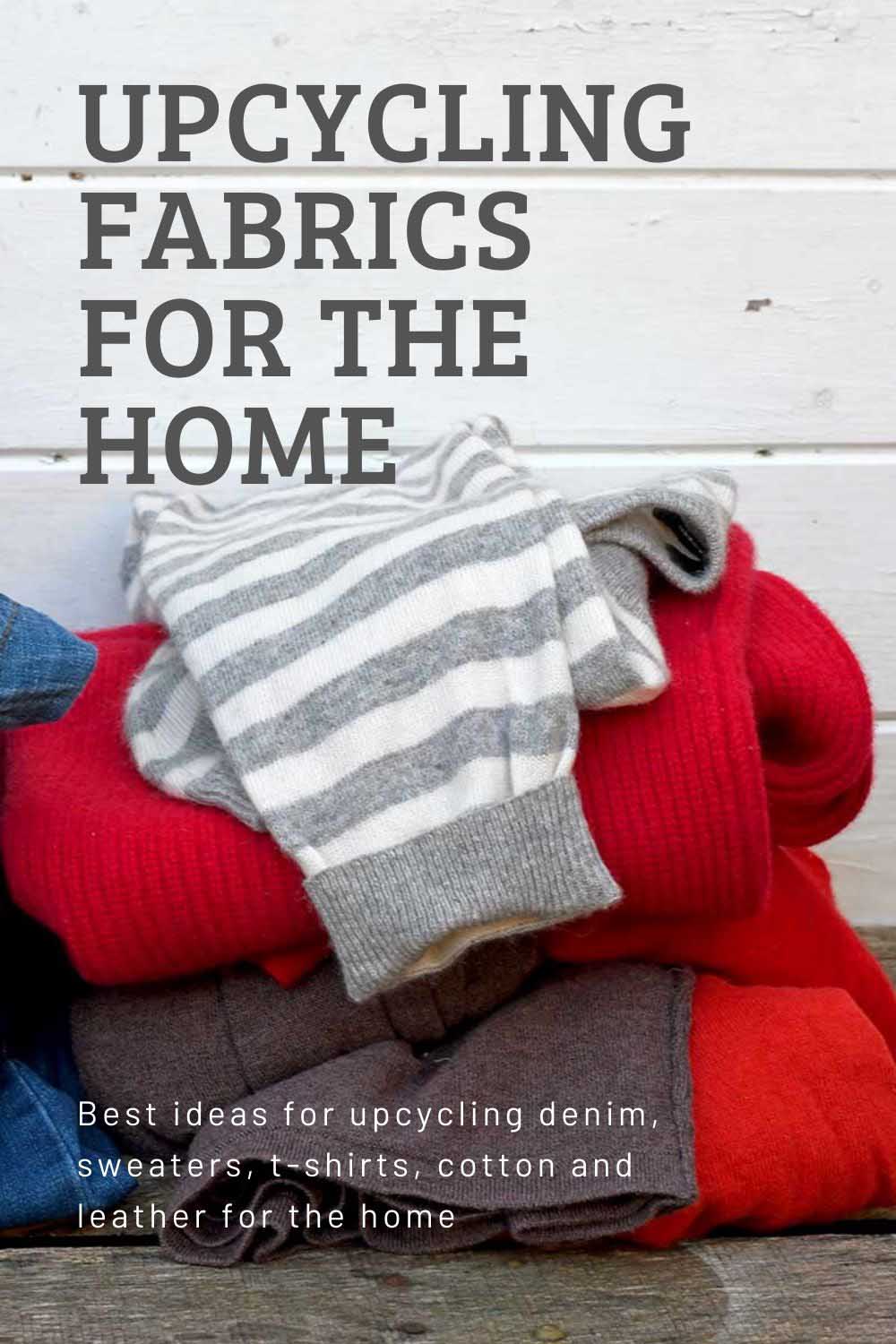 What Fabrics Are Good For Upcycling and Crafting
Denim – from old jeans, jackets, and shirts
T-shirts
Wool Sweaters
Cotton shirts and blouses
Plaid shirts
Wool blankets
Cotton Sheets
Leather belts, handbags and even leather from old sofas
1.Repurposing Old Jeans and Other Denim
Denim has to be one of my favourite fabrics to upcycle. I love all the different shades of indigo that denim comes in. The fabric can be stitched, glued, woven and even in some cases crocheted.
There are many interesting elements to a pair of jeans that can really add something to a craft and project. One pair of jeans can provide a lot of upcycling fabrics. There are many ways you can cut up a pair of jeans for crafting.
The legs can be opened up to provide large pieces of materials. If even larger fabric pieces are needed the denim from different pairs of jeans can be stitched together in a patchwork. Denim is a great fabric to upholster with
The seams and waistbands can be cut from the jeans and be used as a decorative element in an upcycle or even be woven into mats, rugs and woven pillows.
Jeans pockets are also handy for creating unique storage items for the home.
There is a fun A to Z list of denim crafts here.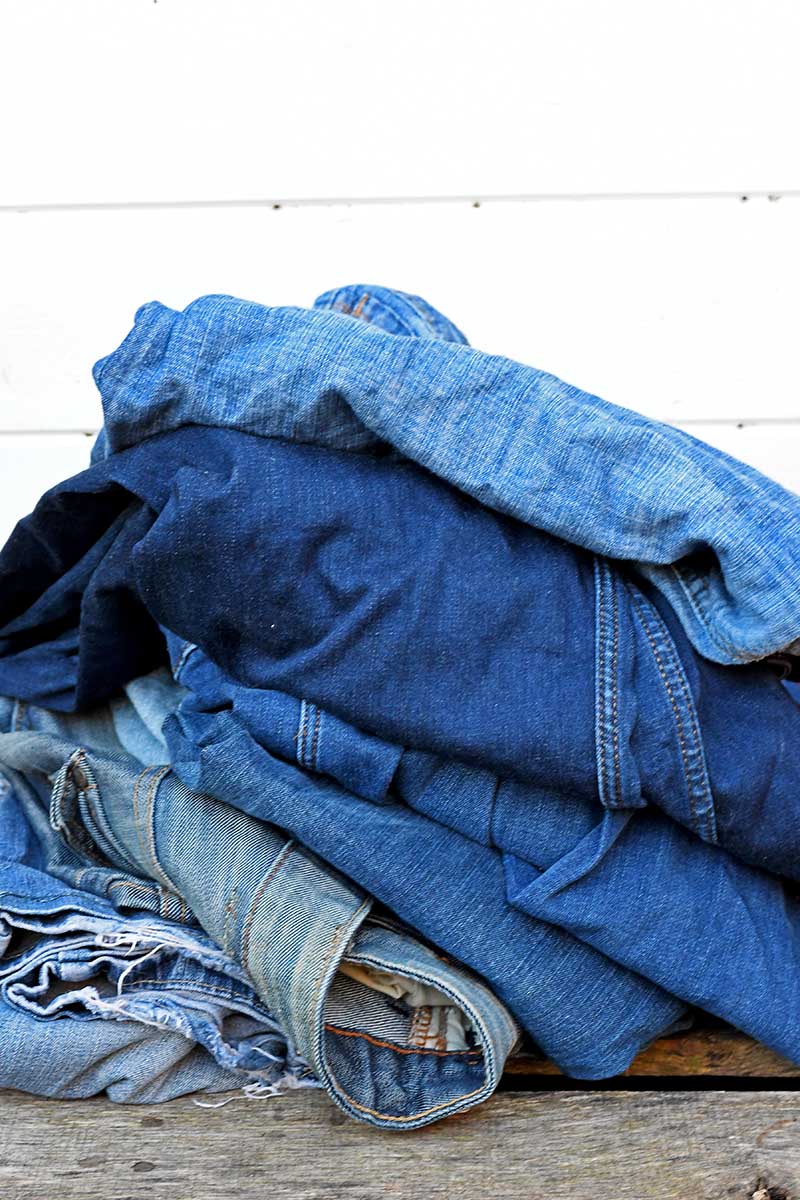 Upcycled Denim Ideas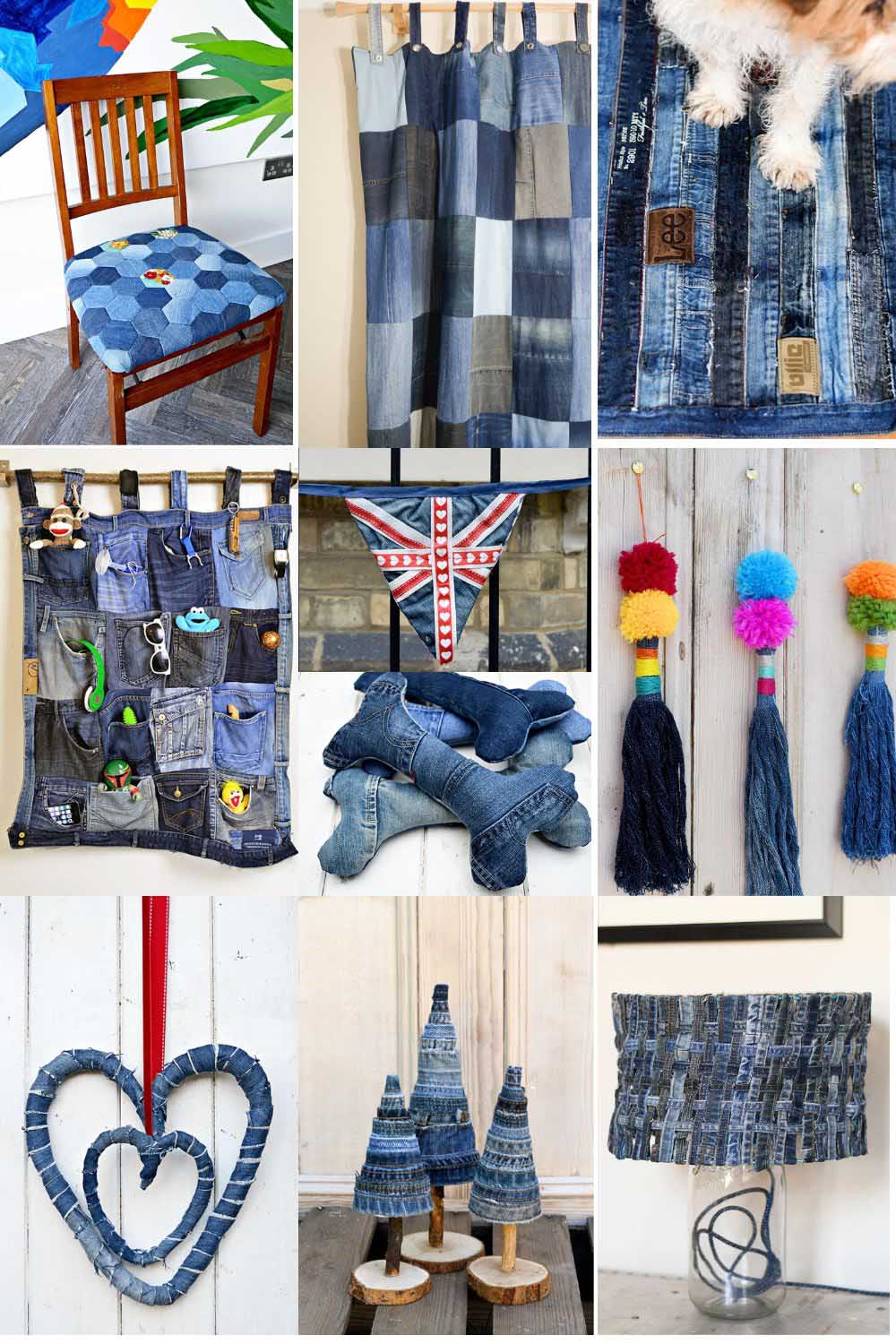 2. Sweater Wool Fabric Upcycling
After denim by second favorite upcycling fabrics are wool sweaters.
What I mean by wool sweaters /jumpers are those that have a natural wool content of at least 70% (such as lambswool). These sweaters can then be felted (boiled wool) in the washing machine.
We've all done it before, accidentally put our favorite sweater on the wrong wash setting in the machine. Only then for it to shrink so that it will now only fit a toddler.
That is basically felting, shrinking and matting wool fibers together. You may no longer be able to wear that sweater again due to its tiny size. But it will be great for crafting with.
Felted/boiled sweater wool will not fray or unravel like normal wool. This makes it a great material to craft and DIY with. No hems or seams needed, the upcycled fabric can be stitched or glued.
There are many upcycled sweater crafts on my site. Lucky for me my parents love to wear bright colorful sweaters in natural wool and pass me all their cast-offs. Wool sweaters are easy to find in charity/thrift stores.
Also, my friends and families now know that if they accidentally shrink their sweaters in the wash, to hand them straight to me. As I will upcycle the felted sweater wool into something wonderful for the home.
Sweater fabrics are particularly good for making repurposed Christmas crafts.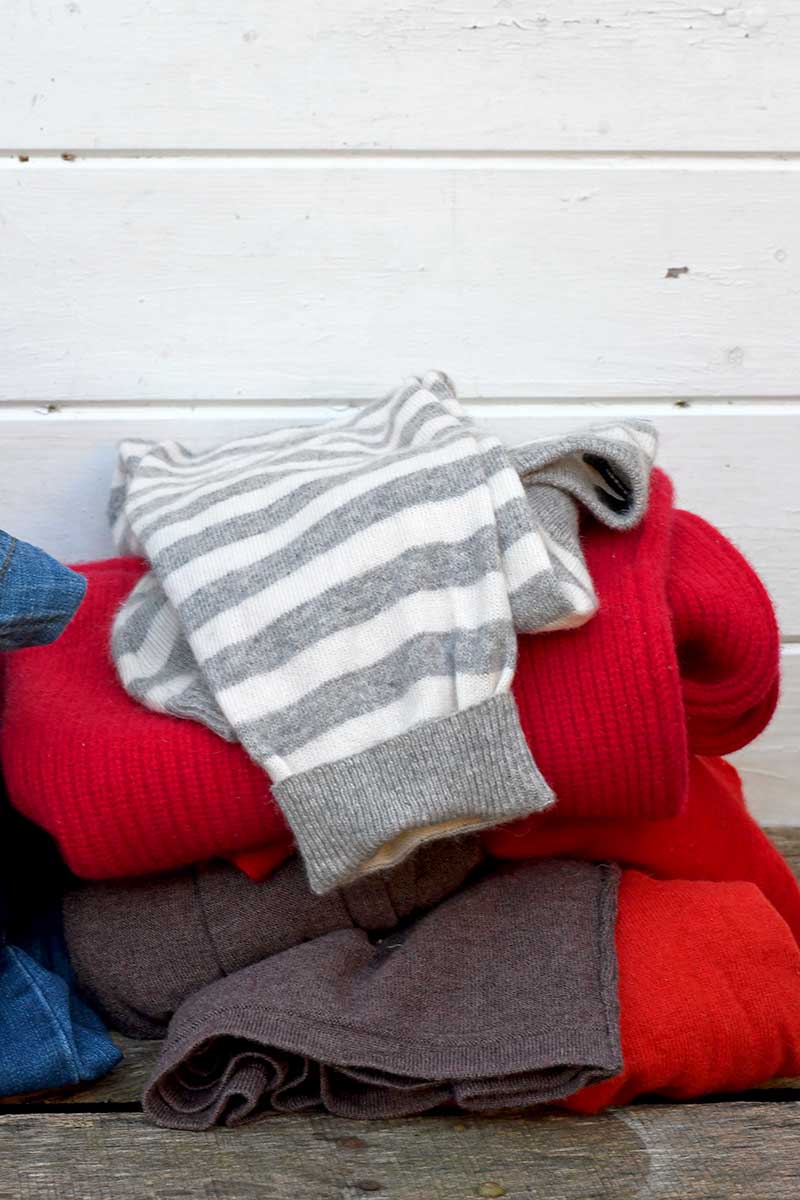 Upcycled Sweater Ideas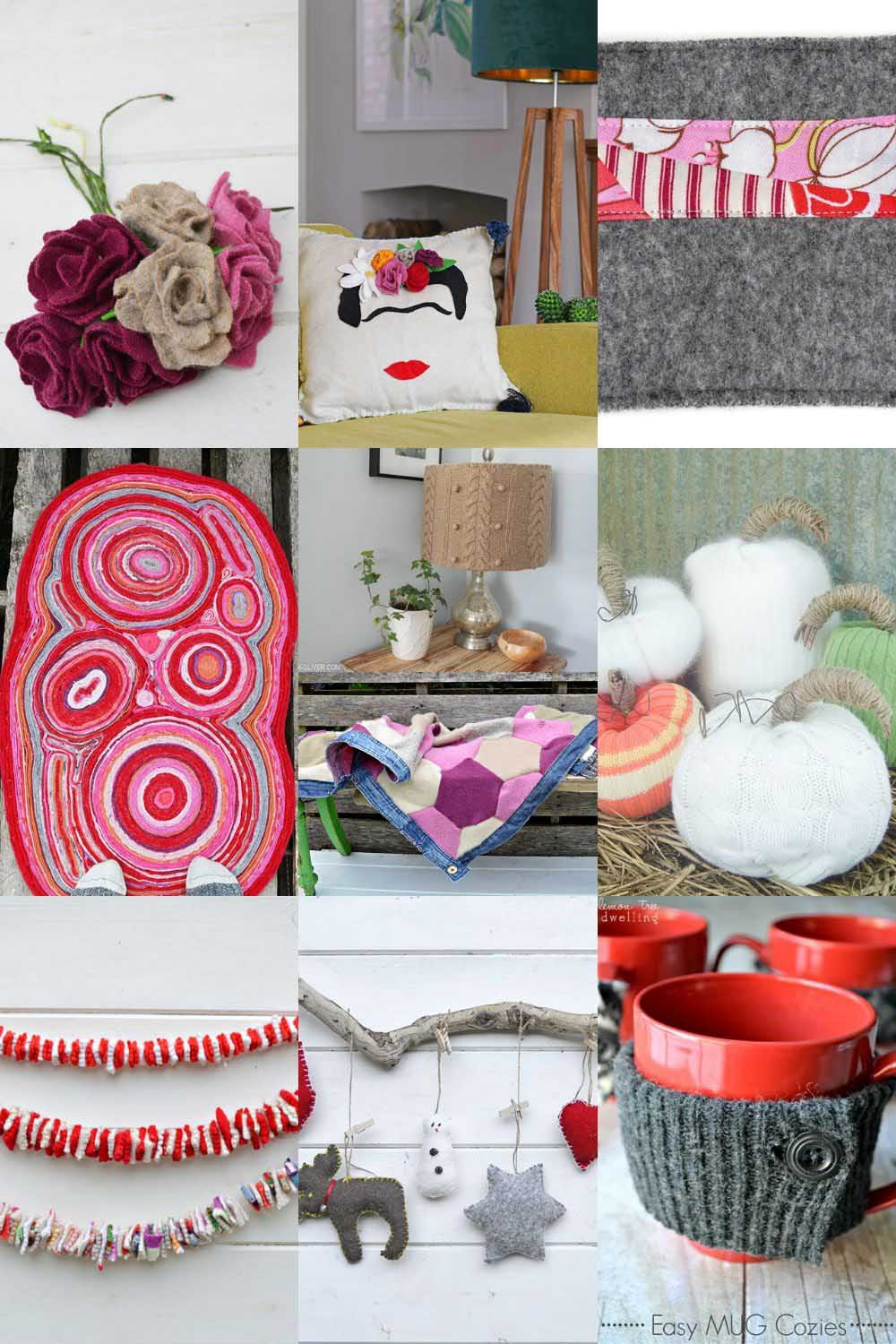 3. Upcycling Clothing T-Shirts
T-Shirts are a great fabric to upcycle. Unlike denim, t-shirt material doesn't fray. Which means that you can cut and use the fabric without the need for hemming.
That is why old t-shirts can easily be repurposed into yarn for knitting. It's a great way of upcycling plain boring t-shirts that have seen better days.
Then, there are so many ways you can use the t-shirt yarn. For example can be crochet or knitted into rugs, woven into mats and even macrame into a plant pot holder.
However, the thing about t-shirts is that they often have a sentimental element. I certainly know that my son who wears nothing but t-shirts has some favorites he is reluctant to part with. Even when they have seen better days or are getting a bit tight as he grows.
It's the slogans and graphics on the t-shirts that he is particularly attached too. One way I persuade him to part with these treasured items is to upcycle them into something for his room. You can just frame the t-shirt, turn them into pillows or even quilts.
Here are some of the best ways of upcycling fabrics from old t-shirts for the home. Using a mixture of techniques from sewing, no-sewing, crochet, weaving, knitting and macrame.
Upcycled T-Shirt Ideas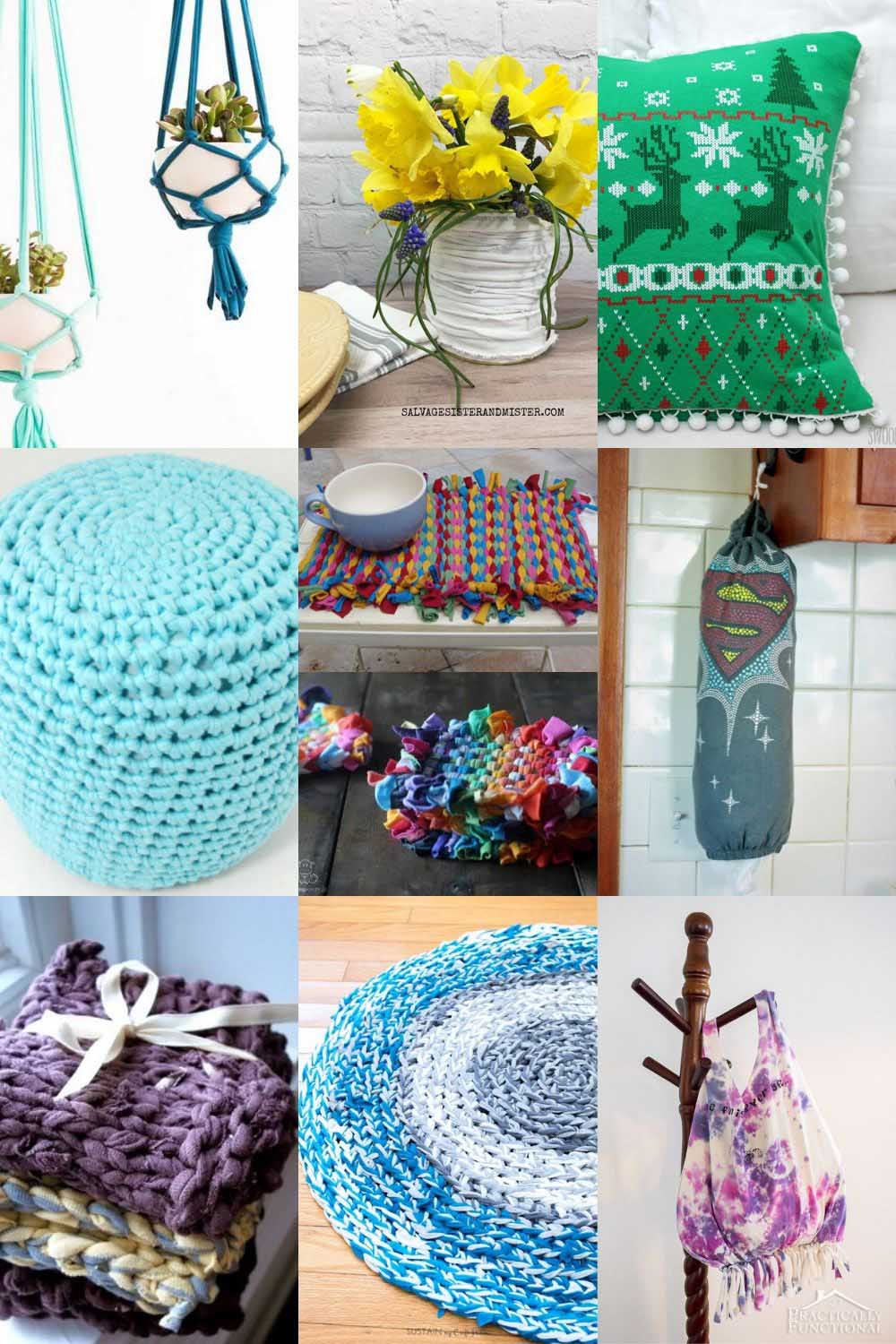 3. Upcycling Fabrics – Cotton fabrics
There are so many cotton fabrics that you can upcycle in the home. From old bedsheets, t-towels, shirts and blouses.
Unlike felt and t-shirt fabric, cotton does fray. This means that it needs to be hemmed. Or you can glue the edges of the fabric to stop them from fraying.
Cotton does have the advantages of coming in a wonderful array of fabulous prints and patterns especially old shirts and blouses.
I love giving old pretty printed blouses a second life by upcycling them into something for the home.
Often the cotton fabric on these printed shirts is thinner than other upcycling fabrics. This means that the material can be used to decoupage furniture and other objects with as well as being stitched and sewn into new items.
If you coat thin cotton fabric in Mod Podge and then let it dry the fabric can then be cut and decoupaged with like paper without fraying.
Old cotton sheets also tend to be thin. This makes them a good fabric to print on using your home printer for smaller crafts and DIYs. Or if your lucky you might have some lovely patterned vintage sheets.
When you are looking for small amounts of fabric for your crafts and DIY's why not check out your wardrobe for old clothes that can be upcycled first. It's always better to repurpose and upcycle clothing and fabrics before buying new at the fabric store.
Using old shirts and blouses also gives your handmade item that extra special personalized touch.
Upcycling Cotton and Woven Fabrics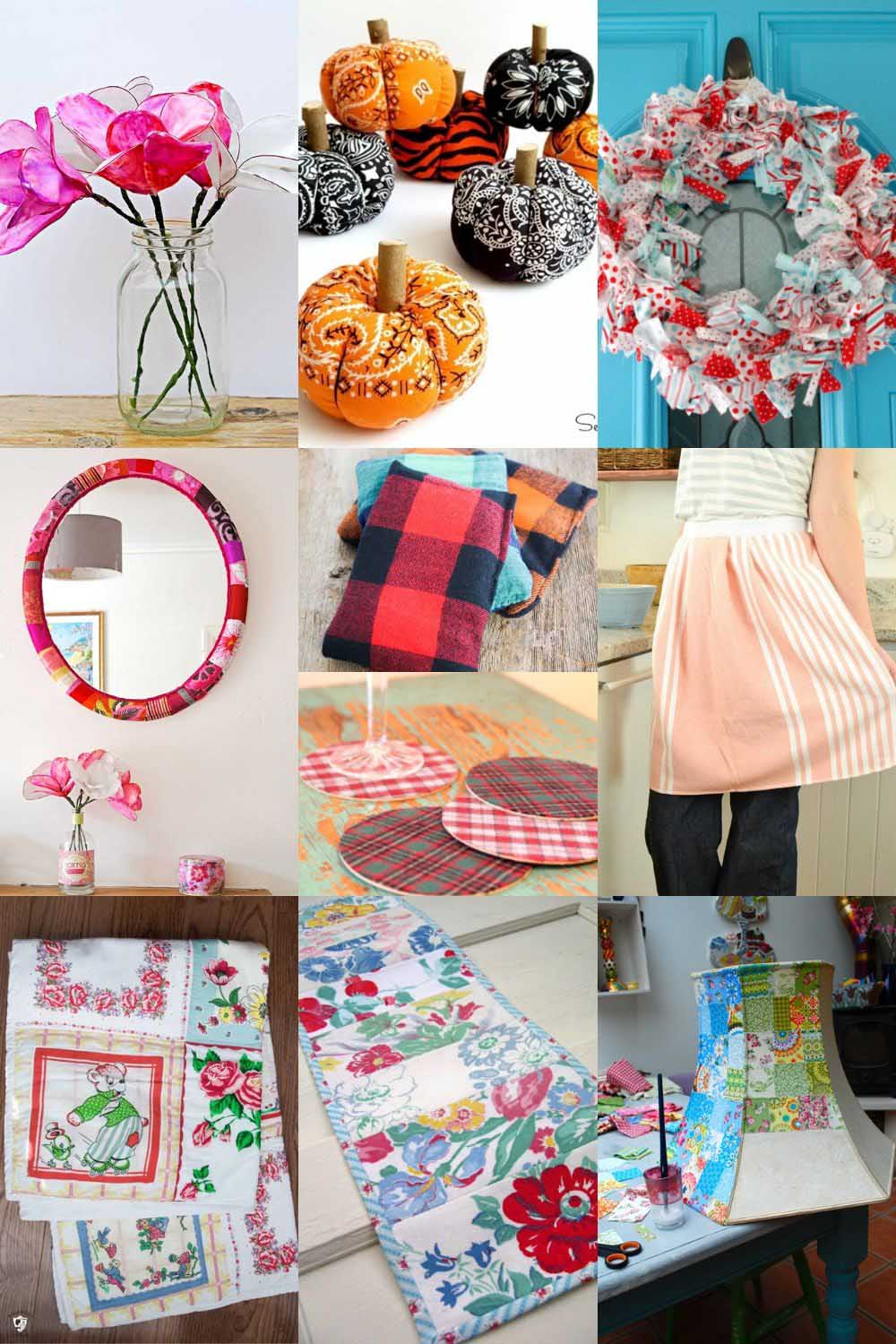 4. Upcycling Fabrics – Leather
I keep all my old handbags when they have reached the end of their useful life. As I love to upcycle leather fabrics too.
Not only is the leather from old handbags great for upcycling but leather belts are fun to use too. I've even been known to cut the leather from a sofa/couch destined for the dump.
I have crafted with both real leather and faux leather. Both are just as good for upcycled crafts. You can paint leather and even print on leather.
Leather is another fabric that won't fray. So no need to stitch hems. The fabric can be sewn, glued and fixed with eyelets and rivets.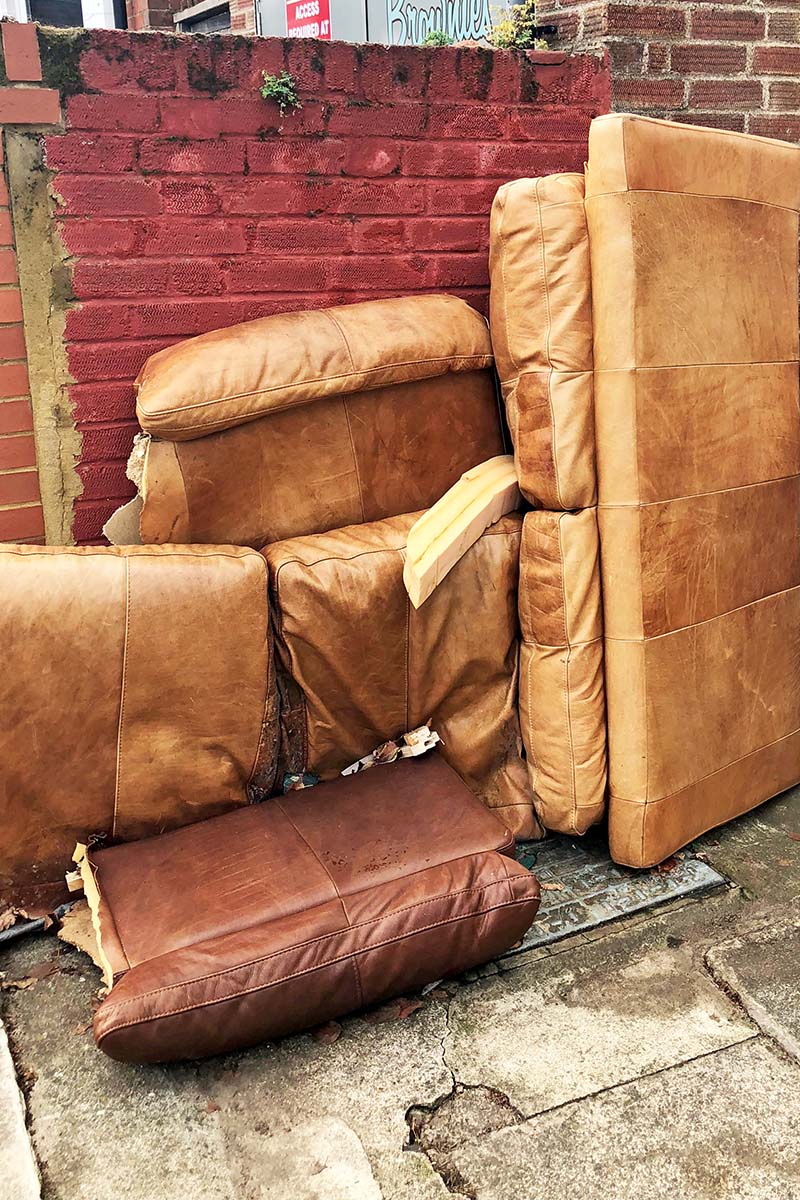 Upcycling Leather Fabrics
Boho Style Leather Vase – this was made from some of the sofa fabric
Leather pen pots paint the leather for a cool look.
Upcycled leather bag with paint and vintage images
DIY leather mail organizer – made with old leather belts
Leather belt shelves an alternative to brackets
Macrame style leather recycled hanging planter, no complex knots just some clever cutting.
Repurposed leather strap into drawer pulls
Leather pillow made from old couch leather
Patchwork scrap leather rug
Leather pennant wall hanging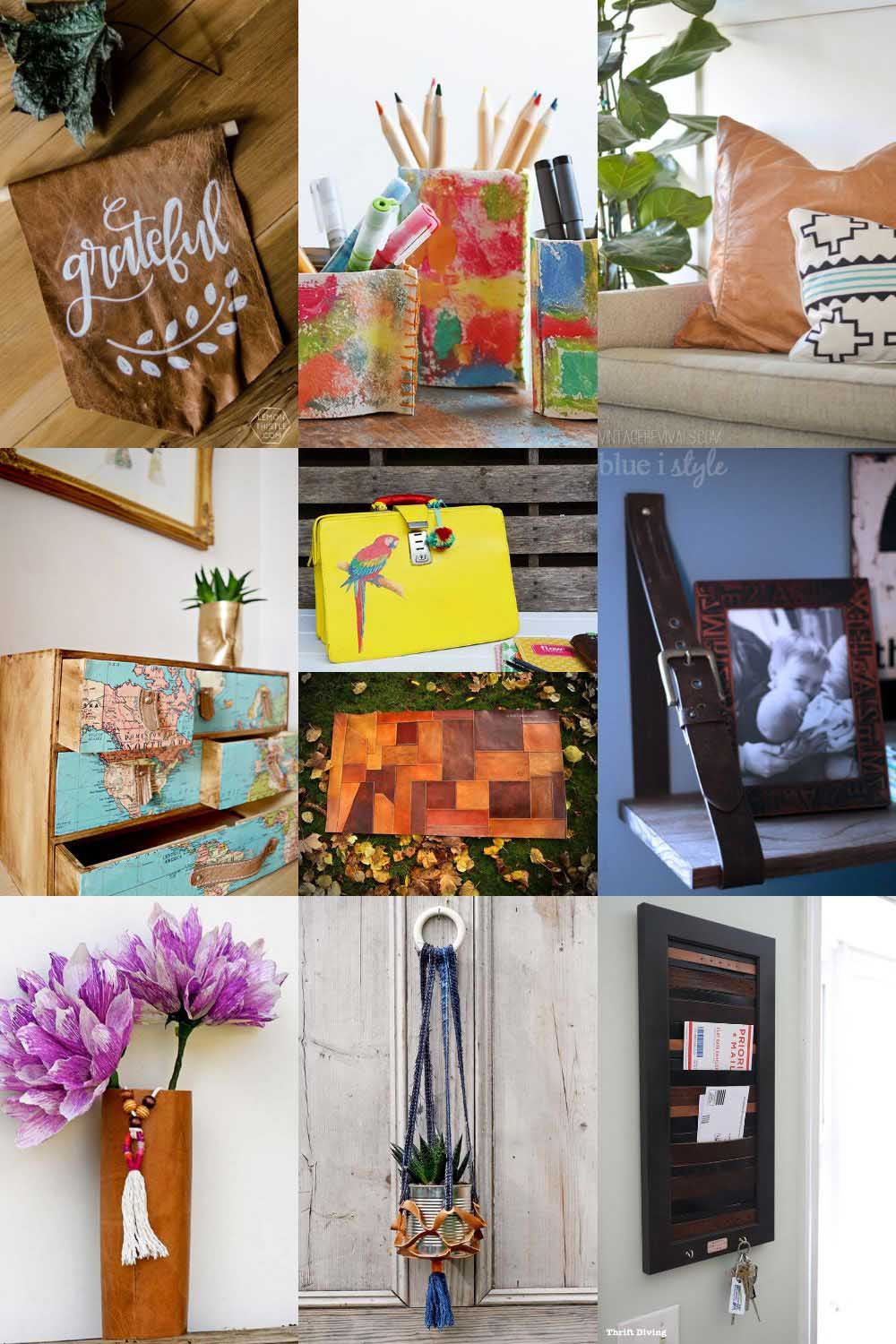 Next time you need fabrics for a craft or DIY, see if there is some clothing or other fabric you can upcycle. I keep all my family's old jeans, jumpers, colorful shirts and belts for crafting with. Before you start these projects you might want to ensure you have many of these upcycling and craft essentials.
My extended family and friends also pass me on their old fabrics to add to my upcycling stash. It means that a lot of the crafts and DIY's I have in my home are very affordable as they are made with upcycled fabrics. Even if you only have small fabric scraps there are still plenty of things you can make with them.
I also believe that reusing fabrics are environmentally friendly as you are repurposing and upcycling existing resources.
Also, many of these fabrics have a history and a story behind them. Not only do I save money but I often add a personalized element to the DIY.
Let me know what fabrics you upcycle for your home?