Inside: A tutorial on how to make a fabulous angel wing ornament and decoration out of old shuttlecocks.
Upcycled angel wings: One of my first posts was about upcycling shuttlecocks. I am inundated with feather shuttlecocks; my family is badminton mad and plays several times a week.
It doesn't take too many whacks of a racquet before a feather shuttlecock is past its best and relegated to the practice bag. I have hundreds of them, as I can't bear to throw them out.
I'm determined to find ways of upcycling them. My latest feather shuttlecock upcycle is a festive one; a shuttlecock angel wings Christmas decoration. They go well with the denim and doily angel wing ornaments I have also made.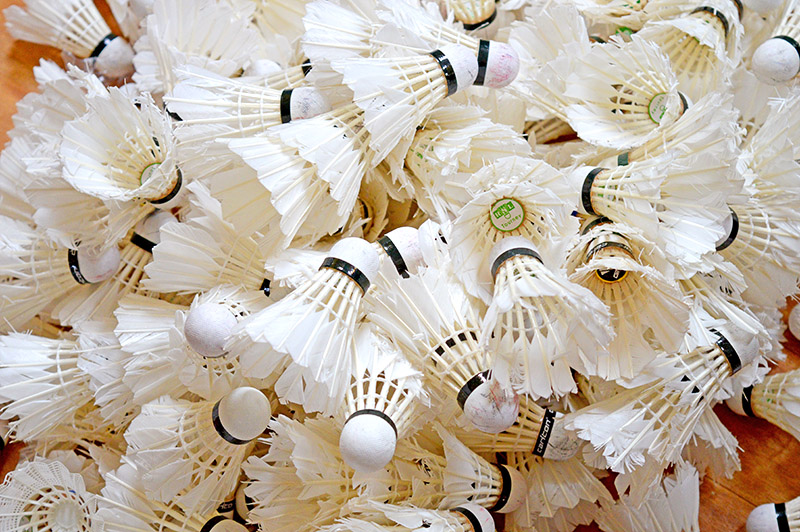 We're a participant in the Amazon Services LLC Associates Program, an affiliate advertising program designed to provide a means for us to earn fees by linking to Amazon.com and affiliated sites. As an Amazon Associate, I earn from qualifying purchases.
Upcycling Badminton Shuttlecocks (Birdies) Into Angel Wings
What you need
All you need to make these Shuttlecock Angel wings are:
Six feather shuttlecocks per set of wings. If you don't happen to be a badminton-mad family like mine with an endless supply of used shuttlecocks, you could try your local club or ask badminton-playing friends. The playing life of feather shuttlecocks is very short, and they are often just discarded afterwards.
Scrap cardboard for the hearts (I use old packaging).
Strong scissors, small pegs or bulldog clips, and a good strong, clear glue such as UHU.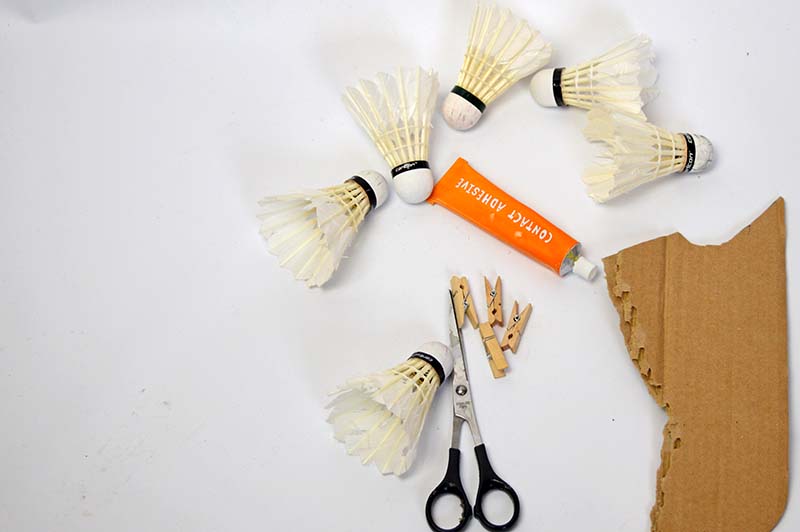 How to make Shuttlecock Angel Wing Ornaments
Step 1: First, you must deconstruct your shuttlecocks by cutting off the rubber and cork end of the shuttlecock. And then opening the feathers into one long strip.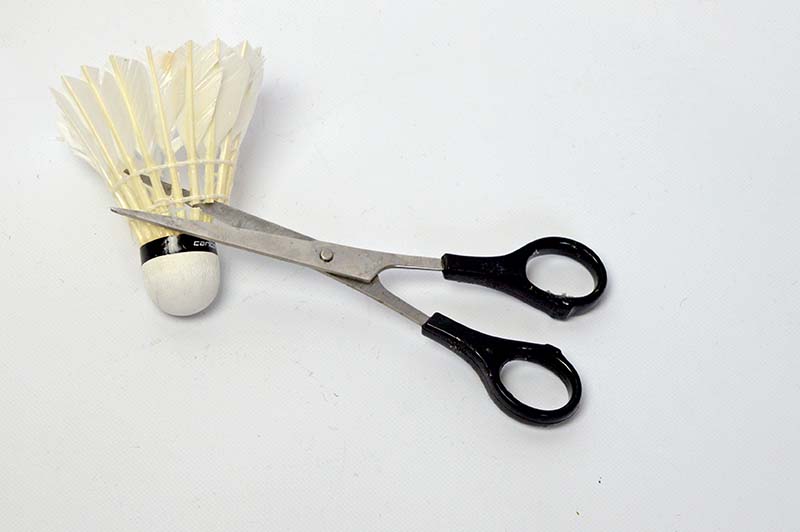 Step 2: You will need three strips of feathers for each wing, hence six shuttlecocks for each pair of angel wings.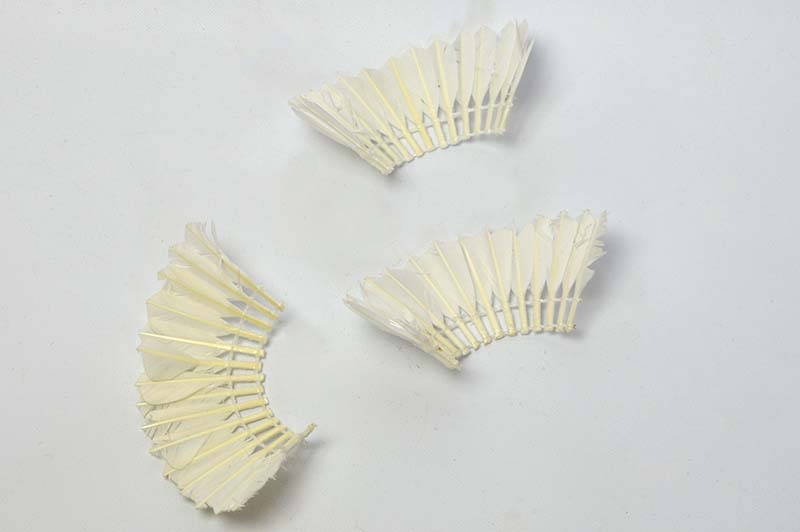 Step 3: Next, glue the three strips of feathers together one on top of the other. Offset them to create three rows of feathers. Use the pegs or bulldog clips to hold the shuttlecock feathers together as the glue dries.
Once dry, trim your feathers into a more angel-shaped wing. This is quickly done with a pair of scissors.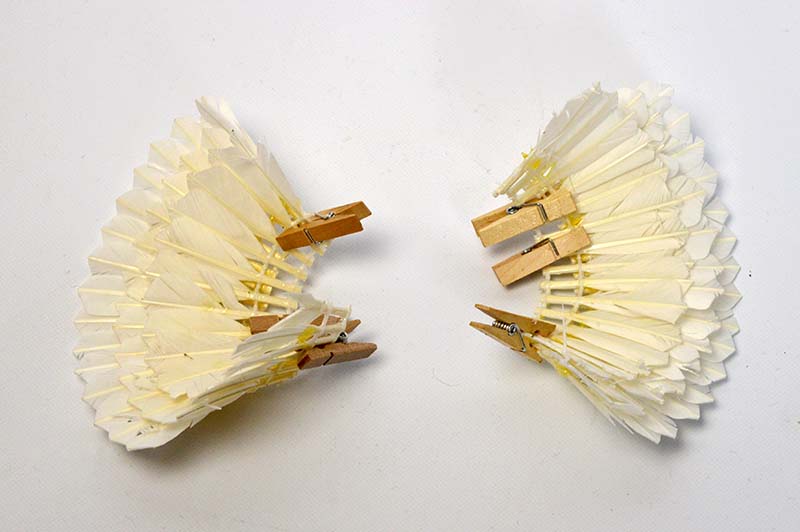 Step 4: Then, cut out a cardboard heart shape. I spray-painted the cardboard heart copper to add to the decoration. Then glue a pair of your upcycled wings to the back of the cardboard. Use pegs to hold it in place whilst it drys.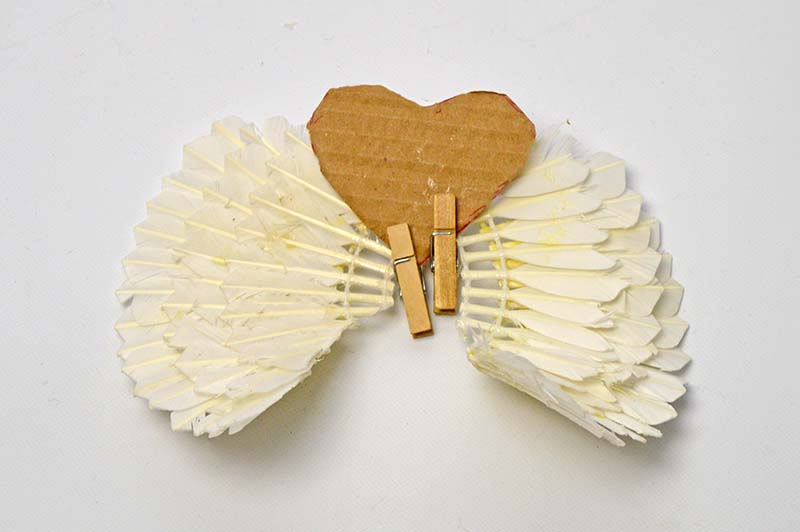 Step 5: Finally, once the upcycled angel wings are dried, you can leave them as they are or spray paint them as I have. I fancied some copper wings, so I spray-painted a couple of pairs of them with copper paint.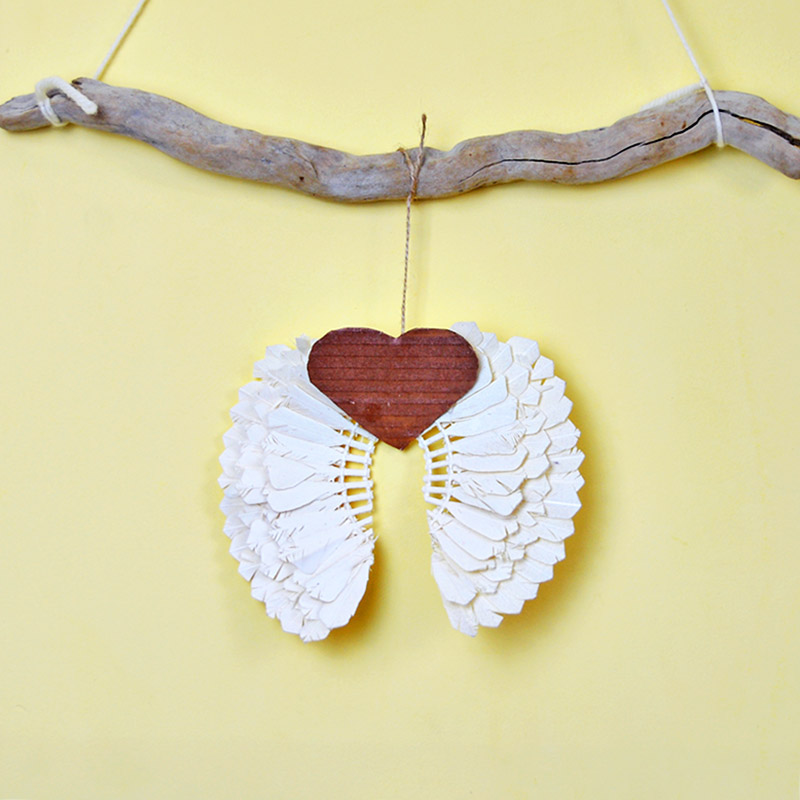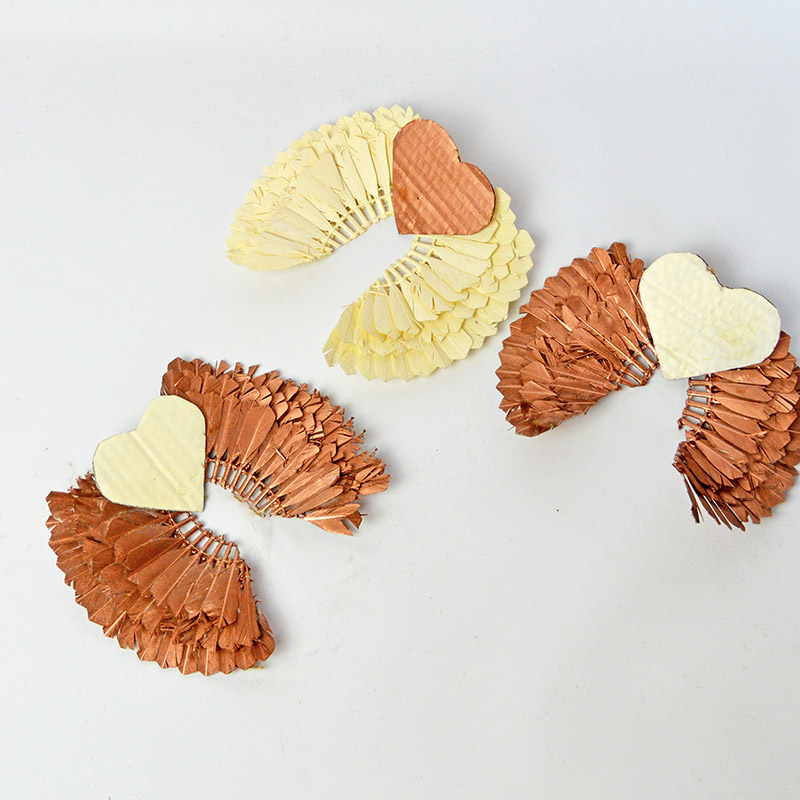 How To Hang The Angel Wings Decoration
I like to hang my shuttlecock angel wings from a branch, but you could string them into a garland or hang them individually on the Christmas tree.
The angel wings would also make an excellent name placeholder on the Christmas lunch table. Using them on the Christmas table, you could write the place names on the hearts.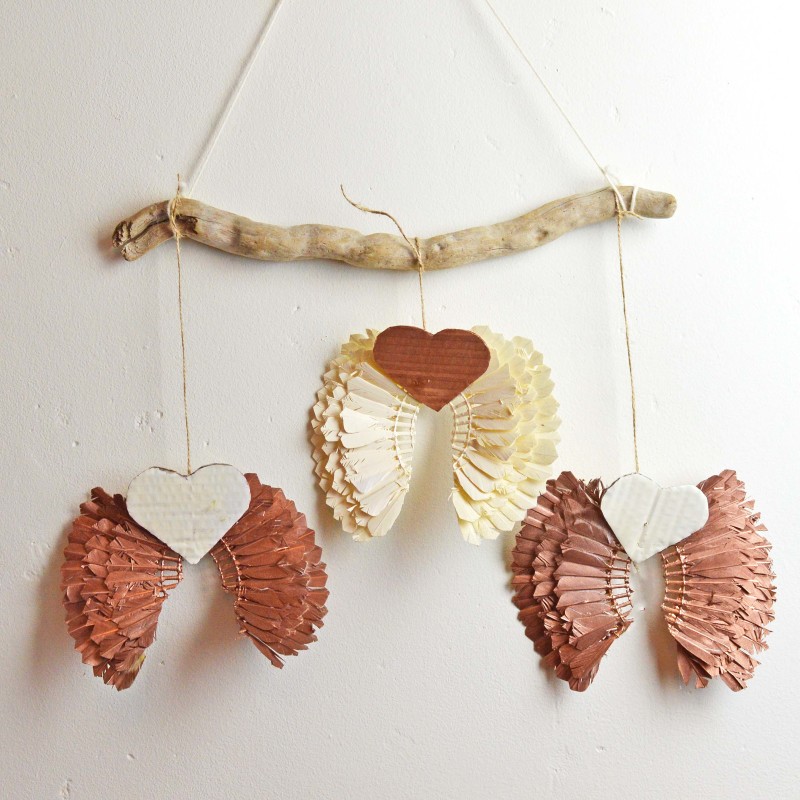 As I said at the beginning of the post, I am always looking for things to make with shuttlecocks, as I have an endless supply. I would love to hear if you have any ideas for other shuttlecock upcycles.
I have also made feathers out of scrap pieces of old jeans for a denim feather wall decoration. However, I could also perhaps now use it to make some denim angel wings.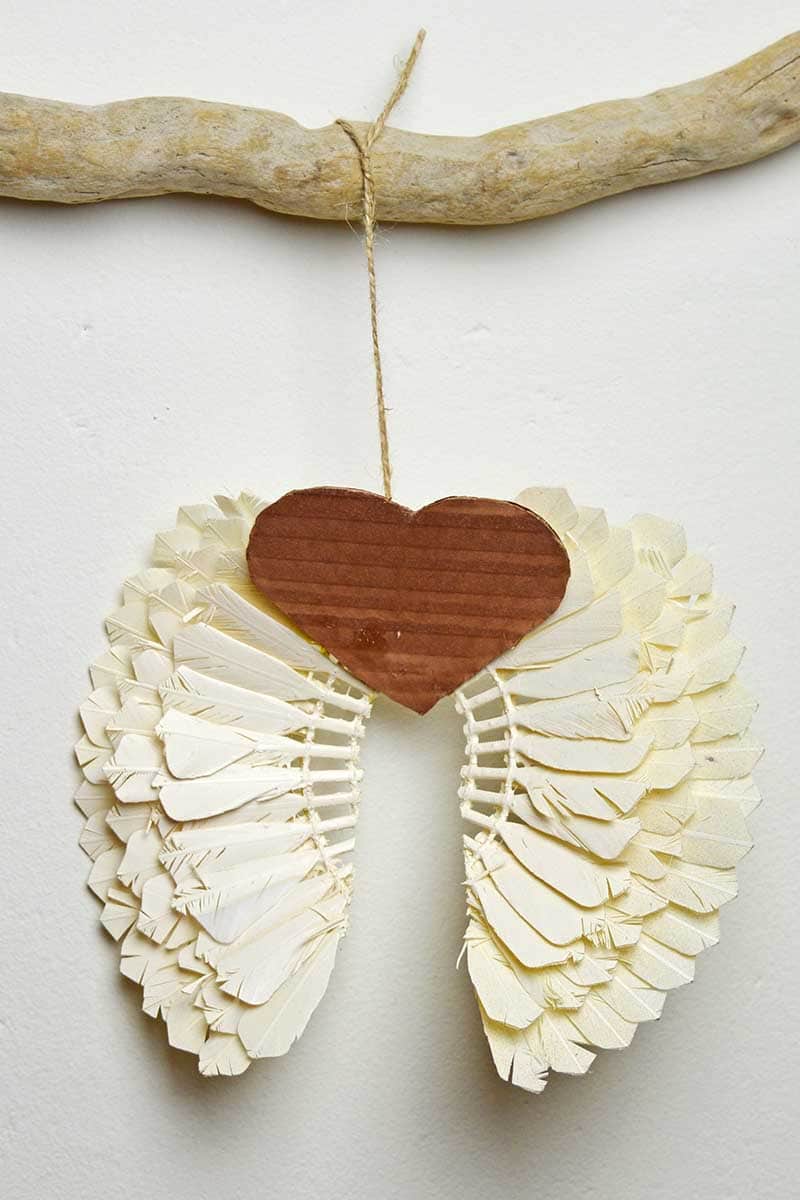 You can make some colourful and patterned DIY feathers by upcycling plaid and tartan fabrics. There are many more feather crafts and DIYs here.
I like angel wings and have made a few large sets for my gallery walls, one a set of map paper angel wings and another out of painted pine cones.
You might want to check out some of my other upcycled Christmas ornaments.
Scrap denim angels
Cute sweater upcycled ornaments
Upcycled felt Christmas tree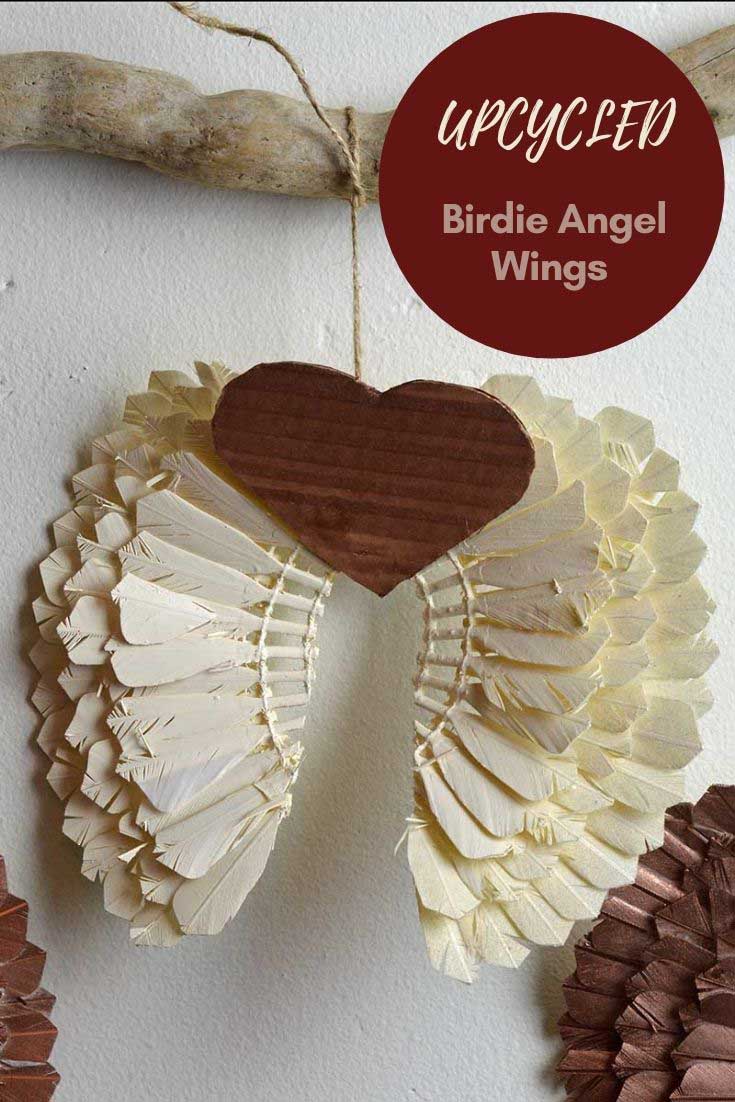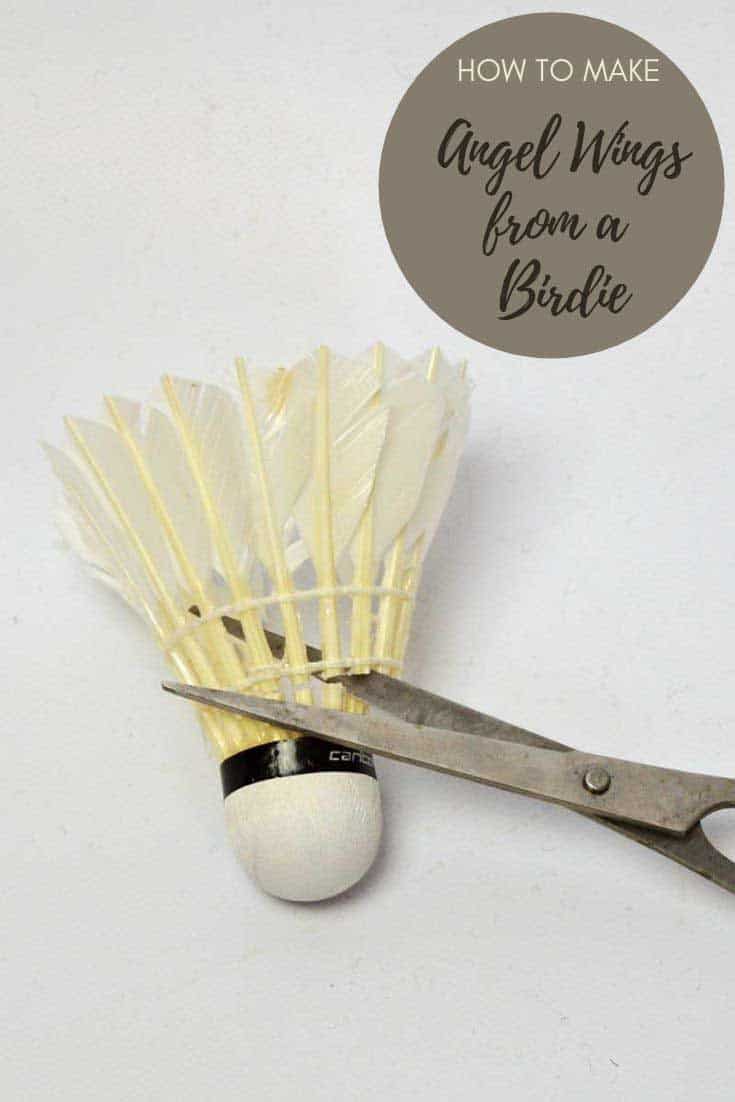 I've also made a Christmas angel out of wine corks too.