One of my favourite ways to de-stress is to paint, not walls but pictures. The other night I got my watercolour paints out and started painting some simple baubles to relax. I was painting them on postcard-sized paper. I thought that they would look good framed together as some Christmas tree wall art.
Painting is relaxing as it engages the creative side of your brain, giving the logical problem-solving side a bit of a rest. You don't even have to be good at painting to get the stress-busting benefits from it.
On my other blog Pictureboxblue, I'd recently made a rainbow bird gallery wall and on Pillarboxblue I'd made a wood slice Christmas tree. These two ideas combined gave me this idea for displaying my bauble paintings as a unique piece of alternative Christmas tree wall art.
Painting Watercolor Christmas Baubles
You don't need to paint anything complicated. I drew some simple bauble shapes onto watercolour postcard paper. I then simply got out the watercolour paints and coloured them in. Just like those adult colouring books.
Before I'd knew it I had quite a collection of baubles and felt so much more relaxed. It was like meditation my mind had been cleared. Initially, I didn't know what I was going to do with the watercolour baubles.
Then I got the idea for the Christmas tree wall art gallery as a fun way to display them. I had spotted in my local pound (dollar) store that you could buy packs of 2 postcard-sized photo frames for £1. So I knew it was going to be an affordable craft.
I love how the Christmas tree wall art looks and is another fun Christmas decoration for my home. I'm not sure where I'm going to hang it yet. Or even if I'm going to hang it. I quite like the idea of popping it against the wall and placing presents around the base. Like you would with a real Christmas tree.
I'm a big fan of flat Christmas trees like this, that don't take up too much space.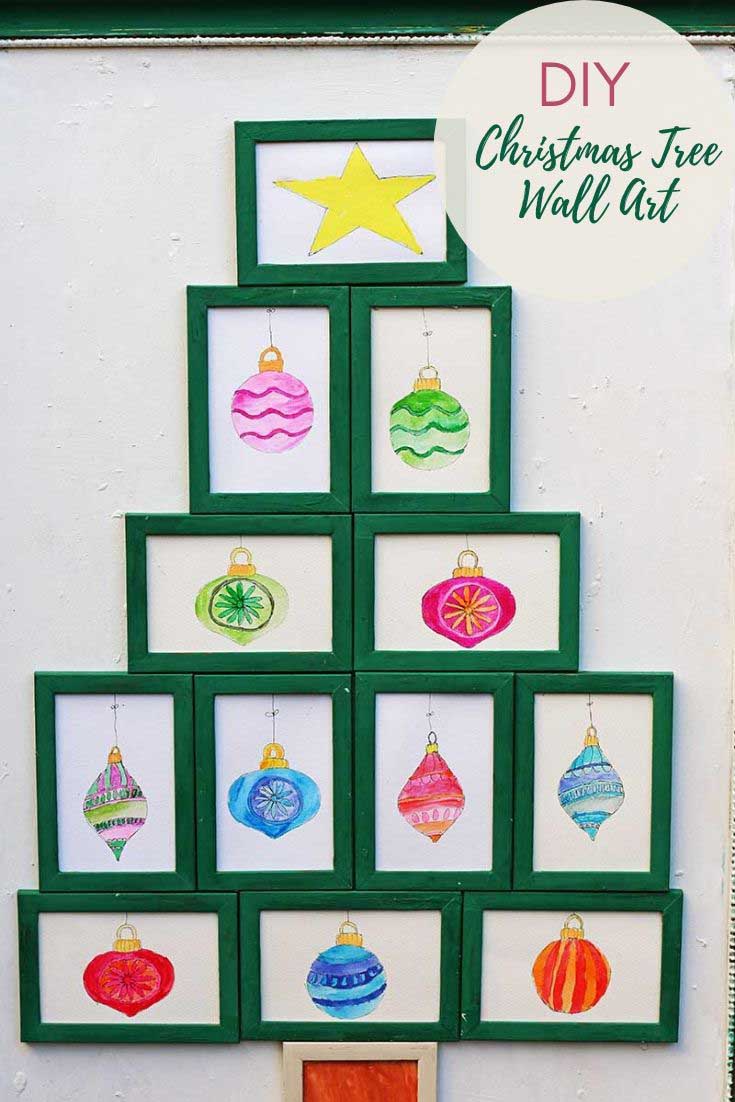 We're a participant in the Amazon Services LLC Associates Program, an affiliate advertising program designed to provide a means for us to earn fees by linking to Amazon.com and affiliated sites. As an Amazon Associate, I earn from qualifying purchases.
What you need to make unique Christmas tree wall art
13 Postcard (4″x6″) photo frames get them from the pound shop or thrift stores.
Green chalk paint – a tester pot will be plenty big enough.
Large frame to mount the gallery – optional, you can just mount straight on to the wall if you prefer.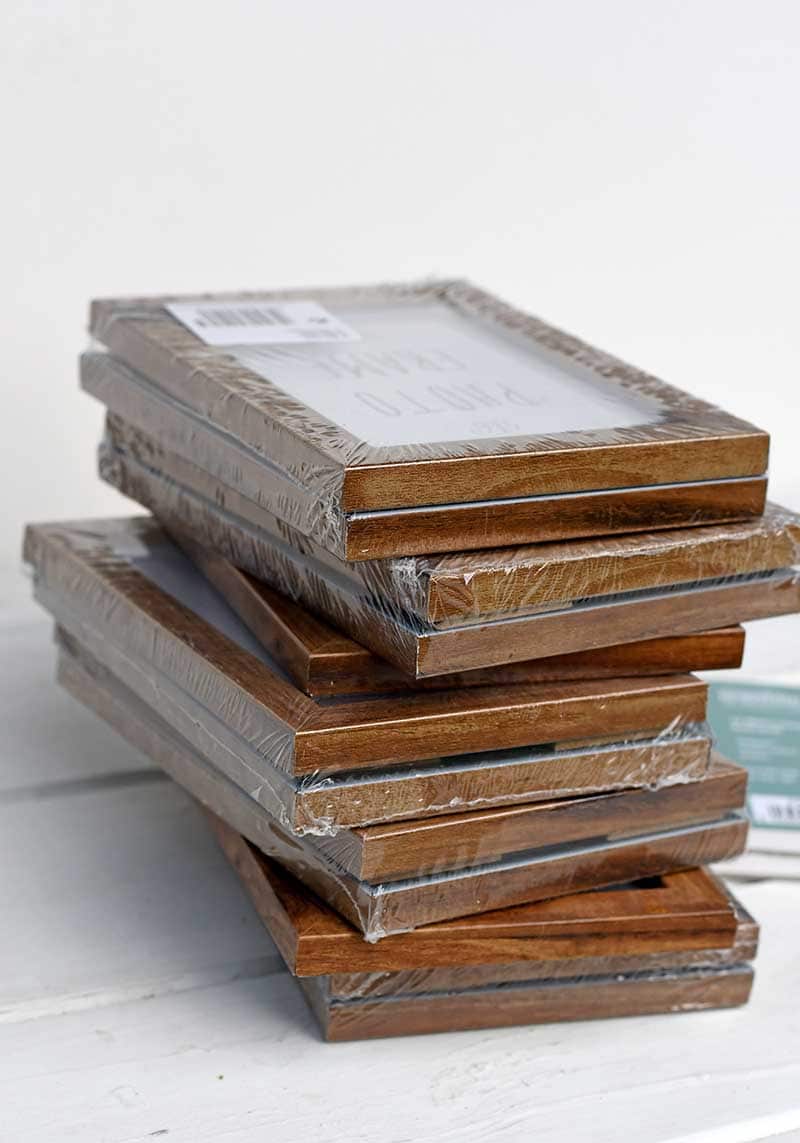 How To Make Christmas Tree Wall Art
1. Remove the backing and the glass from each of the 13 frames. Then paint 12 of them with green chalk paint and leave one as it is or paint a cream colour.
I used chalk paint as I could paint straight onto the new frames without any prep or sanding.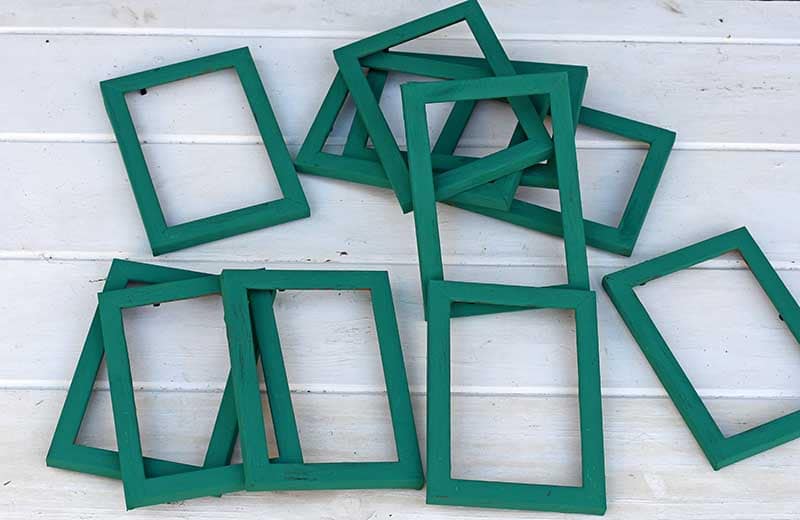 Painting the Watercolor Christmas Baubles
2. You will need to paint 6 baubles in landscape mode and 6 baubles in portrait. One on each watercolour postcard.
Draw out each bauble first. If you are not confident of drawing your own Christmas baubles you can download and use the ones I have drawn here. Then it will be just like those adult colouring books.
There is a tutorial for printing on watercolour paper here, that might be helpful if you want to print out the baubles.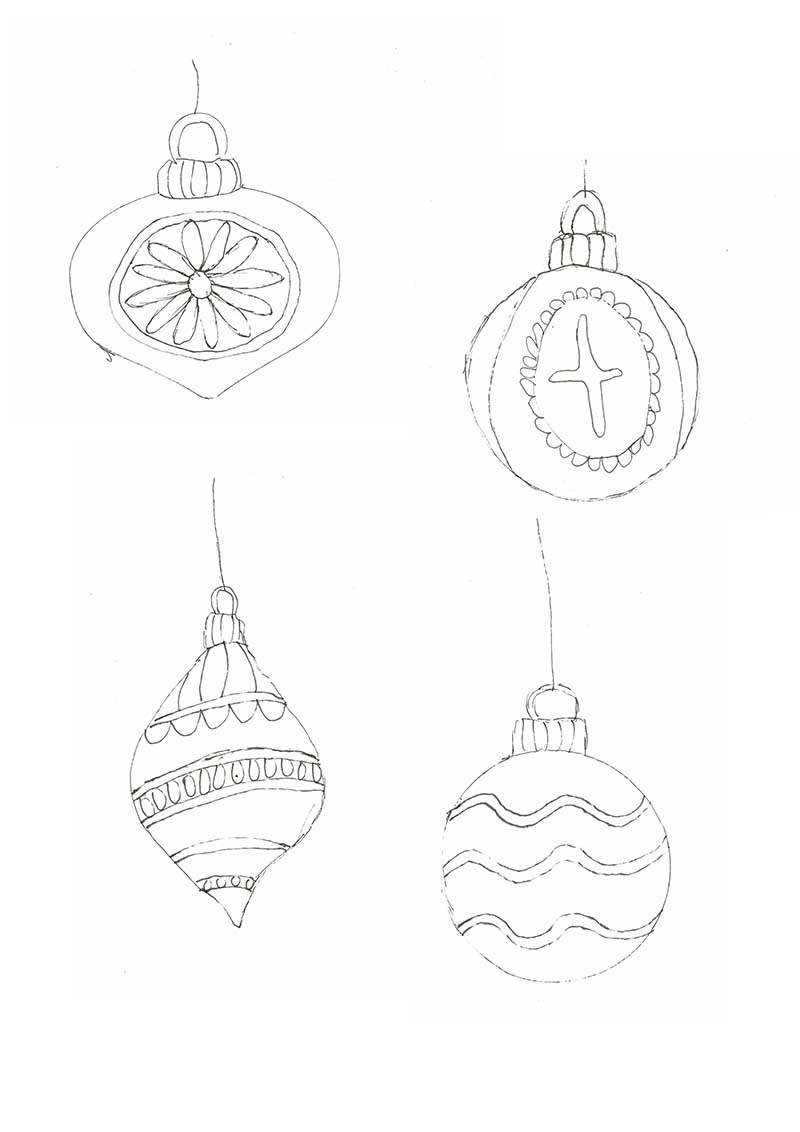 3. Now it's time to crack out the watercolour paints. Painting with watercolour paint is simple and fun. For these watercolour Christmas baubles, you don't need any particular artistic skills. It's just simply colouring in the drawings with paint.
Just don't wet the paper too much and work from light to dark. If you haven't used watercolour paints much before just play around on a scrap piece of paper first.
Don't worry too much about your technique just get lost in the activity itself and relax.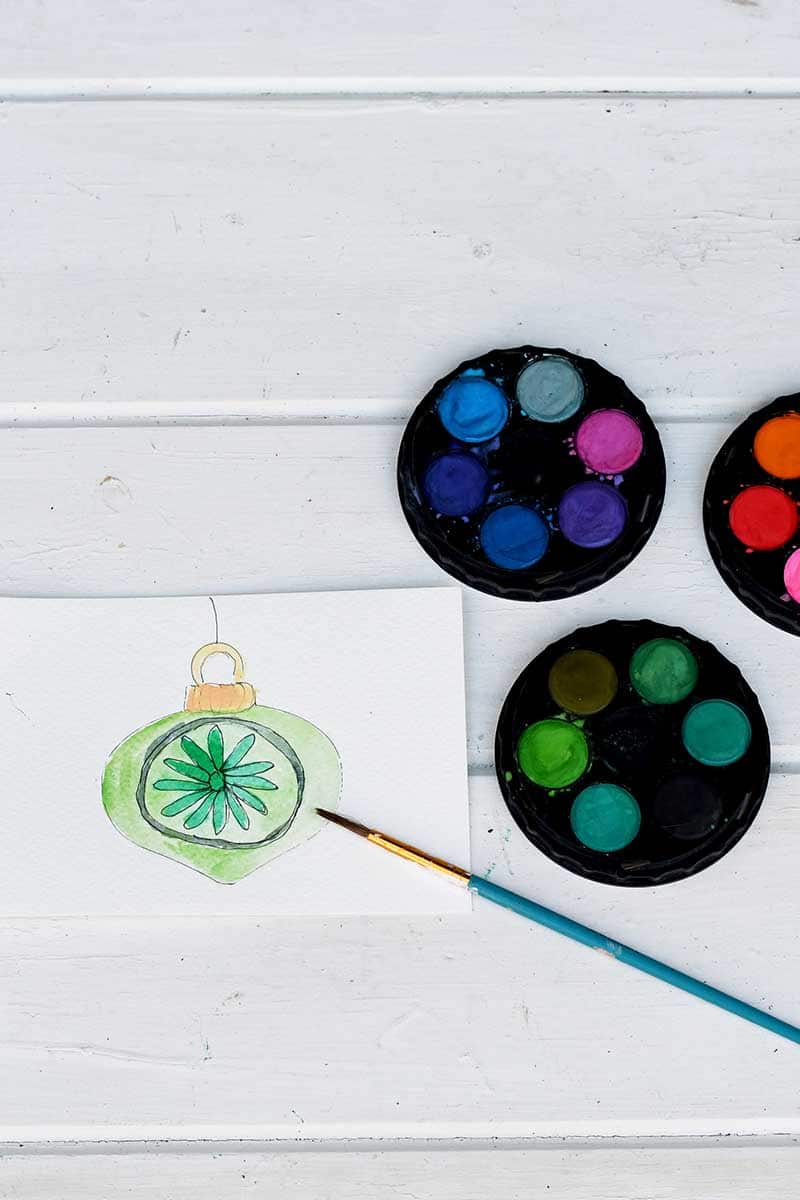 4. To make it easier I tended to stick with shades of the same colour for each bauble.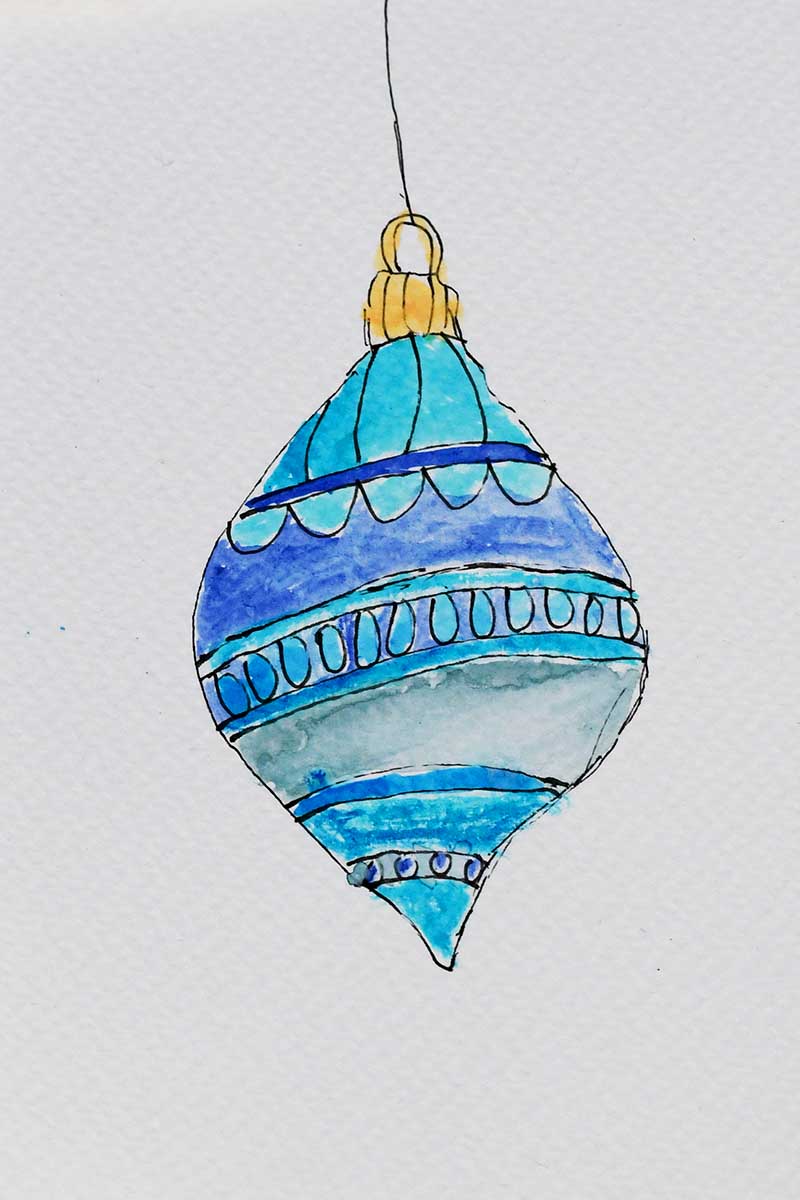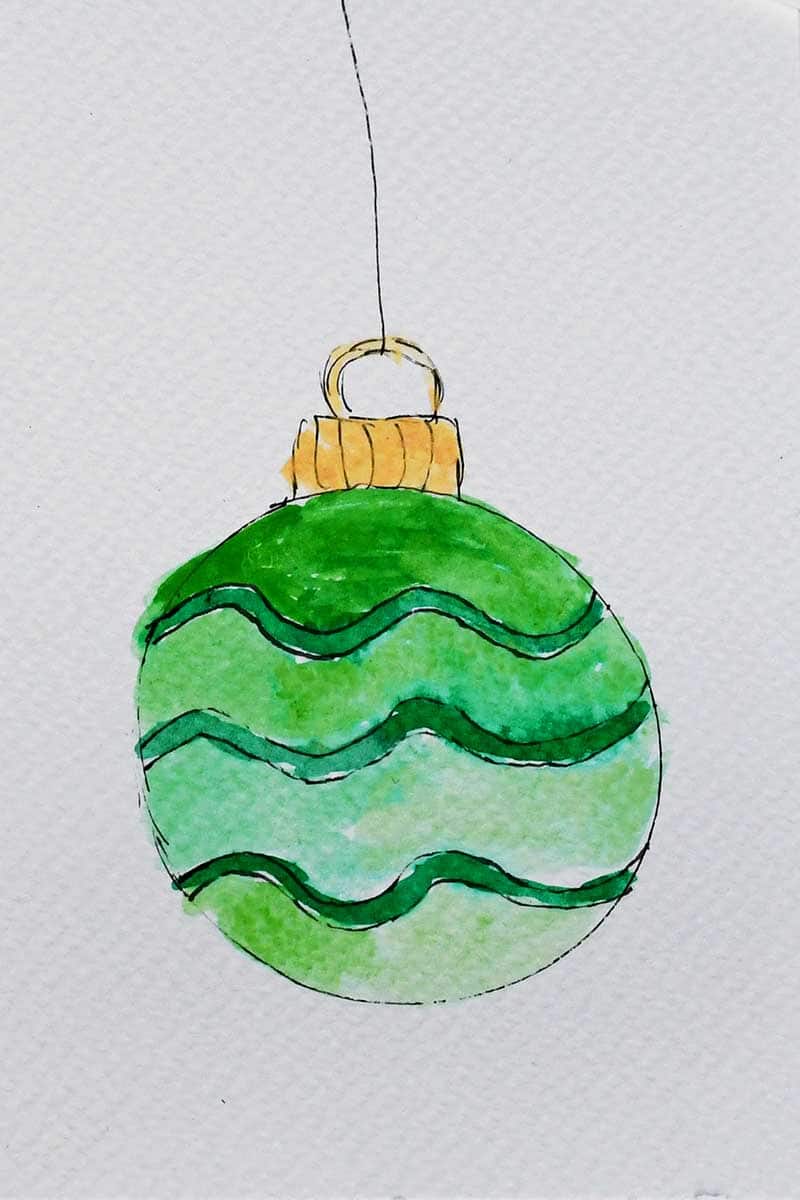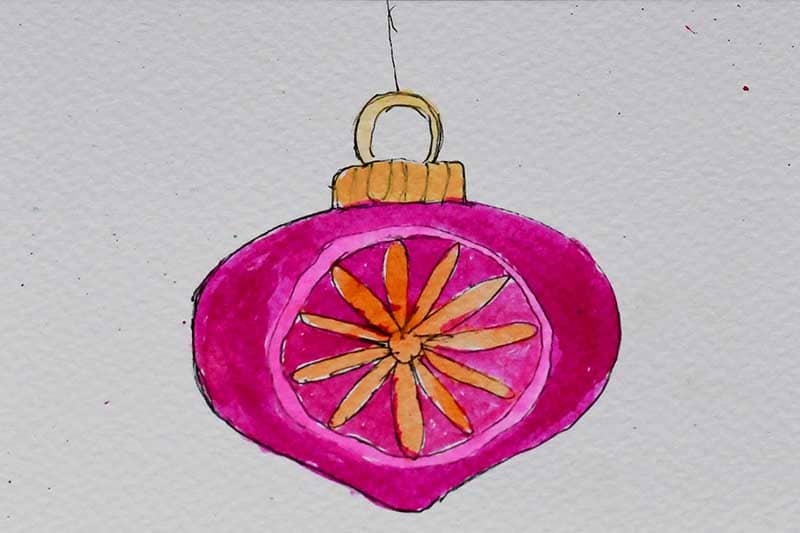 5. Don't forget to paint a star on one of the landscape orientated postcards. This will go on the top of the Christmas tree wall art. I painted an extra postcard brown to act as the tree trunk.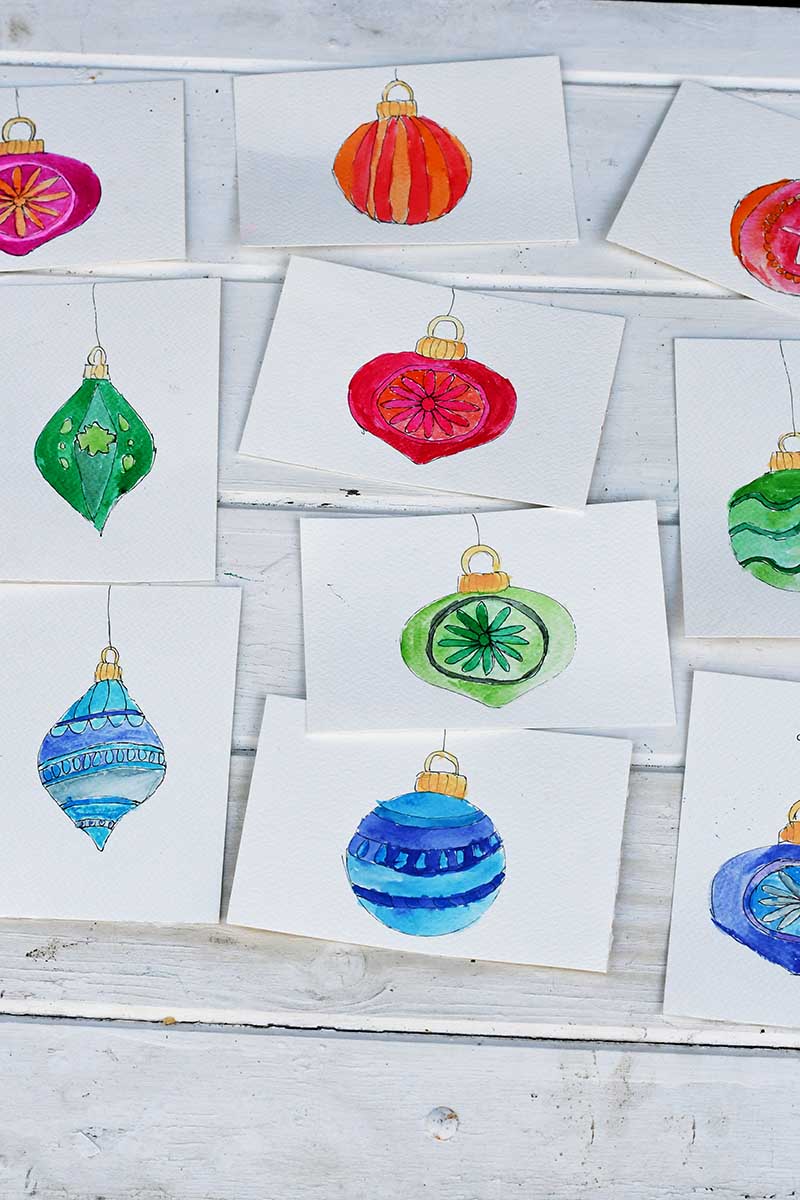 6. When all the baubles and the star have been painted put them into the green-painted frames. No need to put the glass back into the frames. I prefer my art without glass, there is less glare.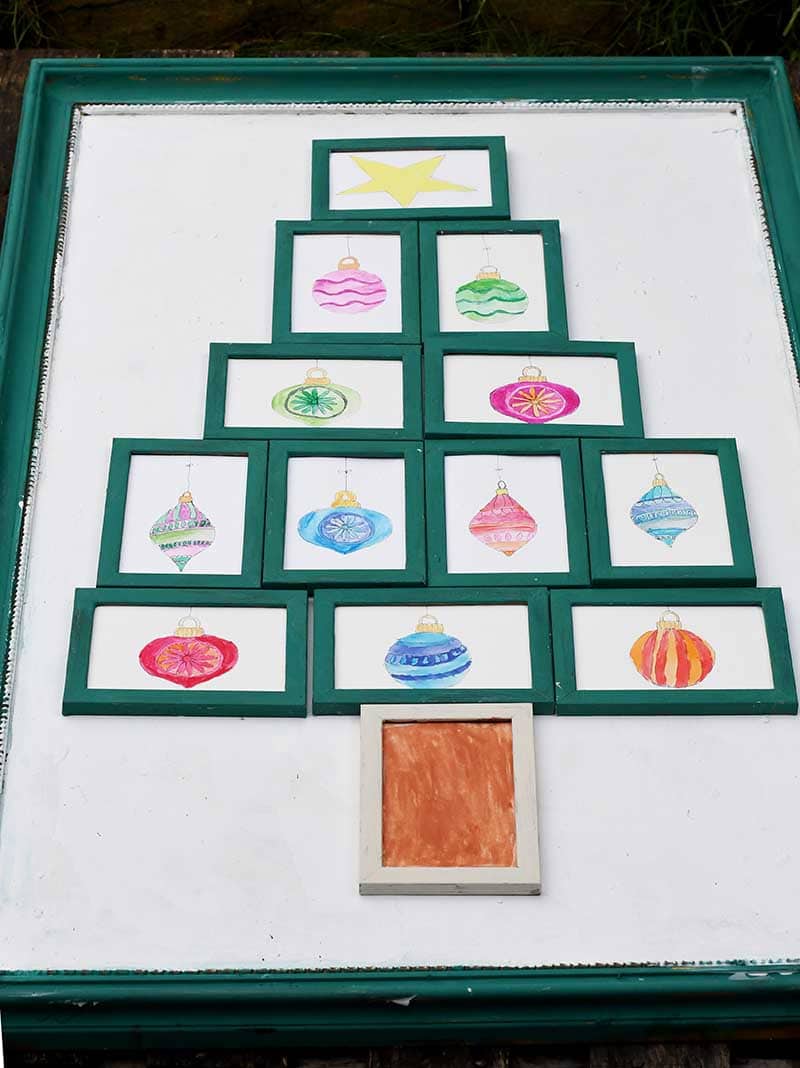 7. Play around with the arrangement of the watercolour baubles in the Christmas tree shape. Once you are happy with the design, mount them with double-sided tape like Gorilla Glue Mounting Squares.
Instead of mounting the Christmas tree straight onto the wall, I used a large old frame instead. Using a large old picture frame makes it easy to move the Christmas tree wall art from wall to wall or even room to room.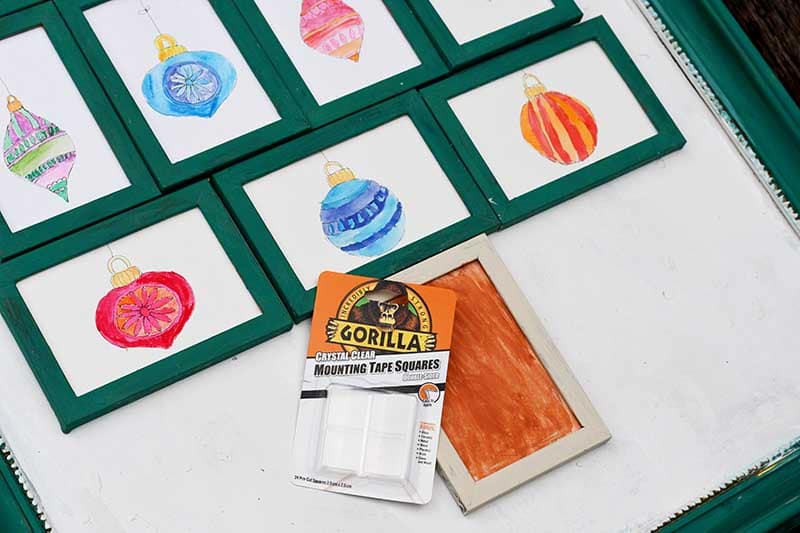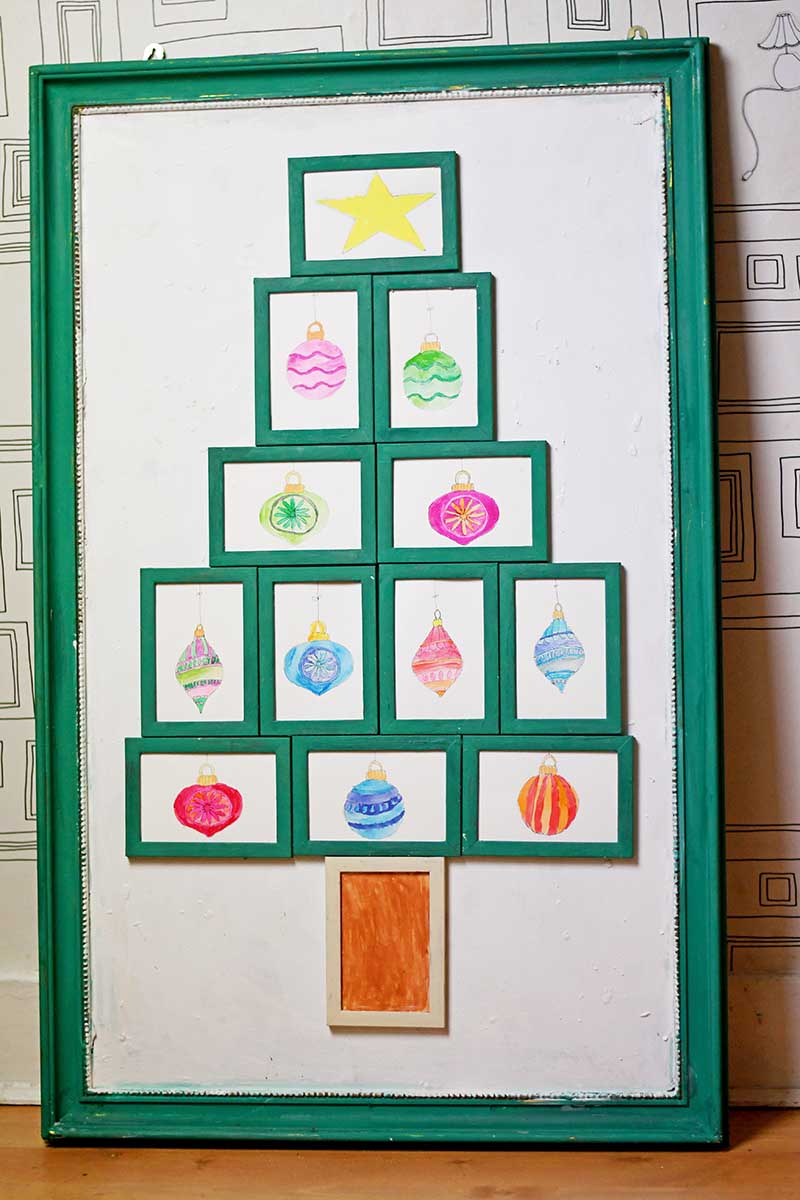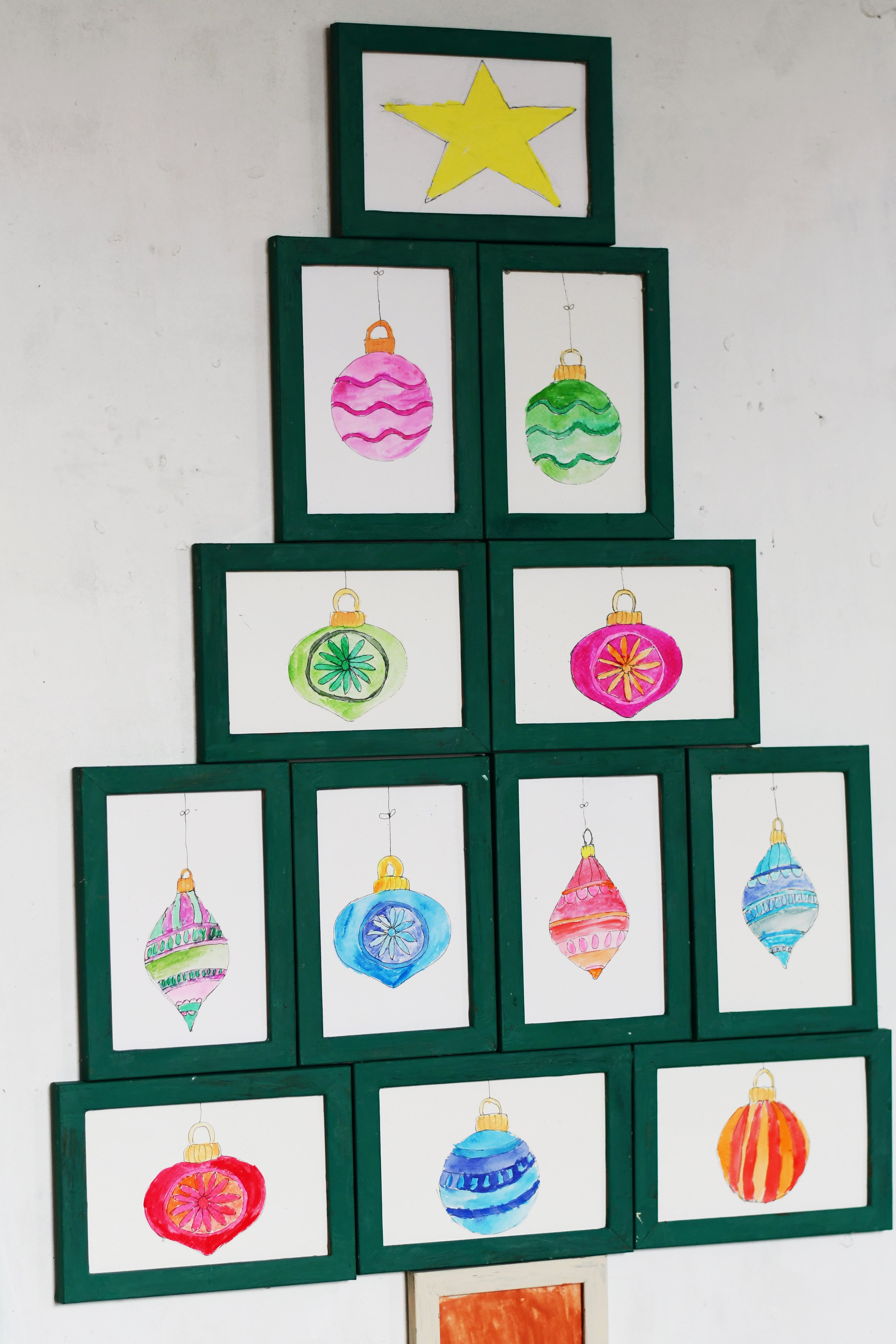 If you liked this post then you should check out some of my other flat alternative upcycled Christmas tree ideas.
If however you are just looking for some Christmas wall art check out this Marimekko Christmas wall art.