I made these patchwork denim quilted stars as an upcycled Christmas decoration, but I think they would look great all year round. Don't worry if you have never done patchwork before, this upcycle is an easy introduction.
Also, as you use upcycled fabric from old jeans, which makes it a free craft too. I used the denim scraps left over from all my other denim upcycles.
It may not be traditional, but I love to add a bit of upcycled denim into my Christmas decorations. These patchwork denim stars are just one of my many Christmas decorations made from my old jeans. I've made denim Christmas trees, Scandi woven heart garlands and scrap denim angels.
If you make these patchwork quilted stars a bit bigger (which is easy to do), they would also make good table mats to protect the dining table from hot dishes.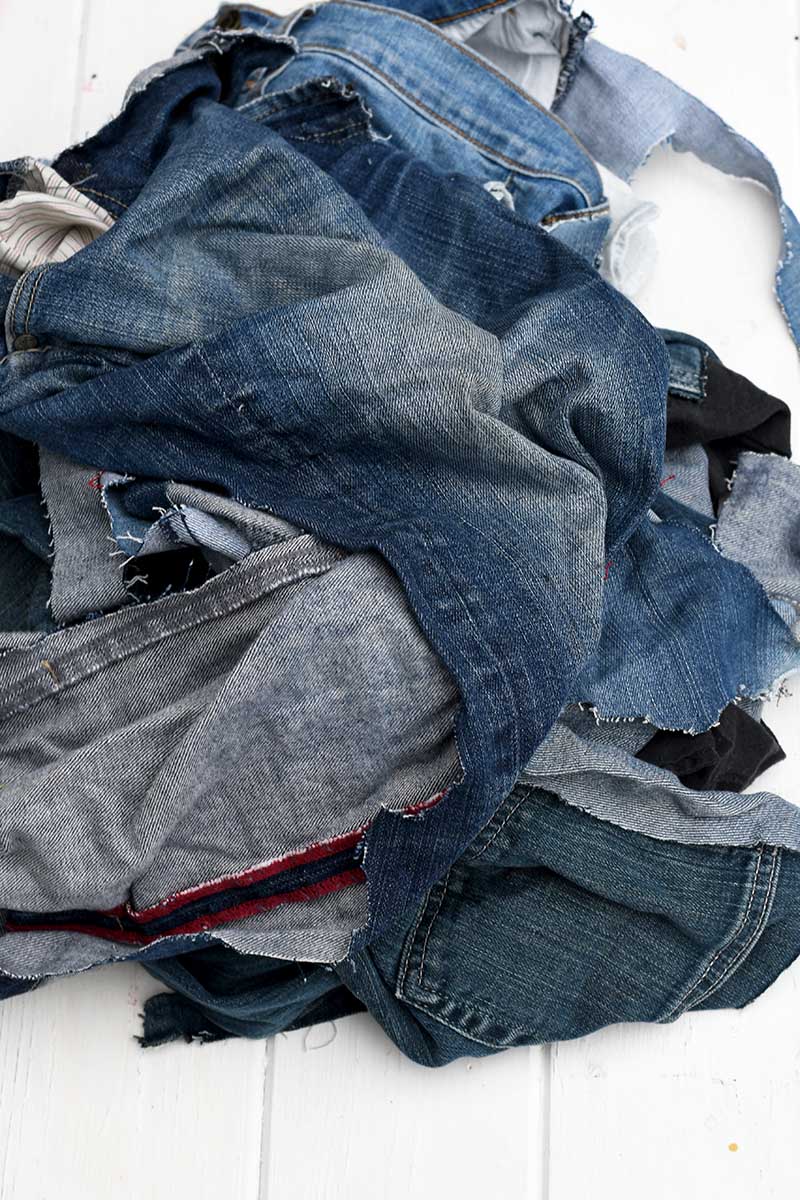 These denim stars featured in the A to Z of denim crafts.
What You Need To Make Patchwork Quilted Stars
Scraps of denim from old jeans. It is good to have denim in a variety of shades of indigo as this will only add to the project.
A metal button from a pair of old jeans.
Needle and thread, this project can be done either all by hand or a mixture of hand and machine sewing.
Fiberfill – I just use the filling from old pillows.
A bit of ribbon to hang the star from – I like to make my own ribbon from shredding old scarves.
Scrap piece of cardboard.
Diamond Template – The star shape for this denim patchwork star is made up of diamonds. The diamond itself is made from 2 equilateral triangles where all sides are 7cm in length. (see below).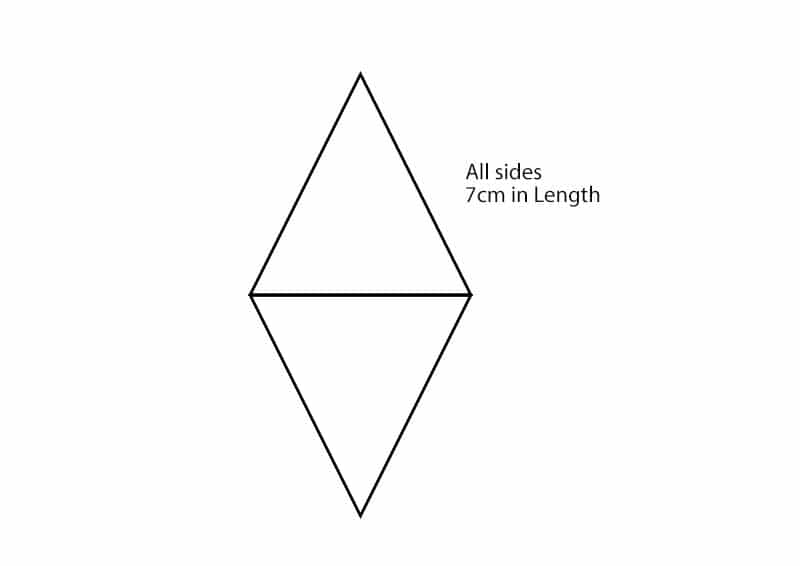 How To Make The Stars
1.. First, draw or print out the diamond shape and make a template from a scrap piece of cardboard.
2. Then, place the diamond cardboard on the wrong side of a piece of scrap denim and draw around it. Cut out the diamond denim and repeat five more times. You will need six denim diamonds for each quilted star.
It is best if you can use denim in different shades of indigo blue.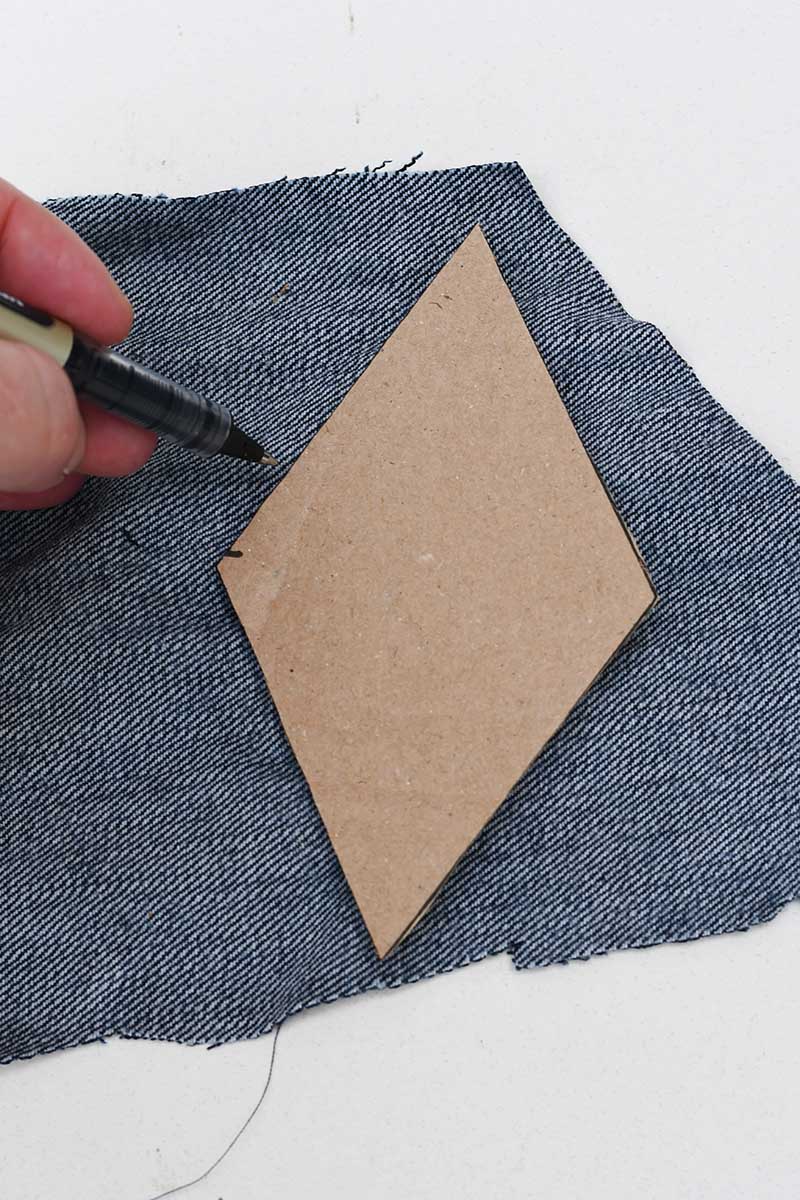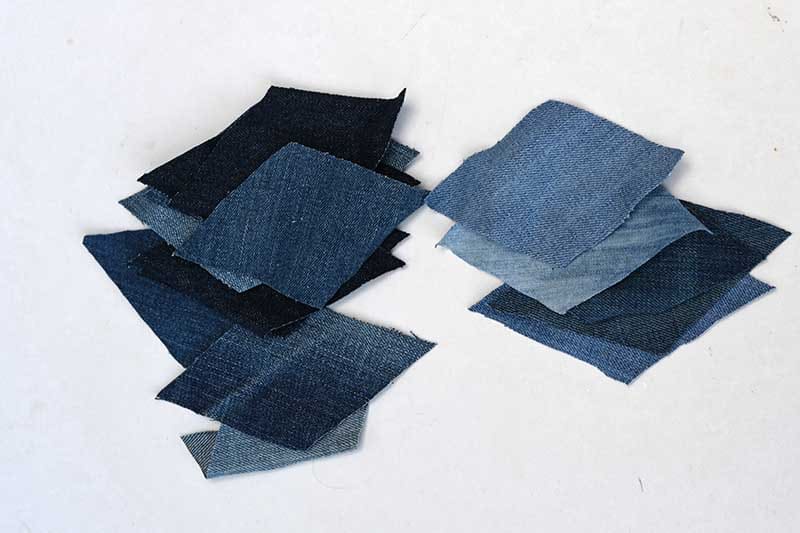 3. Before, starting to sew, play around with the denim diamonds. Place them together to make a star shape. You can rearrange the shapes until you get the indigo colour pattern you want for the patchwork quilted stars.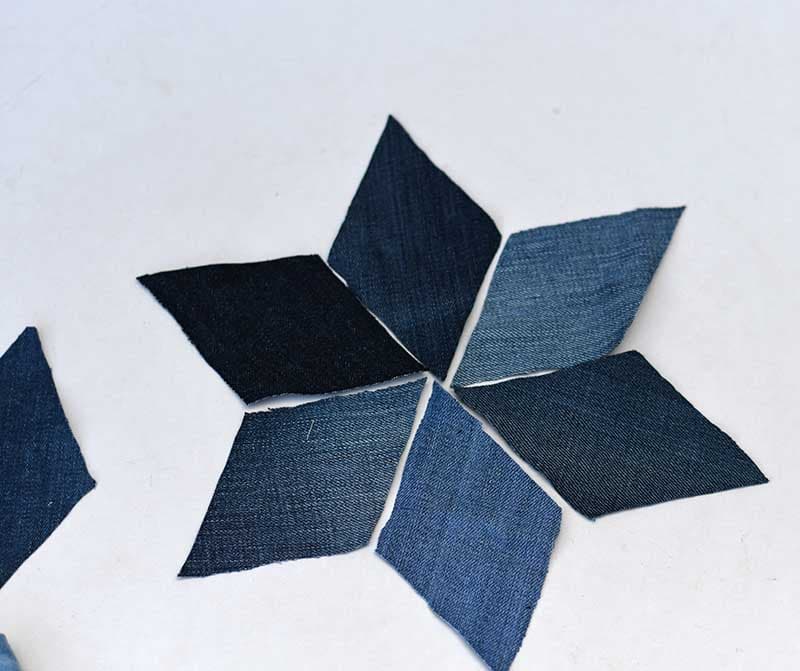 4. Next, pair up the six denim diamonds into 3 pairs. Pin each pair of diamonds right sides together.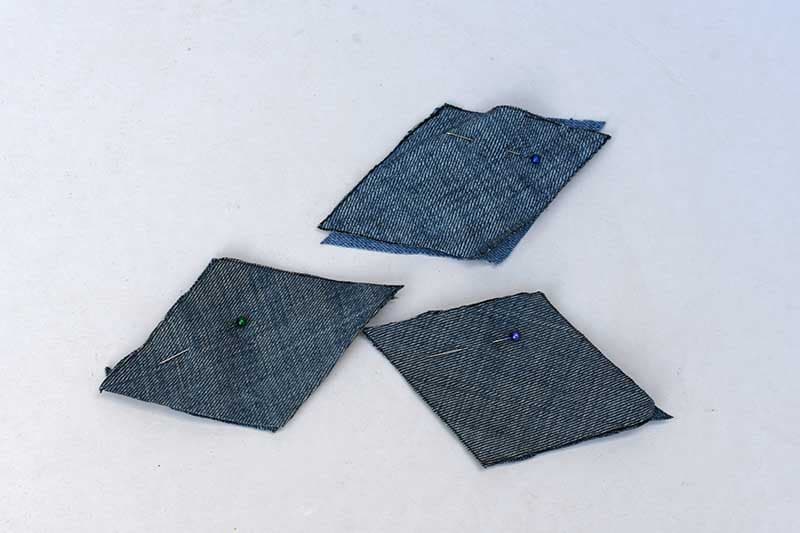 5. Next, sew each pair of denim diamonds together along just one edge. Use a 5mm seam allowance.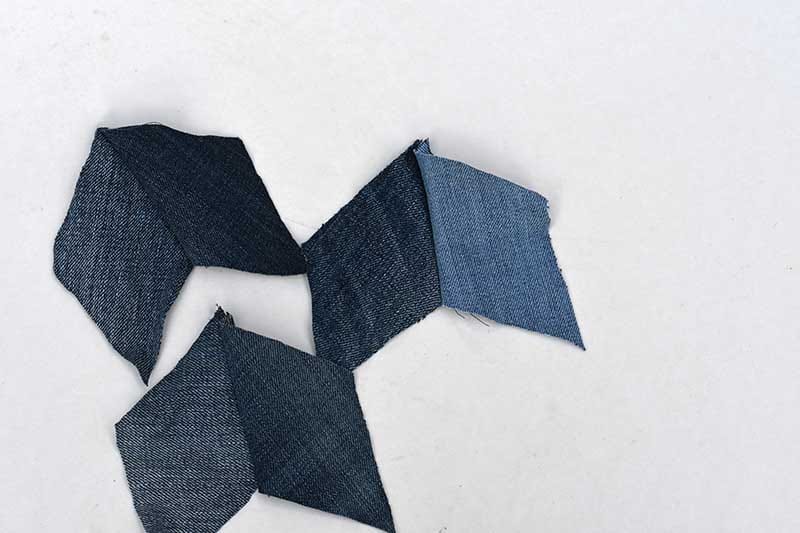 6. Then, pin these 3 denim arrows together along one edge (right sides together). You should be able to make a six-pointed star shape. Again stitch along the side with a 5 mm seam allowance.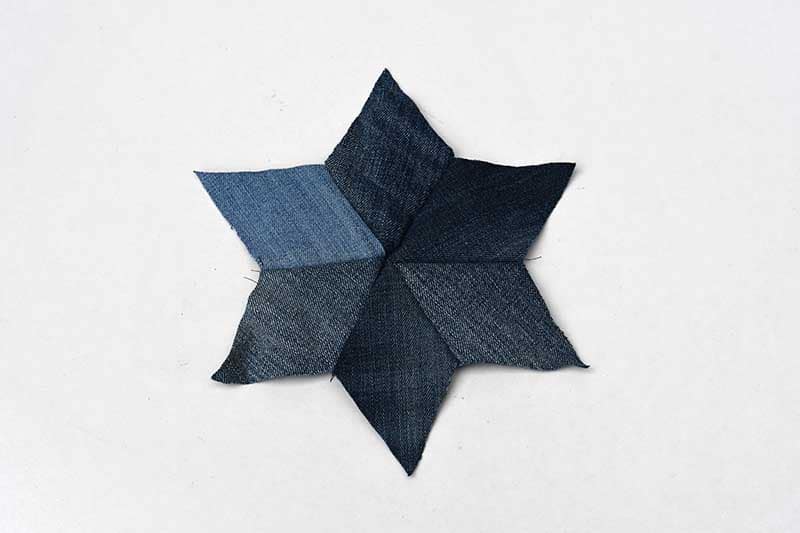 7. To add a bit of interest to the patchwork quilt stars, I added a button to the center, where all the diamond points met. As I was using upcycled denim from old jeans for this project, I used a jeans button. However, if you want to make your stars more festive, a red button would be a good choice.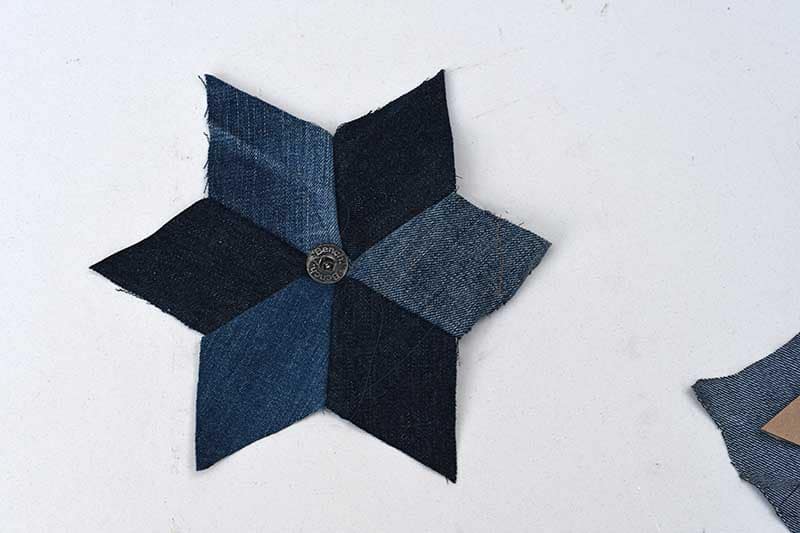 8. Next, to make a backing for the stars lay the patchwork star onto a scrap piece of fabric. You can use denim for the backing or if you want something more festive, maybe try fabric with a Christmas pattern.
Draw around the star shape and then cut it out.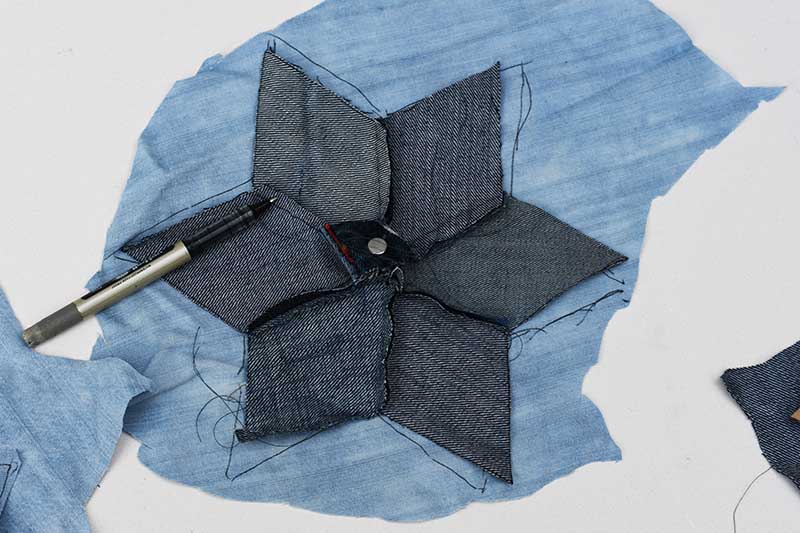 9. Next, pin the patchwork star and the fabric backing right sides together and then stitch them (with a 5mm seam). Leave one side of the star open for stuffing.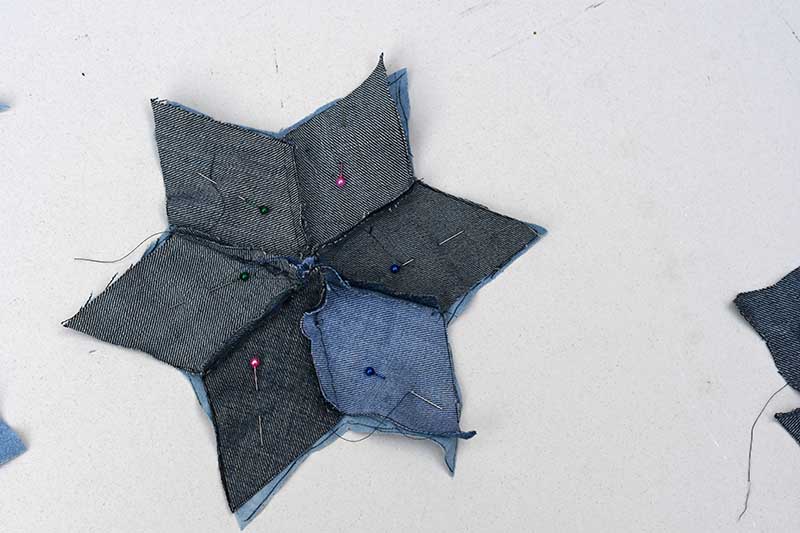 10. Next, trim any excess fabric from the star, especially at the points. Then, turn the star right sides out through the gap left. Use something like a chopstick to poke out the denim star points.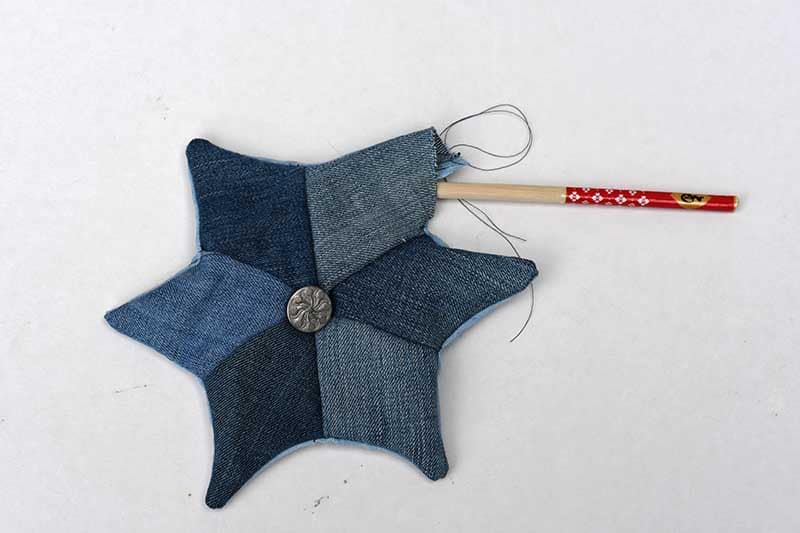 Quilting the Denim Patchwork Stars
11. Then, stuff the star with fiberfill and stitch up the hole. Do not overfill the star, just fill it with a small amount of fiber.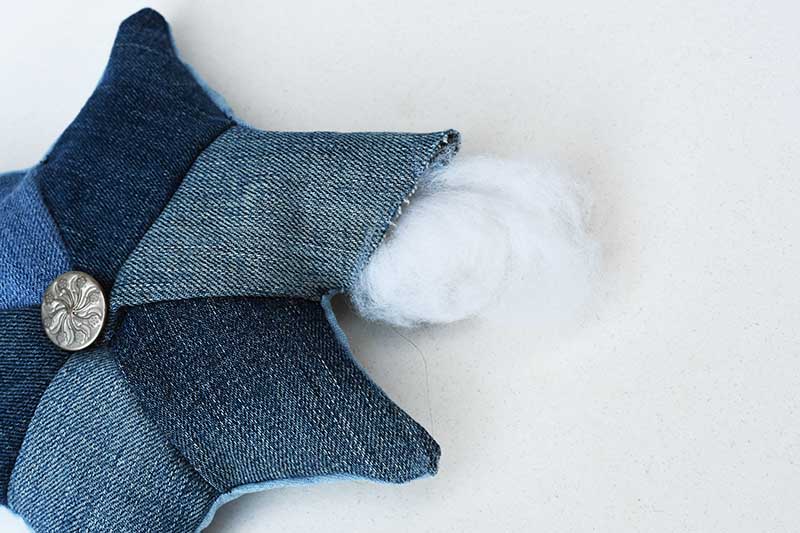 12. Finally, to give the denim stars the quilted look, hand stitch along each seam of the star. Also, stitch from the tip of each star point to the center. Just use a simple running stitch.
Don't forget to stitch a ribbon loop onto one of the star points. This is for hanging the stars.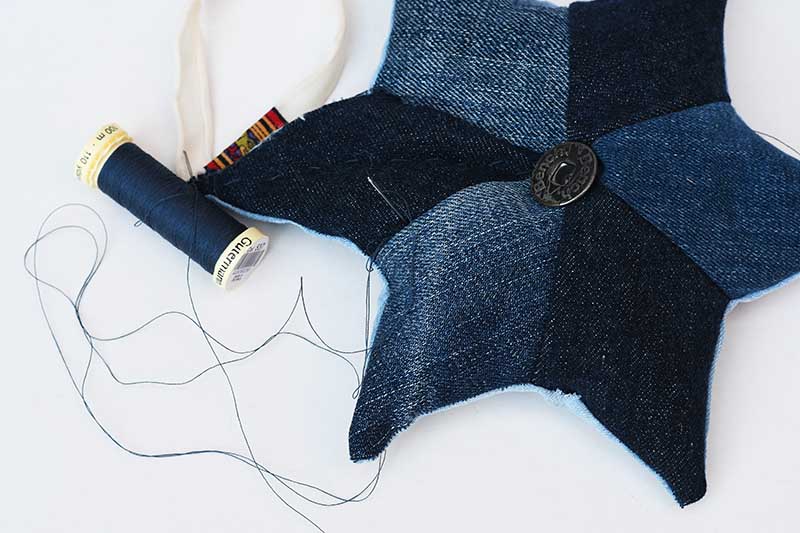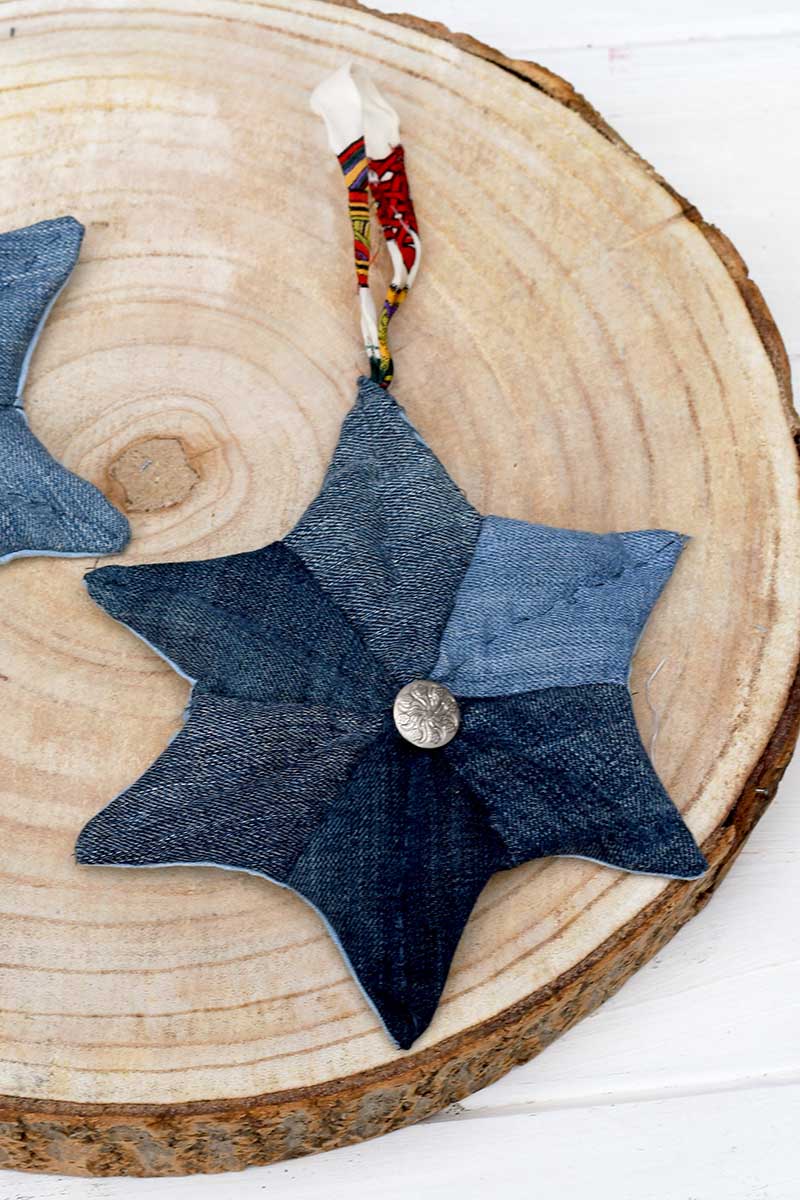 I really enjoyed making these patchwork quilted stars, so I ended up making three of them. Often when making decorations, I make three as I find displaying decorations in odd numbers as I find it more appealing.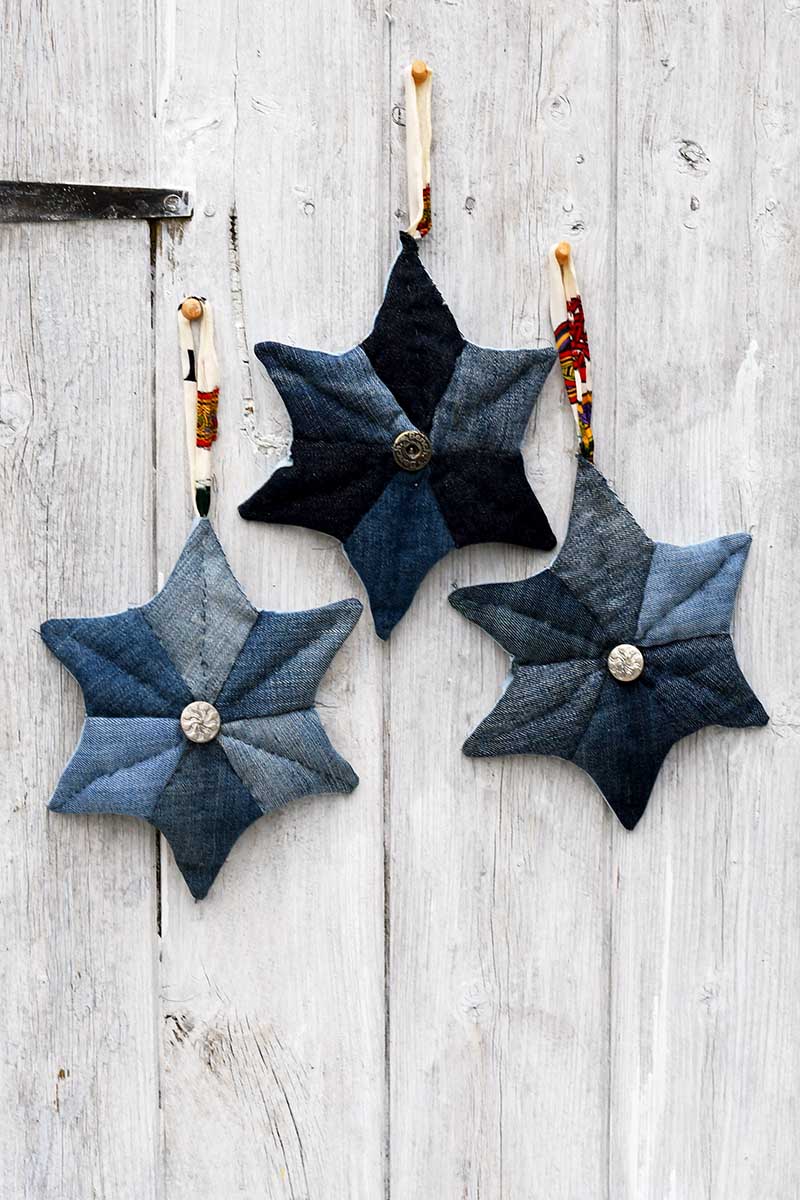 I like the idea of making larger ones to use as quilted heat mats for the dining table at Christmas. They would go with the patchwork denim table mats and denim fabric bowls, I made.
There is a tutorial for more rustic denim stars on Pictureboxblue, these are also made with denim scraps. I have also upholstered some chairs with denim hexagon patchwork.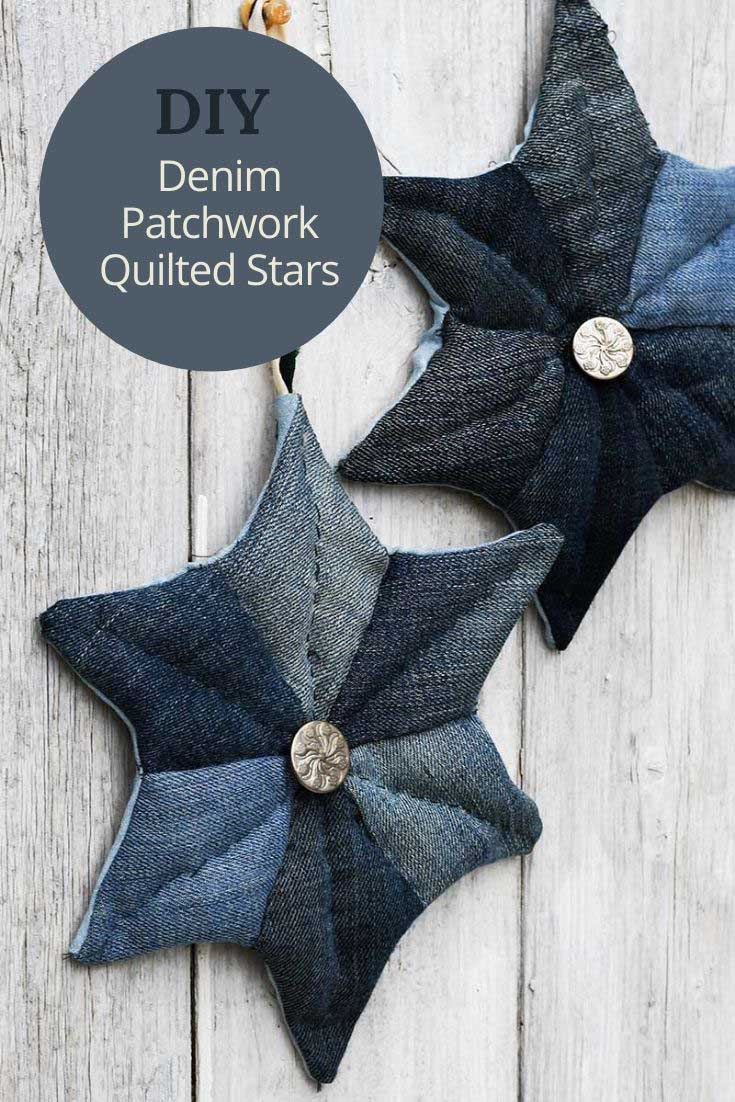 Yield: denim patchwork quilted star hanging decoration
Denim Patchwork Quilted Stars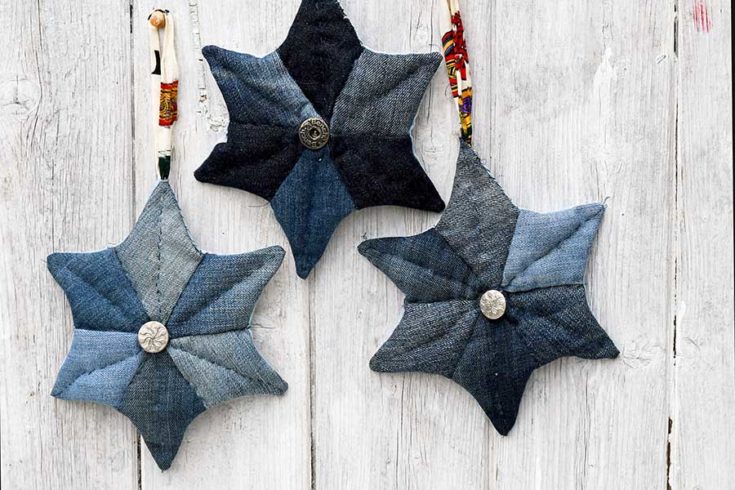 These hanging denim stars are a lovely unique alternative Christmas decoration. You can even make larger quilted stars to use as heat mats on the dining table.
Materials
Assortment of denim scraps in different colours of indigo blue
Diamond template on blog
Scrap cardboard
Ribbon
Fiberfill
Needle and thread
Button off a pair of old jeans,
Tools
Scissors
Sewing machine (optional)
Instructions
Out of the cardboard make a diamond-shaped template where all the sides are 7cm long.
Draw around the template on scraps of denim. Cut out the diamond shape. You will need six for each star. Make sure you have diamonds in different shades of denim.
Pair up the denim diamonds and pin them right sides together.
Stiched each pair of diamonds together along one side.
Then stitch all three pairs together to make one six-pointed star.
Sew the jeans button into the middle of the star where all the points meet.
Next. place the star onto a larger scrap of material and draw around it. Then cut out the large star shape.
Pin both stars right sides together and stitch. Leave one of the star sides open for filling.
Using the gap, turn the star right sides out. Use a chopstick to poke out the star points.
Next, loosely fill the star with fiberfill and then stitch it shut.
Thread a needle and quilt the star by stitching up each seam with a running stitch. Complete the quilting by then stitching from the middle of each star point to the center of the star.
Finish off the quilted stars by adding a ribbon to hang it from.
See more of my sewing crafts here.