This beautiful DIY feather lampshade added an element of fun to my decor. Slowly, I've been doing up my dining room. I'm loving the results, it's becoming a bit of a quirky room. This lampshade adds a touch of glam.
On a recent trip to London, I popped into one of my favorite houseware stores Graham & Green. Whilst looking at all the lovely furnishings in the store, I spotted some feather Vita lampshades and was really taken with them. I thought one would be perfect for my dining room.
However, when I saw that they were over £300 ($385), there was no way I was going to buy one. My husband would have thought I'd gone mad if I'd paid that much for some paper and feathers.
That evening on the train on the way home, I couldn't stop thinking about how much I really liked the feather lampshades. I thought, if they are just paper and feathers, then it shouldn't be too difficult to make one.
That's exactly what I did, and I'm super duper happy with the result. The lampshade was so easy to do. The whole thing only cost me about £15 ($18) to make. A bargain and an IKEA Regolit hack too!
IKEA Regolit Hack A DIY Feather Lampshade
The DIY feather lampshade looks luxurious and stunning in my quirky dining room. The way the light shines through the feather shade looks fantastic.
I can't wait to have friends round for a grown-up dinner party now, just to show off my DIY feather lampshade.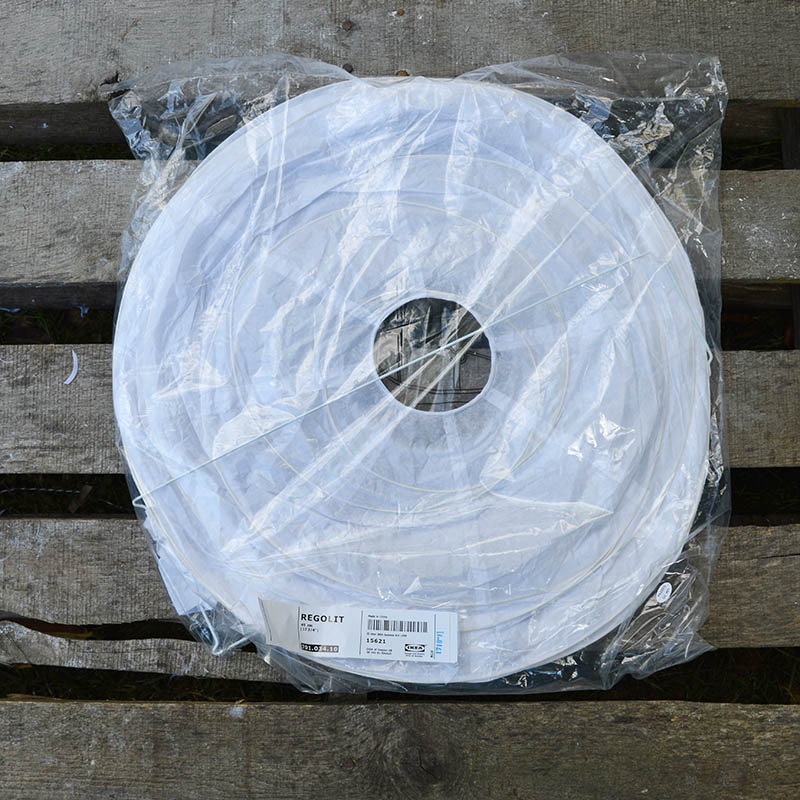 This post contains Amazon affiliate links for your convenience. Click here to see my disclosure policy.
What you need for a DIY feather lampshade
Paper lampshade I used the IKEA Regolit lampshade. If you don't happen to be near an IKEA any other round paper lampshade will do.
White feather boa – I needed 5 for this lampshade. More boas for bigger shades and less for smaller ones.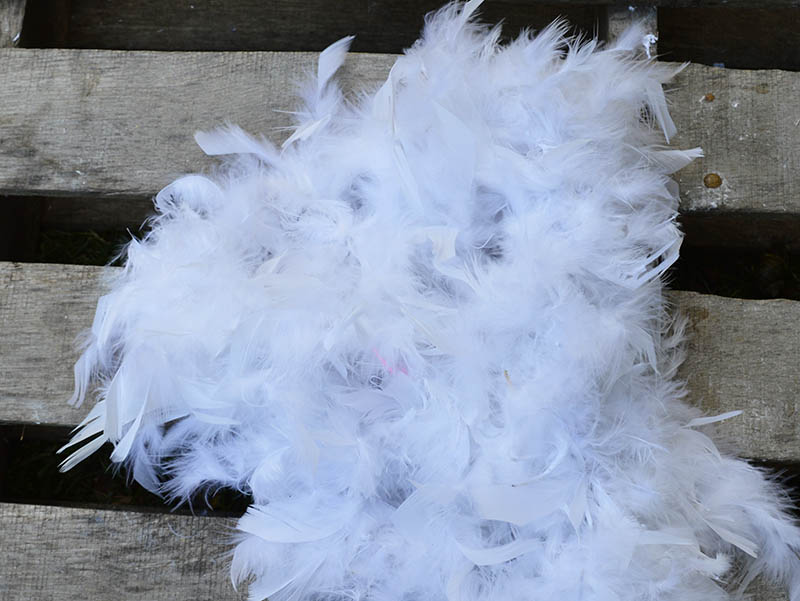 How to hack and IKEA lamp with feathers
This has got to be one of the easiest IKEA lamp hacks I have ever done. It's even easier than my popular Map IKEA Lamp Hack.
1.. First, assemble the IKEA Regolit paper lampshade according to the instructions.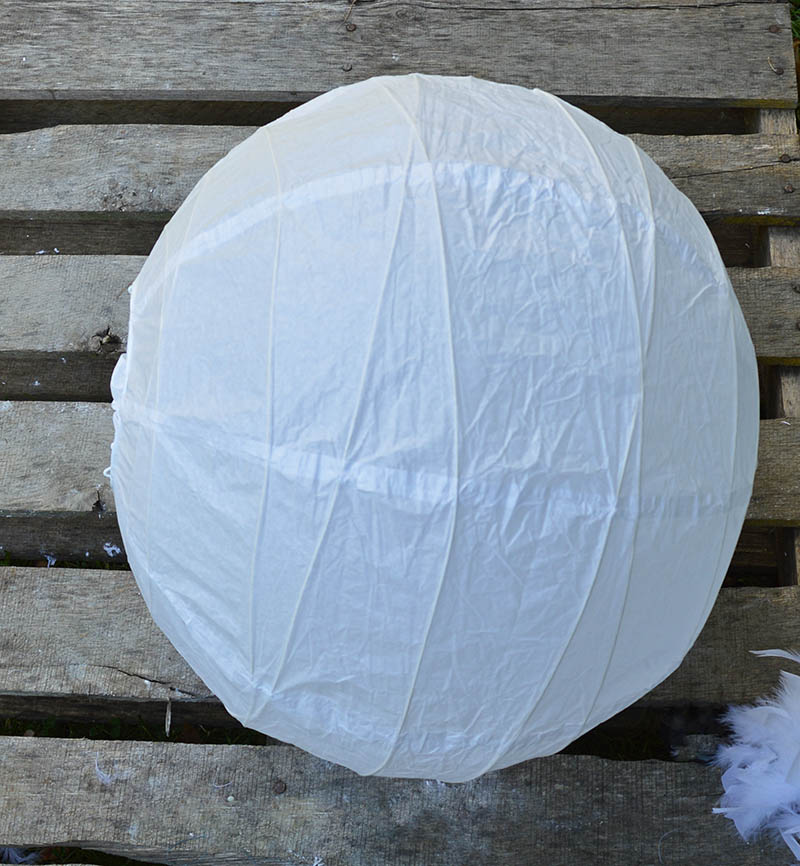 2. For the next stage, it's easier if you start off in the middle. Using a brush apply a thick band of Mod Podge (or PVA Glue) around the center of the lampshade (ie its fattest point).
Then, carefully take one feather boa and wrap it around the lampshade, sticking it to the glue as you go. Cut off any excess feather boa and keep to one side.
Top tip: This DIY feather lampshade is easier to make if you hang it up on a piece of string.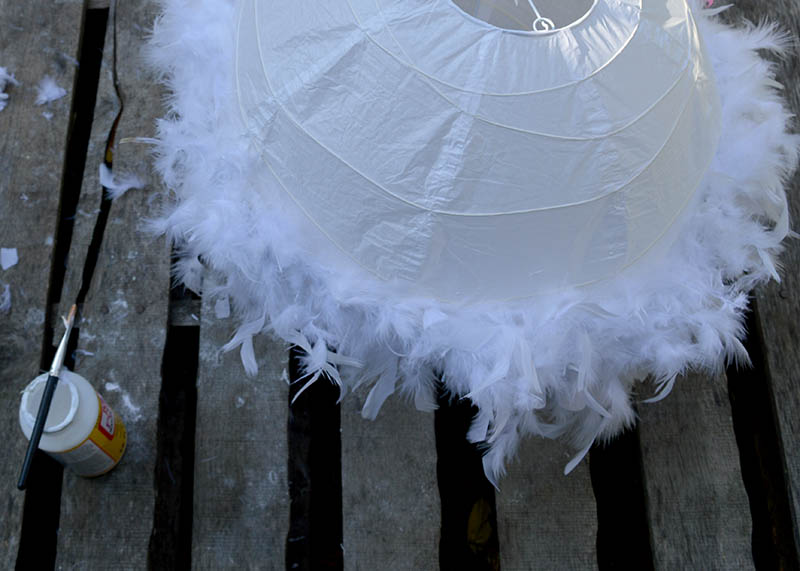 3. Next, apply another band of glue around the paper lampshade, this time a couple of inches above the first band of glue. Then stick another feather boa to this band, cutting off any excess.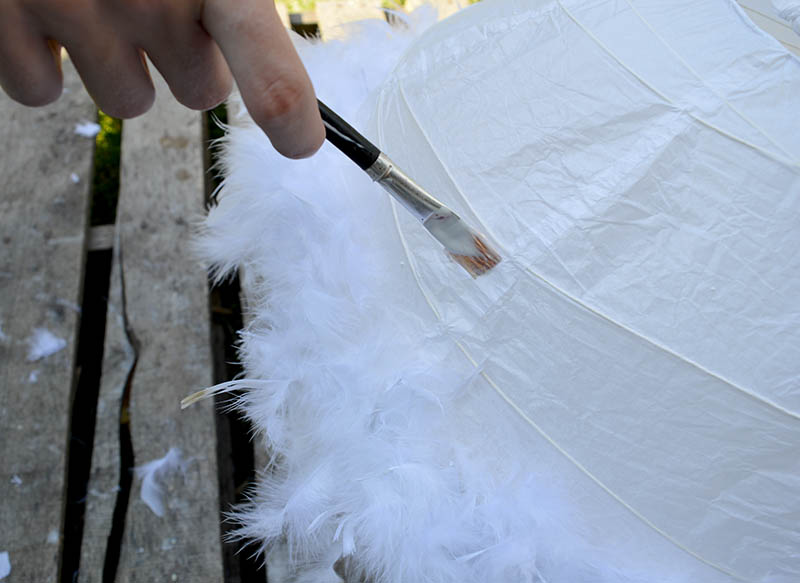 4. Continue doing this until the whole lampshade is covered in feathers. The excess bits of boa you cut off is used for the top and bottom of the lampshade, where the circumference is smaller.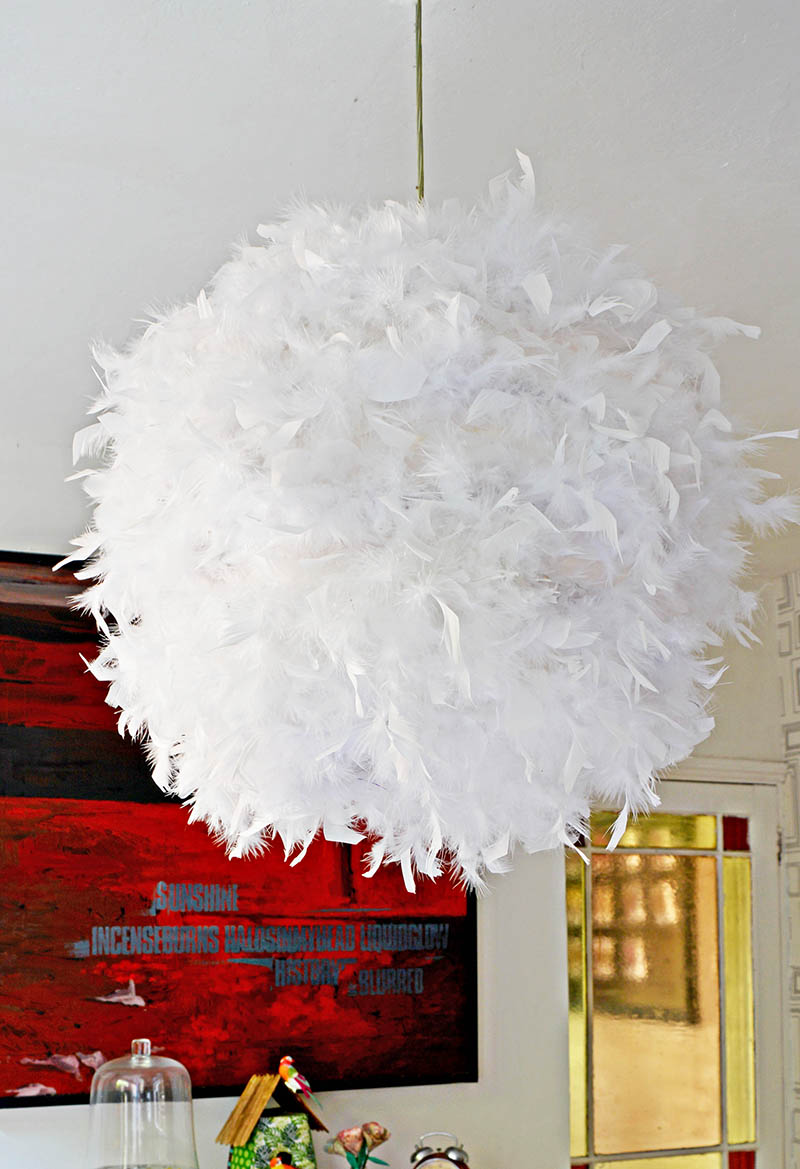 Looking after your DIY feather lampshade..
As this is a paper lampshade I recommend you use a LED light bulb not more than 60w as these don't get too hot.
Also to clean your lampshade just occasionally give it a blast with a hair dryer on the coldest setting this should blow away any dust.
I love how this lampshade looks in my room especially at night with the light on. The lampshade gives a lovely soft magical glow and looks very glam.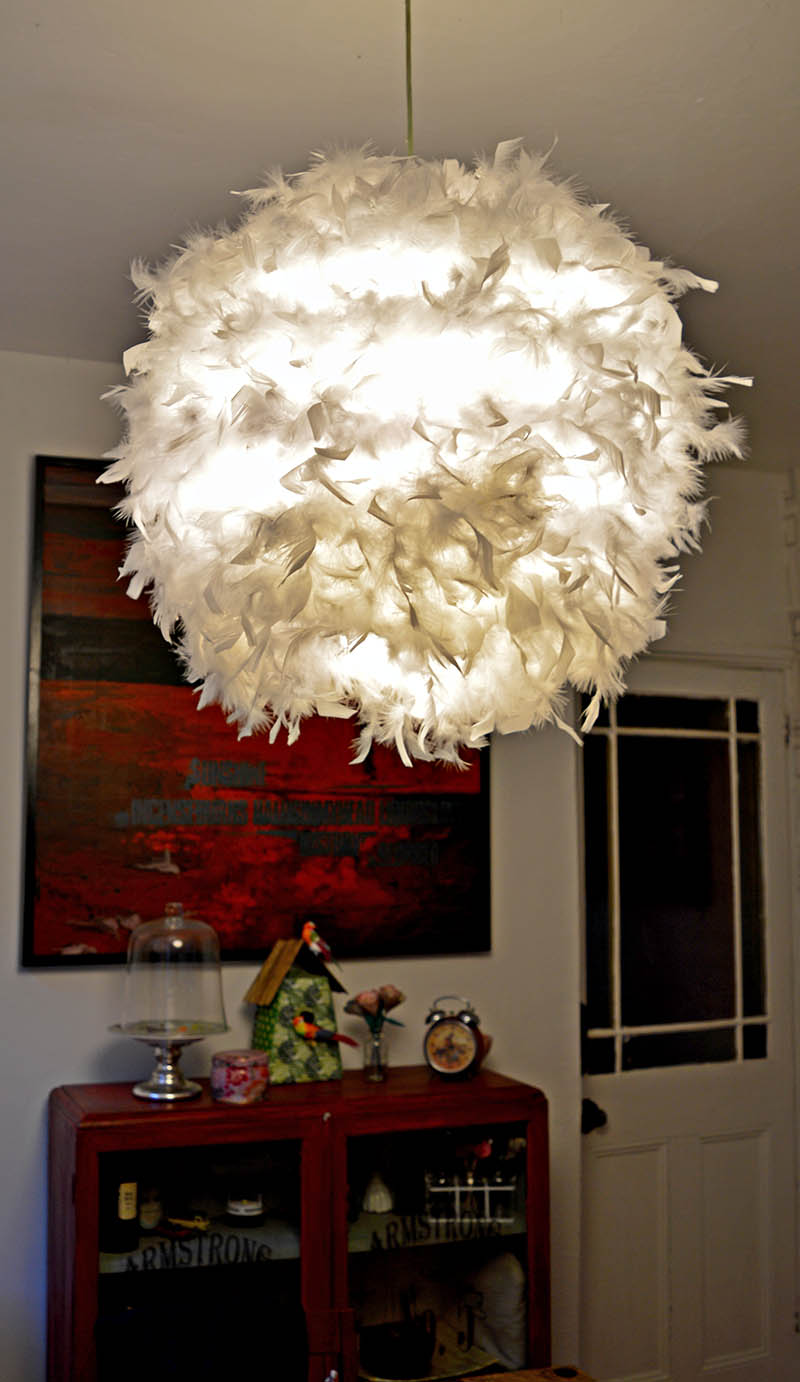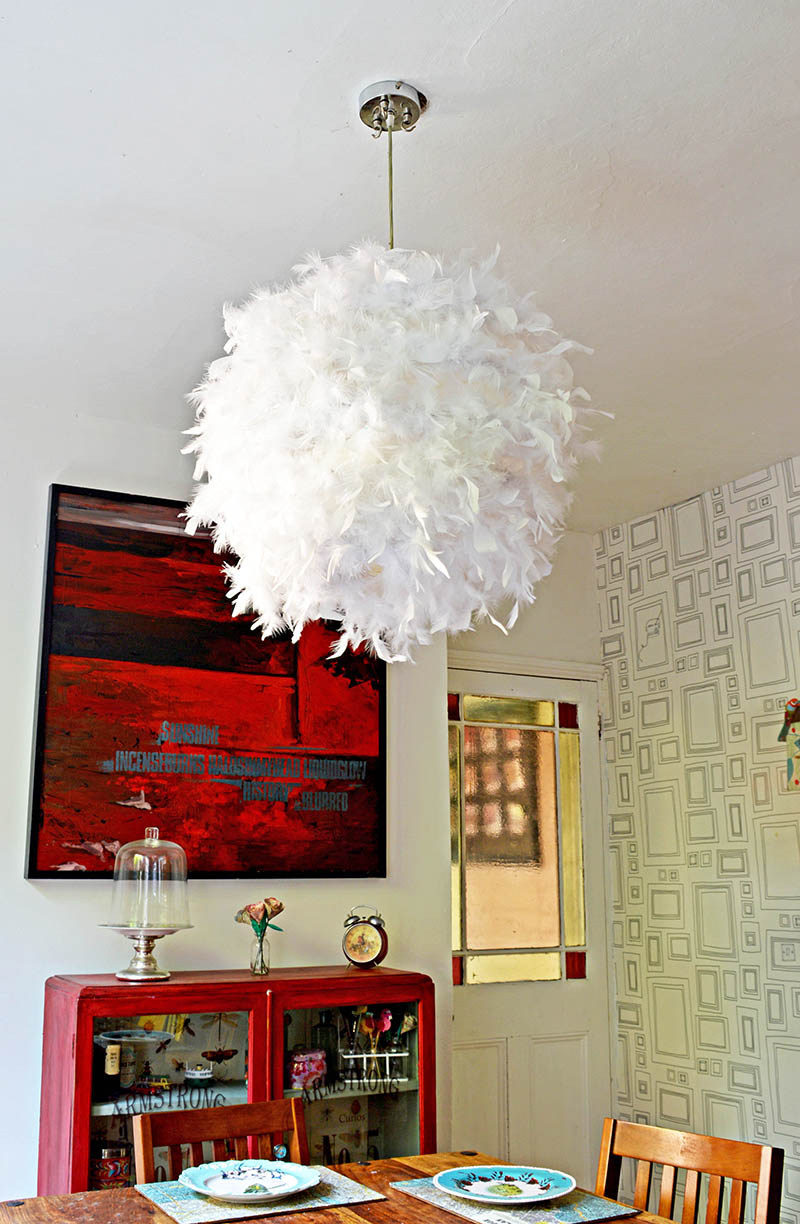 You can get feather boas in loads of different colours, so you could make a feather lampshade in a colour to match your decor!
I have a thing about feathers and have made a denim feather wall hanging. I also make colorful and patterned DIY feathers by upcycling tartan and plaid fabric scraps.
I've even made a map feather angel, which combines my love of feathers with my map obsession.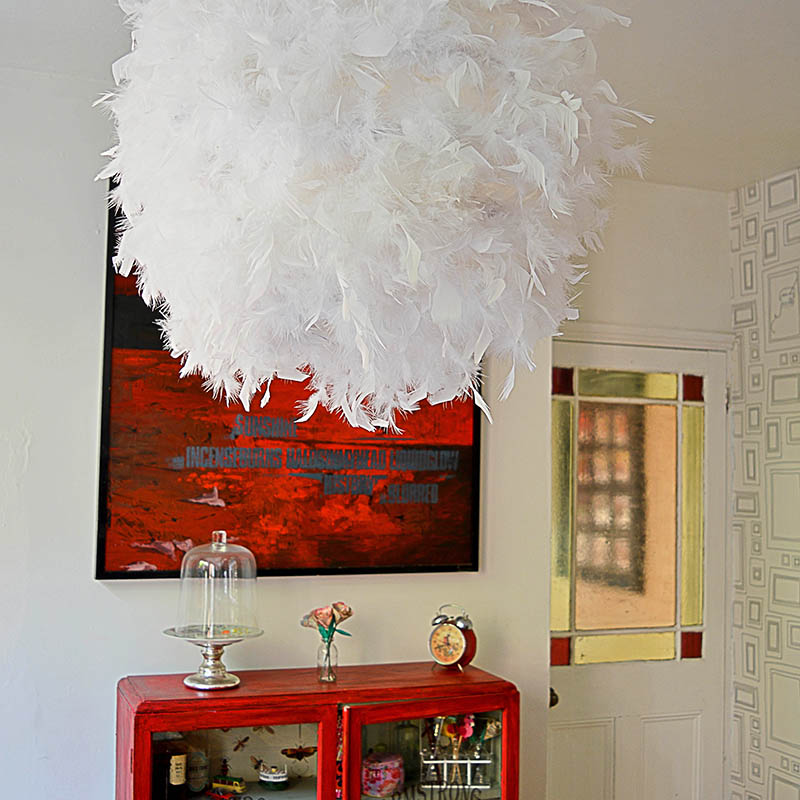 I love making unique lampshades for my home you might want to check out some of my other lampshade DIY's
Check out other great crafts on favecrafts.com