I have curated some of the best feather crafts and DIYs around. Some of which use real feathers in crafts and DIYs. Others are tutorials for creating faux feathers from denim, paper and leather materials.
I've always found feathers fascinating. I still get excited when I see a beautiful bird feather on my walks. I think the symbolism of flight and freedom is one of the appeals of feathers.
Birds moult feathers regularly; that's why you often see them on the ground. Depending on the species, birds may shed all their worn or damaged feathers. This is to make way for fresh new plumage.
Also, there is nothing like them in nature; they come in many beautiful colours and patterns. Especially the feathers of tropical birds, peacocks and ostriches. These beautiful ornate feathers have been used as decoration and ornamentation for centuries.
You can find some incredible vintage illustrations of feathers on Pictureboxblue that would look great framed in any wall gallery. Feathers have been a big inspiration for me with my home decoration.
I have a few feather crafts in my own home. These include the framed map feather artwork on the wall and a feather lampshade in my dining room. These and many more are detailed below.
Hopefully, you will find a fun feather craft from the following collection to inspire you. Before you start, ensure your craft room is stocked with these craft essentials.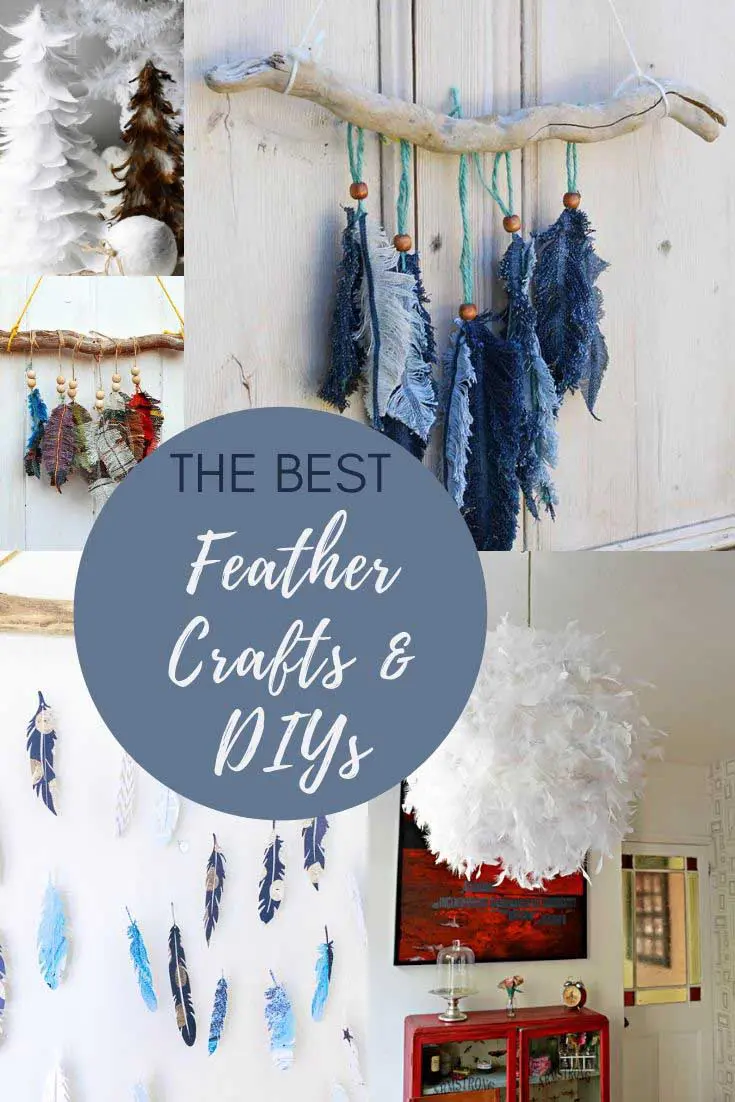 Fun Feather Crafts And DIYs
Favourite Feather Crafts
It's hard to pick a favourite feather craft, but I love homemade feathers from fabric scraps or paper. They can then be used as wall hangings in a garland, table decorations, or even present toppers.
Tassels are another fun thing to make out of scraps of paper. I've made both repurposed denim tassels and upcycled sweater felt tassels.
Old Badminton shuttlecocks are a good source of feathers; check out these shuttlecock craft ideas.