I don't usually put a Christmas wreath on my front door, but this year I decided I would. In my craft cupboard, I had a load of coloured felted acorns I'd made for a previous craft project. I decided to use them for a felted acorn wreath.
I'm lucky my park is full of natural resources to craft with such as pine trees and oak trees. I gather and paint the pine cones for crafts, and have even painted the acorns. This time I just gathered the acorn caps discarded by the squirrels.
To show off these cute acorns I used twigs spray painted white as the base of my wreath. I love the rainbow of colours the felted acorns, they really brighten up my front door.
Not only does this acorn wreath look great it's quick, easy, and cheap (my favorite kind of craft).
We're a participant in the Amazon Services LLC Associates Program, an affiliate advertising program designed to provide a means for us to earn fees by linking to Amazon.com and affiliated sites. As an Amazon Associate, I earn from qualifying purchases.
What You Need
Twigs; I just gathered an assortment on my daily dog walk. You want ones that have a bit of give in them as you will be bending them, and they should be at least a couple of feet in length.
Acorn caps; again gathered on my daily dog walk.
An assortment of coloured felt balls, approximately 15mm in diameter. Basically, you want felt balls that will fit snuggly into your acorn caps.
Glue gun, or strong clear gluelike UHU.
How To Make A Felted Acorn Wreath
1.. First, make your wreath base by weaving the twigs into the wire wreath ring. A wreath about 5-6 twigs in width works well.
I find that fresh twigs have more bend in them than old dry twigs. This makes them less likely to snap when weaving them into a wreath shape.
2. When you are happy with both the shape and thickness of the wreath, spray paint it white. Don't worry too much about covering every inch of the twigs in paint, as long as the wreath looks predominantly white that is ok. It gives the wreath a snowy frosty look.
When using spray paints make sure you use them in a well ventilated space, or even better outside.
How To Make The Felted Acorns
3. Making the felted acorns is really easy. First, dip your coloured felt balls into water to wet them. This enables you to squeeze the balls into more of an egg shape.
.4. Then, glue one felt ball (egg) into an acorn cap.
6. Make about 45-50 felted acorns in a variety of colours. Then using a hot glue gun, glue them to the twig wreath. Space the acorns roughly evenly around the wreath.
If I'd known making a wreath was so easy I would have done one before. I like all the different coloured acorns, I think they really stand out against the white.
If you liked this wreath then check out this map leaf wreath and these mini Christmas wreaths.
I love this felted acorn wreath so much, I decided to make another one. This time though I made paper and felt acorns and oak map leaves for the wreath.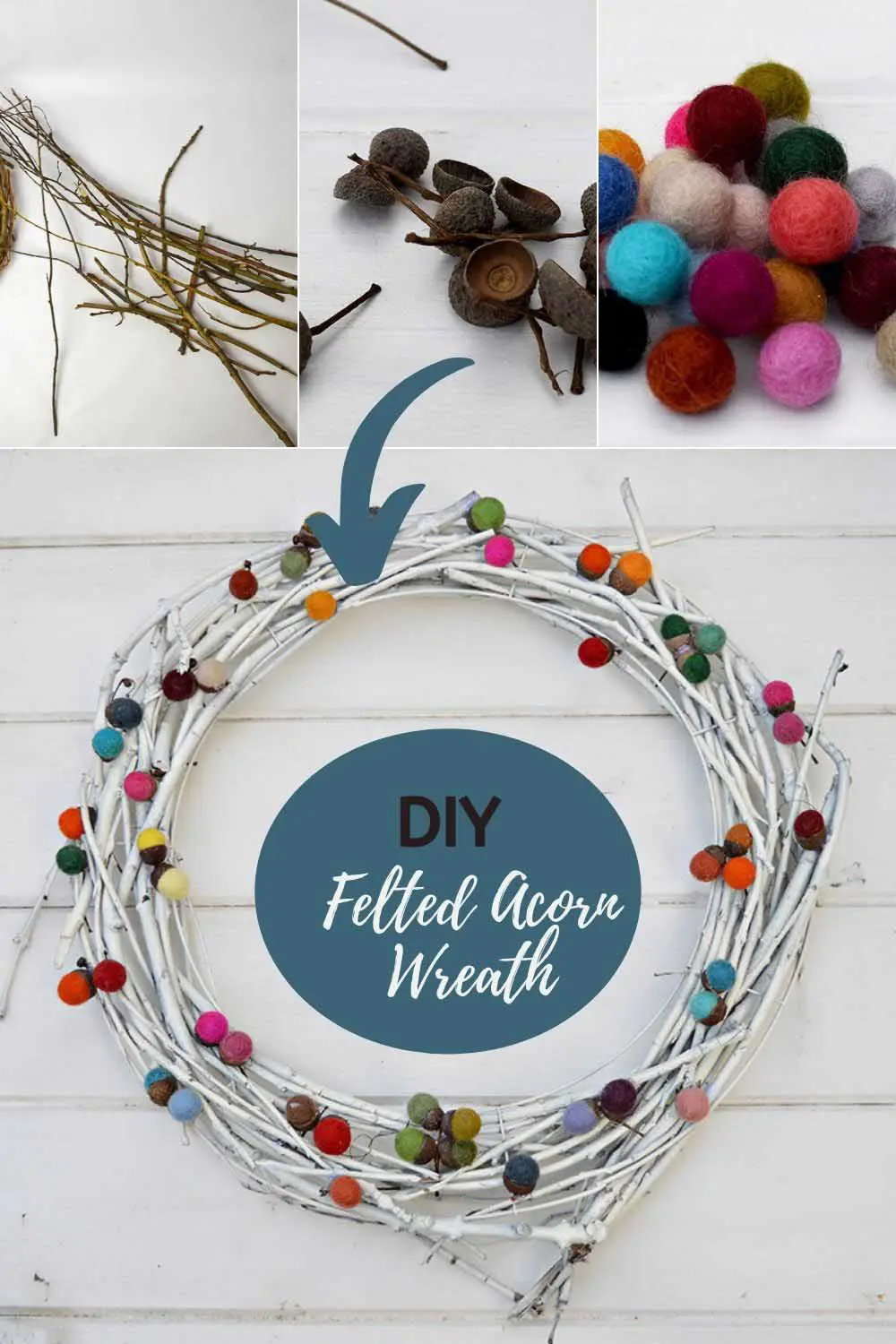 For another colorful wreath, check out my DIY scrap yarn wreath.