I revamped an old wine crate into a DIY nightstand for my son's bedroom.
Every year my aunt brings us back a crate of wine from France. I love these little wooden crates almost as much as the wine but not quite! When my son was moaning that he didn't have anywhere to put a glass of water at night I decided to DIY a nightstand using one of these crates.
The nightstand looks awesome in my son's room and he loves it. Now he's got somewhere to put that glass of water, and a place to rest his phone as it charges overnight.
Also there is room enough for the books he's currently reading his tablet!
He actually sleeps with his iPhone under his pillow with the special iPhone denim pocket pillow I made for him. Also now he has an upcycled nightstand caddy for his watch and pocket change.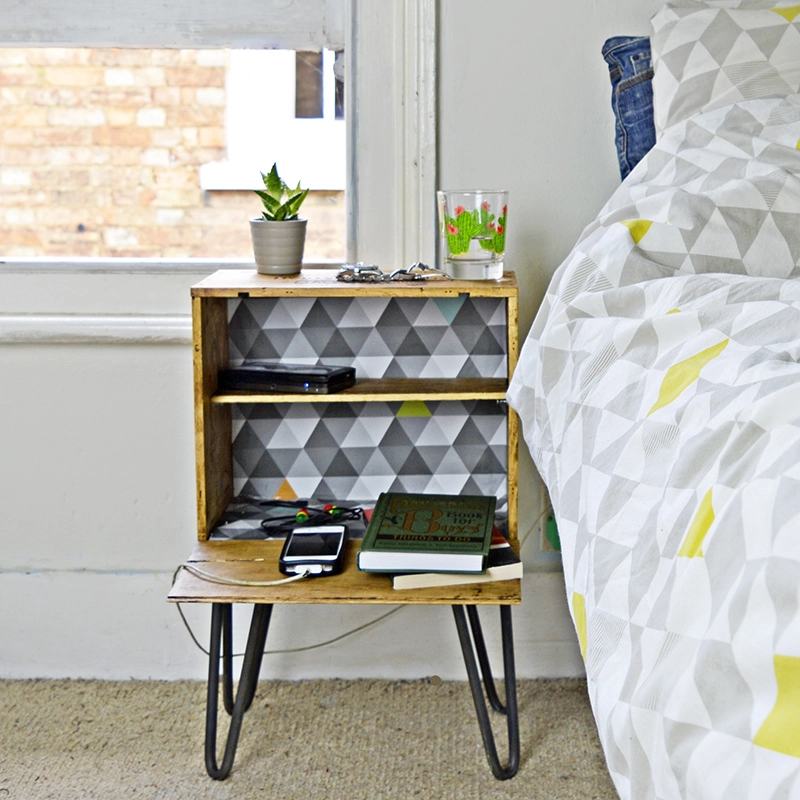 We're a participant in the Amazon Services LLC Associates Program, an affiliate advertising program designed to provide a means for us to earn fees by linking to Amazon.com and affiliated sites. As an Amazon Associate, I earn from qualifying purchases.
DIY Nightstand from an old wine crate
What you need for a DIY Nightstand
Wooden wine crate with lid – You normally get these when you buy half a dozen bottles of the same wine. You could ask your local wine merchant if they have any spare.

Or you could buy a box of wine from Costco, drink it and then use the box.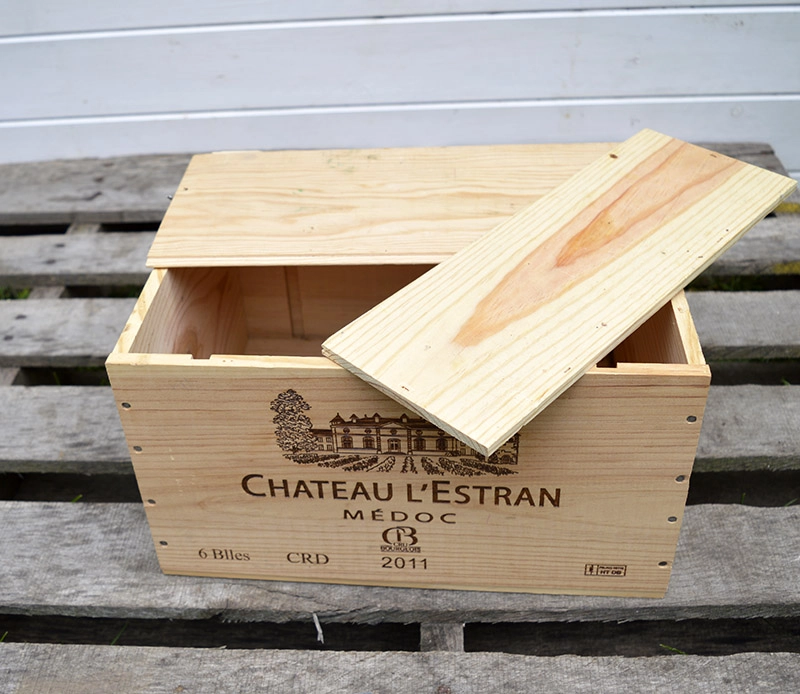 How I made my DIY Nightstand
1.. Firstly, to maximize the usefulness of the DIY nightstand, I used the lid to make both a shelf and a lip. The lid came in two parts. I sawed the end off one of the lid parts so that it would fit into the crate to make a shelf.
To hold the shelf up I screwed in four wooden screws to rest it on. Since making this I have found picture eyelets are a great way to hold up shelves I did that with my upcycled drawers wall unit for my bathroom.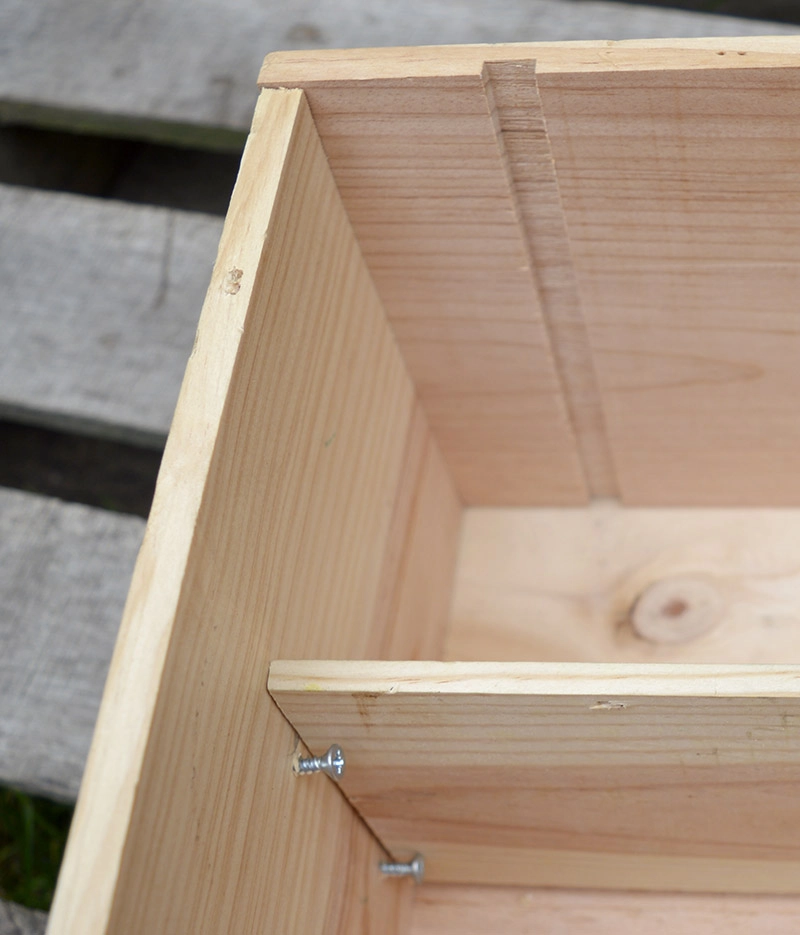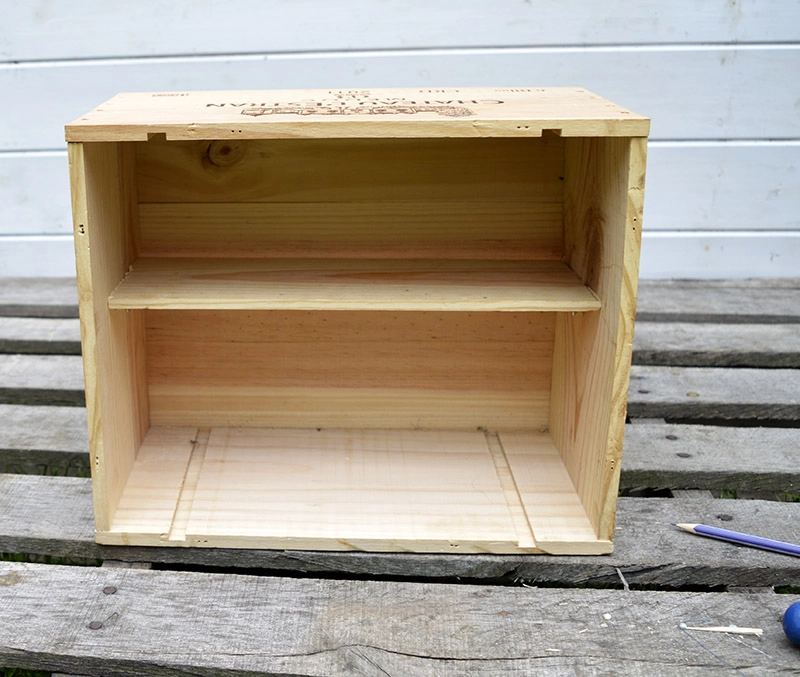 2. The wooden crate was a bit new looking. To give it that more aged and worn look, I simply covered it with dark polishing wax. I used a lint-free cloth and simply rubbed the wax into the wood. When all surfaces had been covered I buffed them with a clean cloth.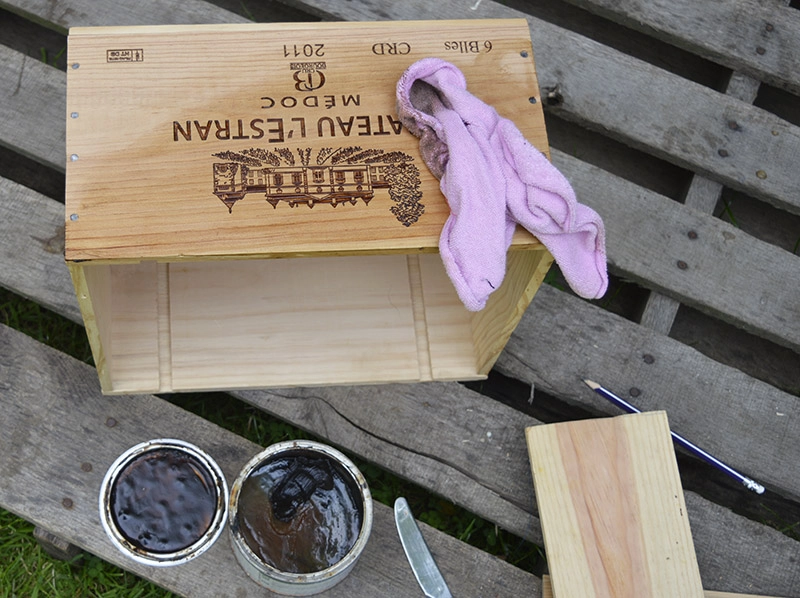 3. Next, to add further interest to the DIY nightstand I papered the inside of the wine create. I'd found a geometric wrapping paper that matched the bedding in my son's room. I simply cut the wrapping paper to size and used Mod Podge to stick it to the crate. I also gave the top of the paper a coat of Mod Podge to seal it.

This really added to the nightstand and made it look like it was meant for his room.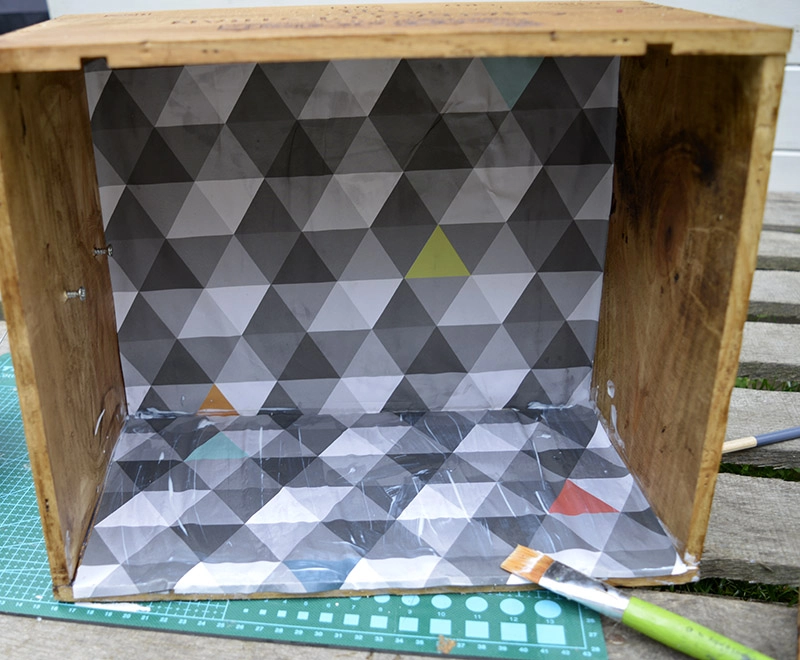 4. Lastly I added the hairpin legs to DIY nightstand. The back two legs were simply screwed onto the base of the wine crate. The front two legs were used to secure the lip of DIY nightstand.
Half the legs brackets screwed into the base of the crate and the other half into the lip (made from the lid). This held the lid in place and created an extra shelf area for my son.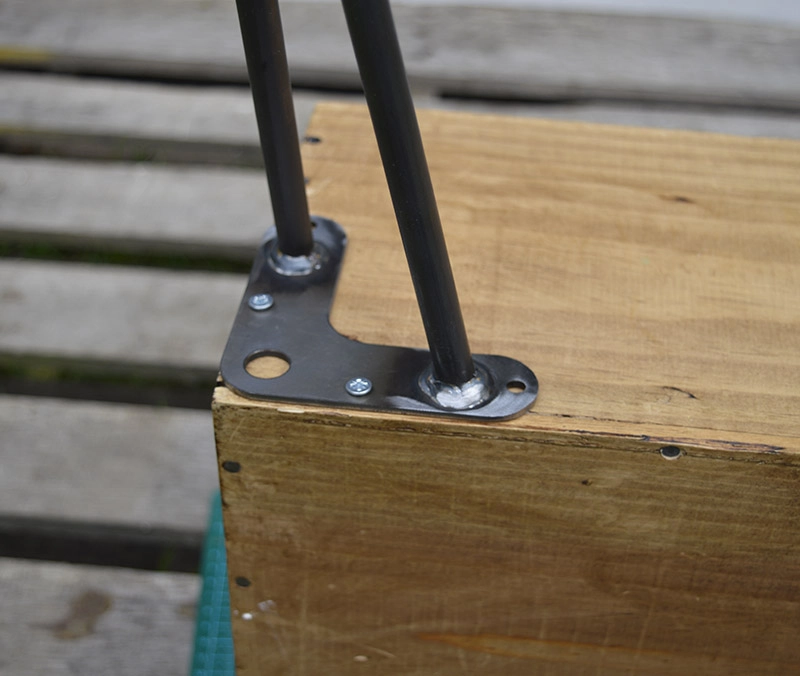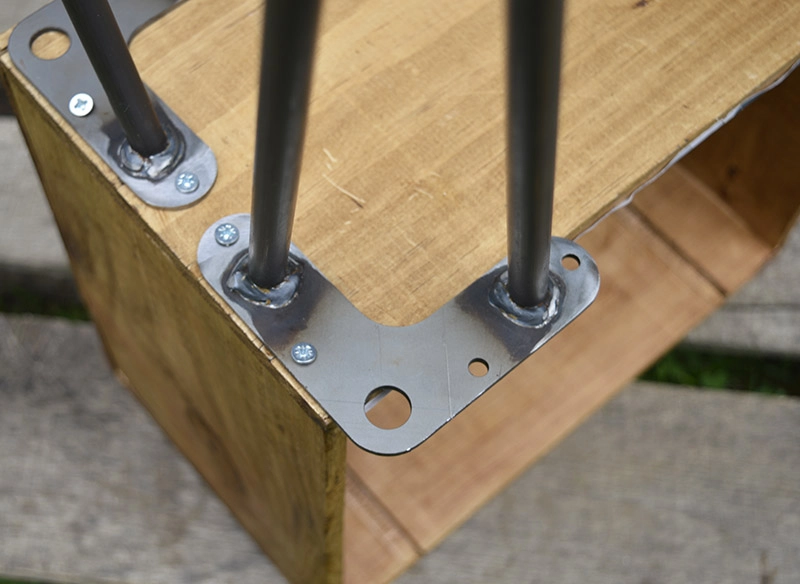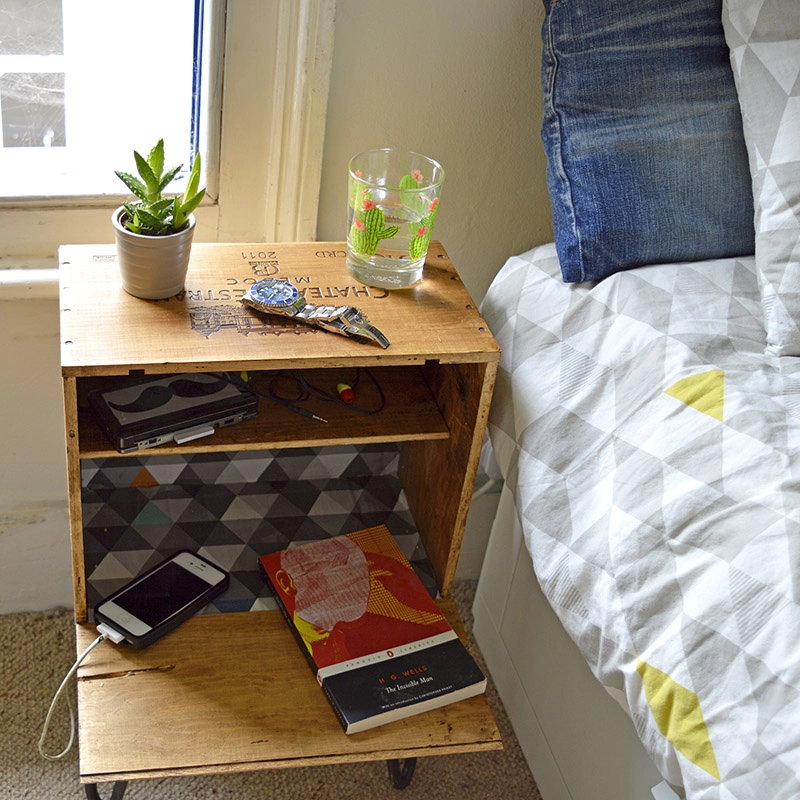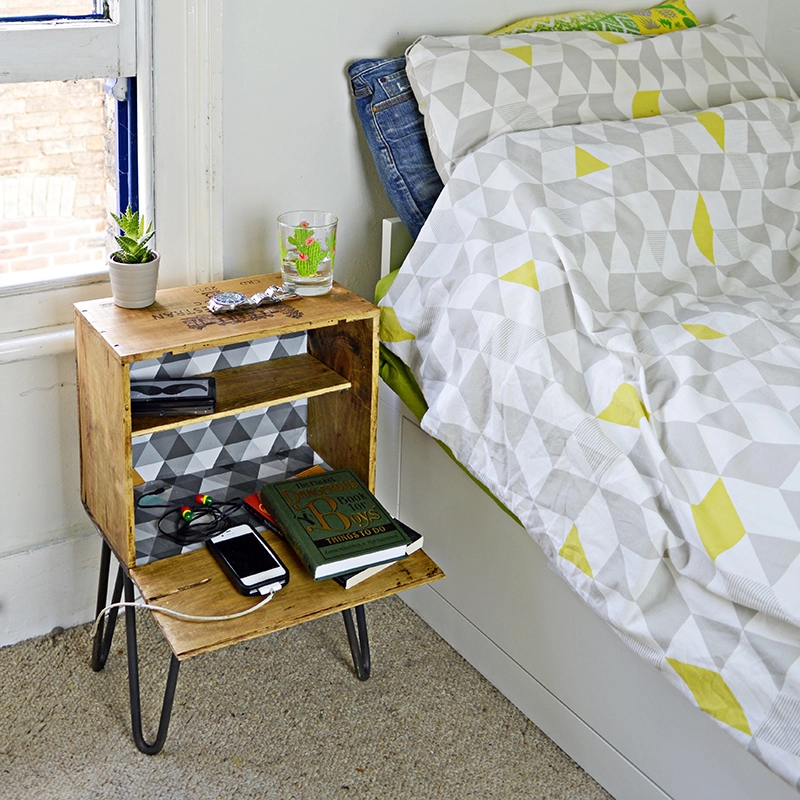 Hairpin Legs & Crates
Hairpin legs are great for transforming loads of things like crates, pallets and suitcases into tables. They come in loads of different heights and colours which only adds further to your projects.
I used some shorter hairpin legs to upcycle a vintage suitcase into a side table. Longer hairpin legs were combined with scaffolding boards and a map to make a fun world map desk.
I've had loads of fun upcycling more wine boxes, I made something else for my son's room. A cool DIY light box sign from a winebox and I even made a DIY bathroom cabinet from another one.
You might also want to check out my fantastic upcycle of a pair of jeans and a wooden crate to create a nifty denim DIY ottoman with storage. This was actually an IKEA hack.
There are also many different things you can do with a crate, some of which can be found on favecrafts click here to see them