I made this denim pocket pillow for my teenage son out of his repurposed old jeans.
What is it about teenagers, they seem to spend over half their lives in bed? When I was a teenager, I spent a lot of my time listening to music in my room.
Now that my boys are teenagers they like to do the same, but this time the music is on their iPhones and they listen through headphones.
The trouble is that are always losing their phone down the side of the bed or under the covers. Therefore, I designed and made my youngest son Fergus a cool jeans pocket pillow for his phone. I've
Upcycle Your Jeans Into A Really Useful Denim Pocket Pillow For Your iPhone
This is no ordinary pillow, it has a unique feature. I have incorporated the pocket from an old pair of jeans, so he has somewhere to put his phone whilst lying on the bed listening to music.
This isn't the first time I've made the jeans pocket a handy feature, you should check out my denim sunglasses case too.
Ironically my sons like to listen to a lot of the same music as I did, apparently, it's quite cool to listen to 80's music!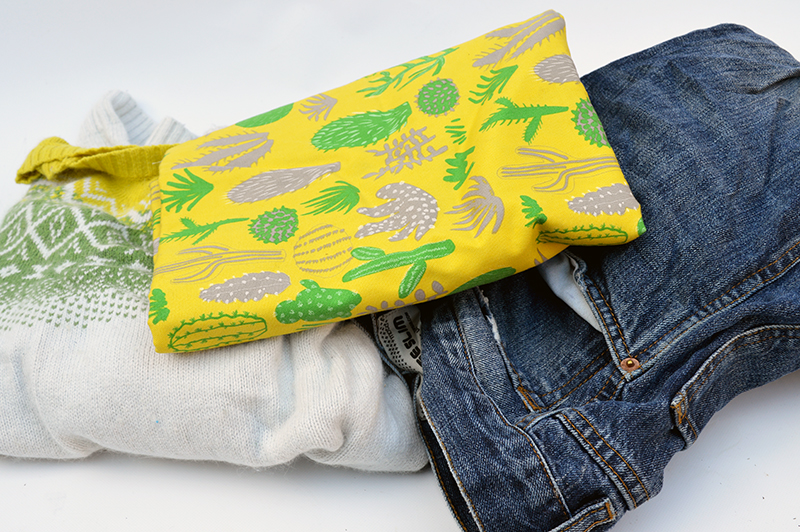 What You Need
This jeans pocket pillow/cushion was made for an inner pillow 40 X 70 cm you may want to adjust the measurements to fit your pillow.
A leg of an old pair of jeans (straight or loose fit jeans are best)
An old sweater; this is optional but as I had one that went well with my fabric I decided to use it. Also, the wool sweater gave the pillow a nice cozy soft feel. However, you can just make your pocket pillow with fabric and denim.
Scrap fabric if using the sweater then it needs to be a least 25cm by 82cm. If just fabric and denim then you'll need twice the amount.
A zip between 30cm-35cm.
Scissors, pins, needles, thread, and sewing machine.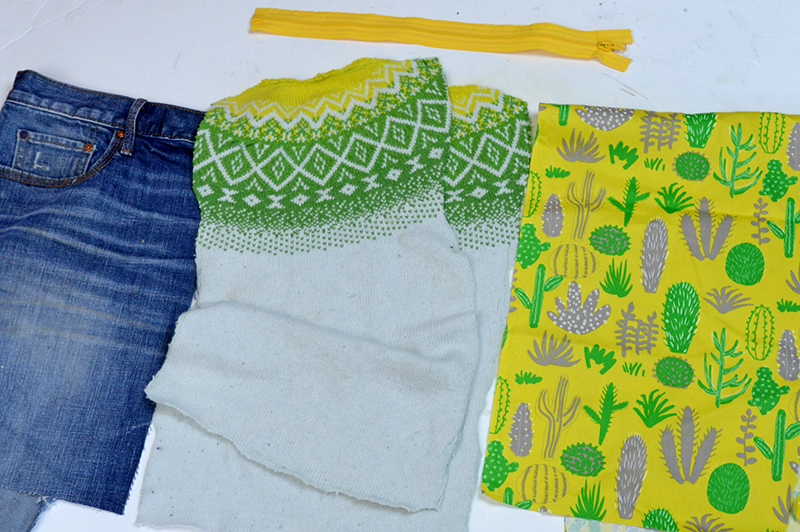 How To Make A Denim Pocket Pillow
1.. First, prepare the jeans pocket by cutting off the left leg of the jeans. Cut all the way to the top of the waistband and as close to the crotch as possible.
You will want to end up with a piece of denim approximately 50cm by 40cm or as close you can get to this. Make sure you have both the front and back pockets. Fold in half and pin right sides together before sewing along the waistband.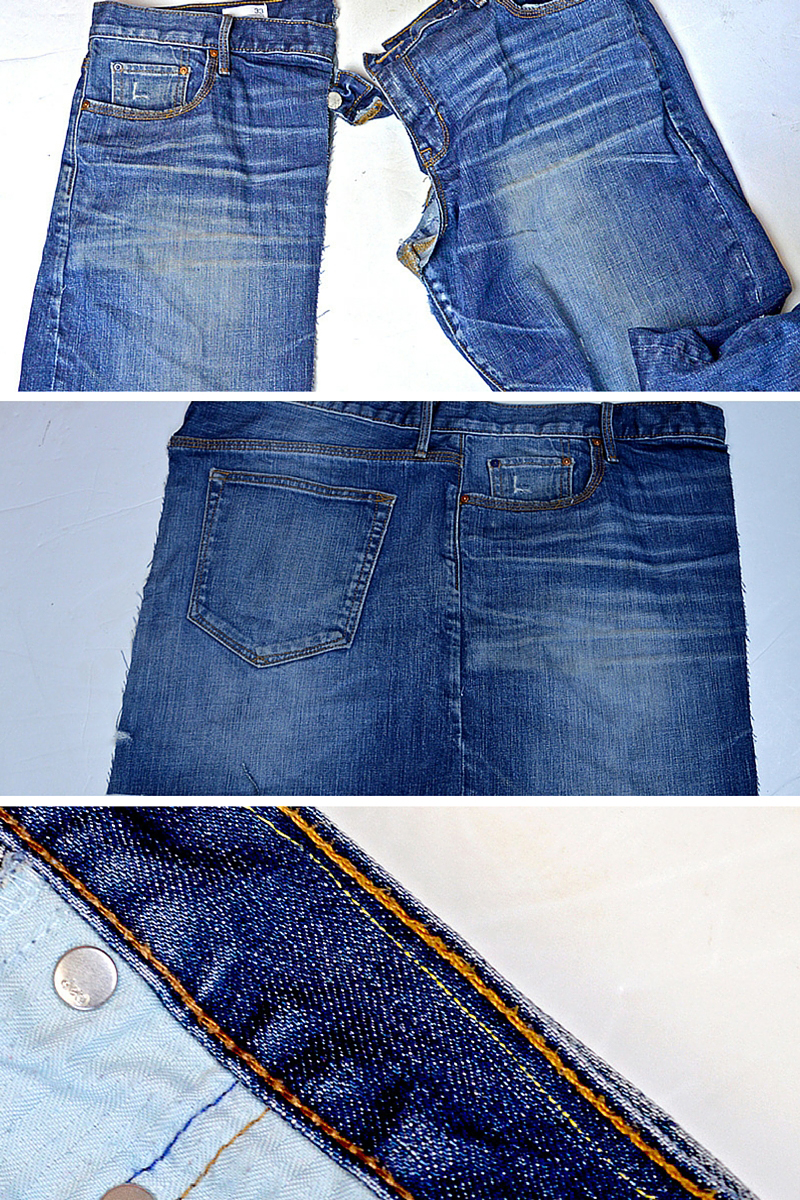 2. Next, if using a sweater you will need to felt this in the washing machine first. Once felted cut and your sweater so that you end up with a piece 25cm by 80 cm.
3. Next, your 3 fabric pieces (denim, sweater, and fabric) are ready to sew together. Pin the sweater piece to the patterned fabric right sides together and sew along the long edge. Next, pin this large piece to the edge of your denim fabric again sew the right sides together
You should now have something that looks like your pillow but with an open bottom edge and side.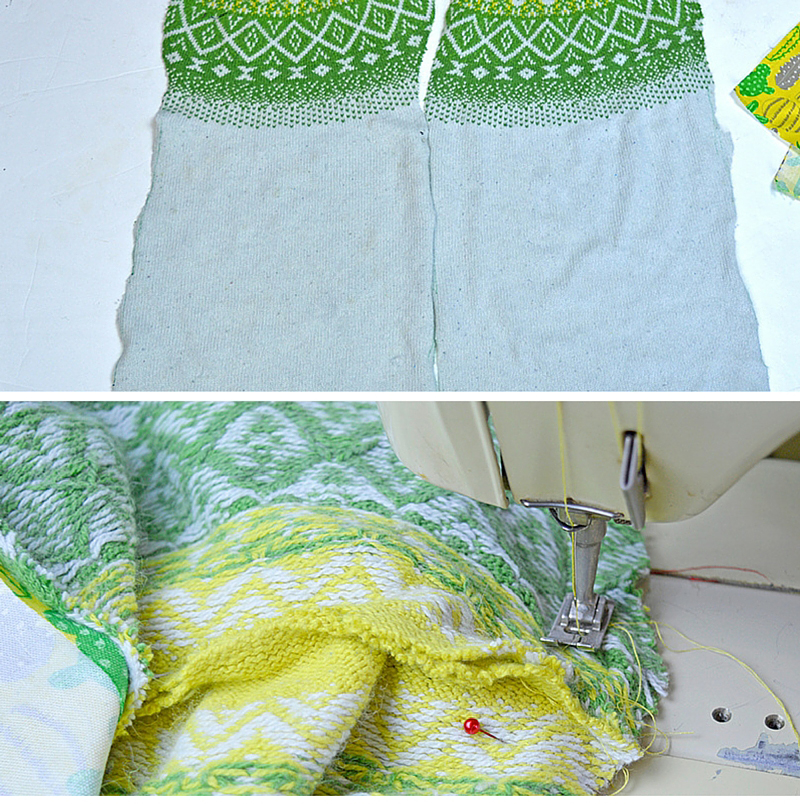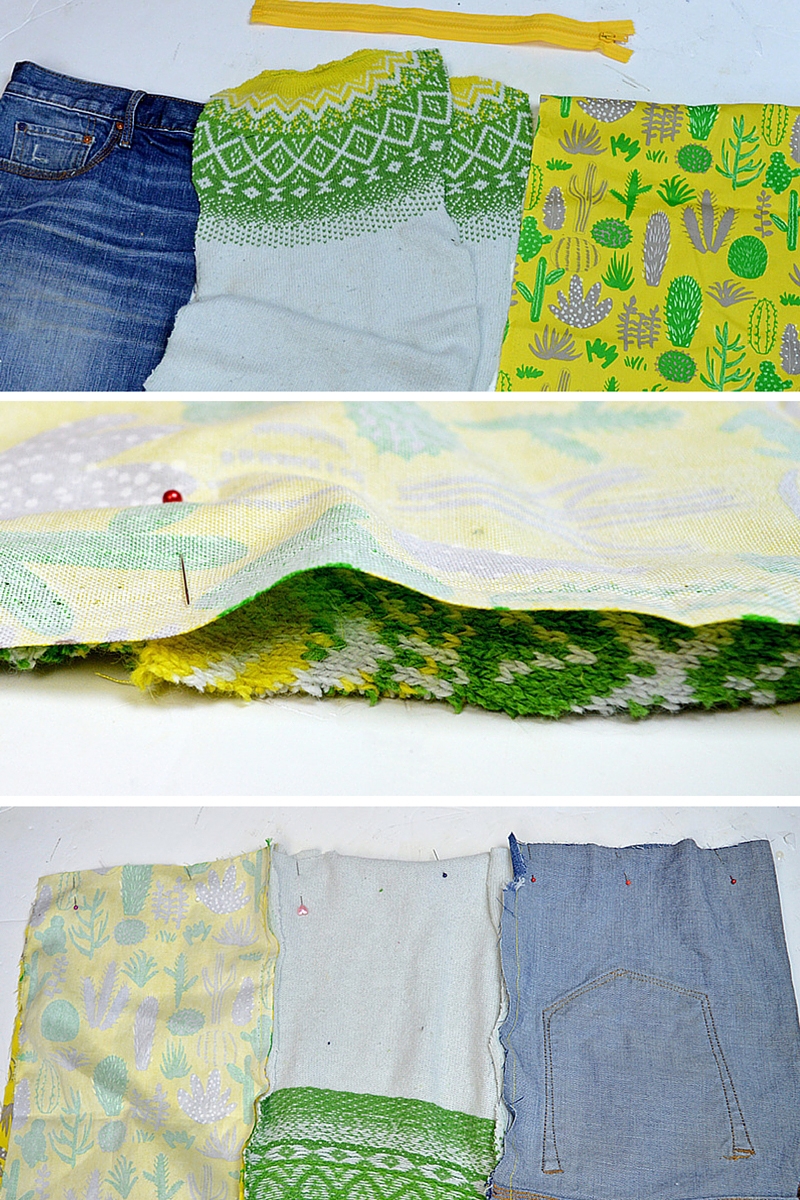 4. Next, sew along the bottom edge of the pillow cover and then turn right side out.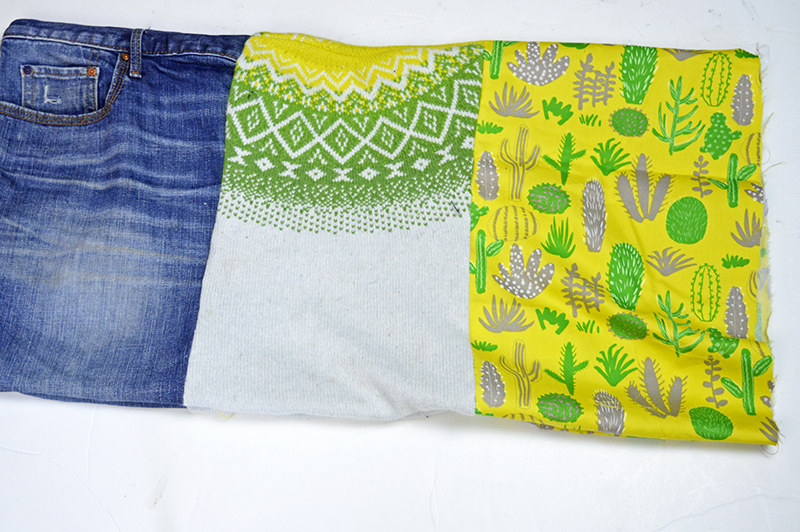 5. Finally, you will need to sew in the zip into the open fabric. There are a lot of youtube videos that are much better at explaining how to sew in a zipper than I can ever do. For example, MADE Everyday has a great video tutorial.
The finished iPhone Denim Pocket Pillow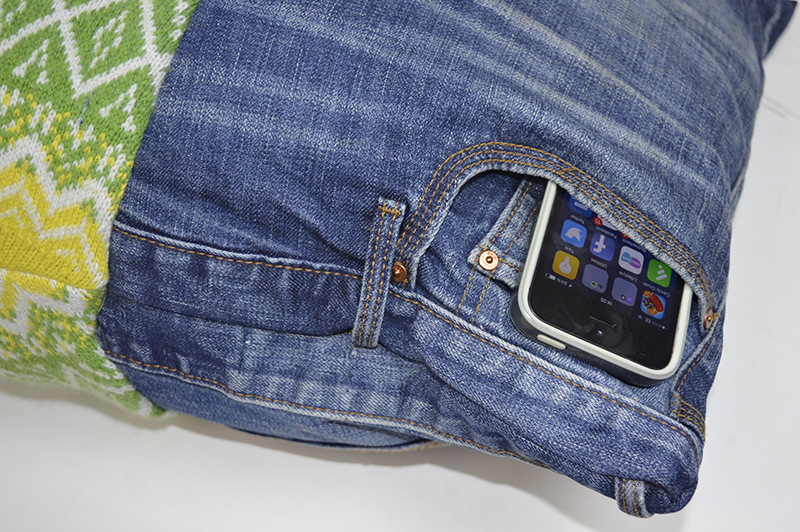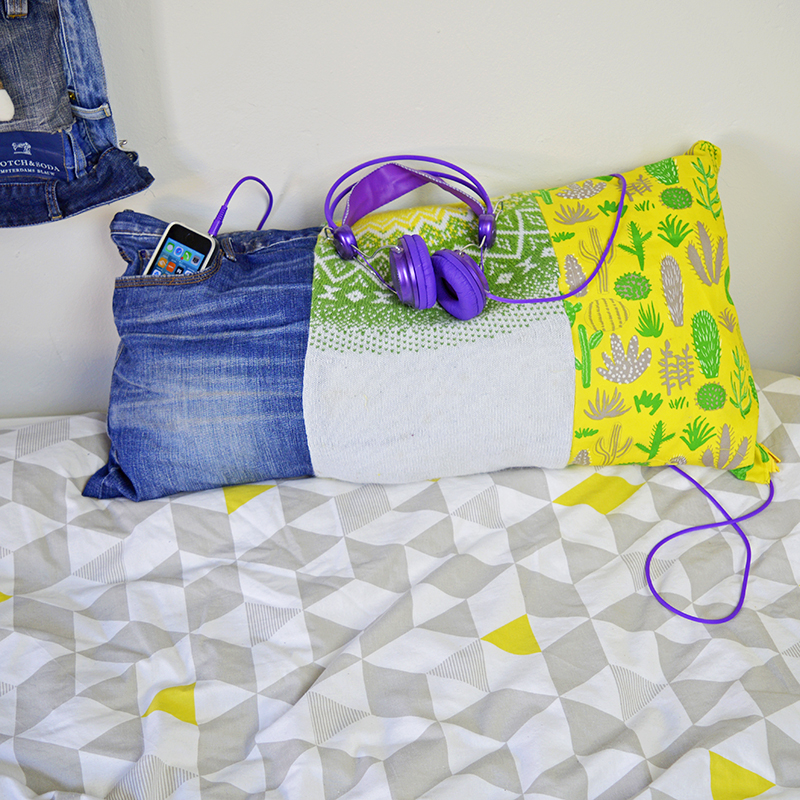 Of course, it goes without saying this iPhone pillow is android compatible. In fact, it works with all types of mobile phones.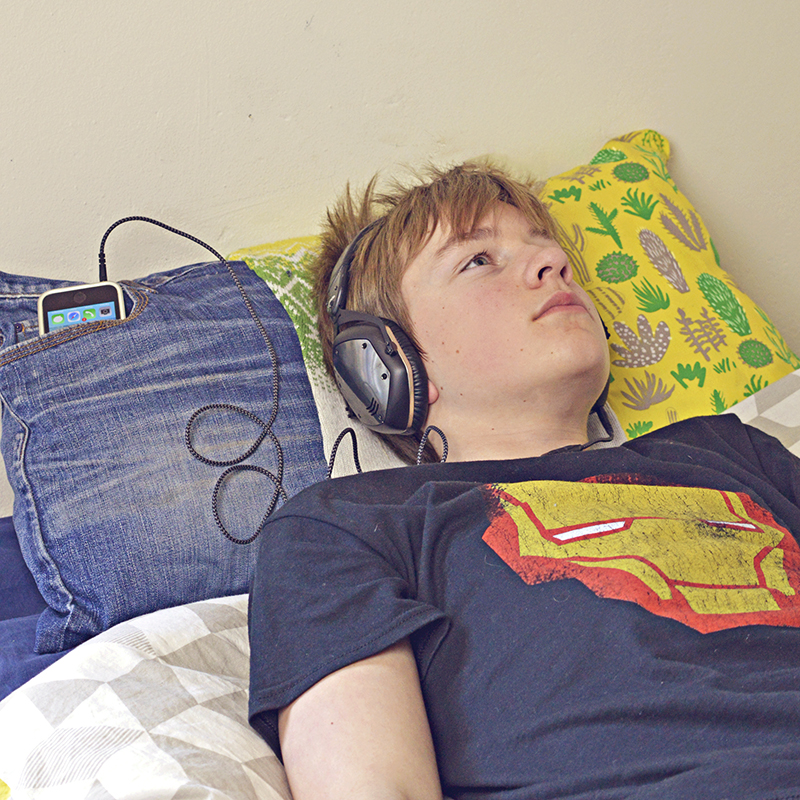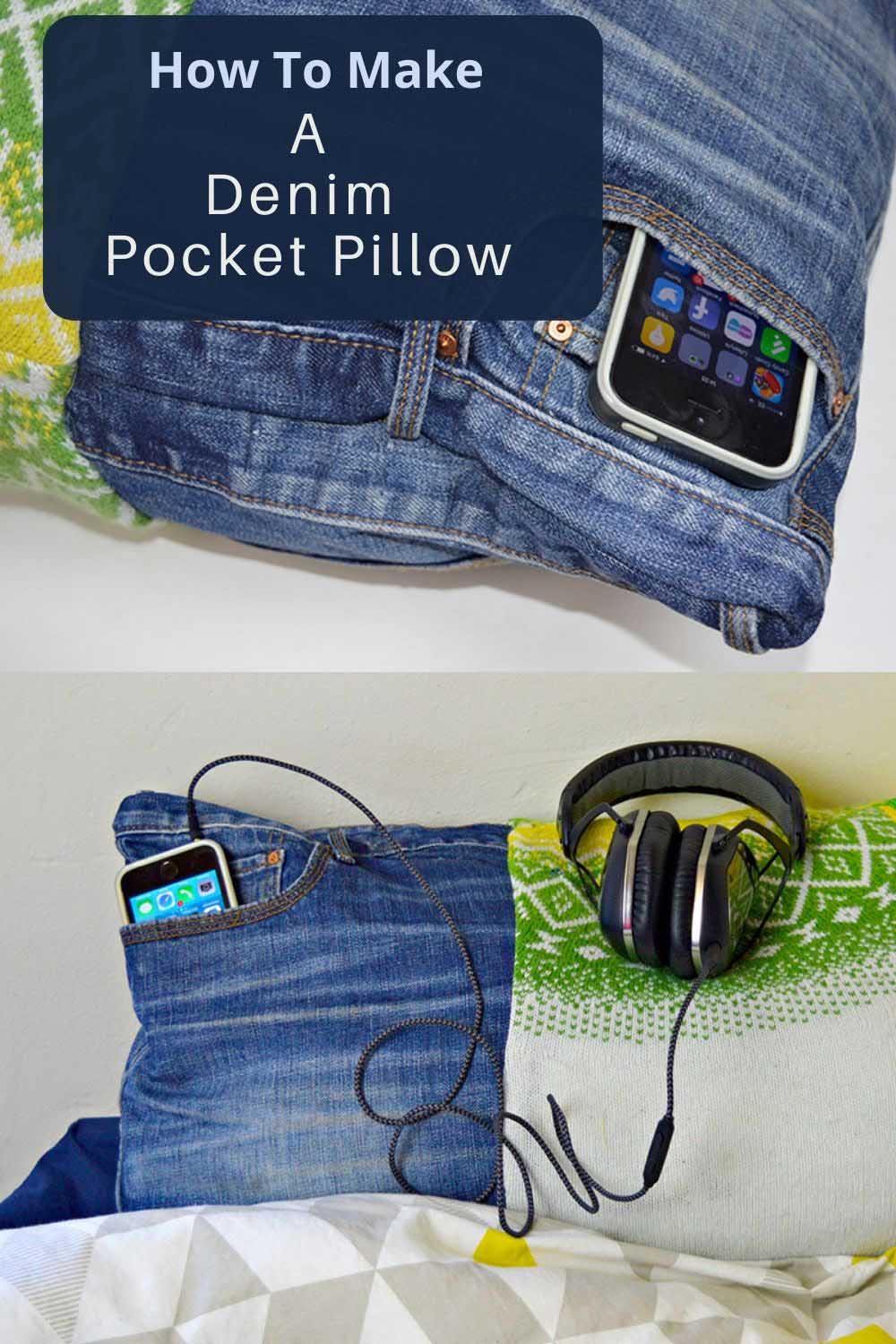 One of the great things about this pillow is that as you have both the front and back pockets of the jeans you can use it on the left or the right depending on your preference.
My son loves his new denim pocket pillow/cushion, it stops him from losing his phone in the covers or accidentally knocking it out of bed. The colours go great with his room.
We gave it a cactus-themed makeover last summer so the cactus fabric fits in great with this and the denim goes well with the denim pocket wall organizer and denim waistband rug I made him.
If you love to make pillows out of old jeans, check out all the best denim pillow ideas here.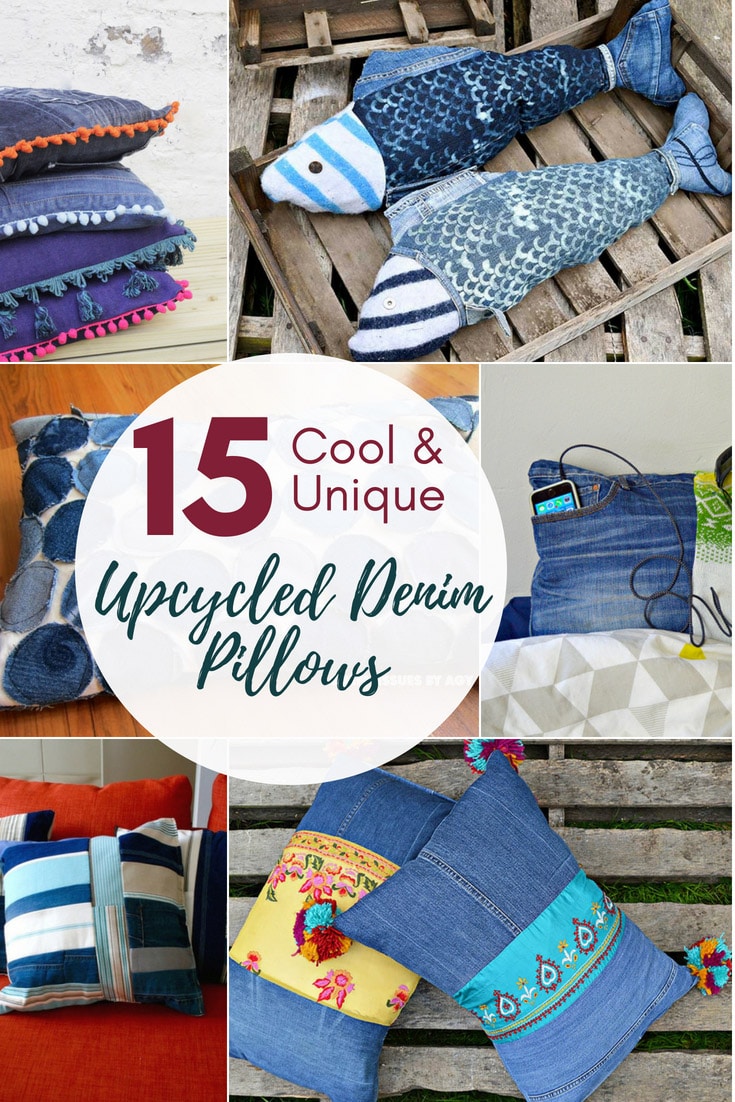 I love to upcycle and repurpose my family's old jeans. You may want to check out some of my other awesome denim DIYs for the home and the complete A to Z of denim crafts here.