Inside: A tutorial on recovering an IKEA Skurvsta chair and making a pattern cover in denim.
I love to upcycle old denim; some might even call it an obsession. So when my office chair needed a makeover, I knew this Ikea chair hack had to involve denim.
But if denim is not your thing, the reupholstery process and pattern are the same.
This isn't my first denim chair upcycle; in the past, I've upcycled a dining room denim patchwork chair and a footstool with old jeans. I'm sure it won't be my last either.
Upholstering in denim is much easier than it looks, especially with a bit of staple gun magic.
Skruvsta Denim Chair Upcycle
It was easier than you think to upholster the Ikea Skruvsta chair with denim. The old jeans I used were nice and soft from years of wear. The denim is also hard-wearing, so I think the chair will last a few more years.
The new cover is a big improvement on the old faux leather chair. And it cost me nothing as I used repurposed fabrics.
This denim chair upcycle is featured under the letter C in the A to Z of denim crafts.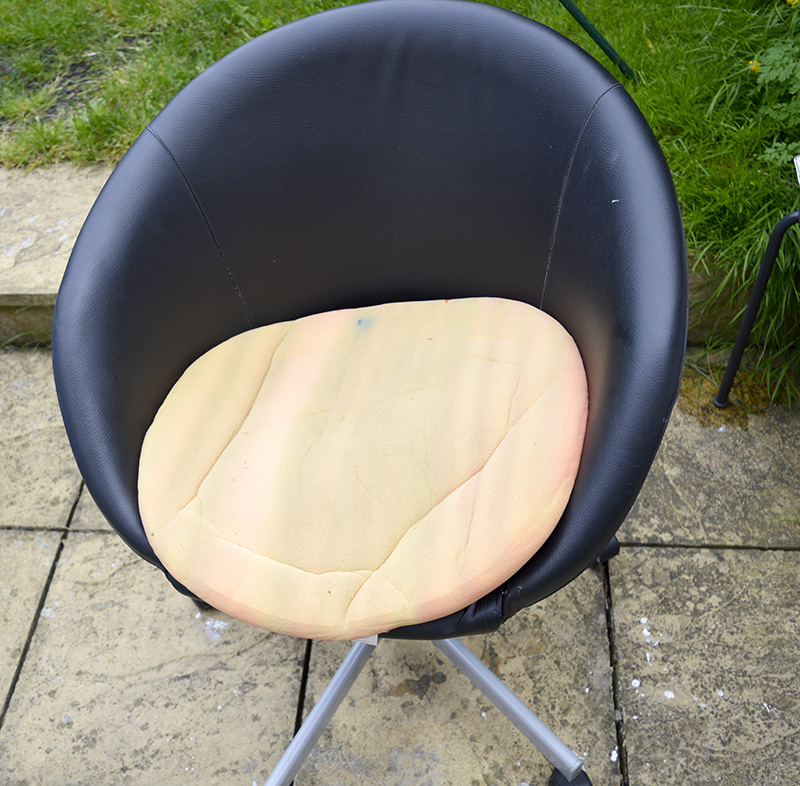 We're a participant in the Amazon Services LLC Associates Program, an affiliate advertising program designed to provide a means for us to earn fees by linking to Amazon.com and affiliated sites. As an Amazon Associate, I earn from qualifying purchases.
What You Need For
Ikea Skruvsta office chair – This tutorial should work for most upholstered chairs.
Between 3-4 pairs of old jeans. I used jeans in a similar shade of indigo, but contrasting denim shades would also look fabulous.
Scissors
Sewing machine with denim weight needles
How to Upholster the Ikea Office
Step 1: Make a paper pattern of the chair. Use pattern paper to do this.
If you look at the Ikea Skruvsta chair, you can see that the cover is sewn in six different sections. I pinned the pattern paper to the chair and marked out each section on the paper.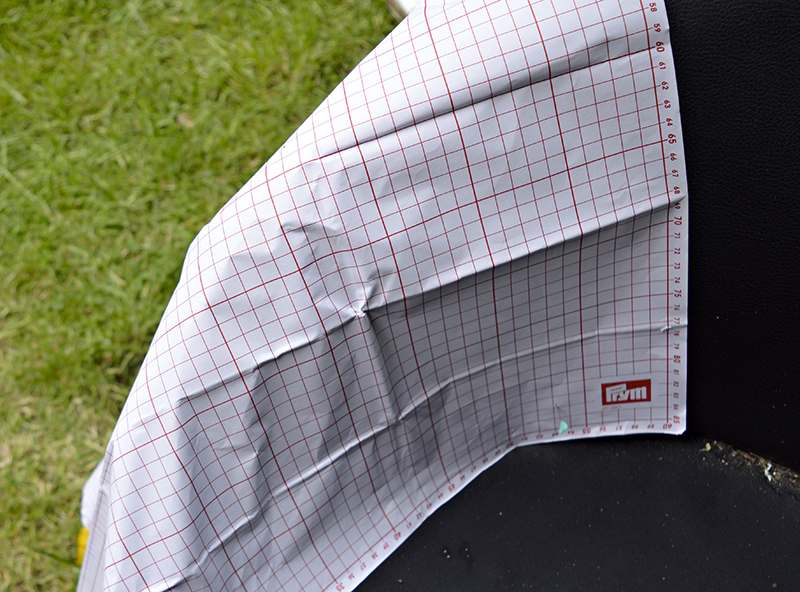 Step 2: Cut out the paper pattern for each cover piece on the chair.
The left and right panels of the chair were just mirrored images of each other; I only cut out one pattern for both. Just flip the paper pattern over when cutting out the opposite side.
Mark each paper pattern with where the panel is located and whether or not it is on the left or right. This will stop you from getting too confused when cutting out the denim pieces for this chair upholstery.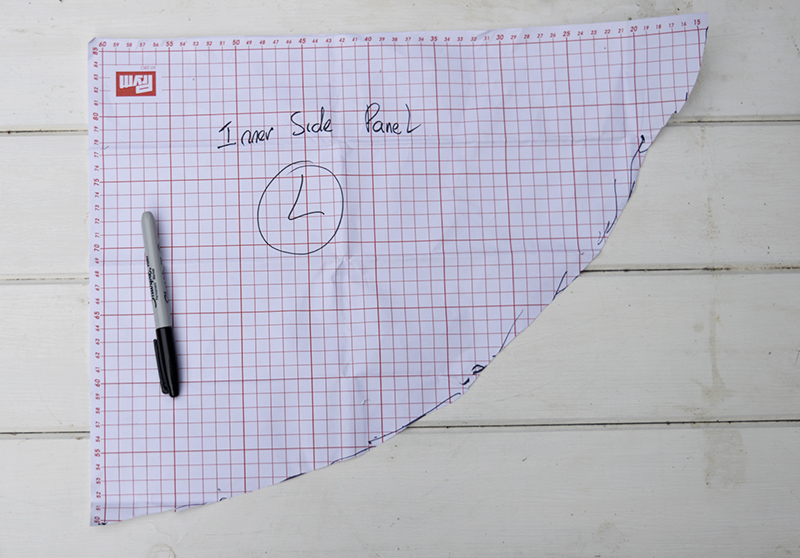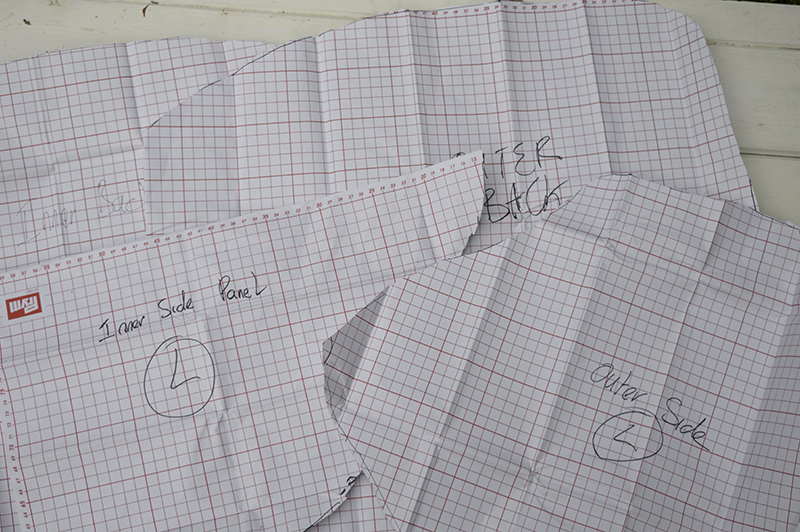 Step 3: Make as large pieces of denim as possible from a single pair of jeans. To do this, cut your jeans up the inside leg seam. Then, flatten them out and stitch the legs together. You should end up with one large piece of denim fabric.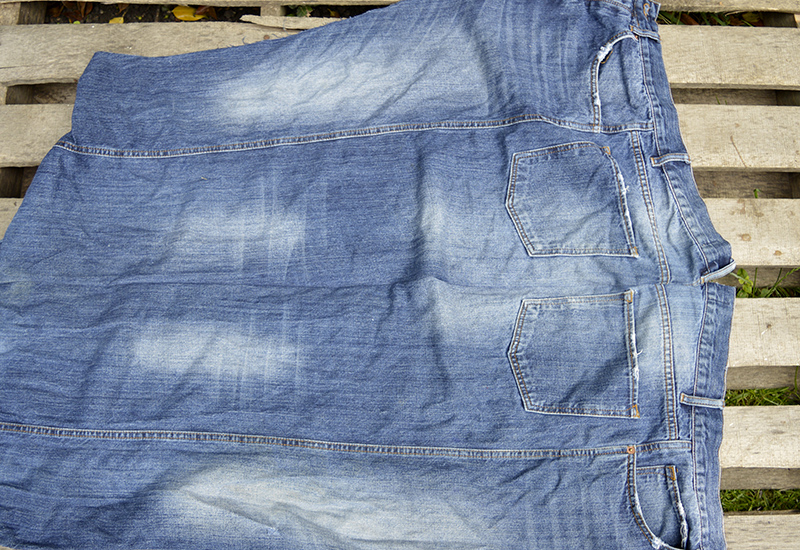 Step 4: Pin the pattern paper on the large pieces of denim. Allowing for a seam of approximately 1cm. Cut out the denim pattern pieces. You should have six in total.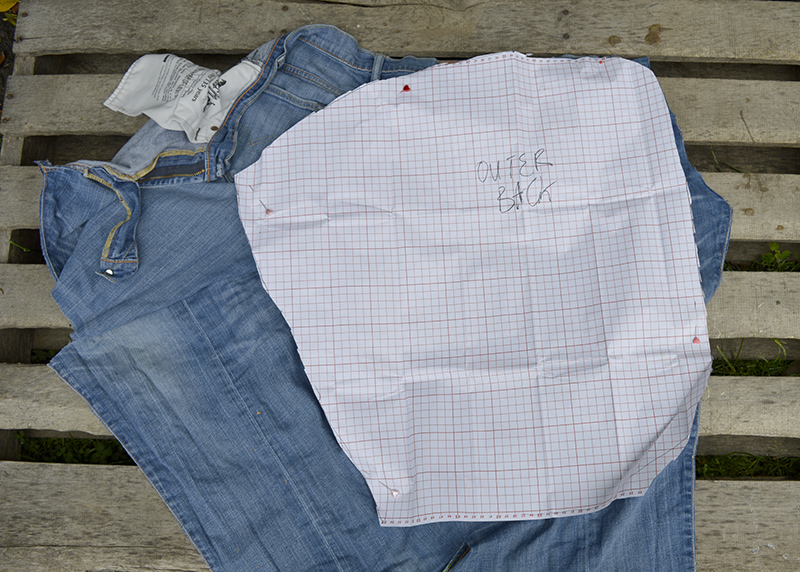 Step 5: Pinning the right sides together, sew the three outer back pieces together. Then repeat with the three inner panel pieces together. Finish off by sewing these two sections together.
Top tip: Make sure you have a needle suitable for sewing denim in your sewing machine.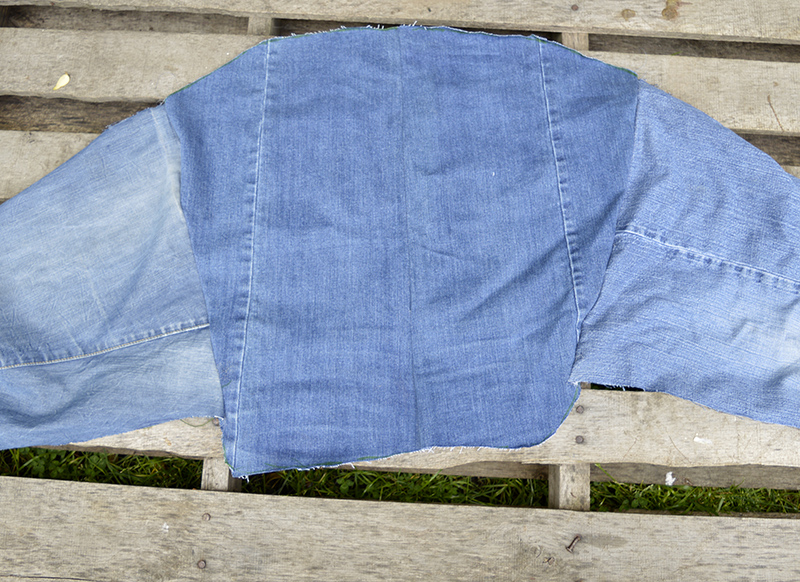 How to fit the cover to an IKEA office chair.
Step 1: This is where the staple gun becomes the star of the project. Staple guns let you cheat with upholstery and make it easy.
Place your newly made denim cover over the chair. Making sure the newly sewn seams in your cover match up with the seams in your chair, and pin the cover to the chair along the top.
This will hold it in place whilst you staple the cover to the chair and stop it from moving out of place when you pull it tight.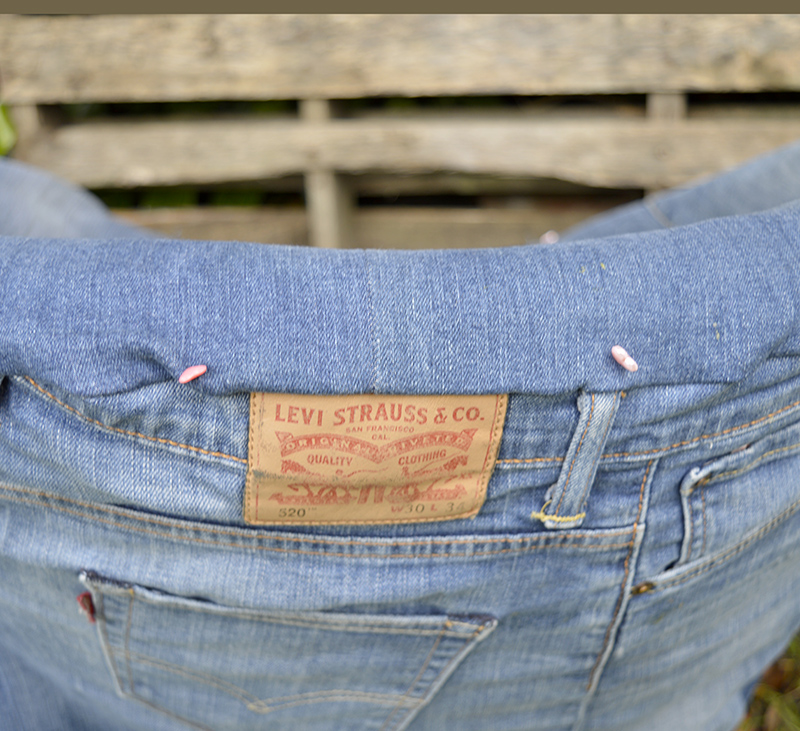 Step 2: Next, pull the inside of the cover taut and staple it to the inside seat of the chair.
This may look unsightly, but don't worry, as the chair cushion will hide it. You can never have too many staples holding it in place.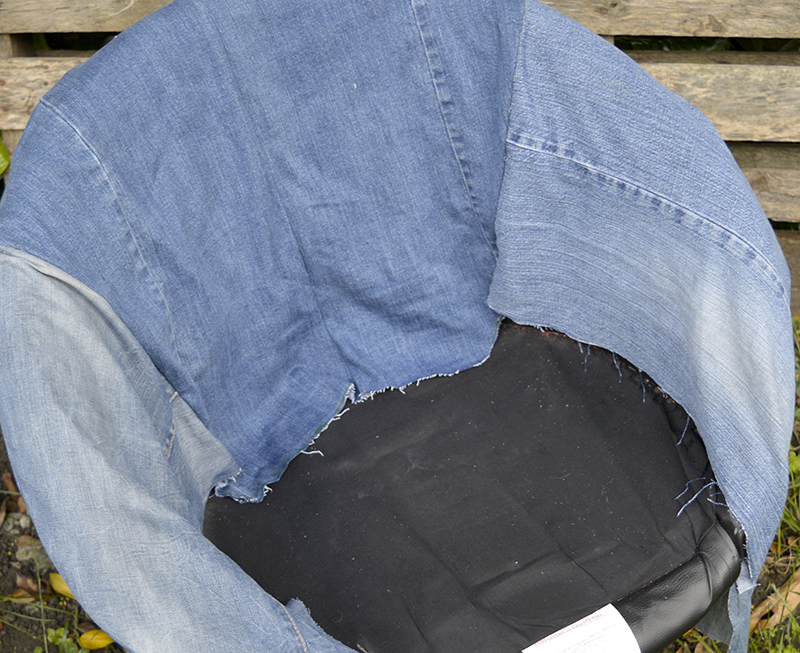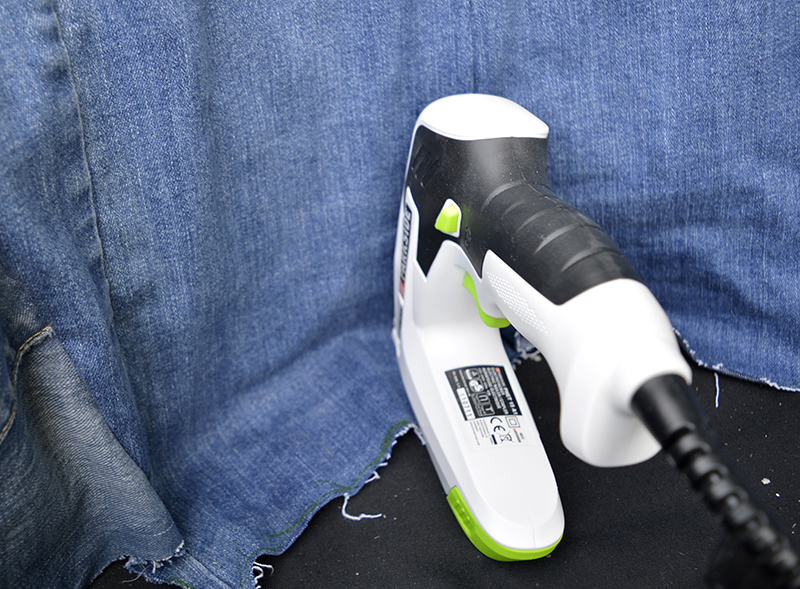 Step 3: Then, turn the chair over and repeat with the underside of the chair. Pulling the cover taut as you merrily staple away. Don't forget to take out the pins at the top when you have finished.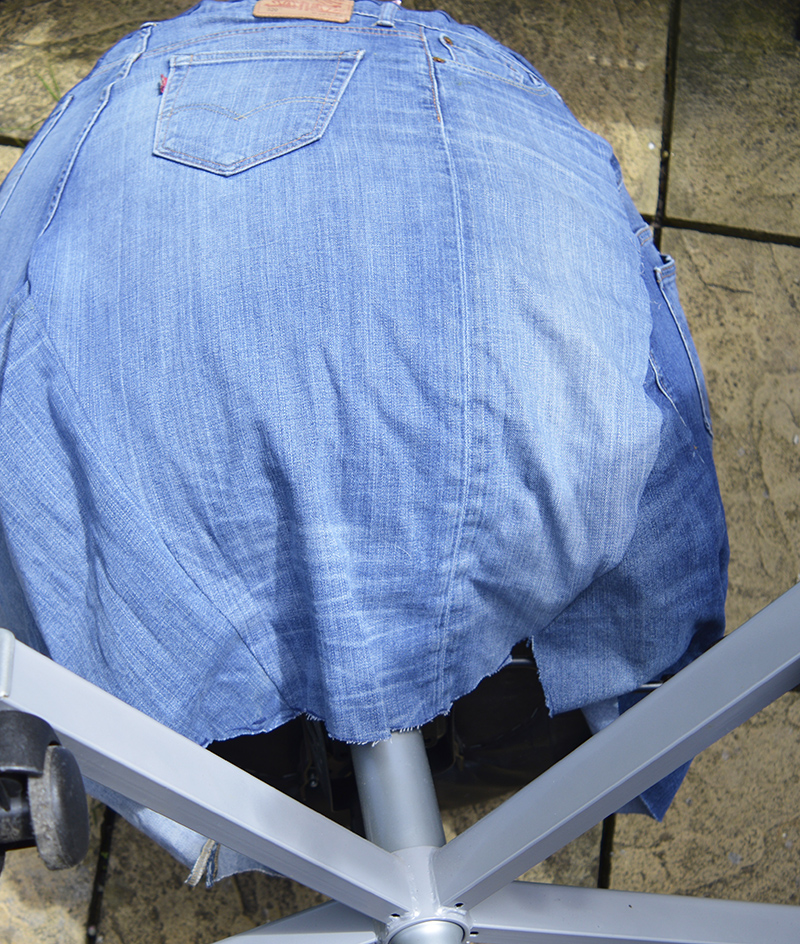 Making the seat pad cover.
Draw around the seat pad onto a large piece of denim, allowing for a 1cm seam allowance and cut out.
Repeat so that you have two identical denim pieces. Pin and sew the right sides together, leaving an opening for the pad.
Turn the denim right sides out, squeeze in pad into the cover and stitch up the opening.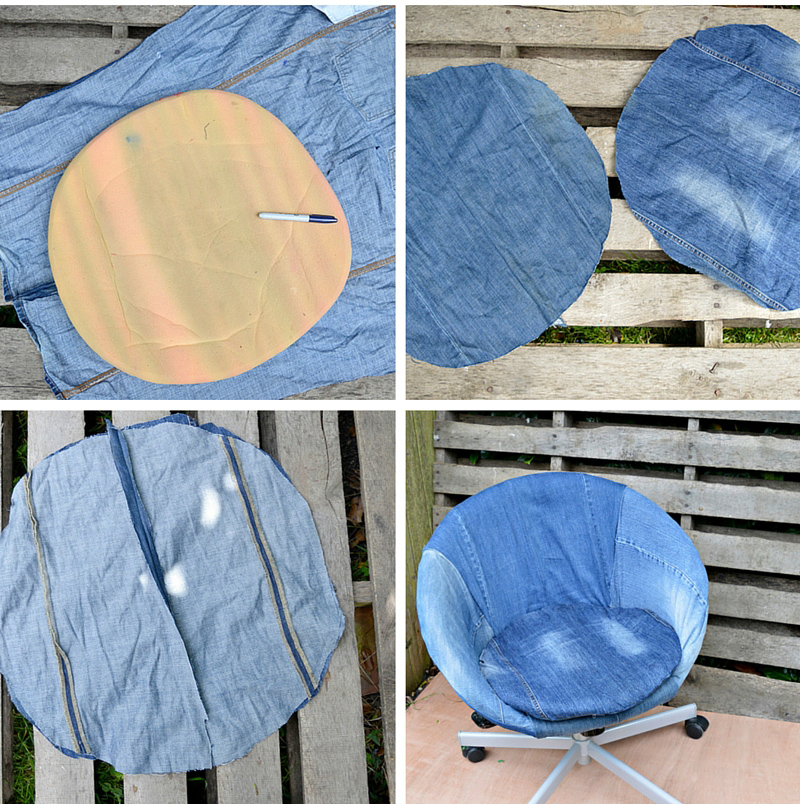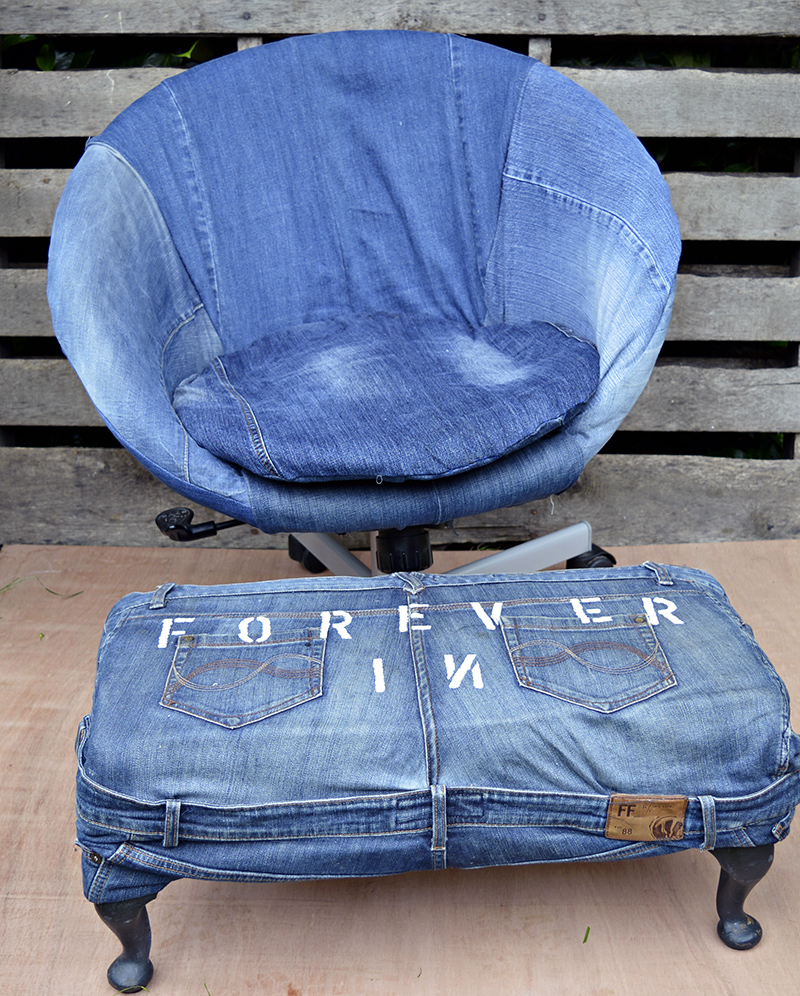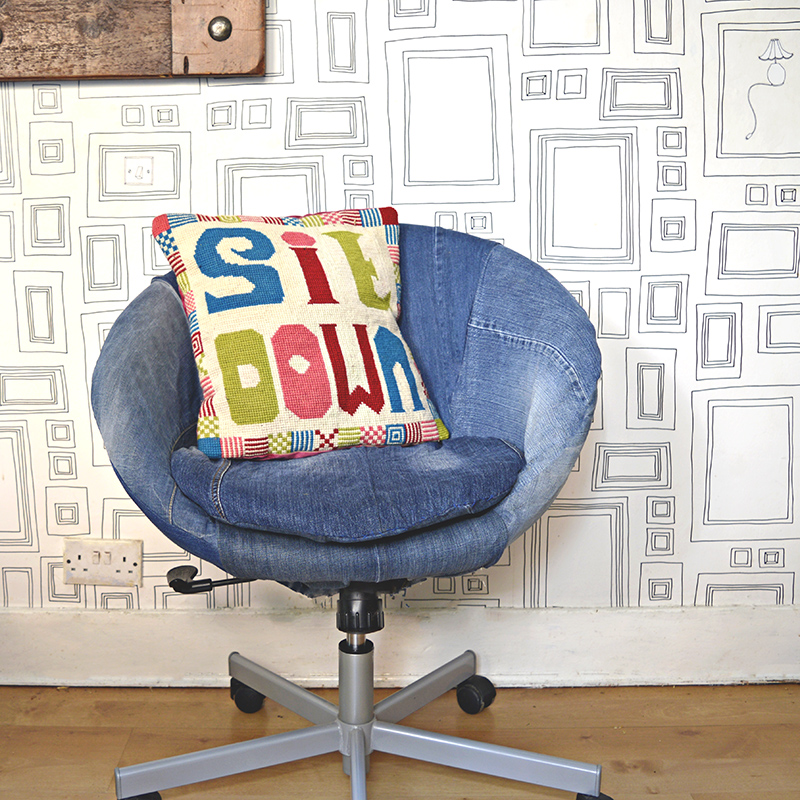 This project only took me a couple of hours, and I love this Ikea hack of my office chair. This method can be used to reupholster any chair in denim.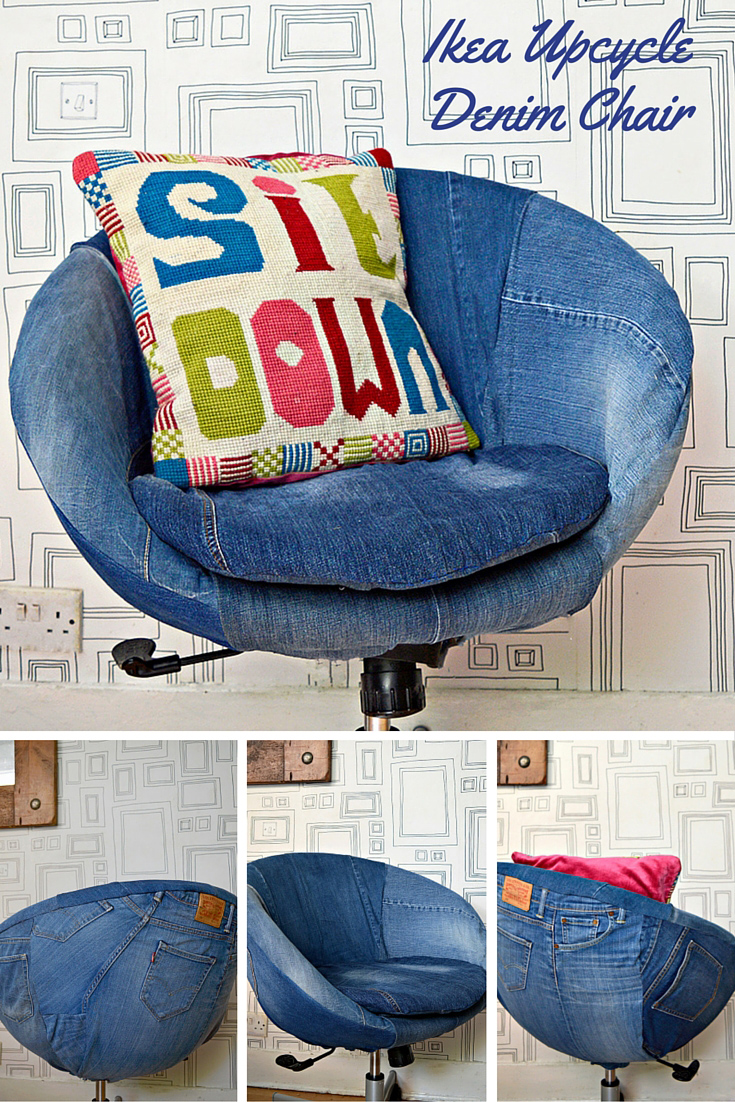 If, however, you are going to upholster something like my tea-towel dining chair, you may want to use upholstery tacks instead of a staple gun or both.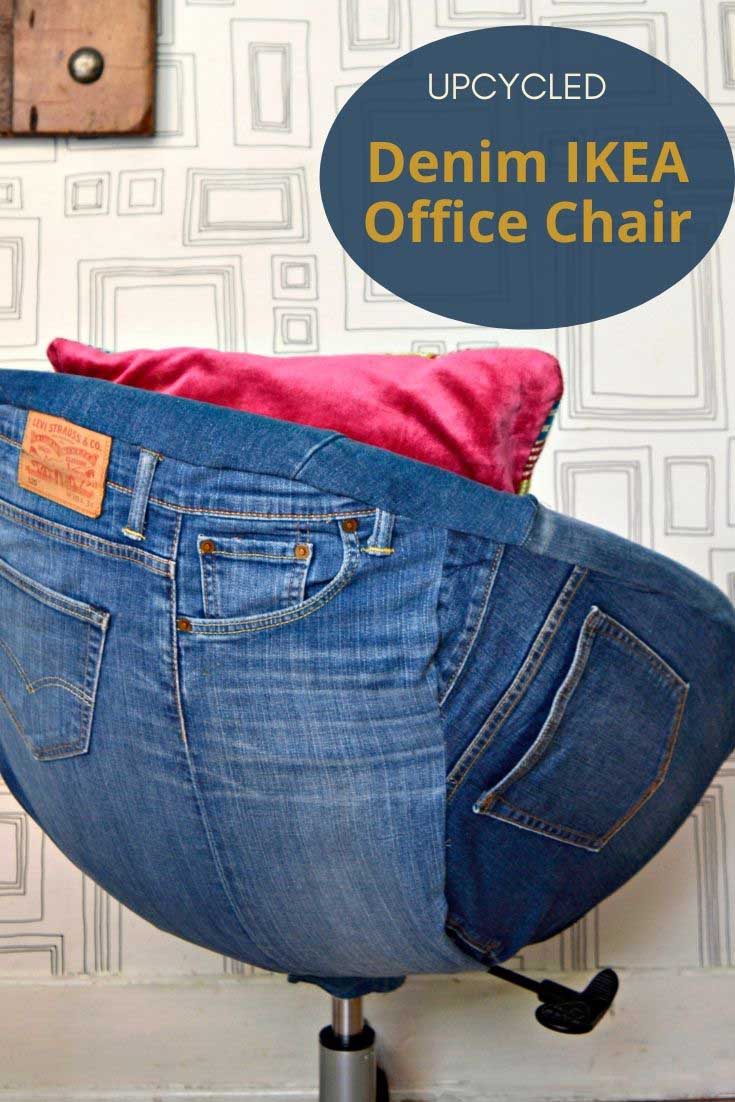 If you like the "SIT DOWN" cross-stitch pillow in the picture, click here for a free pattern and tutorial.
Other Ikea hacks
This is one of my most pinned crafts, my Ikea Hack map table.
A cool upcycled waistband denim rug to go with the chair. (This is a no-sew denim project).
Or perhaps a giant world map denim floor cushion to match too!
This chair upcycles is featured under the letter C in my comprehensive A to Z of upcycling resources.