With more time on my hands during the lockdown, I tackled my craft cupboard. I found a stash of used postage stamps and thought they would be fun to craft. That's how I came to make these decoupage jar candle holders.
Also, I found the perfect glass jars for this postage stamp craft amongst all my crafting bits and pieces. My husband doesn't drink or smoke but has an expensive yoghurt habit.
He buys fancy little yoghurts that come in these cute glass jars. They always seem a bit of a waste to me. I know the glass can be recycled, but I kept a few aside to upcycle.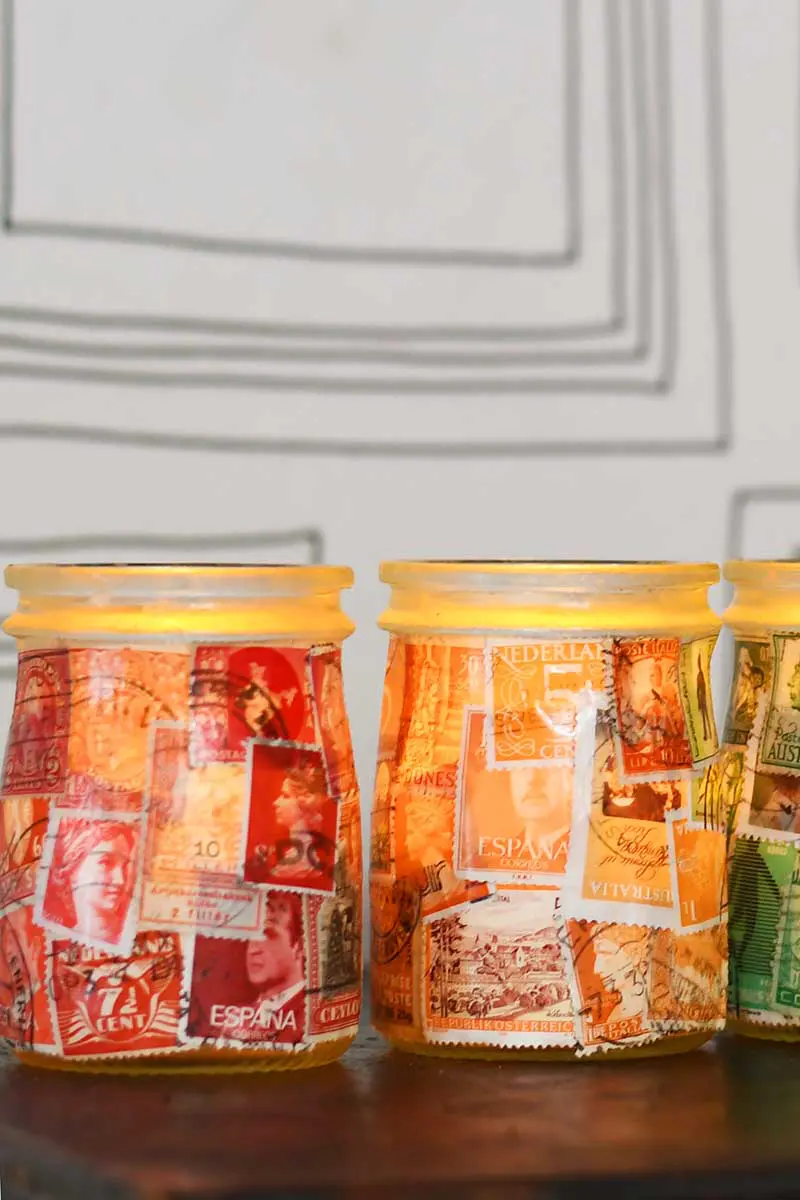 Rainbow Postage Stamp Decoupage Craft
I've always been fascinated with stamps. This is due to my love of travel and having lived in more than one country. I collected stamps as a child. All the different countries and the pictures on the stamps fascinated me.
You must remember this was before the internet and minimal TV, and I lived in Hong Kong. I used to spend many an evening arranging my stamp collection, not by country but by the pictures on the front.
So I'd have pages of stamps with birds and flowers on them or pictures of cars and sports. I could perhaps go with that theme with these postage stamp decoupage jars as I did with my postage stamp gift tags.
However, after an evening of playing around with the stamps, I sorted them by colour. I love crafting a rainbow, and I thought a rainbow of postage stamp decoupage jar candles would look great on my mantle.
The rainbow stamps would look good with the rainbow repurposed planters I made. I'm pleased with how they turned out. I love how the colours of the stamps glow with a tea light inside.
I have also made a rainbow of repurposed cardboard Christmas decorations using postage stamps. There are more postage stamp craft ideas and tips on removing stamps from envelopes.
We're a participant in the Amazon Services LLC Associates Program, an affiliate advertising program designed to provide a means for us to earn fees by linking to Amazon.com and affiliated sites. As an Amazon Associate, I earn from qualifying purchases.
What You Need
An assortment of used international postage stamps. They are readily available to buy in cheap bundles online.
Small glass jars with a neck wide enough for a tealight. I used fancy yoghurt jars, but you can get cute small mason jars or jam jars that will work just as well.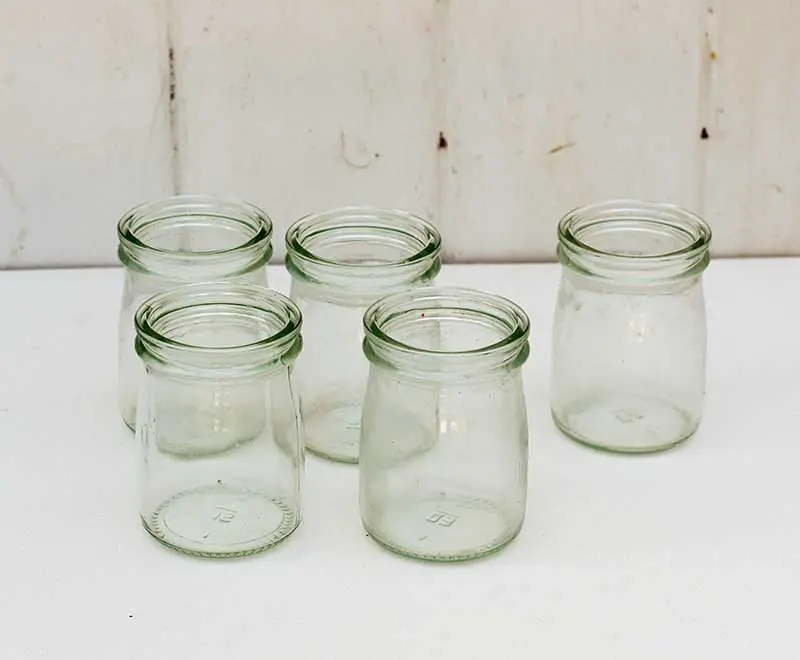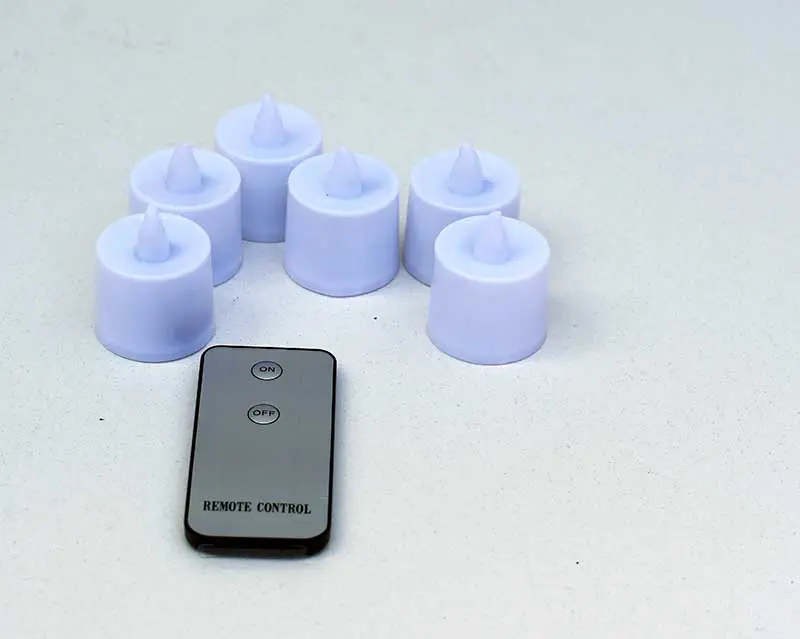 How To Make Postage Stamp Luminaries
Step 1: First, wash and clean the glass jars; remove any sticky residues from the labels. Ensure that the neck is wide enough for the tea lights.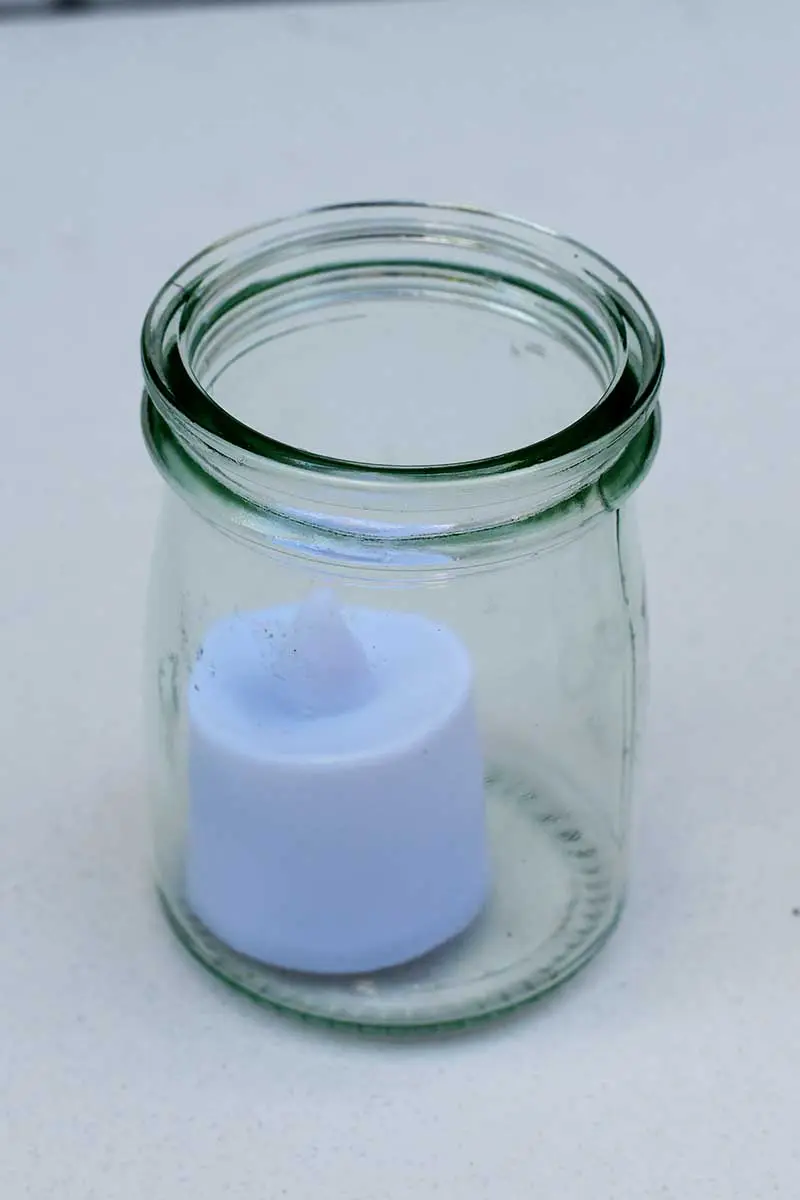 Step 2: Next, decide on what stamps you will use. I sorted my stamps into piles of similar colours. I followed the rainbow colours of red, orange, yellow, green, blue and violet/indigo.
If you make these a gift, you can personalize them by sorting the stamps into themes. Perhaps, you could sort them into countries or even nature or sporting themes.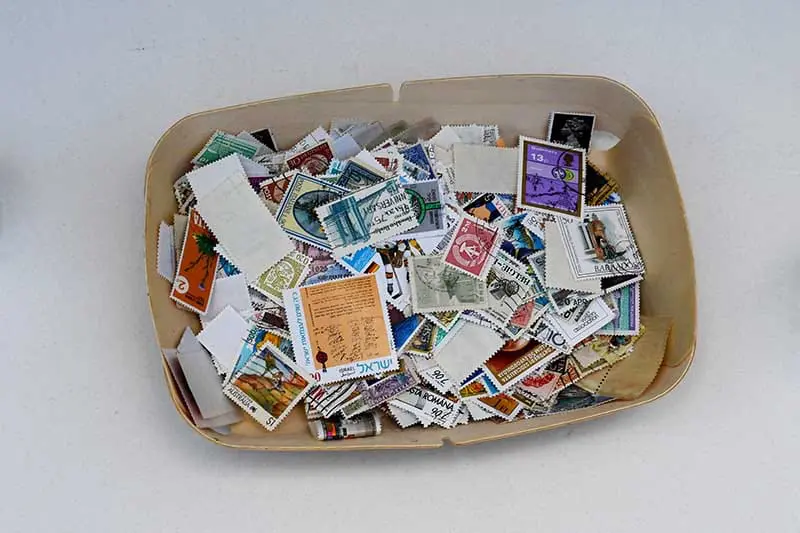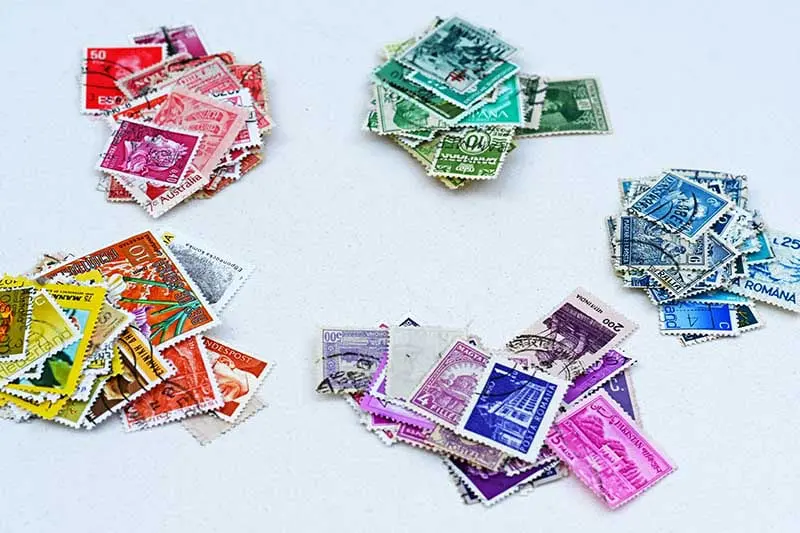 Step 3: Put some glue into a bowl and dilute it slightly with water. When decoupaging on a curved surface, a runnier glue wets the paper more, making bending easier.
Cover the jar in decoupage glue and then the back of the stamps. A foam brush works best when applying glue to paper. Use more of a dabbing motion than a brush motion.
Stick the stamps to the jar one by one. There will be some overlap with the stamps to ensure the whole pot is covered.
With this postage stamp craft, I left the rim of the decoupage jars clear.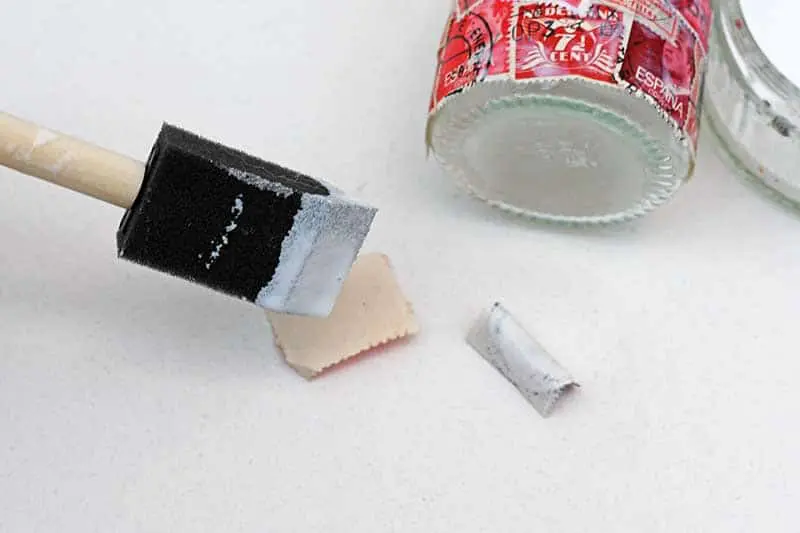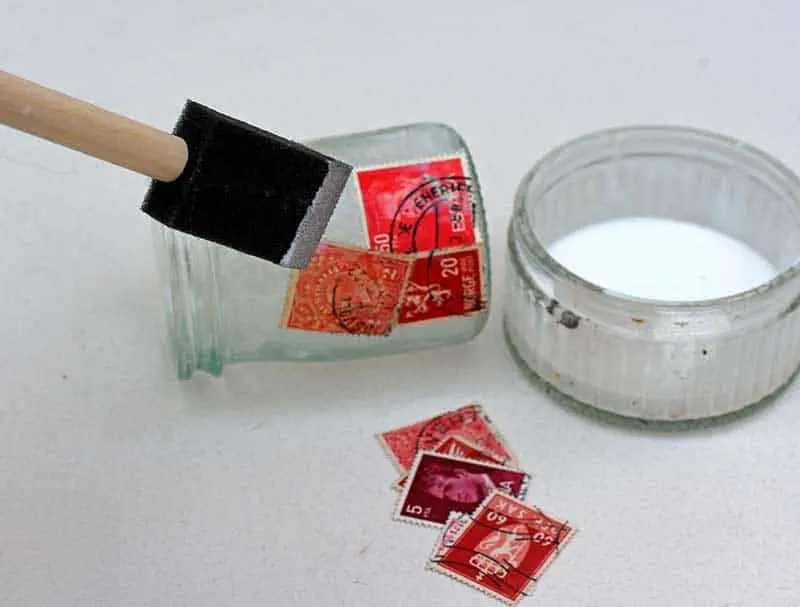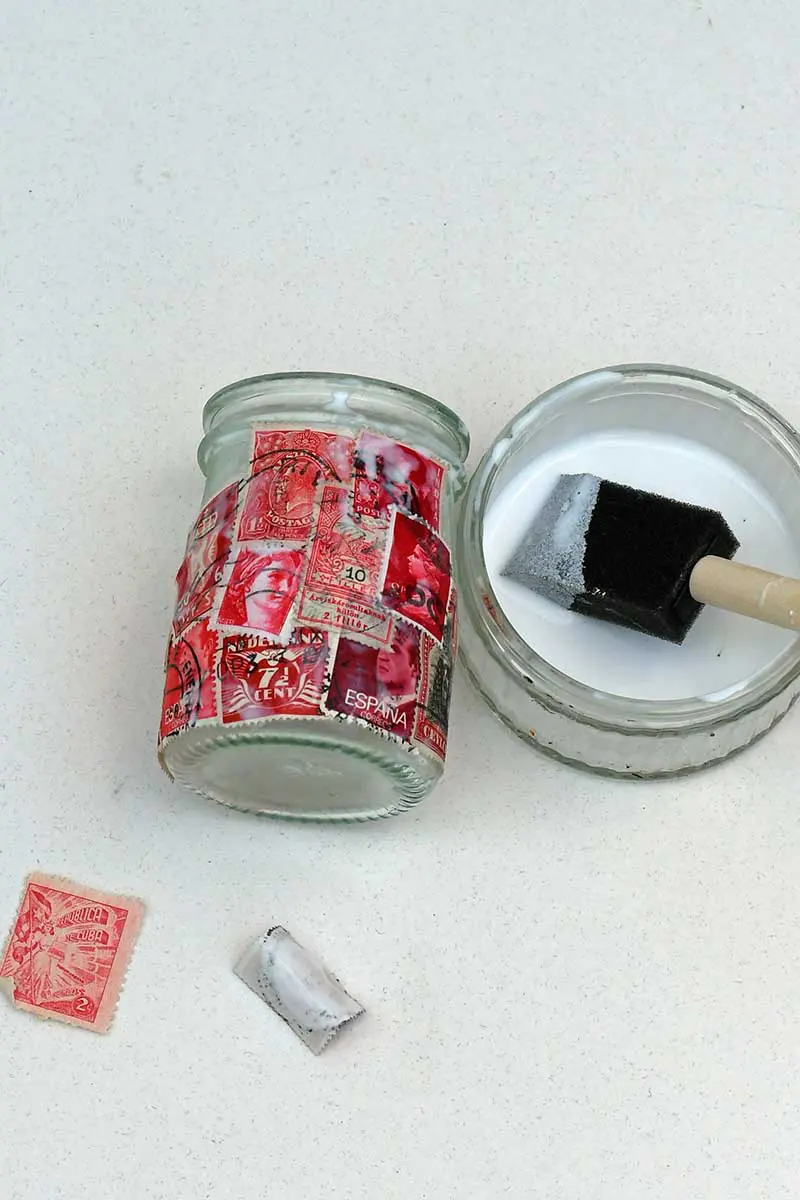 Step 4: When the jar has been decoupaged with postage stamps, cover it in another layer of glue. When it dries clear, it will act as a protective varnish on the jar candle lights.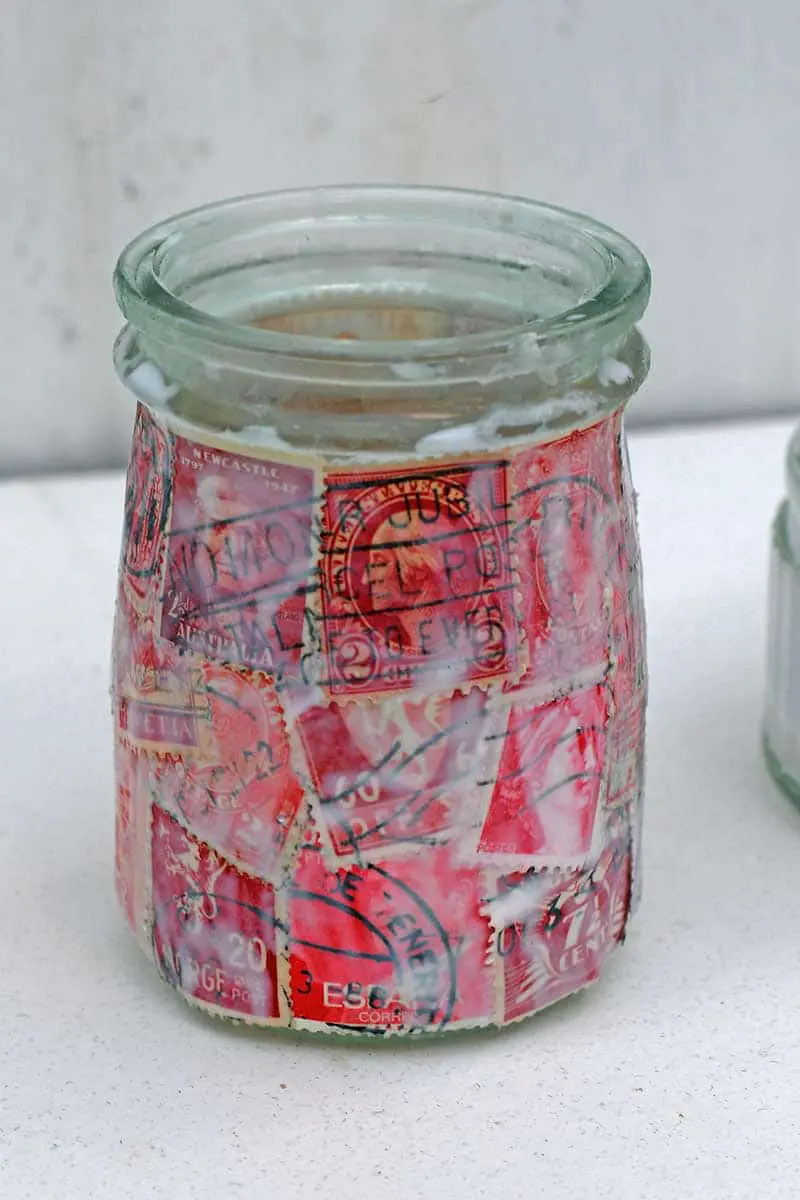 Step 5: Repeat this postage stamp craft with the other coloured stamps until all the jars are covered.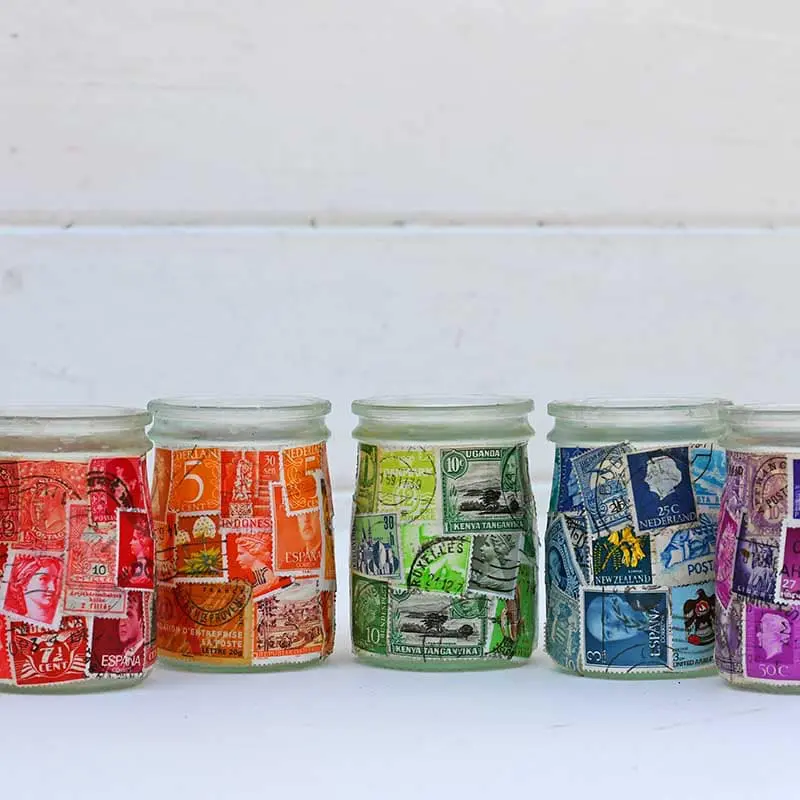 Step 6: All left is to add the tea lights to the decoupage candle jars. You can either use real candles or convenient remote-controlled electronic ones.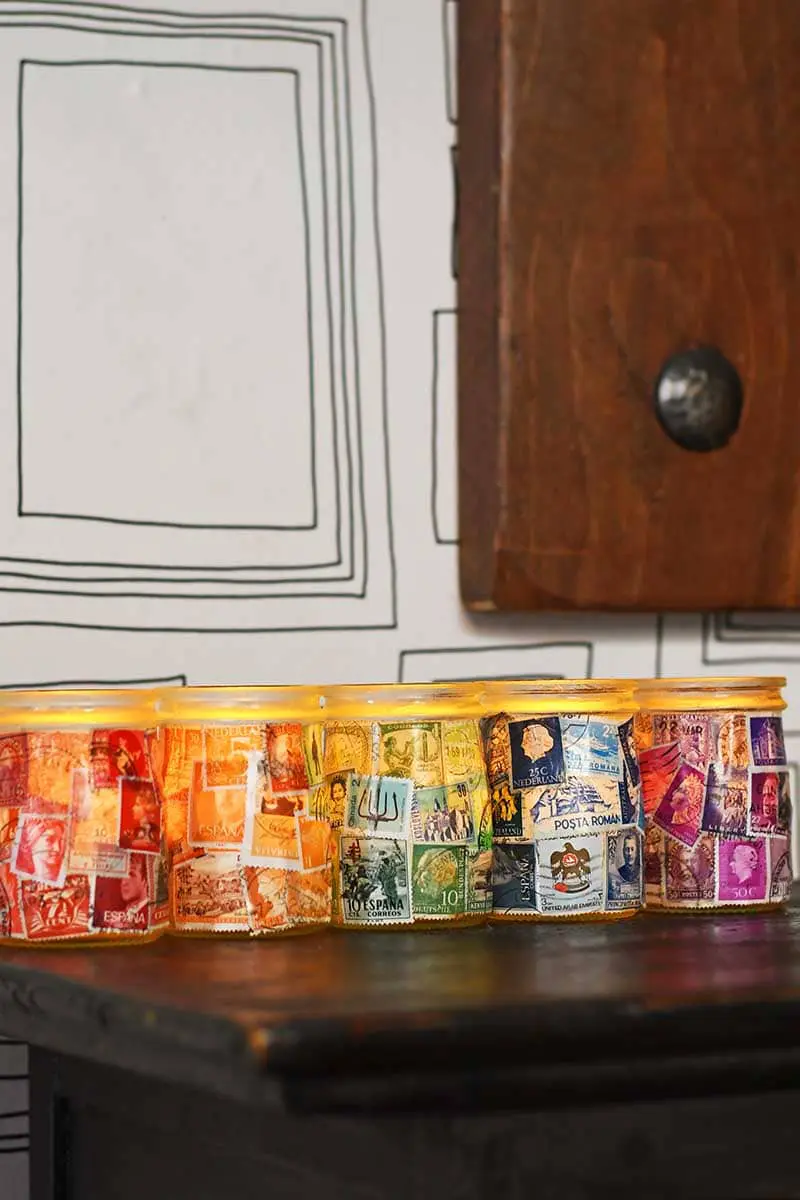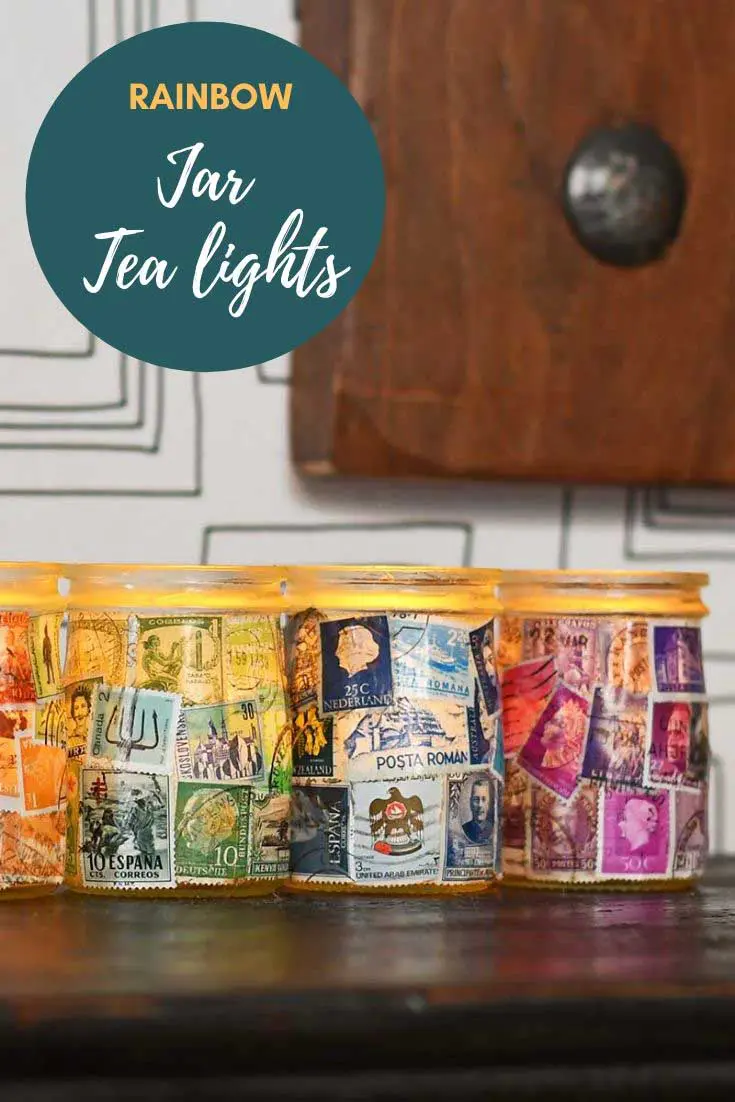 I've used my upcycled yoghurt jars as candle holders. However, these postage stamp decoupage jars would also make fun planters for succulents.
A large mason jar decoupaged with postage stamps would make a fun-themed pen holder for a study. It could even be a piggy bank like the map mason jar banks I made.
If you liked this post, check out the map decoupage glass tray I made. Or the decoupaged IKEA cake stand and more decoupage crafts here.
We carry on eating yoghurt in these cute jars. I've upcycled the latest batch into colourful Chinese paper Lantern tea light pots. Or print your tea lights with these DIY lanterns with vintage images. Also, try these clay candle holders.
You can find more upcycled jar crafts here. These yoghurt jars were featured in the A to Z of clever upcycling ideas.