How To Make Your Own Christmas Crackers Using Vintage Maps
One of the best things about the Christmas dinner is the crackers on the table! And handmade Christmas crackers are the best!
Also, it's so easy to make your own Christmas crackers!
You can use paper that matches your Christmas table decor or personalize them by using maps. I adore vintage maps as they conjure up romantic images of travels and exploration. Or they just trigger memories of places you once lived, where you met your loved one, or of special vacations.
Also, vintage roadmaps can be bought very cheaply. Often cheaper than craft paper or wrapping paper, which makes for very affordable homemade map crackers.affordable. You'll be repurposing too! Which is always a good thing. Luckily with a lot of vintage roadmaps, the roads are marked in red and the background is often white and green. To me those are the colours of Christmas.
When you make your own Christmas crackers not only do you get to choose the design but you also get to choose what goes inside them. As well as the obligatory paper hat, you can write your own cheesy jokes and choose your little trinket.
The gifts can be tailored to the person likely to pull the handmade Christmas cracker. That could be something homemade, sweets and chocolates for kids. My favourite is a cute miniature gin bottle. Just for the adults of course! However, I have to be careful with that one as the contents of the crackers tend to go flying when pulled so fragile (glass) gifts may get broken.
You will find this craft among these other cool Christmas DIYs for adults.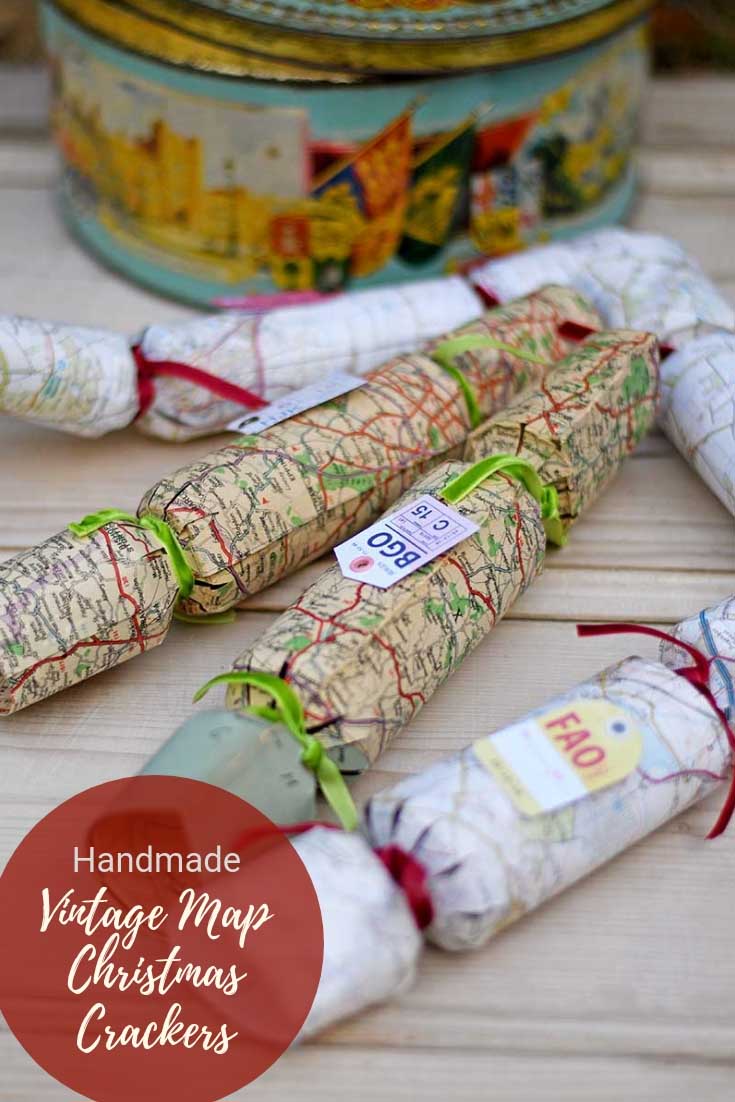 This post contains Amazon affiliate links for your convenience. Click here to see my disclosure policy.
What you need to make your own Christmas crackers
Vintage maps – I use old roadmaps. I pick the ones that tend to have more Christmassy colours such as red, green and white. You can also use printouts of old maps from vintage atlas's. There are some cool vintage North Pole maps on Pictureboxblue, which I think would make great handmade Christmas crackers.
Toilet roll cardboard tubes – 1 for each cracker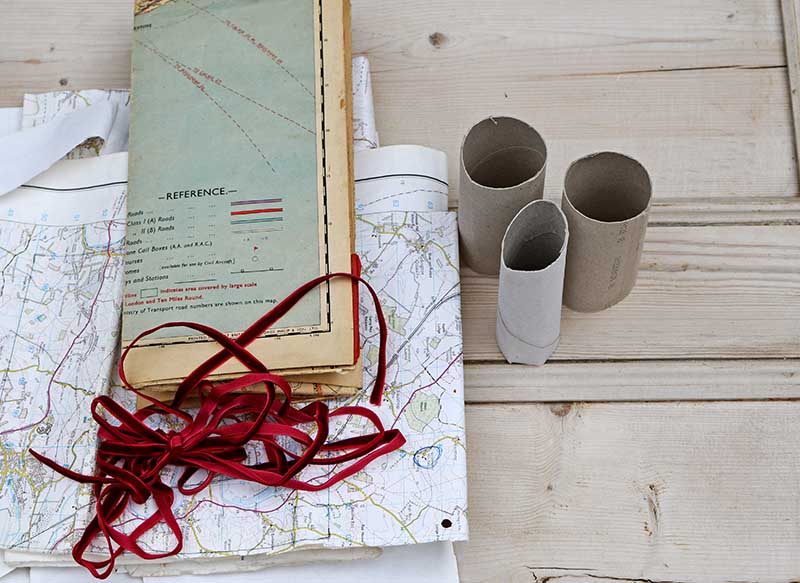 Scissors, ruler, pen, sticky tape and a glue stick.
What to put inside your handmade map Christmas crackers…
Christmas cracker snaps – that's what makes the bang when you pull the cracker and the best bit!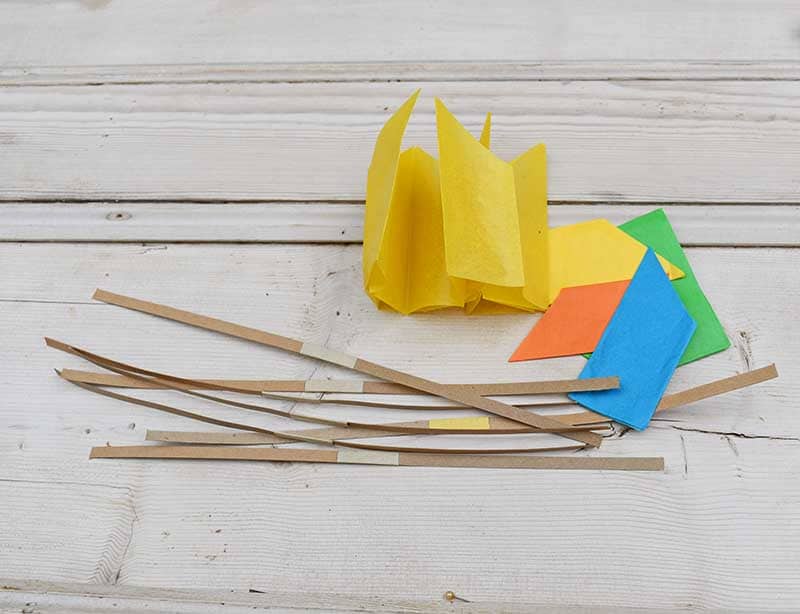 Trinkets – Instead of the normal useless rubbish you get with shop bought crackers (unless you spend a fortune). You can choose your own trinkets and gifts. From miniature spirit bottles for adults, handmade keyrings, jewelry or chocolates. The possibilities are endless as long as they fit inside the cardboard tube.
Jokes – There is nothing like a cheesy Christmas joke to get the whole table groaning. It's fun trying to guess what the punchline is going to be and gets everyone young and old involved in the banter around the table. You are welcome to print out and use the same cracker jokes I have for my handmade crackers (download here). Or you can find 50 of the best ones here.
Tags /labels – These are optional embellishments to make your own Christmas crackers more personal. You can place tags with names on the front of the handmade Christmas crackers and double them up as a place name. For my map Christmas crackers and to keep with the travel theme I made some mini airline tags (download here). I used destinations that are special for those who will be sitting around my Christmas table this festive season.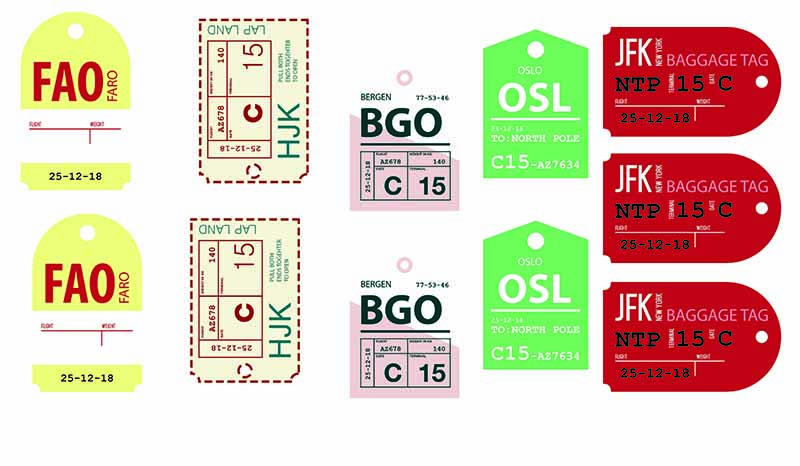 How to Make your own Christmas Crackers
First cut up your maps to a rectangle 17cm by 31cm. You can either use scissors or a rotary cutter if you want a straighter edge. If you are using downloaded maps, the A4 paper is slightly shorter than 31cm. Don't worry about this. Just make the handmade Christmas crackers with the A4 printout. But bear in mind you may have to cut 5-10mm off the length of your cardboard tube for it to fit properly.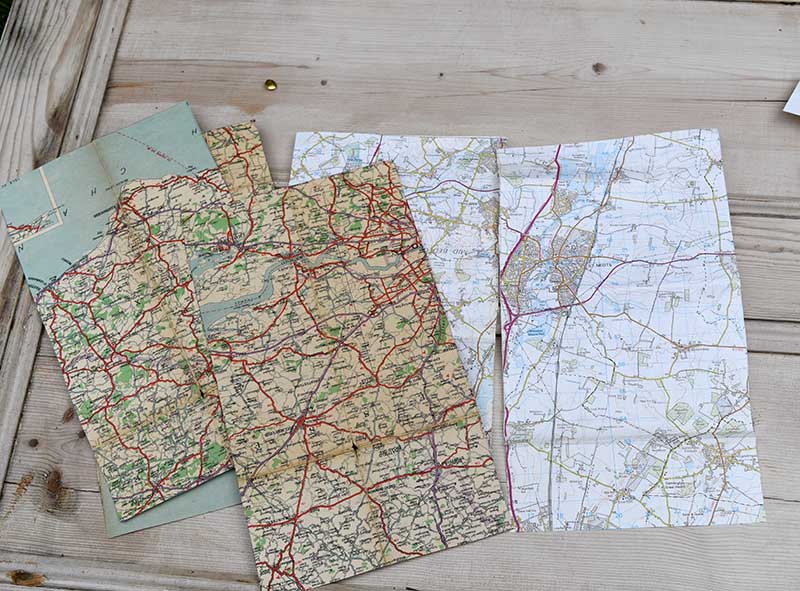 Next take one piece of map paper turn it over and mark the midpoint lengthways. Fold up both ends of the map so that they meet in the middle. Crease this fold. Next fold the map back on itself so that the creased folds touch.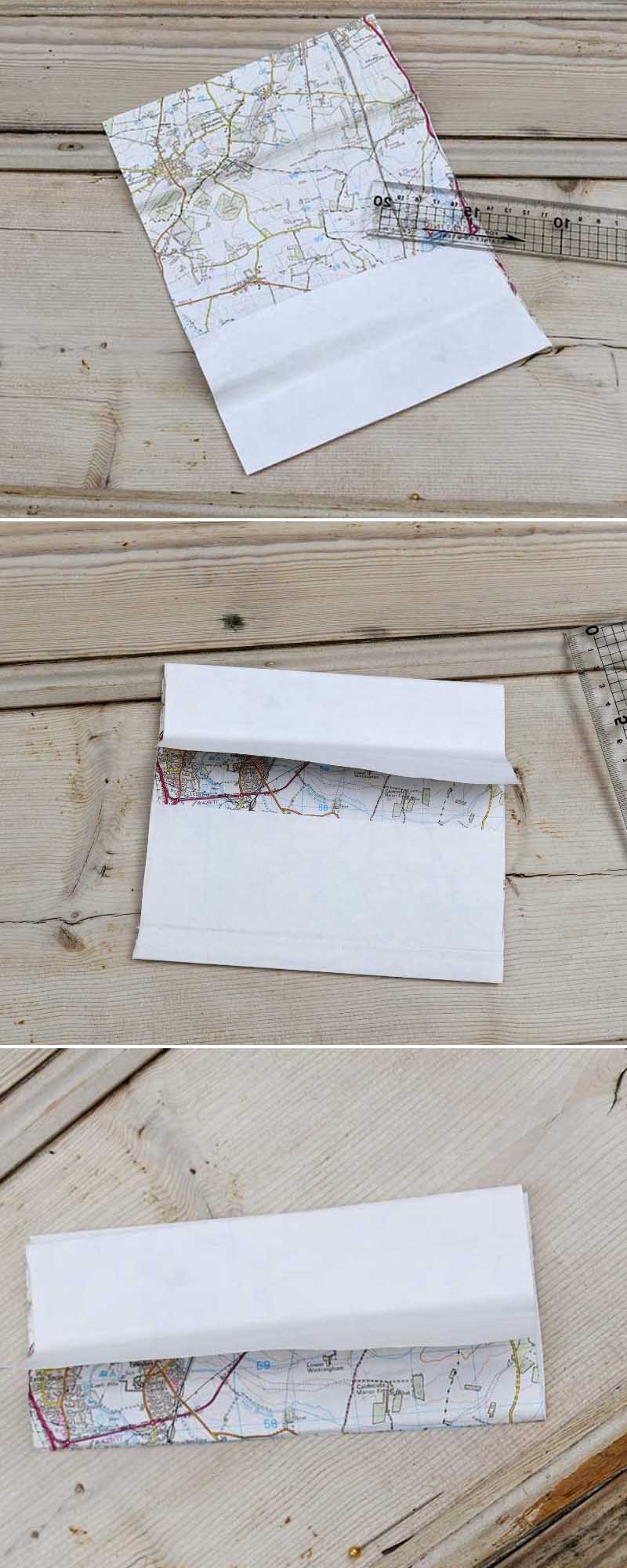 With a ruler mark a line on the back of the map paper 2cm from the folds. Then using a pair of scissors cut out triangles of paper about 5mm all along the egde of the folds to the drawn line. Make sure you start 5mm from the end and finish 5mm before the end (see diagram).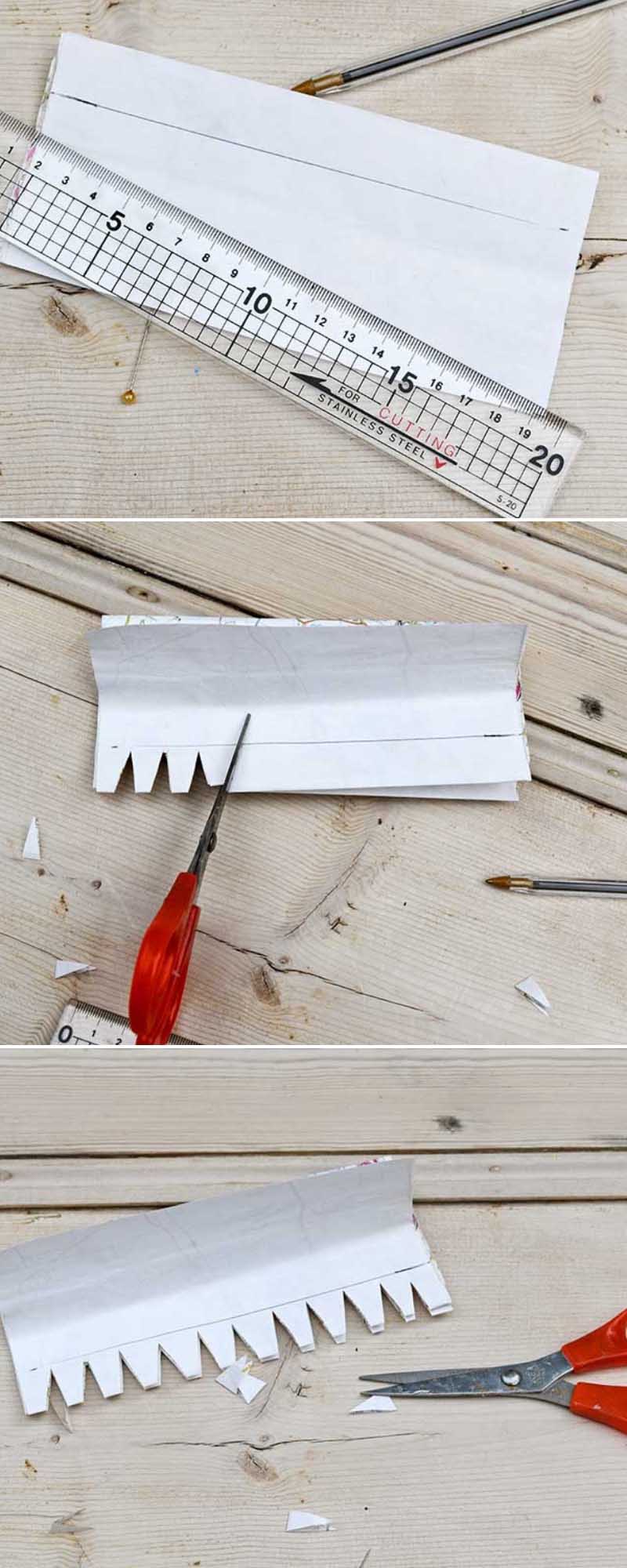 Next unfold the map and lay it flat. With the map face down lay the cardboard tube onto the middle of the paper (inbetween the triangle cuts). Thread the cracker snap through the middle of the tube and tape it to both end of the map to keep it in place. Then place all the other things you want in the cracker inside the cardboard tube. Such as the hat, cheesy Christmas joke and gift.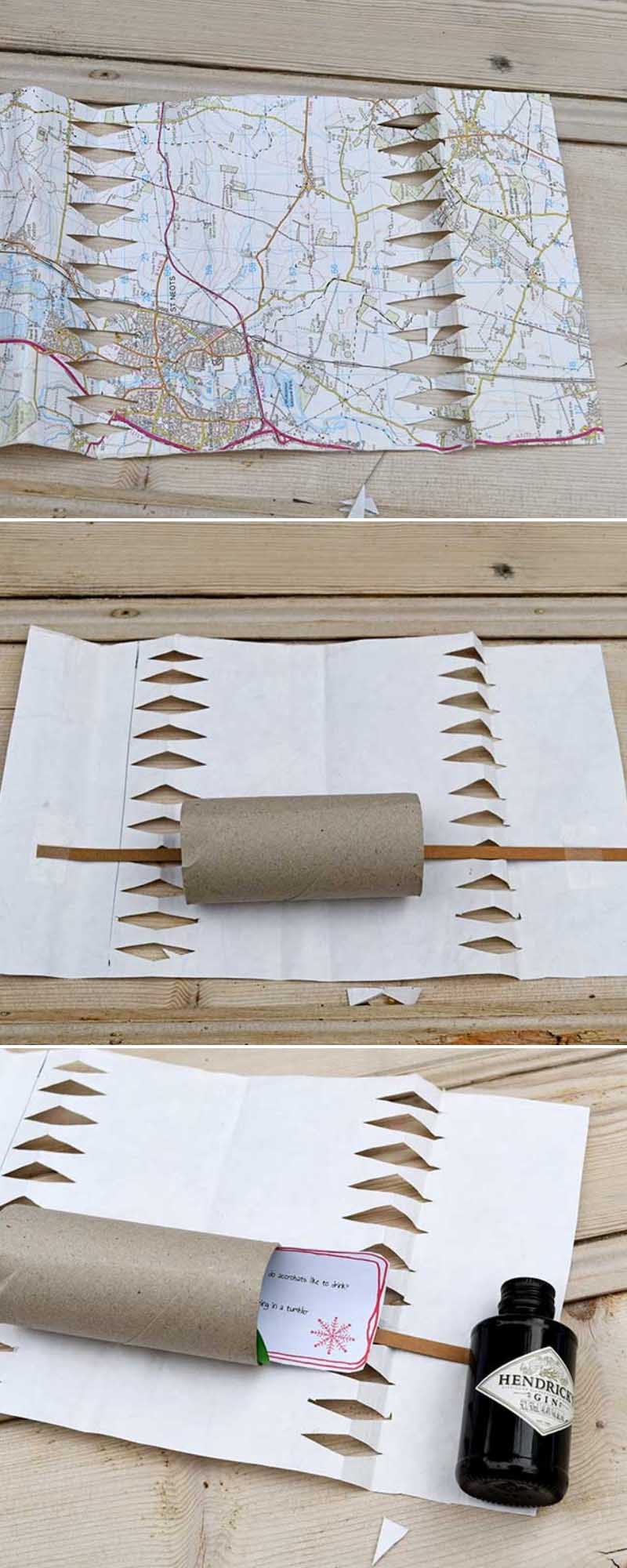 Finally, to finish off roll up the map and secure it using the glue stick. Then wrap 2 lengths of velvet ribbon (approx 18cm) around the cracker. Either end of the cradboard tube and pull the ribbon tight and tie it in place.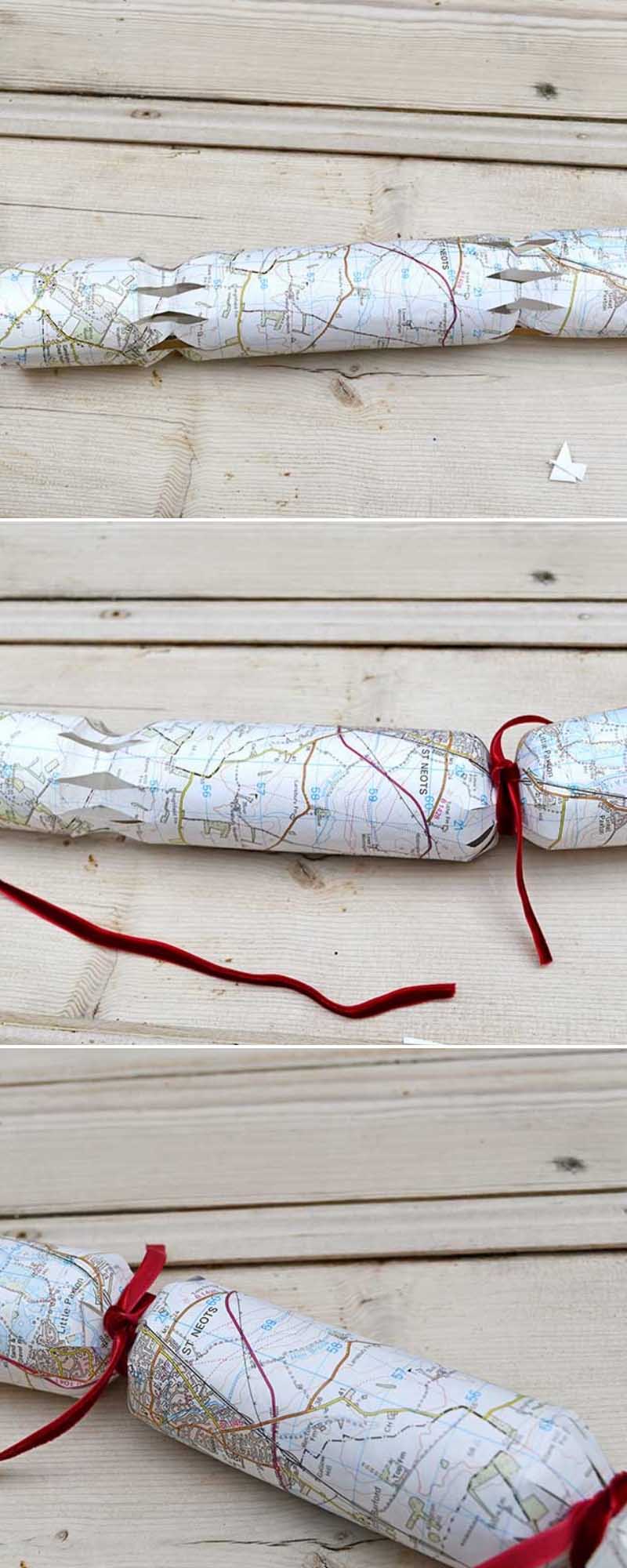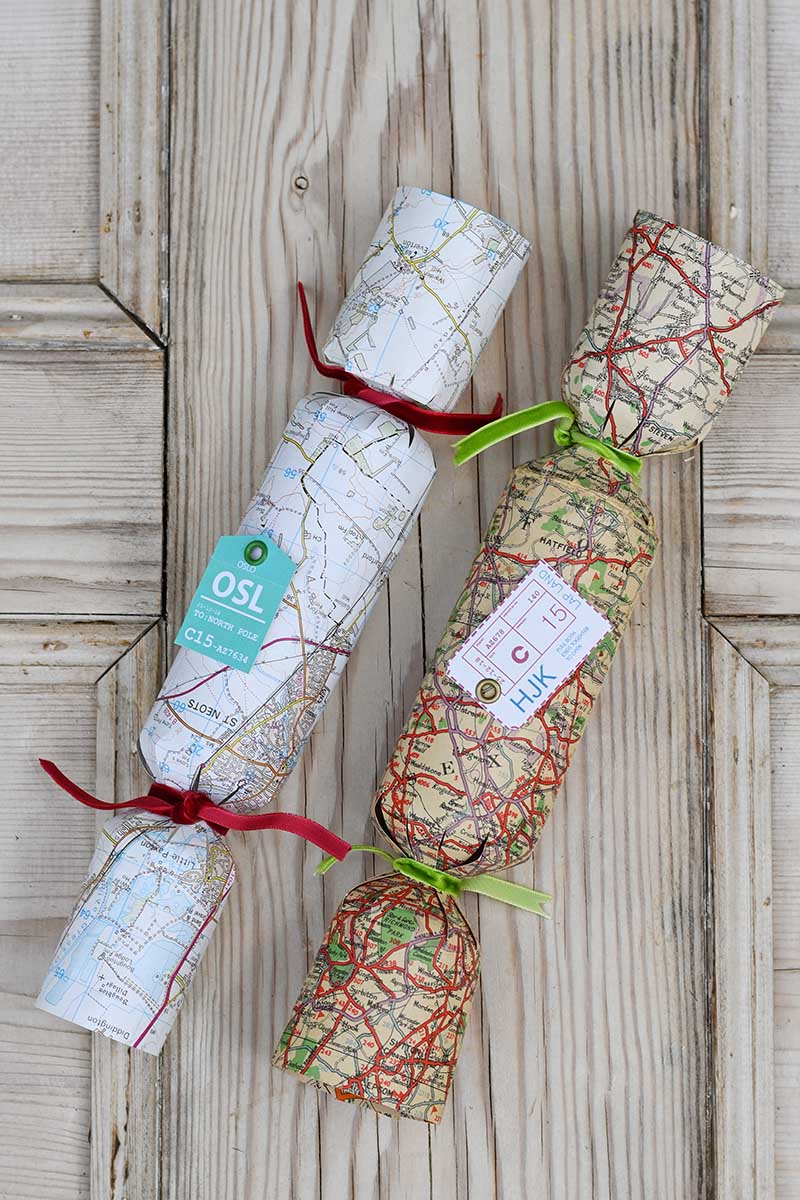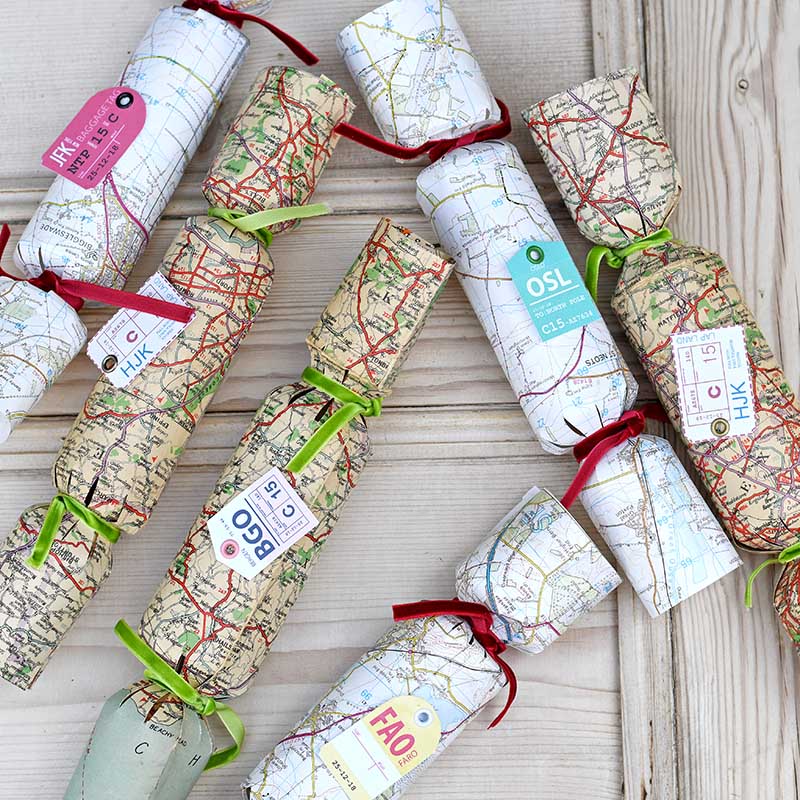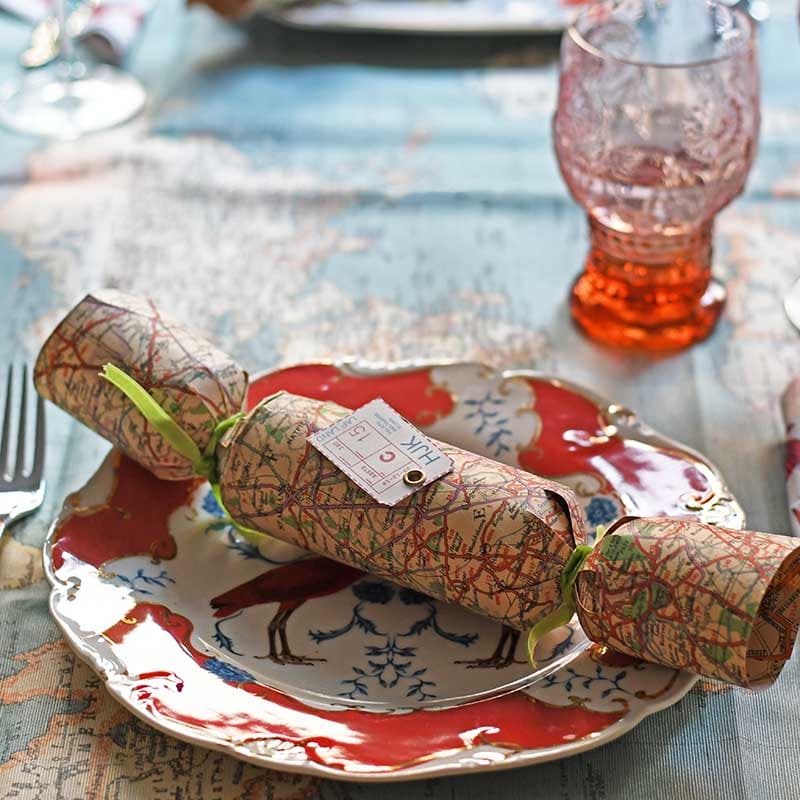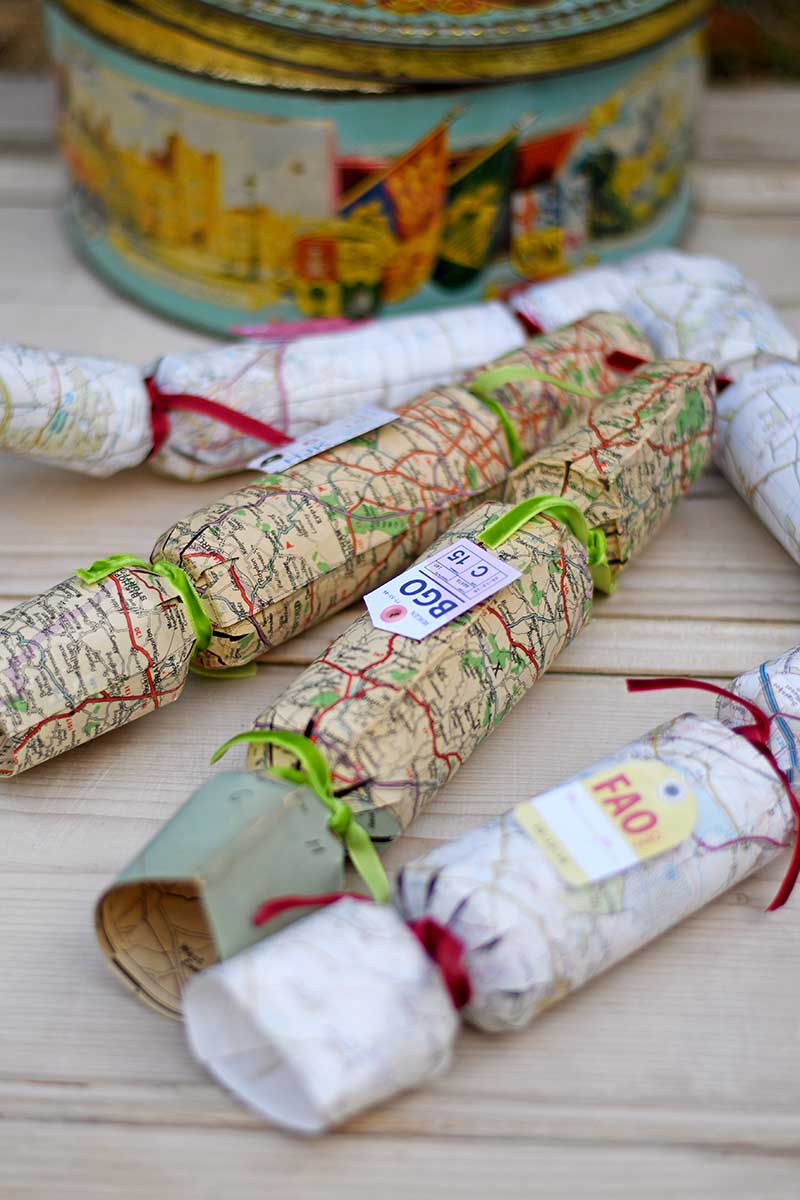 For many years I was a Beaver Scout leader and I used to get my Beavers to make their own Christmas crackers each year. We didn't use maps for these handmade Christmas crackers but old comics such as the Beano. They would have fun thinking up their own Christmas jokes to put inside along with a homemade paper hat and some treats.
I also think that a giant handmade Christmas cracker is a great way to wrap a gift at Christmas. And if you use a personalized map to make that giant cracker with it will only just add to the gift.
You may want to check out some of my other map themed gift ideas and Christmas posts.
Map Christmas Trees
DIY Heart Map Ornament
Repurposed Map Decorations
Map Paper Rosettes
Printable 3d Map Star Decorations
Repurposed Wood Map Ornaments
For more thrifty Christmas ideas visit cheapthriftyliving.com