How to Turn your Children's Artwork Into an Embroidered Memory
Embroidered Memories: As soon as they start nursery your kids bring home pieces of art work or random doodles, which in our case normally spent a few months on the fridge door before ending up in the bin. However some of of this art I couldn't bring myself to throw away as it was just so cute. These precious pieces of paper and memories were stashed in the kitchen draw ready for them to be turned into an embroidered art piece.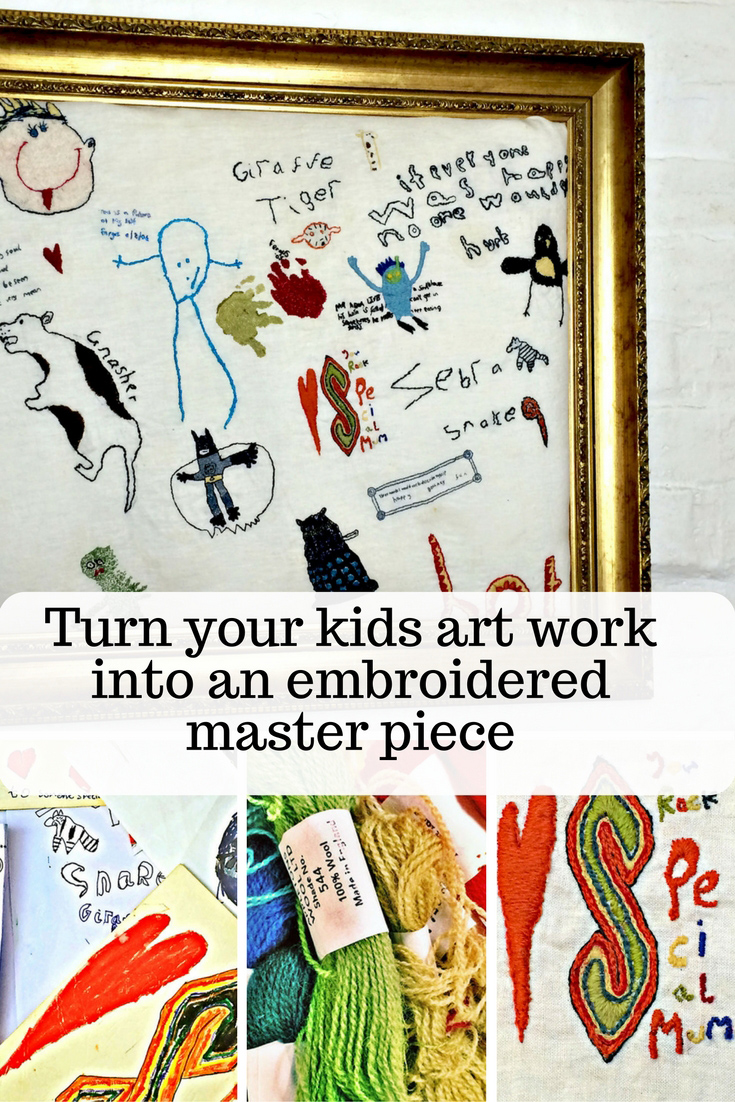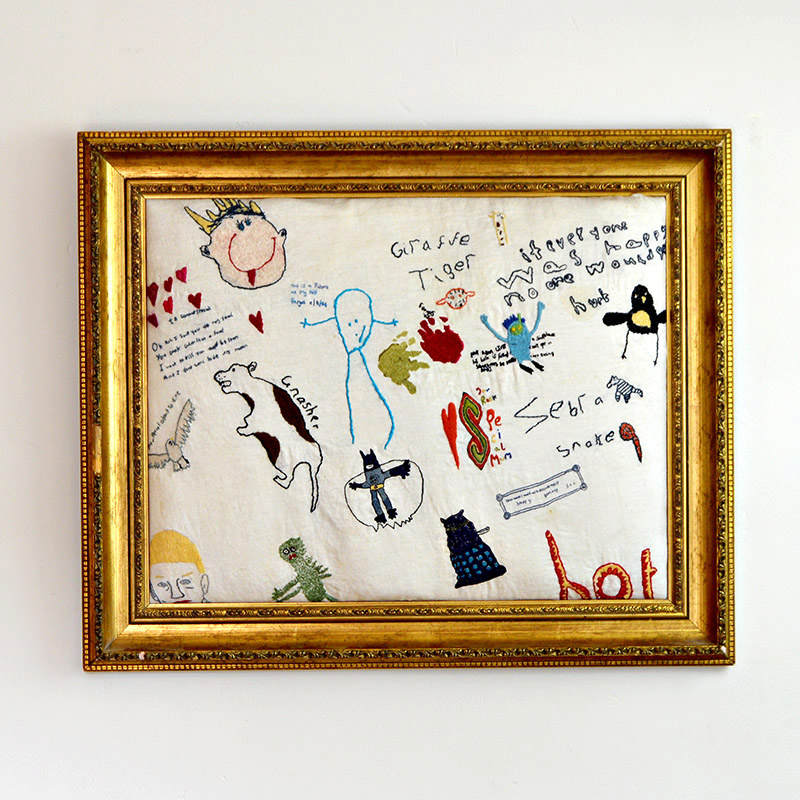 I got the inspiration to create this piece of embroidered art after meeting the textile artist Tilleke Schwarz at one of her exhibitions. Tilleke is a fantastic thread artist and her work is so eye catching. Tilleke's pieces look like big embroidered doodles and scribbles of everyday things. At first glance her textile creations appear to be a random collection of things but if you look closely there is a lot going on in her artwork and it follows a theme.
I warn you this is not a quick project it took me a long time to finish but it's one that you can do in small bursts over time as the piece is created bit by bit, just like a doodle it grows. The time spent on the embroidery was well worth it, as it now proudly hangs up in our lounge and every time it catches my eye it makes me smile. To be reminded that your eldest son once thought of you as a "special mum that rocked" is heartening. Also when he was 5 my middle son brought home a piece of paper from school where he was asked to describe himself in three words his were; "happy bouncy fun", which can be hard to believe now that he is a bit of a moody teenager, who seems to spend most of the weekend in bed.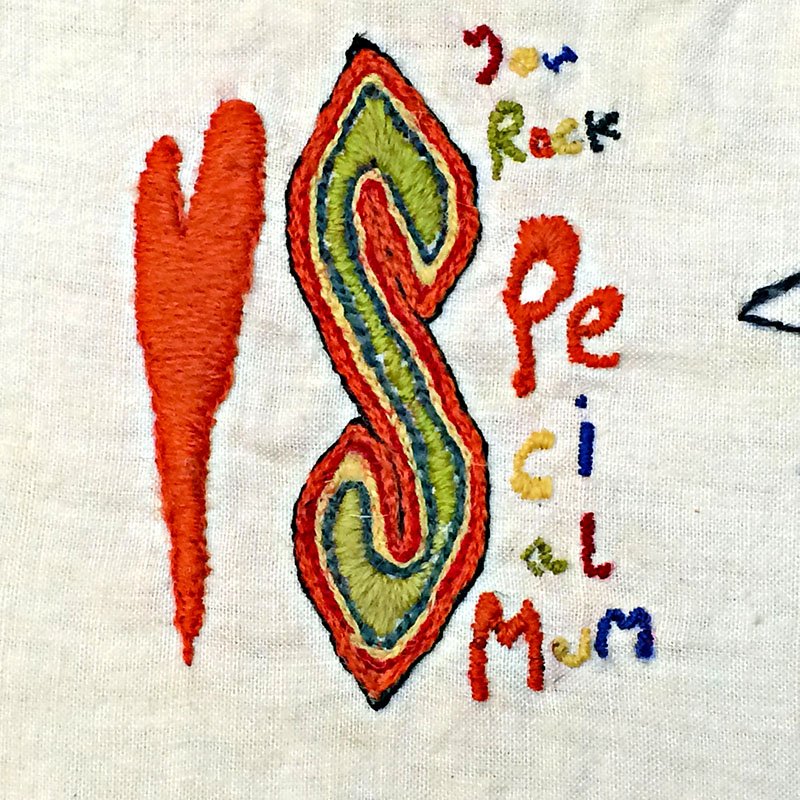 How I created my embroidered memories art work
Linen was my canvas and I mainly used Appleton's crewel wool for my thread, as I love the texture and the range of colours. For the more finely stitched elements I just used ordinary cotton thread. I used whatever stitches I wanted, so sometimes it was just a running stitch or split stitch, a satin stitch to colour in larger areas and French knots for texture.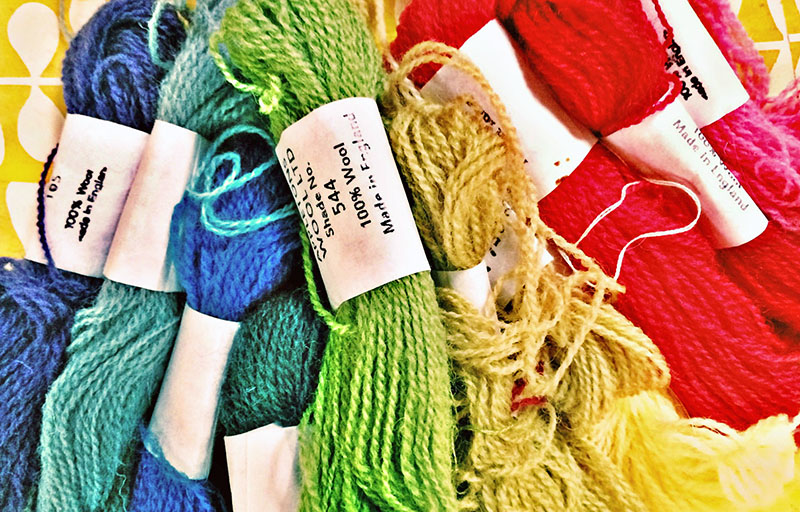 To translate this mishmash of memories in to my own personalised bit of embroidered art I did the following.
Gathered my favourite drawings, bought thread to match to colours
For my canvas I used a large piece approx. 60cmX 60cm linen fabric ironed but you can make it any size you want.
Traced round the outline of the drawings on to thick tracing paper using an embroidery transfer pen. This will give you a mirror image so you need to go over your tracing paper on the back so that you can counter the mirror image
I carefully positioned my tracing paper image to where I wanted it on the fabric making sure that I had the counter mirror image face down.
I then ironed over the tracing paper with a hot dry iron (no steam) 3 to 4 times. When the tracing paper was lifted the image was then transferred on to the linen.