DIY Giant Paper Mache Cactus
If you have been following my blog you will know that I have a bit of a thing about cacti and did a round up of great cactus-themed crafts. I can't justify the cost of buying a giant cactus, real or artificial and I don't have the greenest of fingers.

Therefore I decided that the only way I was going to get a giant cactus was by making one. My friend Wendy and I made a paper mache cactus each but we didn't stop there, after making Marimekko shoes a couple of weeks ago we thought it would be fun to pimp our cacti with paper napkins.

So we now have a fantastic Marimekko giant cactus and a giant pear cactus.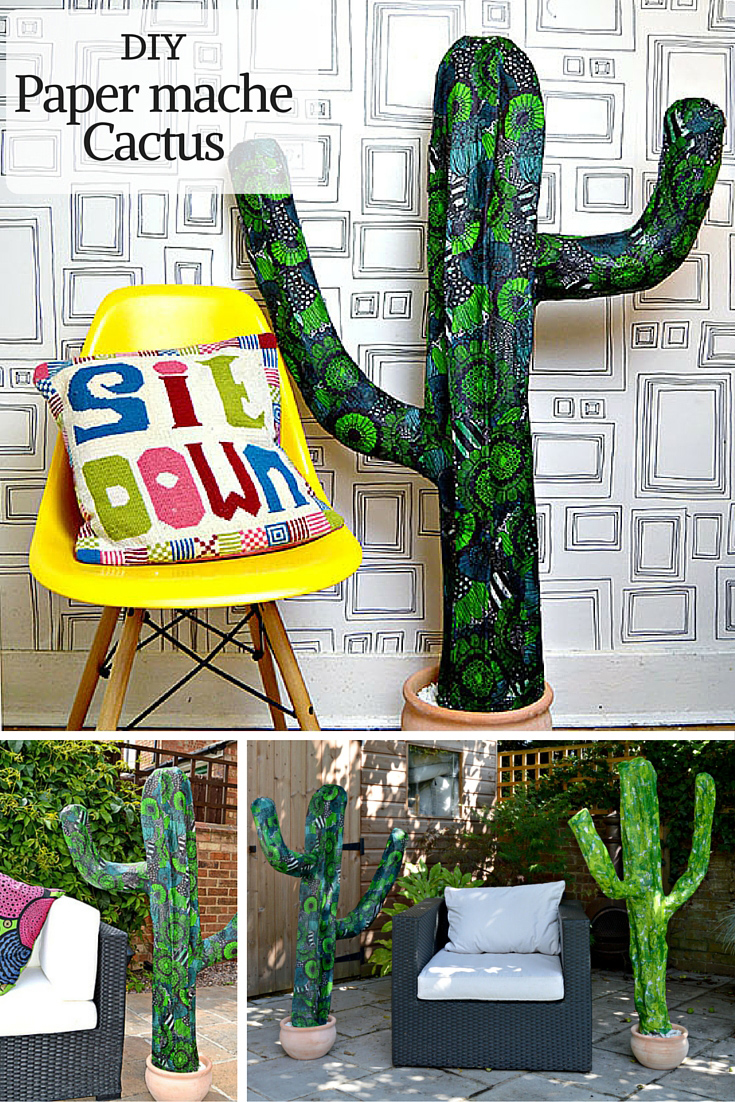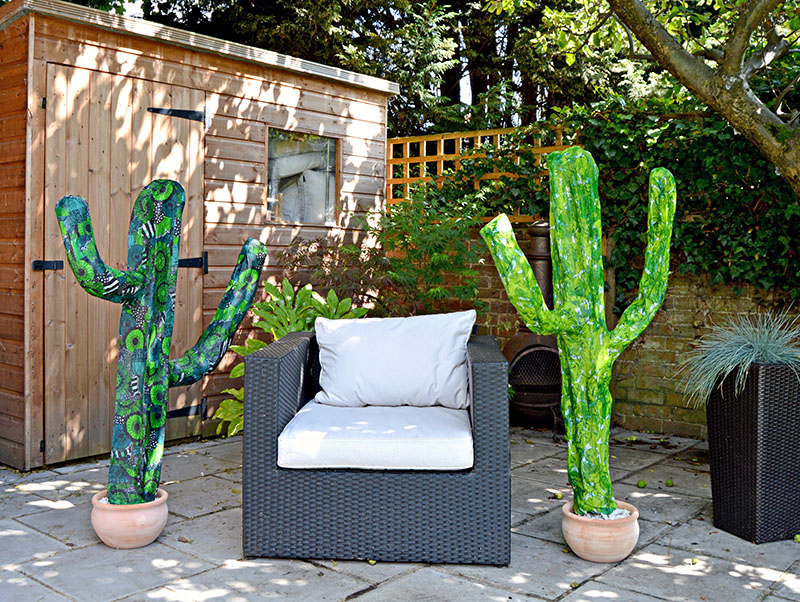 What you need to make paper mache cactus
Plaster of Paris
Plant pot (off ebay)
Bucket
Large stick (broom handle)
Chicken wire
Craft wire or thin wire
Masking tape
Newspapers
Green tissue paper
Napkins for decoration – I used Marimekko ones. (optional)
PVA glue
Waterproof PVA Glue or Mod Podge
Glue brush/ foam pad

Any old stick or broom handle will do just bare in mind this will determine the height of your cactus. The chicken wire I used was just an old roll I managed to scrounge from my local junk shop. As I use a lot of PVA for my crafts I buy it in large tubs from the DIY store as that's much cheaper then buying it from craft stores.


For these cactus we used Marimekko napkins and some green pear print napkins from IKEA, one packet should be plenty enough for each cactus.

How to make Paper mache cactus
To create a firm base you need to set your stick in Plaster of Paris into a pot/small bucket. To do this mix Plaster of Paris as to the instructions on the packet. Stand your stick up in the creamy mixture, prop up the stick using either a table or chair and tie with string. You want to make sure your stick remains upright as the plaster sets.

Once your stick is set, use the chicken wire to create a frame. To do this we wrapped the chicken wire around the stick to the desired thickness and tapered the top. Then with more chicken wire we created two arms and attached to the frame with loose bits of wire. Chicken wire is very easy to manipulate into shape.

The gaps in our chicken wire were quite large so it was very difficult to paper mache straight on to the frame, to overcome this we used masking tape. We covered the cactus frame in strips of tape about 2 cm apart. This then provided a surface for the newspaper to adhere to the frame.

Cut your newspaper into strips approximately 3cm X 20cm. Paste the PVA glue onto the newspaper strips and stick to the frame until covered.

Once dry, dilute your PVA glue 2 parts glue to 1 part water. Cut your tissue paper into strips approx 3cm X 10cm. This time paint the diluted glue onto the newspaper layer and then place the tissue paper on top until completely covered. Leave to dry

For the final paper mache layer we used paper napkins. Most napkins are 3 ply, separate out your napkins so you only use the top printed ply. This time doesn't cut you napkins into strips but tear them so you get a feathered edge. Using the same glue mixture and method with the tissue cover your cactus in the napkins.

Finally when the napkin layer is dry cover the whole cactus with waterproof PVA to provide it with a protective finish. Waterproof PVA glue is thicker than normal PVA so it's best to apply with a foam brush so as not to tear the napkins. This PVA appear white when applied but don't worry as it dries clear.










I think that these cactus are a fun decoration, they look great in the garden for a summer party. You could just have them casually in your home for more unique decoration.

The cacti could be used as an unusual hat/coat stand. The green pear one is for my sons room, which has just been revamped with a cacti theme. I am coveting the Marimekko one my friend Wendy made and may have to make another one myself.




You can find other great summer crafts at allfreeholidaycrafts.com