I have a bit of a thing about cacti and succulents and love cactus-themed crafts. My cactus crafting went supersized with this giant paper mache cactus.
I love the giant but I can't justify the cost of buying one, real or artificial and I don't have the greenest of fingers.
So I decided that the only way I was going to get a giant cactus was by making one. I've made mini plastic bottle succulents and a repurposed felt succulent garden before by never something on this scale.
This is such a fun craft that I shared the experience with my friend Wendy on one sunny day. We made a giant paper mache cactus each. These weren't ordinary cacti we pimped them with paper napkins.
After making Marimekko shoes a couple of weeks ago we thought it would be fun to decorate our cacti with Marimekko paper napkins.
DIY Giant Paper Mache Cactus
We're a participant in the Amazon Services LLC Associates Program, an affiliate advertising program designed to provide a means for us to earn fees by linking to Amazon.com and affiliated sites. As an Amazon Associate, I earn from qualifying purchases.
What You Need
Plant pot for mixing the plaster
Old bucket
Large stick (broom handle)
Craft wire or thin wire
Newspapers
Napkins for decoration – I used Marimekko ones. (optional)
PVA glue / white craft glue
Glue brush/ foam pad
Any old stick or broom handle will do just bear in mind this will determine the height of your cactus.
The chicken wire I used was just an old roll I managed to scrounge from my local junk shop. As I use a lot of PVA/white glue for my crafts I buy it in large tubs from the DIY store as that's much cheaper than buying it from craft stores.

For these cactus we used Marimekko napkins and some green pear print napkins from IKEA, one packet should be plenty enough for each cactus.

How to Make a Giant Paper Mache Cactus
1.. First, to create a firm base you need to set your stick in Plaster of Paris into a pot/small bucket.
To do this mix Plaster of Paris as to the instructions on the packet. Stand your stick up in the creamy mixture, prop up the stick using either a table or chair and tie with string.
You want to make sure your stick remains upright as the plaster sets.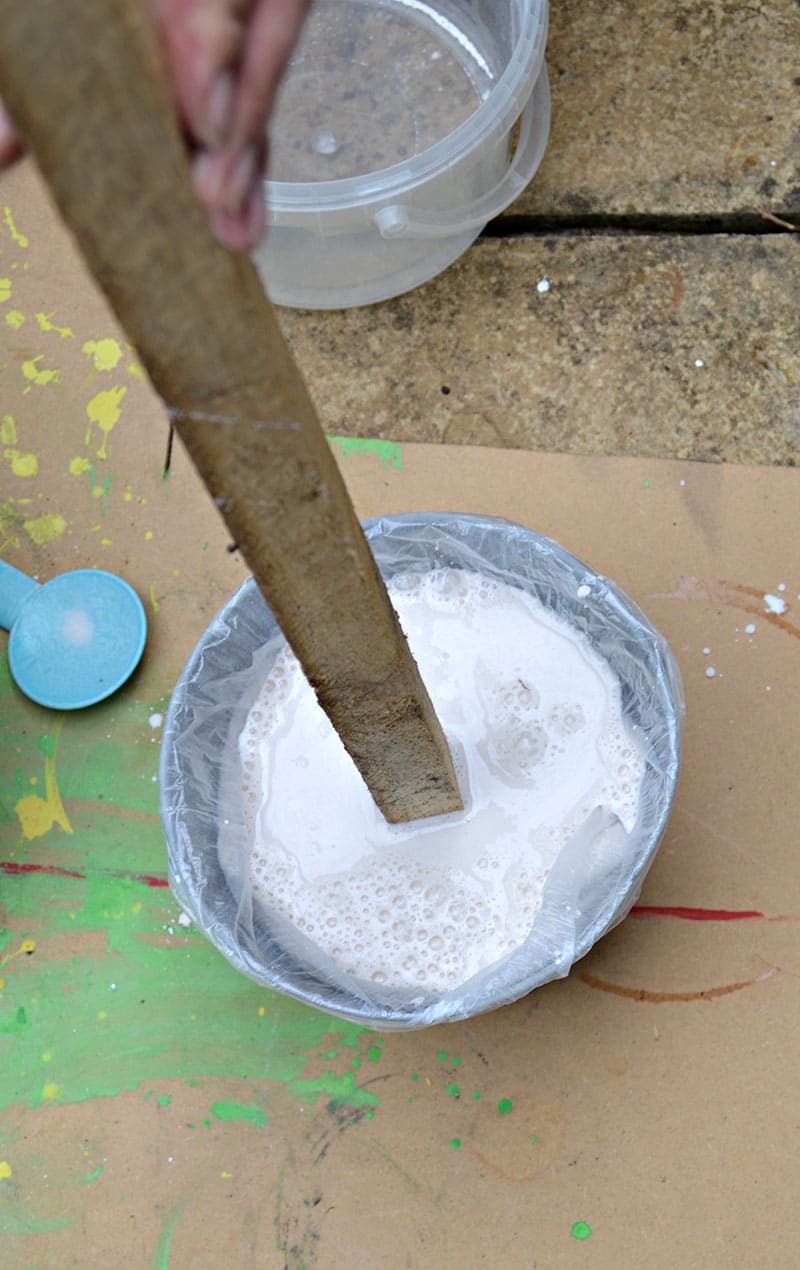 2. Next, once the stick has set, use the chicken wire to create a frame.
To do this wrap the chicken wire around the stick to the desired thickness and taper the top. Then with more chicken wire create two arms and attached to the frame with loose bits of wire.
Chicken wire is very easy to manipulate into shape.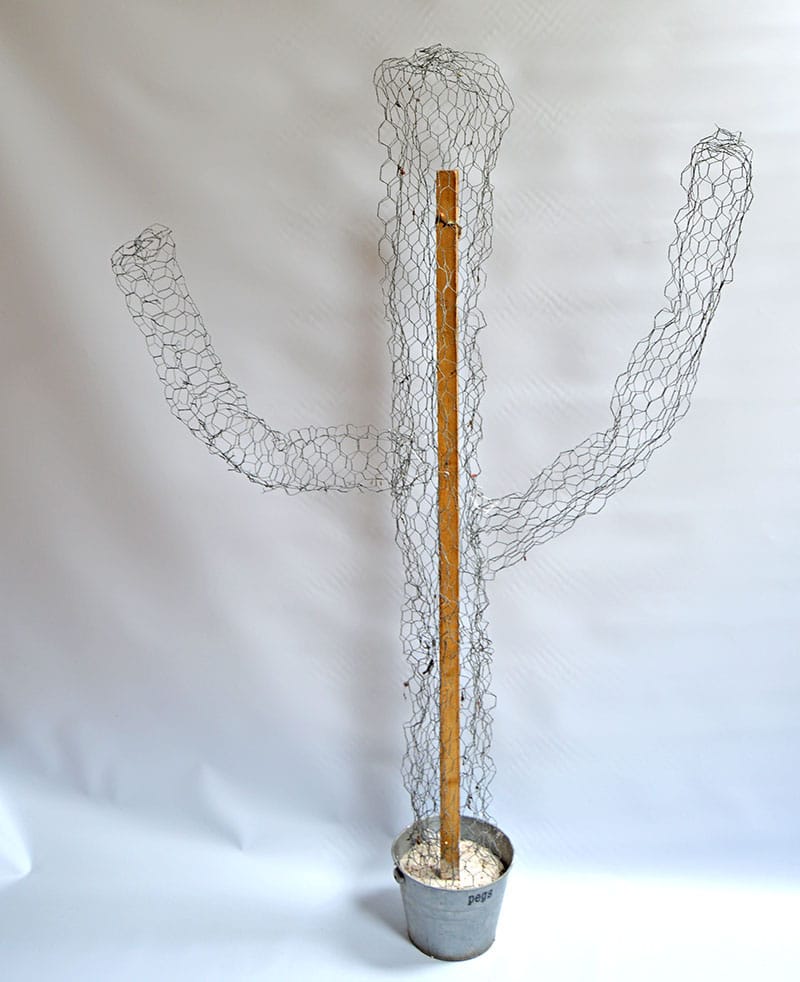 3. Next, the gaps in the chicken wire can be quite large and thus difficult to paper mache straight on to the frame. To fix this use masking tape.
Cover the wire cactus frame in strips of masking tape about 2 cm apart. This will then provide a surface for the newspaper to adhere to the frame.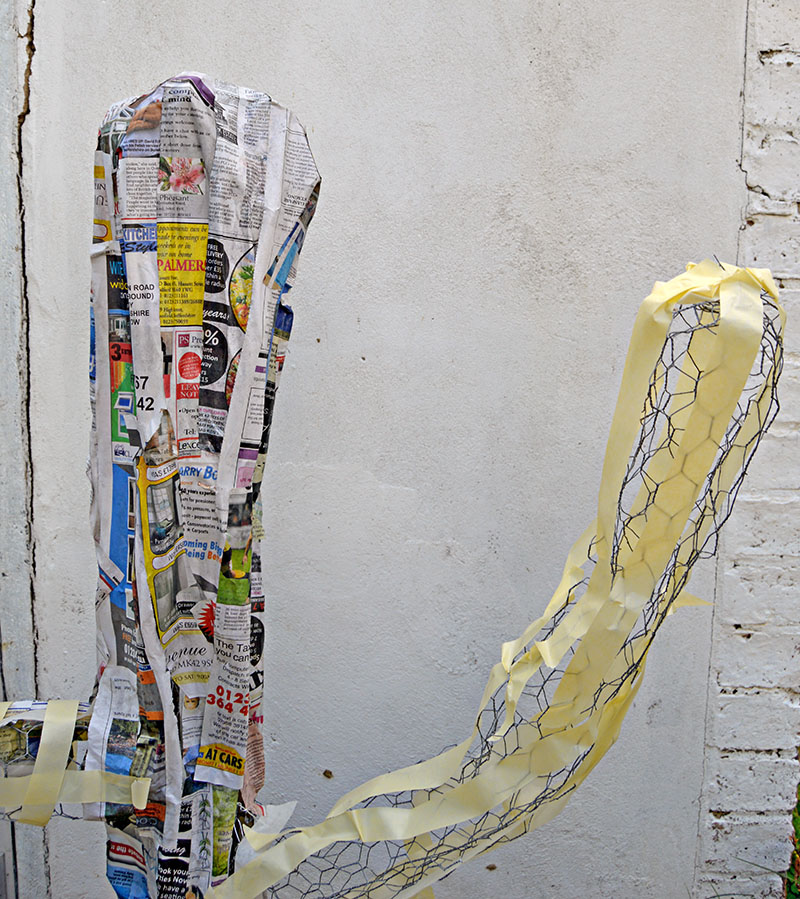 4. Then, cut the newspaper into strips approximately 3cm X 20cm. Paste the PVA glue onto the newspaper strips and stick to the frame until covered.
4. Then once the paper mache has dried, dilute your PVA glue 2 parts glue to 1 part water. Cut your tissue paper into strips approx 3cm X 10cm. This time paint the diluted glue onto the newspaper layer and then place the tissue paper on top until completely covered. Leave to dry.
Top Tip: Tissue paper decoupage is very delicate that is why its best to use diluted glue. Also, apply the glue to the object rather than the tissue paper.
5. For the final paper mache layer/decoupage use the paper napkins. Most napkins are 3 ply, separate out your napkins so you only use the top printed ply.
This time doesn't cut the napkins into strips but tear them to get a feathered edge. (Wetting the napkins with a brush first makes them easier to tear).
Using the same glue mixture and method with the tissue cover your cactus in the napkins.
6. Finally, when the napkin layer is dry cover the whole cactus with waterproof PVA/ Mod Podge. This will give it a protective finish.
Waterproof glue is thicker than normal glue. It's best to apply with a foam brush so as not to tear the napkins. This glue will appear white when applied but don't worry as it dries clear.
Both these cactus are a fun decoration, they look great in the garden for a summer party. You could just have them casually in your home for more unique decoration.
The cacti could be used as an unusual hat/coat stand. The green pear one is for my sons room, which has just been revamped with a cacti theme.
The Marimekko cacti though is my favourite as I do love a Marimekko craft even more than cacti crafts. This one will look great with my Marimekko tin can planters in the garden.
If you want to start smaller with your paper mache projects then perhaps try these paper mache teacups first. I also have a tutorial on how to make a paper mache bowl and then decoupage it. There is also a tutorial for a stunning watercolor 3D paper Mache heart wall decoration.
There are many more Marimekko crafts here.