This DIY embroidered coffee pot cozy tutorial was actually my first ever blog post on Pillarboxblue.
I still love this DIY coffee pot cozy and was using it the other day. That's when I decided it was time that I bought this post up to date and re-write it.
Every time I use the cozy it brings a smile to my face, for many reasons. It combines many things I love, coffee, Gretchen Peters music, and relaxing with a little bit of embroidery when I have the time.
The coffee cozy is practical too, I love to make myself a large pot of black coffee in the morning and have it sitting on my desk. The quilted cozy as well as looking good actually helps keep the coffee warm.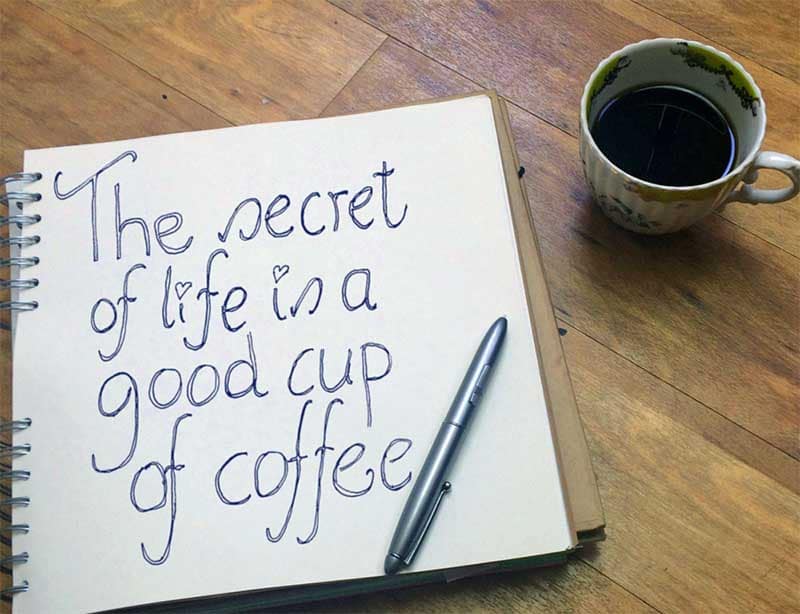 The Embroidered Lyrics
Songs are great for evoking particular memories for placing you back into a specific place or time in your life, like the sixth-form common room. Or the song that was playing when you danced with that someone special for the first time. In my case, that was "Sit Down" James at a student party I turned these into a supersized cross-stitched pillow.
One of my guilty pleasures has always been my love of country music, however since great programs like Nashville and Dolly playing Glastonbury country music are not so uncool these days. A few years ago I was lucky to see one of my favorite country singers Gretchen Peters. It was after her concert that I felt inspired to mark the occasion in some way.
I decided to do this by making a coffee pot cozy embroidered with the lyric "The secret of life is a good cup of coffee" from her Circus Girl Album. It also embraces a few of my other guilty pleasures coffee, crewel embroidery, hand lettering, and snowclones.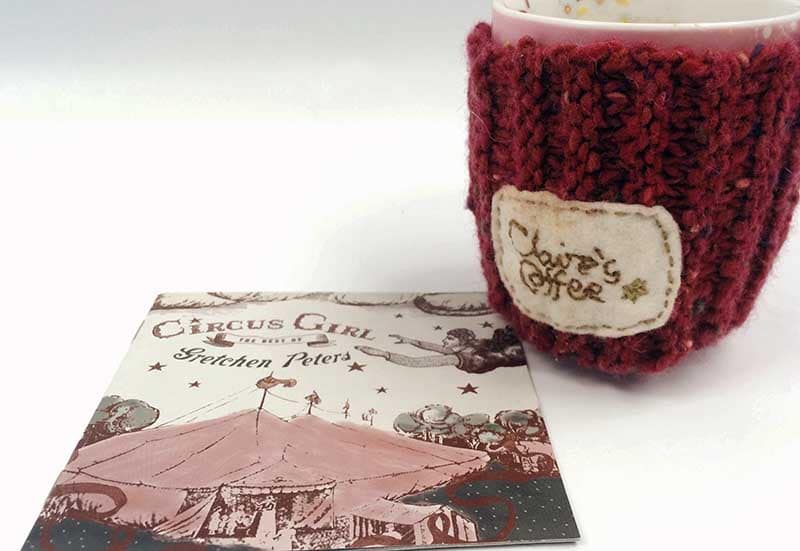 We're a participant in the Amazon Services LLC Associates Program, an affiliate advertising program designed to provide a means for us to earn fees by linking to Amazon.com and affiliated sites. As an Amazon Associate, I earn from qualifying purchases.
What You Need To Make A DIY Coffee Pot Cozy
Linen fabric in a natural colour – about a fat quarter (60x 80cm)
Patterned coloured fabric for the inside – about a fat quarter. (60x 80cm)
Wadding (quilting batting) – about a fat quarter (60x 80cm). I used one about 4oz thickness.
Denim belt loop
Crewel wool in three colours – If you find it hard to get hold of crewel wool embroidery thread will work just as well.
Coffee pot cozy pattern tutorial
How To Make The Embroidered Coffee Pot Cozy
1.. First, download the coffee pot pattern and enlarge it by two times. Or draw your own, make sure it is big enough for your coffee pot.
Using the pattern as a template cut out 2 pieces of the linen fabric, 2 pieces of lining fabric, and 2 pieces of wadding.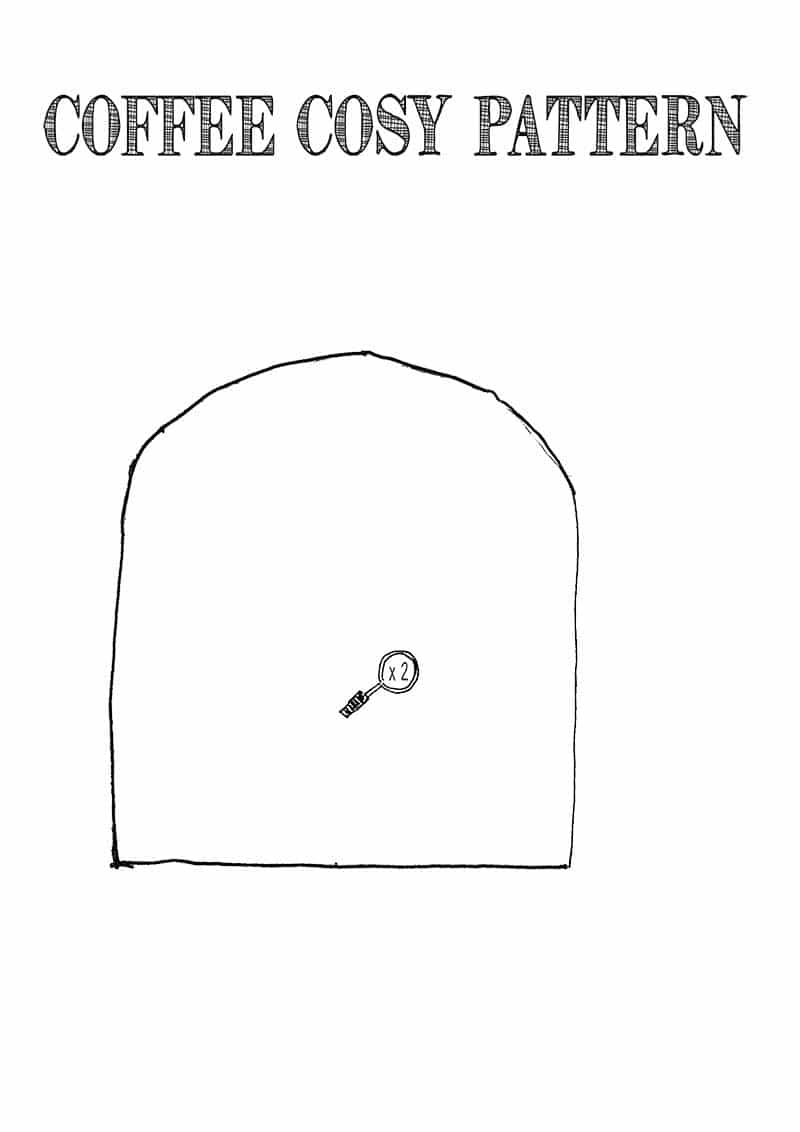 2. Next, using the embroidery transfer pen trace the lyrics and coffee cup design on to the tracing paper. For the lyrics turnover the tracing paper and with the transfer pen draw over the lyrics again to counter the mirror image.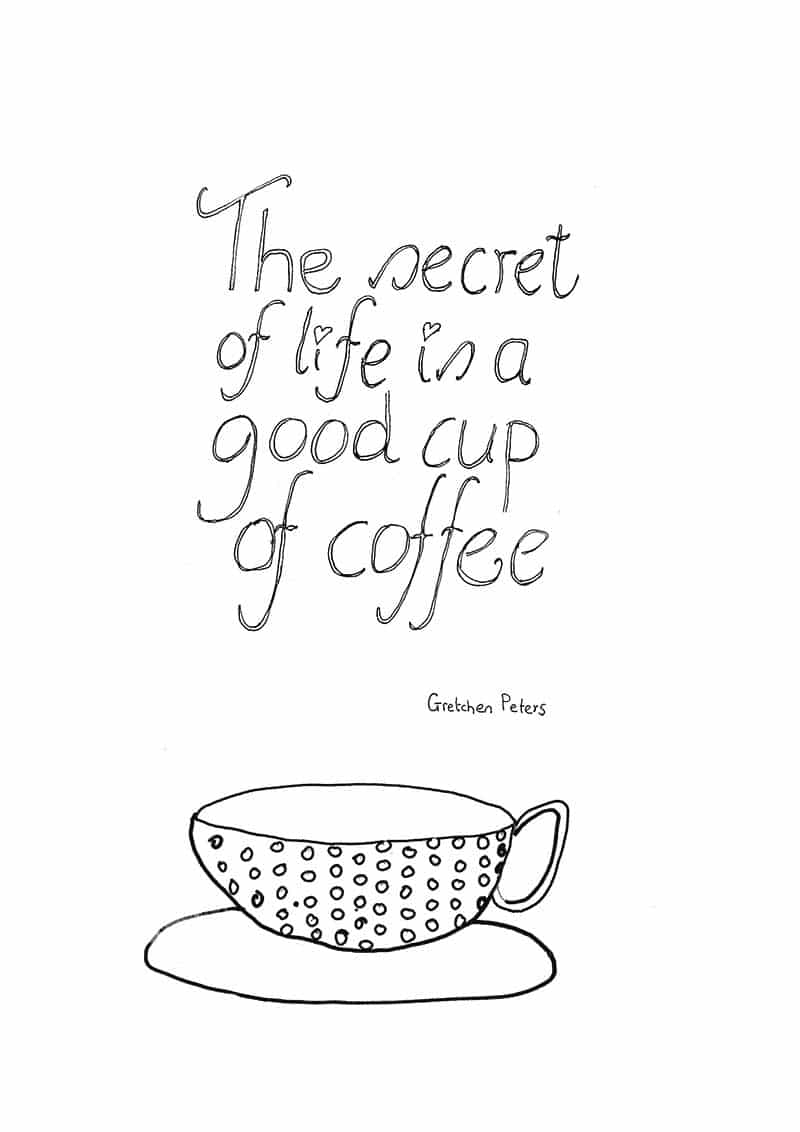 3. Next, place the lyrics tracing paper on one piece of linen and go over 3-4 times with a hot iron. As you lift the tracing paper the lyrics will transfer to the linen. Repeat with the coffee cup design on the remaining piece of linen.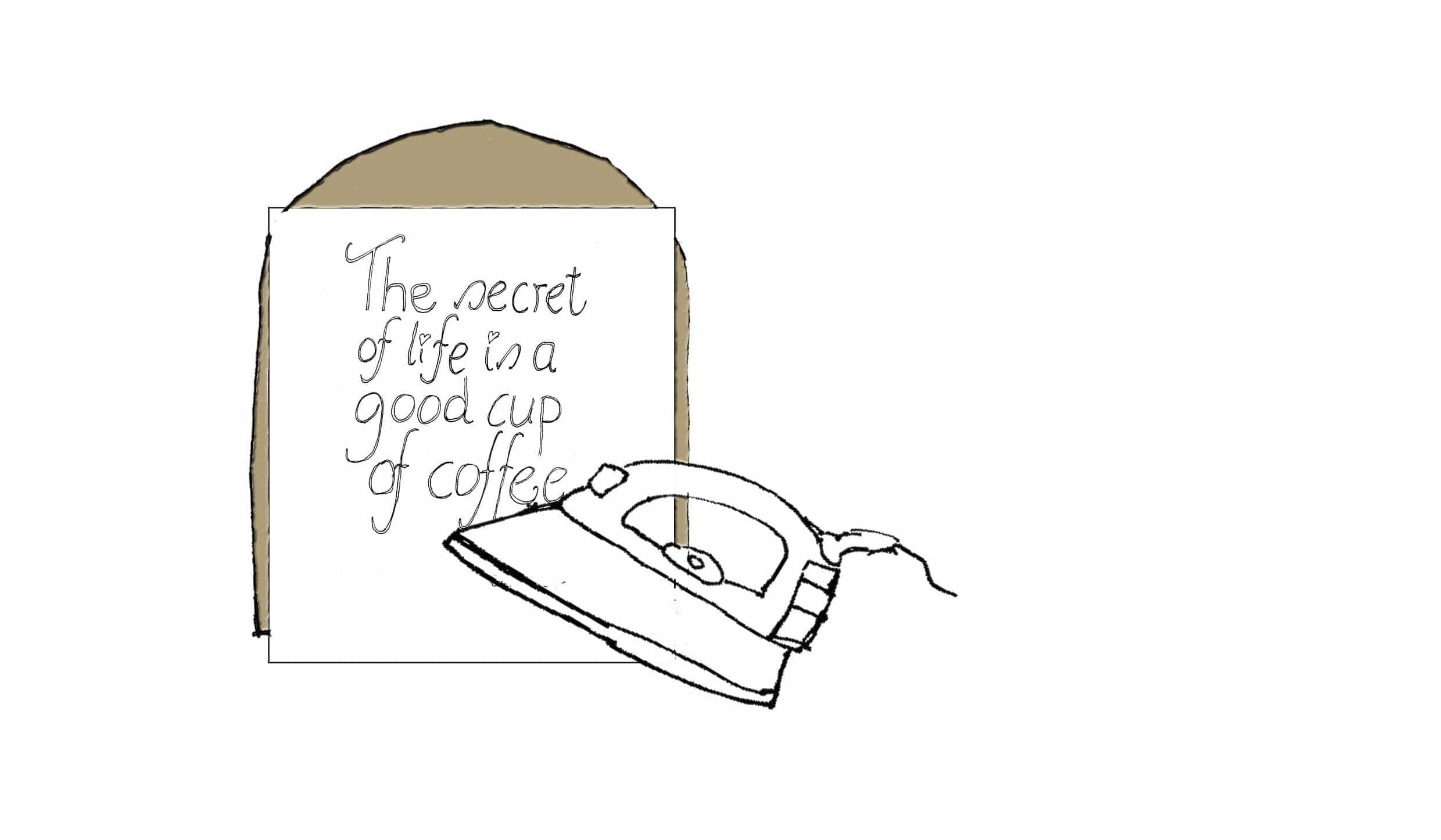 4. Then, just using a simple satin stitch to embroider over the transferred letters and coffee cup pattern.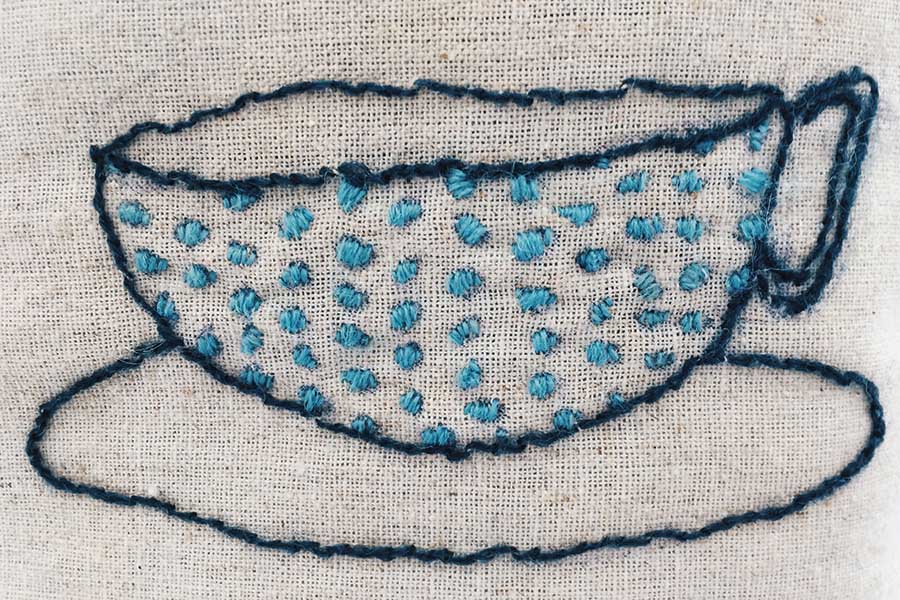 5. Next, iron a 2cm wide hem along the bottom of both pieces of linen fabric and both pieces of lining fabric.
6. All the fabric pieces are now ready to put together to make the DIY coffee cozy. The method for doing this is virtually the same as with my denim sunglasses case tutorial.
Sew both pieces of embroidered linen right sides together with the denim belt loop (or another fabric loop)sandwich between them leaving it open at the bottom. Then turn right sides out.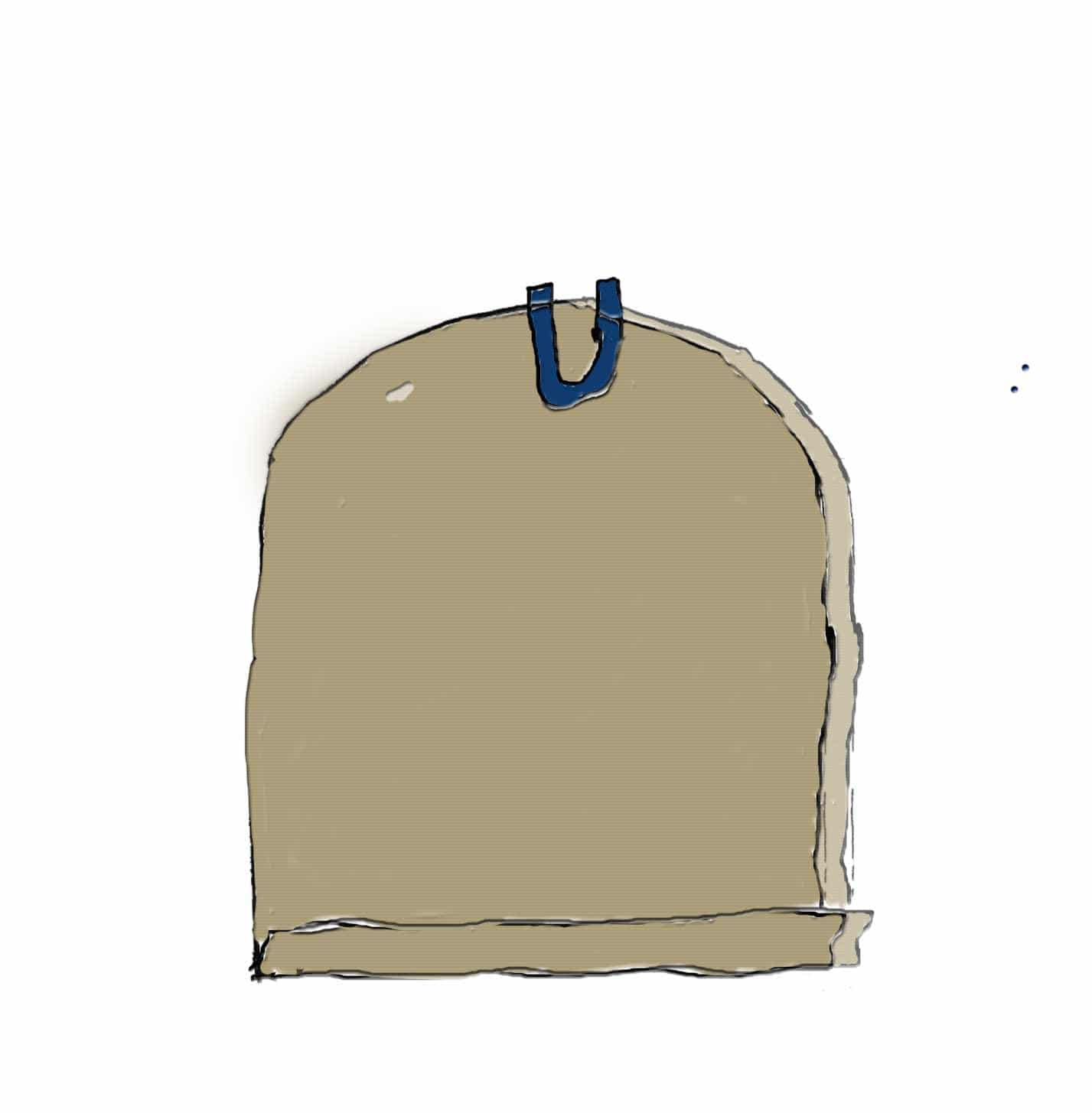 7. The next thing to do is to sew the padded lining of the cozy together. Place lining fabric right sides together and then sandwich between
2 pieces of wading. Trim down excess wadding and sew together. Again leaving the bottom open.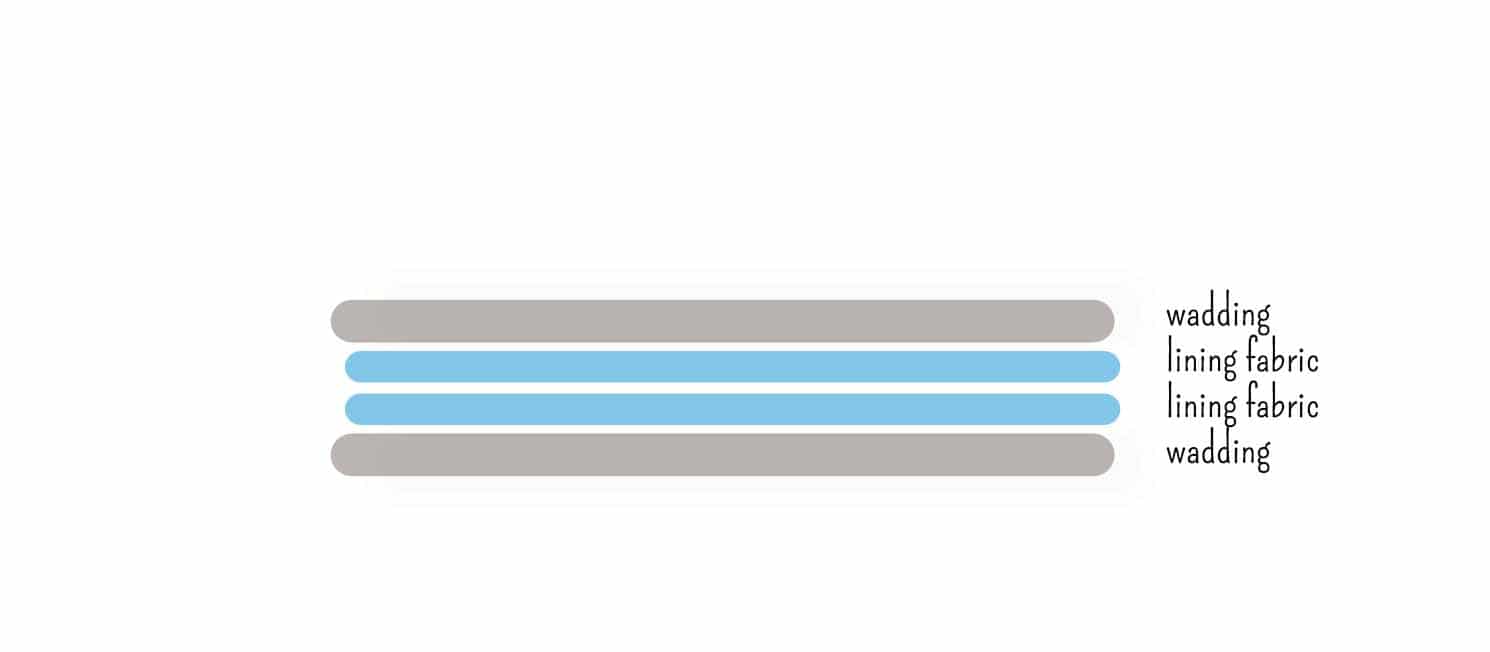 8. To finish of, this time do not turn the linning right side out. Just simply slip it into outer linen cosy. Then, sew the embroidered outer cover to padded lining leaving a bit of the inner lining showing.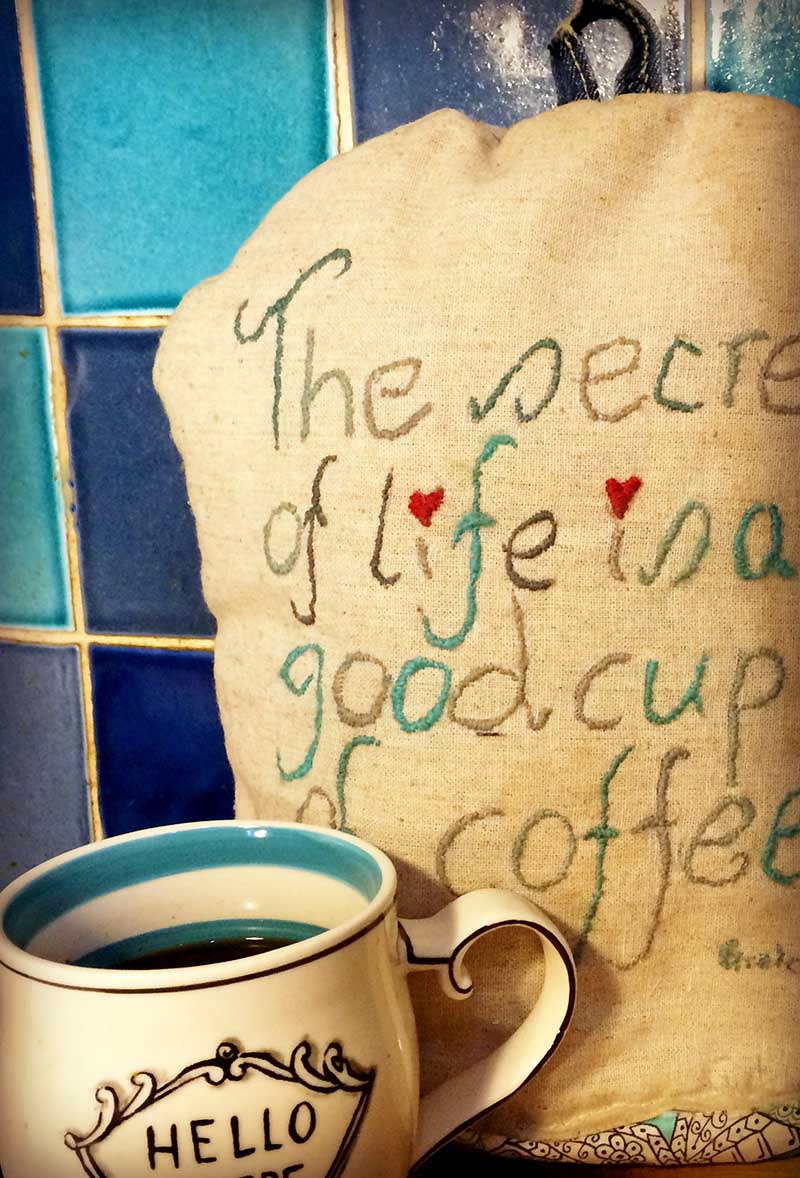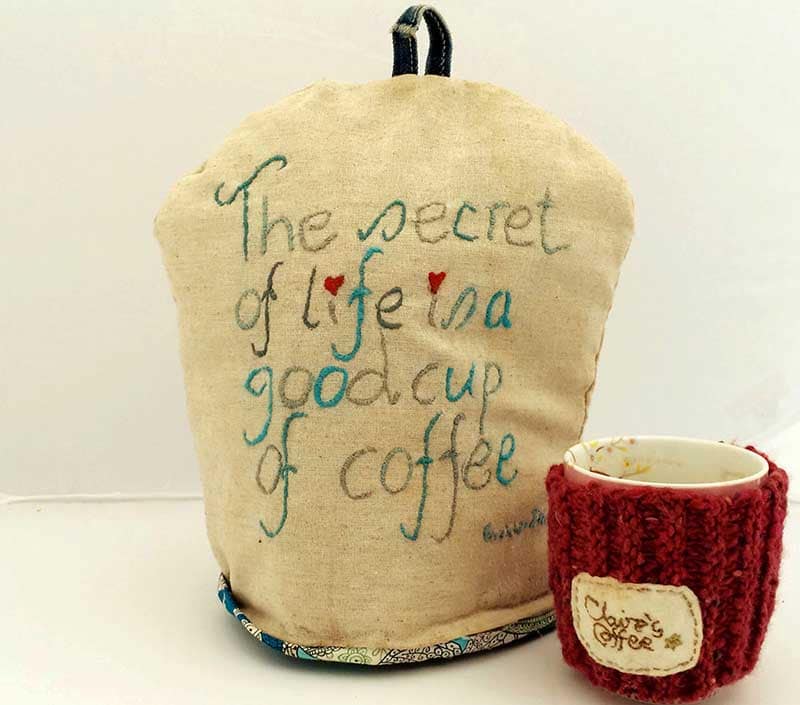 The denim loop is handy for pulling the coffee cozy off the pot and also for hanging. I just used a belt loop leftover from the denim waistband rug I made. The rest of the belt loops can be used to decorate a denim photo frame.
Coffee Themed Gifts
I think that this lyrical coffee pot cozy would make a lovely gift. If the gift recipient was a tea drinker and not a coffee drinker it wouldn't take much to adapt the pattern to a teapot cozy.
All you would need to do is perhaps make it a not so tall and a little fatter. You could change the embroidered lyrics to something tea related. Such are Hazel O'Connors song Will You, "You drink your coffee and I sip my tea."
However, if you are a massive coffee drinker like me then you might want to check out this fabulous collection of coffee crafts and DIYs. Many of these would make lovely handmade gifts for coffee lovers.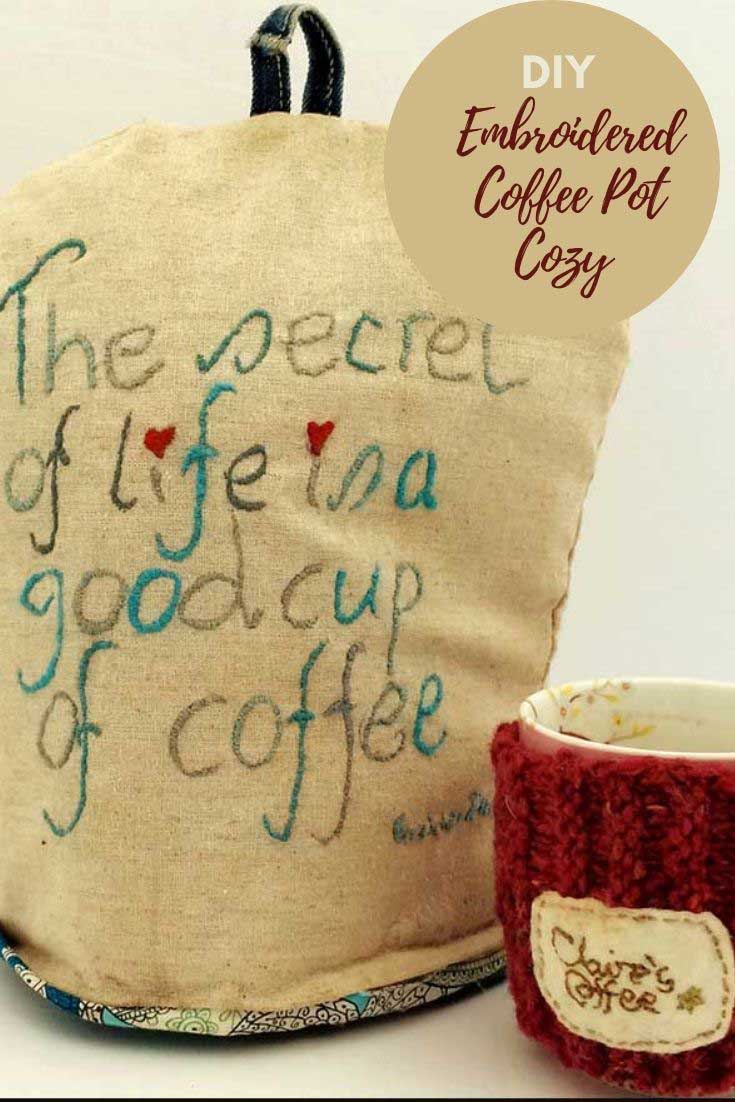 By the way, the crochet coffee mug huger in the picture above was adapted from a Mollie Makes tutorial.
I enjoy doing embroidery to relax and often design my own personalized embroideries. One of my larger embroidery projects was a big stitched piece I made from my kid's artwork a quite a few years ago.
Even though my boys are all grown up now, this piece of artwork still hangs on my living room wall and reminds me of when they were little and very cute.
You can find more coffe cozy ideas here.