This is a tutorial on how to create wonderful and fun dictionary art by using paper embroidery.
I have printed on dictionary paper before, but this time I wanted to go one step further with embroidery. The trouble with dictionary paper is that it is very thin and difficult to stitch by hand without tearing.
Stitching on paper with a sewing machine is relatively easy especially if you use the right needle and large stitches. I recently used a machine when stitching some map paper moths. Stitching on paper by hand is much harder, as it's easier to tear the paper.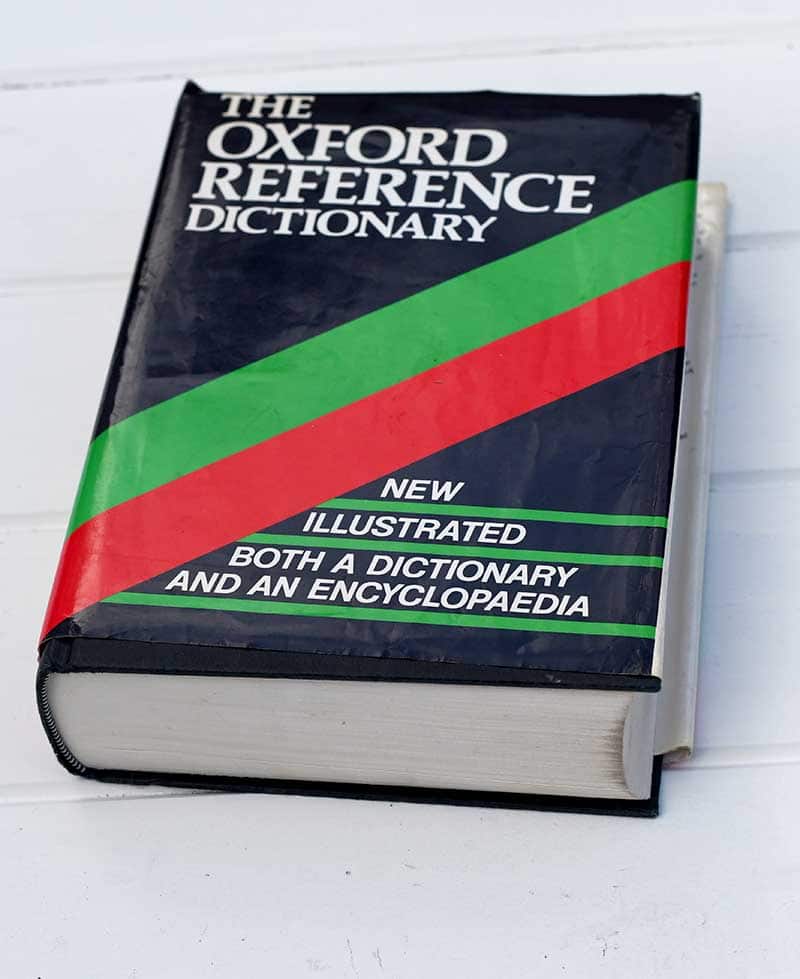 Embroidery on Paper
Most of the examples I could find for stitching on paper by hand were of large cross-stitches. The holes are pre-punched into the paper to form a pattern, which is then cross-stitched. A lot of these examples involved more heavy-weight paper rather than fine-thin dictionary paper.
I love old maps and many of these are printed on cloth paper, which makes them more robust and great for crafting and upcycling. That's when I got the idea for making the dictionary paper more like old maps by using muslin. This enabled me to create my hand-stitched free-form embroidery dictionary art.
Dictionary Art
I can't remember the last time I used a physical dictionary. These days almost all my writing is done on a computer. Like like most people, I just use a digital dictionary. It's the same with maps, nowadays, most people use a Sat Nav rather than paper road maps.
I have a large old dictionary which I just use for arts and crafts. Like maps, dictionaries become outdated and need to be updated. Routes change as new roads get built, just like language evolves and changes as new words are developed.
For my latest dictionary art project, I illustrated a word on a dictionary page. I printed and embroidered an image on the dictionary page that related to a word on the paper.
Sometimes my matching of images and words are obvious, such as with my leaf dictionary art. Other times the match is not instantly obvious, for example matching the word crest with a cockatoo or conical with a shell. Part of the fun of this craft is deciding what dictionary word and art picture to use.
Dictionary art was created by adding texture and highlights to the images with embroidery.
We're a participant in the Amazon Services LLC Associates Program, an affiliate advertising program designed to provide a means for us to earn fees by linking to Amazon.com and affiliated sites. As an Amazon Associate, I earn from qualifying purchases.
What You Need
An old dictionary or encyclopedia – If you don't have one, they are easily picked up from a charity/thrift store for very little money. An old dictionary is of great value as often they have hundreds of pages that can be used for many art and craft projects.
Embroidery threads in various colours
Vintage images – Pictureboxblue is full of thousands of free vintage images. You can download the same ones I used for my dictionary art here. There are more vintage clip art images available with my paper mache bowl tutorial.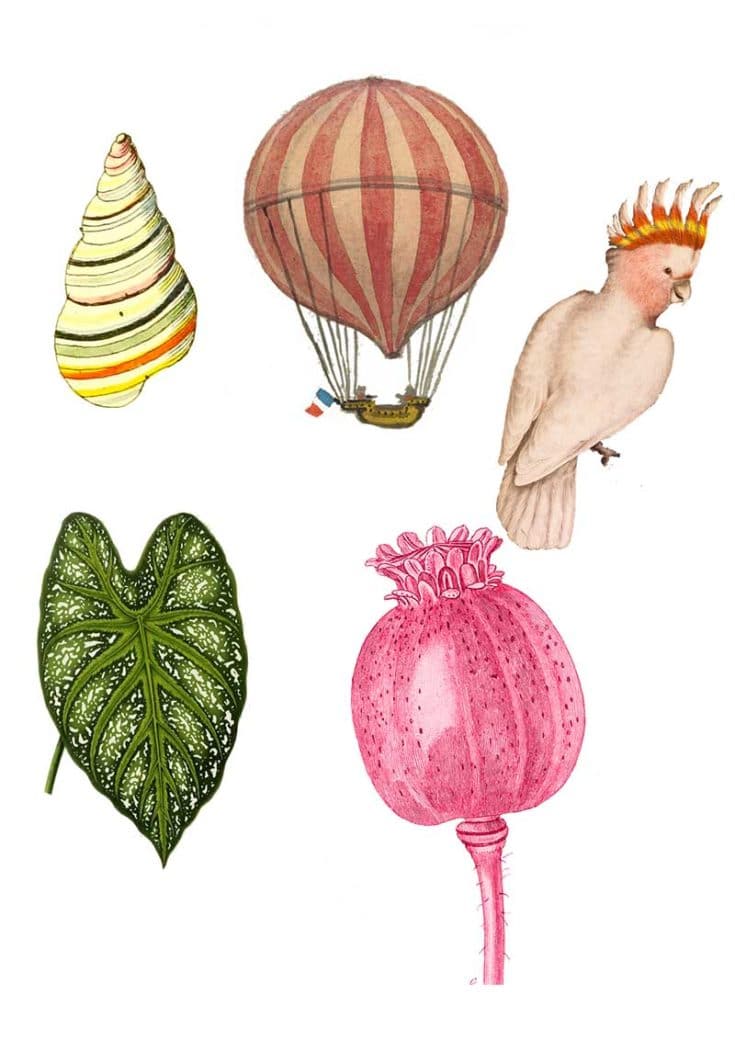 How To Embroidery on Paper and Make Dictionary Art
Preparing the Paper
1.. The first thing to do is choose what page from the dictionary you want to use for the dictionary art. The idea is to match the image you embroider on the paper to a word on the dictionary page. Once chosen, carefully tear the page out of the dictionary.
Top tip: I know some people are a bit squeamish about tearing up dictionaries. For some, it just seems wrong. If you are one of these people, then you can always use a photocopy instead. However, this embroidered art does work better on the original thinner book pages.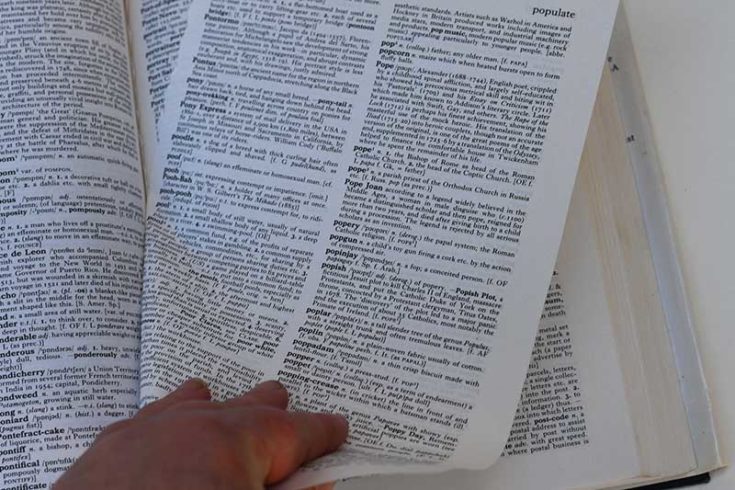 2. Next, tape the dictionary page to a piece of printer paper. Then put this paper into your printer's paper feed and print the image of your choice onto the page. Print a dummy run first, to ensure that the image prints the right way up and is to scale.
I made a mistake when I first printed the poppy seed head onto the poppy dictionary page, the image printed upside down. I had to reprint the same image again. This time on a dictionary page with the word seed on it.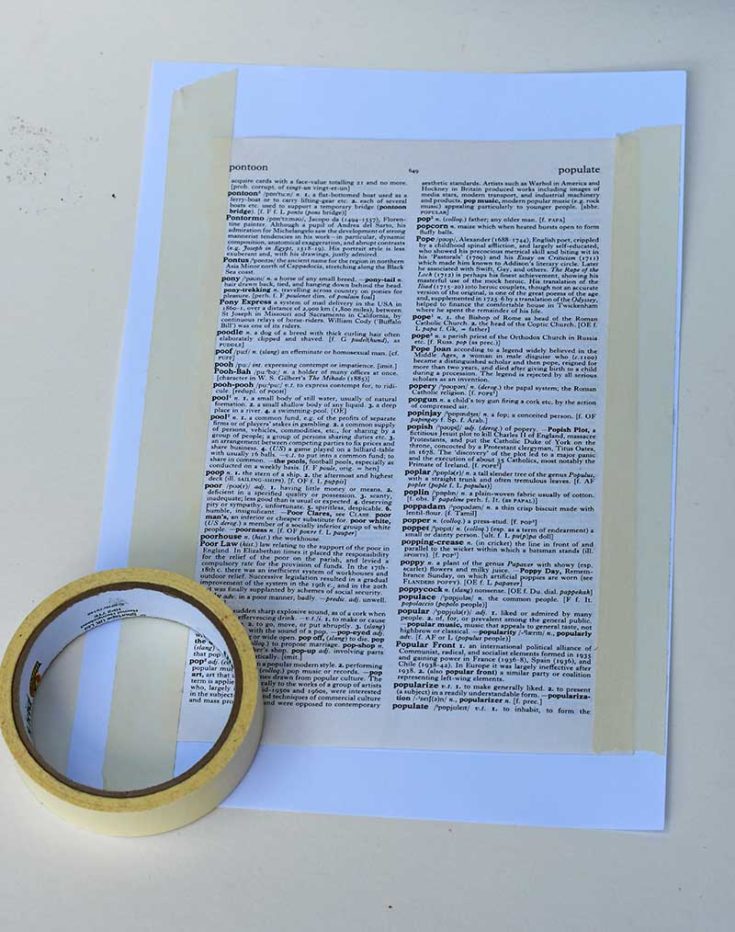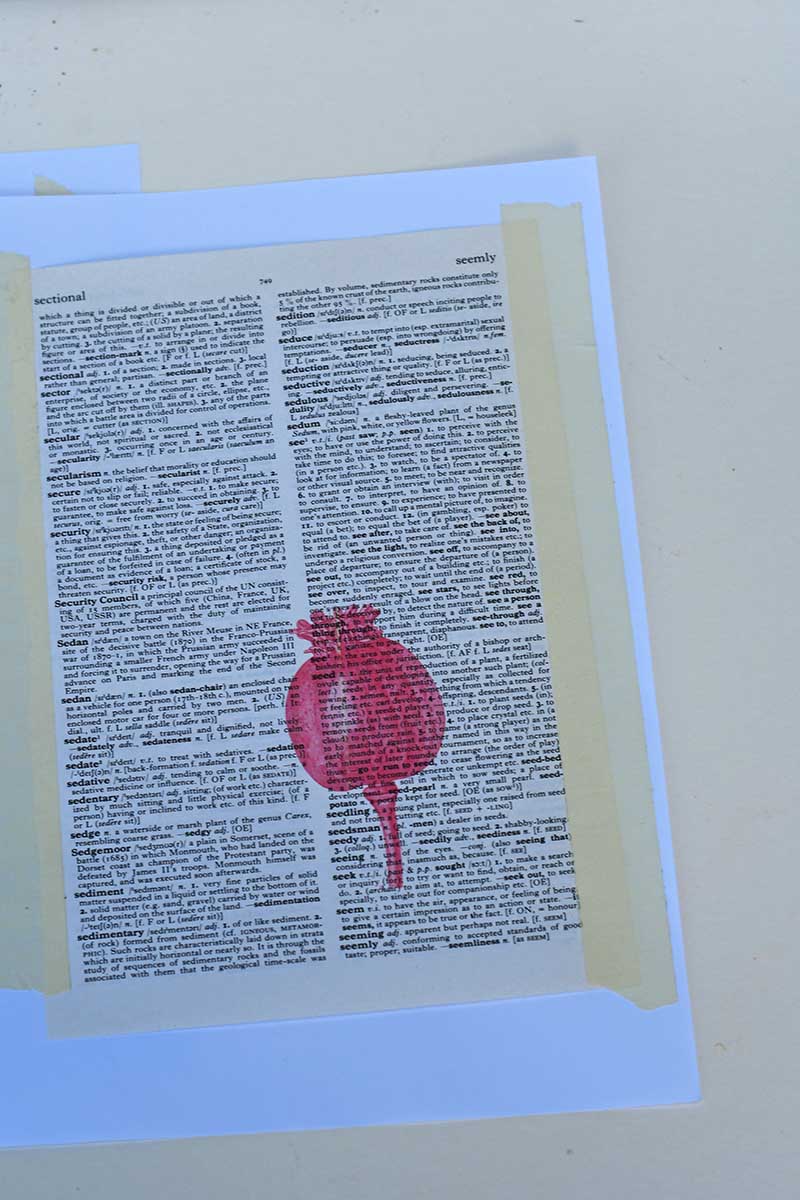 3. Once the image has been printed onto the dictionary page, remove the masking tape. Then place the page image side down onto the clingfilm (plastic wrap). Next, paste the back of the page with Mod Podge.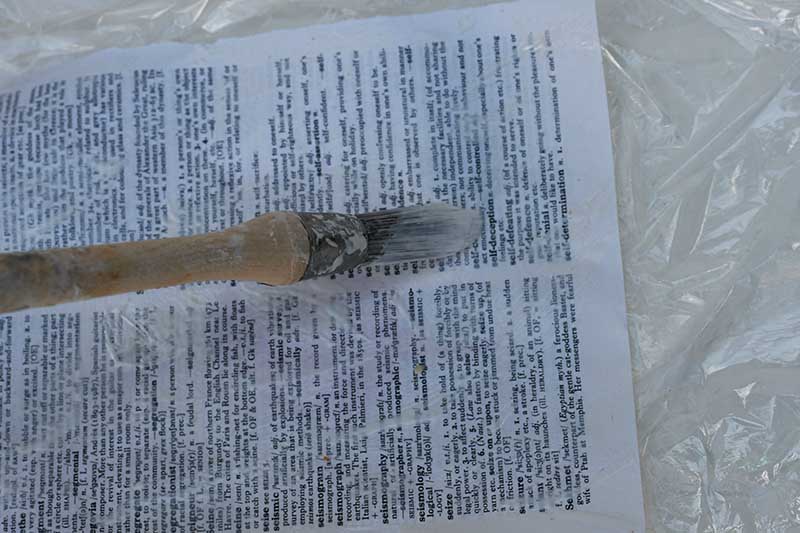 4. Next, cut a piece of muslin slightly larger than the dictionary page. Then lay the muslin onto the pasted Mod Podge page, smoothing it out as you go. Then brush another layer of Mod Podge onto the muslin.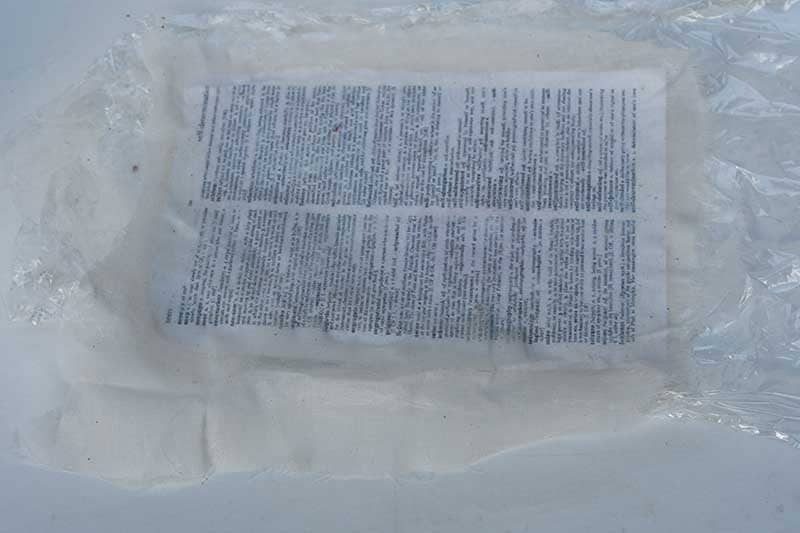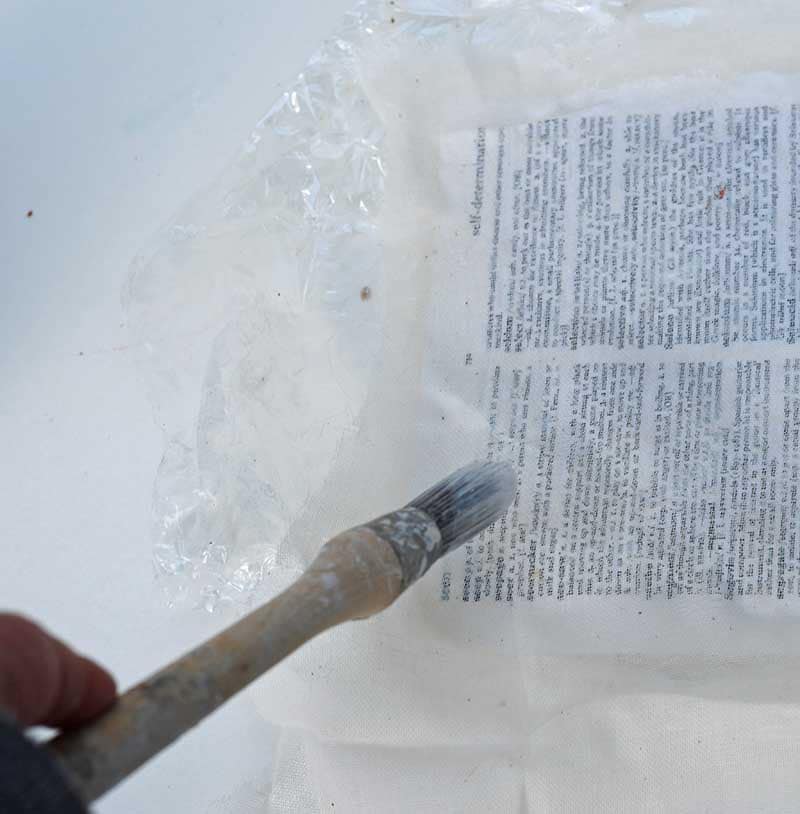 5. Leave the dictionary page to dry. Once fully dry, remove the clingfilm (plastic wrap) from the front of the dictionary page. The paper is now ready for embroidery.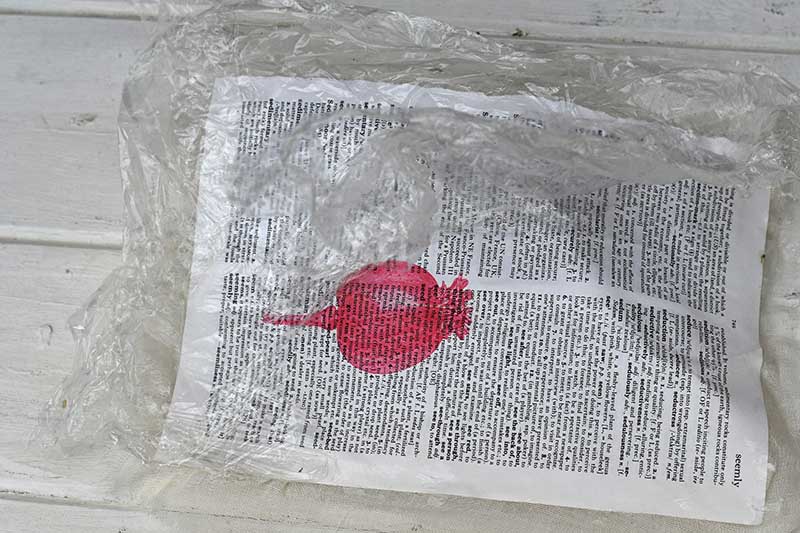 Embroidery on Paper
6. Thread a sharp embroidery needle with embroidery thread. I used all six strands of embroidery thread in the needle. The idea with the dictionary art was to enhance the printed images with stitches on the paper.
Just pick a particular element in the picture to stitch over. For example, I just embroidered the red stripes on the hot air balloon and left the others.
The idea is that you can still see some of the printed image and dictionary words as well as the embroidery.
I used very simple satin embroidery stitches to fill in sections of colour on the images. To outline an image, I used a chain stitch. For the poppy seed head, I used a few French knots at the top. But I do need to practice my French knots a bit more!
Top tip: Make sure you use a sharp embroidery needle that will easily pierce the dictionary pages. Sometimes embroidery/cross stitch needles are blunt, as they are designed to go through the cloth that has pre-stitched holes in it.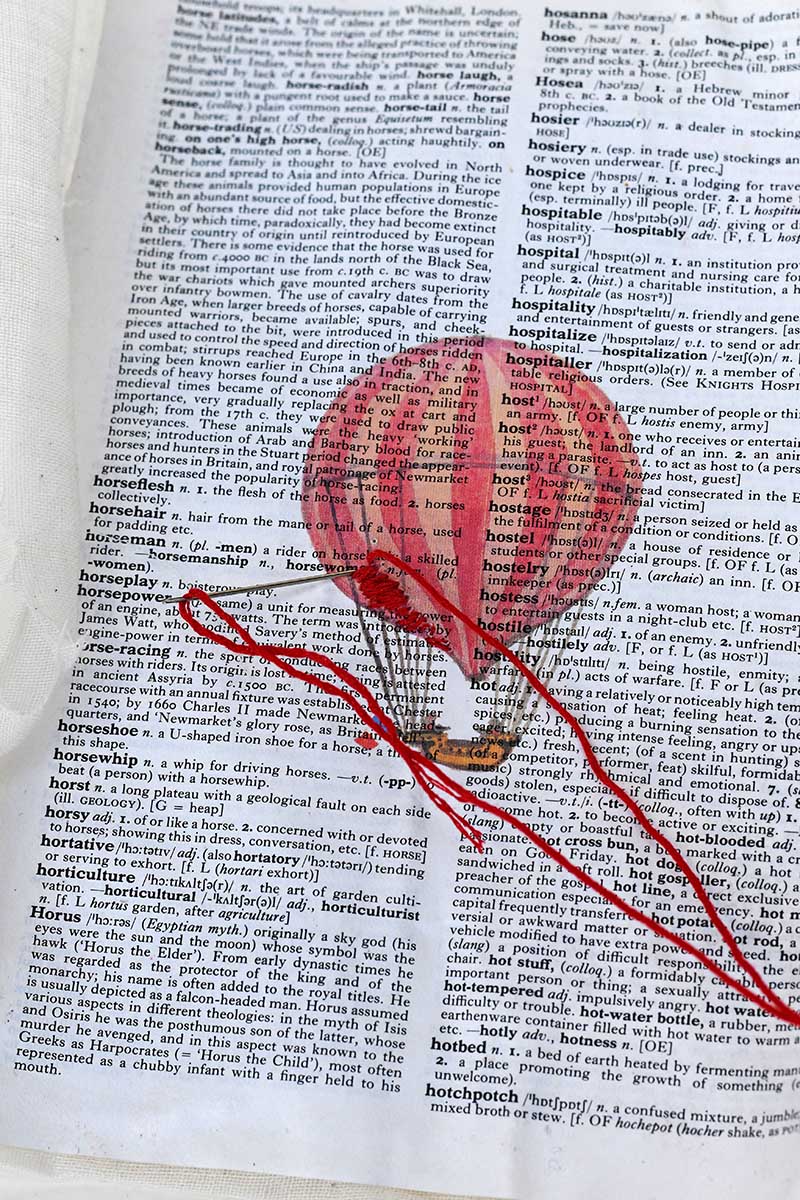 When the paper embroidery is finished, cut away any excess muslin from the paper.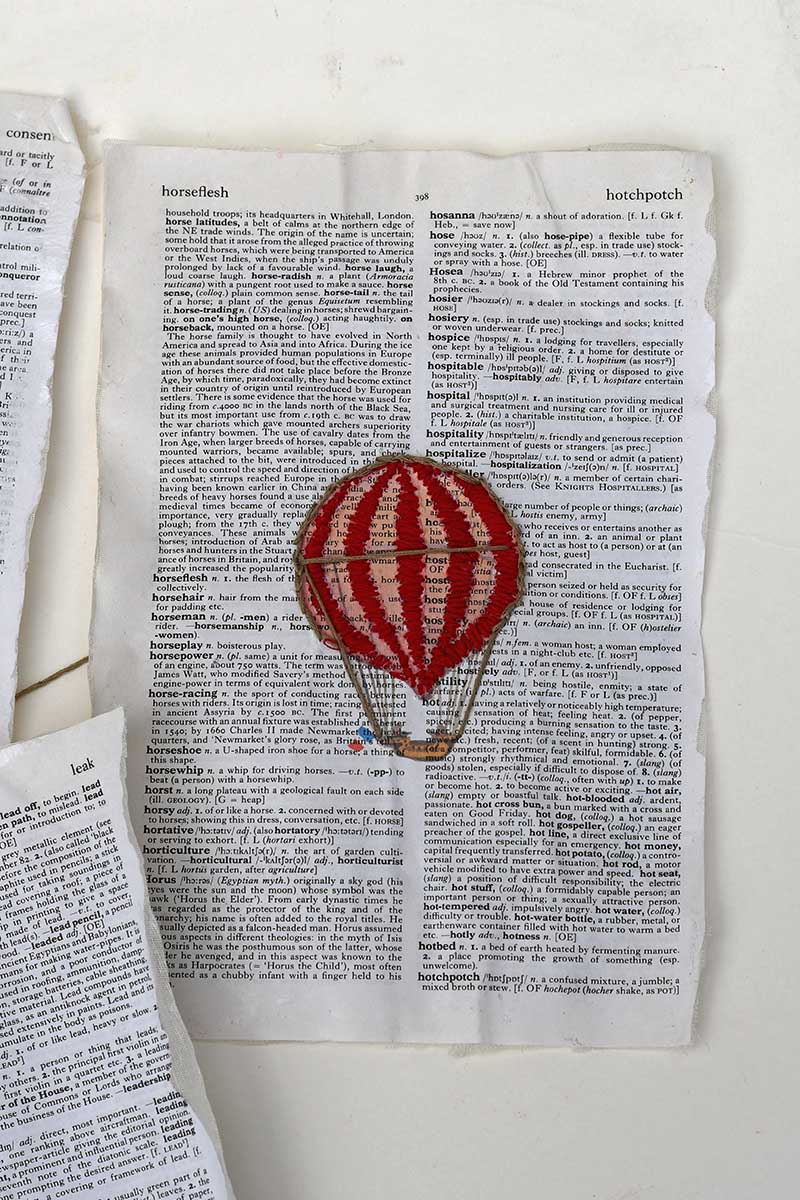 The Dictionary Art Embroidered Images
I so excited that I had worked out how to embroider on paper, that I ended up making five of these dictionary art pages, and I plan to make more.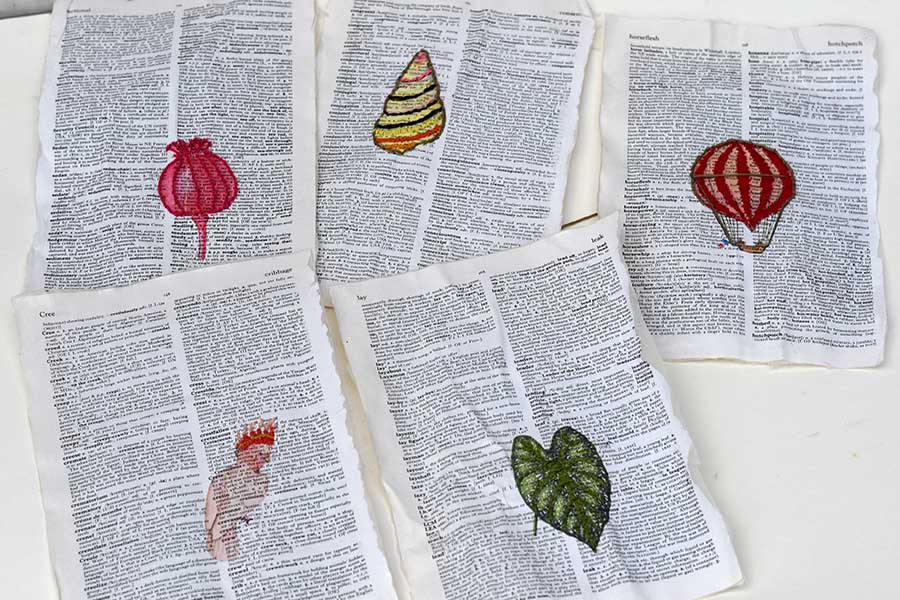 Hot Air Balloon
For the hot air balloon, I choose a dictionary page with the word hot on it. The outline of the balloon was embroidered with a chain stitch and the red stripes filled with a satin stitch.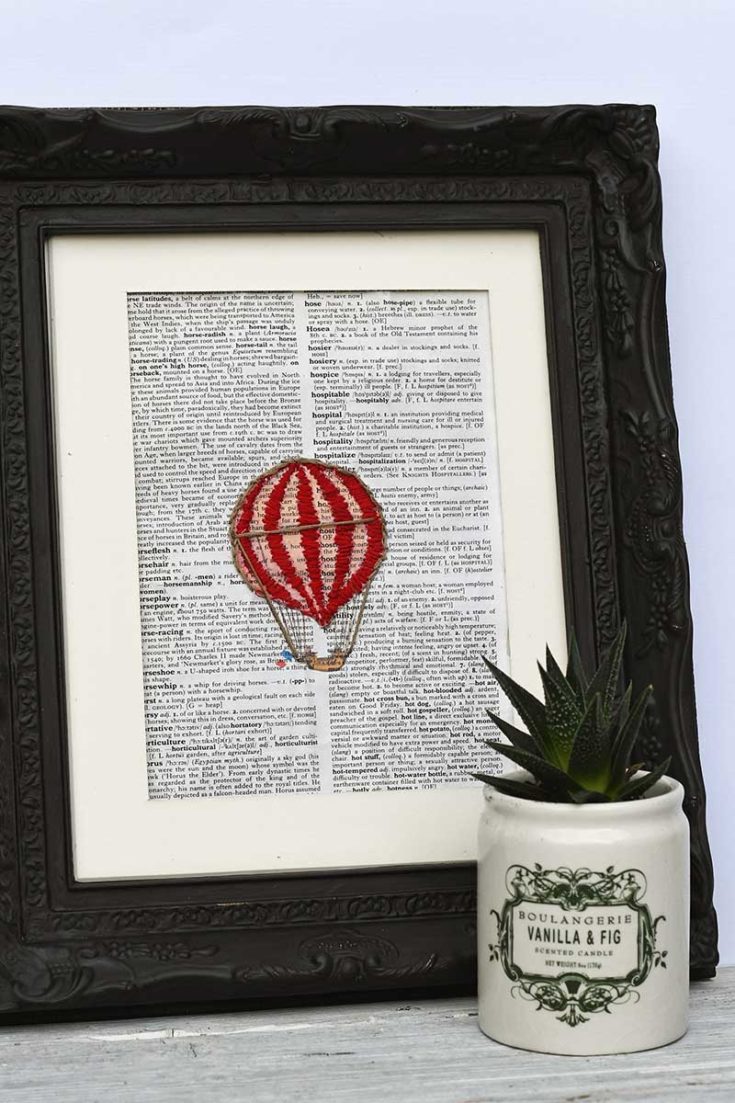 Leaf Dictionary Art
The veins of a tropical leaf were embroidered with a satin stitch, on dictionary paper with the word leaf printed on it.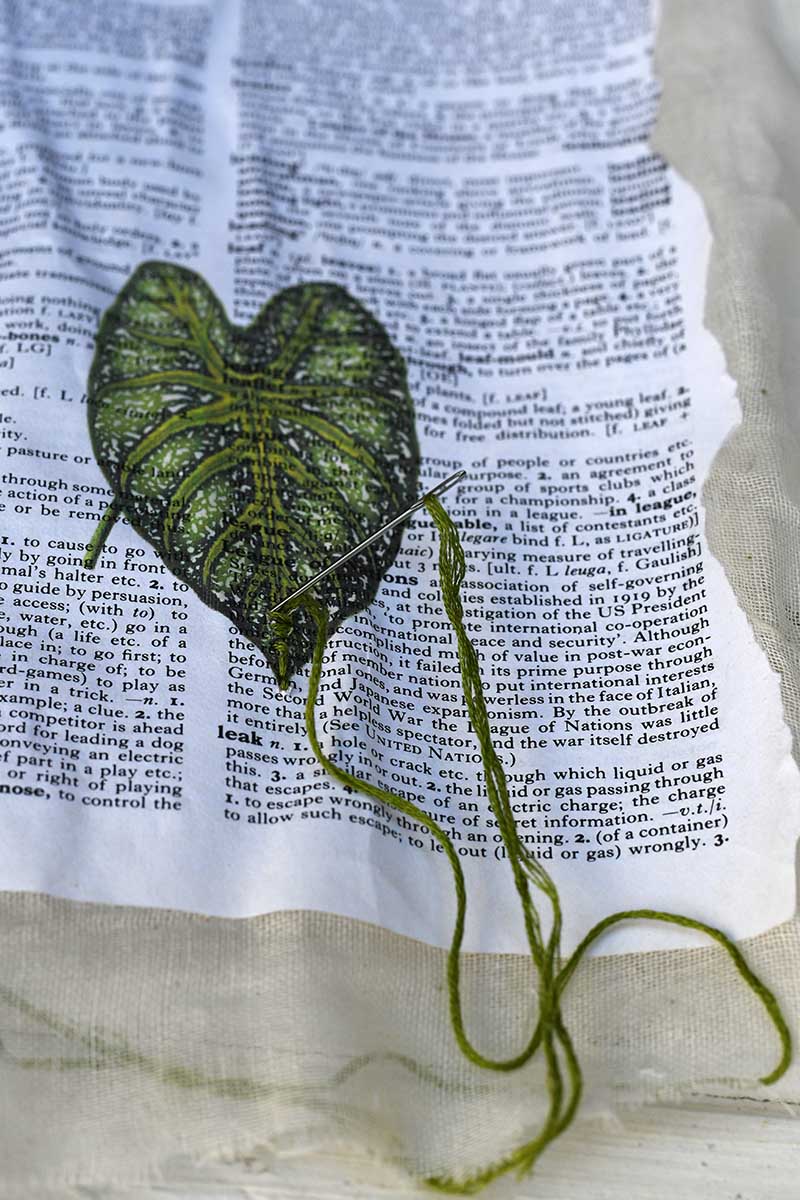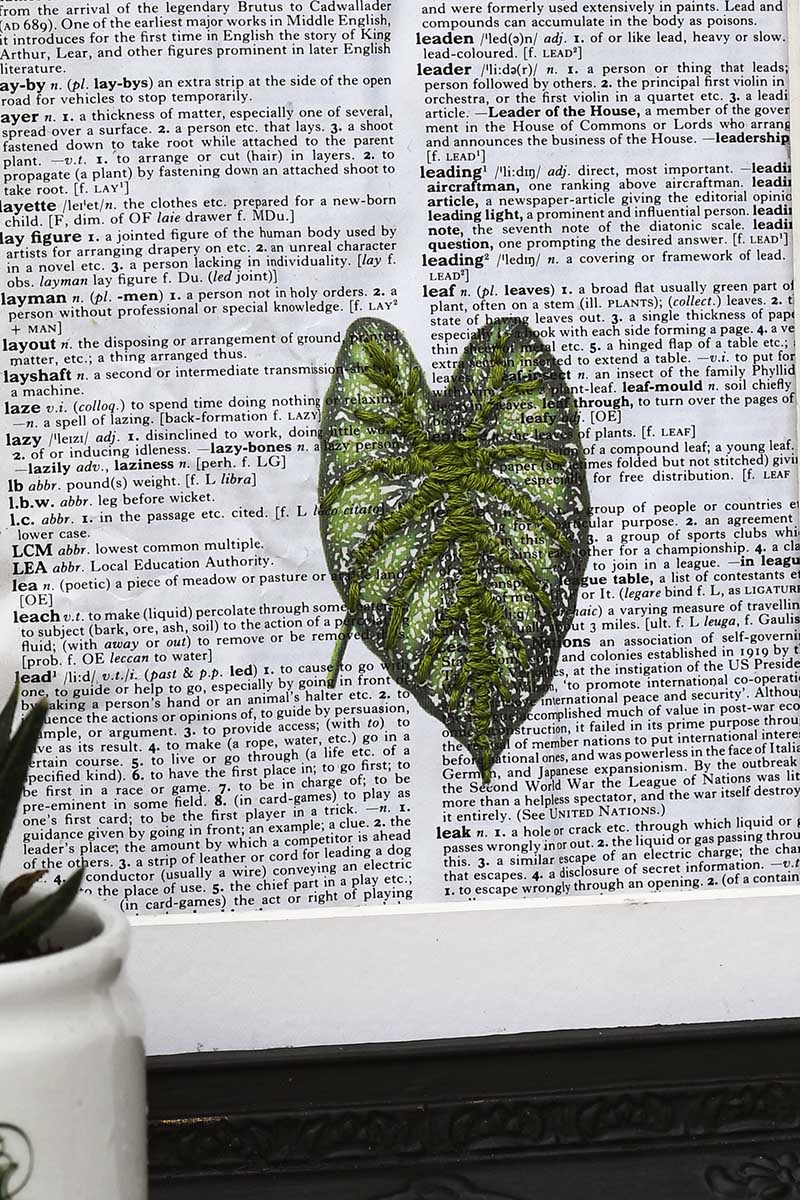 Poppy Seed Head
Originally, I was going to print this poppy head on the dictionary page with the word poppy on it. But as I already mentioned, I messed up the printing. I fixed this by printing the poppy seed head on the page with the word seed on it instead.
A simple chain stitch was used to outline the poppy head. French knots were embroidered at the top of the seed head.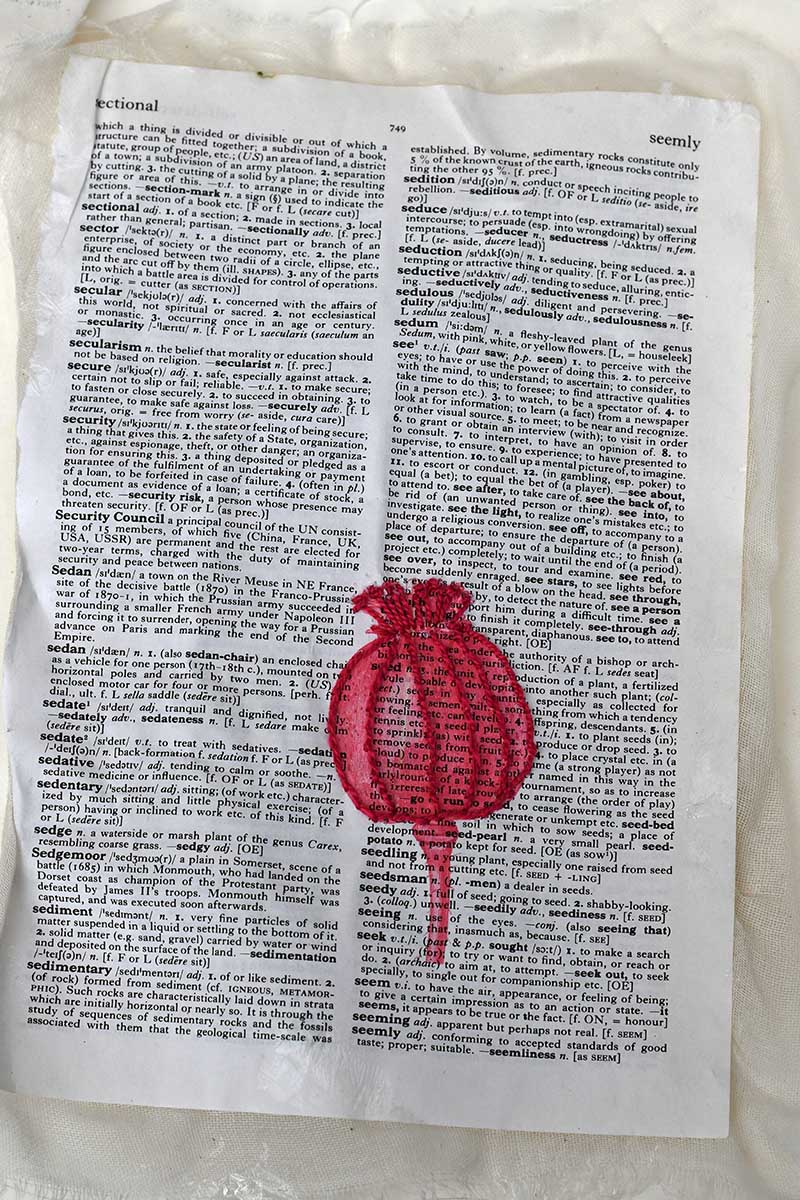 Cockatoo Dictionary Art
A crested cockatoo was printed on the dictionary page with the word crest on it. Only the crest of the cockatoo was embroidered with a satin stitch, using three colours.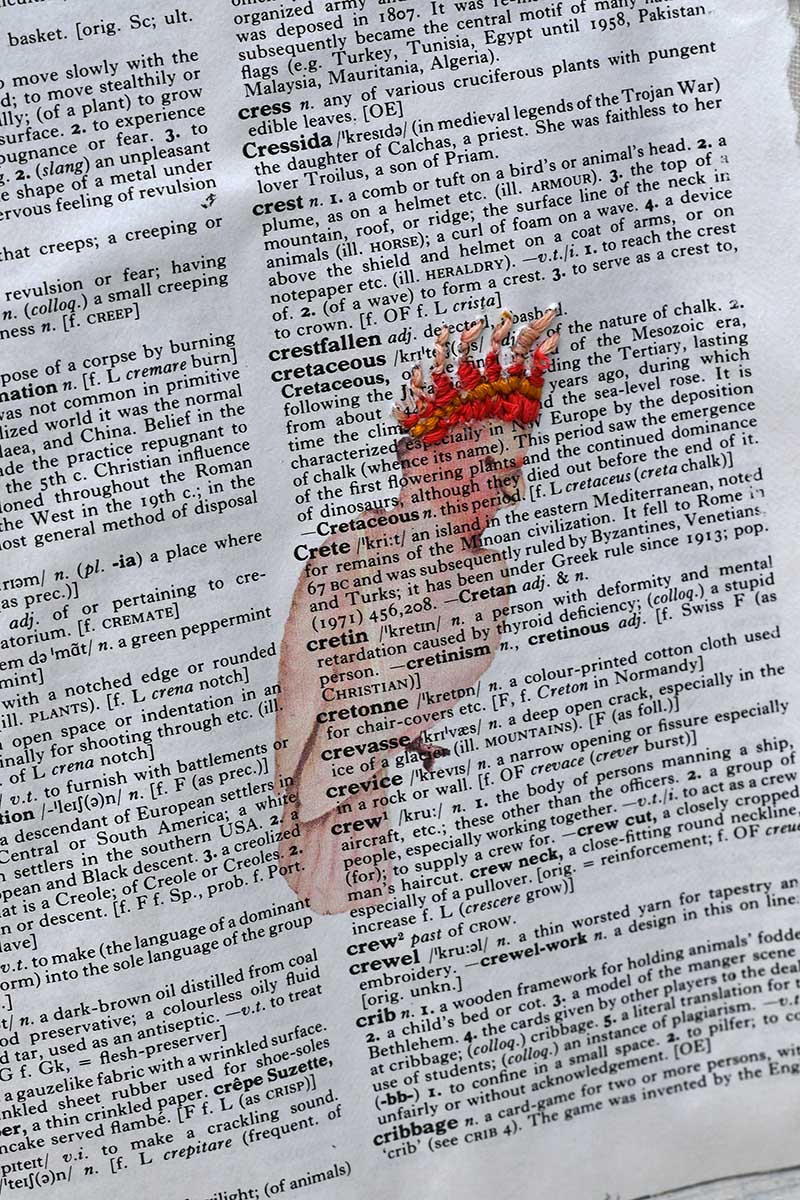 Shell Dictionary Art
A cone shaped shell was embroidered on the page with the word conical on it.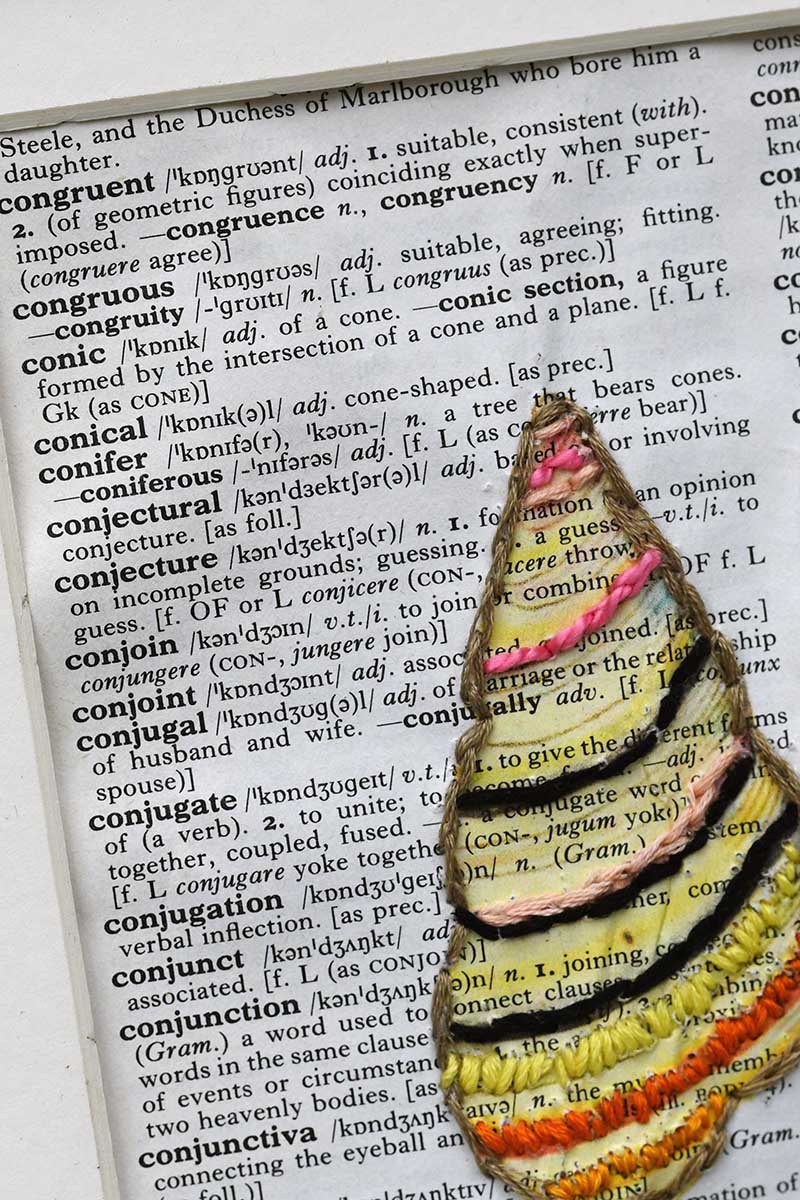 I really enjoyed this craft, creating the dictionary art was fun. I will be stitching more dictionary pages, enough to create a gallery wall. Now that I have worked out how to hand embroider paper, I'm on the lookout for other book pages to use to create more unique and fun stitched art.
You might also want to see how I turned my children's old artwork into a large keepsake embroidered memories piece.
There are many examples of how to stitch on paper on the site, from making personalized map treat bags to paper bag advent calendars and even paper vases.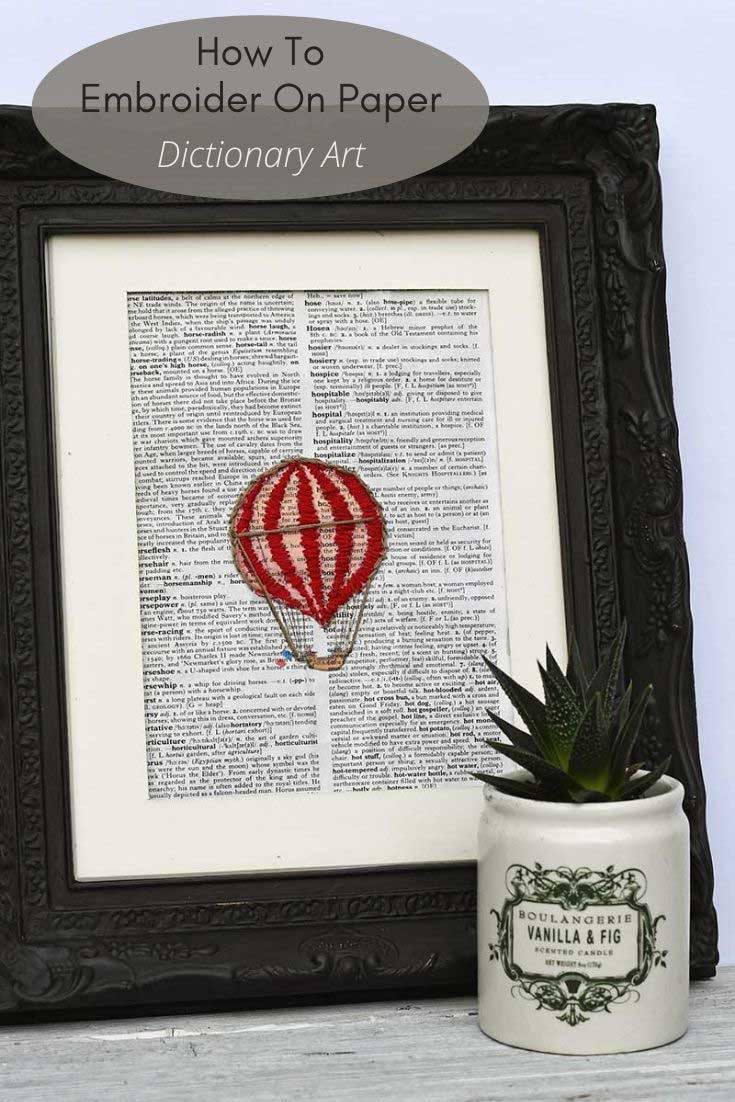 Yield: Embroidered paper dictionary art from old dictionary book pages
How To Embroidery On Paper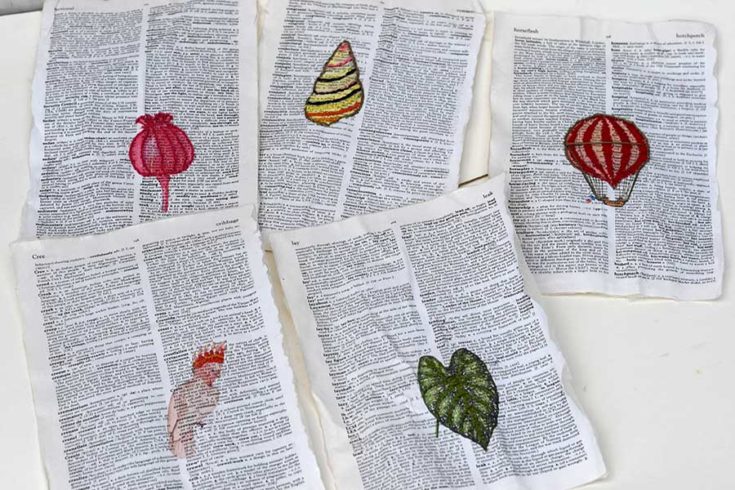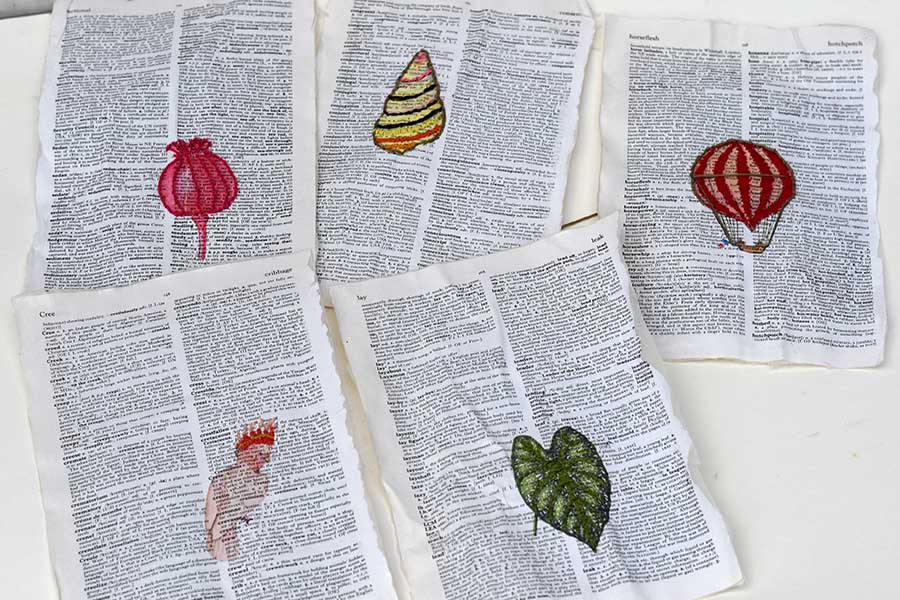 A step-by-step tutorial that shows you how to reinforce thin book pages such as those from an old dictionary, so that you can embroider on the paper and create some dictionary art.
Total Time
4 hours
40 minutes
Materials
Old dictionary - these can be picked up very cheaply from thrift stores if you don't have one at home for upcycling.
Muslin cheesecloth
Mod Podge
Plastic wrap/cling film
Coloured embroidery threads
Masking tape
Tools
Glue brush
Colour printer
Sharp embroidery needles
Instructions
First, decide on what dictionary page you want to use. Match the words on the page to the image you will embroider. Then carefully tear the paper out of the book.
Tape the dictionary page to computer paper using masking tape. Feed the paper through the paper feeder on your home printer and print an image on it. There are many to choose from for free on the site.
Remove the tape from the printed paper and then lay it print side down onto the plastic wrap.
Paste the back of the page with Mod Podge. Then lay the muslin cloth on top of the glue.
Paste another layer of Mod Podge on top of the muslin and leave it to dry.
Once the Mod Podge has dried, remove the plastic wrap.
Thread the embroidery thread onto a sharp-pointed embroidery needle.
Outline the printed image in a simple chain stitch. Use a satin embroidery stitch to fill in highlights of colour.
Cutaway an excess muslin cloth overhanging from the paper.
You will find more of my papercraft ideas here.