I made these DIY Halloween felt decorations as I prefer to err on the side of subtle and simple when decorating for the holidays. This Halloween craft fits with that remit.
I actually got the idea for this Halloween felt craft by combining two of my other previous crafts. The first one was the simple handmade monochrome felt Christmas ornaments. The second was the Scandinavian doodle flowers, for how to display them.
You could almost describe this as a Scandinavian style Halloween decoration if there is such a thing. These simple felt skull decorations certainly fit in with all my other handmade Nordic and Scandinavian crafts and decorations.
The DIY Halloween felt decorations are very easy to make, the materials hardly cost anything. All you need is some black and white felt scraps and embroidery thread.
The stitching is very simple. There are no complicated embroidery stitches, it's more like doodling with thread. Anyone should be able to complete this craft, it is suitable for adults as well as teens.
(There is a printable how-to card for this craft at the end of the post.)
What You Need
Off white/ivory felt enough to make five small skulls. You can either use craft felt, or felt from an old sweater. Personally, I like to use 100% pure wool felt, but any felt from the craft shop will do. Just make sure it isn't too thick.
A very small amount of black felt (see above).
Black and white embroidery thread
Embroidery needle
Copper craft wire
Small amount of fiber fill – I use the stuffing from old pillows for this.
Birch stump, or any small scrap piece of wood.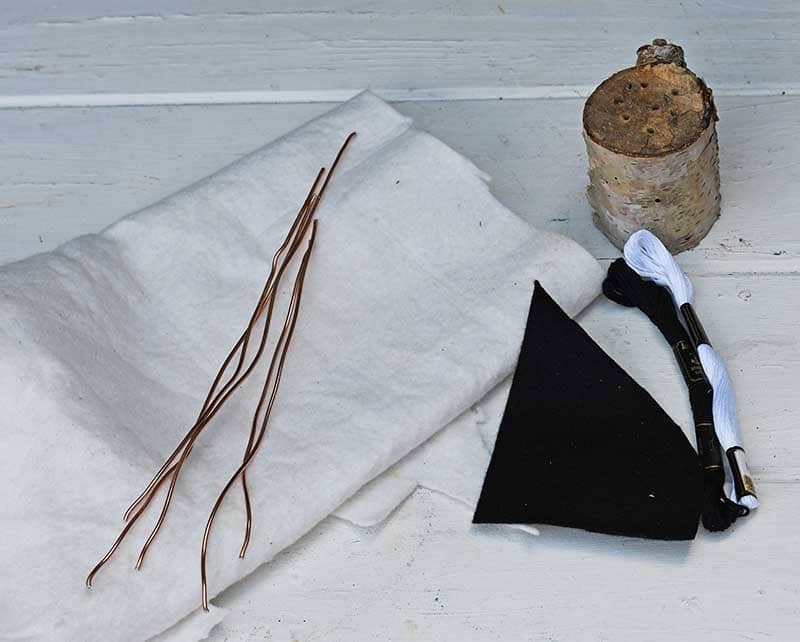 To Make Scandinavian Halloween Felt Decorations
Step 1: First, print off the skull felt Halloween decoration patterns. You can design your own. Cut out one of the skull shapes to use as a template.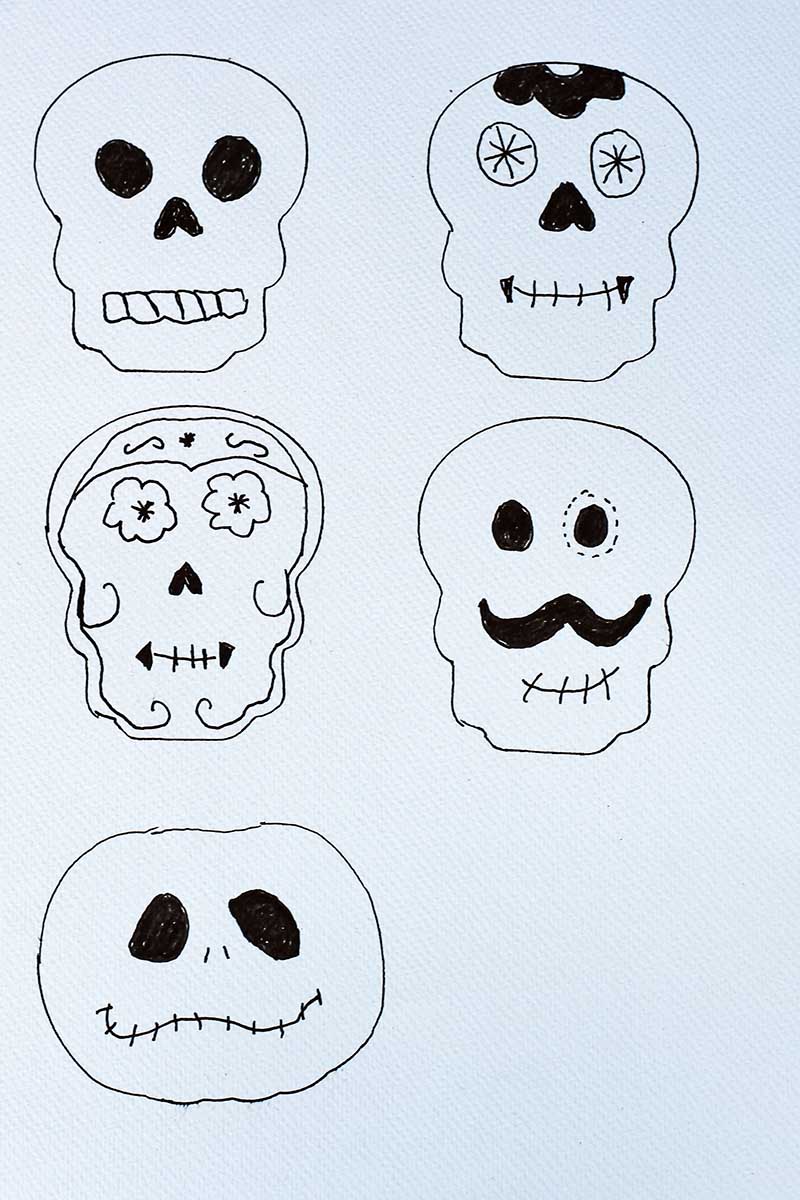 Step2: Next, place the skull cutout shape onto the cream felt, then draw around it. Cut out two shapes for each felt skull Halloween decoration. I made five different embroidered skulls for this Scandinavian Halloween decoration.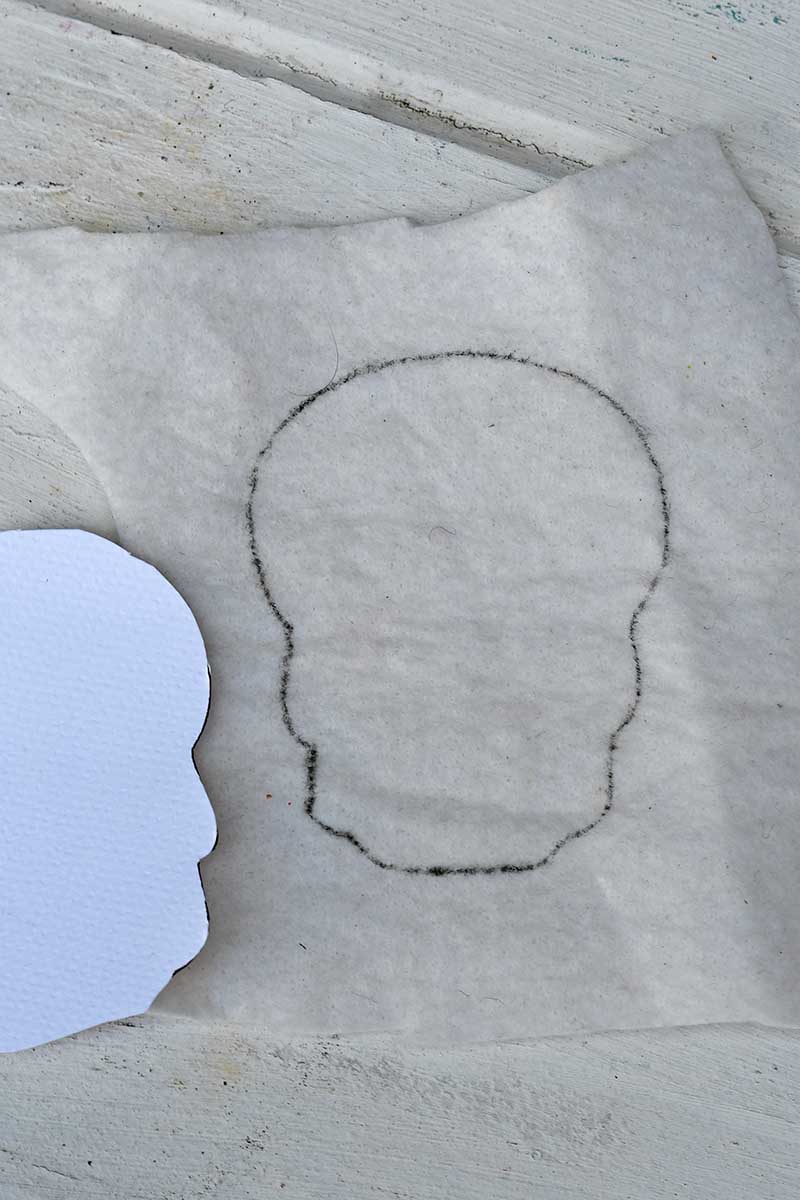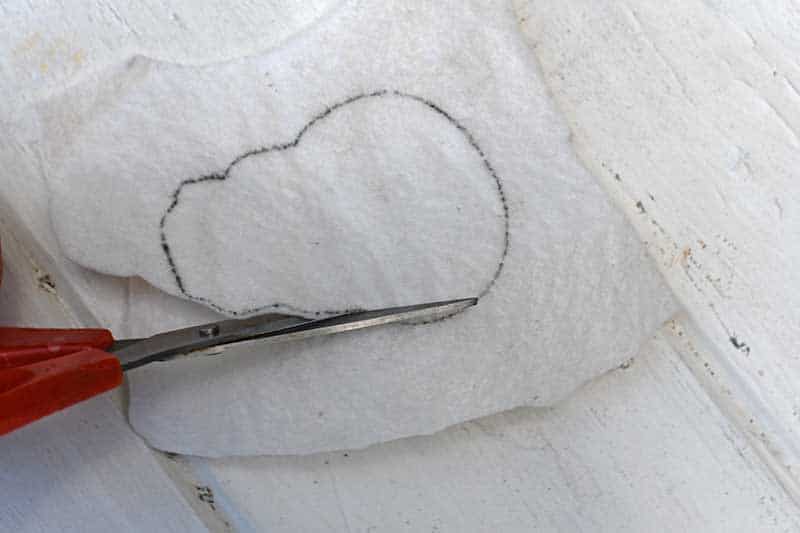 Step 3: Each skull is decorated with a mixture of black felt shapes and embroidery. For the larger elements on the felt skulls, like the eyes use black felt. The finer details, such as the mouths, were embroidered. Cut out the eyes and noses in black felt. Then, stick them to the skull faces.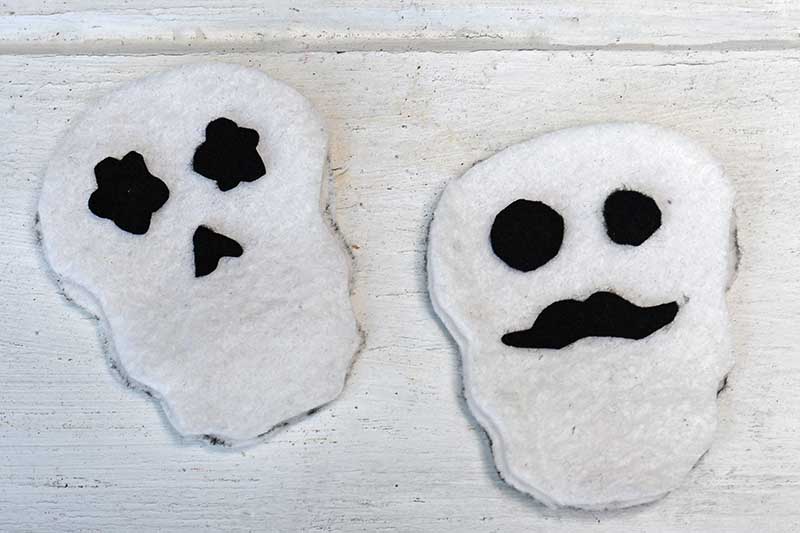 Step 4: Next, draw the finer features on the felt skull face and embroider them. Most embroidery thread comes in six strands, separate this into lengths of thread three strands wide.
Thread this onto the embroidery needle, to simply stitch over the lines. No need to use any fancy embroidery stitches, just cover the lines with stitches. It's like doodling with thread. The appeal of this Scandinavian Halloween felt decoration is the simple childlike look of the stitches.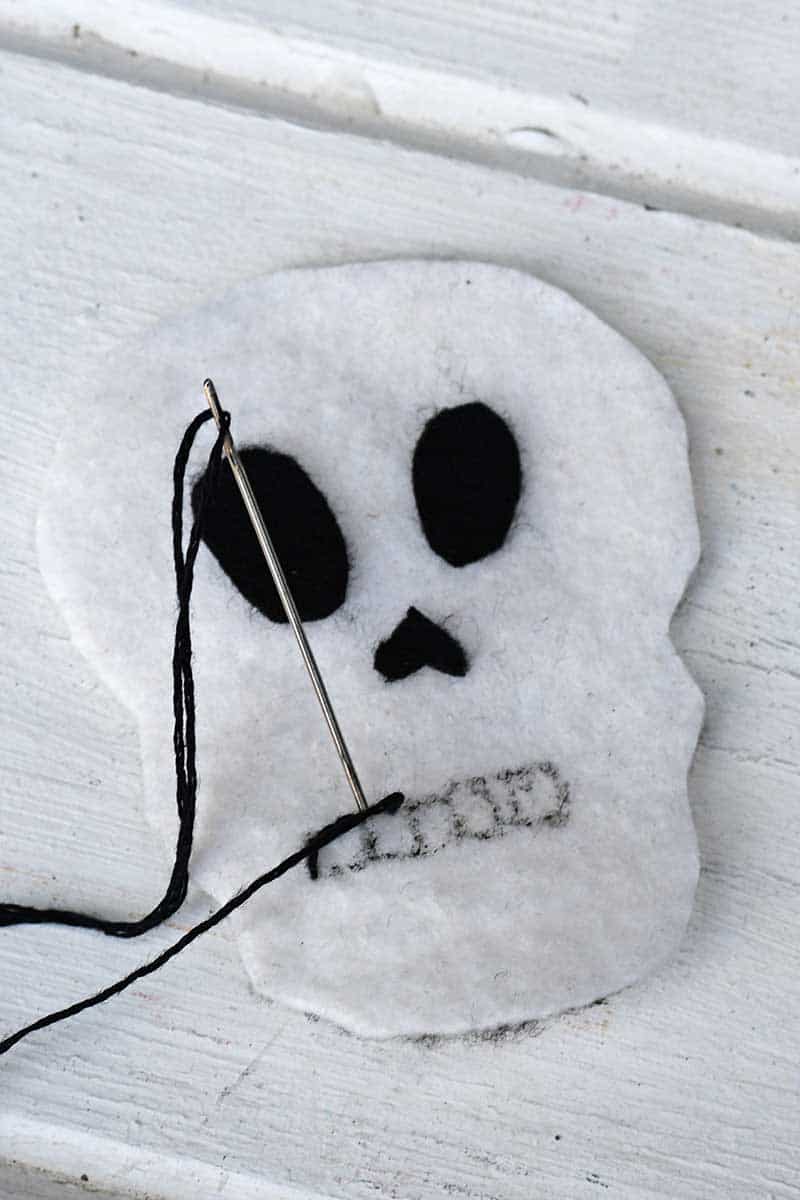 Step 5: Once all the features have been stitched on the front of the faces of the skulls, stitch it together with a back piece. Just use a simple blanket stitch for this, (like with these giant felt letters).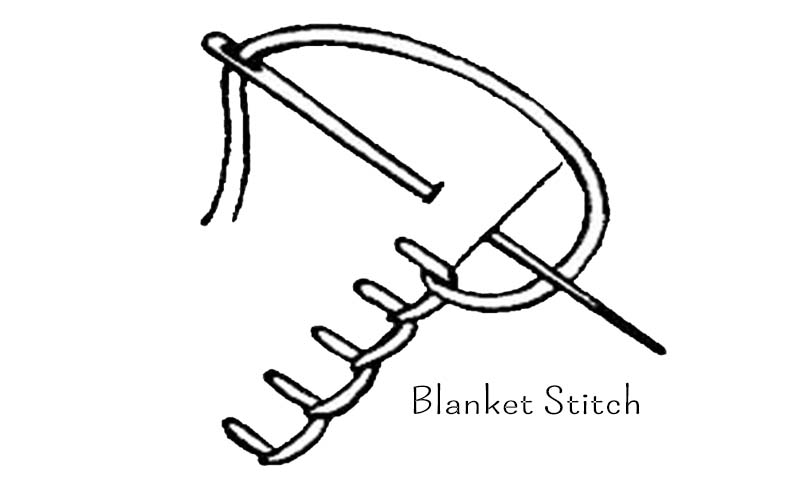 Remember to leave a small gap for stuffing, before closing them up.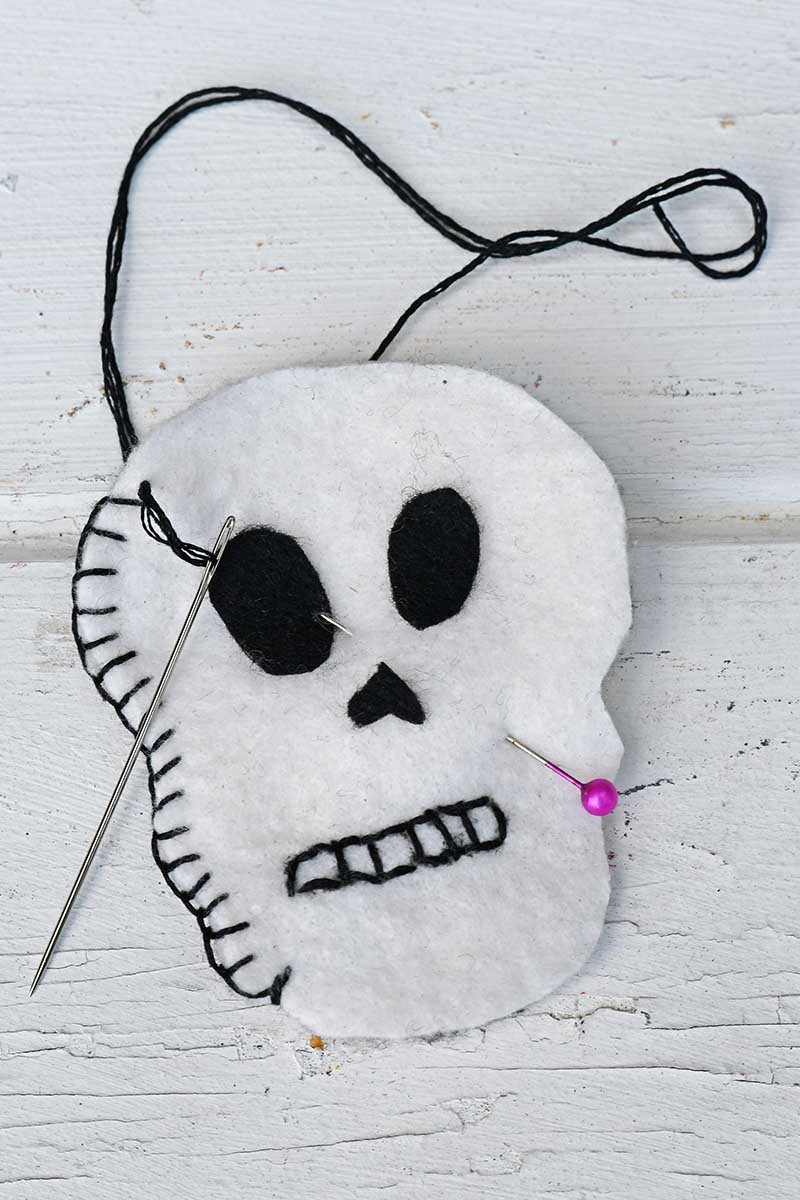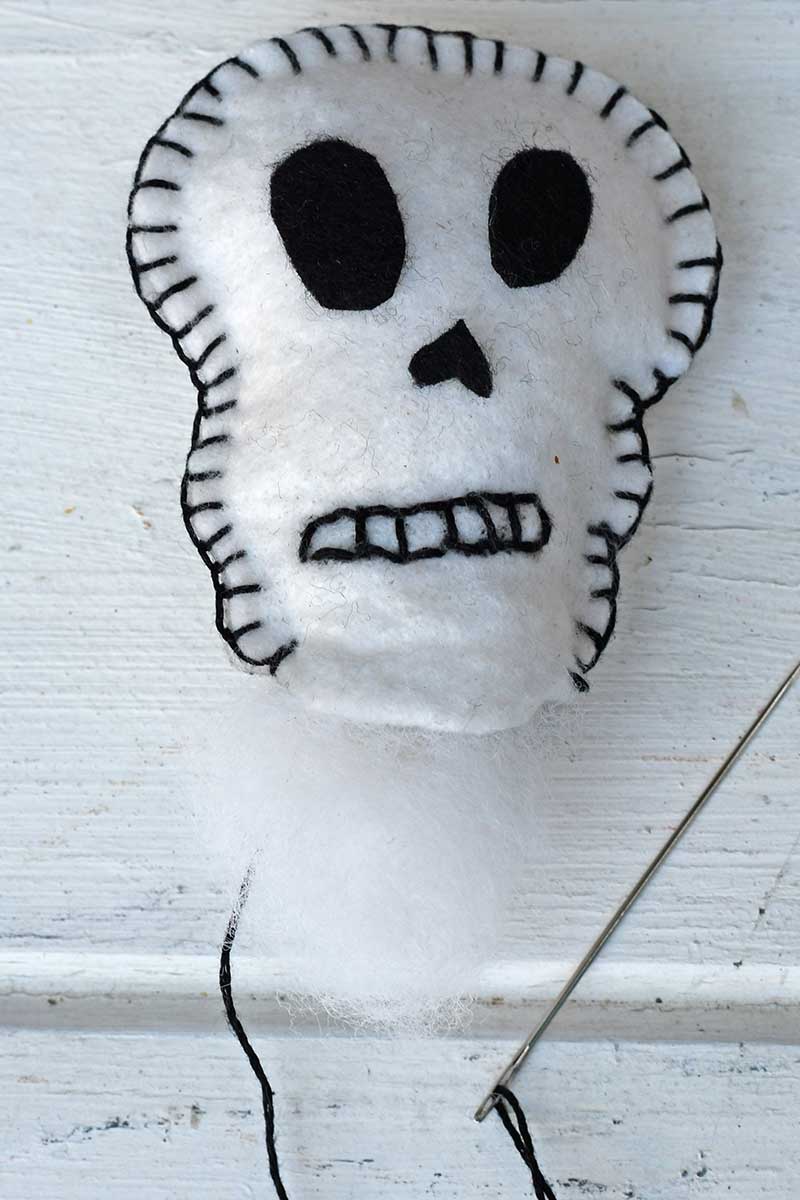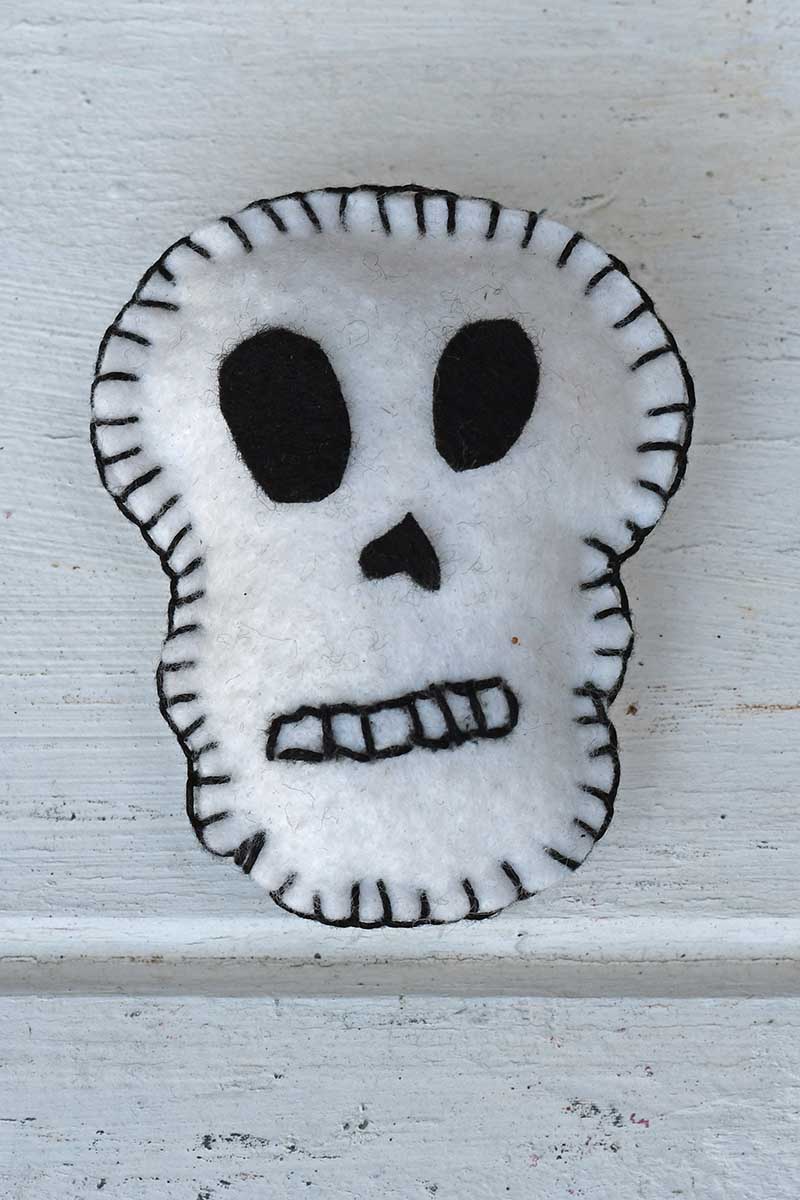 How To Display The Halloween Felt Decorations
Step 6: Repeat the steps above until you have at least 5 different embroidered felt skulls.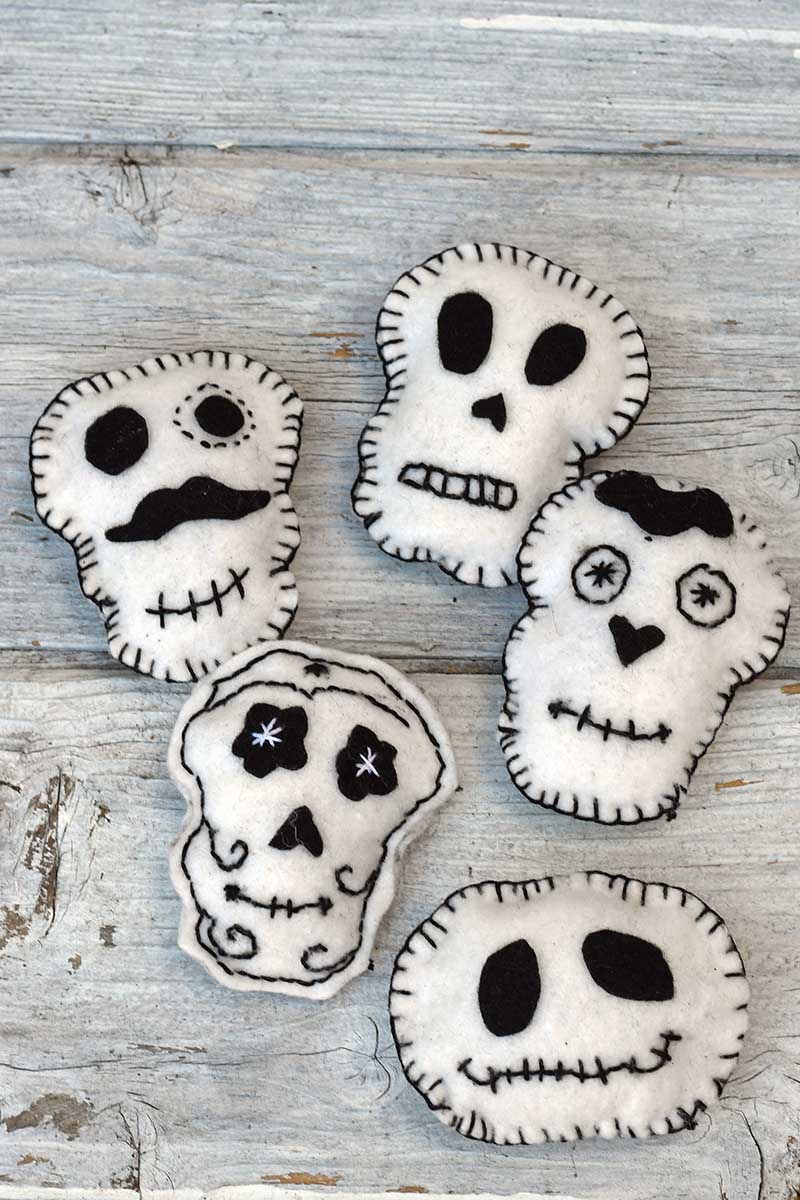 Step 7: Next, stick a length of copper craft wire through the base of each embroidered felt skull. The wire should be easy to poke through the felt. It looks best if each strand of wire is a different length.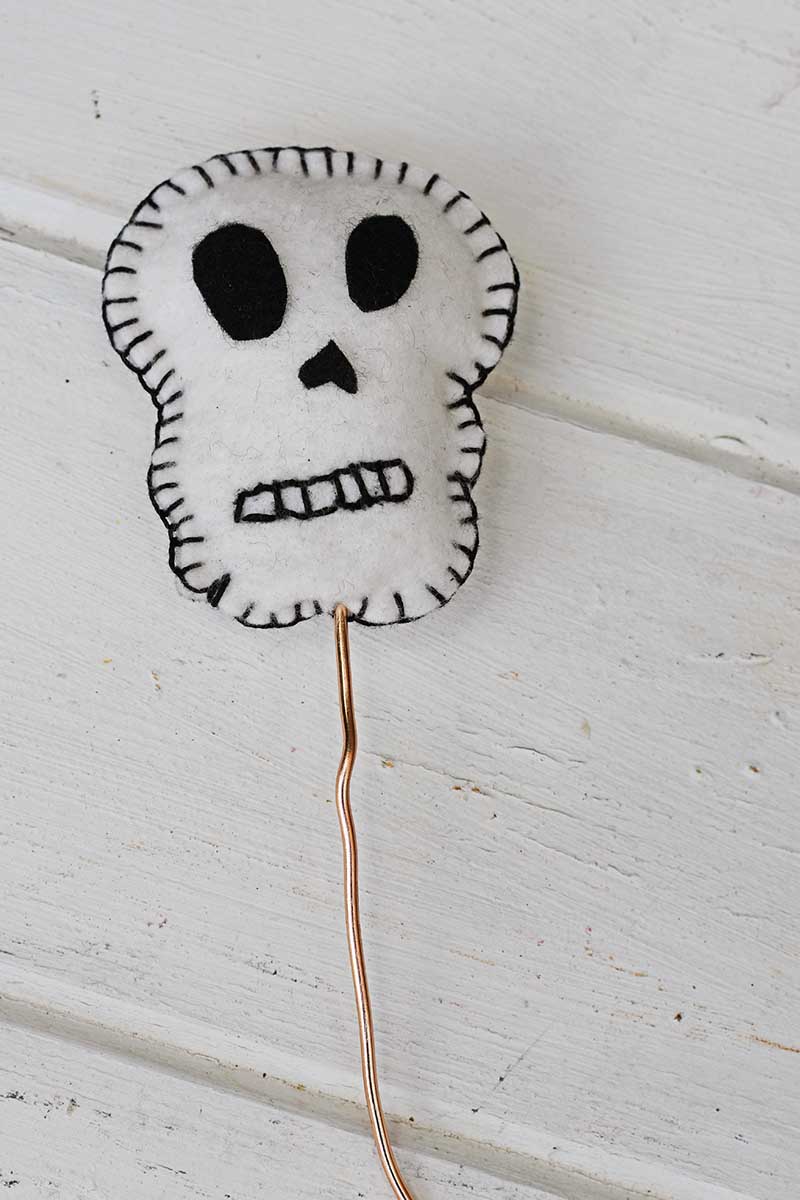 Step 8: To finish off, drill five holes into the top of the small branch stump. Then, stick the wire with the felt skulls on them into the holes. The copper wire is easy to bend. This makes it easy to arrange the Scandinavian Halloween felt decoration display.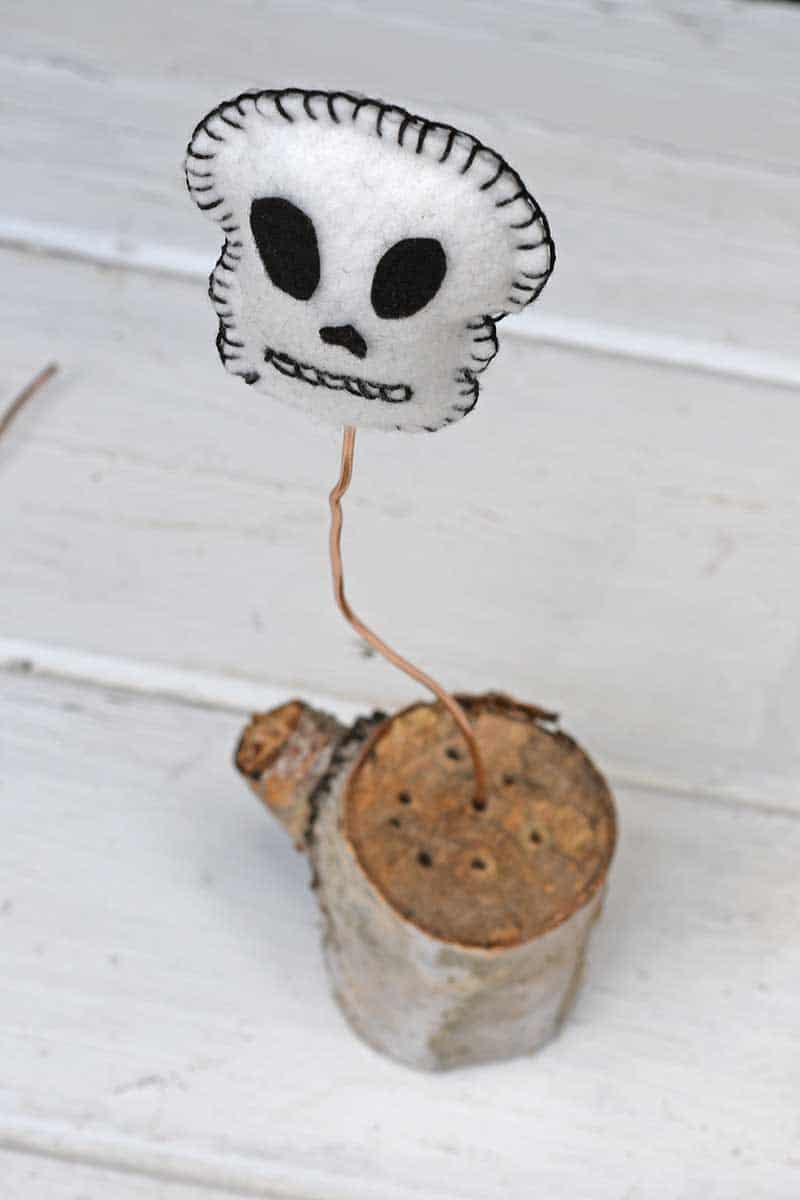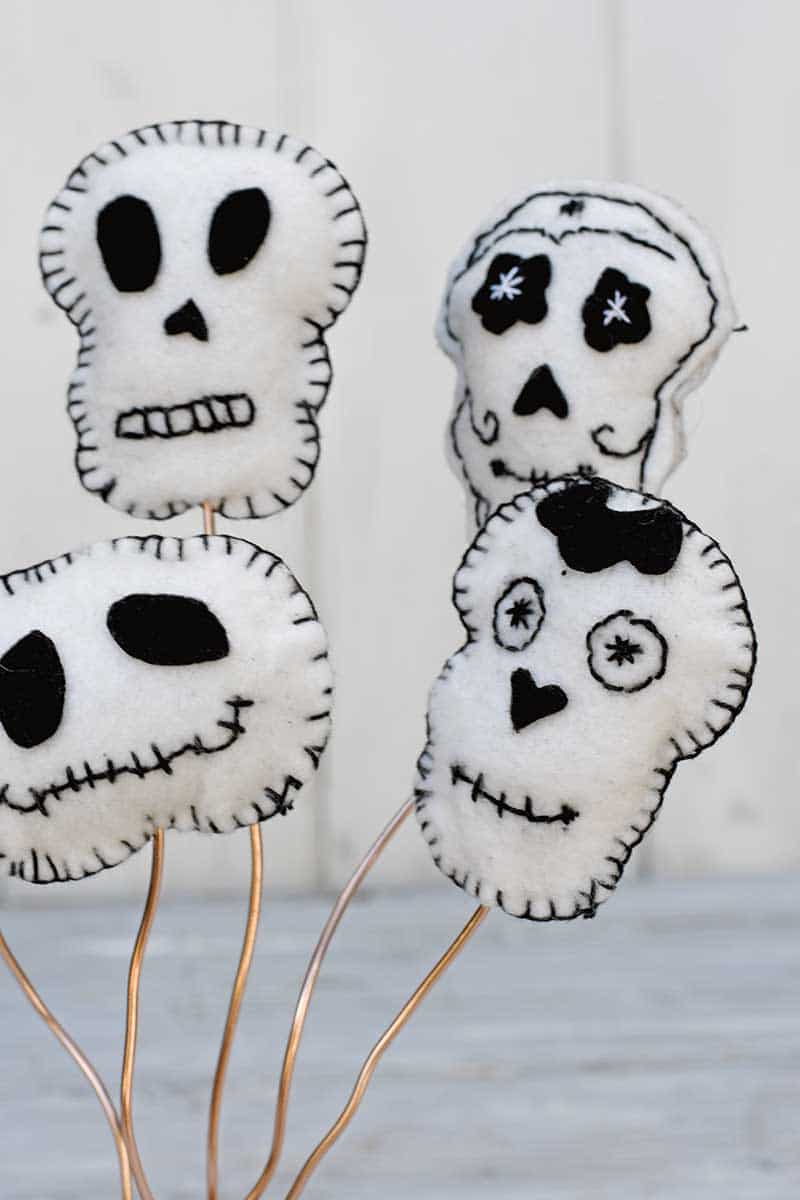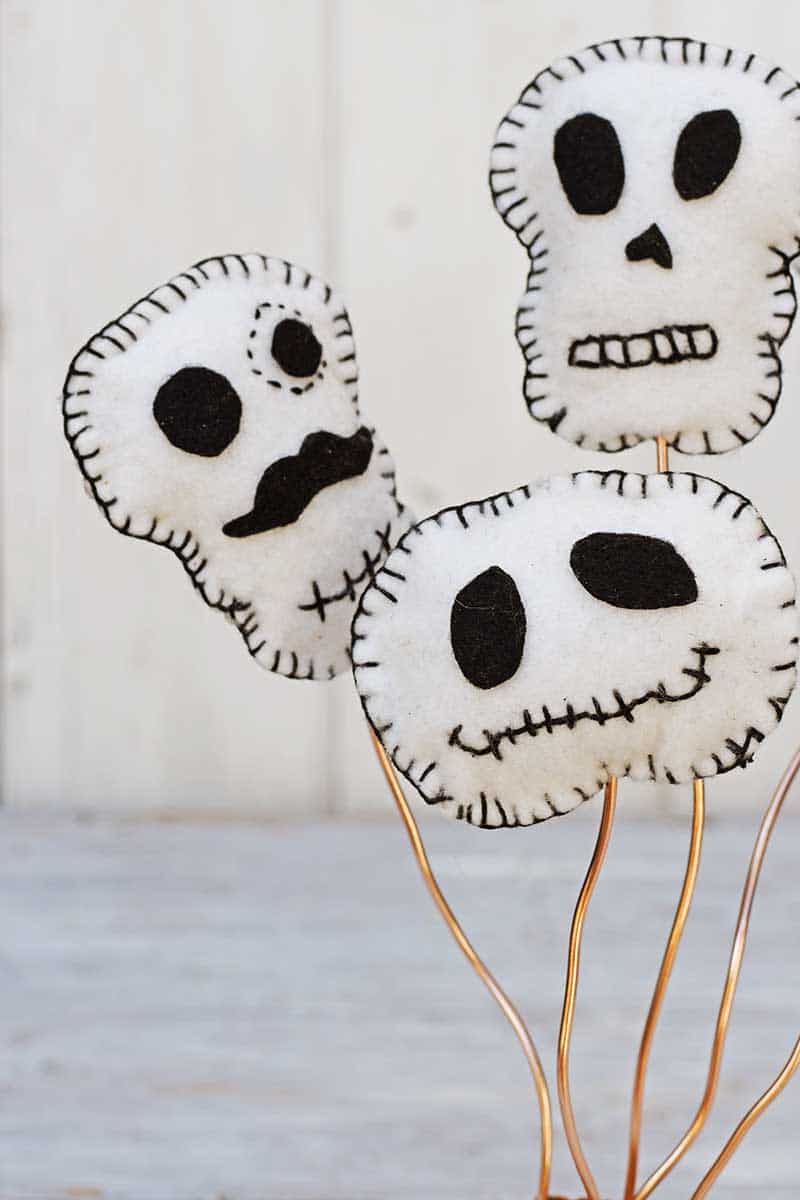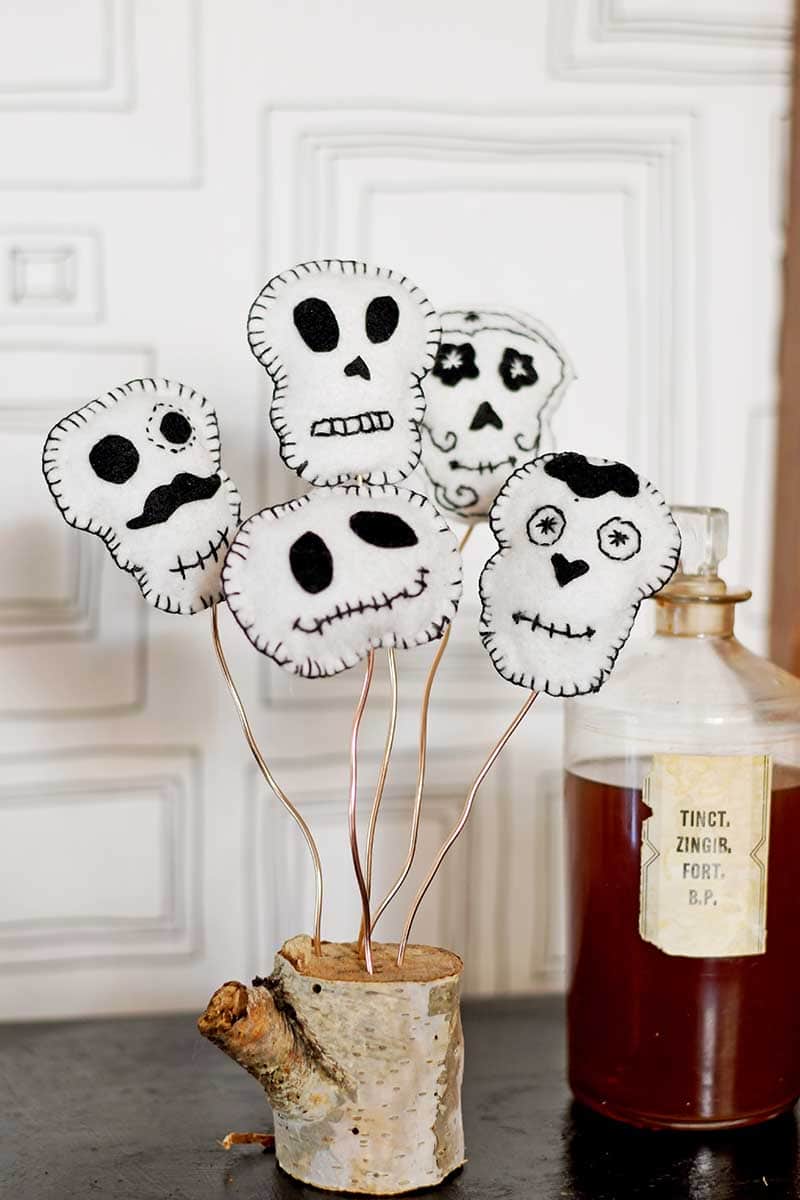 Don't forget to check out some of my other wonderful Halloween crafts, such as these cute Halloween wine corks and these illuminated Halloween bottle lights.
If you are looking for more ideas for skull-themed Halloween decorations, check out this fabulous spooky DIY skull decor. There is also a collection of printable vintage skull drawings here.
For more mantle embroidery ideas, check out these hen and duck embroideries.
Scandinavian Halloween Felt Decoration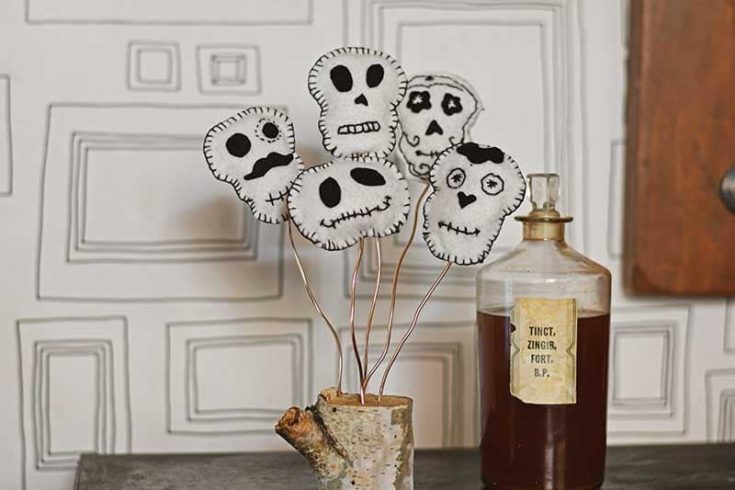 This is a craft tutorial to make a cute Scandinavian style Halloween decoration for your mantle. This consists of a unique display of handmade embroidered felt skulls.
Total Time
2 hours
20 minutes
Materials
Cream and black felt scraps
Embroidery needle and black and white embroidery thread
Copper craft wire
Small branch stump
Tools
Rotary tool drill
Scissors
Instructions
First, download the skull templates for free from the blog. There are five different embroidery skull designs.
Cut out the basic skull shape and draw around it on the cream felt.
Next, cut out the skulls from the felt, you will need 2 for each Halloween felt decoration.
Then, cut out the eyes and noses in black felt for each skull face. Stick these to the faces.
Next, draw on the finer features to be embroidered with a pen, such as the mouths.
Split the black embroidery thread into three thread strands thickness. Thread the embroidery needle and embroider the finer features on the skull faces.
Next, stitch a back to the skull face, using a blanket stitch around the outside. Leave a small hole for stuffing the felt skulls and then close with blanket stitches.
Carry on until you have five Halloween felt skull decorations in total.
Stick each skull onto a length of copper craft wire.
Drill five small holes into the top of the branch stump. Then stick a skull on a wire into each hole.