Why not a Frida Kahlo Christmas Ornament? I made an upcycled Frida Kahlo pillow earlier in the year now I have a handmade Christmas decoration to match.
Christmas is all about traditions and everyone has their own traditions. A lot of my traditions around Christmas are to do with making and crafting. Every year I make my boys a unique Christmas advent calendar.
Also every Christmas I make a large upcycled Christmas tree to hang the decorations from. I even make small repurposed Christmas trees, for my mantle.
A Wood Slice & Felt Frida Kahlo Ornament
With this Frida Kahlo Christmas Ornament, I'm going to start a new Christmas crafting tradition.
No, I'm not going to make a new Frida Kahlo Christmas ornament every year! But this decoration was made with a wood slice, and I'm going to try and make a new wood slice Christmas ornament every year. I started this last year with my Christmas pudding wood slice ornament.
Decorating the Christmas tree is a trip down memory lane. I have a large collection of Christmas ornaments that I have made with the kids.
I love saying hello to them every December and remembering when and why they were made. When I hang this Frida Kahlo ornament on the tree, it will remind me of the fabulous day I had at the Frida Kahlo exhibition, at V&A Museum in London.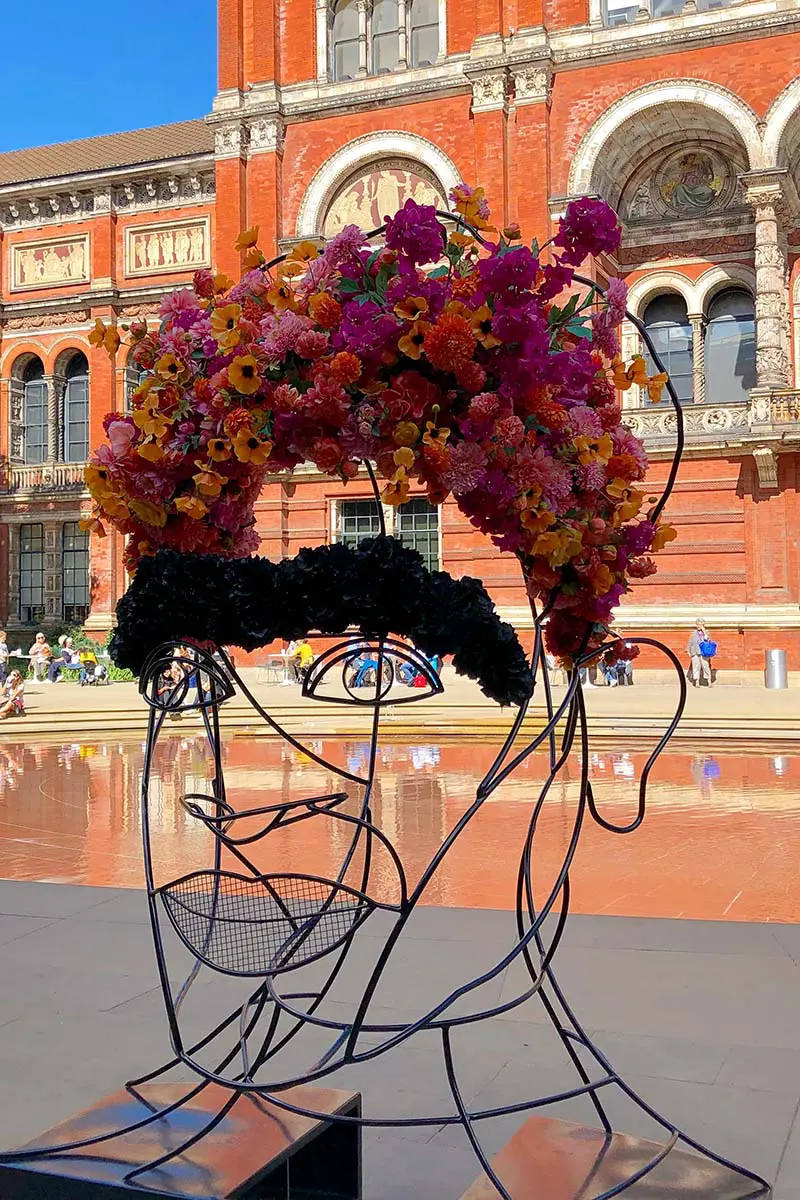 This post contains Amazon affiliate links for your convenience. Click here to see my disclosure policy.
What you need
Wood slice – I used one approximately 7cm in diameter.
Felt scraps in various pinks and reds with a little bit of green and some black. You only need the tiniest amount of felt. I have a big bag of sweater felt scraps from other projects. You can use craft felt.
Craft glue, pins, and a fine black pen
White paint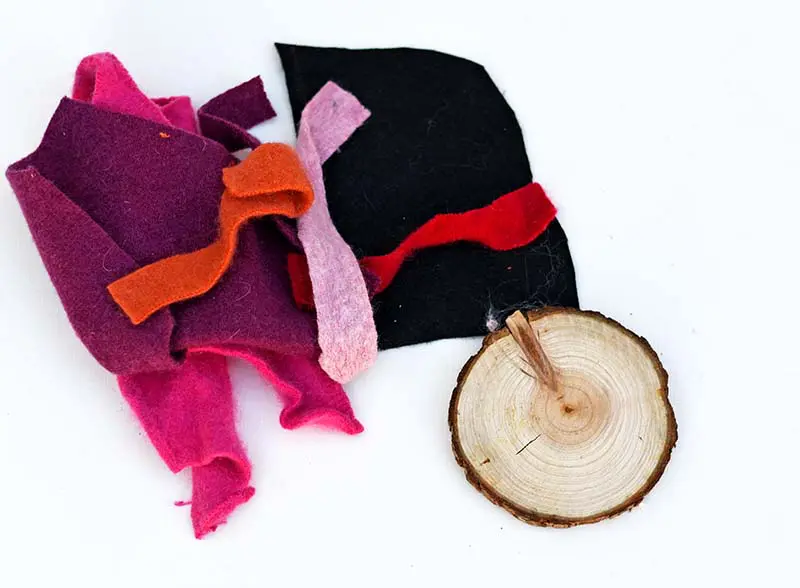 How to make a Frida Kahlo Christmas Ornament
First, white wash the front surface of the wood slice. Do this by painting it with diluted white paint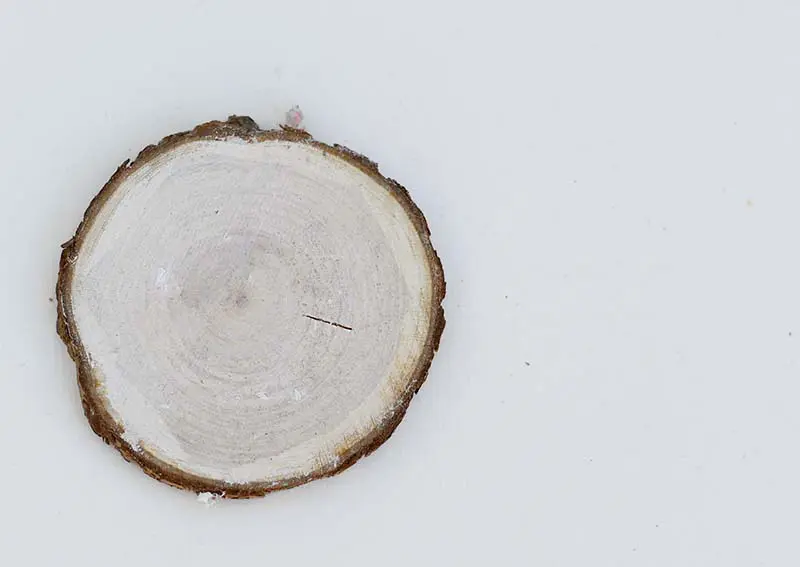 2. Next, place the wood slice on a piece of paper and draw around it with a black pen.
On the drawing with the pen mark out Frida's hairline and cut out this piece of paper. Then, use the hairline template to cut out a black felt hairpiece.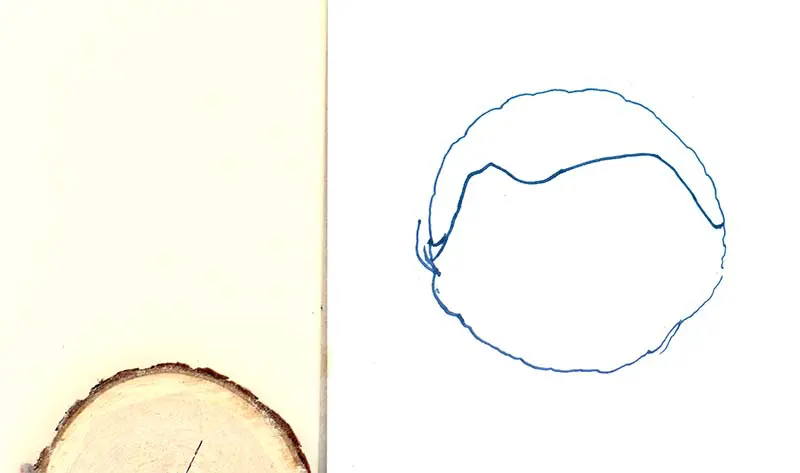 3. Then, glue the felt hair piece to the whitewashed side of the wood slice. Cut out a monobrow in black felt and also stick this to the wood slice.
Next, cut out some lips with red felt and stick them onto the wood slice face.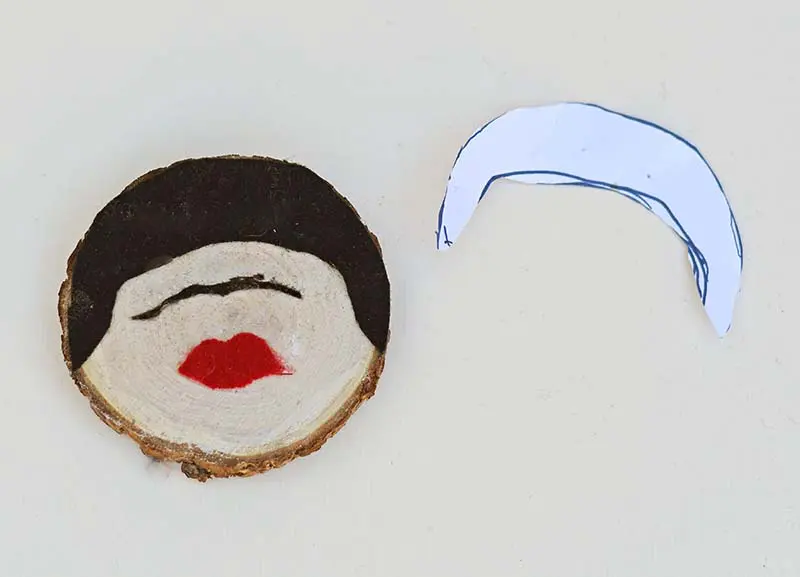 4. Next, to make the felt flowers, cut out a strip of coloured felt about 5cm long and 6-8mm wide. Make one edge of the felt strip wavy. If you have craft scissors such as pinking shears that can do this, then use them. Otherwise, do it manually with normal scissors.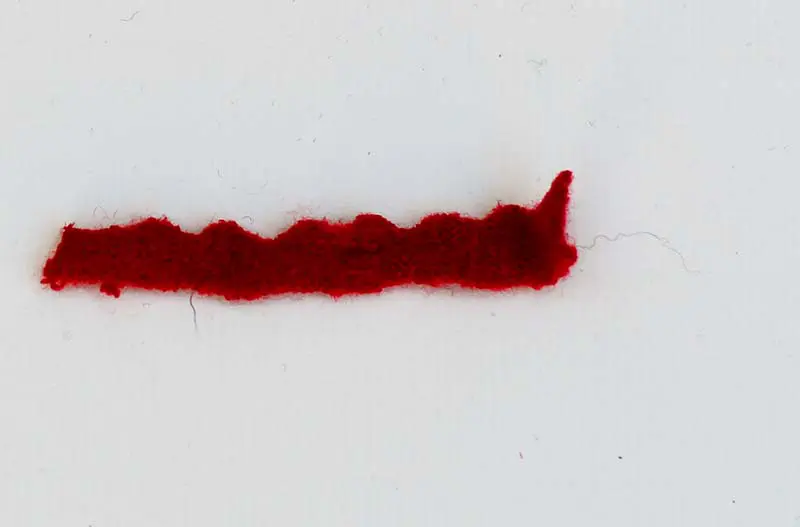 5. Next, paste one side of the felt strip with glue and then roll it up tightly. Stick a pin into the felt to hold it in place whilst the glue dries.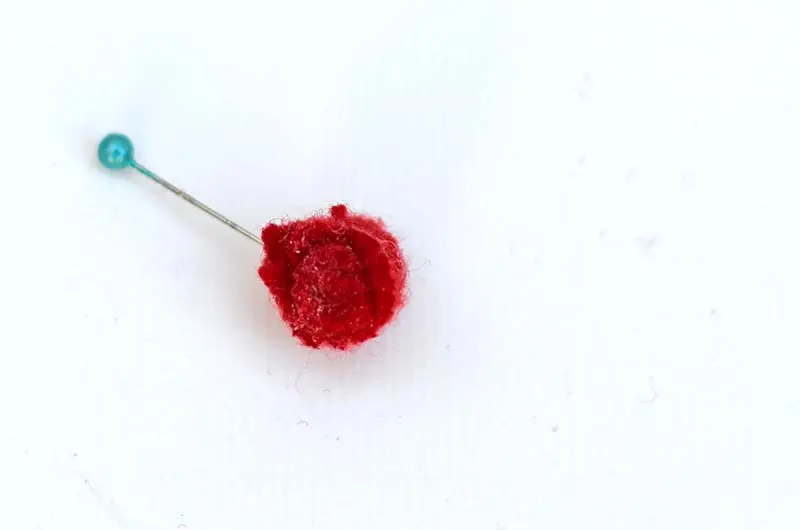 6. Repeat the last two steps and make tiny felt roses in different colours. Use the green felt to cut out some small leaf shapes.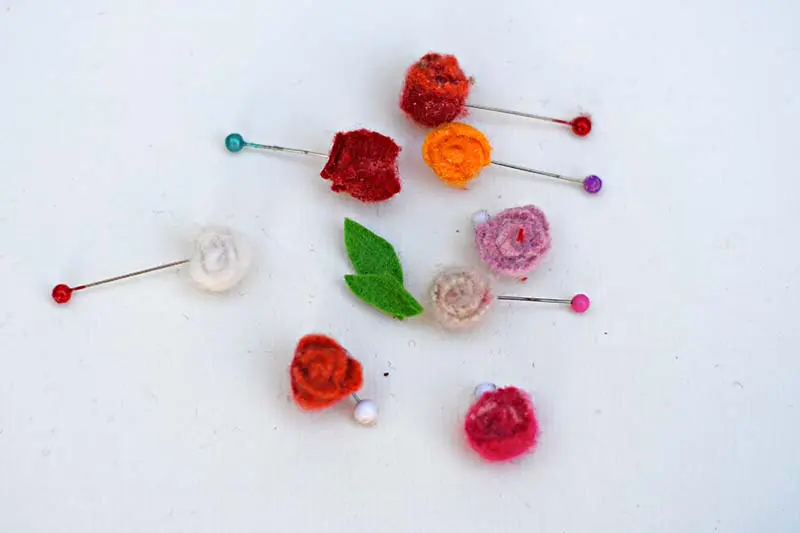 7. Finally, to finish off the Frida Kahlo Christmas Ornament, glue the tiny felt flowers to the black felt hairpiece. Then using the black pen draw some eyes onto the wood slice.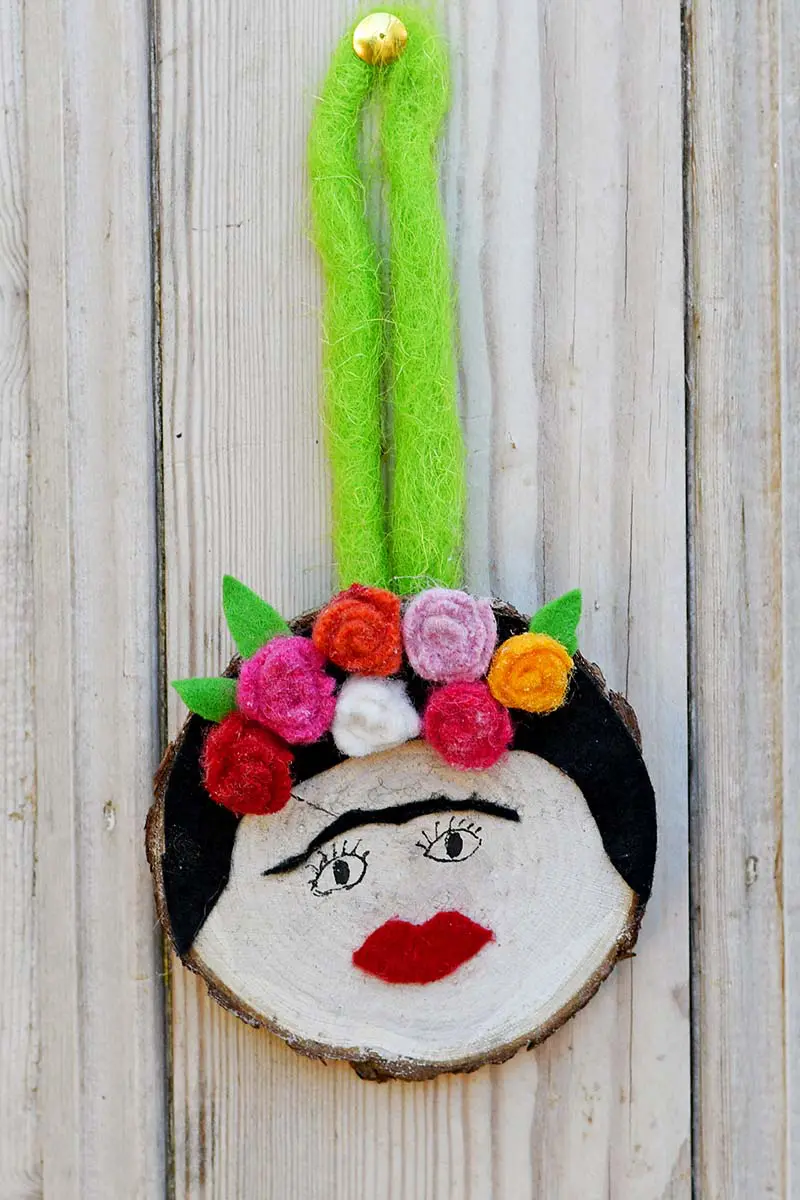 I've also used these felt flowers from scraps to make a heart-shaped felt brooch for Valentine's.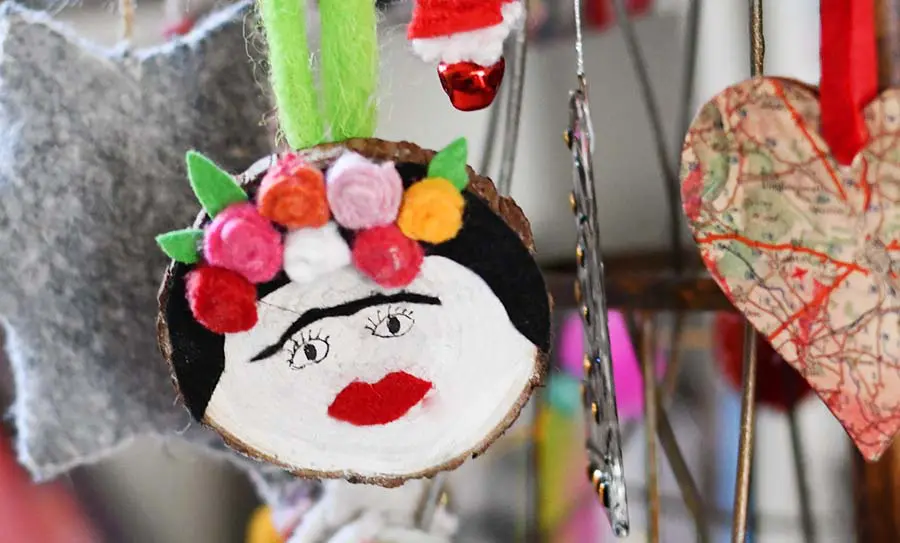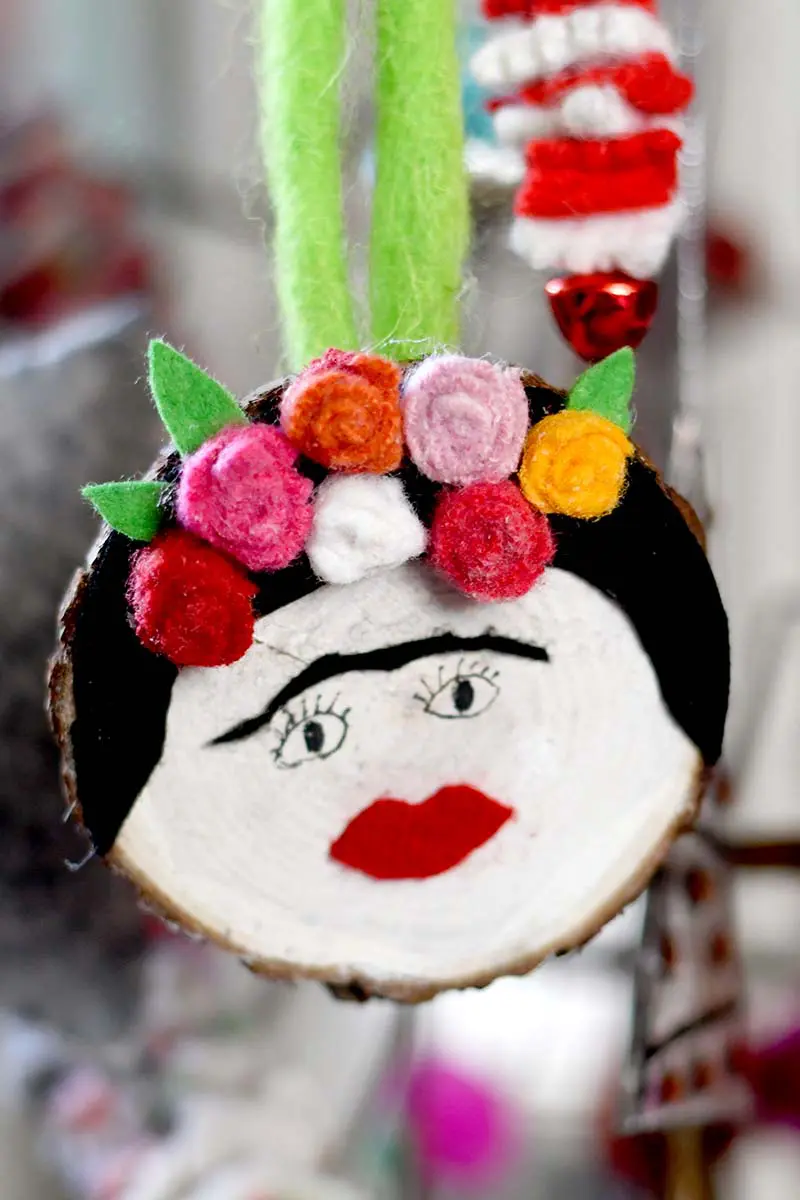 Check out these other Frida Kahlo crafts and these cool adult Christmas crafts and these ones I made with felt scraps.
Valentine's felt embroidered heart decorations
Norwegian Christmas Gnomes
Sweater felt upcycled Christmas ornaments
Upcycled Felt garlands
Sweater Felt Tassels
For more handmade Christmas ornament ideas visit favecrafter.com