Inspired by Frida Kahlo's iconic colourful self-portraits, especially the ones with the flowers in her hair. I created this fabulous floral Felt Frida Kahlo cushion.

I love to make faux flowers. Whether it's out of paper like with the gorgeous pineapple paper flower wall decoration or my upcycled fabric flowers or even beautiful map roses.
As these flowers were going to be for a cushion/pillow I decided to use felted wool to make them. So they would be nice and soft.
The Frida Kahlo cushion was made from mainly repurposed materials. I used an old cream woollen camp blanket as my cushion/pillow cover. You can however just use any old plain cream cushion cover. The flowers were made from my stash of sweater felt scraps from my previous repurposed old wool sweater crafts. I did use a small bit of craft felt as well.
You should also check out this fabulous Frida Kahlo ornament I made. This time with much smaller felt flowers. There are many more Frida Kahlo crafts here.
We're a participant in the Amazon Services LLC Associates Program, an affiliate advertising program designed to provide a means for us to earn fees by linking to Amazon.com and affiliated sites. As an Amazon Associate, I earn from qualifying purchases.
How To Make A Felt Floral Frida Kahlo Cushion (Pillow)
What you need to Make a Frida Kahlo Cushion
Old wool blanket to make a cushion/pillow cover – Or you can just use an exsisting plain pillow cover approx 50cm X 50cm , felt or linen.
Sweater felt or craft felt in various colours. You will need black for the hair and eyebrows and red for the lips. Green for the leaves and then other colours for the flowers you would like to make.

I used mainly scraps of felted sweater wool left over from other crafts. I did, however, supplement this with some black craft felt for the hairpiece as there was no black in my stash.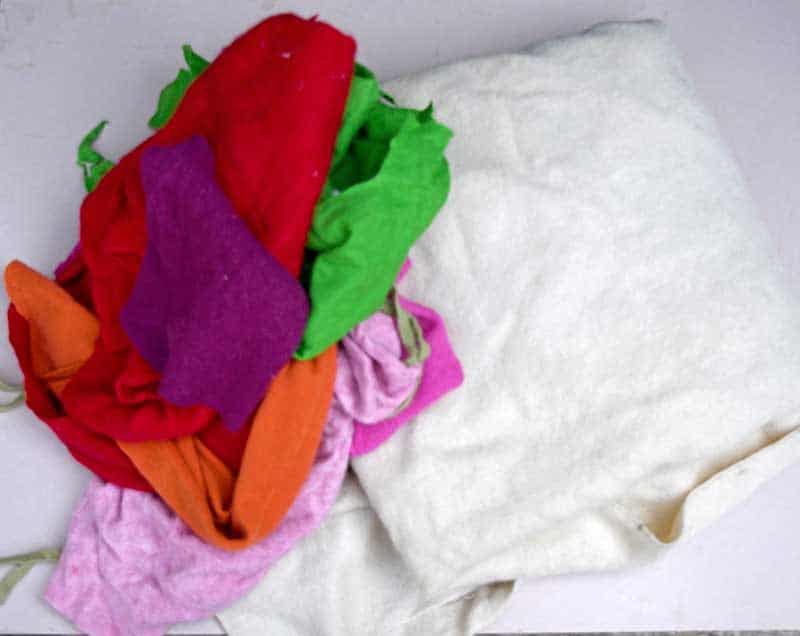 How to make a felt flower Frida Cushion
Step 1: First, print off the template for the Frida Kahlo, hair, monobrow and lips. Using the template cut out the hair and eyebrows in black felt. Cut the lips out in red felt.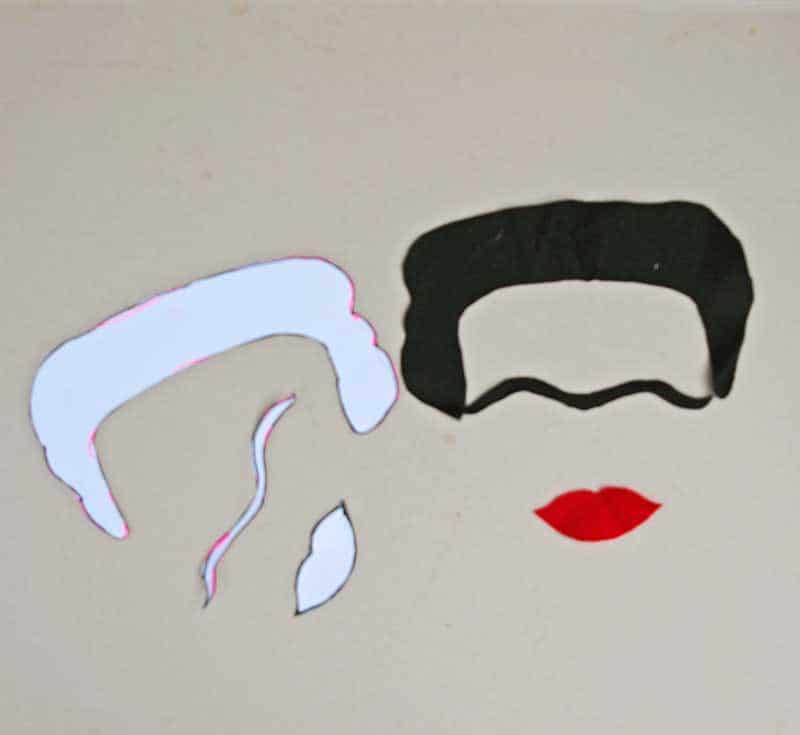 Step 2: Next, cut the wool blanket into 2 x 50cm squares. (If using an existing cushion cover you can miss this bit). Then attach the Frida Kahlo felt template pieces to one of the blanket squares (or cushion cover).
You can either use fabric glue to stick the felt pieces to the fabric or hand sew them. It's up to you!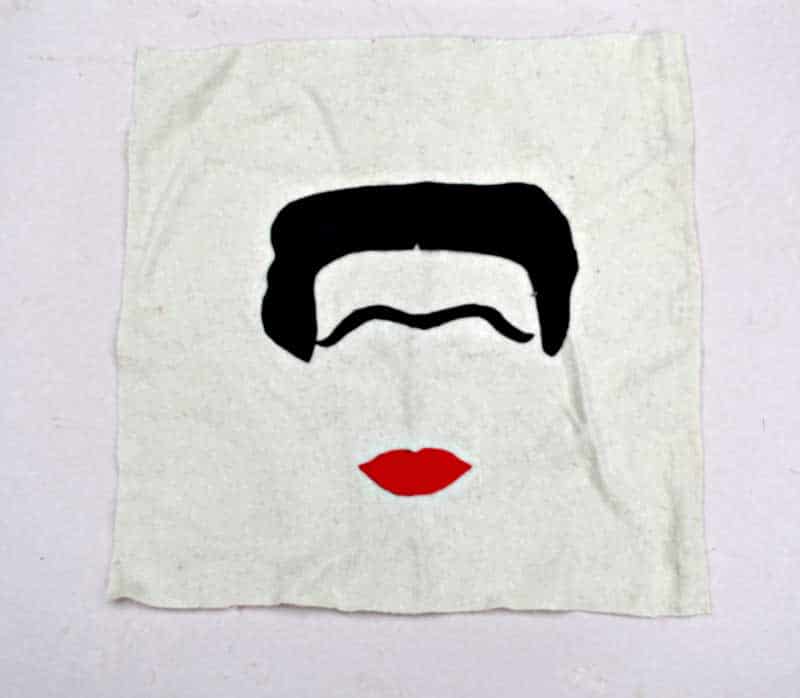 Making the Frida Kahlo Felt Flowers
Step 3: This is the fun part, making the felt flowers for the Frida Kahlo headpiece. Make several flowers, such as a white daisy, a yellow carnation and several different coloured roses.
Step 4: The pink, purple and beige flowers were made using the same method I used for my upcycled denim wreath with felt roses. However, the main difference was that this time the petals were sewn together rather than glued. I thought the thread would be stronger than glue. Also, I did not add a stem.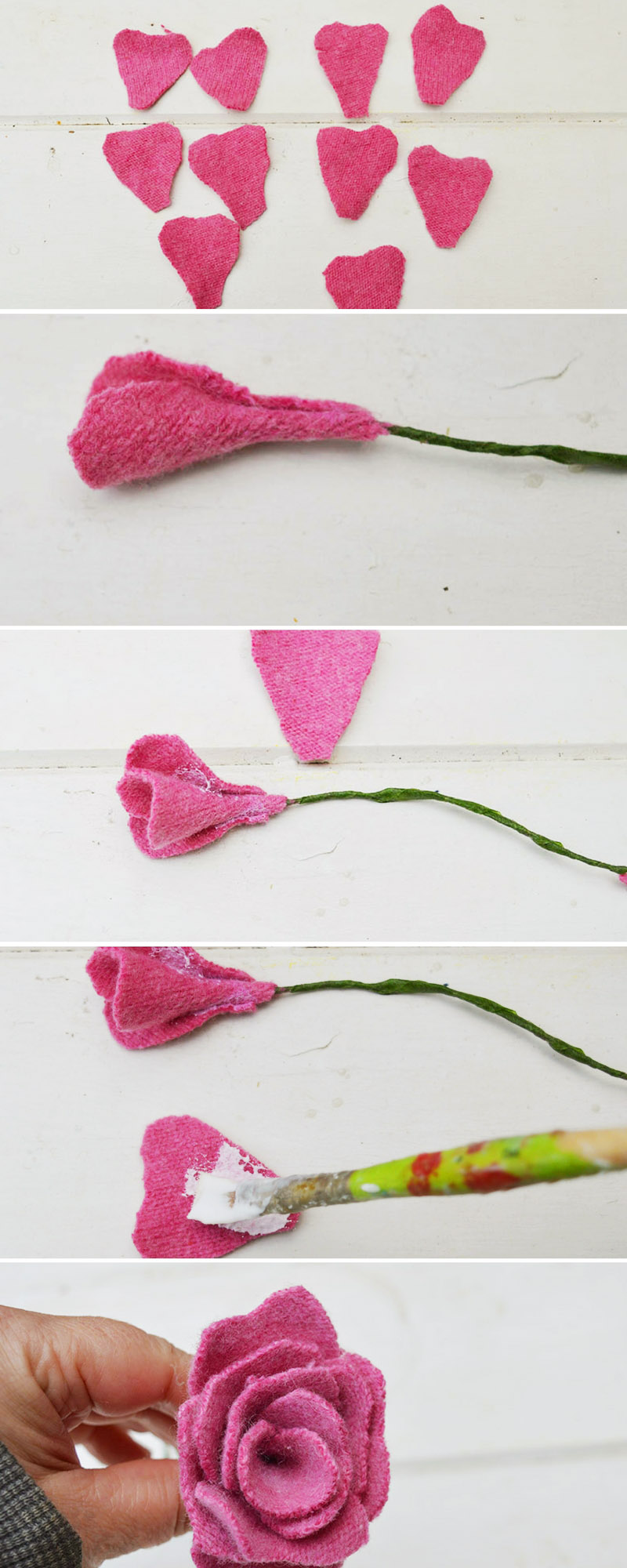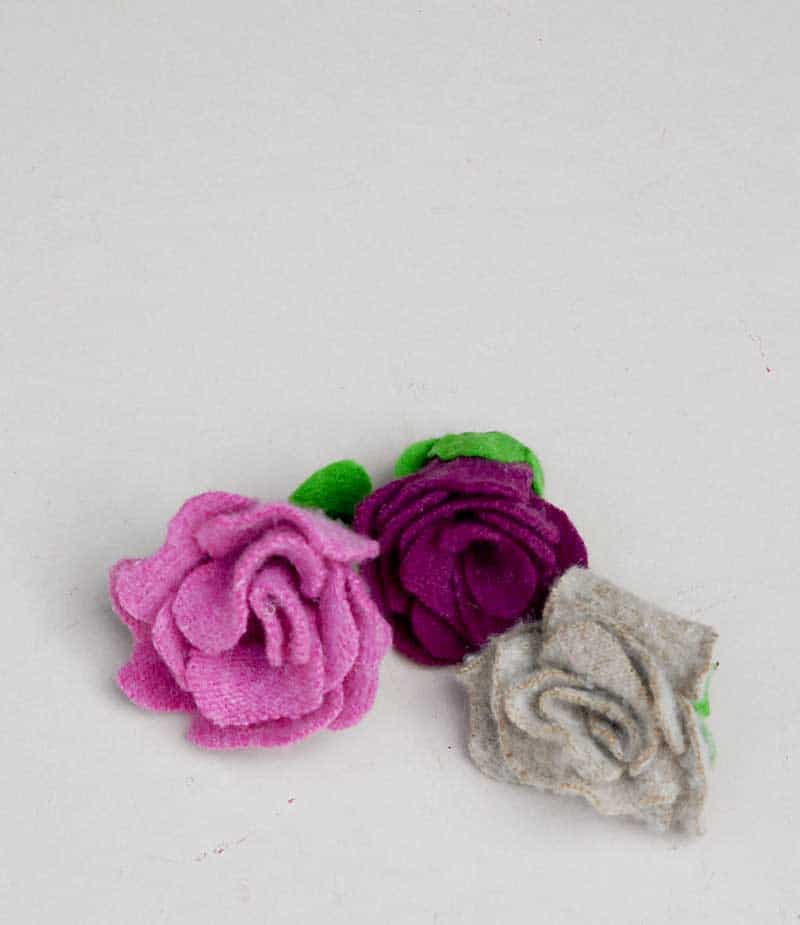 Step 5: The yellow carnation was made the same way as I made this purple succulent for the repurposed felt succulent garden. The only difference being the colour.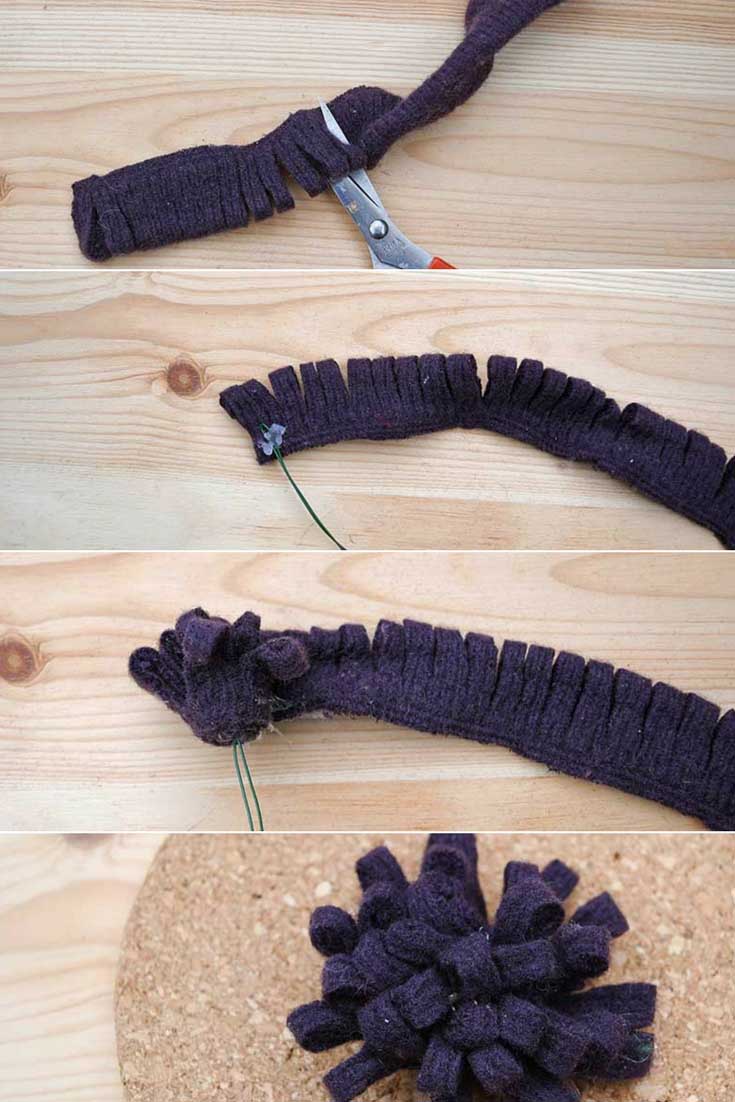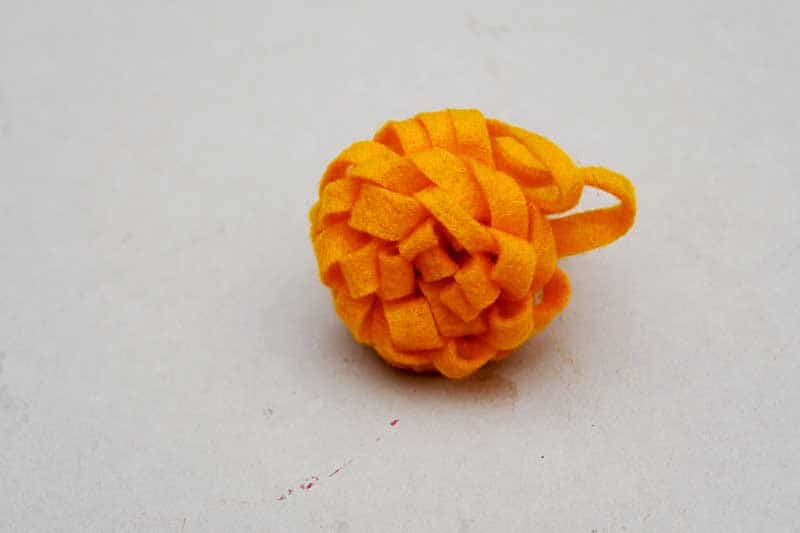 Step 6: For the rolled red rose, I simply cut a square of red felt into a spiral. This was then rolled and stitched into shape just like this simple tutorial here.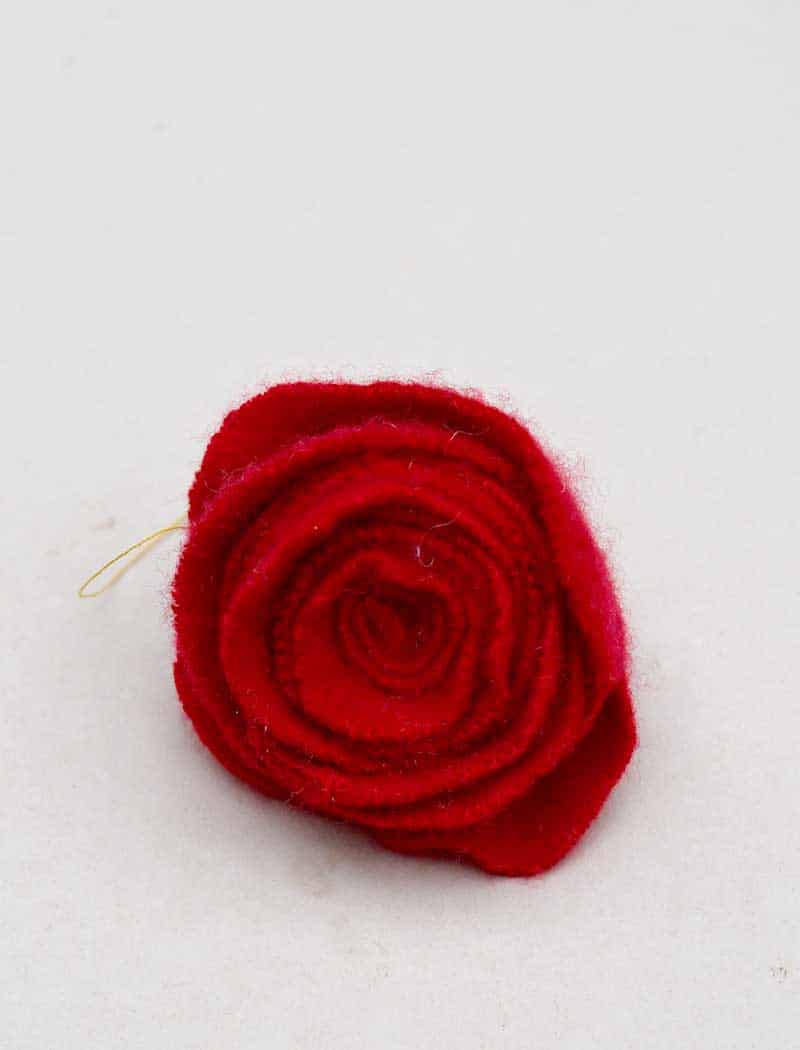 Step 7: The final flower I made for the Frida Kahlo cushion headpiece was a big white daisy. I simply rolled a small piece of yellow sweater felt into a centrepiece and then stitched white petals to it to form a large daisy.
It was made in a similar way to this crepe paper daisy, but with felt instead.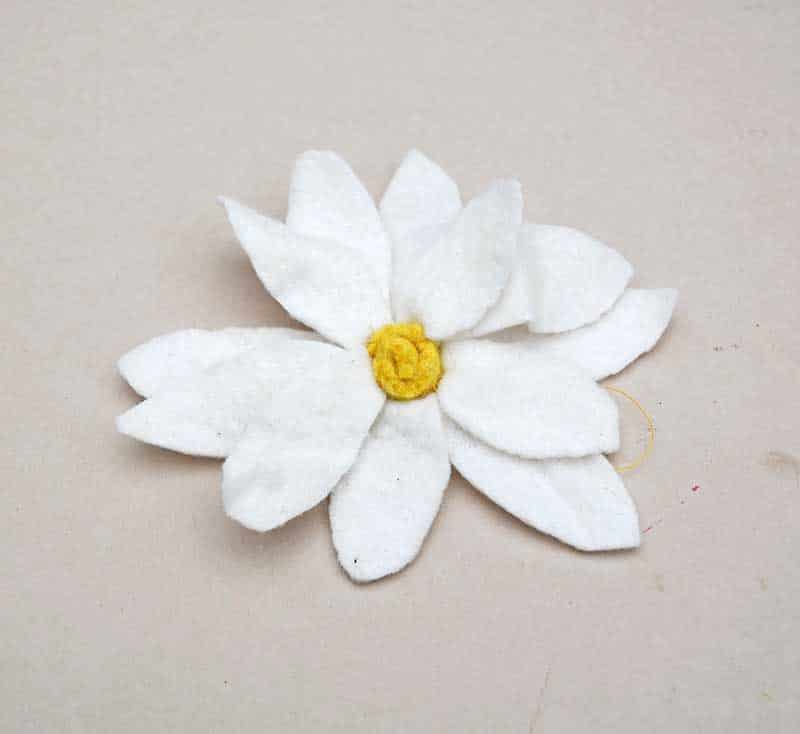 Step 9: Finally, to complete the foliage for the Frida Kahlo floral headpiece I cut out some simple felt green leaf shapes.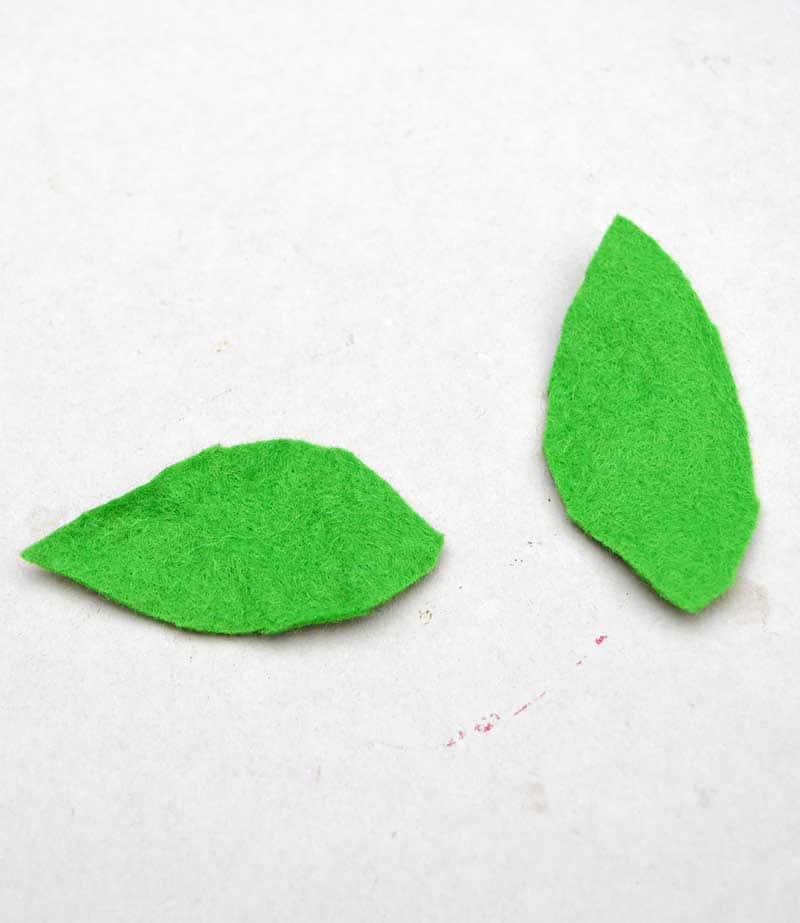 Assembling the Frida Kahlo Floral Pillow
Step 10: Once all the felt flowers and leaves were made, I pinned them to the top of the black felt hair on the cushion. When I was happy with the layout I then stitched these flowers to the pillow cover.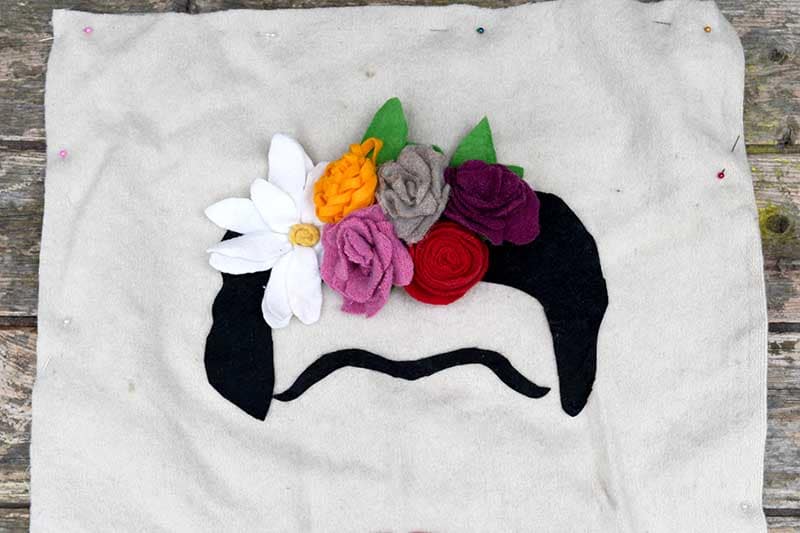 Step 11: Finally, the back of the cushion cover was pinned to the front and the sides stitched together using a blanket stitch. (If you aren't sure about blanket stitch there is a tutorial on this Christmas felt letters tutorial). I used a lovely bright green embroidery thread that matched the colour of the leaves in the headdress to stitch the cushion together.

Don't forget to put the cushion pad inside the cover before stitching the pillow shut. If you want a removable cushion cover you can always make an envelope back (like I did with this supersized cross stitch cushion) to the cushion or add a zip.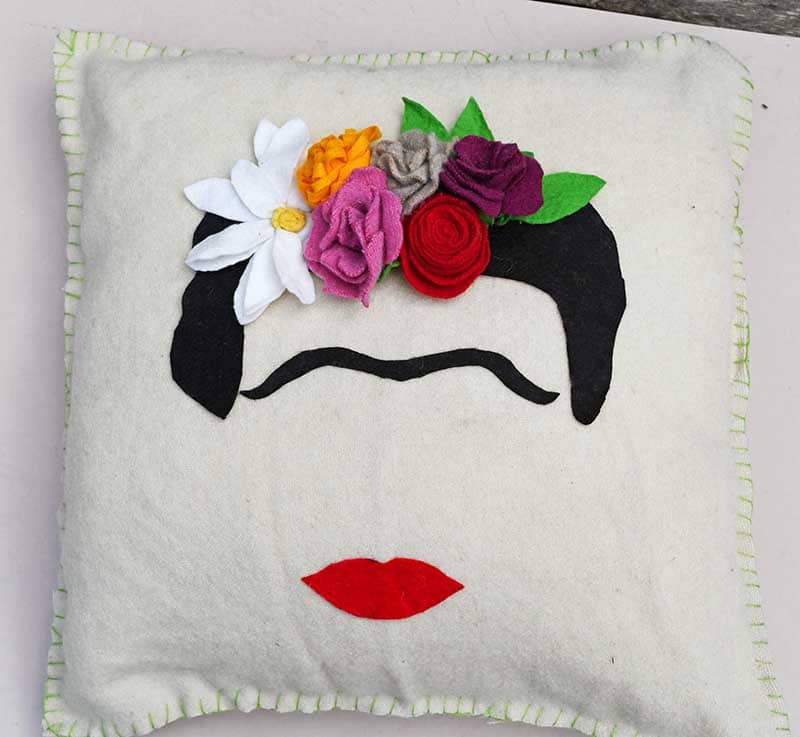 Step 12: To finish off the colourful felt flower pillow, I added some of my handmade denim tassels. I stitched one to each corner of the cushion.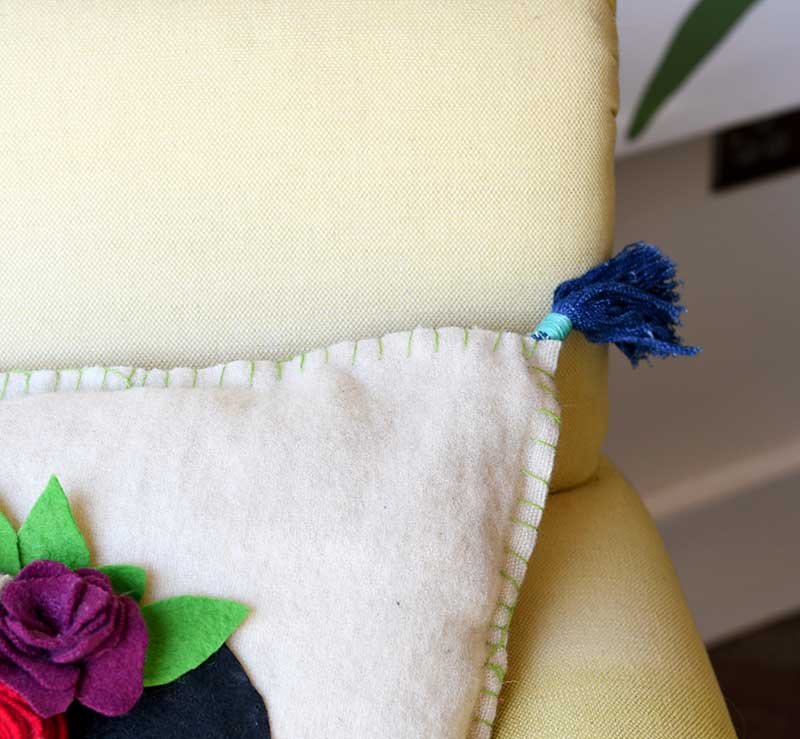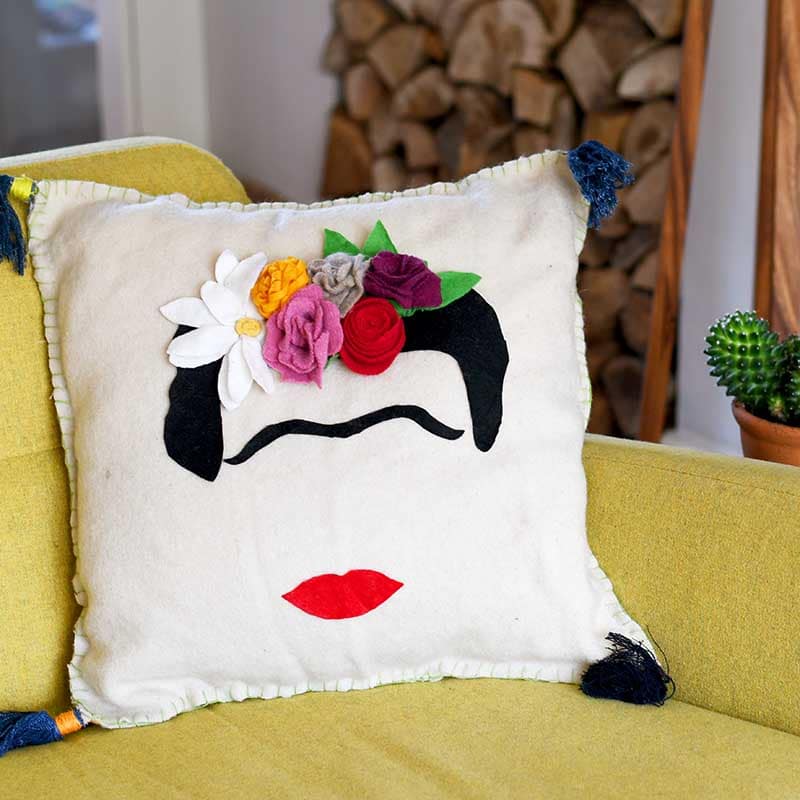 Instead of using the DIY felt flowers, you could make some Pom Pom flowers to decorate the headdress on the Frida Kahlo cushion. Or you could use the pom poms instead of the tassels for the corners.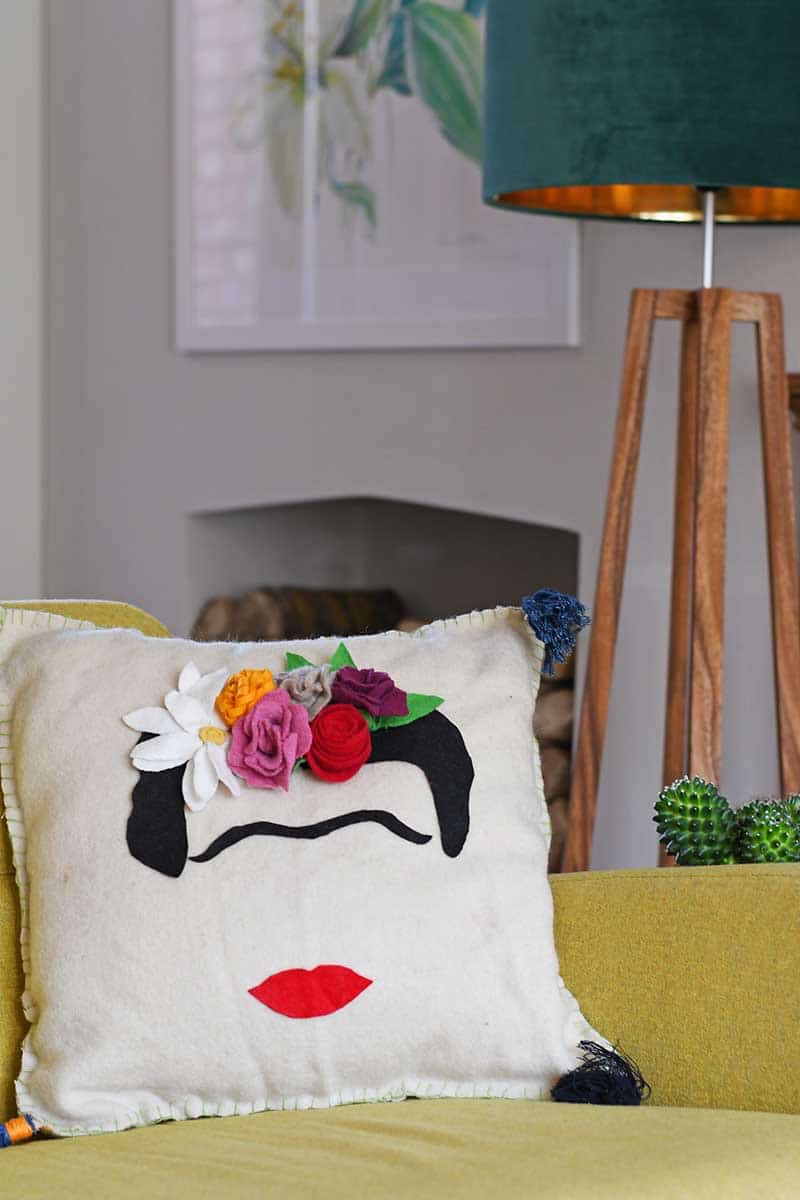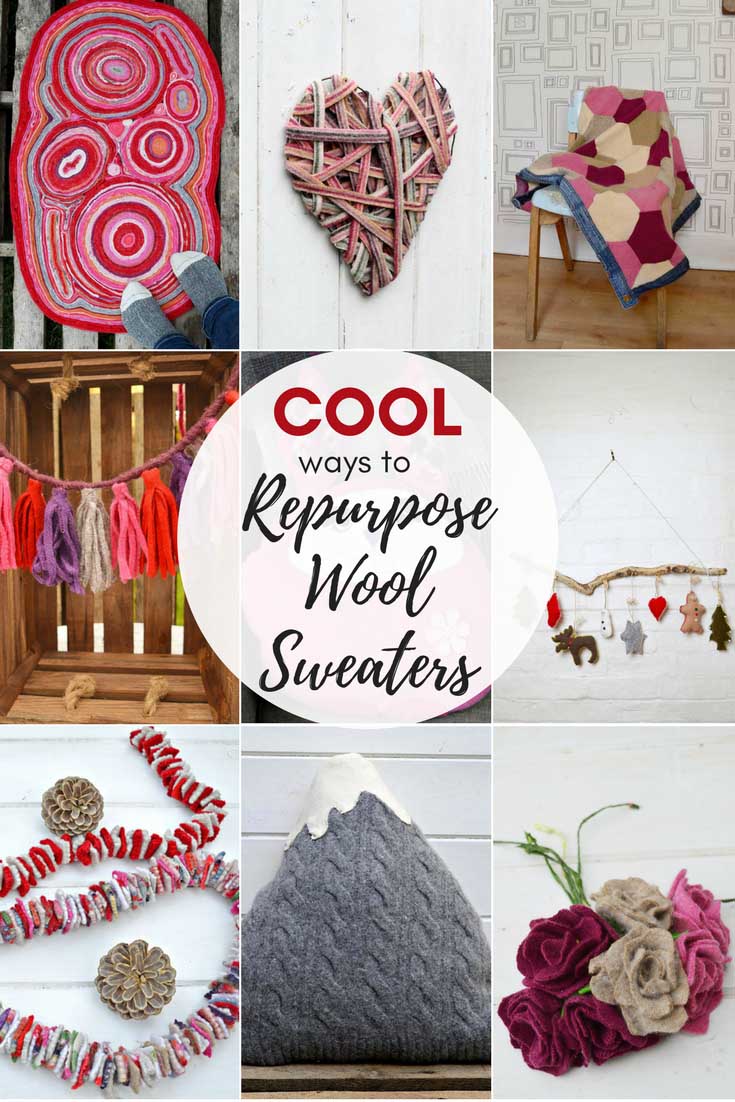 If like me you love to decorate your home with flowers, then you might like this pineapple paper flower wall decoration. This cushion will look pretty good next to this DIY felt tropical lampshade.
Don't forget to check out my other recycled sweater felt crafts.


For more fabulous free sewing patterns for the home visit allfreesewing.com.