I love to craft and make things with the stuff around me, which includes the natural environment. I have compiled this list of the best Christmas Nature crafts.
I've already showcased a fabulous collection of upcycled ornaments, many of which are made from what others would call trash. This time I have turned to the environment for handmade Christmas decoration ideas.
Where to find the natural materials for Christmas crafting
The forest floor has plenty of beautiful things to forage for here.
Local parks are also suitable for pine cones and twigs.
Your garden – Here, you can chop down larger branches and make wood slices. In the forest and parks, you are limited to foraging off the floor; in your garden, you can cut branches and pick foliage.
Beaches – beachcombing is excellent for finding shells and driftwood.
Riverbanks – again, great for driftwood and rocks.
Local craft store – Good choice if you live in a very urban area and can't forage in the wild for your Christmas nature crafts. Many stores sell natural items such as pine cones, acorns, seed heads and sea glass. Stores are great for harder-to-find natural materials.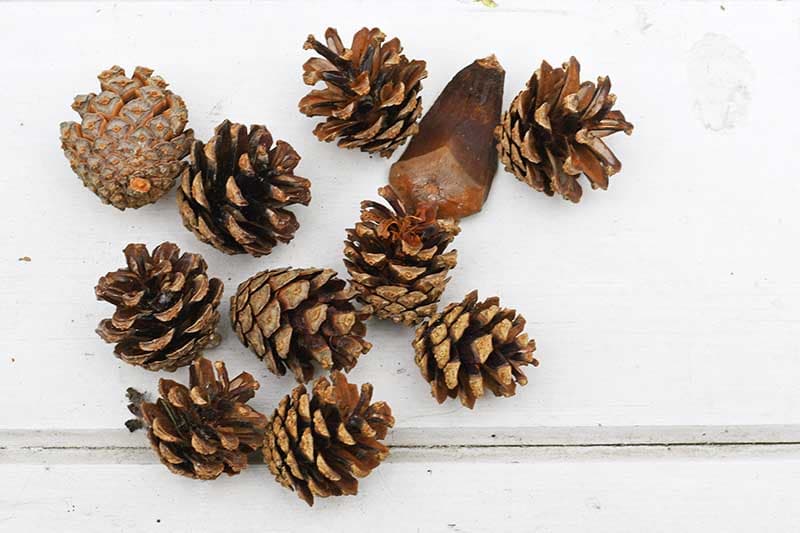 What Natural Materials You Can Craft With
There are many things in nature that you can use for your Christmas crafting for free. Just be mindful of the natural environment and don't overstep the mark when foraging for your craft. Pick up what nature offers for free without harming the environment.
Pine cones – These must be some of the most popular natural items to craft with for Christmas and fall. Pine cones come in many different shapes and sizes. They can be left au natural or bleached and painted.
Acorns – Use either the whole nut or just the caps. Like pine cones, they can be painted too.
Walnuts and other big nuts and dried seed heads – are great for wreaths and garlands to add something extra.
Cotton balls already look like snowballs, so they are great for Christmas crafts.
Natural foliage – pine needles, holly leaves, ivy etc. Great to use for Christmas wreaths and garlands.
Citrus fruit – Can be dried whole or in slices. Not only do they add colour to wreaths, but they have a lovely aroma too.
Twigs, small branches and bark.
Wood slices – cut your own from branches or buy them from a craft store. I know someone who chops up their Christmas tree at the end of the season into wood slices for crafting.
Pebbles and rocks – great for painting
Sea glass can look so pretty and come in lots of lovely colours.
Seashells, dead starfish and sea urchin shells
Driftwood
Avocado pits/stones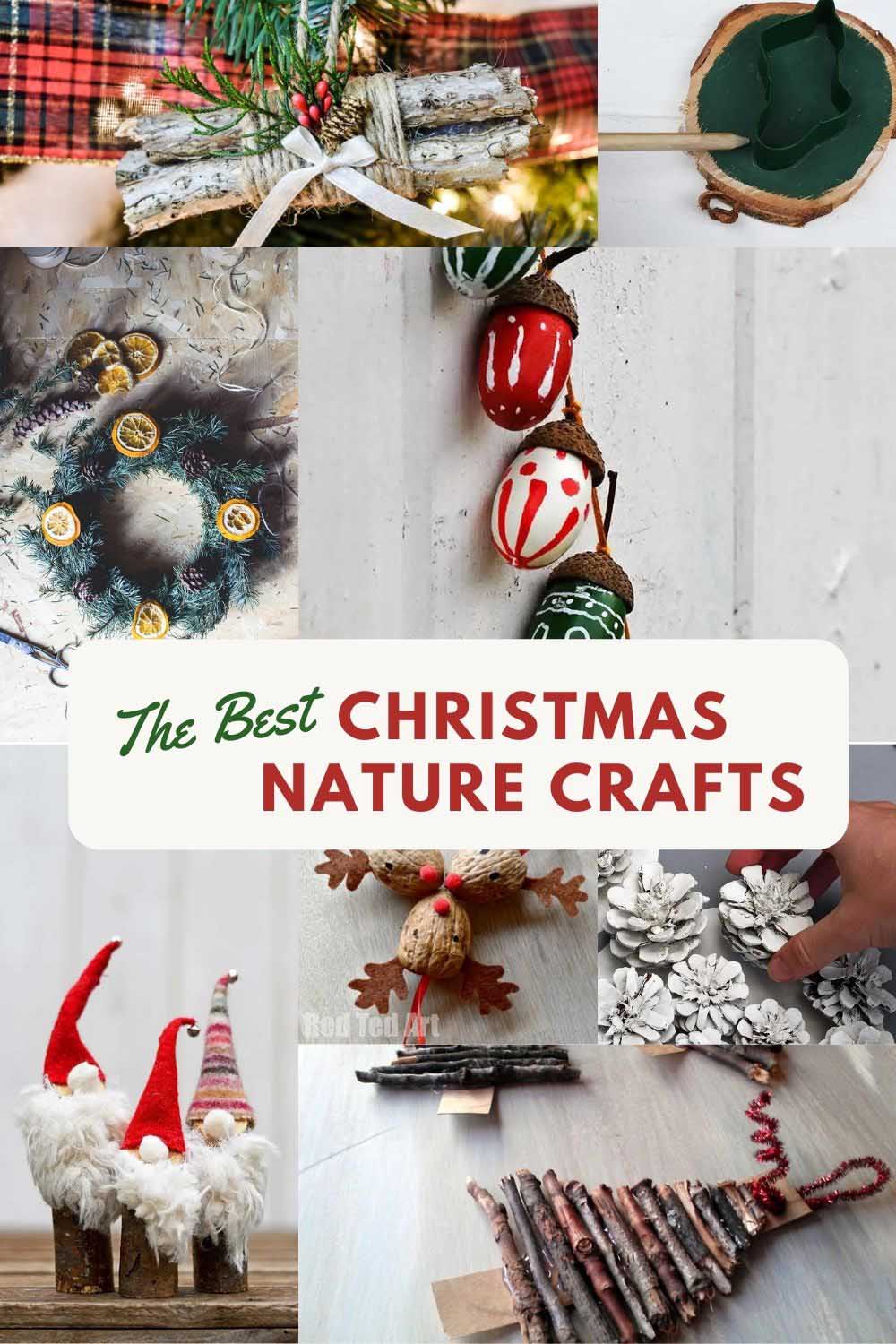 Christmas Nature Crafts
Christmas crafts made from nature. From acorns and pine cones to shells and rocks. These are Christmas decorations made from the free materials nature has to offer us. From those found on the forest floor to the others found on the beaches.
If you enjoyed these natural Christmas crafts, you would probably love the collection of Cool Christmas crafts for adults, Christmas wine cork crafts and these upcycled Christmas ornaments.
Also, check out these alternative Christmas tree ideas for your ornaments.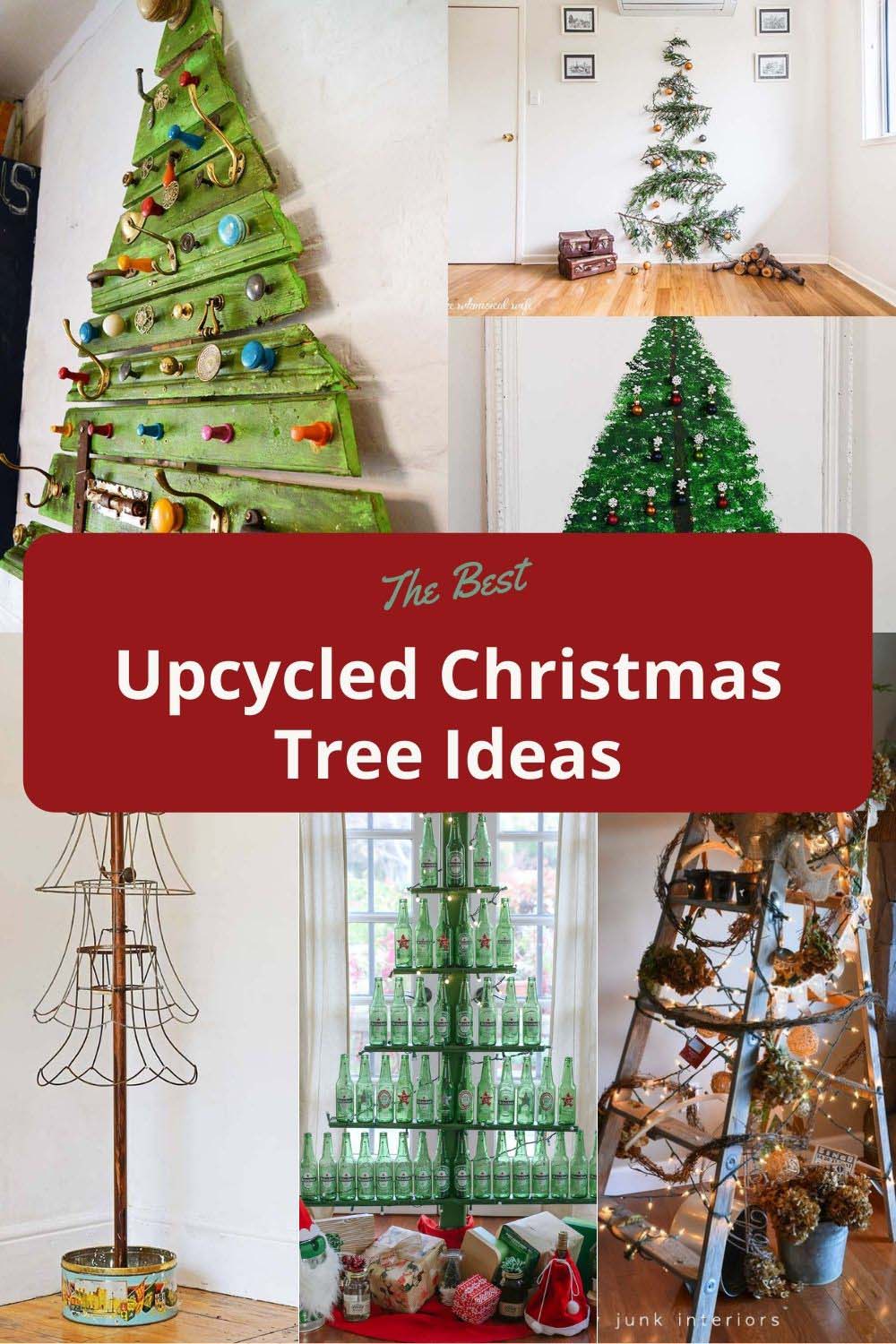 Don't forget to check out the cardboard Christmas crafts and waste material crafts, which can also be made for free.
As well as using natural elements to make Christmas ornaments, some decorations mimic nature, like these paper pine cone ornaments.